9 Best Russian Watches & Soviet Watch Brands
You don't hear too much about Russian watches or brands these days, but that's not to say they don't exist. On the contrary, the former Soviet Union was once home to a thriving watch industry that produces some of the world's best timepieces, taking off under Stalin and continuing to expand throughout the 20th century. Nowadays, Russian and Soviet watches make up a niche portion of the collector's market, offering vintage designs and quality mechanics at relatively affordable prices. That said, perform your due diligence before buying one because cheap imitations, swapped-out parts, and aftermarket modifications are relatively common.
Best Russian Watches and Brands
Whether you're a history buff or watch collector or both things at once, there's no wrong reason to pick up a classic Russian diving watch or other vintage Soviet wristwear. Start your journey with the following models and brands. Here's a list of the 9 best Russian Watches & Soviet Watch Brands: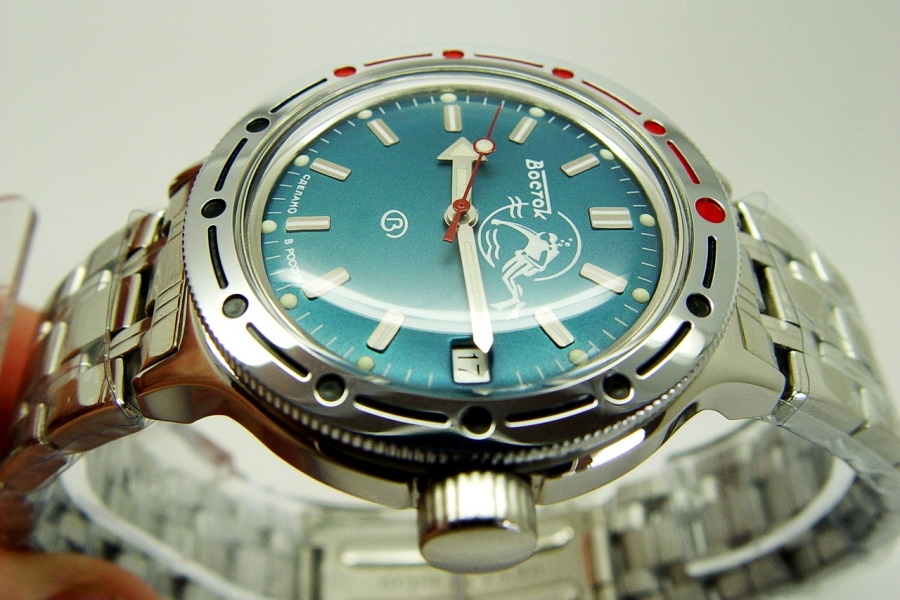 1. Vostok Amphibian
Founded at the height of WWII, Vostok Watch Makers Inc. remains an official supplier of the Russian Defence Ministry. This iconic Russian diving watch harkens back to its 1960s predecessor and is similarly water-resistant to 200m. Still manufactured to this day, it features luminous markers and shock-resistant properties. Choose amongst a variety of designs and relish the uber-affordable price tag.
Brand: Vostok
Key features: water-resistance to 200m, shock-resistance, self-winding movement, luminous hands and dots
Price: $88 and up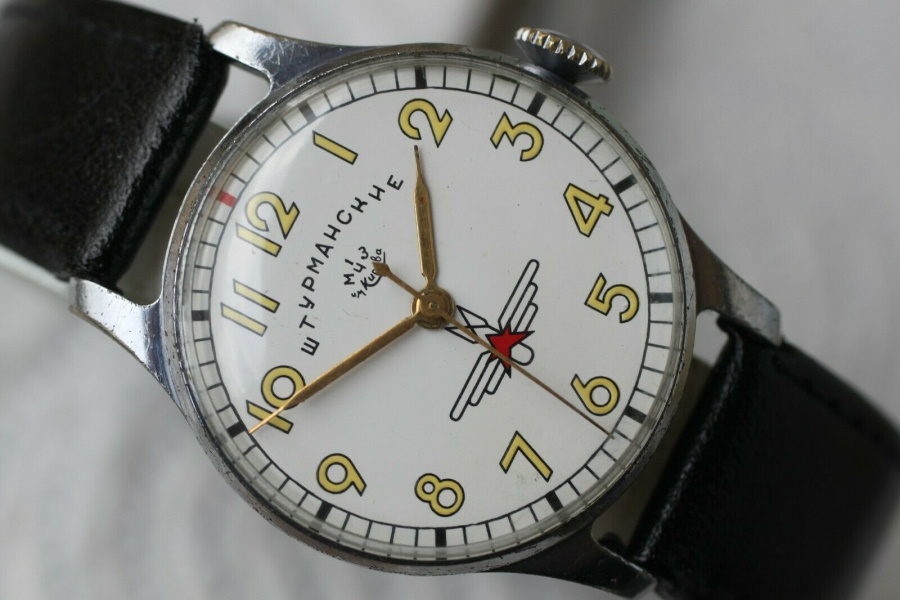 2. Sturmanskie Gagarin
Initially made by special order, the original Sturmanskie launched into space with Soviet cosmonaut Yuri Gagarin in 1961. Two years later, the first woman cosmonaut Valentina Tereshkova took the Sturmanskie for a second spin. You can pick up a vintage original (many of which have been modified) or track down a recent commemorative edition, which still brings plenty of retro flavour. It's a terrific way to enter the horological space race without dropping thousands on an Omega moon watch.
Brand: Sturmanskie
Key features (on the 2016 models): high-quality case materials, water resistance to 50m, decorative casebacks
Price (for the 2016 models): US$280 and up
---
Featured Video from Man of Many
---
You may also like:
15 Best Australian Watch Brands
29 Best German Watch Brands
16 Best British Watch Brands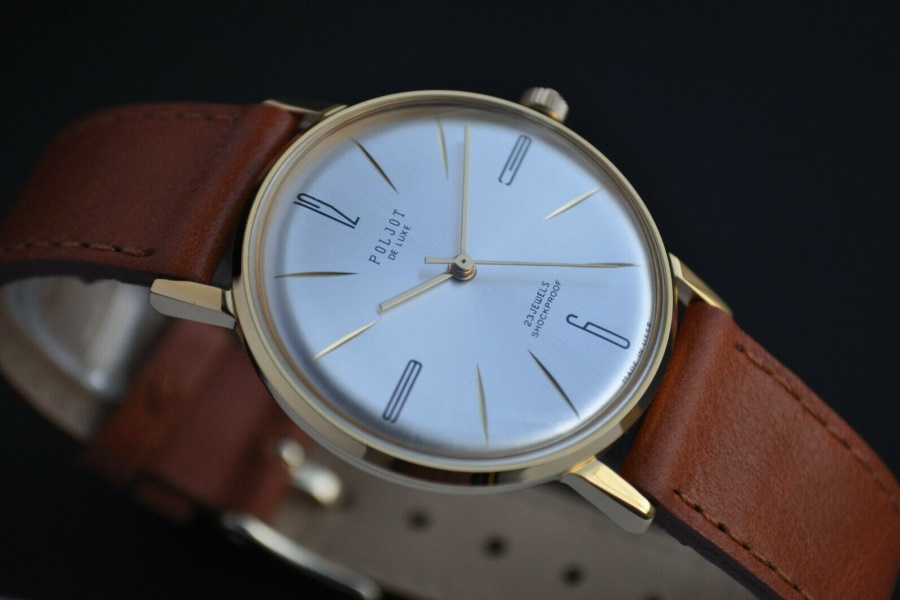 3. Poljot De Lux
You might not associate words like "De Lux" with the Soviet Union, but we'll be damned if this Russian watch doesn't make it work. Placing art deco numerals and a monochromatic dial face within a slim case, it delivers classical masculine style. While not entirely (or even slightly) original, it's both dressy and inexpensive.
Brand: Poljot
Key features: ultra-thin case, mechanical hand-winding movement, dressy aesthetic
Price: US$50 and up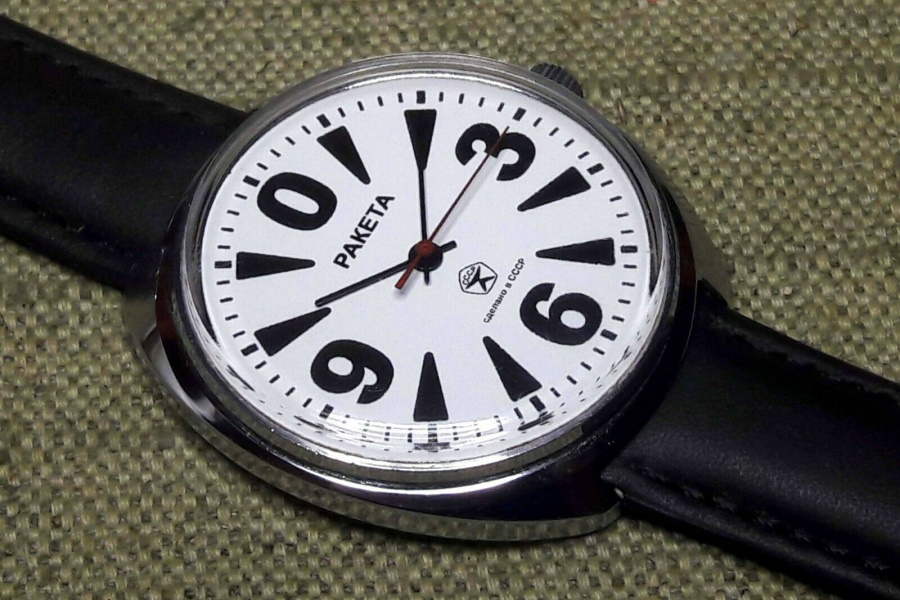 4. Raketa Big Zero
Long before The First Moscow Watch Factory, there was The Petrodvorets Watch Factory. Originally founded by Peter the Great in 1721, it's been manufacturing Raketa (which translates to "Rocket") watches since 1961. Models like the Big Zero distinguish themselves by way of the outsized painted numerals, which take up serious real estate on an otherwise minimalist dial face. Do your research before tracking one down because in many cases the original parts were swapped out over time (which isn't even to mention knock-offs).
Brand: Raketa
Key features: in-house movement, large painted numerals, subtly unique case design
Price: US$75 and up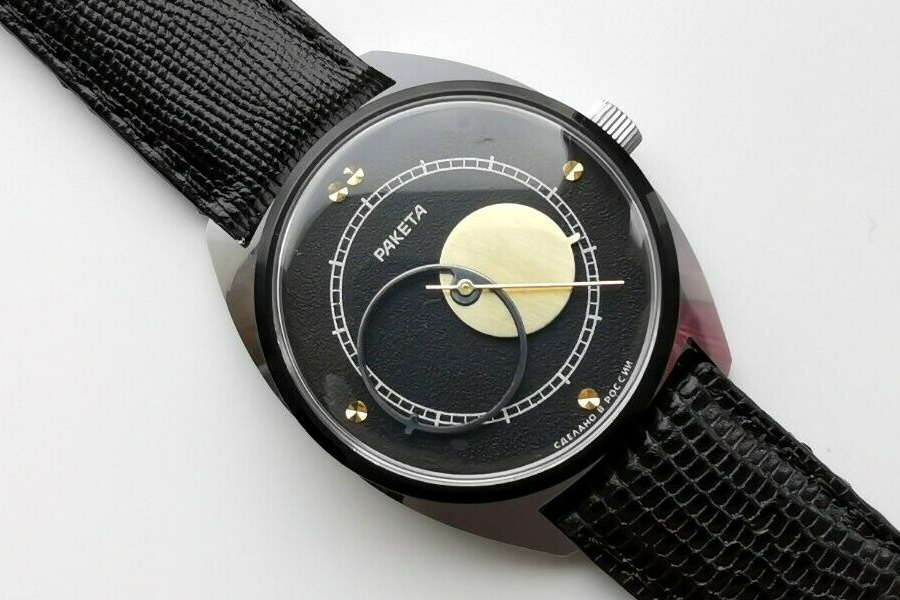 5. Raketa Kopernik
Kopernik translates to "Copernicus" and this Soviet watch from Raketa accordingly delivers a solar vibe, albeit in threadbare form. One might say that's exactly part of its charm, if not the entirety of its charm (though the granular dial face and stud-like markers are also pretty cool). Unmistakable at first sight, its spherical hands occasionally overlap to form an eclipse. Are you not impressed?! Hello?
Brand: Raketa
Key features: unique dial face that creates an occasional eclipse-like effect, in-house movement
Price: US$75 and up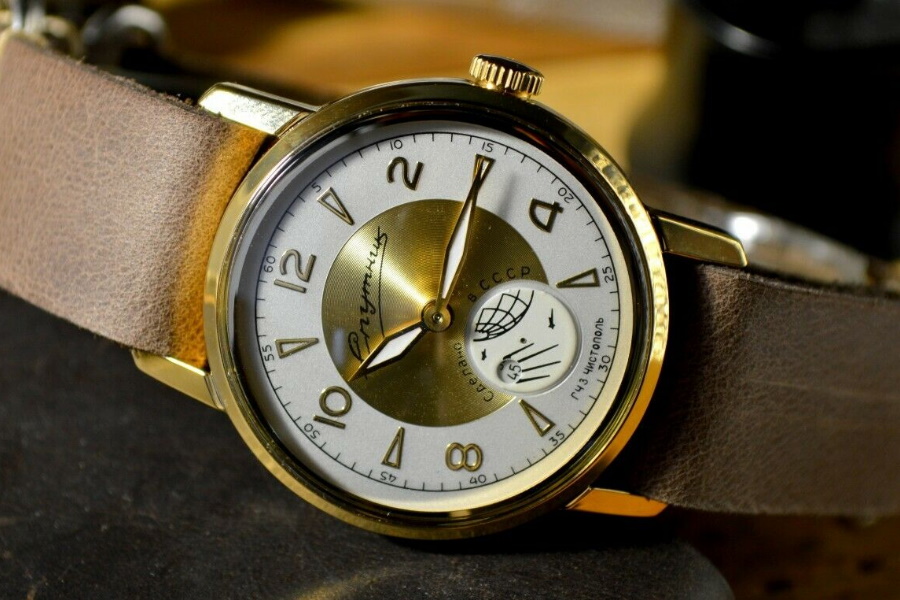 6. Vostok Chistopol Sputnik
In case it's not yet obvious, the Soviet Union was quite proud of its achievements in the space race. Celebrating the launch of Sputnik in 1957, this time-only watch incorporates a clever graphics-based subdial. It features the famous satellite as it orbits the earth, counting down the seconds inside a tiny aperture and completing a full rotation every minute. Also featured on the dial face are large numerals and a gold-disc backdrop.
Brand: Vostok
Key features: unique dial face with Sputnik-themed subdial, mechanical hand-winding movement
Price: US$83 and up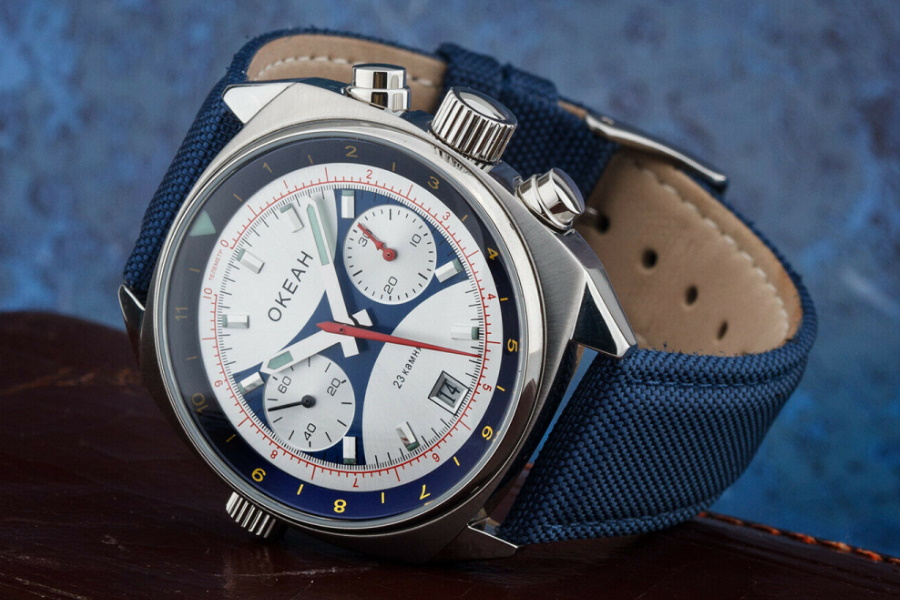 7. Poljot Okeah/Okean Chronograph
These Russian diving watches came straight out of The First Moscow Watch Company in the 1970s and 1980s. Initially produced for use aboard a space station, they were likewise employed by the Soviet Navy. They were also amongst the first to use Poljot calibre 3133, which borrowed heavily from the legendary Valjoux 7734.
Brand: Poljot
Key features: chronograph function, water resistance to 50m, Poljot 3133 movement
Price: US$630 and up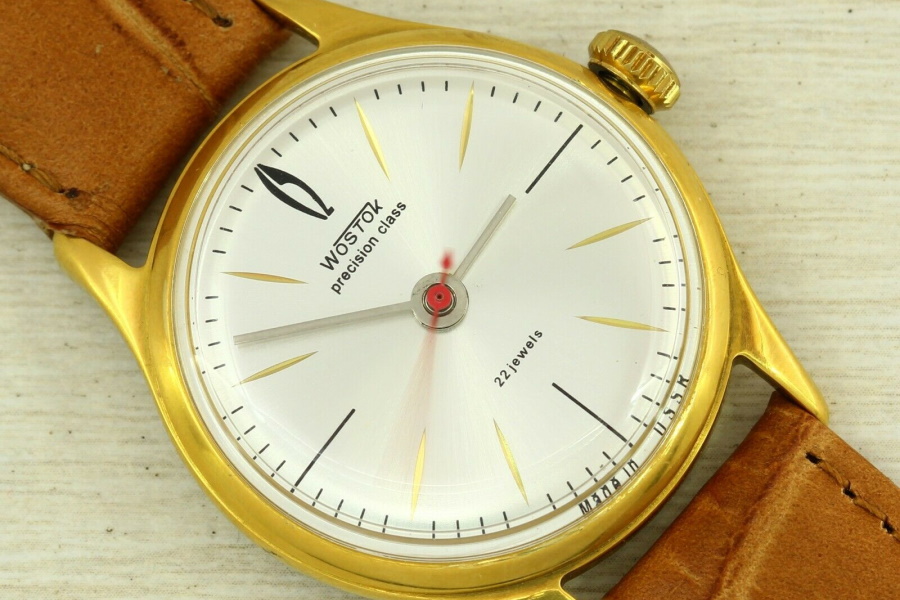 8. Vostok Precision
Nobody's quite sure how the calibre 135 from Swiss watchmaker Zenith ended up in Russian hands, but it led to the creation of the Volna chronometer movement. You'll find that storied movement under the skin of this vintage watch from Russian brand Vostok. Available in multiple versions, it offers a streamlined design and steadfast precision, hence the name.
Brand: Vostok
Key features: Volna chronometer movement, classical dial layout
Price: US$60 and up
9. Raketa Polar
Raketa was the Russian watch brand of choice amongst Polar explorers, who needed an extra tier of timekeeping to make up for extended daylight hours. That brings us to this particular model, which remains best-known for its 24-hour dial display. Available in a variety of designs and configurations, it undergoes the occasional reissue to this day.
Brand: Raketa
Key features: 24-hour dial, automatic movement
Price: US$60 and up
You may also like:
15 Best Australian Watch Brands
29 Best German Watch Brands
16 Best British Watch Brands
Meanwhile, you might have questions. For instance, who was making Russian watches? Were these watches mere clones of other models? Were Russian diving watches any good? Did some Russian watches really go into space or on Polar expeditions?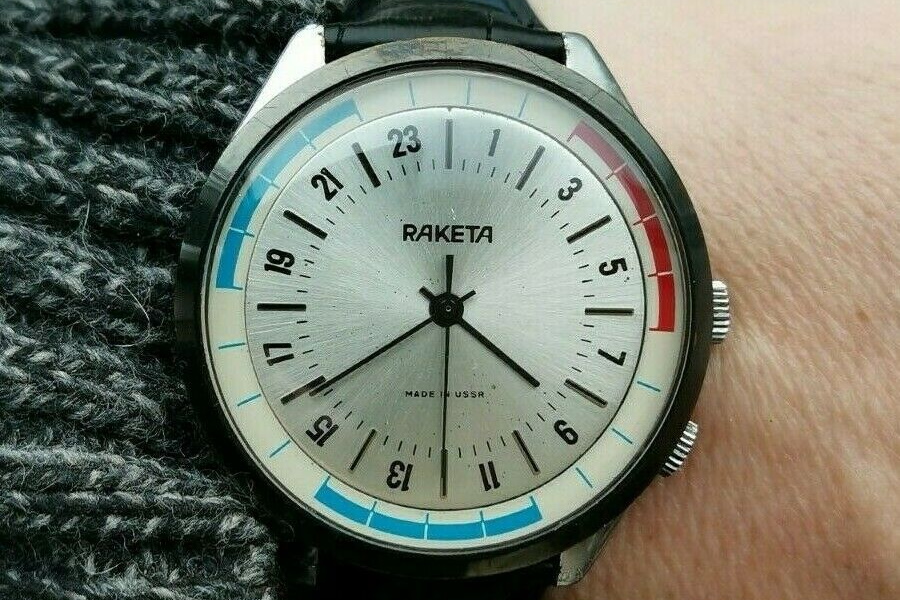 The History of Russian Watches
Time is of the essence (pun intended) so allow us to provide an abridged history of Russian watches. It all began when two American watchmakers went bankrupt during the Great Depression. According to legend, Soviet leader Joseph Stalin oversaw the purchase of both companies and then imported their entire infrastructures—meaning materials, technologies, and employees alike—to Mother Russia. The First Moscow Watch Factory was thus born, as was a new industry.
Taking direct cues from American and Scandinavian horology, Russia manufactured millions of watches over the subsequent decades. Generally affordable (if not dirt cheap), the pieces often wrapped native design features over Swiss-inspired movements and mechanics. As a result, they were consistently dependable and fairly unique. They were also mass-produced on an epic scale from the 1940s to the fall of the Soviet Union in the 1990s.
Today, collecting vintage Soviet-era watches and brands remains both a worthy and cost-friendly endeavour. If nothing else, the best ones bring history to life by recapturing the rudimentary aesthetics of a bygone (albeit brutal) era. Then we have something like Invicta Russian diver watches, which hail from Western territory and bridge various gaps. No matter where you land, you tend to find affordability and distinction in equal measure.
General FAQ
What are the best Russian watches?
Some of the best Russian watches are as follows: Vostok Amphibian, Stumanskie Gagarin, Poljot De Lux, Raketa Big Zero, Raketa Kopernik, Chistopol Sputnik, and Poljot Okeah Chronograph.
Are Russian watches reliable?
Generally speaking, Russian watches are reliable, affordable, and fairly easy to service.
Are Vostok watches good quality?
For their price point, Vostok watches are of considerably good quality. A number of these watches were made for military purposes, giving them an edge of durability and functionality alike.
---
Featured Video from Man of Many