The Special Watch You Can Only Buy From Grand Seiko Studio Shizukuishi
To say that Japanese watchmaker Grand Seiko has been making moves over the last few years would be quite an understatement. Not only has the brand been dropping some major limited edition releases, but it recently introduced its first-ever mechanical chronograph (shout out to the mighty Tentagraph). Importantly, it also opened the doors to the brand new Studio Shizukuishi in 2020 as part of this ongoing evolution.
Designed by master architect Kengo Kuma, the building is like a nature-inspired workshop and museum rolled into one. It also happens to be the only place where you can score the Shizukuishi Original Model (SBGH283), a minimalist watch of stunning performance and detail.
RELATED: Grand Seiko Unveils Two Tributes to its Ground-Breaking Mechanical Movement
Welcome to Grand Seiko Studio Shizukuishi
On the 60th anniversary of the launch, Grand Seiko kicked off another chapter in its storied legacy with the opening of Studio Shizukuishi. Located in the serene Iwate Prefecture near Seiko's original production site, this new workshop doubles as an unforgettable exhibition space. From the moment guests arrive, they're greeted with a trove of horological treasures, including complex components and rare pieces…and that's just the entryway.
In the general exhibition area, watchmakers assemble timepieces on the other side of a huge glass wall. Peer close and you'll see all the tools and instruments they use throughout the process as they assemble some of the world's most accurate and innovative references. It's at this point that you realise you're taking a journey into the very heart of Grand Seiko.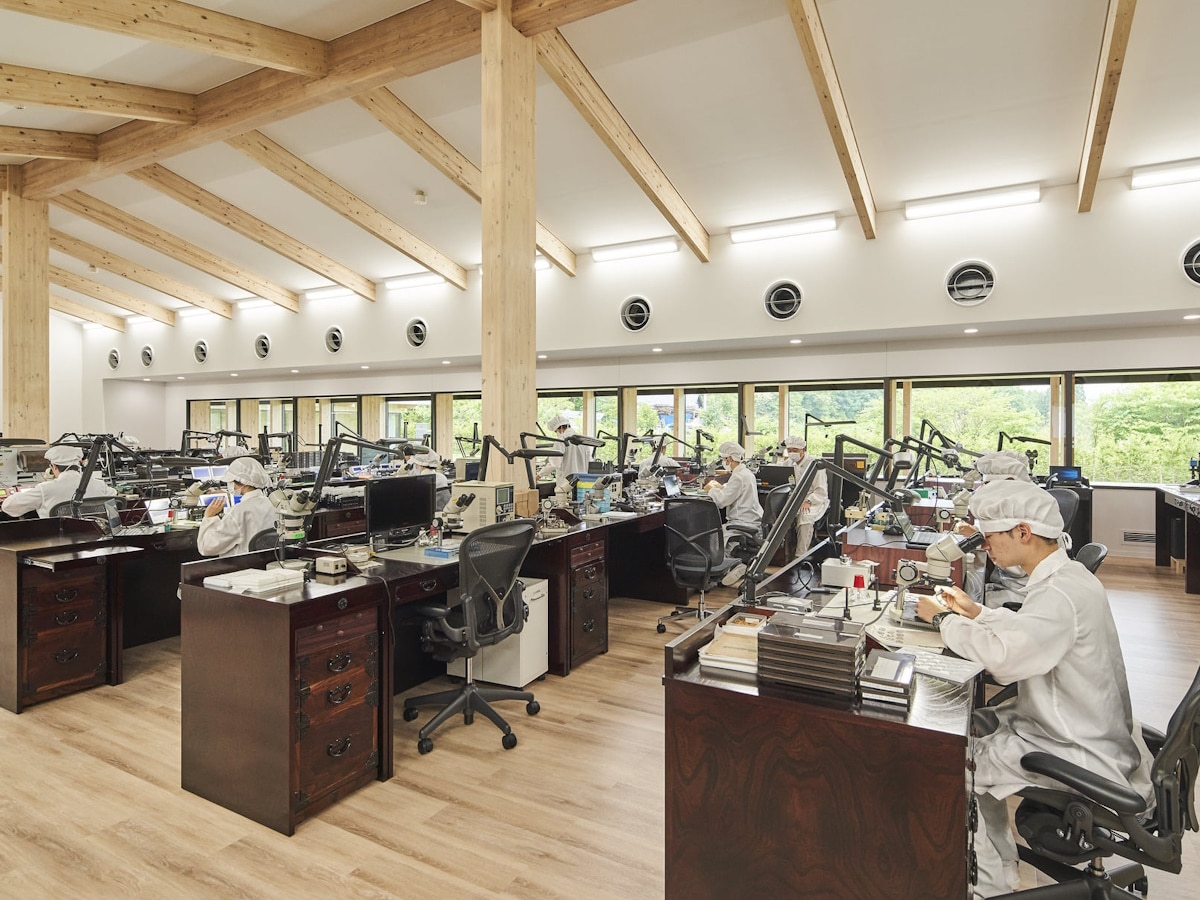 Speaking of innovation, there's an entire area on the second floor dedicated to T0 (T-zero) Constant-force Tourbillon. One of Grand Seiko's most revolutionary developments, it incorporates a fully integrated constant-force mechanism and tourbillon on the same axis for the first time in horological history. A sight for curious eyes, the mechanism also emits a rhythmical 16th-note ticking sound for your auditory pleasure.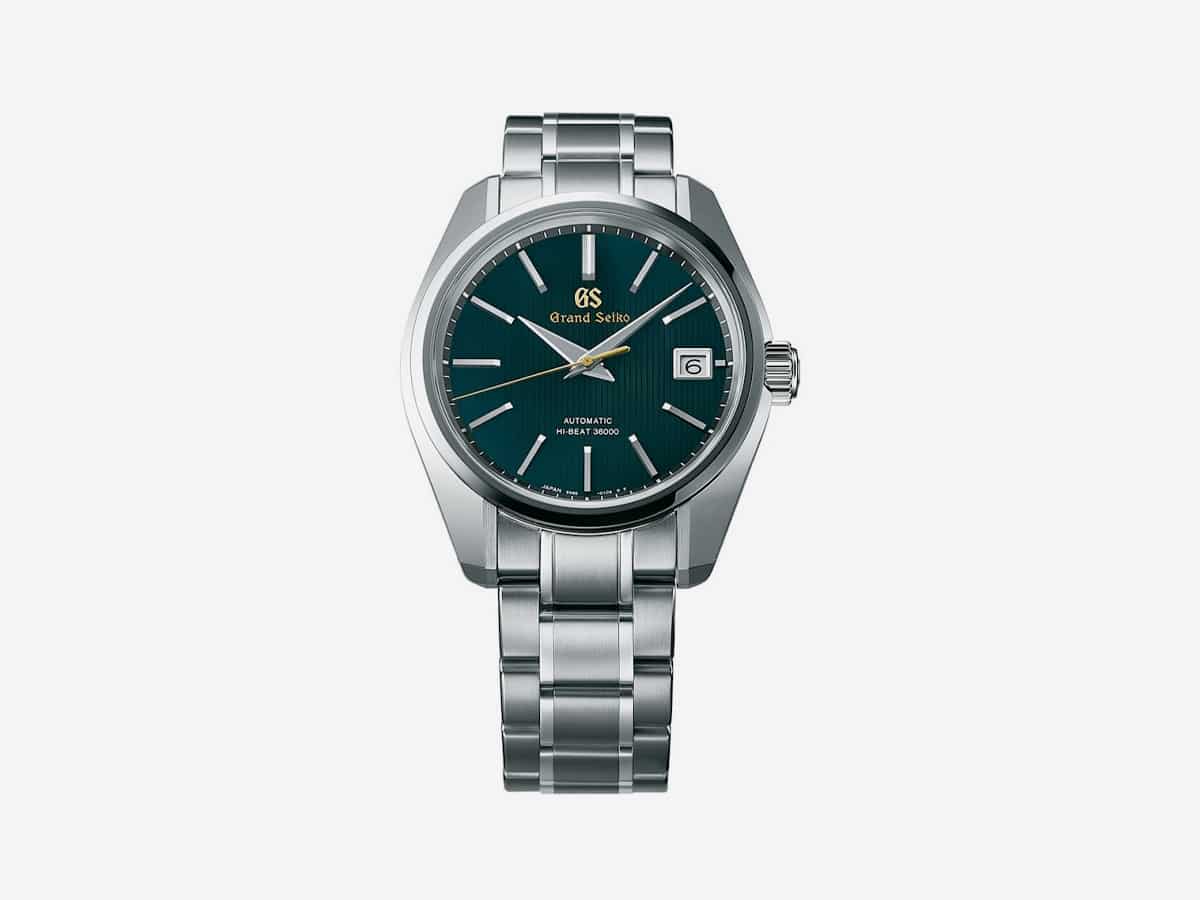 The Shizukuishi Original Model
Most timepiece exhibitions put a host of exemplary watches on display, but how many let you take one home? At Grand Seiko Studio Shizukuishi, visitors have the unique opportunity to score a watch that they can't buy anywhere else. We'll take that over the standard gift shop experience any day of the week!
On display and available for purchase, the Shizukuishi Original Model—aka SBGH283—is a true original indeed. It comes powered by a 9S85 movement, which delivers the breakneck performance of 10 beats per second and offers the utmost tier of timekeeping accuracy. The movement is visible through an exhibition caseback window with signature plating and engraving.
---
Featured Video from Man of Many
---
In terms of colour and aesthetics, the Shizukuishi Original Model takes pointed cues from the studio's majestic surroundings. Specifically, the green-coloured dial is directly inspired by the fresh leaves of the area's countless trees. A vertically-striped motif generates further visual distinction out of minimalist detail, as if the enduring Japanese watch brand would have it any other way.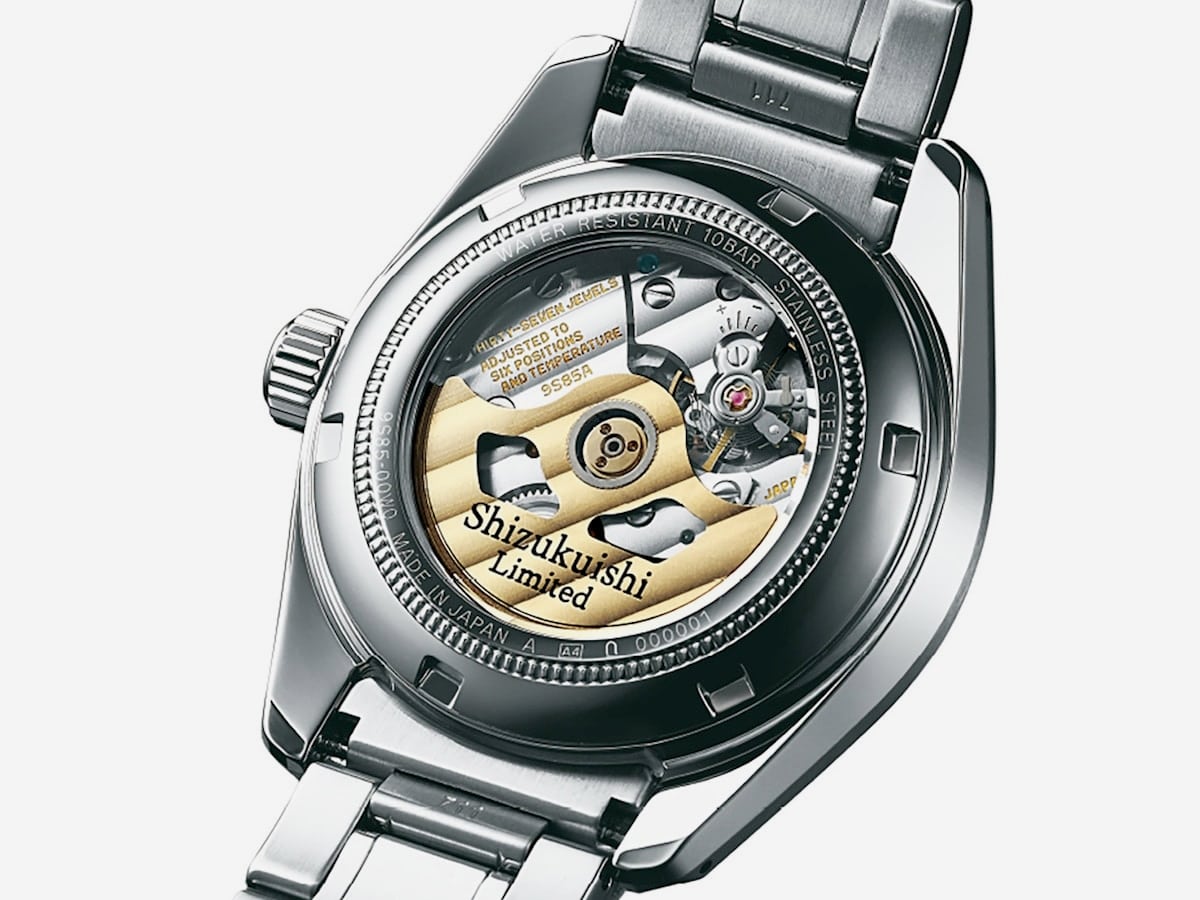 The Nature of Time
Grand Seiko is a watch company but it's also a philosophy brought to life, whereby 'The Nature of Time' means more than first meets the eye. Legendary architect Kengo Kuma took this very fact into consideration when designing the new Studio Shizukuishi, which exists in harmony with the region's sprawling forests and waters and offers epic views of Mount Iwate.
"To begin with, I feel that Grand Seiko's brand philosophy 'The Nature of Time' is a phrase that almost everyone can intuitively embrace," said Kuma. "My goal, however, was to reach beyond the primary nuance of the essence of time to inspire a sense of the mysterious linkage inherent between the aspects of nature and time. I strove to frame a more tangible picture of that awareness through my architecture."
So it goes with the studio and the watches themselves, which likewise draw inspiration from the area's glorious topography. Amongst those watches is SBGH283, an original model of masterful detail and precision. There's only one way to score this classic timepiece and that's by booking a visit to the studio, where it's exclusively available for purchase (at a limit of one per customer). Whether you leave with a fresh piece of wristwear or not, it'll be an experience you won't forget.
---
Featured Video from Man of Many