The Australian lifestyle, though different for all lucky enough to experience it, is pretty easy to define. Whether weekends find you shooting down the side of a mountain on a bike, carving up the powder at Perisher, or riding the perfect wave, our harsh and rugged terrain and love for adventure means that we're often outdoors, usually doing something active, and as such, find an appreciation for quality things that last.
One man who knows more about riding the perfect wave is Waves of Wellness founder and Occupational Therapist Joel Pilgrim. Joel's charity has helped countless Aussies bounce back from, learn about, and better understand depression and anxiety, and it all started on the back of a surfboard.
"I was incredibly lucky to grow up across the road from the ocean. I'd be in there as much as possible through my childhood, and I didn't realise in times of sadness or stress that I would always turn to the waves to wash it all away.
"It wasn't until I was older that I realised how powerful this was in maintaining my own mental health and wellbeing. Whatever I needed space from in my life, the ocean was there for me.
"Back in 2014, when working as a mental health Occupational Therapist I took one of my young guys surfing in our clinical session. It was such a transformative experience for him, it drove me to create that opportunity for many more people through surf therapy programs at the Waves of Wellness Foundation."
Spending so much time on the road and in the water (Joel is also an expert free diver) means Joel needs a watch that he can rely on in the harsh Australian environment. He also needs one that'll take him from the depths of Gordon's Bay to his next meeting without missing a beat and looking the part in both places.
Glashütte Original, from the German town of Glashütte, is one of the best watch companies with their own dial manufacture. From refined, elegant timepieces to hand crafted perpetual calendars that are as eye-catching as they are accurate, they have been plying their trade since 1845, from the little town where the art of German watchmaking was born.
To anybody who has ever owned anything made in Germany, this makes perfect sense.
The SeaQ Panorama Date may house an in-house automatic 36-13 movement–one of the most elegant looking mechanisms to come out of Germany (and yes, that is saying something), but it hides it all behind the rugged shell of a diver's watch that has been made to stand the test of time, while keeping perfect time, making it an easy choice for Joel's wrist.
Joel noticed a link between getting your head under some saltwater and instantly feeling better about life. It was the lack of knowledge, awareness and acceptance that existed in the public domain about mental health concerns that launched his charity. There was also a fervent desire to get Australians more active: "There's nothing I enjoy more after a busy day than to get to the ocean and reset."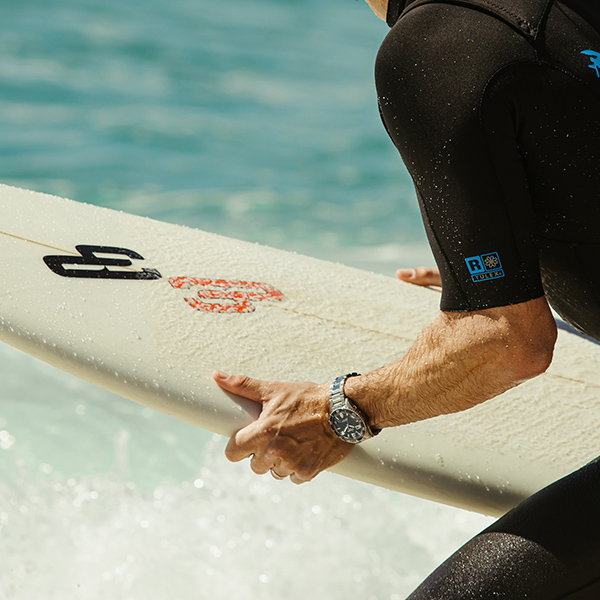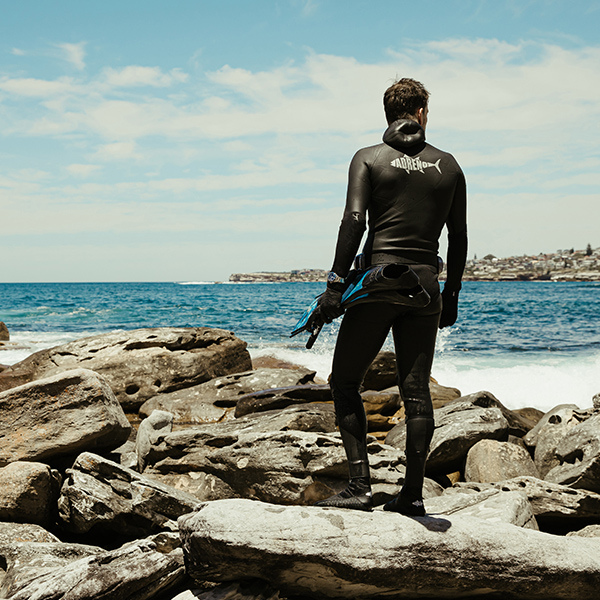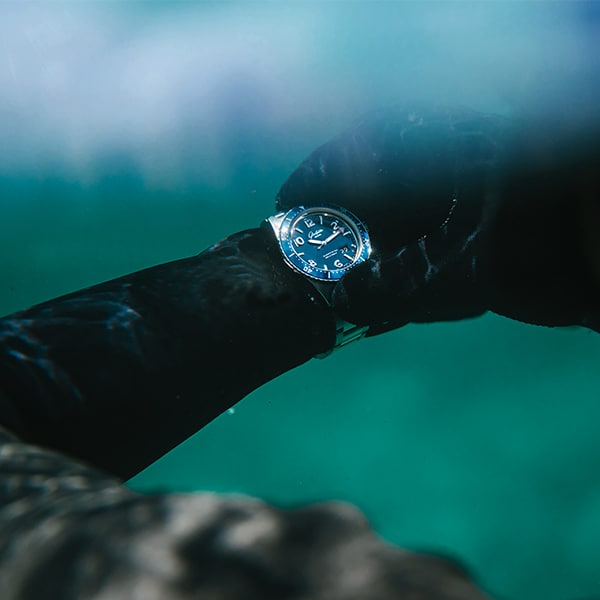 "Getting away from technology, whether it's on or under the water, is the perfect way to disconnect."
And, according to Joel, it's this disconnection that allows him to make other connections, to what is really important.
"The ocean provides me with a sense of freedom, cleansing, stillness. It washes away the stress and high intensity that life can throw at us sometimes. The ocean is my happy place for connection. Connection with others, connection with yourself, and connection with nature."
With little more than a surfboard, Joel has spent the past few years organising events and encouraging people of all ages and backgrounds to dive in head-first–literally. As he tours the country hosting events and helping people find their feet, both on the back of a piece of fibreglass and in the real world, his Glashütte Original SeaQ Panorama Date is the perfect timepiece in and out of the water, with looks that belong as much with a suit as they do 300 metres under the sea.
"Whether it's on, above or below the surface of the ocean, it's an incredibly powerful source of presence. You can't help but live in the moment, this is what psychologists refer to as flow state. 
"With being fully present there's a sense of freedom – you're not worried about the past or the future – with that comes freedom."
With myriad watch companies–new and old–making themselves known in an ever-expanding marketplace, it can be a confusing time to find something that is unique, individual and reliable. But moreso, it's hard to know what will actually be able to withstand the flogging that we Australians tend to give our possessions on a day-to-day basis.
There are plenty of watch brands that'll happily exchange a reasonable pile of your hard-earned for something beautiful that'll look great on your wrist, elegant at a dinner party, or even flash in an action shot. But as Australians, we all know that our instruments need to be able to do all of that and more for many years to come, without the fear of falling to jelly at the first sight of the elements. Glashütte Original represents contemporary German watchmaking meeting the highest standards. With roots going back to 1845, their watches combine traditional craftsmanship, revered German engineering and extraordinary precision.