When Japanese watchmaker Seiko unveiled its first diving watch way back in 1965, the whole world took note. The seminal producer had made a name for itself crafting robust timepieces that fused rugged engineering with traditional horology, but this was something else entirely.
Brilliantly designed and effortlessly durable, Seiko's introduction to the world of diving watches was met with shock and awe from the wider community. Almost six decades later, the Japanese icon is continuing its legacy of innovation with the thrill-seeking Prospex series.
Designed to withstand the most extreme of outdoor activities (and look brilliant in the process), these sturdy stunners redefine the sports watch for our modern age. By sea or sky or anywhere in between, the mighty Prospex is up for any challenge you can throw its way. Just ask Aussie stunt master, Alex Hayes.
Rising to the Challenge
Whether it's surfing pipelines or throwing himself out of aeroplanes, Alex Hayes has proven himself to be no stranger to adventure, but there's method to his organised madness. When he's not putting his body to the test, the Aussie legend is promoting positive causes such as meditation and mental well-being. Sometimes he's doing both things at once, such as when he partook in the Molokai to Oahu World Paddle Board Challenge to raise awareness for mental health.
His staggering list of death-defying acts feels entirely in contrast with his laid-back surfy demeanour, but make no mistake, beneath his sun-beached exterior, beats the heart of a thrill-seeker. So, who better to put Seiko's latest Prospex range through the wringer than a certified adventure junkie?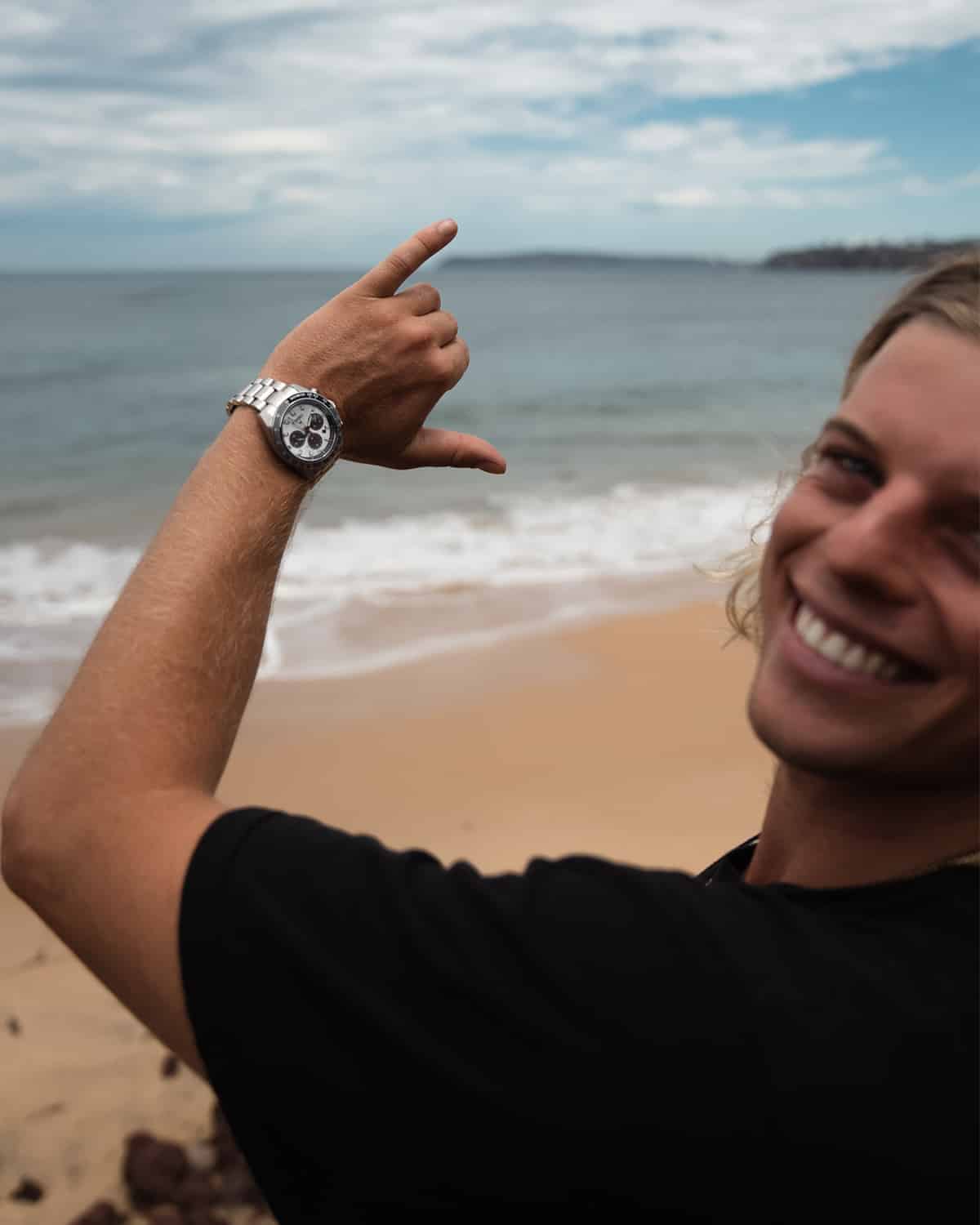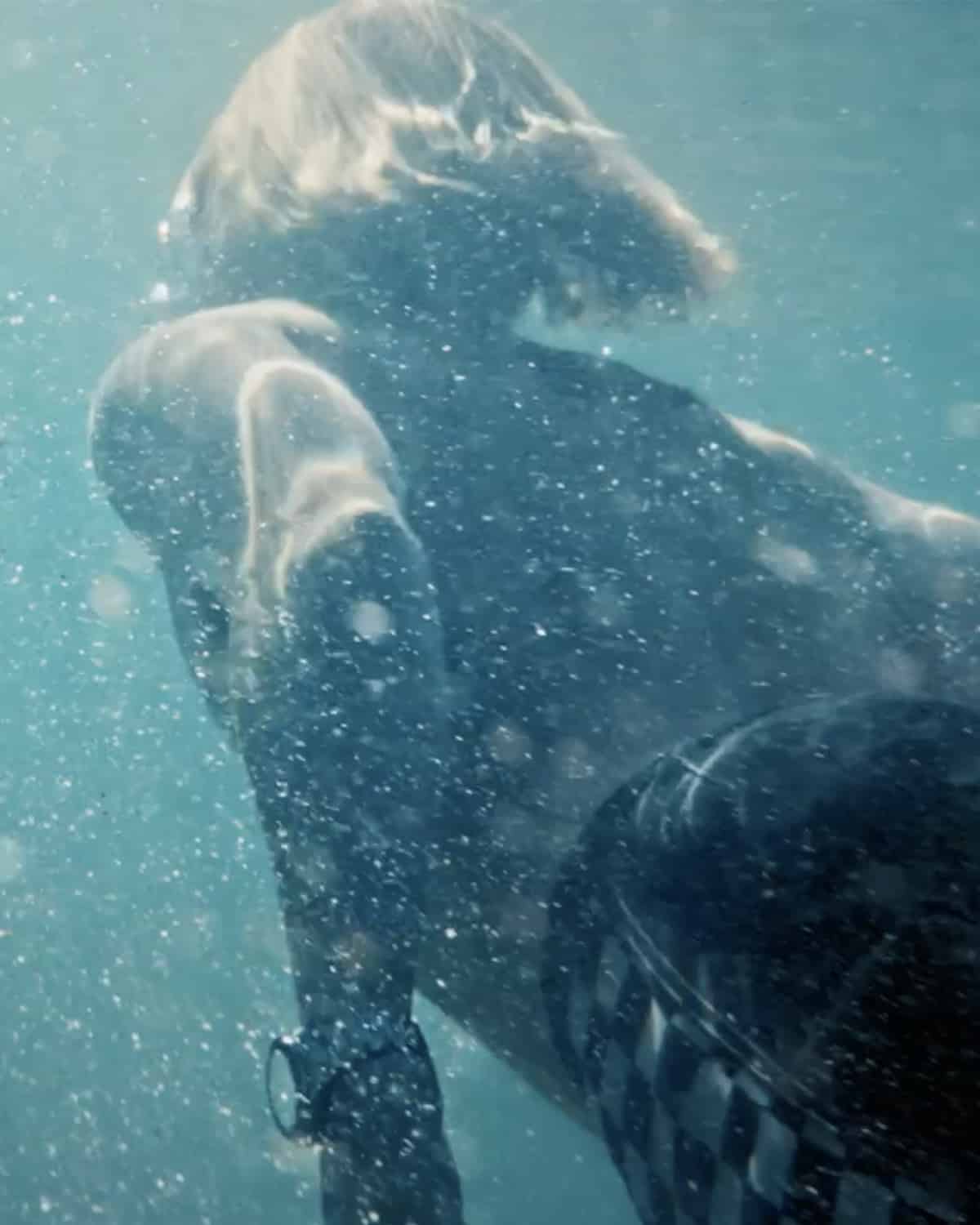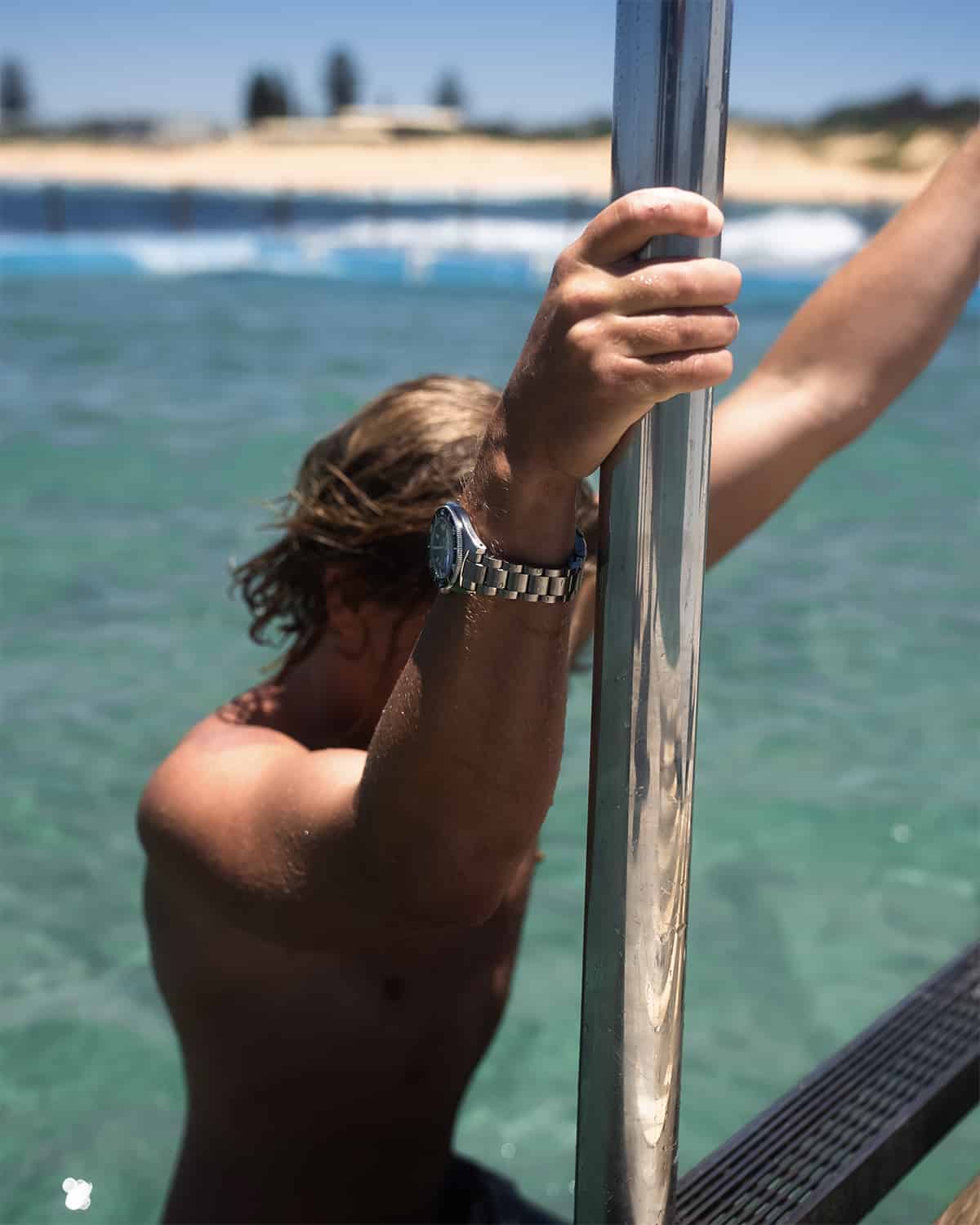 Armed with Seiko's latest Prospex models, Alex headed out to the Sydney coastline to tackle anything the Aussie summer could throw at him and we were there to document it all. As the footage goes to show, there's simply no challenge that Hayes isn't willing to pursue, whether that be cliff diving, surfing, swimming, and foil surfing. All the while, his fetching wristwear keeps expert pace, proving that Seiko's solar-powered chronographs and automatic divers are similarly primed for constant action.
Not just synonymous with high-quality performance specs, each Seiko Prospex features a striking layout and meticulous attention to detail. What's more, a number of the chronographs use solar power technology to recharge their built-in quartz batteries, thereby reducing both energy consumption and waste. The analog models, meanwhile, deliver sporty designs and precise automatic movements at perfect price points. Like the very person who'd own one, these watches keep going forward and never give up, always rising to the challenge.
Seiko Prospex
After scoping the video and photos, be sure to take a closer look at some of Seiko's latest Prospex models below. Many were worn by Alex Hayes himself and all are up for pretty much any type of outdoor activity.
SSC911P Men's Prospex Chronograph
Power this chronograph using any light source and then rock it across a gamut of adrenaline-inducing terrains. Forged from steel and able to run for up to six months on a single charge, it offers water resistance to 100 metres, a tachymetre scale, analog display, Lumibrite hands and markers, and uber-precise stopwatch function, amongst other things.
SSC917P Men's Prospex Chronograph
Seiko just released this striking black beauty with neon-like accents, which practically glow even before the Lumibrite treatment kicks in. Solar-powered and effortlessly sleek, it comes protected by sapphire glass with anti-reflective coating inside and out. Under the sunlit sky or pulsating club lights, this powerful piece delivers sporty prowess and a head-turning aesthetic with the black bracelet to match.
SPB297J Men's Prospex Watch
We're picking up all the right vibes from this minimalist masterpiece and its bold contrast of silver steel case, black bezel, and blue display. Water resistant to 200 metres with sapphire glass protection and a screw-down crown, it imbues the timeless hallmarks of a classic dive watch with a conspicuously modern allure.
SRPG21K Special Edition Men's Prospex Watch
Delivering modern style and massive performance at an unbeatable price, this special edition Prospex diver runs on an automatic movement with a power reserve of approximately 41 hours. Take it as deep as 200 metres and behold the Lumibrite as it bursts to life. "Special Edition" is stamped on the case back whilst a sturdy silicone strap comes in to seal the deal.
SNE589P Men's Prospex Watch
This exemplary dive watch keeps things beautifully basic with its streamlined dial layout, compact date window, and unidirectional rotating bezel. Everything is packed into a stainless steel framework, which extends to the steel bracelet and its trusty three-fold clasp. Under the skin, a solar-powered quartz movement runs for up to a whopping 10 months when fully charged.
Save the Ocean Initiative
More than a vibrant playground for water-based activity, the ocean is also a source of inspiration for Alex Hayes and Seiko alike. As mentioned above, Hayes will occasionally tackle an ocean-based challenge in an effort to raise awareness for mental health causes.
Meanwhile, Seiko donates a portion of the proceeds from the Prospex Save the Ocean collection to the diver's community, which removes and reports marine debris in various aquatic environments.
Two icons of adventure together on one all-important mission to save the ocean, we can't think of a better pairing. Outdoor enthusiast Hayes and prestige watchmaker Seiko are proving that the future isn't just in your hands, it could be on your wrist. Check out the photos and video to see two living legends do what they do best within Australia's majestic coastal terrain.