Solios Watches Strike the Perfect Balance Between Sustainability & Style
Solios Watches founders Sam and Alex both remember the exact moment that their lives changed. It came soon after they first met in a Montreal business school in 2014. Respectively balancing their studies with full-time jobs in digital marketing and investing, the two men had already developed a shared goal of starting their own company. That was when they sat down to watch the Nat Geo documentary "Before the Flood," in which narrator Leonardo DiCaprio meets with various experts on the subject of climate change. Suddenly, a choice was at hand: would Sam and Alex be part of the problem or part of the solution?
The solution, naturally. Solios Watches was thus born in 2018. Always remembering where they came from, the brand retains the kind of core focus that literally every company should aspire to. More to the point, they produce high-quality solar-powered watches by way of eco-friendly practices, reducing their carbon footprint without making sacrifices to design or performance. By incorporating this goal into every step of the production process, they're also challenging the industry's own stagnant norms. To which the brand might reply, "Hey, someone's got to do it."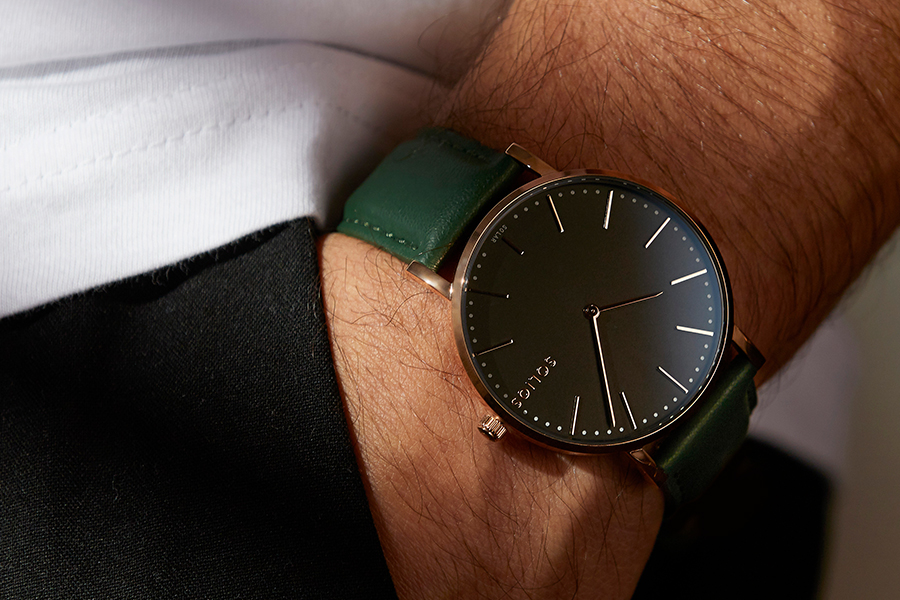 Committed to sustainability perhaps, but Solio Watches places just as much value on things like aesthetics and technology. That's helped further separate them from even their eco-minded peers. Bearing the hallmarks of a classic minimalist timepiece, each model bursts forth with elegance and sophistication. It's living proof that our sustainable future can be as bright, wide-reaching, and dependable as our current marketplace of premium products.
To look beyond the stylish veneer of each Solios watch is to discover a host of crafty materials and striking innovations. At the heart of each model is a solar-powered battery, which requires just two hours of exposure to either natural or artificial light to generate 6 months' worth of energy. If all battery-powered watches were to use this technology—which lasts forever—it would eliminate the production of 300 million batteries per year.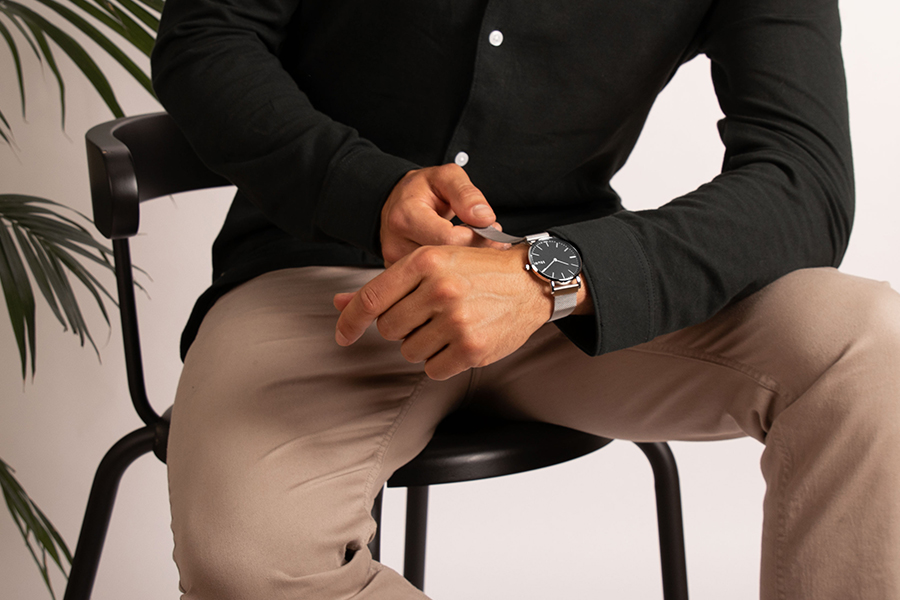 Meanwhile, solar technology is just one of a number of sustainable features. The brand also employs eco-friendly materials like silicone-based vegan leather, hemp, and cork. When they incorporate plastic, they do so sparingly and from recycled sources. Their packaging is likewise eco-conscious, being handmade in Montreal from 100% recycled cardboard.
In addition to these sustainable flourishes, every model features a host of qualitative mainstays. That includes 316L stainless steel for the cases, mesh magnet bracelets, anti-scratch sapphire coating, and metal colouration. Bring in the distinguished aesthetic and you get all the benchmarks of a classic timepiece, plus the eco-friendly underpinnings. Unisex by design, each Solios watch is water-resistant to 30m and available in two sizes: 36mm or 40mm.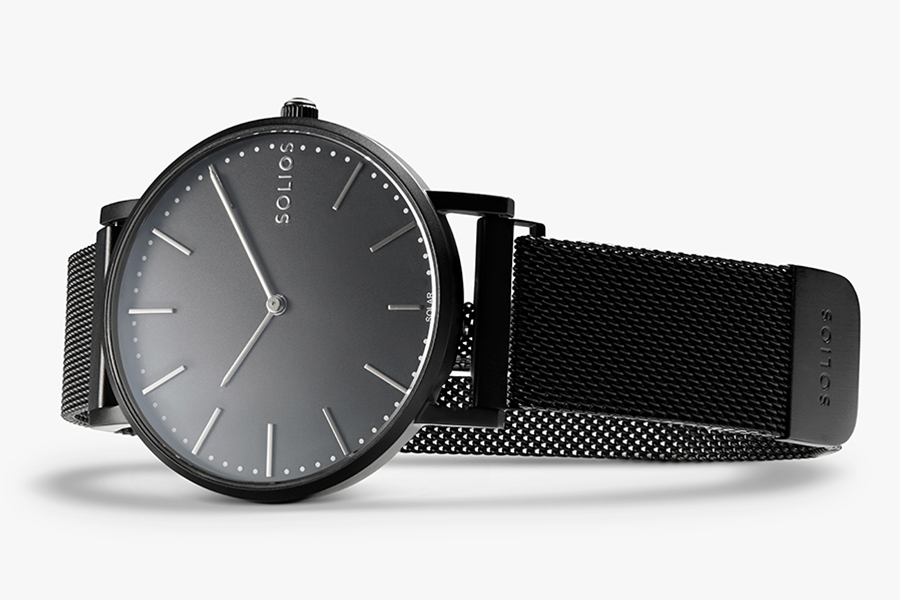 We always have a few personal faves and this time is no exception. First up is the mighty Nebula, a sleek black (aka Noir) stunner that injects the perfect amount of contrast on the elegant dial face. Indisputably eye-catching, the watch comes with either an eco-leather or mesh strap, both of which are available in a range of colours. May we suggest sticking with a black mesh strap to round out the piece's uniform vibe.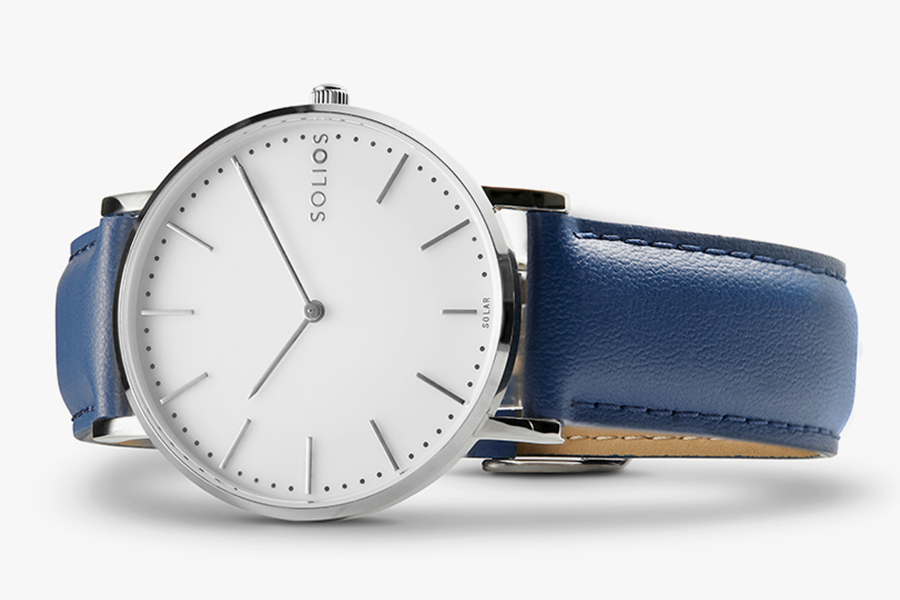 Another favourite is the Nova and its impeccably clean sense of style. Placing silver-toned markers against a backdrop of ivory, the dress watch looks ready for any ensemble you can throw its way. It too comes with your choice of strap and we think it looks best on blue eco-leather. Give it a few hours of light once every 6 months and you have yourself a lifetime keeper.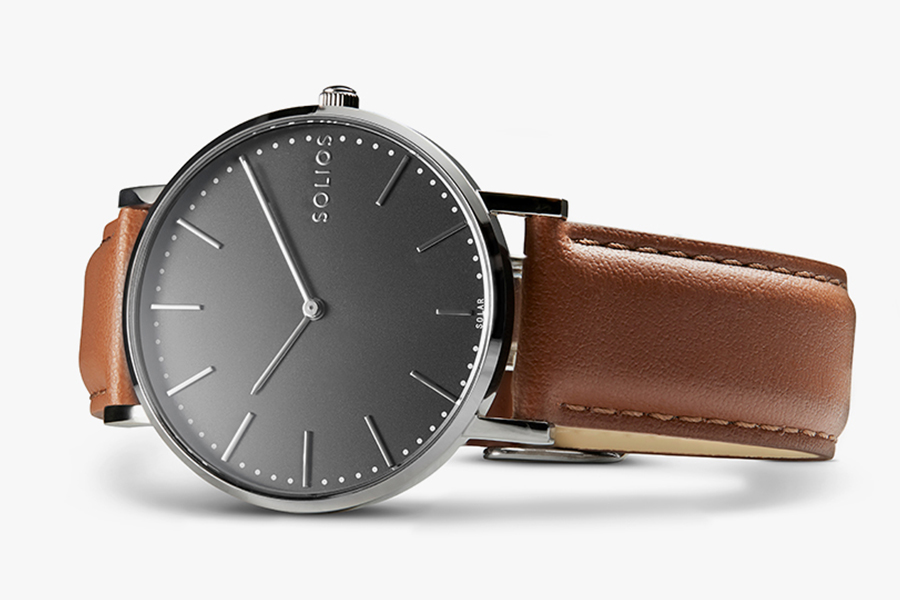 Last stop is on the Lux, another noirish stunner that's truly dressed to impress. Pair it with a brown eco-leather strap to render a handsome impression every time you enter the room. Like the other models, this one is minimalist by design, available in two sizes, decked out in sustainable materials, and equipped with a solar-powered battery.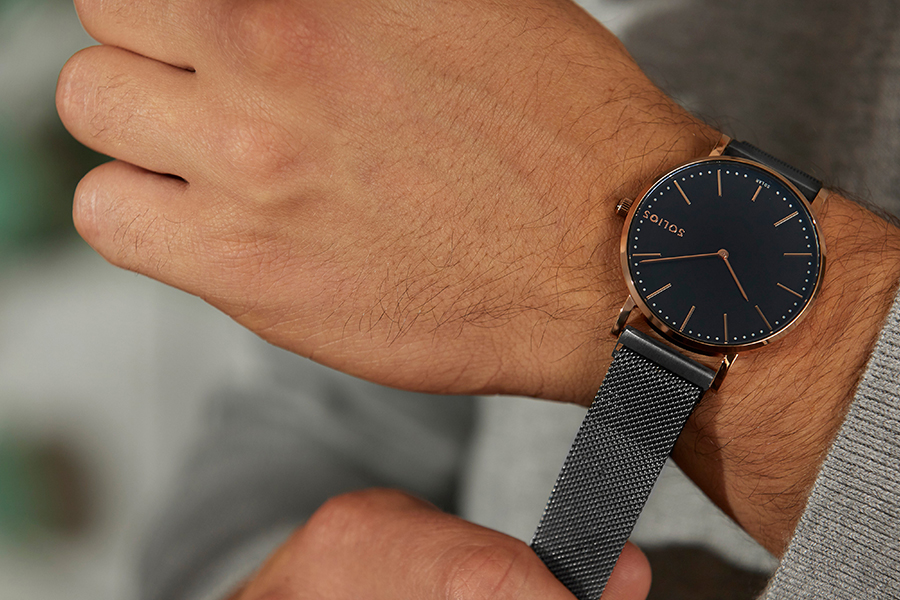 Going the extra mile, Solios Watches doesn't just stop at eco-friendly materials and technologies. As the first watch company to be certified B-Corp (meaning they adhere to and respect the highest standards of ethical and sustainable practices), the brand's ultimate goal is to help us all build a greener future and that informs their every waking decision. Founders Sam and Alex have personally visited their suppliers to ensure that each one maintains the highest ethical standards. The brand also partakes in a giving back program, which restores 1 acre of rainforest per every watch sold. Through this partnership, they aim to save more than 10,000 acres of endangered land by 2022. With your help, they just might.
For the holidays, Solios Watches is taking its generosity and its mission one step further. Buy any watch during this period and the brand will offer a complimentary engraving. Starting in November, they'll also provide a free extra strap on every watch sold. On top of that, they're going to offset all carbon footprints during the holiday period so as to be completely carbon neutral. Yes, that includes the pollution generated by e-commerce and worldwide shipping. Last but not least, the brand is going to double the number of acres of rainforest they restore on each watch sold, going from 1 acre to 2.
We currently have two choices before us. One is to take no action at all and end up sacrificing everything we hold dear. The other is to start making smarter choices about the way we produce and consume our goods, thereby enjoying ourselves without destroying the planet. Solios Watches has chosen its path and they've chosen wisely. Now it's your turn.