109-Year-Old WWII Veteran Reveals His Unusual Secret to Life
With all that's happened in this past year, you might feel like you've seen it all now. While that may be an exaggeration on your part, but it's no stretch for Richard Arvin Overton. The 109-year-old veteran World War II veteran was the subject of a short film showcase video from National Geographic, that seems more relevant now than ever.
You'll also like:
20 Places for the Best Outdoor Dining in Melbourne
This $20 Shiraz Was Just Named Barossa's Best Red Wine
David Blaine Ascends 24,000ft in the Air Using Balloons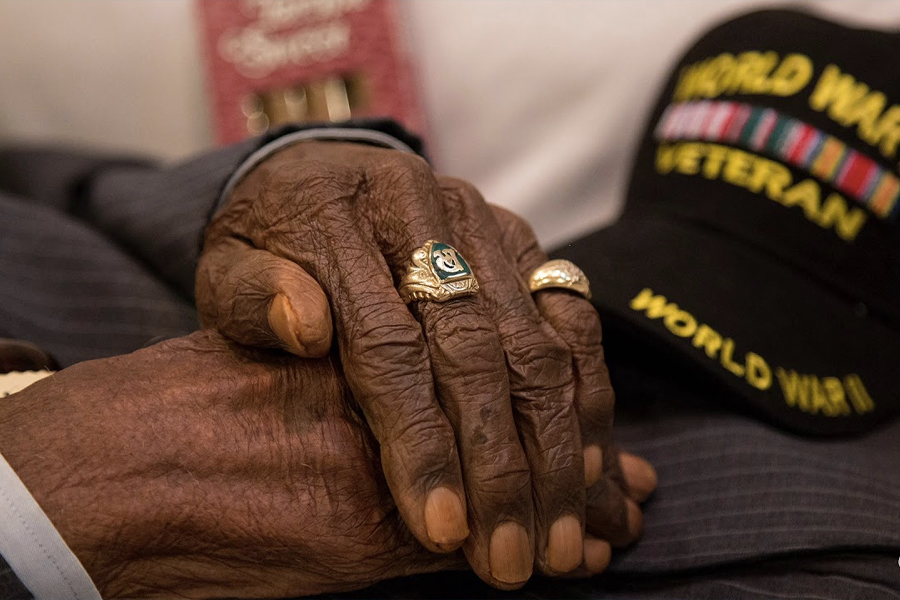 In the 2017 video, Overton shares his secret of having a long life—a life that is still very active. "I still walk, I still talk, and I still drive," says Overton. "I just got my license renewed this year." Overton is the oldest World War II veteran in the United States. He joined the army in 1940 at the age of 35. Overton's faith has sustained him throughout his long life, including during his service. When Overton got back from his time in the army, he built a house, and he's lived there ever since. Overton is also very frugal, buying just one thing at a time and using it for as long as it continues to work. He also has a pretty simple approach to finances. "I don't fool with a credit card. Never," says Overton. "For everything I get, I pay cash for it."
Overton's daily habits are something to be admired as well. "I just sit there and smoke sometimes 12 cigars a day. Maybe sometimes more than that," he admits. Why does he smoke? "I guess it just makes me feel better," he says. Overton wakes up at early hours and gets up to enjoy four cups of coffee. "This morning I drank that much whisky," he adds. Overton also likes soup, he drinks milk, and he eats ice cream every night. "It's the Overton diet. It's anybody's diet that wants to eat it." Overton is a regular church attender. "Church is a wonderful place. A lovely place. Keeps me goin'. Makes me feel good. I think that helps me push myself along, going to church." Overton's companion, Ms Love, is 91 years old. "Yeah, we have fun together," says Overton. "I'm giving you some of my secrets to a long life," he says. "If you ever use it. If you don't use it, that's your bad luck."
Overton sadly passed in 2018 at the age of 112, but his wise words continue to inspire us.
You'll also like:
29 Best Breweries in Sydney
100 Most Influential People in the World for 2021, According to TIME
David Blaine Ascends 24,000ft in the Air Using Balloons
---
Featured Video from Man of Many