Best Bodybuilding Supplements For Muscle Growth
It's no secret that ongoing sports nutrition is absolutely vital for all fitness pursuits. And with the new year upon us, now is the perfect time to adopt a targeted regimen. Whether you're hoping to lose weight, bulk up, get fitter, faster, stronger, or all of the above, fitness brand Vital Strength has you covered. For over 25 years, they've been Australia's leading provider of protein powders, bodybuilding supplements, amino acids, pre-workout stacks, and other sports nutrition products. Quality is guaranteed and so too are results, presuming you put in the necessary work.
To crank up the respective dials on convenience, performance, and affordability alike, Vital Strength has developed signature bundles. Each one tackles potential health or fitness goals while taking up to 50% off the retail price of its featured products. A great way to bolster your routine, bundles also save you the trouble of searching for individual powders and other nutritional supplements. That goes for seasoned athletes and novice gym members and everyone in between. We can all reach our goals in 2021.
You might be wondering: what's the sports nutrition bundle that best serves my personal fitness ambitions? We're glad you asked and here's your answer: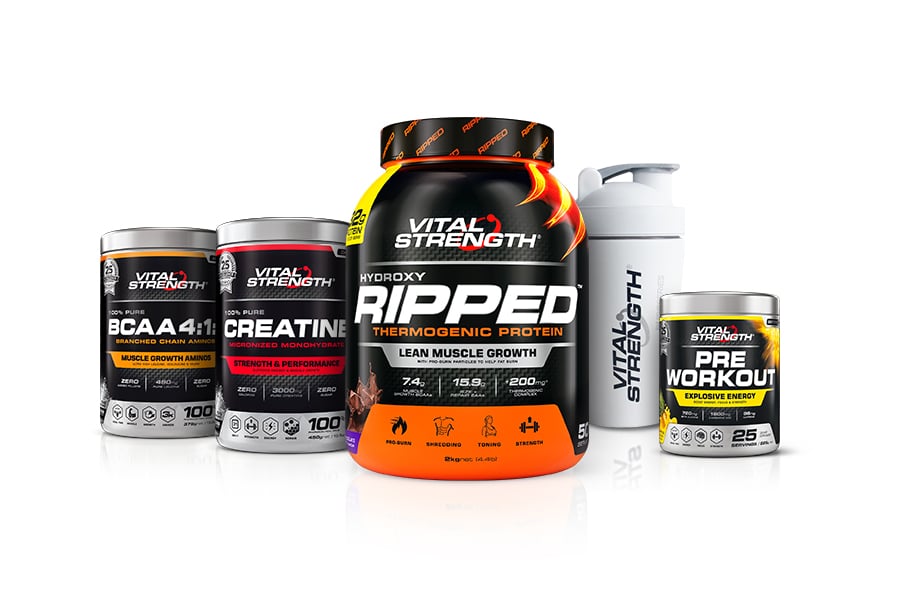 1. Best Bodybuilding Supplements to Build Muscle and Burn Fat
Extra belly fat is something most men deal with, especially as they get older. Odds are at least some of you packed in a few more pounds during the holidays as well. Whatever the case, trying to burn through fat quickly and efficiently is a goal that's as universal as it is admirable. It can also be quite difficult to achieve.
Enter Vital Strength and their advanced Fat Burner Bundle. Compiled with absolute precision, it delivers everything you can possibly need to boost metabolism and burn through fat. That includes the following products:
Get up to 50% off this bundle here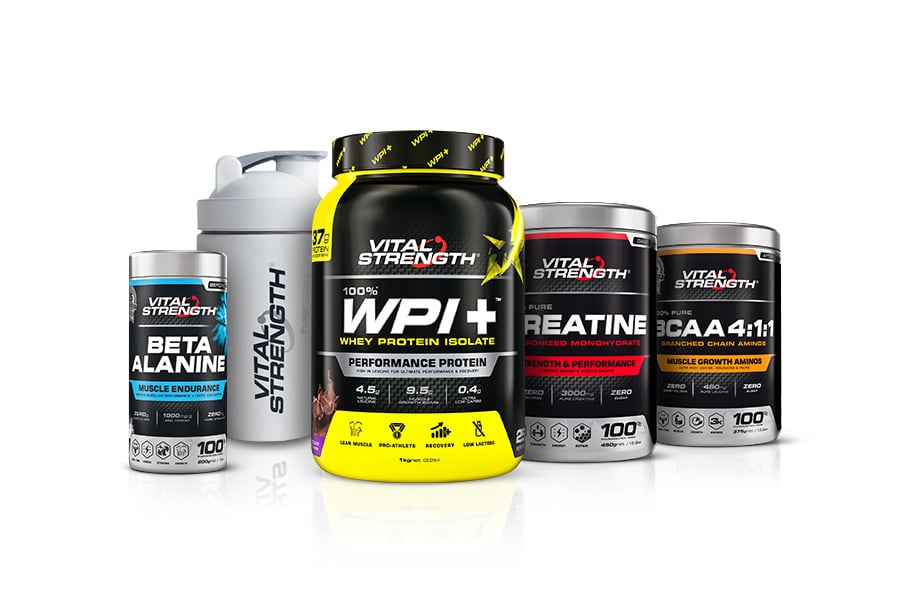 2. Best Bodybuilding Supplements for Strength and Performance
If you already know your way around the gym, then you're probably entering 2021 with the hope of taking your performance to new heights. Vital Strength's Elite Performance Bundle is right up your alley. It features the following products:
WPI+ Whey Protein Isolate – This 100% WPI+ Whey Protein Isolate is amongst the cleanest available sources of protein you can find. Vital Strength employs an advanced micro and ultra-filtration process to remove fat, lactose, and other impurities. The resulting protein powder is low in calories, easy to digest, and quickly absorbed. It's also the logical choice for men (or women) with lactose intolerance.
100% Creatine Powder – No modern muscle man argues with high-grade creatine and Vital Strength isn't about to start. We highlighted this product above and it works just as well as part of an elite routine.
100% BCAA Powder 4:1:1 – Intense workouts call for rapid muscle recovery and this powerful supplement is here to provide it. That's why Vital Strength includes it in a number of their signature bundles.
Beta-Alanine Strength Booster – Serious athletes go gaga for beta-alanine, which prevents fatigue and allows them to power through the toughest training program. Vital Strength's version is 100% pure pharmaceutical grade and it helps increase both aerobic and anaerobic performance, delay muscle fatigue, and expedite recovery. As a result, you can train harder, longer, and with more frequency.
Get up to 50% off this bundle here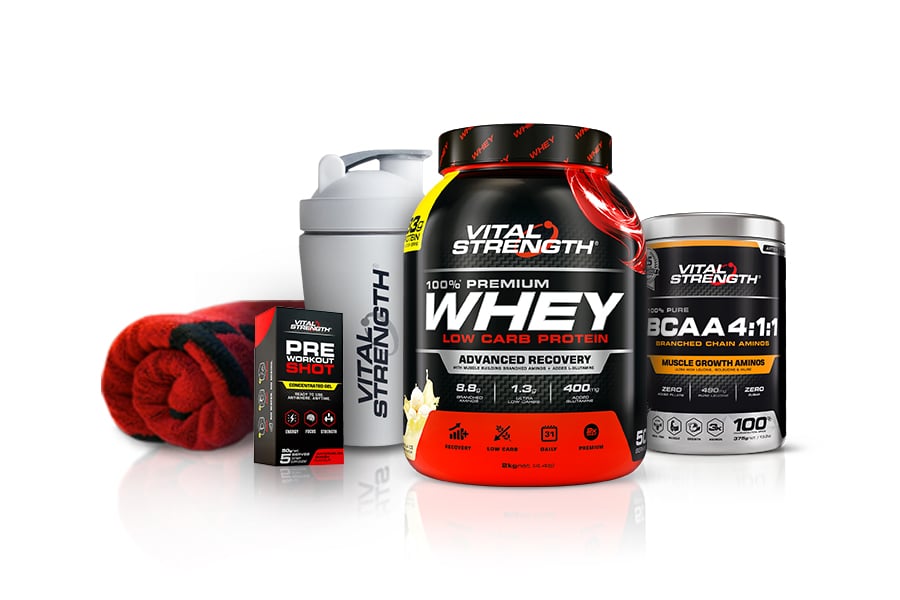 3. Best Bodybuilding Supplements for Muscle Growth and Recovery
You don't have to be a professional athlete to take on the fitness lifestyle, thereby reaping a slew of benefits. All that's required is an ongoing commitment to personal improvement…and maybe a Premium Lifestyle Bundle from Vital Strength. It features the following products:
100% Whey Protein Powder – Perfect for daily use, Vital Strength's 100% Premium Whey Powder combines whey concentrate and isolate with 21 healthy vitamins and minerals. It's low in carbs, low in fat, easy to digest, and naturally rich in BCAAs, thus protecting your body against muscle loss and fatigue while boosting metabolism. Expect it to help with muscle growth and recovery, amongst other things.
100% BCAA Powder 4:1:1 – Anyone who makes fitness a way of life can use a little help with the muscle tissue repair, muscle growth, energy levels, overall performance. In other words, they can use Vital Strength's BCAA Powder and its combination of three key muscle-building amino acids.
Pre-Workout Gel Shots 5 Pack – These on-the-go pre-workout shots require no water and no mixing. Just toss one back for an instant boost of energy, focus, and fortitude. It comes fully loaded with nitric oxide boosters, curated stimulants, and targeted ingredients like beta-alanine, L-citrulline, taurine, and caffeine. Take it anywhere and anytime to get pumped before you get pumped.
Get up to 50% off this bundle here
Even after 25 years, Vital Strength makes like a fitness freak by continuing to evolve. Their classic bundles don't just put a host of mind-and-body-boosters at your immediate disposal, they also save you…well…a bundle. Australia's foremost provider of sports nutrition products is killing it like never before and they're inviting you along for the ride. Now is the time to make good on your new year's resolutions and in one fell swoop, no less. Here's to a happier and healthier you in both 2021 and beyond.