20 Best Pubs in Adelaide For a Pint and a Feed
Despite the city's small size, Adelaide is rich with pubs and cool, trendy bars, each offering a unique experience. The South-Australian capital definitely doesn't fall short on its offering of nighttime culture- with historic pubs, cocktail bars and gastro pubs mixed in with lots of trivia, live music, family meals, big nights and not so big nights- Adelaide has it all.
Best Adelaide Pubs
A city known for its grand old pubs, there are more than 70 in the Adelaide CBD alone. Many were built in the 1800s, with tall facades, open-air balconies and old town shopfront demeanours, that are an ode to the old school charm that defines Adelaide. From the classic pub spots to the more refined watering holes, you'll never find yourself wondering where to go for a Saturday afternoon beverage. Here is a list of the 20 best pubs Adelaide has to offer.
1. Stirling Hotel
A century-old venue that is perhaps the pulse of Adelaide's pub scene. With a little something for everyone, this grand historic pub offers a fine-dining restaurant, a bistro, pizza bar, boutique accommodation, a function area and a library! With fun contemporary takes on traditional pub meals and cocktails, this pub has effortlessly stepped into the next century. Echoed with its pairing of contemporary interiors, huge open veranda and outdoor furnishings, the Stirling Hotel is a spot for the ages.
Address: 52 Mount Barker Road, Stirling
Phone: (08) 8339 2345
Hours: Mon – Fri: 11am – 11pm, Sat: 8am – 12am, Sun: 8am – 10pm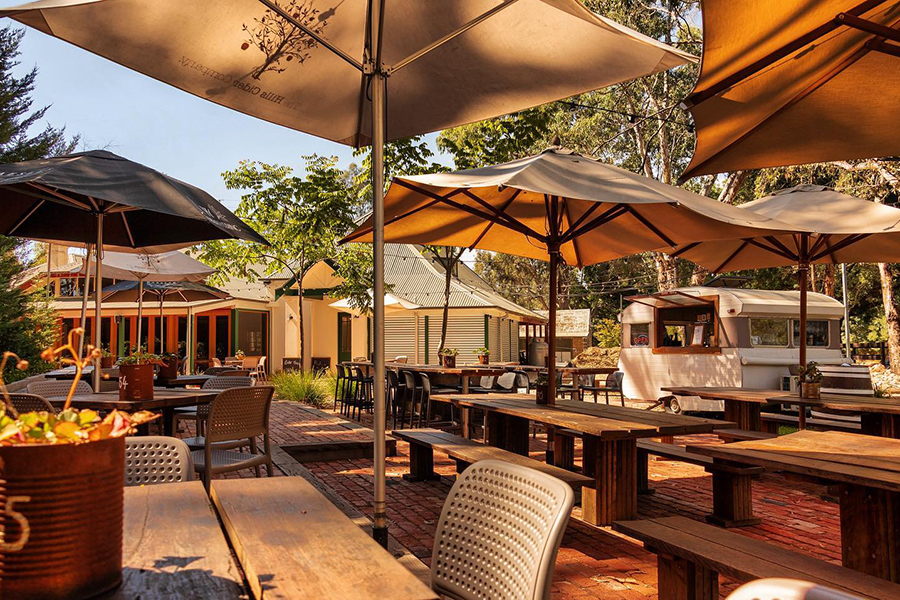 2. Stanley Bridge Tavern
The open fireplace, cosy bar and sprawling beer garden sets the Stanley Bridge Tavern apart as a local favourite amidst Adelaide's pubs. A good spot for a classic pub meal with the family, pair your meal with a local beer or a fine wine. This place never lets you down when you're simply in the mood for the warm comfort of a pub on a winter evening.
Address: 41 Onkaparinga Valley Road, Verdun
Phone: (08) 8388 7249
Hours: Mon – Thrus: 11am – 10pm, Fri – Sat: 11am – 11pm, Sun: 11am – 10pm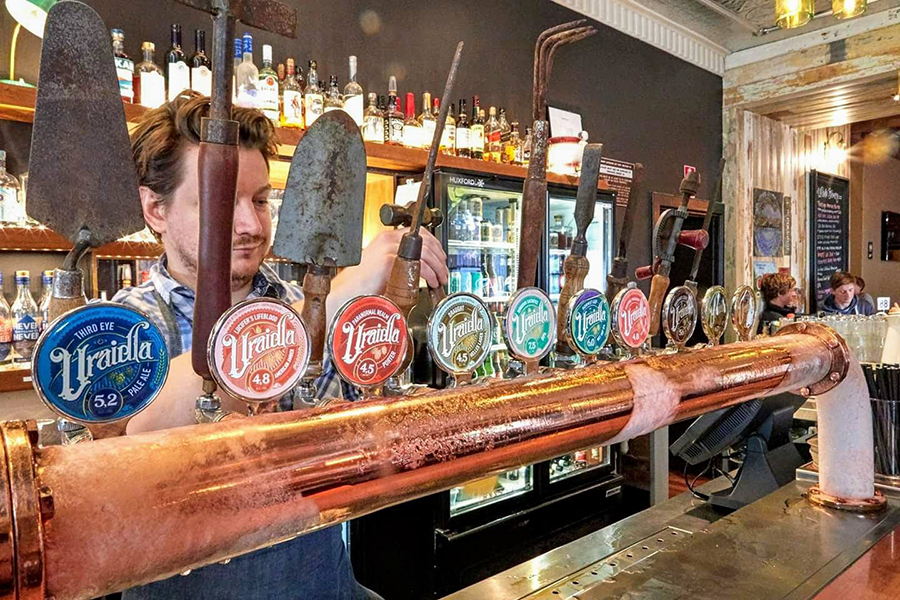 3. The Uraidla Hotel
Once another dirty old pub, The Uraidla is now a quirky, trendy spot known for its great kitchen and craft beers. The best part of the refurbishment is the huge glasshouse that looks over the town's oval. The Pork Ramen is a must try on the menu, or the SA market fish and chips. Most wine drops are local too. You won't have a bad night at this trendy Adelaide pub.
Address: 1198 Greenhill Road, Uraidla
Phone: (08) 8390 0500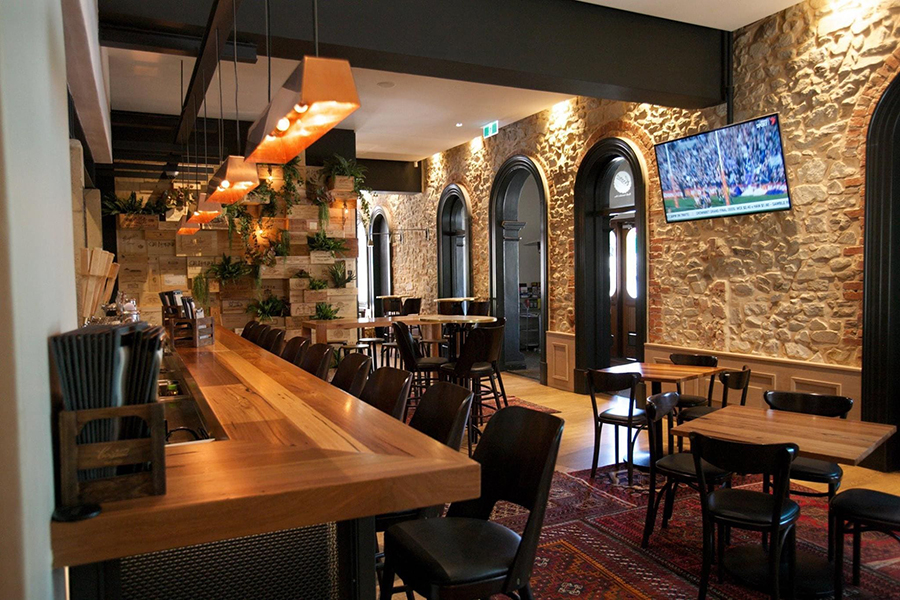 4. The Crafers Hotel
This Adelaide hills pub gained a new lease on life in 2014, transforming into a timeless spot for French-bistro cuisine and wines from all over the world. Manage to score a spot out the front to enjoy the full experience The Crafers has to offer. Elegance, good wine and good times are guaranteed at this fine Adelaide establishment.
Address: 8 Main Street, Crafters
Phone: (08) 8339 2050
Hours: Mon – Fri: 10am – 12am, Sat – Sun: 8am – 12am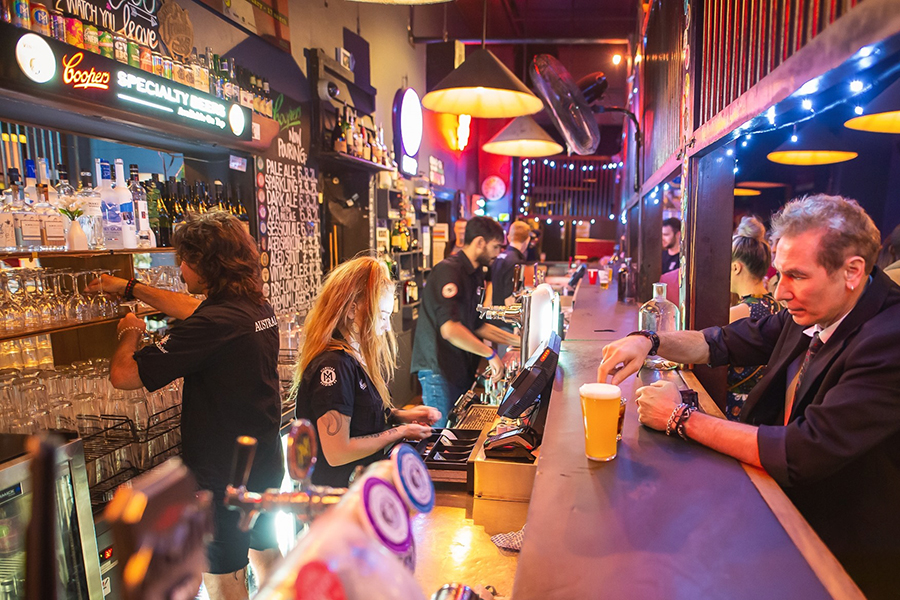 5. The Austral Hotel
Always open and ready for any crowd, The Austral has become somewhat of a landmark on Adelaide's main street since its birth in the 1880s. Keeping true to its heritage, the building hasn't changed much, and we love it! Classic pub meals and copious amounts of Coopers will be on the agenda for a night at The Austral. No pub crawl would be complete without a stop at this old place that just seems to keep getting better with age.
Address: 205 Rundle Street, Adelaide
Phone: (08) 8223 4660
Hours: Temporarily closed due to COVID-19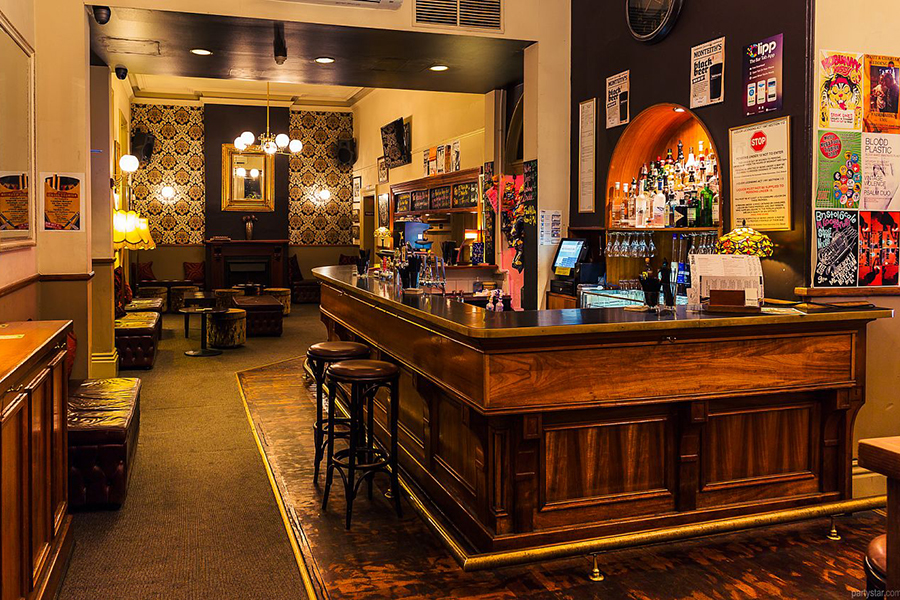 6. The Hotel Metropolitan
The Hotel Metropolitan is a perfect Adelaide pub for live music and is known for its laid-back attitude and no thrills vibe. With two outdoor areas, you can escape the tunes and enjoy one of the many beers or wines on offer. The food at the Metro consists of a range of pub fare, but with a twist, offering some dishes with touches of international flavours. The Metro provides that classy pub experience that shouldn't be taken for granted.
Address: 46 Grote Street, Adelaide
Phone: (08) 8231 5471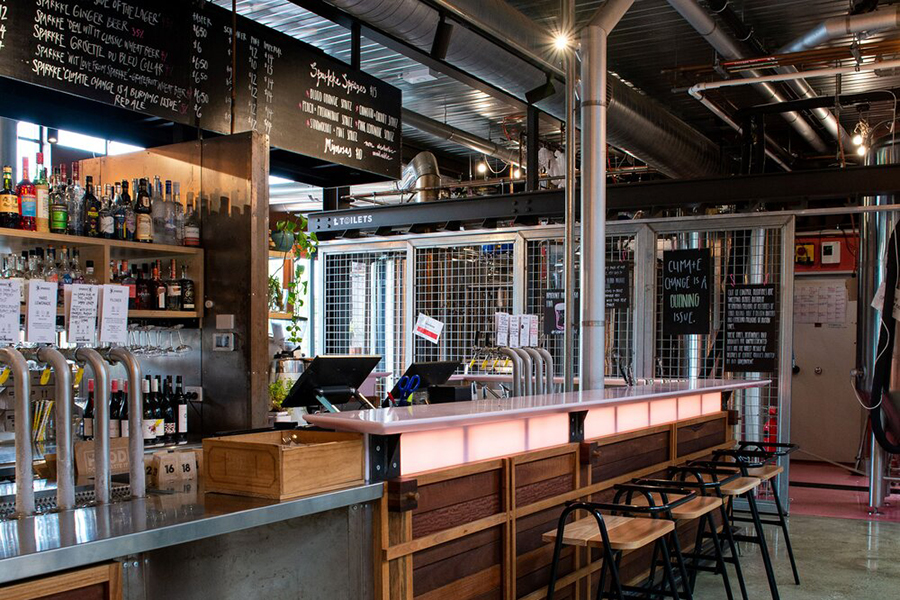 7. Sparkke at the Whitmore
With an onsite brewery and award-winning food, Sparkke at the Whitmore is a treat for anyone looking for a pub meal and a beer in Adelaide's CBD. Also scoring brownie points is the pub's socially conscious beers, with slogans like "Consent can't come after you do". An industrial exterior with a warm heart, a trip to Sparkke at the Whitmore is a service to the community!
Address: 317 Morphett Street, Adelaide
Phone: (08) 7123 0808
Hours: Tues: 12pm – 6pm (Bottleshop only), Wed – Sun: 11am – Late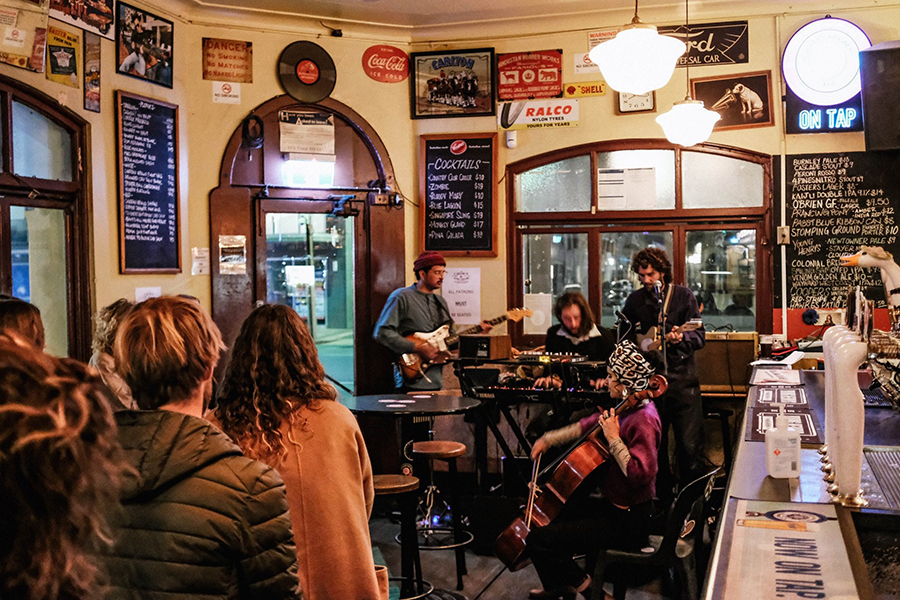 8. The Crown and Anchor
Known by locals as The Cranker, this watering hole is a nostalgic dream set on the backdrop of Adelaide's ever-changing bar scene. Live music, a pinball machine, comedy nights and $3 schooners on Wednesday nights- it's no doubt why the locals love The Cranker so very dearly.
Address: 196 Grenfall Street, Adelaide
Phone: (08) 8223 3212
Hours: Wed: 11am – 12am, Thurs – Fri: 11am – 3am, Sat: 11am – 12am, Sun: 11am – 10pm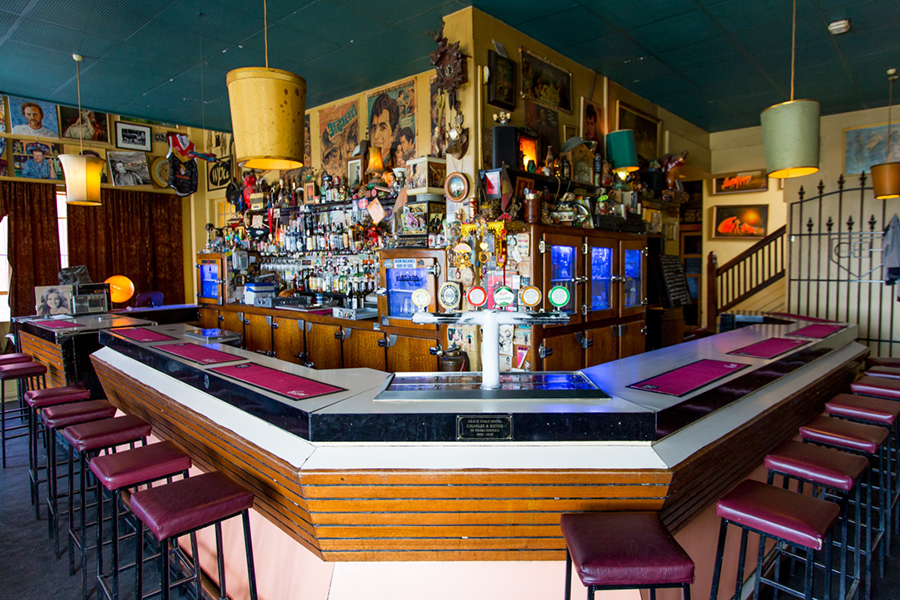 9. The Grace Emily
Another keen participant in Adelaide's live music scene, The Grace Emily has all sorts of entertainment, with open mic nights and slam poetry. The wine chalkboard consists of plenty of Ochota Barrels as well as a few other SA wines. Come with a full stomach as there's not much food here, just plenty to drink!
Address: 232 Waymotuh Street, Adelaide
Phone: (08) 8231 5500
Hours: Mon – Thurs: pm – 11pm, Fri: 4pm – 1am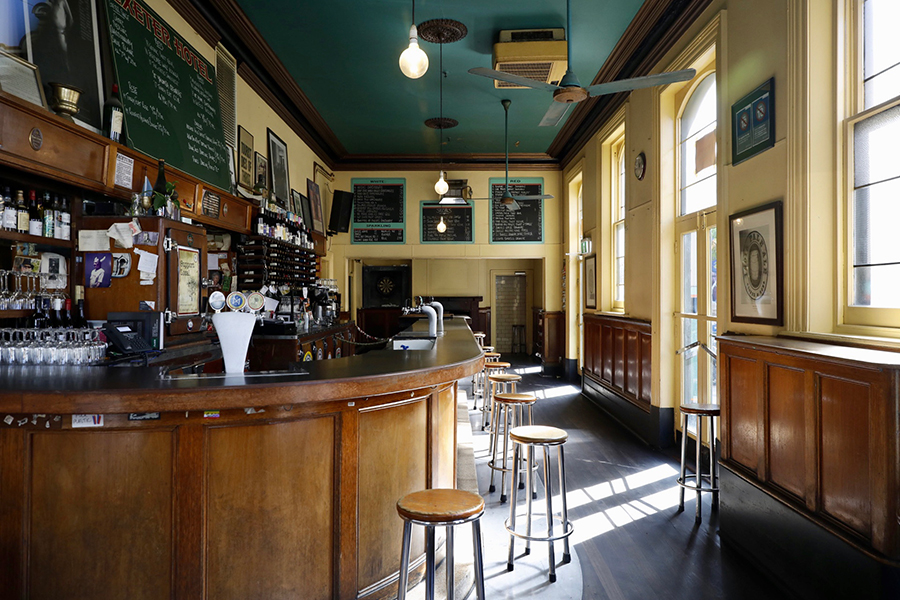 10. The Exeter
Idyllically set on the street corner of bustling Rundle Street, The Exeter is by far one of the best pubs in Adelaide. There's a beer garden, live music almost every night and plenty of cheap food options like the $10 steak sandwich, as well as plenty of vegetarian options too!
Address: 26 Rundle Street, Adelaide
Phone: (08) 8223 2623
Hours: Mon – Tues: 11am – 1am, Wed – Sat: 11am – 3am, Sun: 11:30am – 2am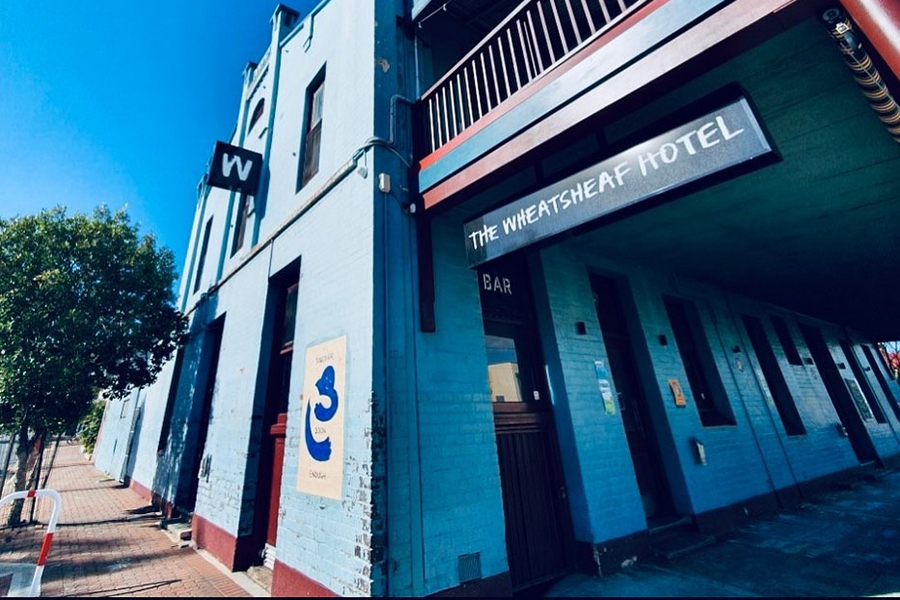 11. The Wheatsheaf Hotel
The perfect sunny balcony seat in Adelaide's inner west can be found at the iconic Wheatsheaf Hotel. The Pub is known for stocking craft beers from all over the globe as well as its on-site brewery. With food trucks outside on most nights, this pub and brewery has a youthful and fun atmosphere that never goes amiss.
Address: 39 George Street, Thebarton
Phone: (08) 8443 4546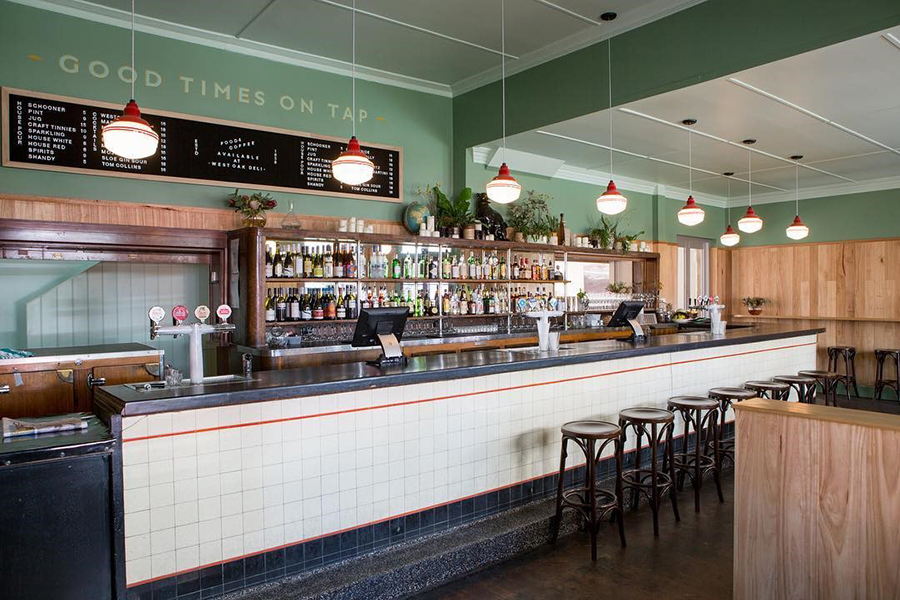 12. West Oak Hotel
There's a little bit of everything at this prototypical Adelaide Pub. The modern West Oak Hotel serves locally brewed beers and local wines and offers a simply classic menu. A beer garden outside and live-music also makes an appearance on some nights and tucked away upstairs is The Jolly Bar. A mini deli-café has also been added which faces out to Fenn Place, catching the hordes of uni students on their way to and from class. The upper story also houses a gallery for local artists!
Address: 208 Hindley Street, Adelaide
Phone: (08) 8410 5084
Hours: Mon – Tues: 4pm – 11pm, Thurs: 12pm – 11pm, Thurs: 12pm – 3pm, Fri: 12pm – 12am, Sat:: 4pm – 3am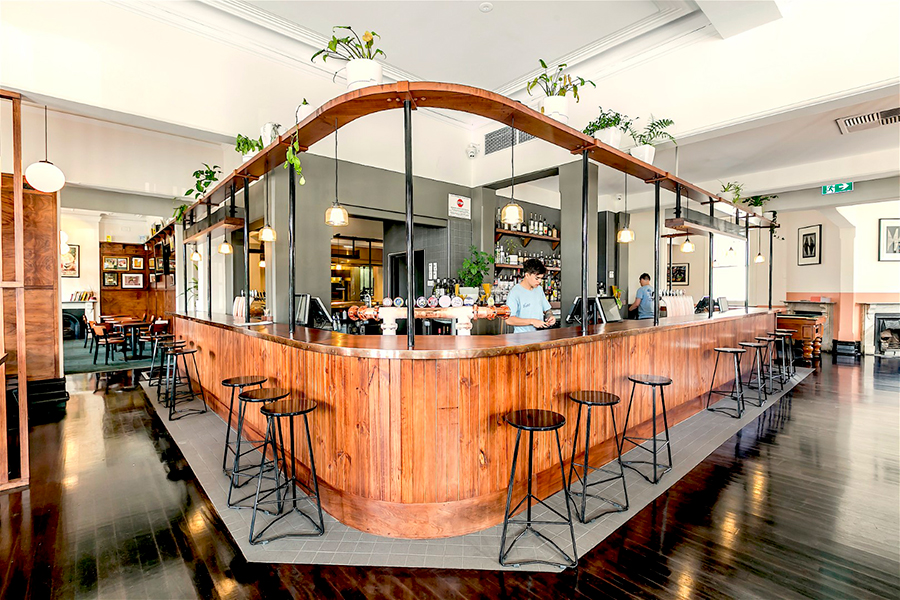 13. The Stag Public House
The Stag Public House is an iconic East End pub with a kitschy aesthetic and fine food options. Around since 1849, the pub is a perfect mixture of old and new, in both décor and the menu. You can play a game of billiards for just $1, and don't miss out on the cob loaf to share with mates with your afternoon pint.
Address: 299 Rundle Street, Adelaide
Phone: 0478 557 824
Hours: Wed – Thurs: 4pm – 12am. Fri – Sat: 12pm – 2am, Sun: 12pm – 11pm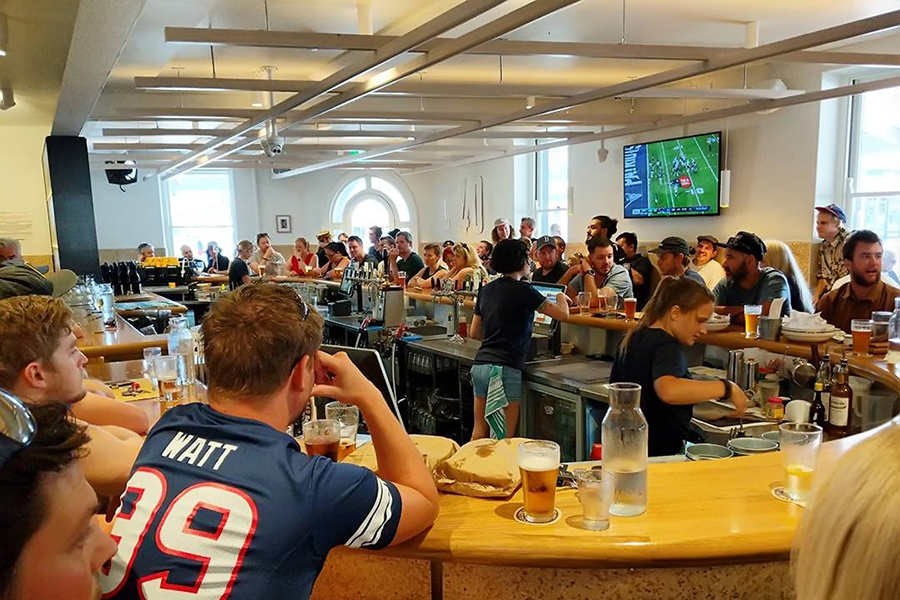 14. Port Admiral Hotel
The Port Admiral Hotel is one of Adelaide's oldest pubs, with a lot of life left in it yet. What make this place special is its open-fire barbecue and its loyalty to local beers, stocking plenty of The Port Local, a favourite house lager. The uncluttered interior leaves plenty of space for all sorts of memories and people coming together.
Address: 55 Commercial Road, Port Adelaide
Phone: (08) 8341 2249
Hours: Wed – Thurs: 4pm – 10pm, Fri – Sat: 12pm – 12am, Sun: 12pm – 5pm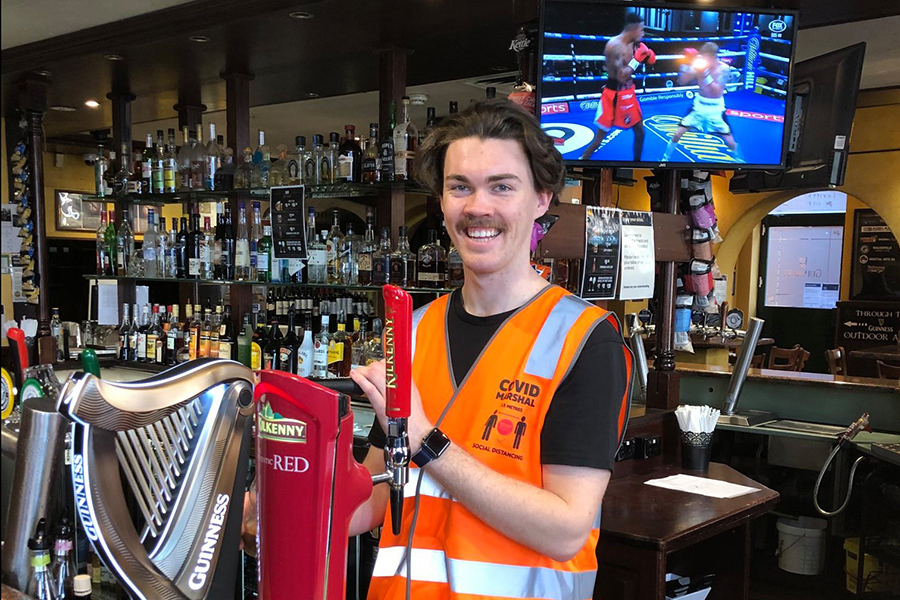 15. The Norwood Hotel
Located in the heart of Adelaide's Norwood, this heritage-listed pub is a local institution. The Irish inspired pub takes you right to the streets of Dublin, complimented by local beers and wines. The hotel has four dining spaces all serving modern Australian cuisine. Ideal for a casual catch up or a long family lunch, there's also live music acts and gigs.
Address: 97 The Parade, Norwood
Phone: (08) 8431 1822
Hours: Mon – Tues: 11am – 9:30pm, Wed – Thurs: 11am – 10pm, Fri: 11am – 2am, Sat: 11am – 1am, Sun: 11am – 9:30pm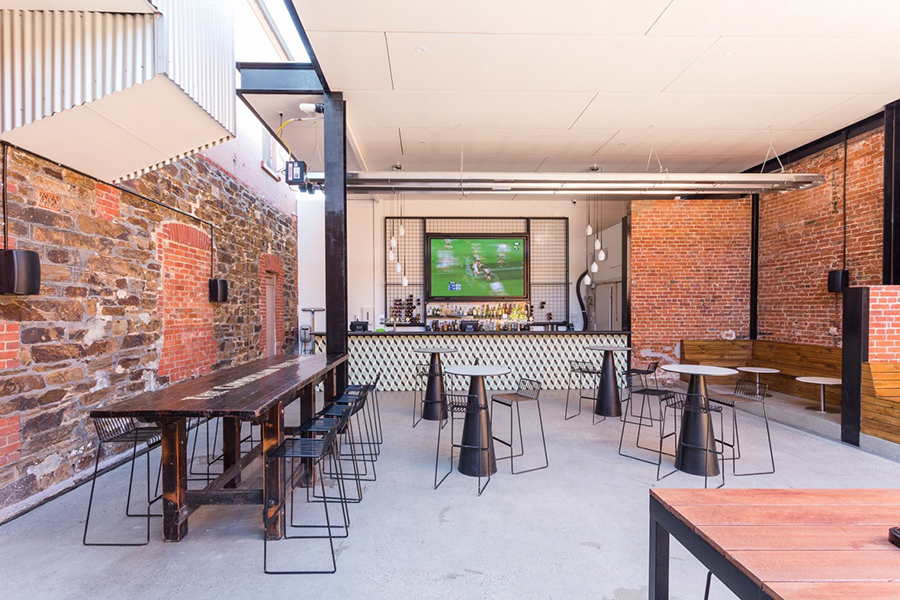 16. The Cumby
Also known as the Cumberland Arms Hotel, The Cumby is another one of Adelaide's heritage-listed hotels. With a warm pub atmosphere, the Cumby has been refurbished to perfection. The pub also boasts a sun-drenched beer garden and fine food options, offering the classic schnitty and burgers. There is a vibrant dance-floor on Friday and Saturday nights for all those looking for a jive, and live music on Sundays for those hoping for a more relaxed evening.
Address: 205 Waymouth Street, Adelaide
Phone: (08) 8231 3577
Hours: Mon – Tues: 12pm – 10:30pm, Wed – Thurs: 12pm – 11pm, Fri: 12pm – 12am, Sat: 12pm – 2am, Sun: 12pm – 10:30pm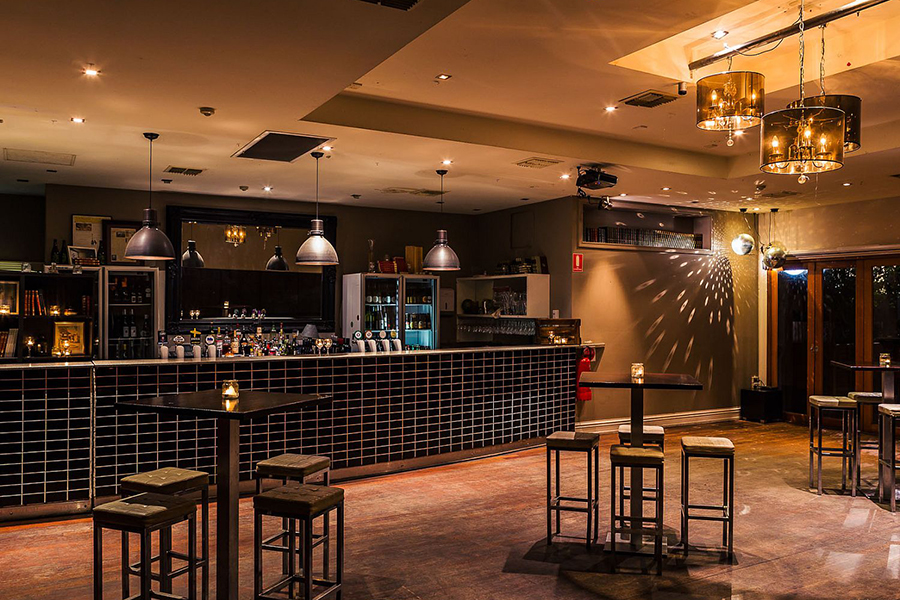 17. The King's Head
A lot of Adelaide's best pubs are known for supporting local, but this one takes it to the next level. The King's Head only serves beer, wine or food that comes exclusively from South Australia. This also means you'll find some secret brews you won't find anywhere else. With plenty of board games on offer as well, The King's Head is the perfect cosy pub night we all need every once in a while.
Address: 357 King William Street, Adelaide
Phone: (08) 8212 6657
Hours: Mon – Sat: 10am – 2am, Sun: 10am – 12am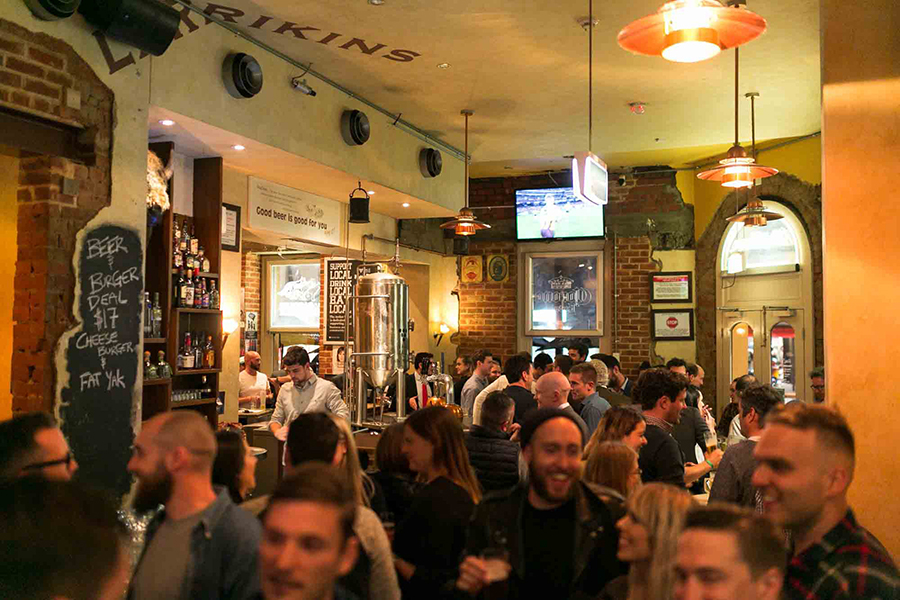 18. The Archer
An all-rounder venue, The Archer has been revitalised since its reopening in 2019. Only a short walk from Adelaide oval, it's the perfect spot for a beer and a feed post- match. The pub also boasts a huge beer garden, pool tables and an atrium eating area, offering the classic experience.
Address: 60 O'Connell Street, North Adelaide
Phone: (08) 8361 7223
Hours: Mon – Wed: 11:30am – 9pm, Thurs: 11:30a – 10pm, Fri – Sat: 11:30am – 1am, Sun: 11:30am – 5pm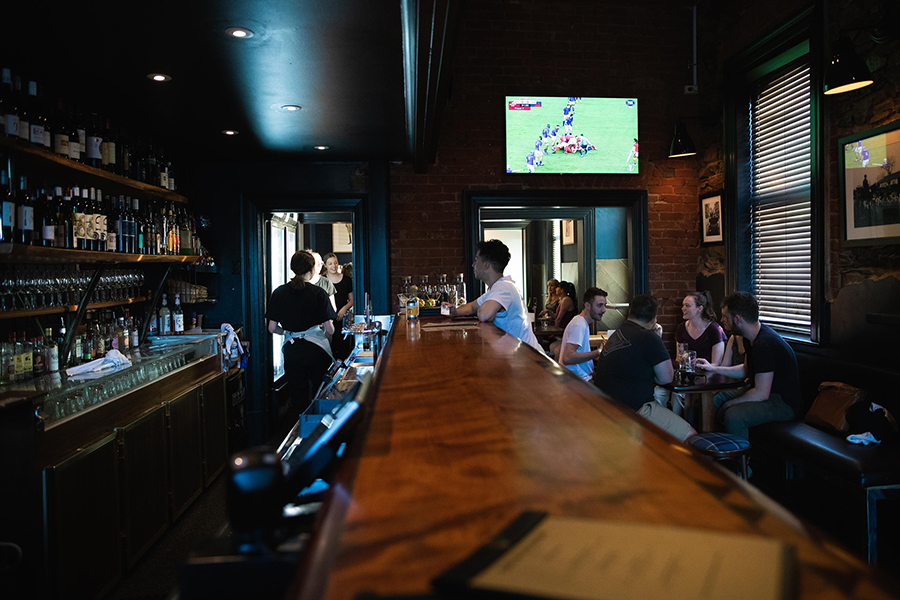 19. Earl of Leicester
Set in a historic 1800s fit-out, this charming old spot is a local favourite and one of the bet pubs in Adelaide. The Earl of Leicester serves boutique wines and pub grub and has an extensive amount of beers available. Tucked away in Parkside, the venue is renowned for the massive-sized meals available, like the 600g schnitzels for just $25. If you're in need of some old-school comfort in the form of some good old pub grub, then this is your place.
Address: 85 Leicester Street, Parkside
Phone: (08) 8271 5700
Hours: Mon: 4pm – 10pm, Tues: 10am – 10pm, Wed – Thurs: 10am – 11pm, Fri – Sat: 10am – 12am, Sun: 10am – 11pm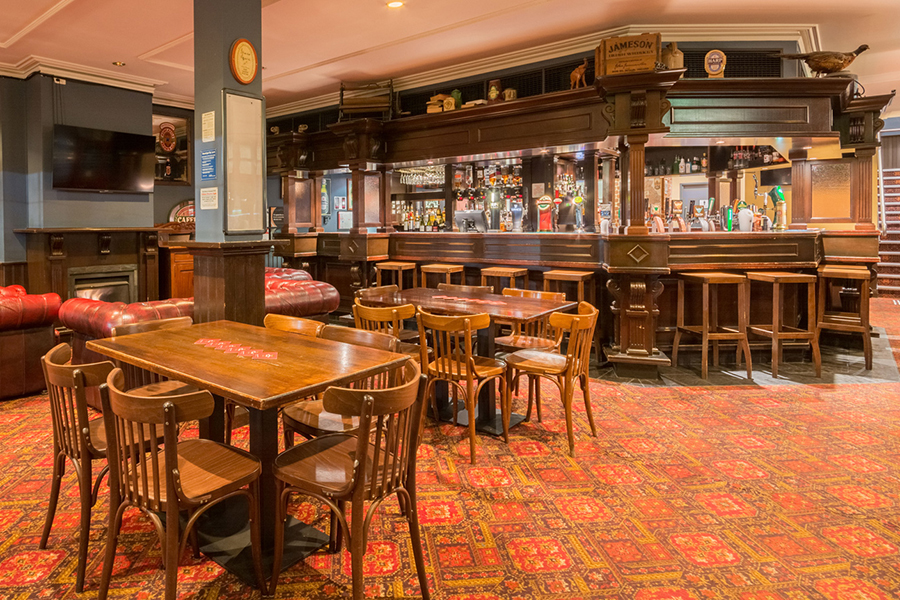 20. The Elephant
If you're one of those returned Aussies from the quintessential time abroad working and living in the UK, The Elephant will undoubtedly ignite those feelings of nostalgia. This British pub sits in the back streets of Adelaide's East End. It hosts live music on Friday and Saturday nights and has over 30 draught beer and cider taps. But more importantly, you'll feel like you're right back in chilly old England.
Address: 1 Cinema Place, Adelaide
Phone: (08) 8227 1633
Hours: Fri – Sat: 12pm – 3am
Alternatives to Pubs in Adelaide
If you find yourself in Adelaide and you're looking for something different to do, we've got you covered. Why not check out the driving range or hit the surf at one of Adelaide's great beaches? Once you're done there, hit up one of the city's best whisky bars and wind down the night.
How Man of Many Chose the Best Pubs in Adelaide
With an editor who hails from the South Australian capital, Man of Many is adept at uncovering the very best watering holes and venues in Adelaide. For this list, the team of curators aimed to visit each of the venues named, however, where they haven't, ratings were collated based on food critics and expert reviews. Man of Many's editors have taken into account, price points, opening times, and food choices, while also making a concerted effort to highlight a few brunch spots outside the CBD.
Key Things to Consider for Adelaide's Best Pubs
comes to selecting a good pub in Adelaide, there are some key factors to consider. Here are the elements to keep in mind when deciding where to go:
Location – How far will are you willing to travel?
Value – Is it value for money?
Service – Great service goes a long way.
Venue – Atmosphere can make or break a French dining experience.
You'll also like:
13 Best Tailors and Bespoke Suit Shops in Adelaide
11 Best Barbers in Adelaide
14 Best Day Spas in Adelaide
Adelaide Pubs FAQ
Are there any cool pubs in Adelaide?
That is an easy yes! The Uraidla Hotel is one of our favourites, with its traditional yet trendy atmosphere, range of craft beers and the way the pub effortlessly lends its interior to make the most of its great location. The Austral Hotel is another one of the best pubs in Adelaide, a place that is full of energy and promises of good nights, with a timeless classic pub atmosphere.
Where are the best pubs in Adelaide?
Head to Hindley Street for the quintessential Adelaide pub experience. For a more trendy night out at the pub, Adelaide's East End has plenty on offer.
Is Adelaide known for its cocktail bars?
Adelaide is more commonly known for its wealth of pubs, but as you dive deeper into the alleyways of this layered city, you'll discover the booming bar scene hidden in many of its nooks. Adelaide is becoming popular for its taste in cocktails and is slowly becoming home to some of Australia's coolest cocktail bars.