7 Best Whisky Bars in Brisbane
Anybody's who's spent a night or two visiting Queensland's capital may have been left wondering where to find the best whisky bars in Brisbane. There was a time when a trip to BrisVegas was slim pickings on the culture front, but not any more it seems. The riverside city has taken note from its southern counterparts and started to play a massive game of catch-up, with great cafés, restaurants, live music venues and bars popping up all left right and centre in a relatively short space of time.
While the new range of venues is a refreshment for locals and visitors alike, here we've focussed on Brisbane's best whisky bars – the drinking holes that have made a dedicated, concerted effort and put whisky and all its variants on a pedestal. Order one, stay for three, and make you you tick them all off your list as you drink your way through our list of Brisbane's best whisky bars.
You'll also like:
Watch How Whisky is Made
15 Best Australian Whiskey Brands
Interview with the Whisky God, Dr Bill Lumsden of Glenmorangie

1. The Gresham
Housed in one of Queensland's most iconic buildings, The Gresham is the whisky bar that set the standard for the rest of the city, and has won more awards than the snappy bartenders can rattle off the top of their heads. While whisky remains the focus, they've also earned a reputation for seriously good cocktails and even serve coffee from 7am Monday – Friday, making sure Brisbane gets its requisite fix at all times of the day.
Address: 308 Queen St, Brisbane City QLD 4000
Hours: M – F, 7am – 3AM, S – S, 4pm – 3am
Phone: 0437 360 158
Style: vintage, Victorian Era

2. Savile Row
Peel back the bright orange door on this seemingly quaint high-street shop and you'll find a hidden wonderland of whisky. Tucked away in plain sight, Savile Row is only metres from the main strip of Brisbane's most infamous nighttime precinct, Fortitude Valley. Aside from being one of the best whisky bars in Brisbane, Savile Row is also one of the most diverse. The bar has a carefully curated cocktail list, 20 rotating wines, draught beer, a full fridge of sherries and amaro, not to mention over 900 spirits on-hand at any one time. This is one bar that surprises from start to finish, but we should have seen it coming. Savile Row is the sister operation to fellow Brisbane whisky bar favourite, Cobbler.
Address: 667 Ann St, Fortitude Valley QLD 4006
Open: M – F, 5pm – 3am
Style: classy, underground, speakeasy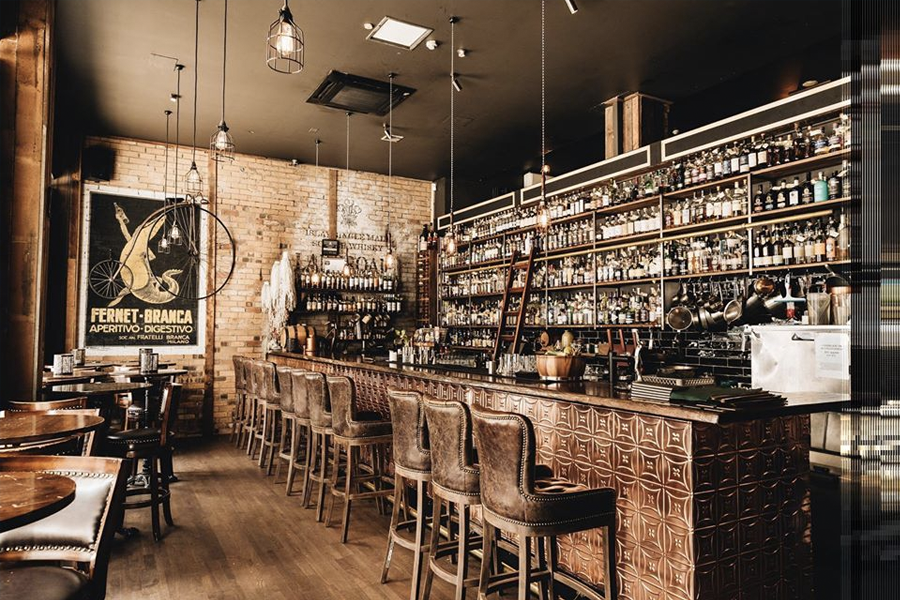 3. Cobbler Whisky Bar
While whisky is the focus of this West End small bar, the real highlight is the service. The relaxed environment lends itself to a great night of single malts, cocktails and rock n roll without the need for pretentiousness. The team here only make drinks, so food is a BYO affair, which we think is a massive plus. Rock in with some cheese and stay for a tour of the continents, in the form of whisky and whiskey.
Address: 7 Browning St, West End QLD 4101
Open: M, 5pm – 1am, T – T, 4pm – 1am, F – S, 4pm – 2am
Phone: 0455 686 968
Style: classy, underground, speakeasy

4. Death and Taxes
Much like the spirit itself, a number of Brisbane's best whisky bars get better with age. Located in the city's oldest laneway, Death and Taxes is a hidden gem. The bar takes inspiration from the underground venues of London and Paris, with the grand back bar displaying over 1000 spirit bottles. If you in town for the night or you are a Brisbane local, you're going to love Death and Taxes. It's inevitable.
Address: 36 Burnett Ln, Brisbane City QLD 4000
Open: S – T, 3pm – 1am, W – S, 3pm – 2am
Phone: 0428 964 197
Style: heritage, outdoor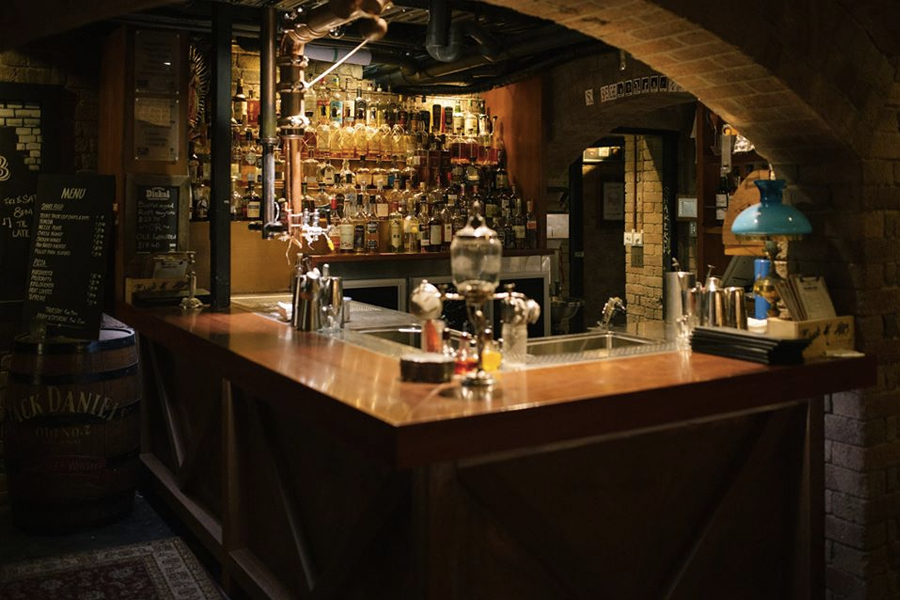 5. The Walrus Club
Hidden beneath Brisbane's iconic Regatta Hotel is a secret speakeasy that is celebrating all things whisky. The Walrus Club pays genuine homage to the 1920/30's Temperance Movement, better known as Prohibition. From neats, to sours, The Walrus Club is a Brisbane whisky bar that can do it all. A true experience for hardened whisky fans.
Address: 543A Coronation Dr, Toowong QLD 4066
Open: S – T, 5:30pm – 12am, F – S, 5:30pm – 2am
Phone: (07) 3051 7617
Style: speakeasy, prohibition, underground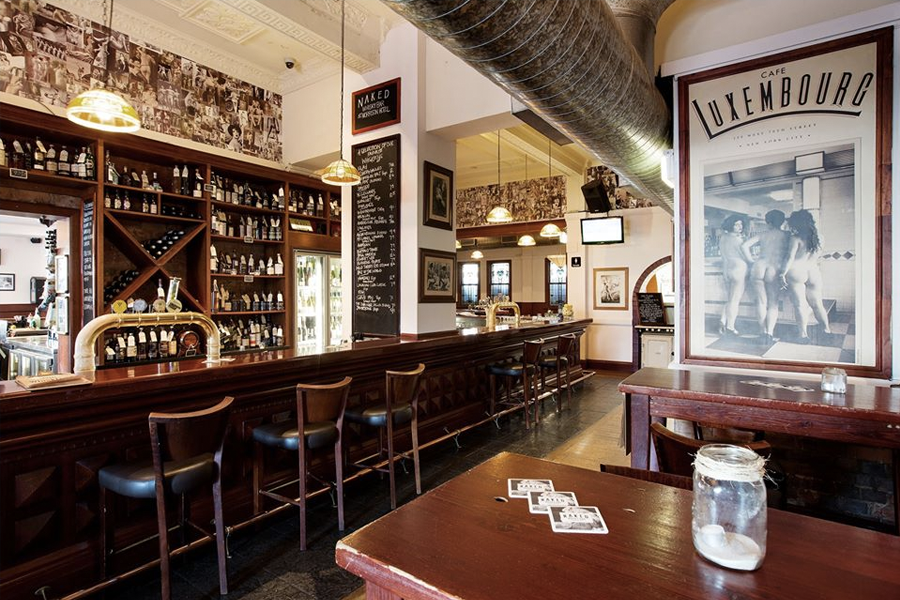 6. Naked Whisky Bar @ The Morrison
Located within one of the state's best-loved pubs, The Morrison, Naked Whisky Bar is the down-to-Earth way to enjoy Brisbane's burgeoning whisky scene. With over 200 drops on offer, there's enough top-shelf gear in stock to satisfy any palate and budget, and the in-house restaurant turns out famous char-grilled steaks to hordes of happy drinkers and diners every day.
Address: 640 Stanley St, Woolloongabba QLD 4102
Phone: (07) 3391 1413
Open: S – W, 10am – 11pm, T – S, 10am – 12am
Style: speakeasy, casual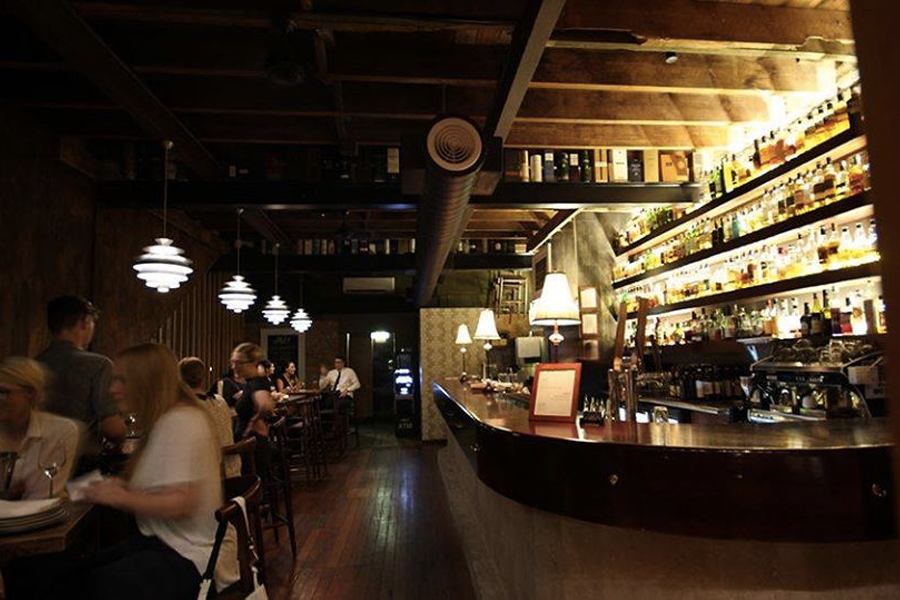 7. Malt Dining
Made for whisky aficionados who also want a cracking lunch or fancy dinner, Malt dining combines a chef's-hatted restaurant with a solid selection of brown liquors, housed above a bottle shop which sells some of the malts on offer. The 150-year old exposed brick archways lend themselves to the quaint yet relevant menu from chef Andy Birse, whose dishes are a good as they look. Split across three levels, Malt Dining is a must if you're in Brisbane in need of a dram to whet your whistle.
Address: 28 Market St, Brisbane City QLD 4000
Ph: (07) 3236 4855
Open: M – F, 11:30am – 11:30pm, S,  5pm – 11:30pm, Closed Sundays
Style: rustic-chic, classy
General FAQ
What is the best whisky bar in Brisbane?
Popular opinion will tell you The Gresham is the best whisky bar in Brisbane, thanks to its swag of awards. However, local favourites Cobbler, Savile Row and Malt Dining are all great options for whisky drinkers in Brisbane.
Where is the best location for whisky bars in Brisbane?
The majority of Brisbane's best whisky bars are found in the CBD. Here you'll find The Gresham, The Walrus Club and Naked Whisky.
What are the best whisky speakeasies in Brisbane
The best whisky speakeasies in Brisbane are The Walrus Club, Savile Row and Cobbler.
You'll also like:
Watch How Whisky is Made
15 Best Australian Whiskey Brands
Interview with the Whisky God, Dr Bill Lumsden of Glenmorangie