12 Best Massage Guns: Percussive to Handheld
If you are an athlete looking to improve your muscle recovery, you've undoubtedly considered a percussive massage gun. The portable rehab tool has become an essential item for fitness enthusiasts across the globe due to its ability to deliver vibration therapy with a targeted approach, ideal for fast workout recovery. Naturally, the industry has boomed, resulting in an explosion of technological innovation and, of course, brands and ranges. But how do you determine which massage gun is best for you? Well, we're here to walk you through our favourite products before taking a deep dive into all the information you need to know.
Best Massage Guns at a Glance
Our list of the best massage guns goes like this.
Best Percussion Massage Guns
It's often noted that stretching, quality sleep, nutritious fuel and hydration all enhance recovery, yet using a massage gun is one newer method we've found rapidly heals sore muscles, aches and pains. With numerous massage head attachments, designs and a series of versatile functions, any of the best massage guns chosen by our editors below will have you feeling amazing.
Names like Theragun, Hyperice and Hydragun have long been leaders in this industry, however, we've gone the extra step in finding great options for any budget. With these factors in mind, let's have a look at the best massage guns for your next recovery session.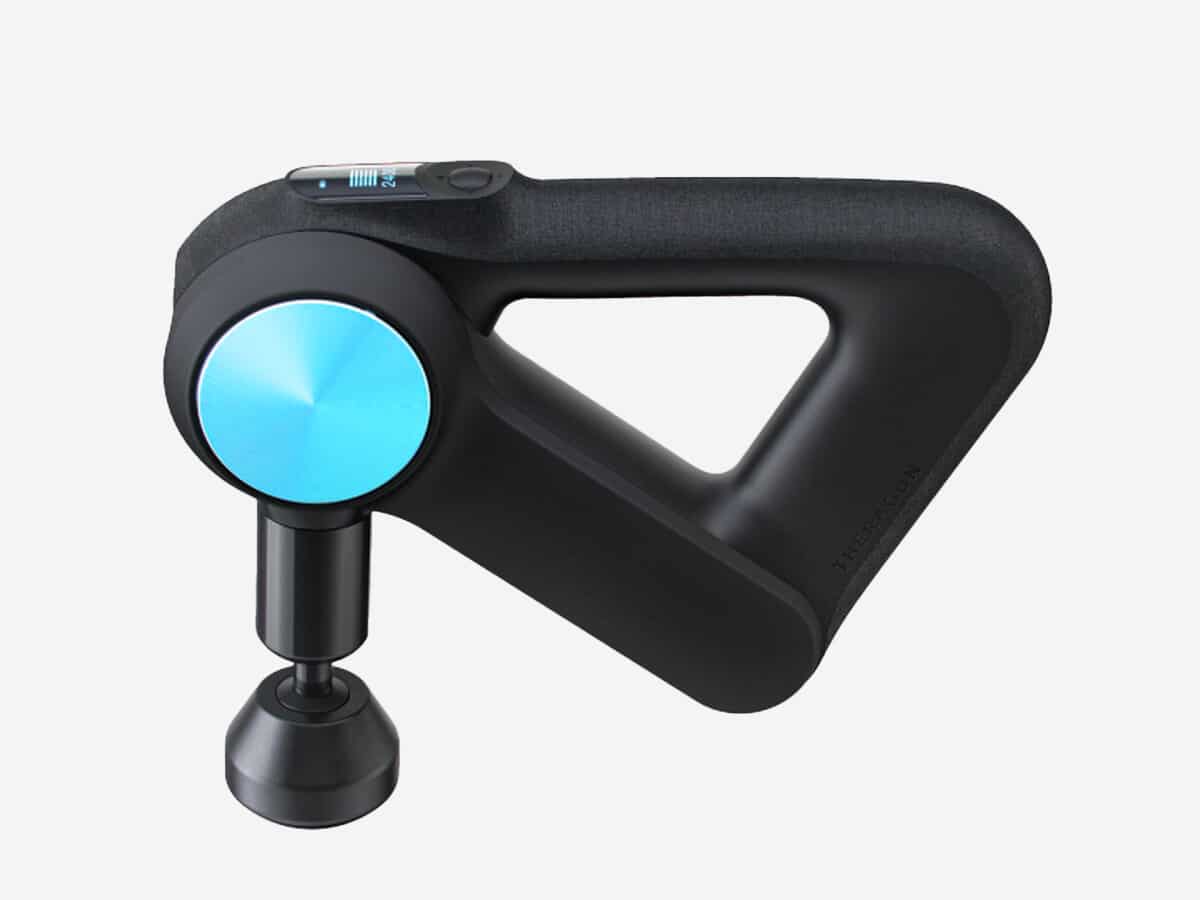 1. Theragun PRO (5th Generation)
As the premier brand in the sports recovery industry, Theragun is no stranger to portable massage guns and tools, best typified by the Theragun PRO. Yes, the price tag might immediately put some people off. However, we firmly believe that it's a worthwhile investment, considering the unmatched quality of this product. And with the release of the latest 5th Generation, the PRO has somehow been elevated to new heights. The redesign includes an OLED screen display with four visually guided built-in routines: Sleep, Warm Up, Recovery, and Theragun Break. This makes soothing sore muscles easier than ever, regardless of the time of day.
One standout feature of the PRO massage gun is its proprietary EQ-150 brushless motor, which is 20 per cent quieter than previous models. This not only provides a more pleasant experience for users but also ensures a more enjoyable environment for those nearby (often trying to watch Netflix). Additionally, the PRO boasts an ergonomic grip, allowing it to reach all those hard-to-access places. And with with a customisable speed range of 1750-2400 PPMs, you can gradually ease your way into relief.
Moreover, the Theragun PRO comes with six different massage head attachments, which some may consider excessive. However, we appreciate the versatility and the ability to target various areas of the body. If you need guidance on how to use the device or any of the attachments, we highly recommend connecting to the Therabody app via Bluetooth. It provides easy-to-follow personalised routines designed to suit your specific needs. Lastly, the PRO offers an impressive battery life of 150 minutes with quick USB-C charging.
The Theragun PRO stands out as a top-notch percussion massage gun, combining exceptional quality, user-friendly features, and long-lasting performance that will provide ultimate relief for tight muscles. If you are looking for a Theragun option for a little cheaper, however, there are a number of other models, such as the G3 Pro that you may be able to pick up second-hand.
---
Featured Video from Man of Many
---
Brand: Theragun
Price: AUD$899
Battery Life: 150 minutes
Theragun PRO (AUS) Theragun PRO (US)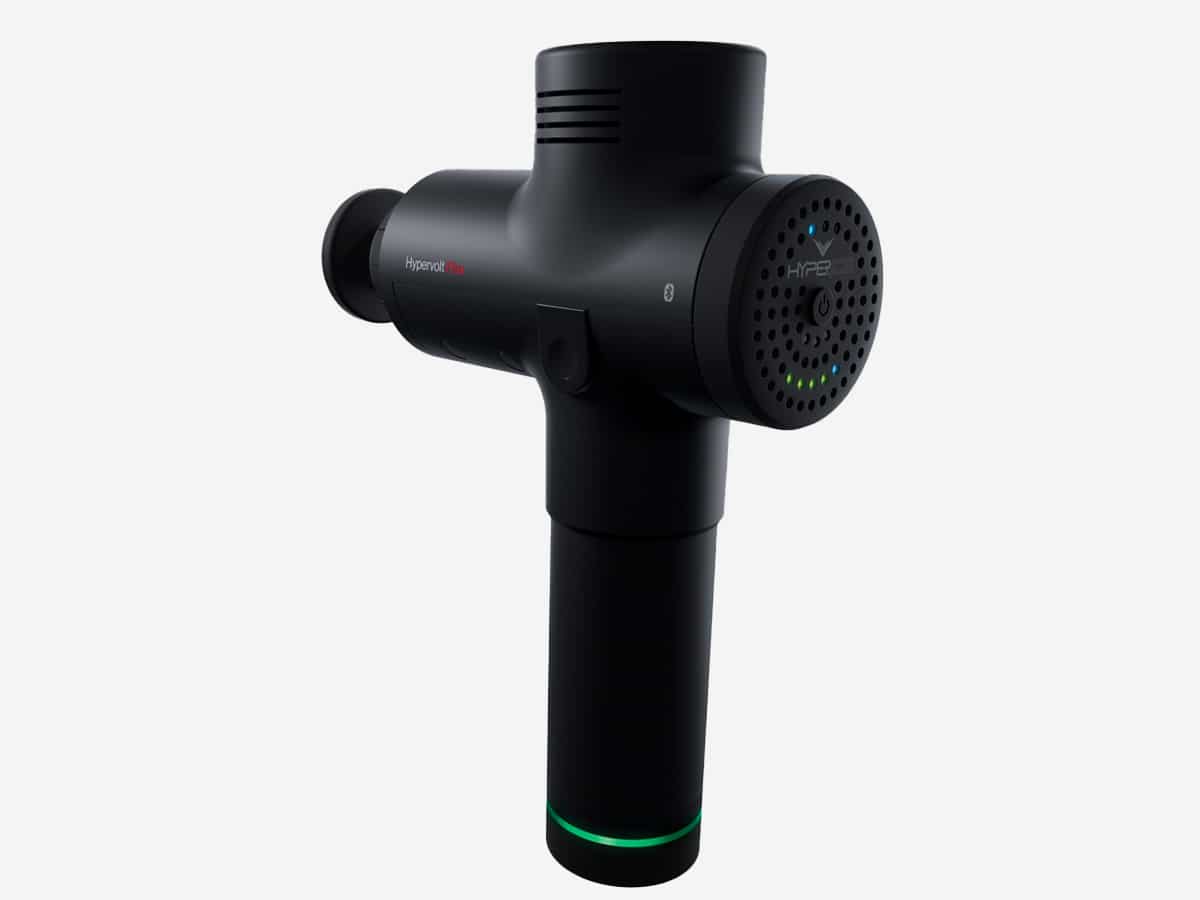 2. Hyperice Hypervolt Plus (With Bluetooth)
One of the key selling points of the Hypervice Hypervolt (With Bluetooth) is that its super quiet without compromising on its recovery capabilities. Plus, its hammer-like profile makes the tool super nimble and effective for handling despite weighing 2.5 lbs.
One of the best massage guns on the market, with its range of speeds and motions, you'll be covered from warm-up to cool-down. The dial-style controls are great if you want to make easy adjustments on the fly and the patented pressure sensor technology allows you to see how much pressure is being applied. Like Hypervolt's other recovery products, the Hypervolt Plus' Bluetooth capabilities will also allow you to track sessions and preferred motions in the Hyperice app.
Brand: Hyperice
Price: AUD$699.95
Battery Life: 2 hours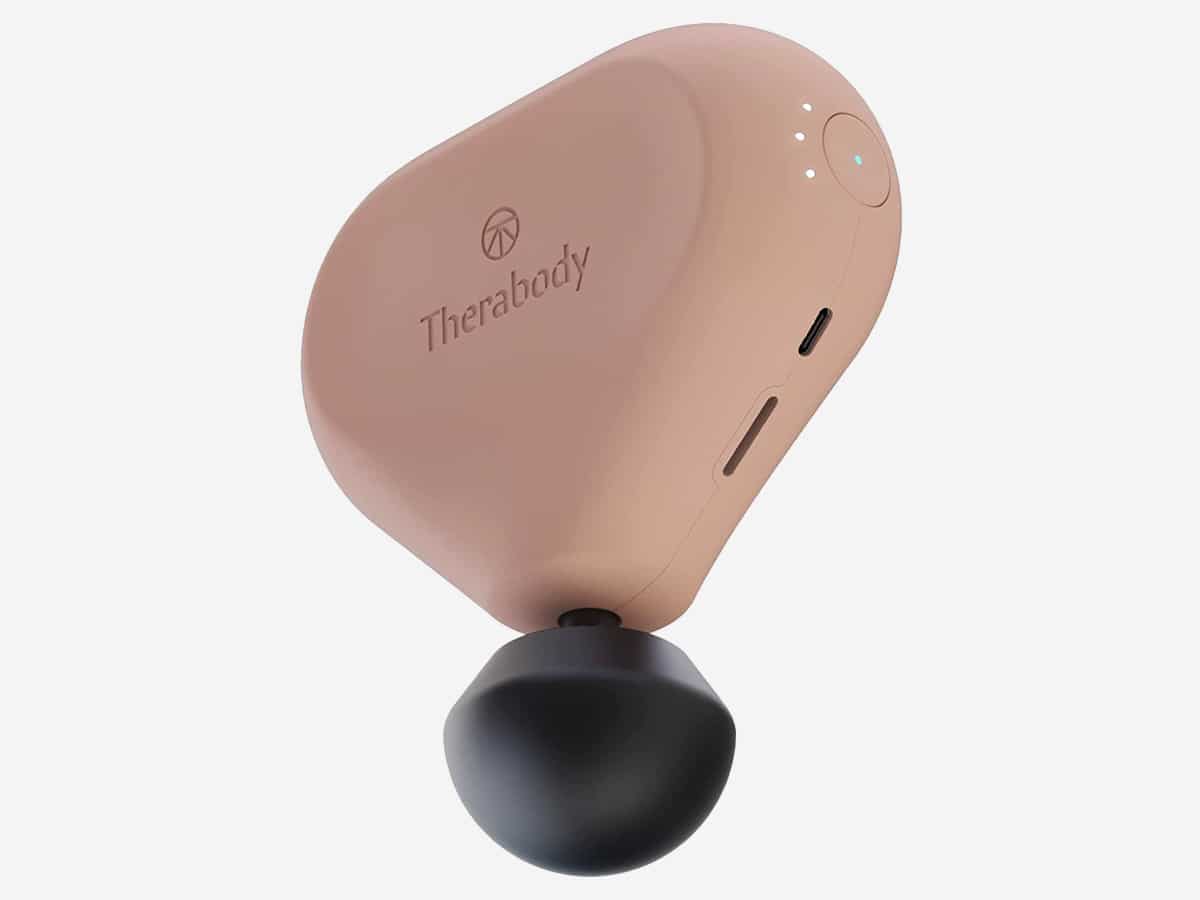 3. Theragun Mini (2nd Edition)
As the name suggests, the Theragun Mini is small. This compact, lightweight massage gun is ideal for relief on the go. And the second generation is even more portable, now 20 per cent smaller and 30 per cent lighter than the previous iteration. With 150 minutes of battery life and three speeds for varying massages, the Theragun Mini isn't too far from its larger counterparts and you can still tackle all muscle groups. If you're constantly moving and have limited bag space, this is a great, space-saving percussion massage gun. We've also found it to be the ultimate buddy for flying or long-distance travel.
Brand: Theragun
Price: AUD$349
Battery Life: 120 minutes
Theragun Mini (AUS) Theragun Mini (US)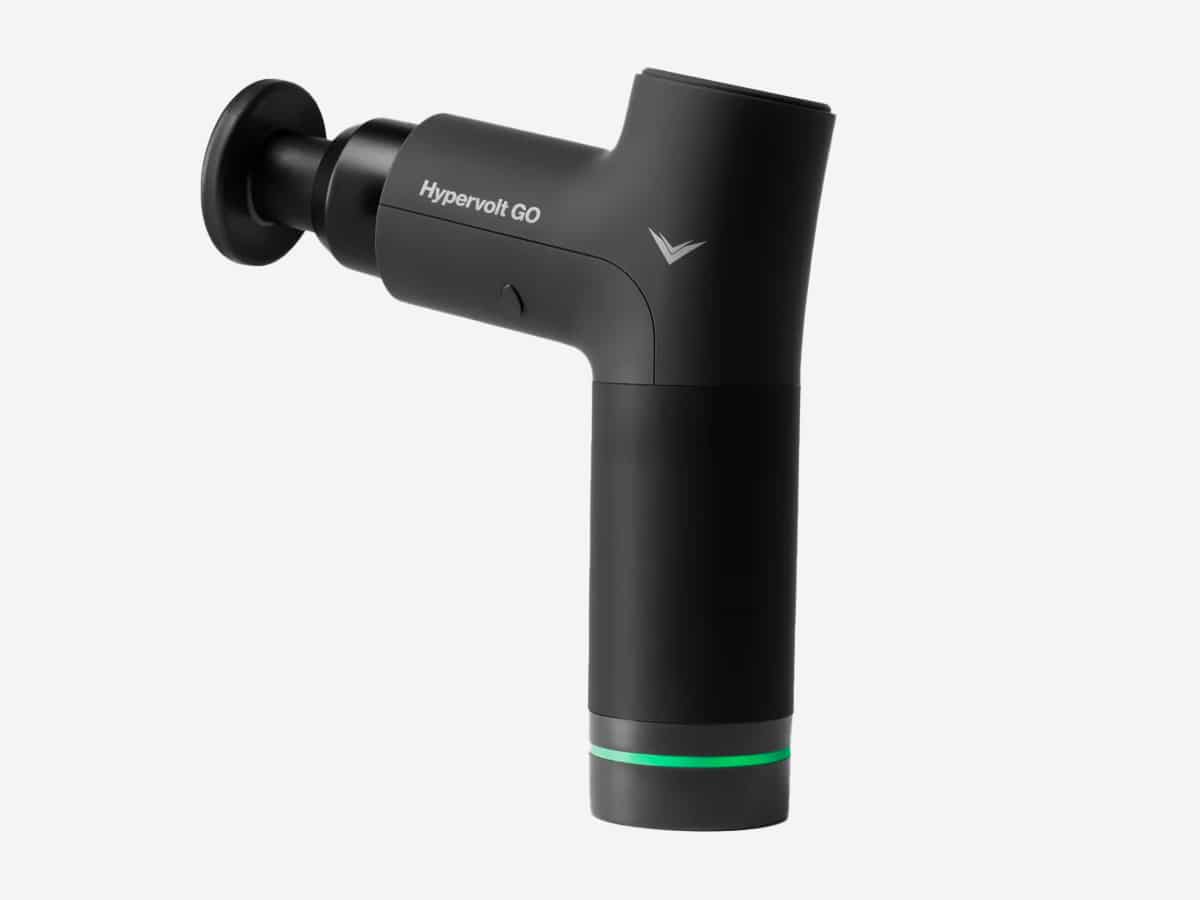 4. Hypervolt GO
From Theragun's mini model to Hyperice's Hypervolt GO. While not as compact as the Theragun Mini, this lightweight massage gun is still 30 per cent smaller than the Hypervolt model we discussed earlier. This smaller, lightweight model again is great for travel and transport and is basically as strong as its bigger siblings. With three speed settings and two interchangeable heads, you can't go wrong with a Hypervolt GO.
Brand: Hyperice
Price: AUD$349.95
Battery Life: Two and a half hours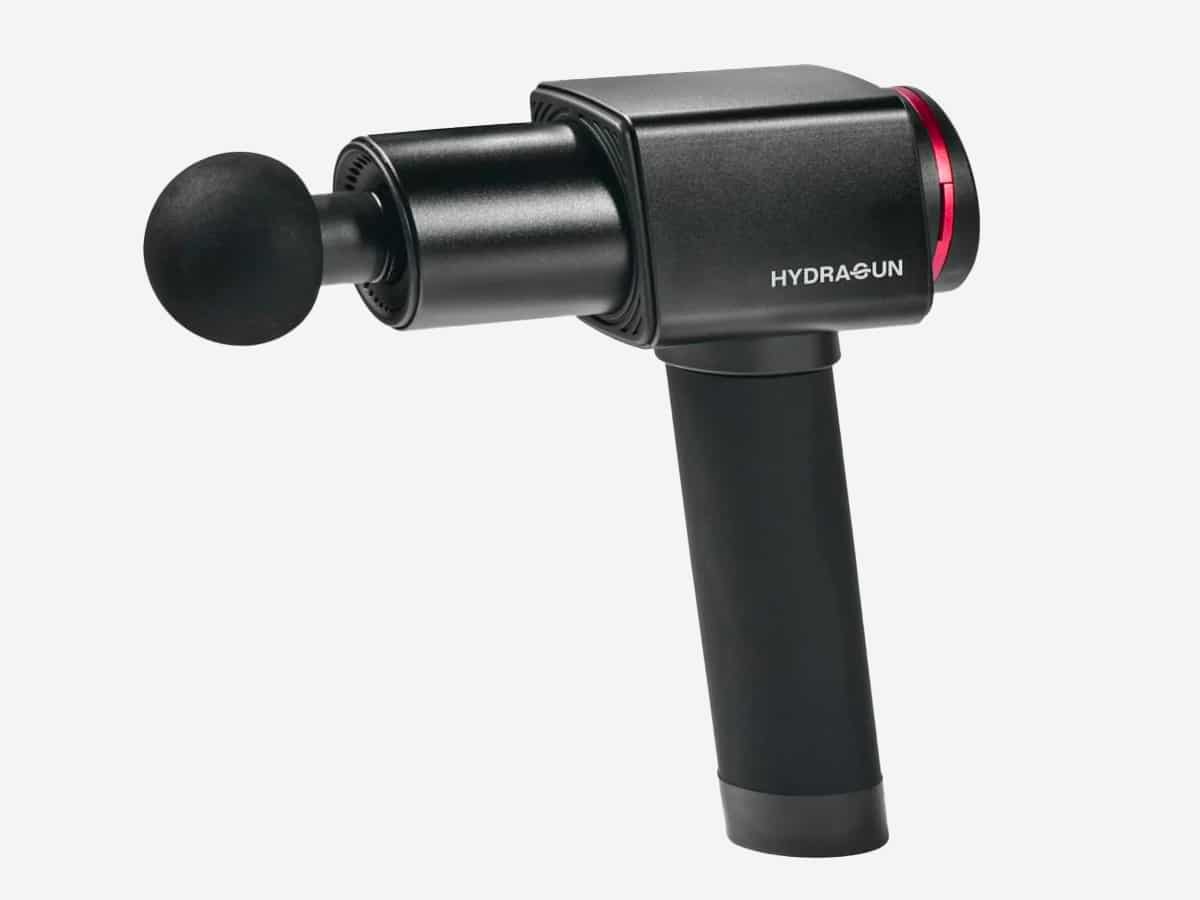 5. Hydragun
Performance technology start-up, Hydragun, is no longer the new kid on the block and has grown to become a force in the industry. The Australian company offers a high-quality massage gun that is far quieter than some of the other options on this list while still belting out an impressive 3200 pulses per minute for that deep tissue massage. Made to last, this sturdy design is built with an aerospace-grade aluminium chassis.
Brand: Hydragun
Price: AUD$399
Battery Life: 3-6 hours
RELATED: 10 Best Smart Fitness Tech Products for a Futuristic Workout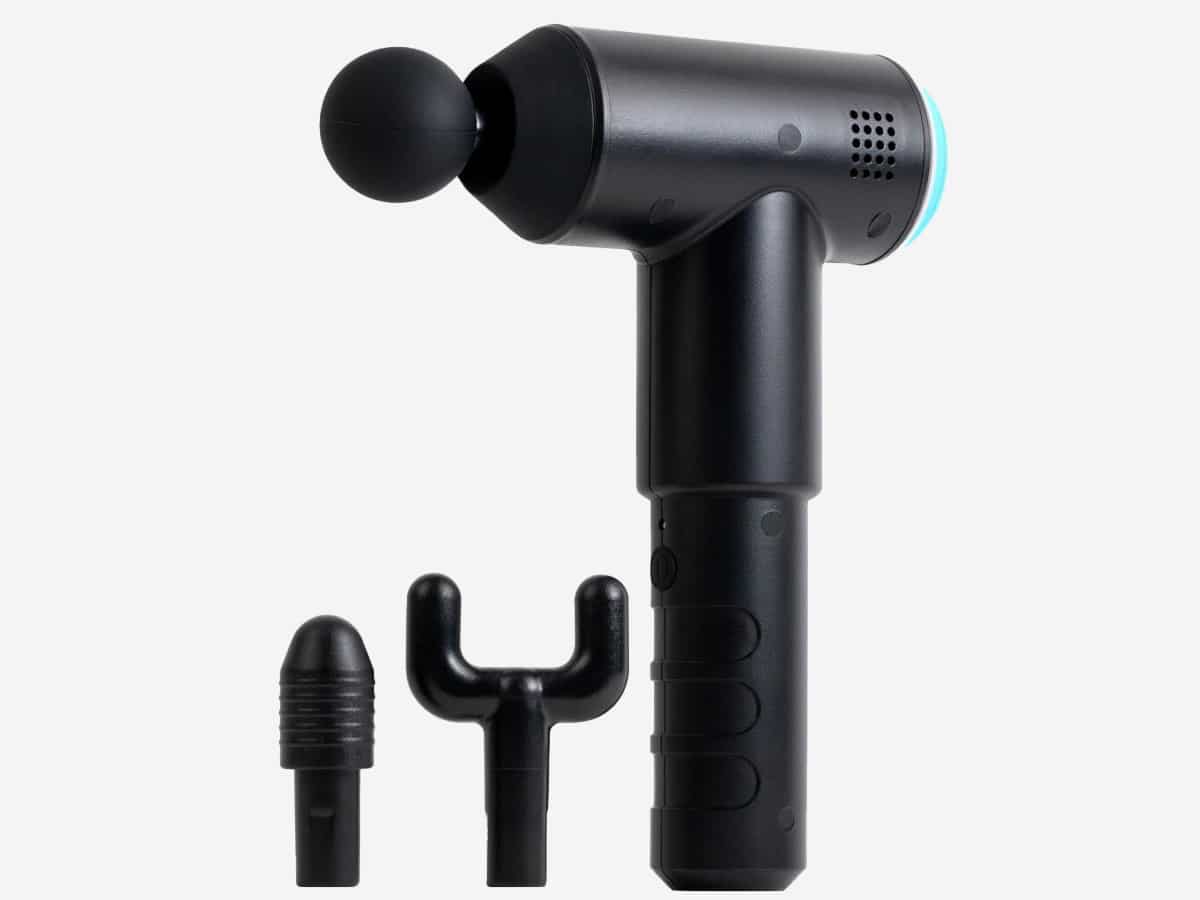 6. Homedics Physio Massage Gun
The Homedics Physio Massage Gun is an ideal entry-level massage gun. This Homedics model is an option that won't break the bank and has all the bells and whistles other massage guns like to boast. Three settings, multiple massage heads, as well as being light and compact for storage and travel. Like we said, if you're new to percussion massage guns, start with the Homedics Physio Massage Gun.
Brand: Homedics
Price: AUD$99
Battery Life: One hour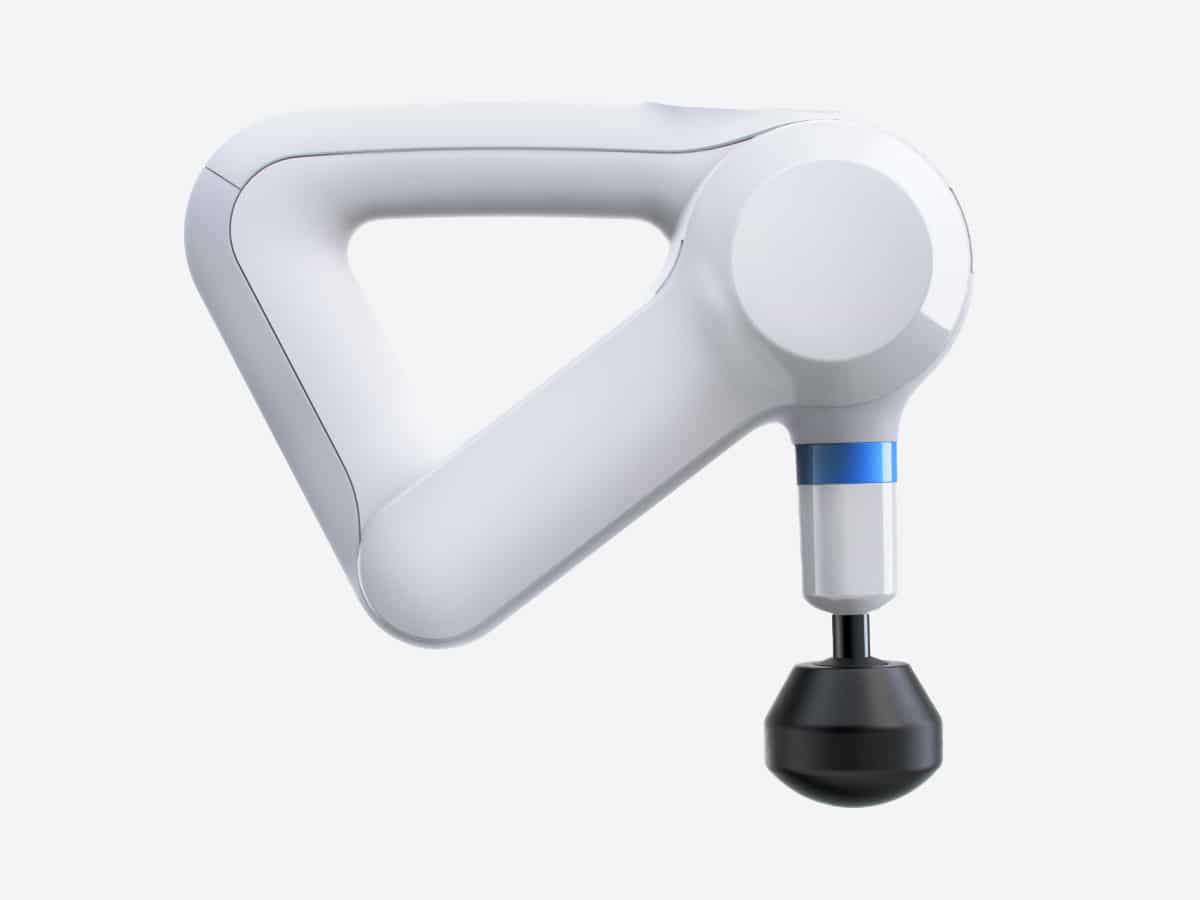 7. Theragun Elite (4th Generation)
From new to experienced, we have the Theragun Elite. If you've been using a massage gun for a while and you feel it's time for an upgrade, you won't regret the Thergun Elite. Integrating all the latest technology, from OLED screens to ergonomic handling, this massage gun is an ultra-quiet device that's perfect for everyday use. While it is a little loud compared to other 'quiet' models on our list, the beloved Theragun quality keeps it ranked as one of the best massage guns on the market.
Brand: Theragun
Price: AUD$649
Battery Life: Two hours
Theragun Elite (AUS) Theragun Elite (US)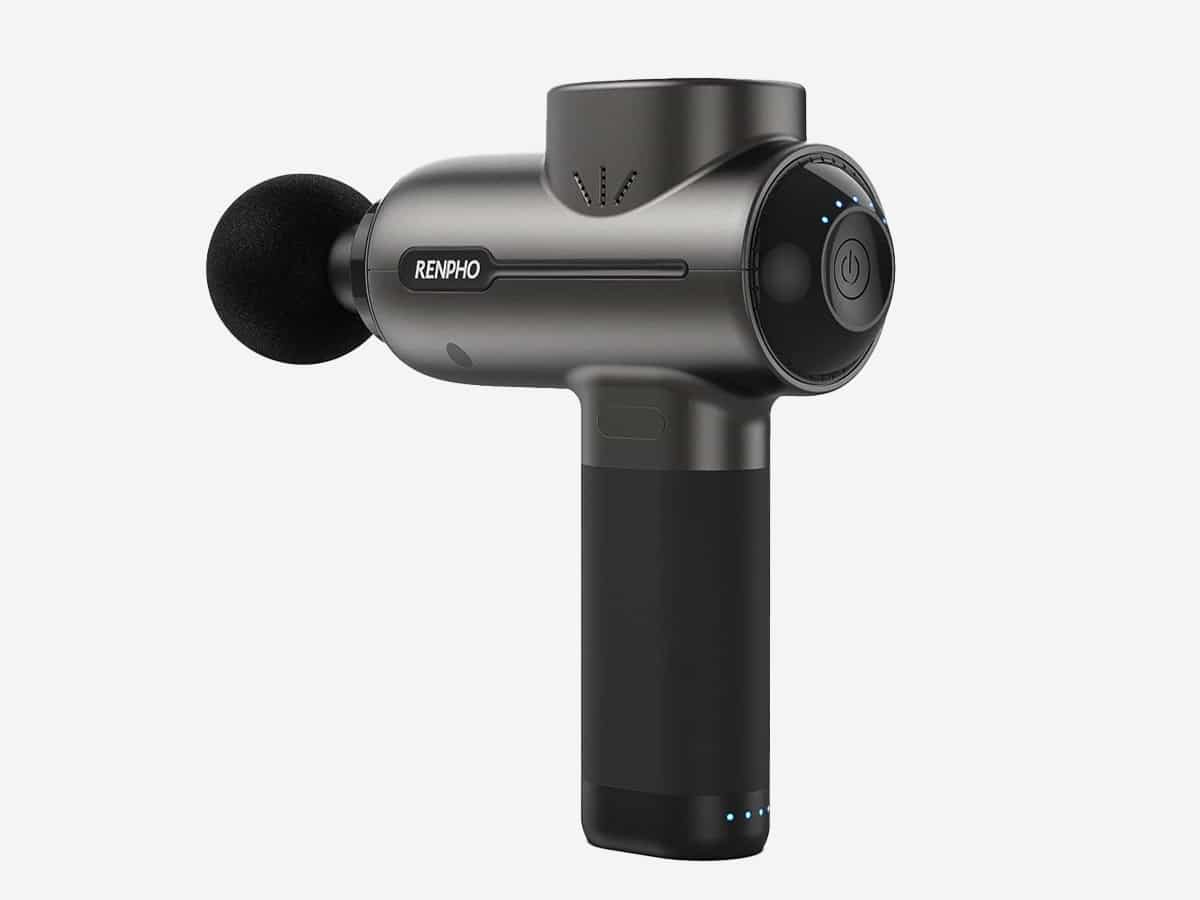 8. Renpho Active Massage Gun
Renpho really knows its stuff when it comes to health, and now it's jumped into the massage gun game with impressive results. And don't be fooled by the affordable price tag, because this device delivers an awesome all-around experience that's perfect for optimal muscle recovery without breaking the bank. With five adjustable speeds ranging from 1800 to 3200 ppm and five different attachments to target all muscle groups, it even comes with a rechargeable 2500mAh battery that lasted a whole week of workouts. Talk about power!
Brand: Renpho
Price: AUD$$159.99
Battery Life: 2.5 hours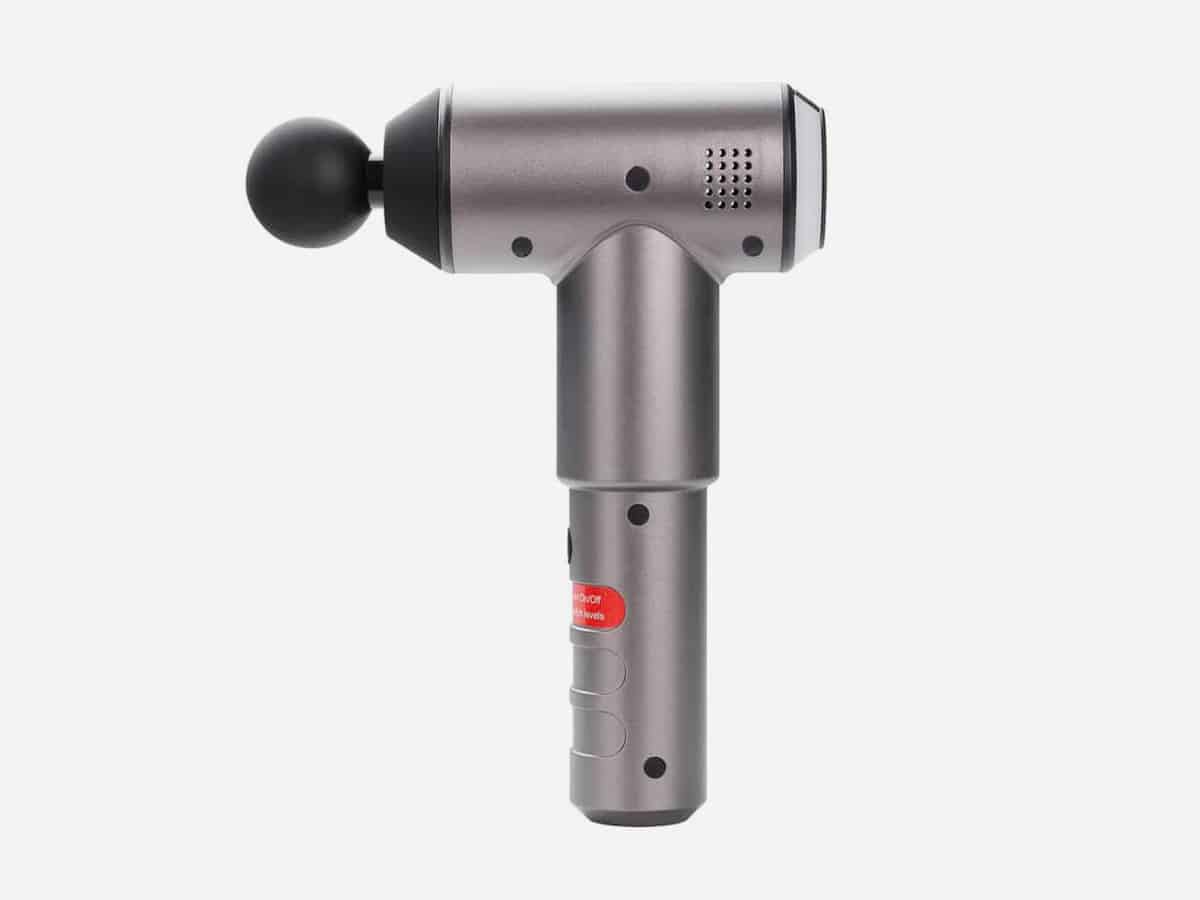 9. Celsius Percussion Gun
The Celsius Percussion Gun is another great entry-level tool on our list of the best percussion massage guns. This affordable massager stands out for its user-friendly design, offering three power levels conveniently controlled by a single button. Combine these adjustable power settings with the three interchangeable heads included, and you're in for a satisfying full-body massage experience. When it comes to an affordable and effortless percussion massage gun, the Celsius Percussion Gun is an excellent choice that won't disappoint.
Brand: Celsius
Price: $149.99
Battery Life: One hour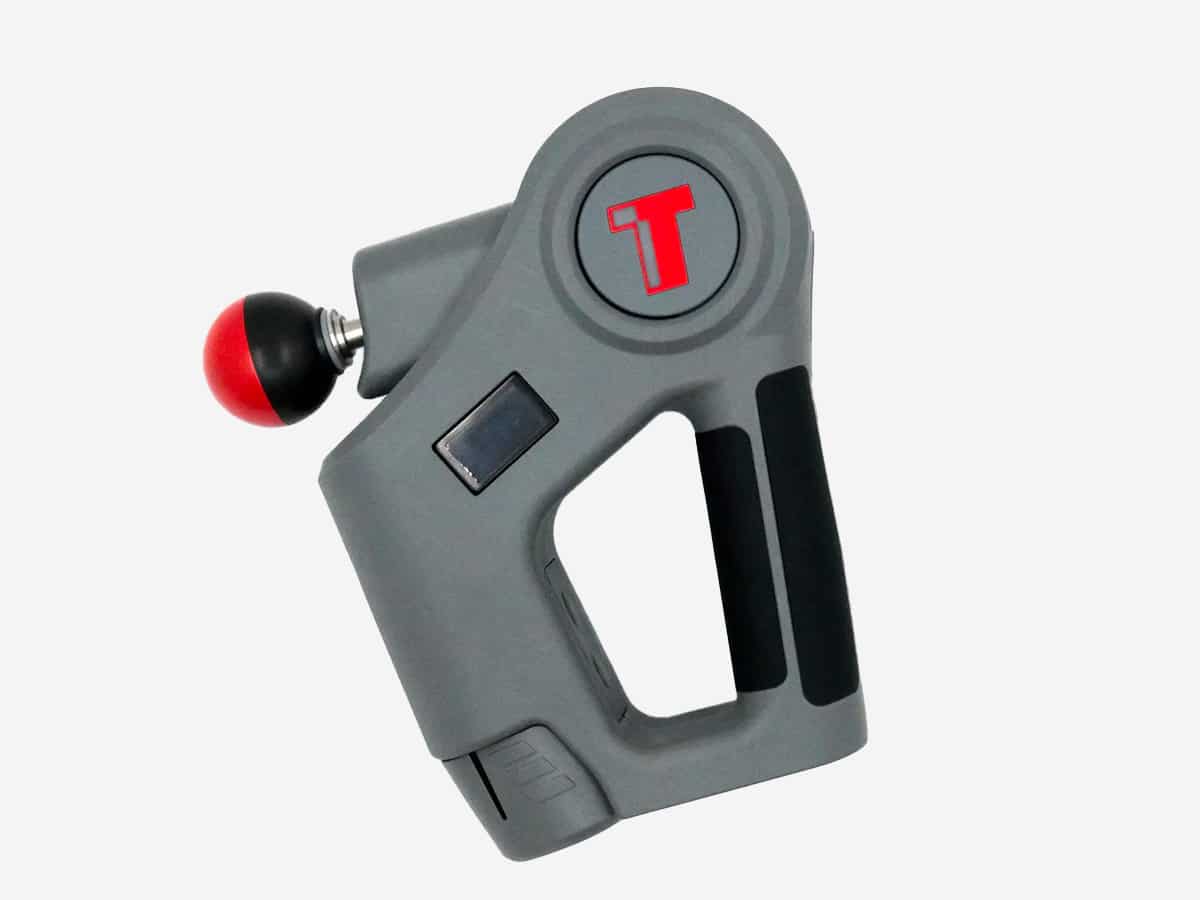 10. TimTam PowerMassager PRO
While the name will remind Australian readers of a tasty chocolate treat, the TimTam PowerMassager PRO is far from it. Looking like something that you'd find in a toolbox, this upgraded massager gun now has three powerful massage settings, hard, harder and hardest. Battery life isn't the best here, but with its deep tissue massage power, you won't want long on those tender muscles.
What truly impressed us is the inclusion of a skin temperature sensor. This innovative feature helps identify the optimal muscle temperature for peak performance. By measuring the temperature, the PowerMassager™ PRO ensures that you can tailor your massage to enhance your muscles' readiness and recovery. Plus, the 175-degree rotational head makes for easy one-handed use and hitting all of your muscle groups. If you're really tight and tense, and we mean really tight and tense, this percussion massage gun will break through your muscle pain.
Brand: TimTam
Price: USD$499.99
Battery Life: Thirty minutes
TimTam Power Massager PRO (US)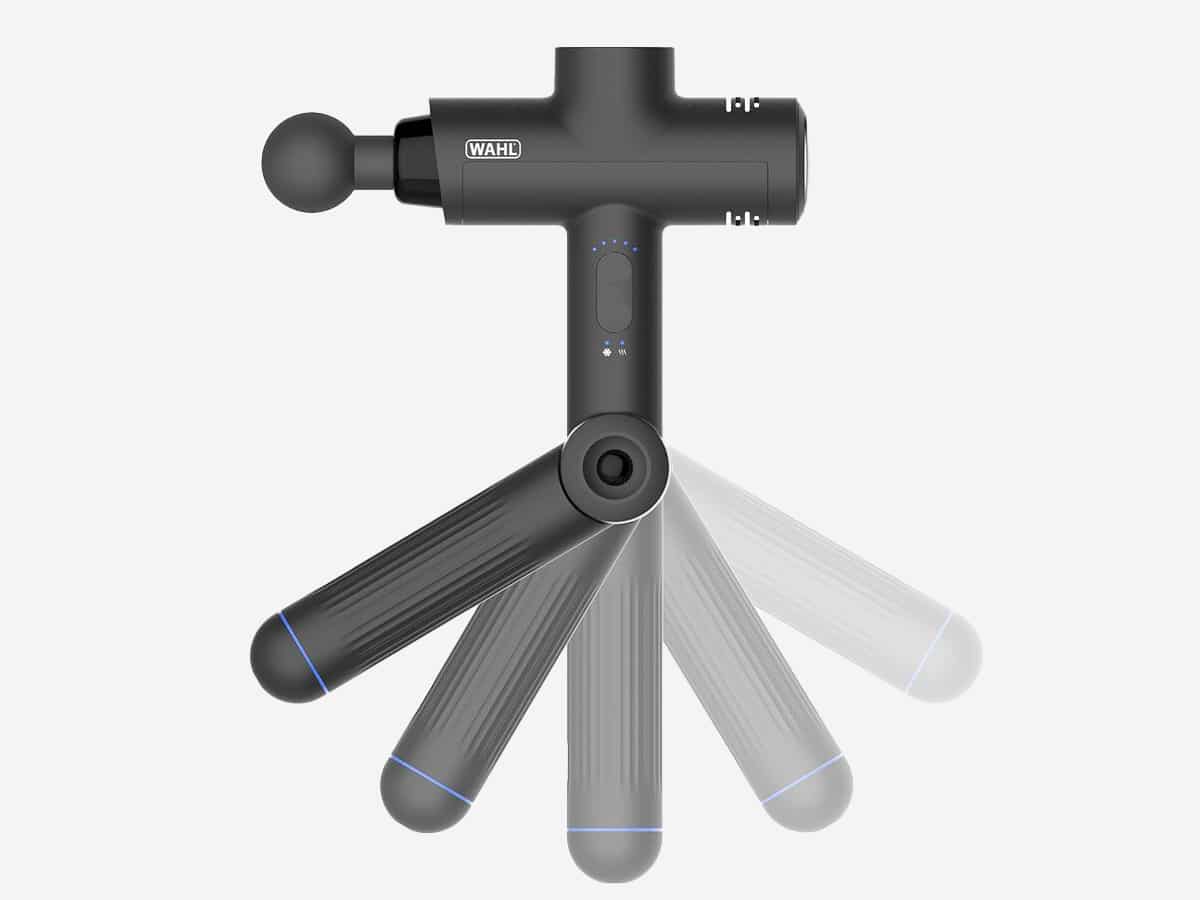 11. Wahl Heat & Ice Massage Gun
Wahl's entry into the massage gun market offers a range of enhancements to elevate your experience. With five distinct levels of intensity, it delivers an impressive 3200 pulses per minute. Accompanied by six versatile attachment heads, this release ensures a variety of options to cater to your specific needs. However, the standout feature is undoubtedly the heat and ice setting, which works wonders in alleviating stiffness in joints and promoting muscle relaxation. Adding to its uniqueness, the long and adjustable handle enables effortless access to those hard-to-reach muscles in the middle of your back.
Brand: Wahl
Price: AUD$449.95
Battery Life: One hour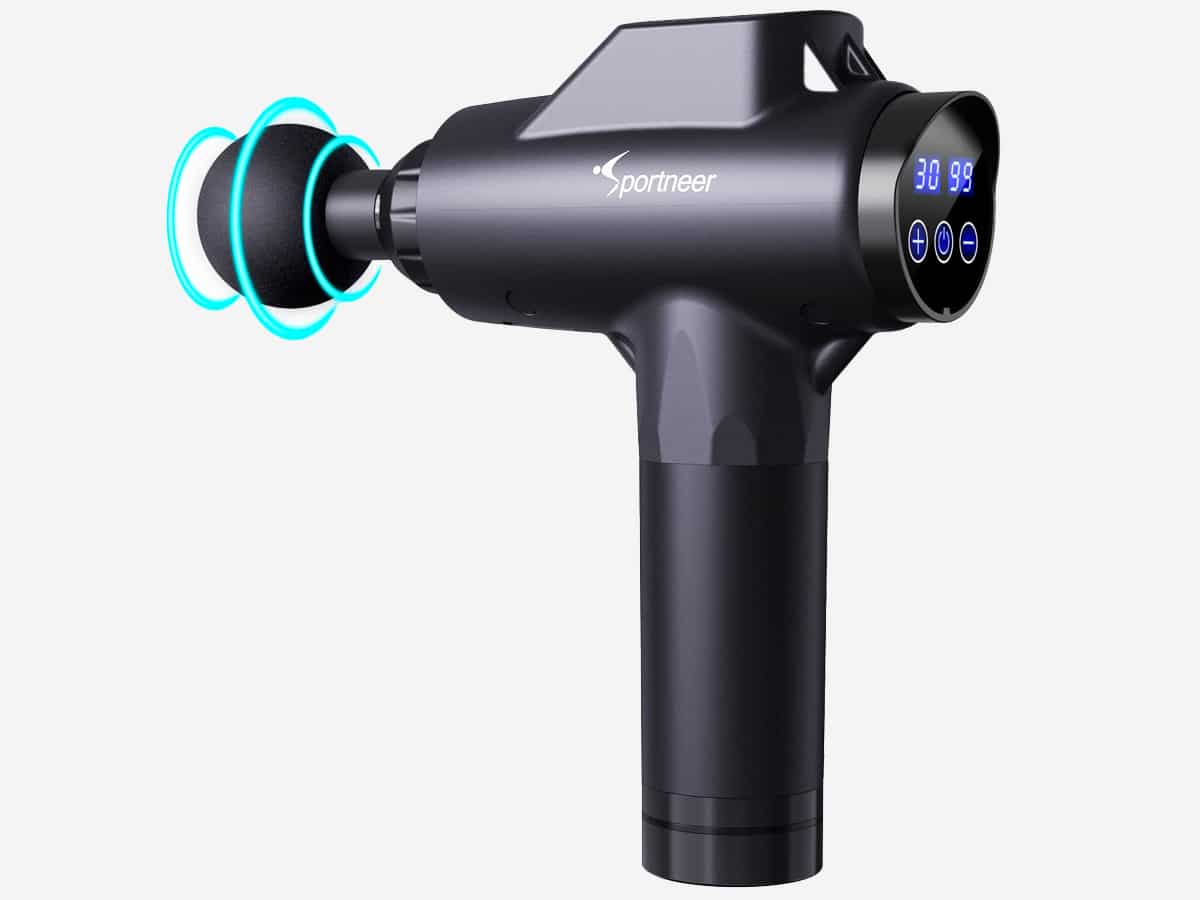 12. Sportneer Deep Tissue Muscle Massager
Rounding out our list of the best percussion massage guns is the Sportneer Deep Tissue Muscle Massager. With six different interchangeable heads, you'll be able to relieve almost any pain or stress from your body. And with six hours of charge, you'll be able to get the most of these different attachments for hours on end. While not as powerful as other models on our list, this is still an exceptional purchase if you suffer from low-level tension.
Brand: Sportneer
Price: USD$89.99
Battery Life: Six hours (depending on power setting)
Sportneer Deep Tissue Muscle Massager (AUS)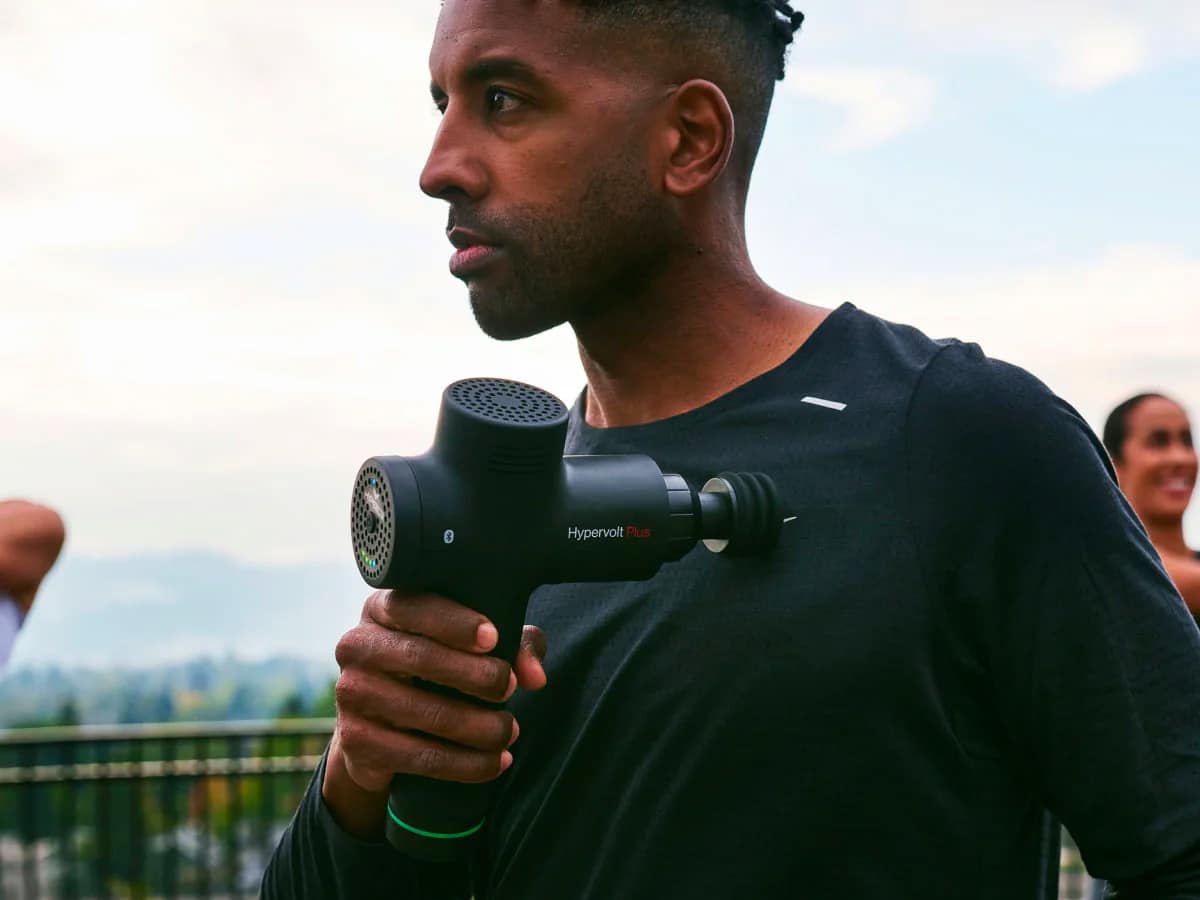 What Does a Percussion Massage Gun Do?
A percussion massage gun is a fast, efficient alternative to the foam roller. Imagine an electric hand drill, but with a vibrating head on the end. This type of massage provides rapid bursts of pressure into the body's muscle tissue, differing from the light strikes used in traditional massage. Even better, unlike myofascial massaging tools, such as foam rollers, that can yield similar results, massage guns can hyper-target a specific problem area.
While definitely effective, it must be said that percussive therapy doesn't completely eliminate muscle soreness. Instead, percussion massage guns increase blood flow to a specific muscle area, which can help reduce inflammation and muscle tension.
Further, this function can help to break up knots. Percussion massage guns are perfect for pre and post-workout warm-ups/cool downs, and will alleviate soreness over the following rest and recovery days.
Health Benefits of Percussion Massage Guns?
While users often report massage guns as being essentially a cure for any sore muscle, the basic science behind the fitness equipment is strong. A 2014 study suggested that vibration therapy and massage (both of which are part of percussive therapy) are equally effective methods to prevent DOMS (delayed onset muscle soreness), implying that you are less likely to feel muscle pain or tightness in the 24 to 72 hours after an intense workout.
While there isn't a lot of medical research on massage guns specifically, the anecdotal evidence is encouraging. According to Jason S. Wersland, the man responsible for the Theragun, the product has been endorsed by several physicians, physical therapists, and chiropractors around the world.
A percussion massage gun may help to:
Decrease Stress
Reduce Pain and Tissue Tension
Circulate Blood
Increase Your Range of Motion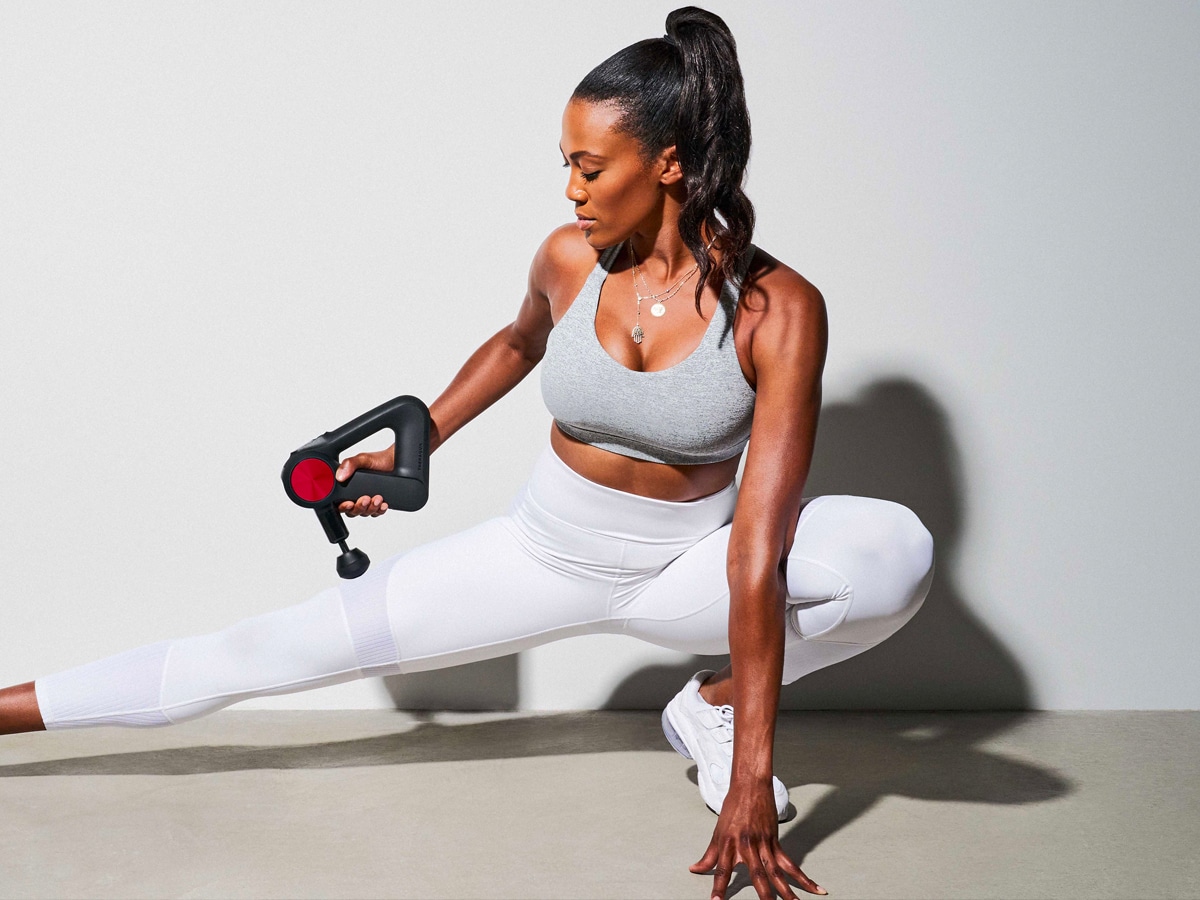 What to Look For in a Percussion Massage Gun?
From a basic perspective, reliability, noise, and battery life are the three most important factors of a percussion massage gun.
Noise is particularly important for discretion. You don't want it to sound like you're working with power tools while you try to relax.
You'll want a percussion massage gun with a long-lasting battery life, so that the tool doesn't cut out halfway through your massage.
Finally, you'll want to invest big in a percussion massage gun. Cheaper tools are more likely to break down more often over time. Not only could this hurt your wallet with repeat purchases, but these cheaper tools could also damage your body.
How to Use a Massage Gun
While using a massage gun isn't an exact science, using a massage gun like a pro is all about nailing the right techniques.
First things first, pick the attachment that matches your target area – go for a ball attachment for those big muscle groups or a bullet attachment for trigger points. Just remember to go easy on the pressure and let the massage gun do its magic.
Slowly glide the massage gun over your muscles using circular or sweeping motions.
Keep your posture in check and avoid sensitive or bony spots.
Adjust the speed and intensity to your liking, and feel free to amp it up as you go. Luckily, a lot of the best brands like Theragun and Hyperice now have apps and guides to teach you how best to use your massage gun.
How We Chose the Best Massage Guns
To curate our list of the top massage guns, we relied on the expertise of our team of editors who have over five years of experience covering fitness and health content. Man of Many has had the opportunity to personally experience and test each massage gun featured on this list, often with the help of our industry connections. Our evaluation process takes into consideration three key factors: quality, price point, and performance, ensuring a comprehensive rating. As a reputable fitness blog, we possess the necessary knowledge to discern the qualities that make a percussion massage gun truly exceptional.
General FAQs
What is the best Theragun alternative?
Hypervice and Sportneer are great alternatives to Theragun percussion massage guns.
What is the difference between Theragun and Hypervolt?
Between different models, the battery life, ergonomic grips, and interchangeable heads differentiate Theragun and Hypervolt products.
Do physio's recommend percussion massage guns?
Yes, physio's believe that when used correctly, percussion massage guns can be used effectively from home.
---
Featured Video from Man of Many