Monday Munchies: August 9 – Secret Japanese Sandwich Recipe
In this edition of Monday Munchies, we've got a little secret to share with our dedicated foodies and readers. We've coerced one of Sydney's favourite sandwich joints to get the secret sauce for their famous fried chicken sandwiches – and we're game enough to share it! Look, it's not the worlds quickest recipe, but man oh man is it delicious. We're also sharing our experience with the new Grill'd x Fable mushroom burger collection and covering a few more 'Restaurant at Home' experiences to make it easier than ever to choose local and support those in the hospitality business doing it tough.
You'll also like:
Monday Munchies: August 2nd – Primo Produce
Monday Munchies: July 26 – Flame Thrower Food
Monday Munchies: July 12 – Date Night Packs
Sandoitchi Buttermilk Fried Chicken Sando
First on our hit list for chefs secret recipes this week is Sandoitchis own buttermilk fried chicken sandwich. Not only is this a crowd favourite amongst the team here at Man of Many, but it's a bloody delicious sandwich. Lockdown lunch sorted. Essentially this bad boy breaks down into two marinades in which you cook the chicken. It then moves into the condiments with a custom sauce, cucumber pickle, and famous bread. Word of warning: food like this takes time, and marinades need to be left overnight to properly coat and infuse flavours. We recommend making the pickle ahead of time.
Time: Two days (marination time)
Ingredients First Marinade:
Maryland deboned with skin 1kg
Fish sauce 20ml
Palm sugar pound into small pieces 10g
Coriander roots 30g
Garlic 20g
Whole White pepper whole
Lemongrass 1 each
Sea salt a pinch
Water 100g
Method:
Clean the chicken with vinegar and drain well.
Pound garlic, coriander roots, white pepper, salt and lemongrass with mortar and pestle (paste).
Marinate chicken with the paste and then add the fish sauce, palm sugar, and water.
Remove chicken, marinated liquid into vacuum pack and leave in the fridge. Marinate for 1 day.
Ingredients Second Marinade:
Buttermilk 800ml
Cajun spice 10g
arlic powder 5g
Onion powder 5g
Cinnamon powder 5g
Clove powder 3g
Smoke paprika powder 10g
Black pepper powder 10g
Coriander seed powder 10g
Chill powder 5g
Bay leaves powder 5g
Method:
Mix all the powder together.
Remove chicken from the vacuum pack, add buttermilk and add spices.
Mix well. Marinate for 1 day.
Pickled Cucumber Ingredients:
Baby cucumber 200g
Salt 10g
Sugar 100g
White vinegar 100ml
Water 500ml
Limestone paste 5g
Konbu sheet 1small each
Yuzu juice 10ml
Method:
Wash the baby cucumber and drain well.
Bring water to a boil, add sugar, white vinegar, limestone paste mix until sugar is dissolved.
Set the side of the liquor until cold.
Add liquid to cover the baby cucumber, pickle at room temperature for 2 days.
Assembling the Sandoitchi Buttermilk Fried Chicken Sando:
Using thick-cut bread.
Spread the butter on both sides of the bread
Add the chill mayo on both sides and place the cooked chicken on the bread.
Cut in half and it's ready to serve
Garnish with mixed spices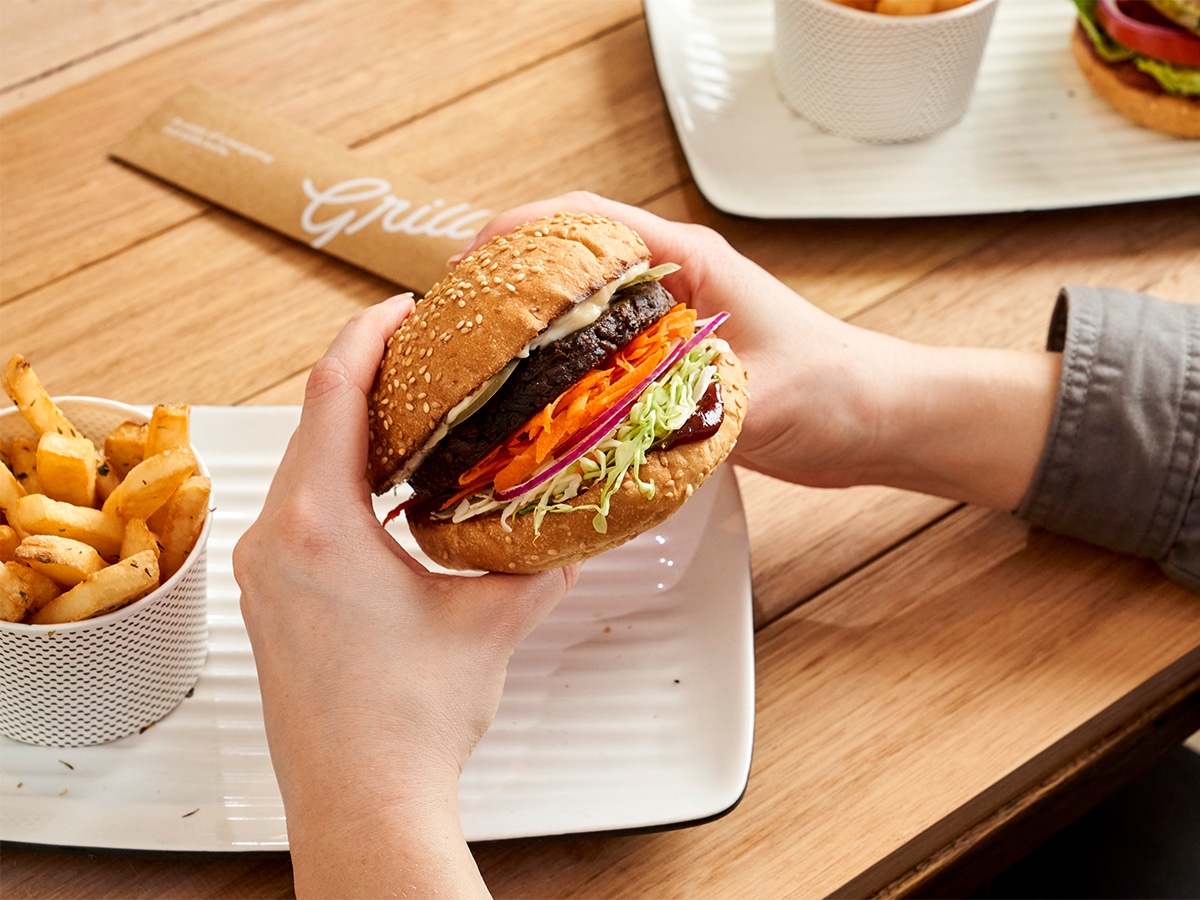 Grill'd Fable Mushroom Burger – Review
When Australia's leading healthy burger brand Grill'd announced their new partnership with Heston
Blumenthal's favourite mushroom-based meat, Fable, we couldn't wait to get our hands around it. As everyone would be aware at this point, we've been long time stans of Grill'd. Our personal go-to has always been the classic Crispy Bacon and cheese, although sometimes we lean towards a healthier option such as the Beyond Simply Grill'd and on payday – the Sir Truffle. But this fable burger seems to blend the best of all those worlds with a truly delicious and healthy new option.
The star of the show is the new Heston Bluementhol burger experience, although, due to Sydney's restrictions we were limited to a takeaway only meal. So while that's off the cards we were still able to try out the new Fable mushroom patties and share our honest thoughts as neither a vego or vegan.
Long story short, the Fable pattie is to die for. You miss out on the red meat hangover without losing on any of the flavours. Yes, we love the wagyu pattie as much as the next person but sometimes you don't feel like something quite so heavy duty. We opted for the Fable Truffle – Plant-based, with a meaty mushroom pattie, aged cheddar, cos lettuce, fresh basil, and truffle mayo. We'd absolutely recommend it to any of the plant-based sceptics out there… with the textures of slow-cooked beef, delicious is an understatement.
Tequila Mockingbird At Home Restaurant Experience
Thanks to the support of the Eastern Suburbs, and huge demand, Paddington restaurant Tequila Mockingbird is rolling out a network of virtual kitchens across Sydney. Starting with an additional CBD address which will expand Tequila Mockingbird's current delivery catchment to the Inner West, Inner South and Lower North Shore, then a Darlinghurst virtual kitchen to follow and more.
An all-new At Home Restaurant Experience features incredible food and drink that should be celebrated with the same energy that went into making it. Tequila Mockingbird is bringing the restaurant experience to your home, with the notion of encouraging self-care, fun, and shared experiences with loved ones, even in lockdown. Cocktail fans will love the made fresh to order (no pre batching!) cocktails. Each bottle comes with a QR code linking to a video tutorial on achieving the perfect restaurant pour at home, led by Executive Bartender Mark Crawford.
Wings 'N Burgers At Home
Coming to you from the heart of the Eastern suburbs, Wings 'N Burgers is the latest culinary experience to help you get through another month of lockdown. Created by the expert hospitality team behind the Robin Hood Hotel and Lorraine's Bistro; owner Dan Whitten and executive chef Clement Marchais. Wings 'N Burgers is here to take everything you know about comfort food and step it up a level. And we can't think of what we need right now more than a little comfort.
Combining years of culinary experience and award-winning locally sourced produce to provide a decadent flavour sensation you can indulge delivered to the comfort of your own home, or pick up from the Robin Hood Hotel bottle shop. Wings 'N Burger's aim is to bring customers all their favourite cheat food staples, made fresh and simple.
Available for delivery via Deliveroo and Door Dash as well as pick up from the Robin Hood Hotel drive-in bottleshop. Every Tuesday to Sunday, you can get your fix from 5 pm to 9 pm, straight to your door contactless. Deliveroo is offering 20% off menu items at Wings 'N Burgers for four weeks.
You'll also like:
Monday Munchies: August 2nd – Primo Produce
Monday Munchies: July 26 – Flame Thrower Food
Monday Munchies: July 12 – Date Night Packs