Top 10 World's Most Livable Cities in 2019
City dwellers are often proud of the places they call home, but are they right in their opinions? Are their cities actually the best? An article reported in Bloomberg took a look at the Economist Intelligence Unit's rankings of the world's most livable cities for 2019. What they found was that the highest ranking cities are more likely to be less global and more regional. "Overall, our index remains dominated by medium-sized cities in wealthy countries," explains the report. "Medium-sized" means cities with a population from 1 million to 3 million.
Taking the top honors was Vienna, which actually claimed the number one spot on last year's list as well. Coming in at second was Melbourne. Australia fared well on the list, along with Canada, claiming six cities—three each—of the top ten cities on the list. Those cities include the aforementioned Melbourne, Sydney, and Adelaide, while Canada's contribution included Calgary, Vancouver, and Toronto. Rounding out the top ten were Osaka, Tokyo, and Copenhagen.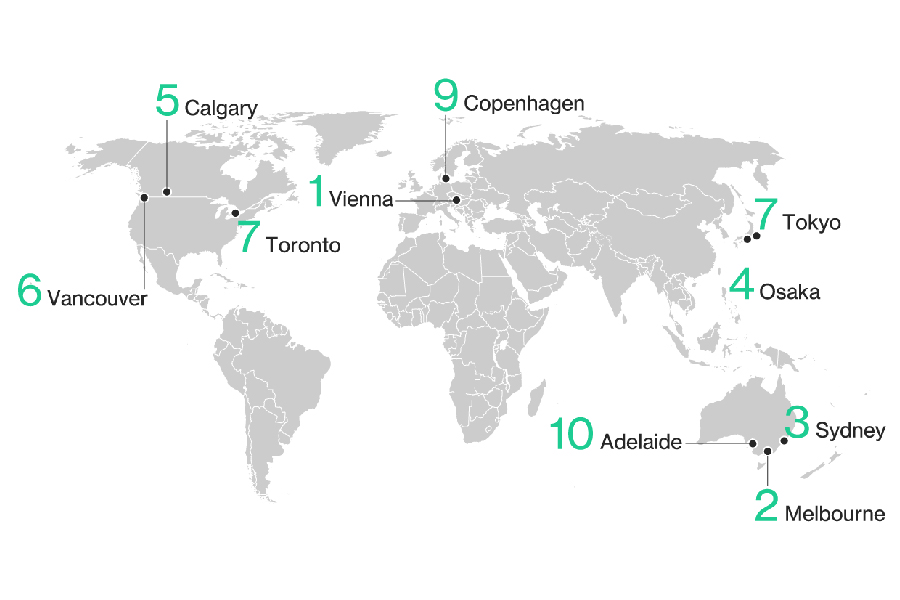 Pushing these cities to the top was the availability of high-quality education, public healthcare, and public transportation. The report also looked at infrastructure, stability, and culture. "The upsides of these cities tend to be fully realized. You get a good collection of cultural activities, you get good access to healthcare and education, but you don't get a lot of the downsides that tend to come with big cities, things like traffic congestion, crime problems, and general wear and tear," explained Duncan Innes-Ker, the EIU's regional director for Asia. Where did those bigger cities end up on the list? London rang in at number 48 and New York was listed at number 58; Hong Kong and Singapore came in at numbers 38 and 40 respectively.
Perhaps the best news of the report, however, is that across the board all cities are seeing improvements in their quality of living. Even the cities at the bottom of the list, such as Damascus and Lagos, have seen some improvement.
Here are the 10 Most Liveable Cities in the World in 2019:
Vienna, Austria (99.1)
Melbourne, Australia (98.4)
Sydney, Australia (98.1)
Osaka, Japan (97.7)
Calgary, Canada (97.5)
Vancouver, Canada (97.3)
Tokyo, Japan (97.2 tie)
Toronto, Canada (97.2 tie)
Copenhagen, Denmark (96.8)
Adelaide, Australia (96.6)