Guide to the Festoon Lighting: 7 Best Festoon Lights
When it comes to decorating, your lighting choice shouldn't be overlooked – festoon lights are proof that great lighting can transform the mood of any indoor or outdoor setting. An iconic light fixture known for its warm ambiance and chic appearance, festoon lights are timeless additions to elevate an outdoor dinner party, backyard patio, or perhaps an upcoming wedding. Not only do they look great, but they're also energy-efficient, affordable and relatively easy to install. Keep reading to find all you need to know about the best festoon lights.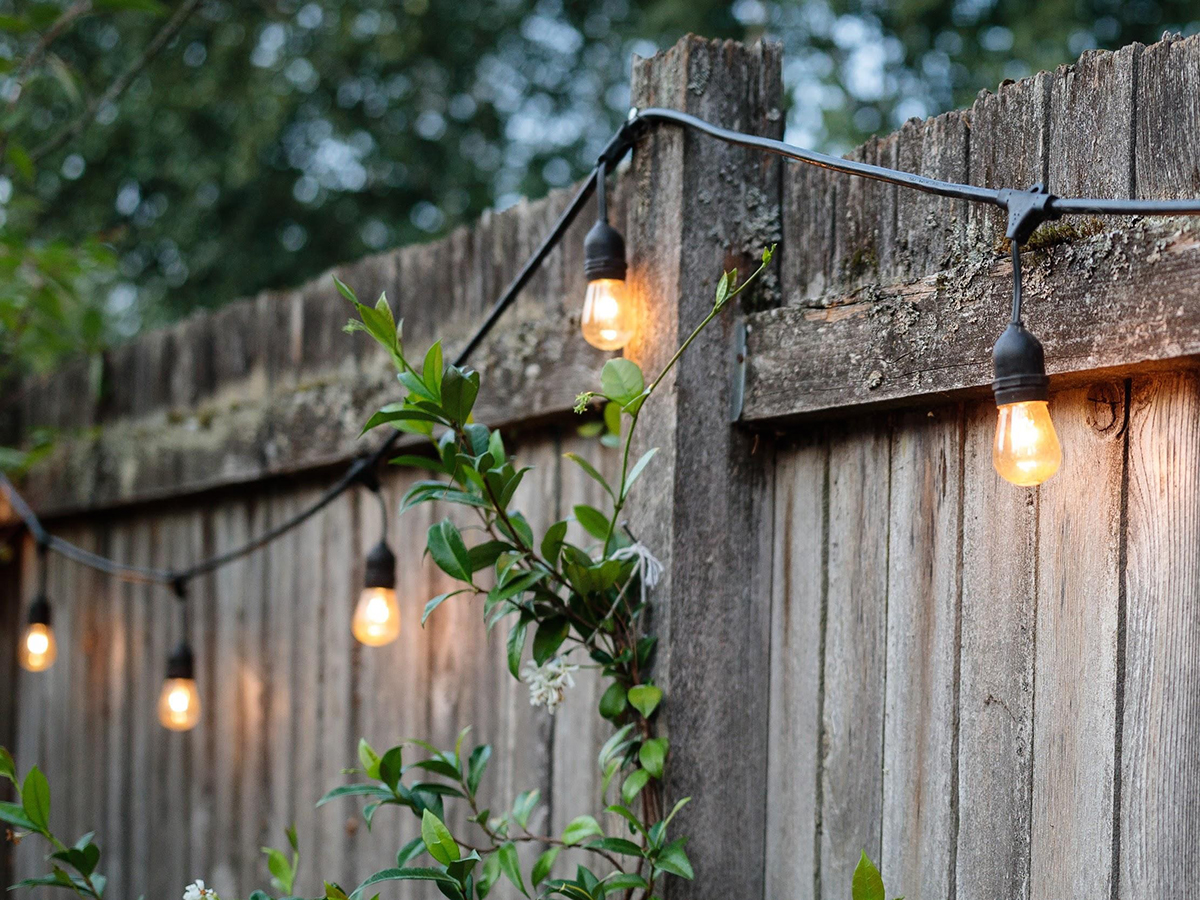 What to look for in Festoon Lights
When it comes to purchasing Festoon lights, there are a few things you need to consider. Here are the main aspects to put front of mind when assessing the market.
IP Rating
An IP rating measures the resistance of lights to the outside elements such as water and dust. We would recommend festoons with an IP of 44 if you want to maximise the longevity of your lights. IP44 lights will have a more robust seal to prevent anything seeping in, meaning you'll get to reap the ambient benefits of your festoon lights no matter the weather.
Voltage
To get the most out of your festoon lights in the long term, we recommend opting for a 24V low voltage option. These fittings require less electricity to run, so you can leave them on all night long without worrying about the damage to your power bill.
Type of Light
When choosing between LED, Incandescent or Filament globes, it's important to consider the purpose and setting for which you're using your lights. LED globes are much lower wattage and can last for up to 40,000 hours, making them the ideal choice if you're planning to run your lights consistently over a long period. If you're looking for a more affordable option, we'd recommend incandescent globes. However, these have a shorter life span of around 2000 hours, so they are best suited for short term use. Carbon filament globes are very popular for their warm candlelight-like colour, which LED globes can't quite replicate. However, they are the slightly more expensive option among the three.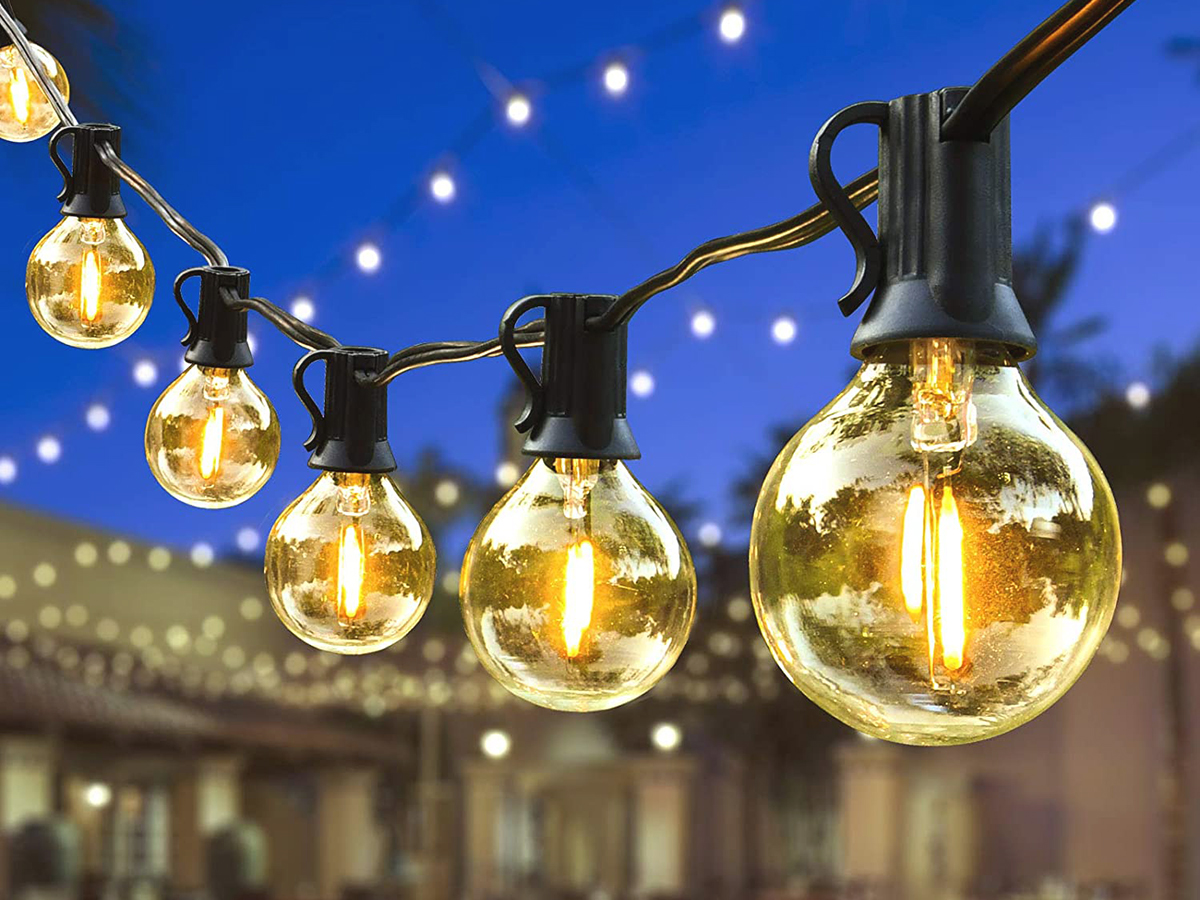 How To Hang Festoon Lights
If you are wondering how to hang festoon lights, the answer isn't as straightforward as you'd think. Here is a six-step guide to putting your new illuminating objects up where they will thrive.
Step 1. Decide Where to Hang Your Lights
Once you've made your pick of festoon lights, start to measure and mark up where you'll put your steel eye straps – which acts as the anchor points for your lights. This is when you'll envision how your lights will hang – let your creative side take the reign! Create a criss-cross or zig-zag pattern and experiment with different lengths to achieve your desired vibe.
Step 2. Measure the Steel Wire
To measure the steel wire used to reinforce your lights and keep them in position, set your measuring tape to one metre and unwind the wire according to how many metres you need. Don't forget to add an extra 30cm or so on each end of your wire to use for mounting.
---
Featured Video from Man of Many
---
Step 3. Create Your Swage
The next step is to take your swage and thread the wire rope through, create a loop, then thread it back through the swage and pull it tight to secure. Add your rope thimble to the loop you made and once it's tight, clamp the swage closed to make sure your wire rope stays in place.
Step 4. Mount Eye Straps
Put your eye strap through the loop of wire rope you created and screw it in to the point you marked on your wall – that's your first mounting point!
Step 5. Connect Each End
Once you've connected your wire rope to the eye strap, create another loop at the end just as before – thread the wire back through the swage, add another rope thimble and pull tight before clamping the swage.
Step 6. Hang the Lights
Now for the fun part! Check all your lights work first, then start from the end the lights connect to the powerpoint. As you string your lights along the wire rope, secure with cable ties, leaving them closer together or further apart depending on how much you want your lights to drape.
The Best Festoon Lights in Australia

1. Lytworx 10 Warm White LED Connectable Party Lights
Lytworx LED bulbs are as classic as they come with glass, warm white bulbs and a thick black cable, producing a soft glow to illuminate any indoor or outdoor setting. Even better – they can be connected with up to three other sets of Lytworx party lights, offering you more flexibility in achieving your desired length. Their low voltage LED technology makes these a cost-efficient and energy-conscious choice without compromising on style.
Energy source: Plug
Length: 4.5m and 3.6m lead cable
Number of lights: 10
IP Rating: IP44
You'll also like:
14 Home Decorating Ideas to Help You Entertain Like a Grown Ass Man
10 Best Desk Lamps for the Home Office
35+ Masculine Home Office Ideas & Inspirations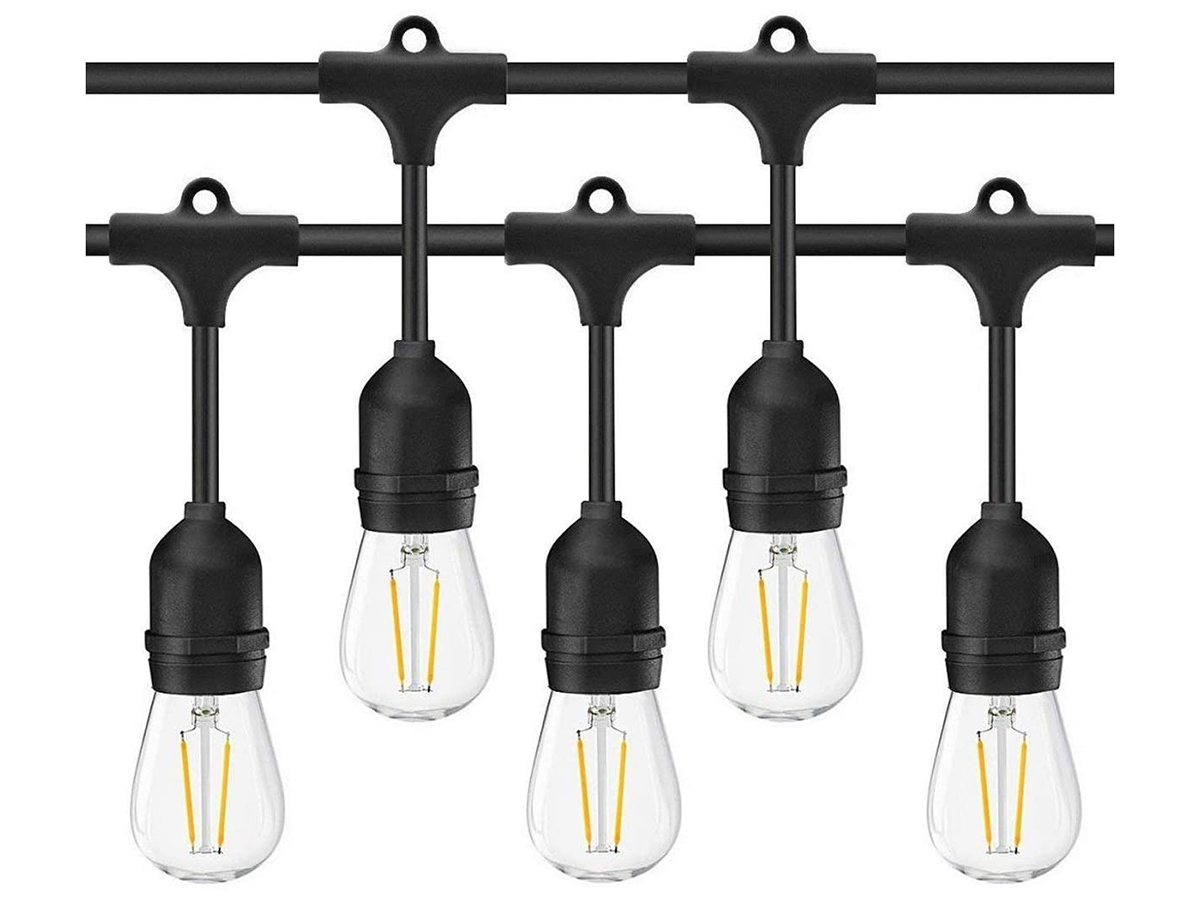 2. Geecol Commercial Grade IP65 Outdoor String Lights
With an IP rating of 65, these heavy-duty Geecol outdoor festoon lights are designed to withstand extreme temperature and weather conditions, giving you the peace of mind to enjoy your lights rain, hail or shine. Easily connectable with up to 40 other sets of Geecol lights and a lifespan of up to 30,000 hours, these are a great option if you're looking to decorate a larger area or event, and need lights that will last.
Energy source: Plug
Length: 15m
Number of lights: 15
IP Rating: IP65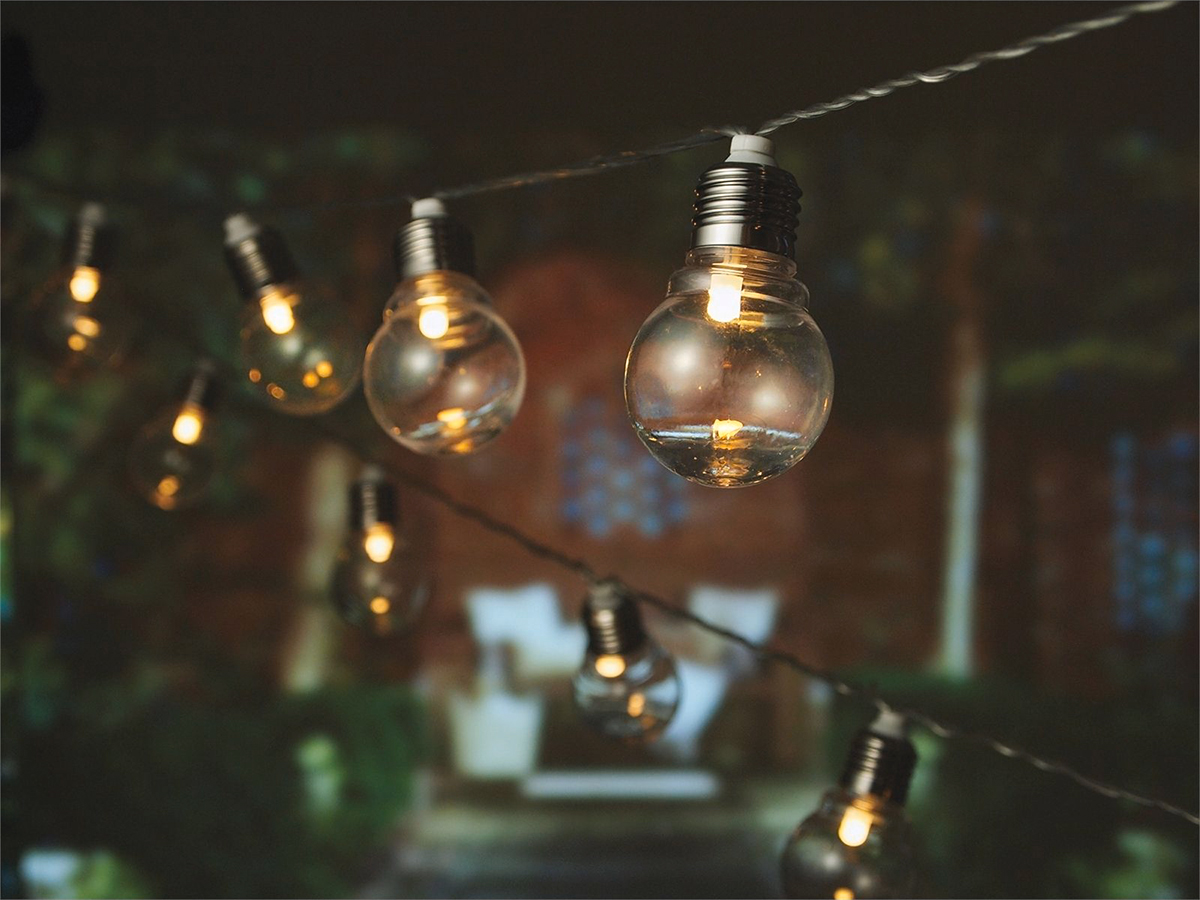 3. Lytworx 20 Warm White LED Connectable Party Lights
In comparison to the other Lytworx festoon lights featured earlier on this list, these warm white lights feature plastic globes rather than glass to offer a more affordable option that still looks just as high-end. You can connect up to five sets for a total of 100 bulbs, making these lights entirely customisable to the length you need and the space you're decorating. Advanced LED technology emulates the warm light of incandescent globes but without the excess cost to your power bill, allowing you to enjoy the warm, soft glow festoon lights are known for.
Energy source: Plug
Length: 3.9m and 10m lead cable
Number of lights: 20
IP Rating: N/A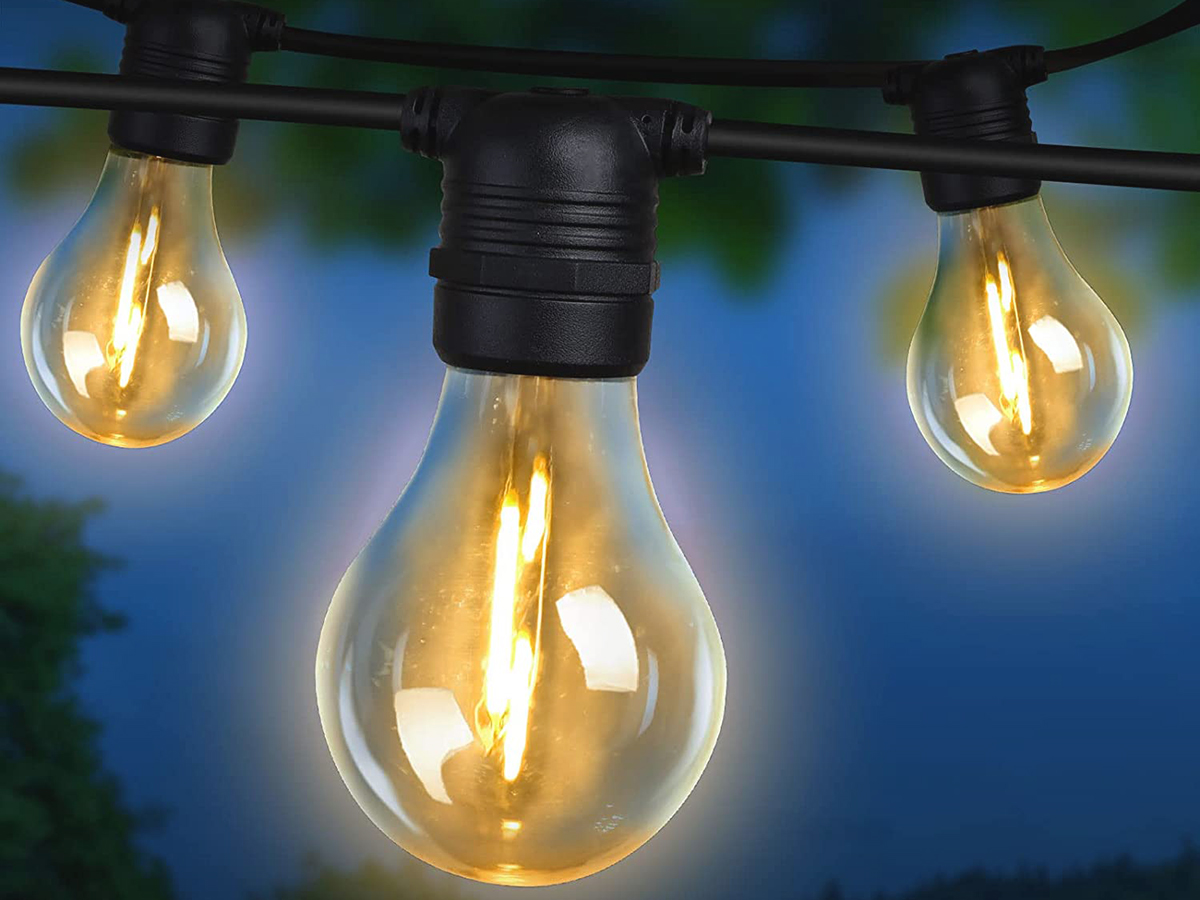 4. Jingle Jollys Festoon Light LED String
Offering 20 LED bulbs of dazzling light and vibrant ambience, these lights from Jingle Jolly are a strong contender on our list of the best festoon lights. These lights have been designed to offer the complete package to the customer – each low voltage bulb boasts a 20,000-hour lifespan and an IP rating of 44, meaning these lights can stand the test of weather and time. If you still aren't convinced, Jingle Jollys also offers a 1-year warranty to give you extra peace of mind with your purchase.
Energy source: Plug
Length: 23m
Number of lights: 20
IP Rating: IP44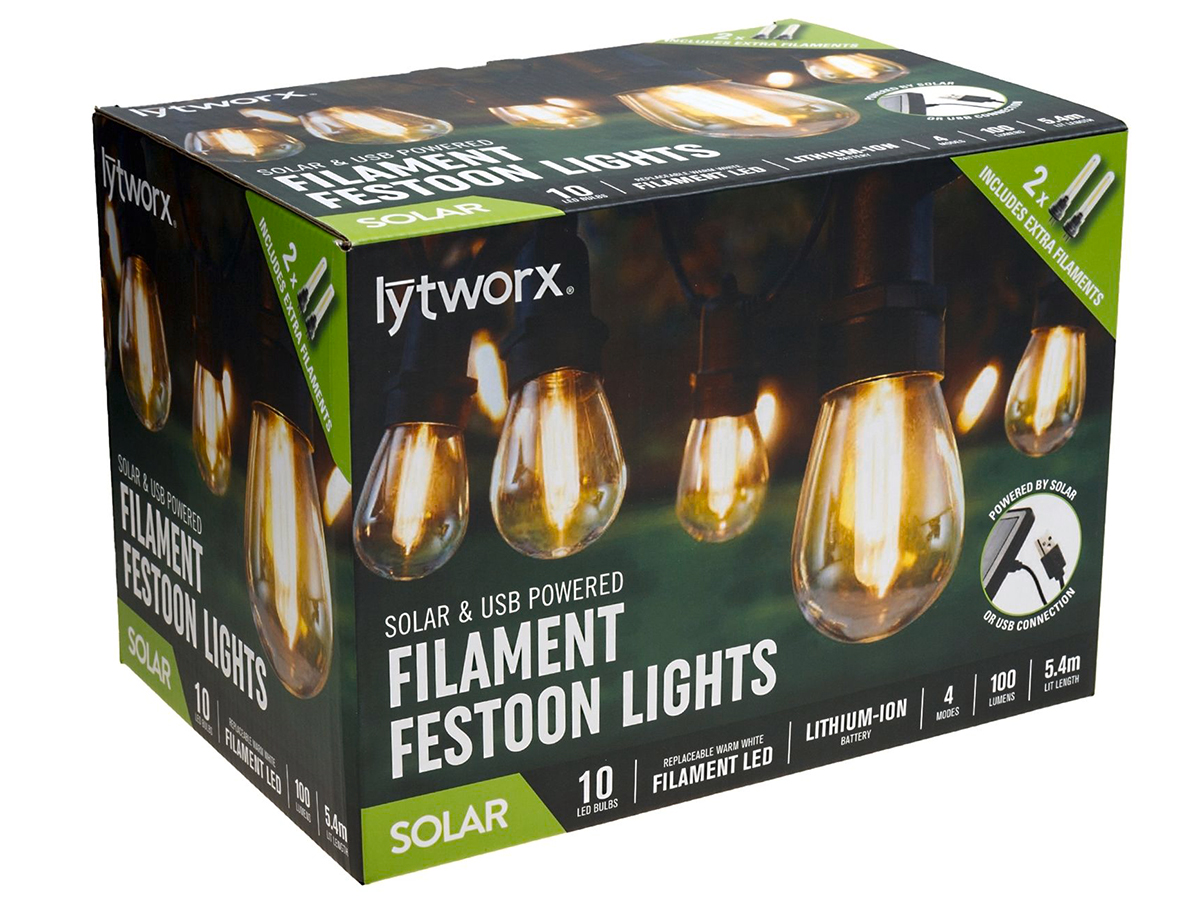 5. Lytworx Filament Festoon Solar and USB LED Lights
For those looking to reduce their carbon footprint, Lytworx solar-powered Festoon lights are a top choice. These lights will store power from the sun even on cloudy days and turn on automatically at dusk, so after installing, you can sit back and let the lights do the work for you. If you were planning on using these indoors instead, there's no need to worry – these lights can be powered with the provided USB wall charger as well. A special feature of these lights is the four different light settings you can choose from – opt for the classic steady-on mode or one of the three flashing modes if you're looking to add a bit of character to your festoon lighting display.
Energy source: Solar and USB
Length: 5.4m
Number of lights: 10
IP Rating: IP65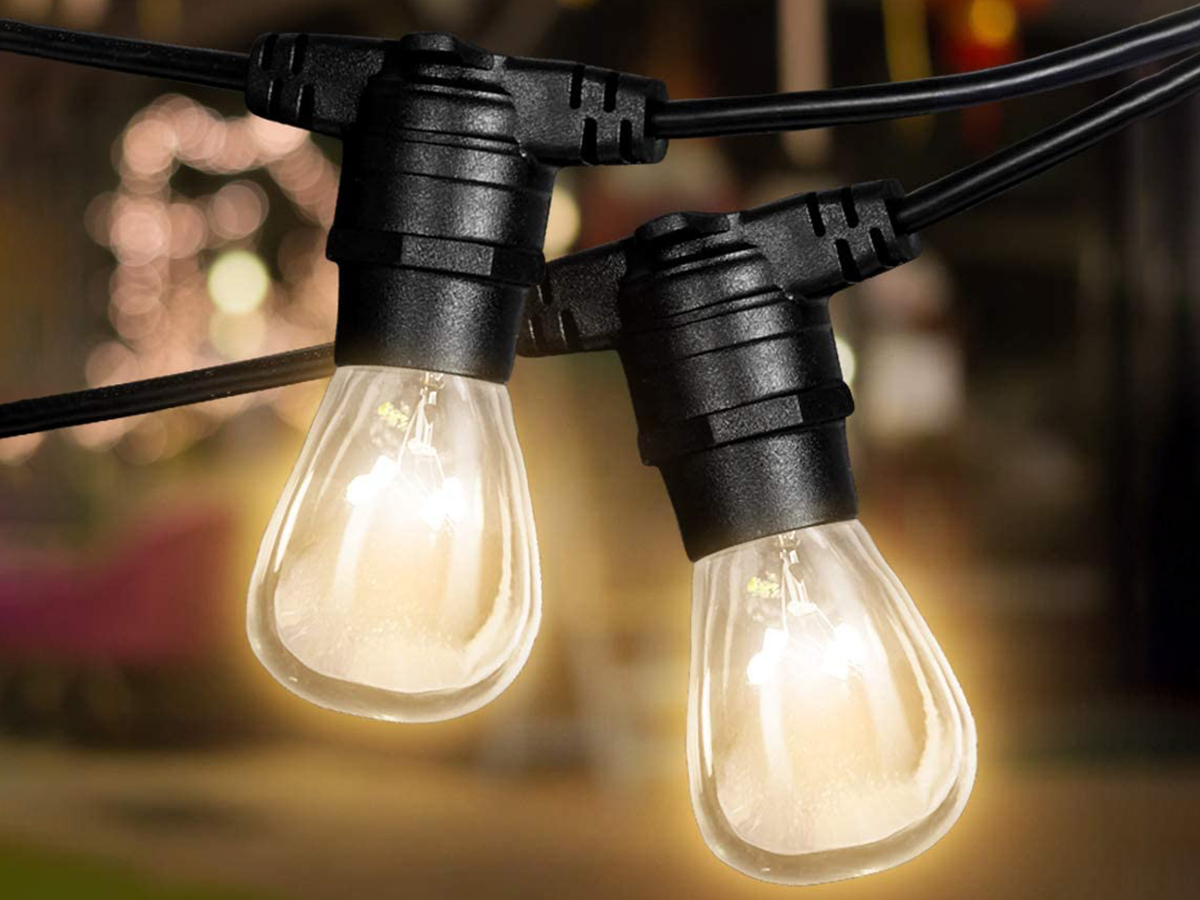 6. EMITTO 47M Festoon String Lights Kits
With 50 globes and a 47m cable, these festoon lights from Emitto are ideal for those needing to illuminate a larger space. Made with high-quality plastic, these lights are designed to be durable, but rest assured if anything goes wrong- you're provided with six extra bulbs, just in case. For those not as confident with their installation skills, Emitto has done all the hard work for you. The cable is prefixed with bulb holders that are all perfectly spaced apart, ensuring a quick and easy DIY process that is guaranteed to impress your guests.
Energy source: Plug
Length: 47m
Number of lights: 50
IP Rating: IP23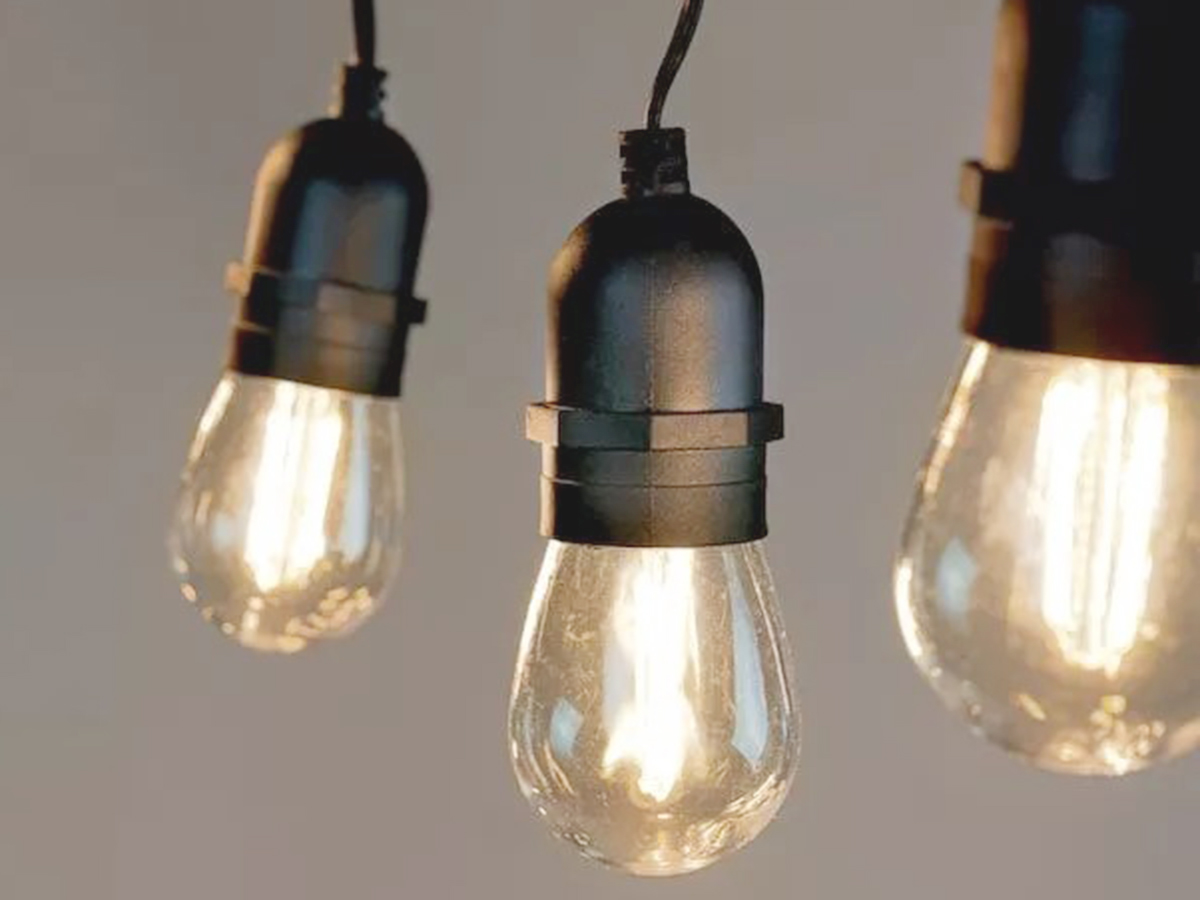 7. Festoon House Hanging Pendant Festoon Lights
For those serious about the quality of their festoon lights, you can't beat these commercial grade lights from Festoon House. You can easily connect individual 10m belts together to create a string of over 100m of lights, which is bound to create a display nothing short of impressive. With an IP44 rating and 1-year warranty, these lights have been designed to last so you can make your purchase with complete confidence. Not only that – their eco-friendly LED globes are made from a shatterproof casing which Festoon House boasts are the safest, most durable product on the market.
Energy source: Plug
Length: 10m
Number of lights: 10
IP Rating: IP44
You'll also like:
14 Home Decorating Ideas to Help You Entertain Like a Grown Ass Man
10 Best Desk Lamps for the Home Office
35+ Masculine Home Office Ideas & Inspirations
General FAQs
Are solar powered festoon lights reliable?
Solar powered festoon lights are extreamly reliable.
What are the best solar festoon lights?
Lytworx Filament Festoon Solar and USB LED lights are the best solar festoon lights.
Are Bunnings festoon lights good?
Bunnings have a wide range of quality festoon lights.
---
Featured Video from Man of Many