2023 Audi RS e-Tron GT Review: Four-Door Electric Supercar
The name sounds like you're trying to read the serial number on a spare part, however, after spending a week with the new Audi RS e-Tron GT I have to say, I'm impressed with its no-nonsense approach. It might be platform-shared with the boundary-pushing Porsche Taycan but it's 'Audified' and feels homely and familiar in all the right ways. Did I mention it's bonkers quick?
From the outside, the car looks as futuristic as it did in the hands of Tony Stark throughout Avengers: End Game, but the experience doesn't carry over once you get behind the wheel. It's remarkably well thought out and sensible. Yeah, it has all the power in the world from its electric motors that produce a combined 440kW (475kW and 830Nm in short-term boost mode) but once you get over the kick in the buttocks after planting your foot, you just want to drive around and appreciate the comfort and style.
As much as it pains me to say, I'd buy one over a standard Taycan 4S. Here's why.
RELATED: Read our Audi e-Tron S Review.
What does the 2023 Audi RS e-Tron GT cost in Australia?
Here's how much the Audi RS e-Tron GT costs in Australia:
Porsche Taycan RWD: from AU$165,700 plus on-road costs
Audi e-Tron GT: from AU$181,700 plus on-road costs
Porsche Taycan 4S: from AU$206,600 plus on-road costs
Audi RS e-Tron GT: from AU$248,200 plus on-road costs
Porsche Taycan Turbo: from AU$293,900 plus on-road costs
The base Audi e-Tron GT starts from AU$181,700 plus on-road costs in Australia compared to the most closely-matched Porsche Taycan 4S which costs AU$206,600 plus on-road costs. For the purpose of this review, I was testing the range-topping Audi RS e-Tron GT that starts at $248,200 plus on-road costs with drive-away pricing for a NSW post-code around AU$270,000.
RELATED: Read our Porsche Taycan Turbo review.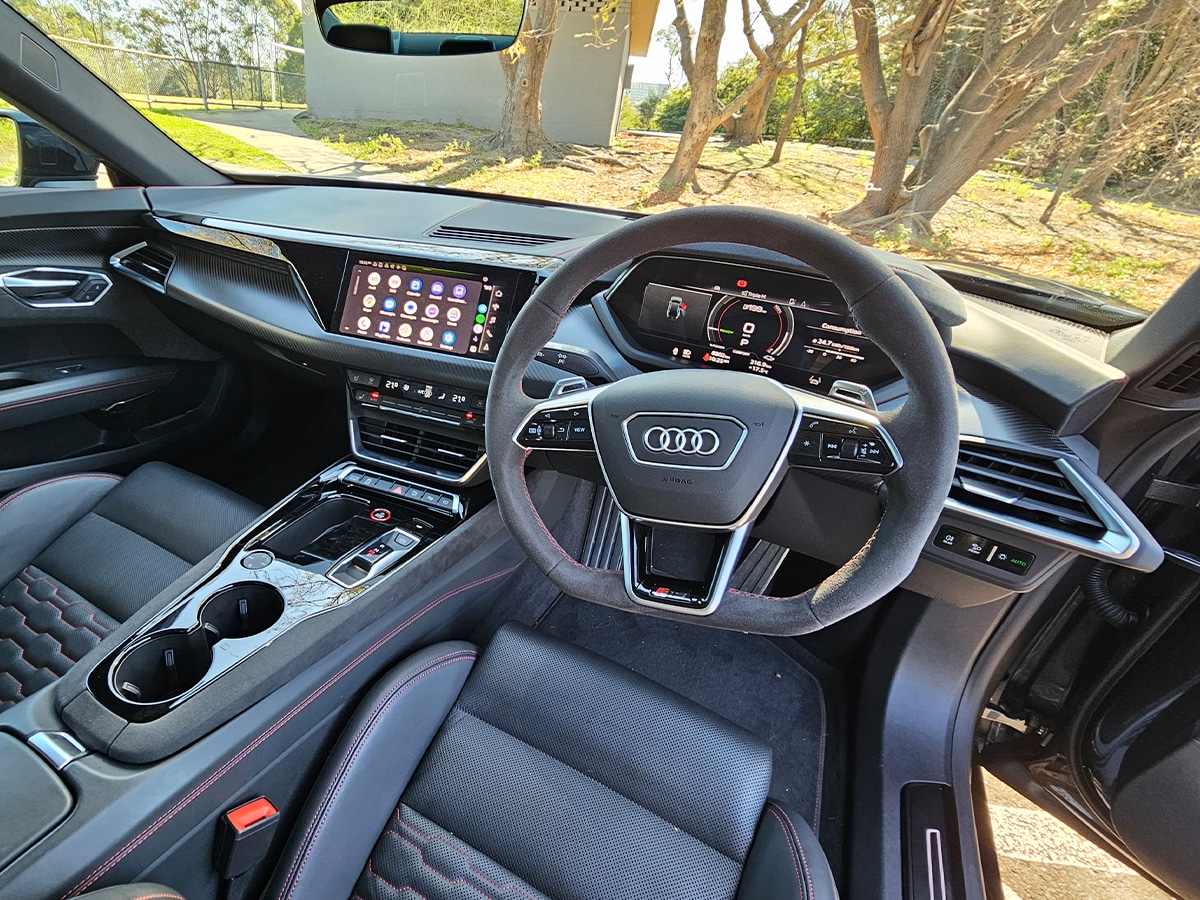 What's the Audi RS e-Tron GT like inside?
I labelled the Audi RS e-Tron GT as 'sensible' but that's only because it doesn't want to do the typical EV song and dance with more screens than the TAB room at your local pub, so let's start there.
The absence of a giant touchscreen is so incredibly refreshing, but it's the way Audi has integrated the physical buttons for climate, driving modes, and parking cameras that stands out. I love the little touch-sensitive scroll wheel near the cupholders, which are found across the wider Audi range.
What I'm not so keen on is the large piano black scratch-attracting centre console that doubles as a fingerprint magnet. Do yourself a favour and watch that sharp air vent on the way in as well.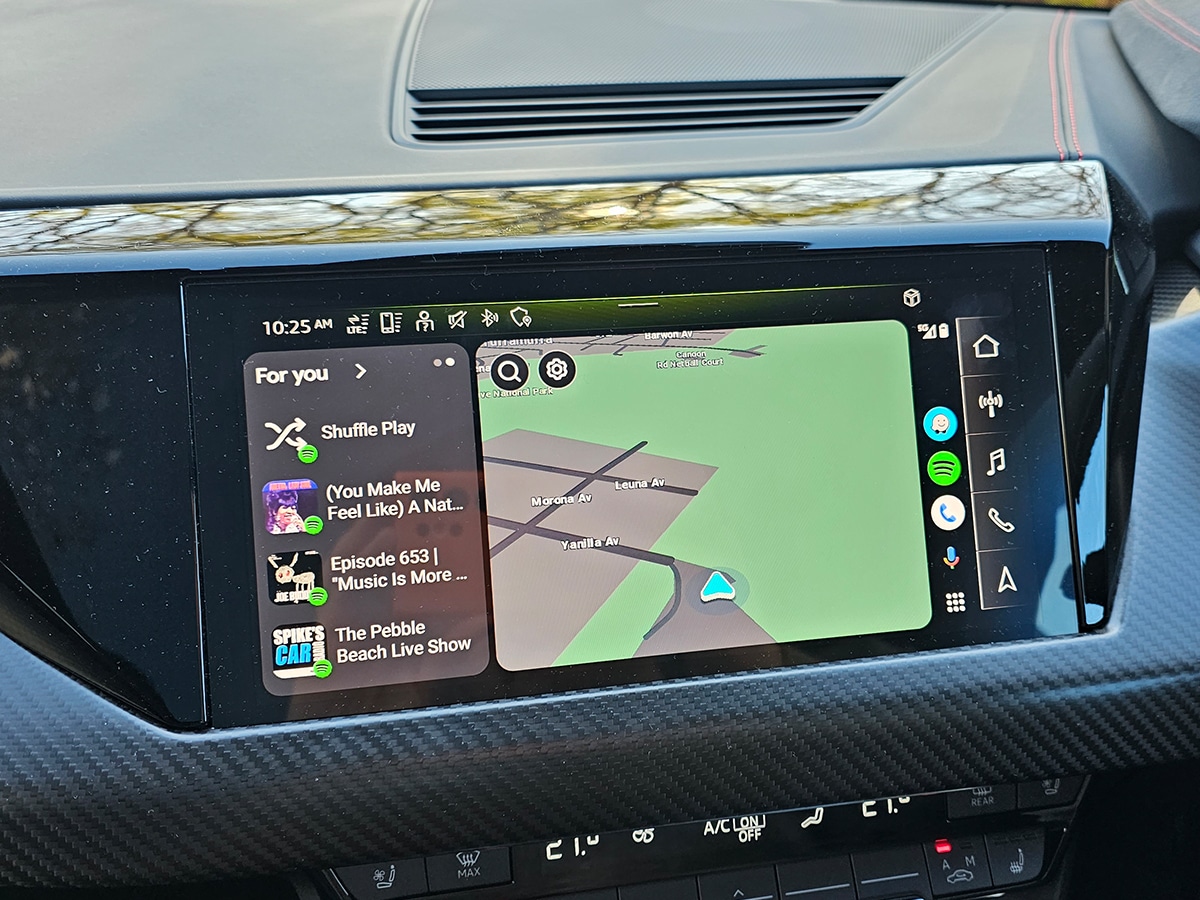 Materials inside the Audi RS e-Tron GT are top-quality. From the carbon-fibre panelling around the infotainment screen to the Alcantara material used on the steering wheel and around the centre console.
I also love the way the upper and lower dashboard has been segmented into two parts with the upper half curving outwards while the lower curves inwards. It's such a neat way to mount the infotainment screens and digital driver display. Speaking of which, you'll find a 10.1-inch touchscreen infotainment screen with wireless Apple CarPlay and wireless Android Auto. The driver gets a 12.3-inch virtual cockpit with digital instruments.
It's one of the more reliable systems on the market and I had absolutely no issues with it during my time with the car and your smartphone will love the Qi wireless charger in the centre console that fits even the largest Samsung Galaxy S23 Ultra and Apple iPhone 14 Pro Max.
All of this tech feeds a 16-speaker B&O 3D sound system that comes as standard across the range. It's not as exciting as the system in Audi S8, but it's head and shoulders above your Mercedes and BMWs.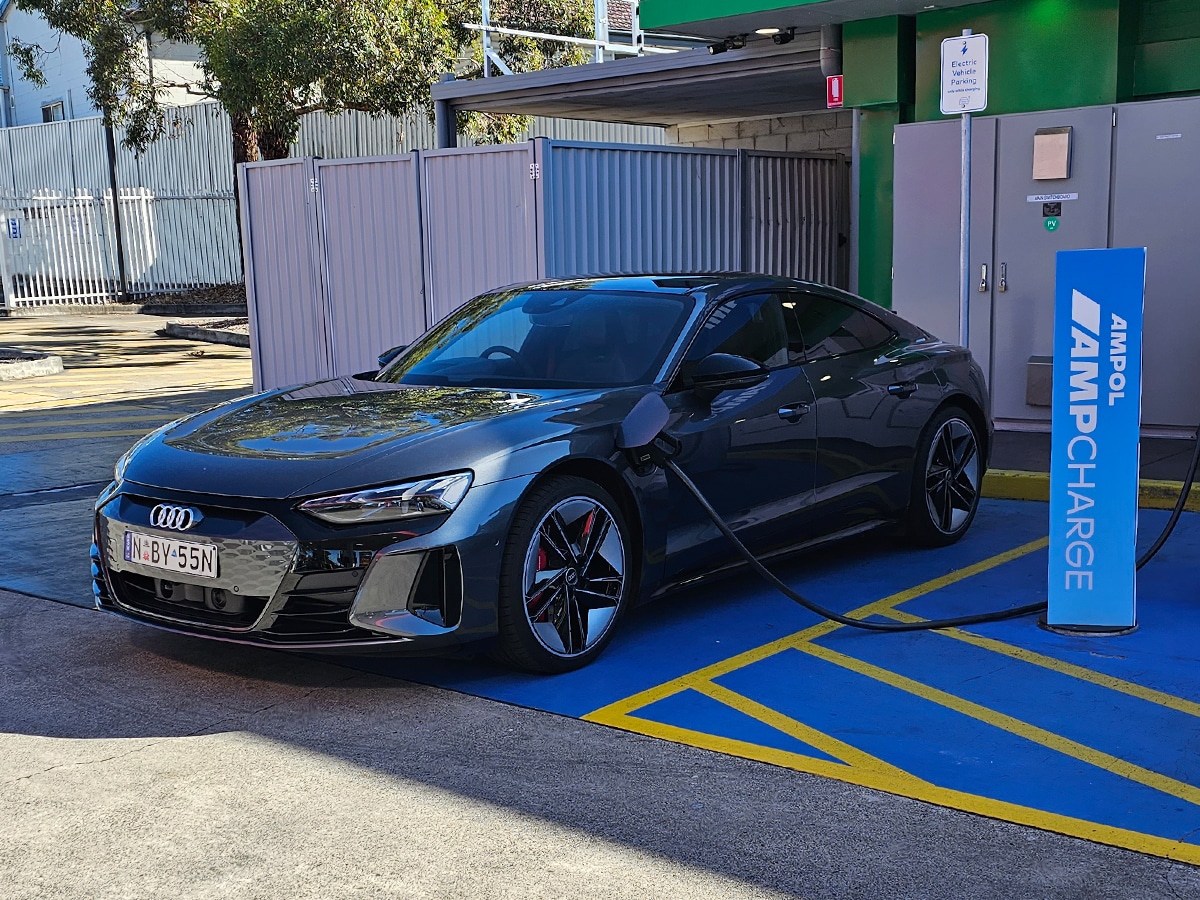 What powers the Audi RS e-Tron GT?
The Audi RS e-Tron GT is powered by dual electric motors – one in the front, one in the rear – that produce a combined power figure of 440kW (475kW in boost mode) and 830Nm. This helps the car accelerate from 0-100km/h in 3.3 seconds, although many have tested this car below the 3-second mark. It's bonkers quick.
Drive is sent to all four wheels via a two-speed transmission like the Taycan and you can physically feel that second gear engage when you put your foot down. It's one of the few mechanical sensations left in the car.
The range is a claimed 488km from a 93.4kWh battery (net capacity 83.7kWh) with a claimed energy consumption rate of 20.2kWh per 100km. Good luck reaching that figure in the real world, and as I always say, expect about 100km to be taken off that range figure under normal driving conditions.
Charging times are quick thanks to 800-volt architecture that offers a maximum of 270kW DC fast charging. This means 100km of range in five minutes or a charge from 5 to 80% in 22.5 minutes.
In Australia, the fastest public chargers you'll find are the 150kW AMP CHARGE units pictured above. I visited a location during my week with the car and topped up from 40-100% in 40 minutes at a cost of $36 AUD.
To combat these exorbitant public charging prices, Audi RS e-Tron GT owners get 6 years of ChargeFox public charging for free and a 7.2kW single-phase wall charger box as standard with a 22kW three-phase charger as an option to charge at home.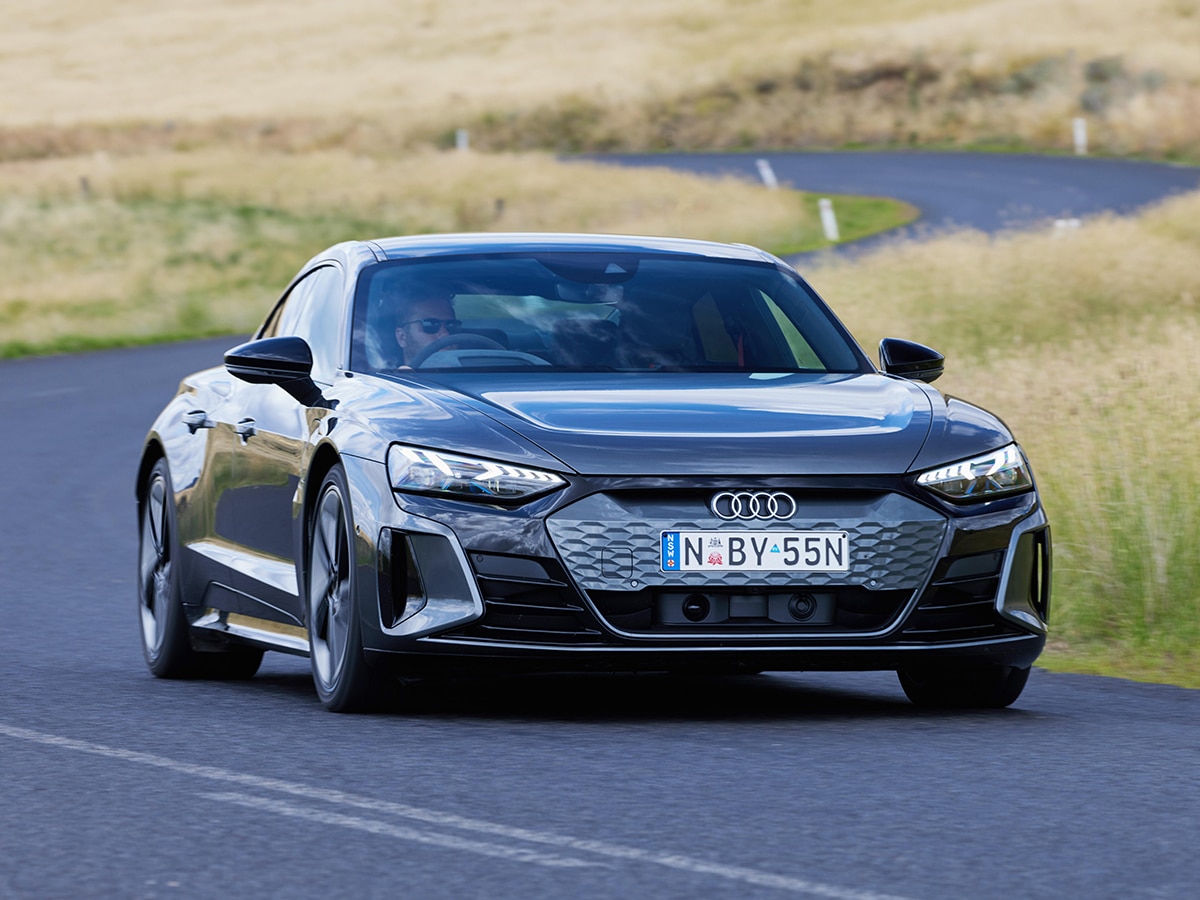 How does the Audi RS e-Tron GT drive then?
Driving electric vehicles quickly is always an interesting experience, to say the least. Unlike the snarling V8s in other Audi performance cars at this price point – which constantly reminds you of the power under your right foot – electric vehicles like the RS e-Tron only make their presence known when you put your foot down.
If you do put that pedal to the metal, the car accelerates at an unbelievable rate. The phrase "being shot out of a cannon" comes to mind and it leaves a massive smile on your friends' faces after they experience it for the first time.
Push the e-Tron GT through a few corners and it's hard to believe it weighs 2345kg. Rear-axle steering is one of the more unspoken truths of automotive technology and the way it shrinks the size of the car during cornering cannot be understated. This couples with an e-quattro sport differential with torque vectoring to give you unbelievable corner exit speed.
In terms of comfort, the three-chamber air suspension does a fantastic job at keeping the car flat during hard cornering, but it's just as capable of being comfortable around town. And for me, that's where the e-Tron GT excels. You'd struggle to tell the difference between the suspension in the Porsche Taycan and the Audi.
If I had to point the finger at something, the battery regeneration is about 3 years behind the 8-ball and I'm not sure why Audi and Porsche decided that people don't want to one-pedal-drive. It's one of the joys of EV ownership and for a car with a lower range, it should be mandatory.
You can adjust regen through three settings controlled by the paddles on the steering wheel but the difference is hardly noticeable.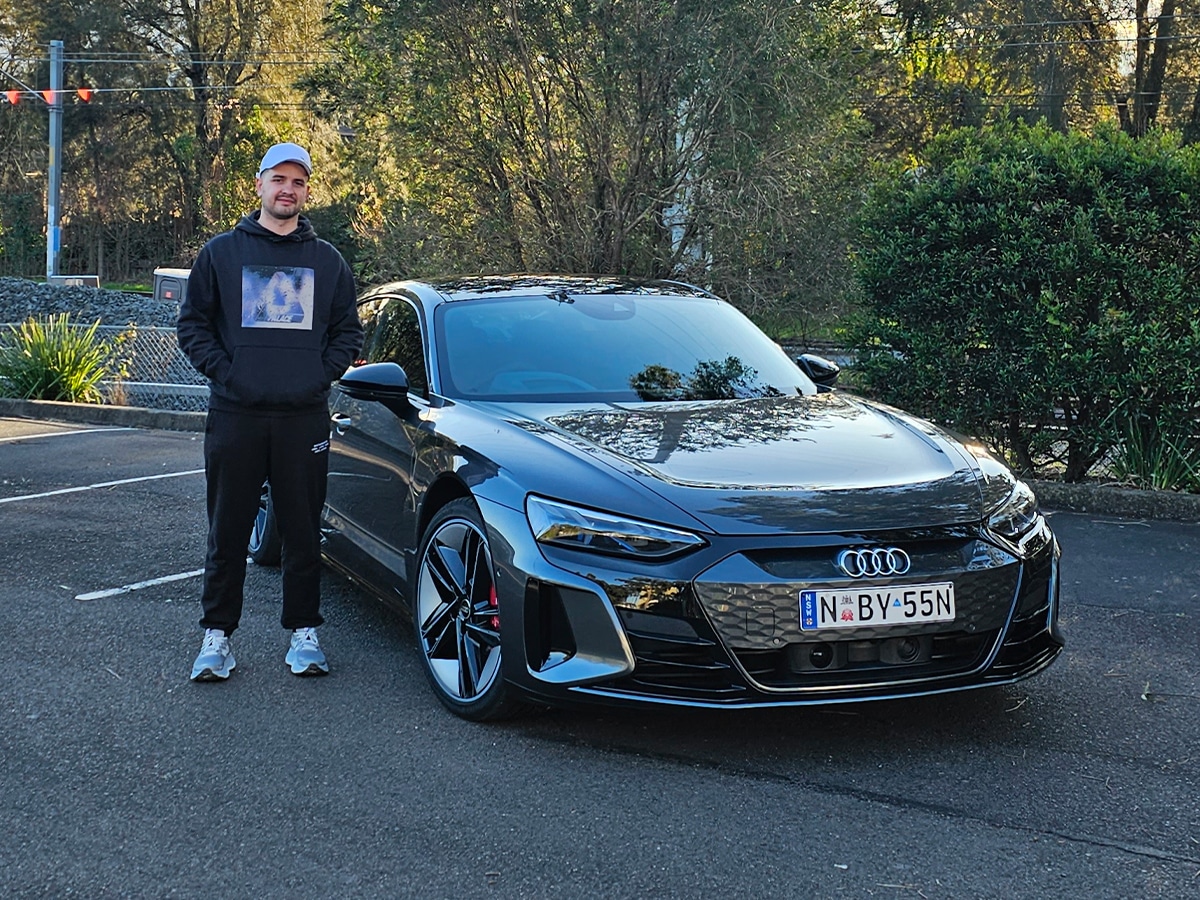 Should you buy the Audi RS e-Tron GT?
No matter how much I push myself to love electric vehicles as a Sunday driver, I still can't get my head around the lack of sound and the unpleasant experience I'm creating for my passengers when driving quickly.
There's no doubt these cars are supremely capable vehicles that border on supercar speeds, but the violence at which they shift such amounts of mass around makes it difficult to recommend performance EVs to people who enjoy driving. Instead, I recommend you forget about the weekend, use the e-Tron GT as your daily driver and put a smile on your face with the acceleration when you need to.
When I take into account the looks, the comfort, the first-class interior, the safety equipment, and the rapid acceleration. What Audi has done is create a four-door electric Audi R8. It's the ultimate daily.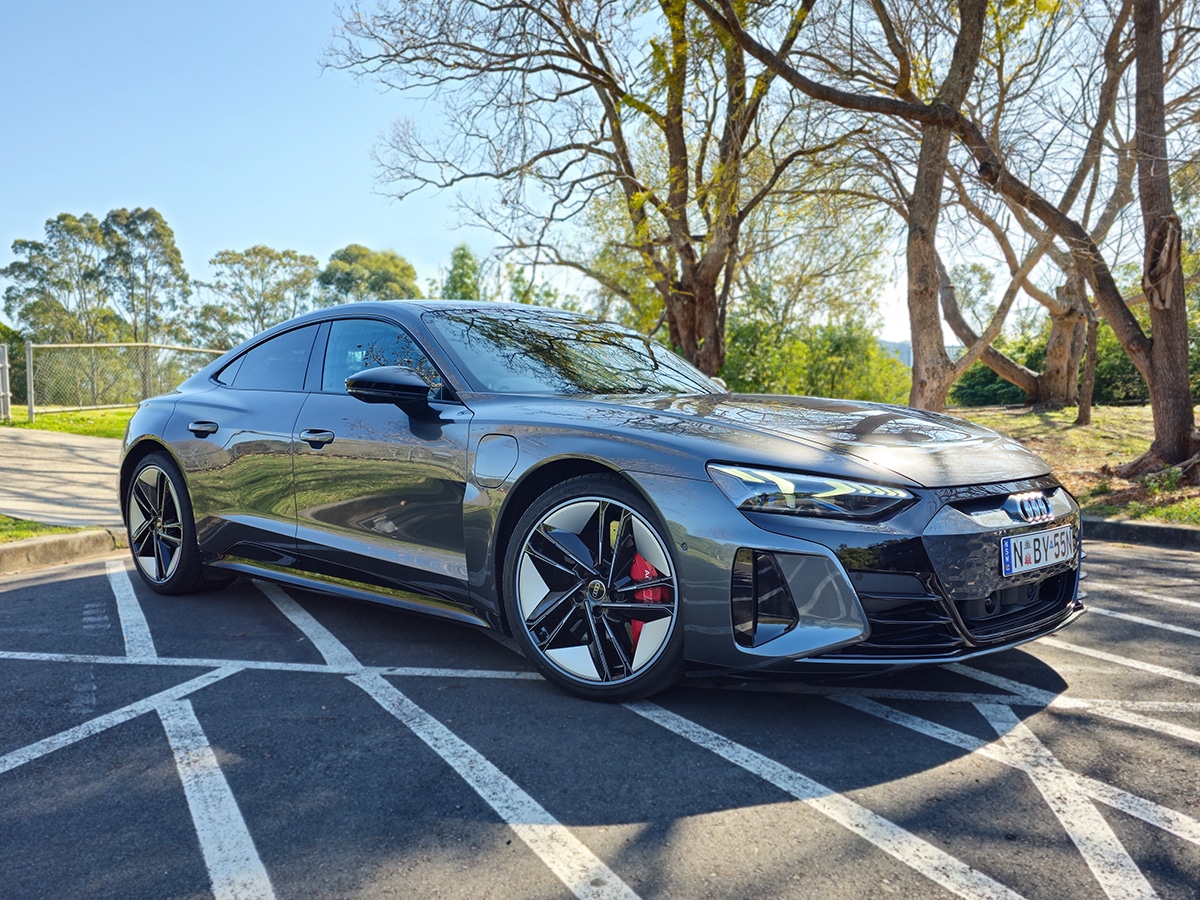 You'll also like: