A Week in Paris with Peugeot's Django Scooter
When people think of scooters, they usually think of affordable transport, free parking and food delivery vehicles. But for the thousands of models on the market, there are few and far between that look visually appealing. Anyone shopping for a stylish scooter usually ends up getting a vintage Vespa, then gives up after 6 months of pre-mixing their own fuel.
There have been numerous attempts at modern-retro scooters but they usually end up looking kitsch and riding kotsch. You know the type, the cheap and nasty brand that pops up overnight and names their scooter something creative like " Amalfi " or " Margherita ". This sea of soulless scooters might create some confusion for the average joe, but fear not gentleman, the French have a solution.
Peugeot has been producing two-wheel machines since 1898 and knows a thing or two about design. Sure, they might not have the global recognition of a brand like Vespa, but the French marque has produced some of the most beautiful scooters ever made. One of which is the 1958 S57C and was the source of inspiration for their latest creation, the Peugeot Django.
Named after legendary Jazz guitarist Django Reinhardt, the new model hopes to put some swing in Peugeot's scooter family and be the benchmark of the modern-retro scooter segment. So, I threw some jazz records in my rucksack and headed to Paris for a week with Peugeot's Django, unchained.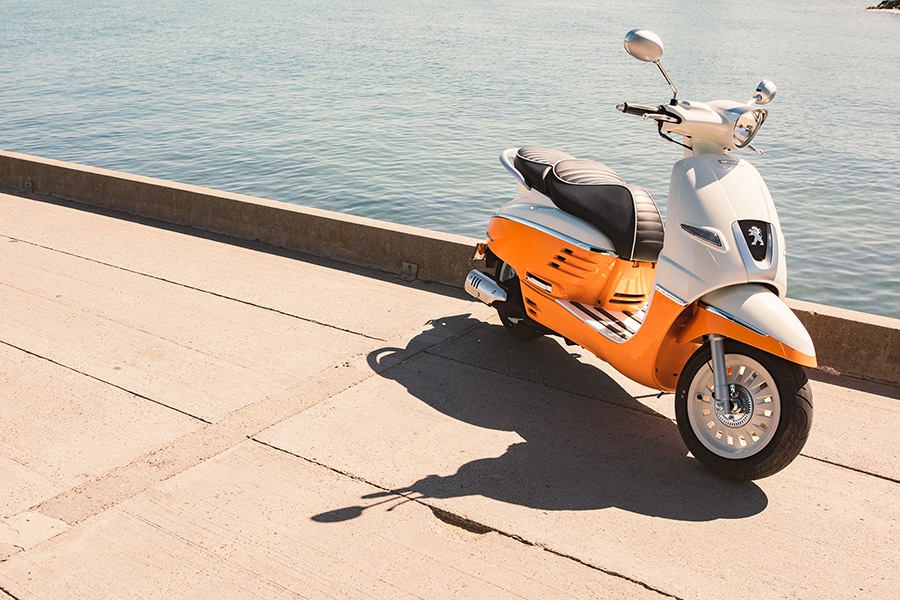 If you haven't been scooter or motorcycle browsing in Paris before, Avenue de la Grande-Armée near the Arc de Triomphe is a famous strip dedicated to all things two wheels and was the pick-up point for my Peugeot. It's usually a difficult process spotting your manufacturer, let alone specific bike, but in a sea of black scooters, the Django stood out like a famous Jazz guitarist.
My two-tone beauty (also known as the Peugeot Django 150 Evasion) was painted in 'Vitamine Orange' and on first glance, it was the most handsome execution of a modern-retro scooter I had seen.
From the art-deco inspired white wheels to the chrome detailing, this was one tasteful lion. The body is sculpted with a well-articulated balance of line and proportion which looks great from every angle. Overall, the silhouette is quite simplistic and streamlined, but ventilation grills and seat piping provide some visual texture. Even the way the pillion pegs extrude from the body is beautifully executed.
Sure, the Django features modern touches like LED indicators and an analogue/digital dashboard, but it's implemented in such a subtle way that it never departs from the design language of the bike.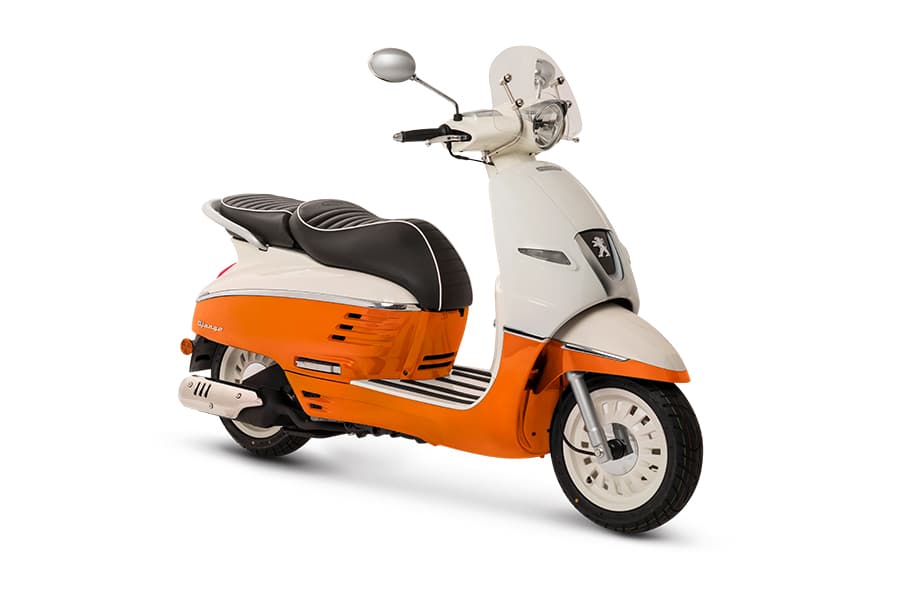 The Django passed the visual test with flying (two-tone) colours, but I thought I should hit the streets of Paris and see how Jazzy the ride was.
Negotiating traffic on the Arc de Triomphe within your first 30 seconds is not something I'd usually recommend, but in this case, the baptism by fire was a success. The 150cc had enough poke to accelerate in between nihilistic couriers and nonchalant tourist buses, while the suspension was able to absorb the most vigilante of cobblestones. Lane filtering is a breeze thanks to a narrow profile (and a courteous Parisian scooter culture), and the low seat height resulted in a comfortable transition through stop/start traffic.
I've found with tighter emissions restrictions, that scooters have become so quiet that you lose that audible safety aid, but the two-tone white/orange really helped out in traffic.
Once I got my bearings in the great city, I was able to start daily riding the Django like a Parisian. From pulling up at Café de Flore, to riding out to Lollapalooza, the little Peugeot came into its own. The under-seat compartment was large enough for an open-face helmet, a dozen croissants, plus a six-pack (verified), and the lockable glovebox also featured a 12-volt charging socket so I could power up my phone in between pastry crawls.
Even locals would approach and ask about my neo-classic beauty until my Tamworth-Franglais responses sent them away dazed and confused. Cultural barriers aside, the Django seemed to be appreciated by onlookers just as much as its pilot.
19hp doesn't seem like much on paper, but on a scooter weighing only 140kg, the Django has enough poke for city riding. The 9.2Nm of torque is delivered over a wind band, meaning I could pull my way up to the Sacré-Cœur with ease, and as long as your passenger doesn't tip the scales north of 100kg, there's enough grunt on tap to support comfortable pillion riding.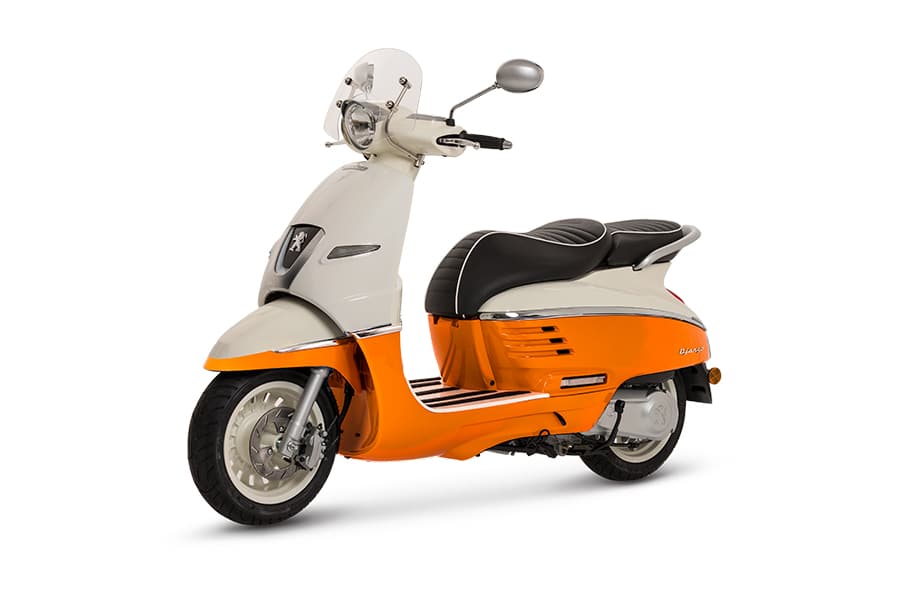 After a week with the Peugeot Django in Paris, it truly was a sad au revoir. You could commute on it, take someone on a date, do your groceries, go to the gym … the beach. In fact, apart from some extreme off-roading, I couldn't think of many places the Django couldn't go.
It's retro-modern done right, and it's the best-looking scooter I've seen in a very long time. Even though I use my motorbike as a daily back in Sydney, Id be happy substituting the Django for most tasks and save the 750cc's for the weekend.
If you're looking at the Django from a strictly fiscal position, it still makes perfect sense. For under AUD$5,000, you get a great looking door to door transport option that has minimal fuel costs and non-existent parking fees. Compare that to what you might spend on the complete cost public transport or a car over the year, and I think you'll find that the Django will pay for itself within its first year.
Maybe with a bit of change left over for a trip to Paris.
But the real benefit of owning a scooter is the convenience. The ability to ride anywhere and not worry about a park. To not worry about traffic. Even the amount of time you save door-to-door is exceptional. With the weather we have in Australia being as good as it is, coupled with the public transport and traffic being as bad as it is, having a scooter in your life should be a no brainer.
Spring is coming, so sort out your license, test ride a Peugeot Django, and say bonjour to more time, money, convenience, and style.
You'll also like:
The Tron Motorcycle Bike is Real and Street Legal
Segway's New Hybrid Motorcycle is Actually Pretty Badass
Teach the Kids to Rip with KTM's Electric Balance Bikes