7 Best Diesel Motorcycles
Like four-leaf clovers of the biker world, the best diesel motorcycles are supremely hard to come by and cherished among the few who actually score one. And as hybrid powertrains and electric motorbikes rapidly become the norm, diesel motorcycles will arguably continue their steady slide into obscurity, until one day you might only see them behind glass at an automotive museum, or when streaming old episodes of Diesel Brothers. Of course, scarcity is just one of diesel motorcycles' many charms, whereas the best diesel motorbikes additionally tout invincible construction, extraordinary range, and massive torque. That's in no small part due to their primary use as military vehicles, which in and of itself should serve as a stamp of reliability.
As to why the concept never really took off, it's mainly because diesel engines that deliver a desirable power-to-weight ratio are super tricky and expensive to pull off. Consequently, petrol-guzzling counterparts or modern electric hogs remain the go-to industry standards. Nevertheless, we're celebrating the few and proud diesel motorcycles that have managed to carve out a respectable niche for themselves over the years. Each diesel bike has earned its place in history by way of distinction and durability alike. Hence, we present the 7 Best Diesel Motorcycles.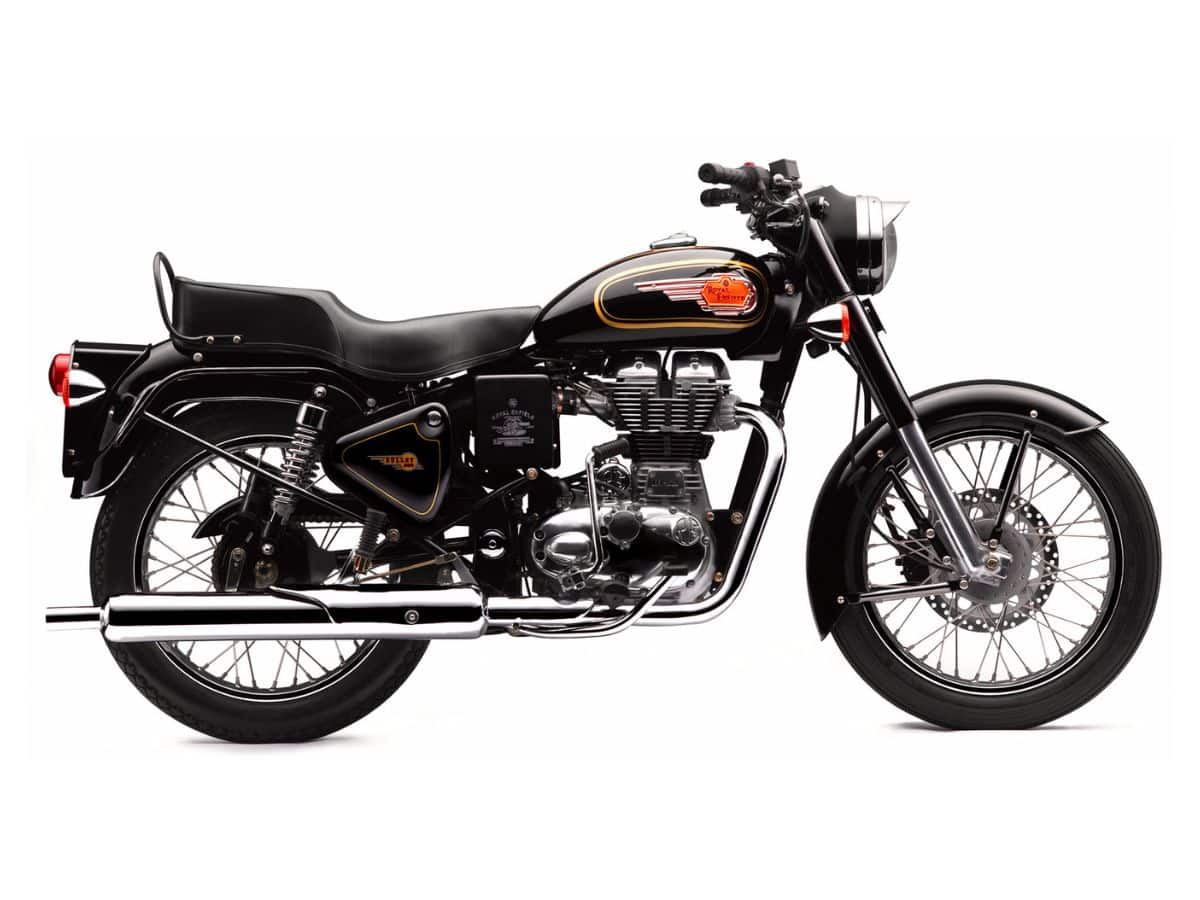 1. Royal Enfield Taurus Diesel Motorbike
Widely considered the most well-known diesel motorcycle off all time, the Royal Enfield Taurus pairs a classic aesthetic with a dependable 325cc four-stroke air-cooled diesel engine. This middle-of-the-road diesel motorbike was actually among the few diesel motorcycles to be commercially produced, with a run that went from 1993 to 2001, thereby coinciding with the height of the (marginal) diesel motorcycle craze. Sold primarily in European countries, this diesel bike earned itself a respectable cult following over the years, in part thanks to a power-to-weight ratio that wasn't overly cumbersome. Hit up enough auctions and you might find this diesel motorbike to this day.
Fuel capacity: 15 liters
Top speed: 65 km
Max Power: 6.9 PS @3600 rpm
Max Torque: 15.0 Nm @2500 rpm
Weight: 196 kg (kerb)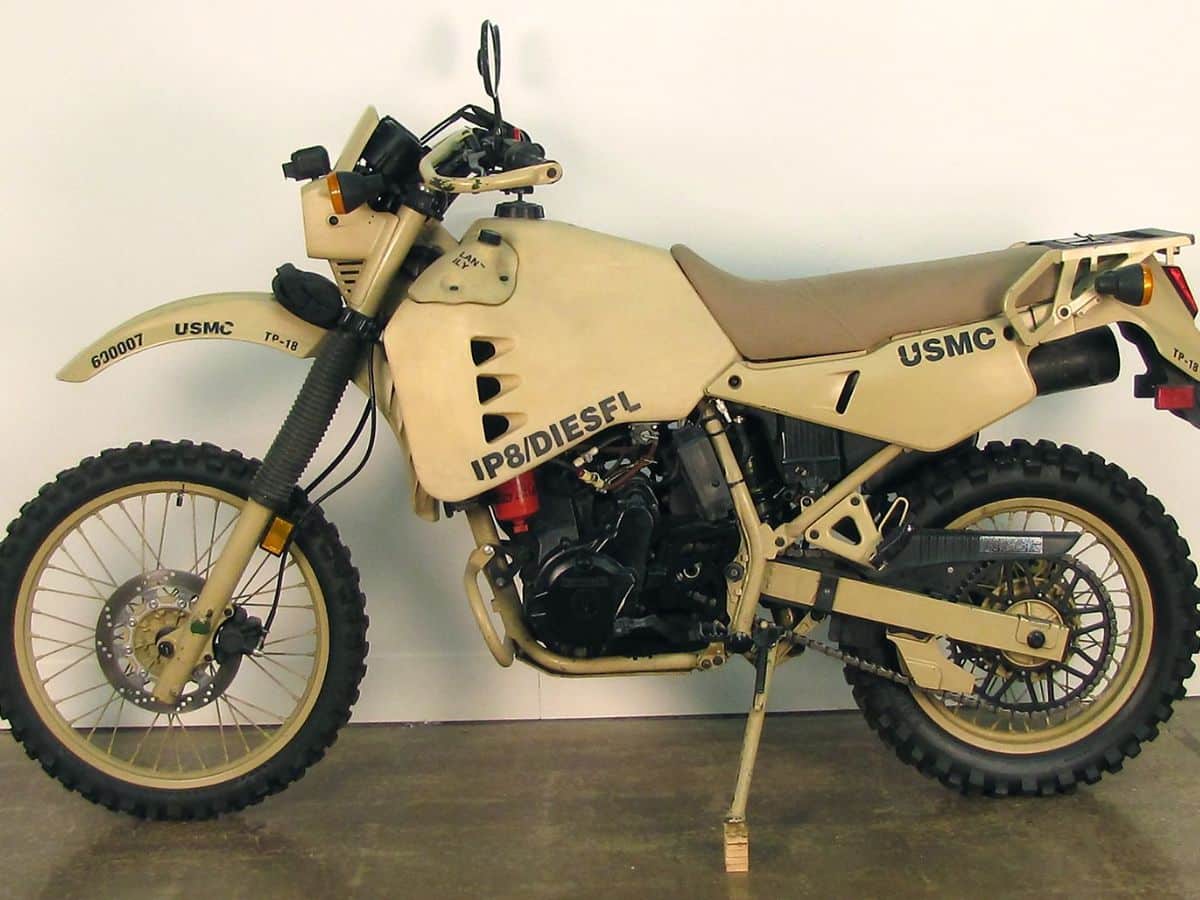 2. Hayes M1030 Military Diesel Motorcycle
The word "military" should be your first clue that the Hayes M1030 is a cut above the average diesel bike. Built out from a Kawasaki KLR640 and dressed in tan shades, this trusty diesel motorcycle is equipped with a 670cc liquid-cooled engine. With top speeds of 90mph, the bike is surely impressive, but that's not why it became the go-to diesel motorcycle for the US Marine Corps. What the military liked so much about M1030 was its versatility. More to the point, the bike utilised proprietary Tamarit Circe Turns a Triumph Bonneville into Baroque Work of Art to be able to run on biodiesel, gasoline, truck diesel and five kinds of jet fuel. A mass-production model was discussed but never realised, meaning you have to go directly to the manufacturer to score one of these babies. Expect it to cost you.
Top speed: 90 mph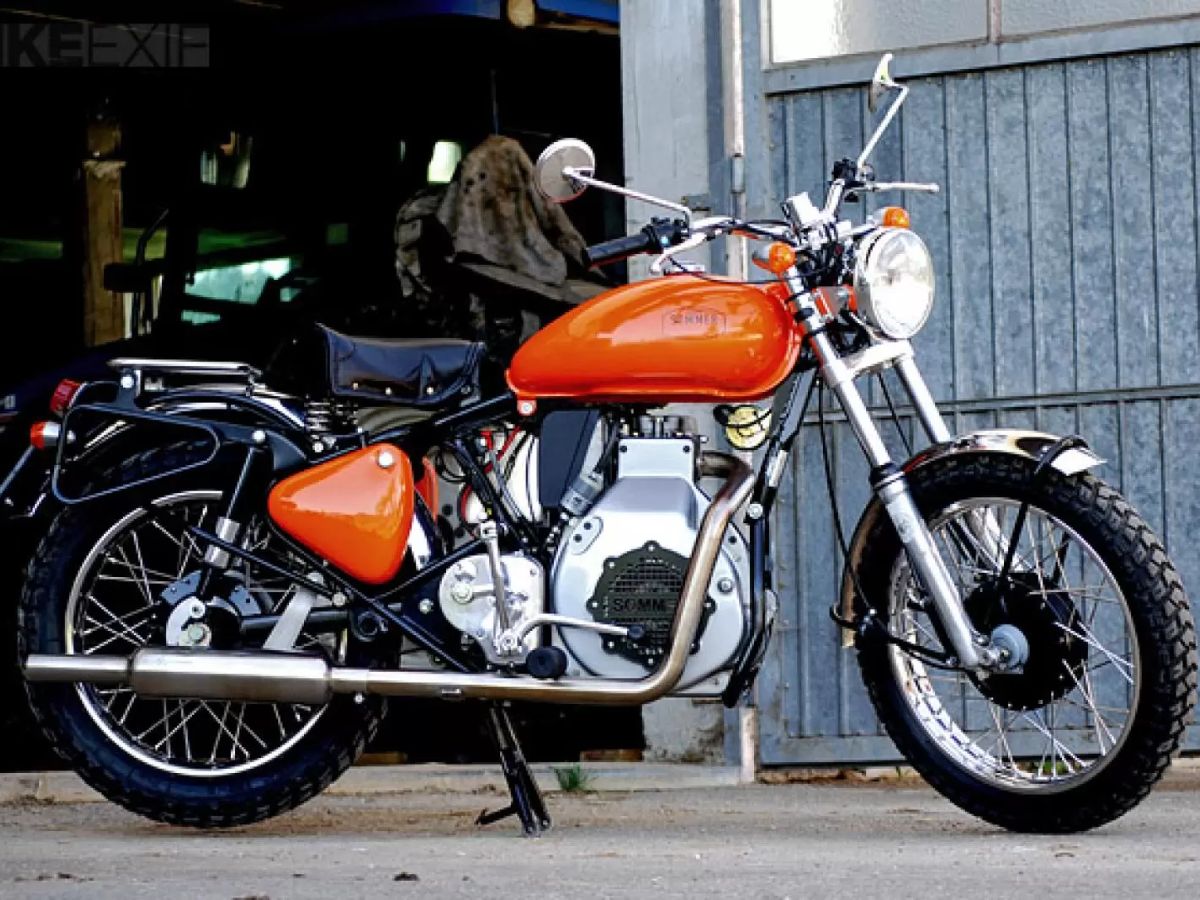 3. Sommer Diesel 462
From the discontinued parts of the aforementioned Royal Enfield came the Sommer Diesel 462. Hand-built in Germany and aimed squarely at the European market, this diesel motorcycle employed a 462cc single-cylinder 4-stroke engine good for a meager 11 hp and 20 ft-lbs of torque. While that horsepower number is far from substantial, the bike does tout some truly impressive mileage, cranking 117 miles out of every gallon, which equates to 300 miles for every full tank. That means you could take this diesel bike across the country and save tons of money on fuel, permitted you don't mind a top speed of 65 mph. Truthfully, however, it's more of a city bike for obvious reasons. Also featured is a belt drive and gearbox with four gears.
Fuel capacity: 13.50 liters
Top speed: 99.0 km/h (61.5 mph)
Max Power: 11.00 HP (8.0 kW) @ 3500 RPM
Max Torque: 26.25 Nm @ 2000 RPM
Weight: 165.0 kg (dry)
---
Featured Video from Man of Many
---
4. Hero MotoCorp RNT
While the Hero MotoCorp RNT doesn't offer much by way of design, the compact scooter does achieve a tier of efficiency and utility that you're not likely to find on other diesel motorcycles. That's because it's actually a diesel-electric hybrid, equipped with both a 1.3 hp electric motor and a 150cc diesel motor that generates a surprisingly formidable 13.5 hp and 26 ft-lbs of torque. Throw in a turbo feature and plenty of luggage space and you get a downright functional diesel motorcycle that packs more punch than one would anticipate. Oh, and did we mention this diesel bike's engine doubles as a generator? Now you're coming around.
Fuel capacity: 6 liters
Top speed: 70 kmph
Max Power: 13.5 hp @ 4000 rpm
Max Torque: 35 Nm @ 1600 rpm
Weight: 136 kg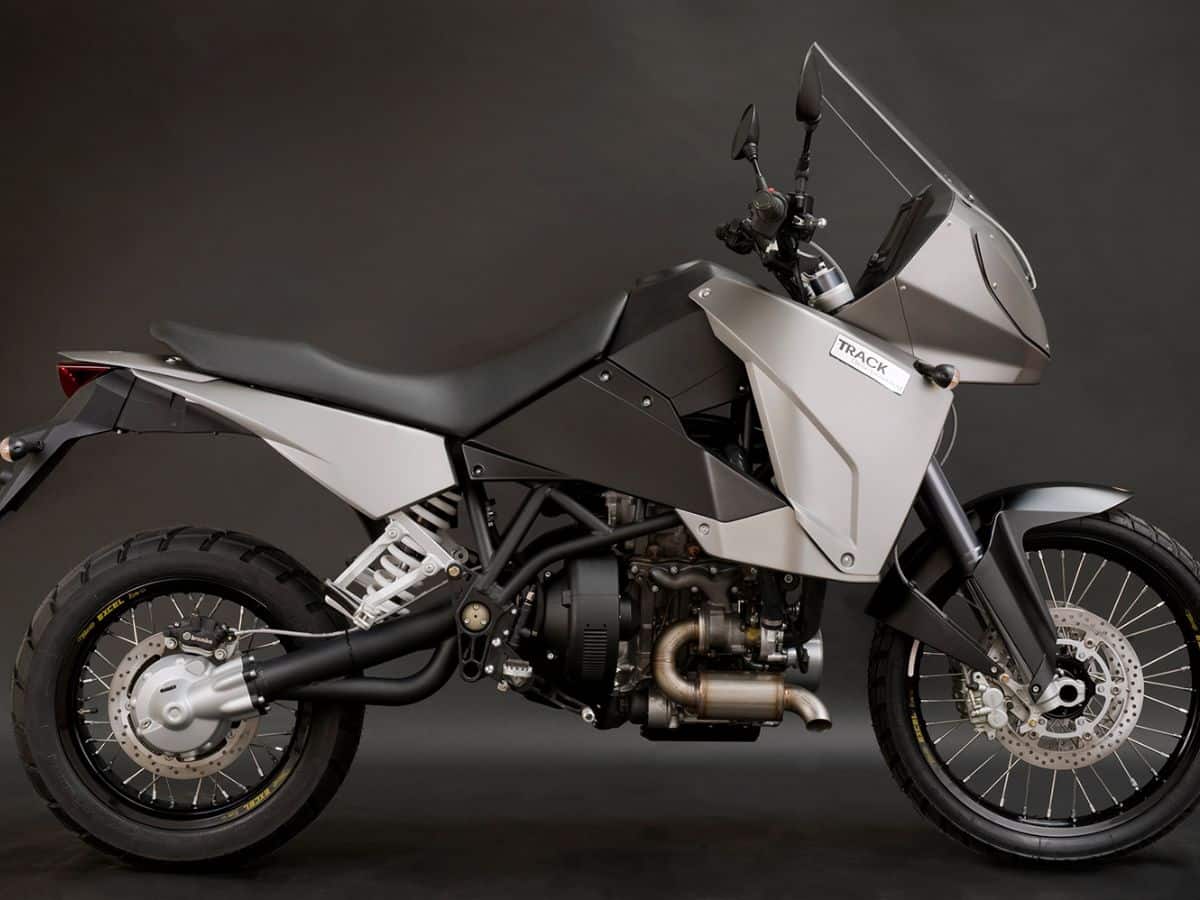 5. Track T-800CDI Diesel Motorcycle
Not only does the Track T-800CDI hold up admirably over long distances, but it also looks downright sleek and modern while doing so. Bearing striking resemblance to the Yamaha Super Tenere, this top diesel motorcycle produces up to 45 hp and 78 ft-lbs of torque out of its turbocharged 3-cylinder engine, getting the bike from 0-60 mph in under 4 seconds. That's joined by Brembo brakes, long-travel suspension, a trellis frame, and an upright, ergonomic stance. Only 50 have been sold to date, and snagging one will run you about 25K. Worth noting is that the blueprints are also for sale, just in case you want to build your own to add to your collection of diesel bikes.
Fuel capacity: 22.5 liters
Top speed: 110 mph
Max Power: 33/45 kW/bhp @ 3,000 tot 4,500 rpm
Max Torque: 100 Nm at 1800 rpm
Weight: 225 kg (dry)
You'll also like:
10 Fastest Motorcycles in the World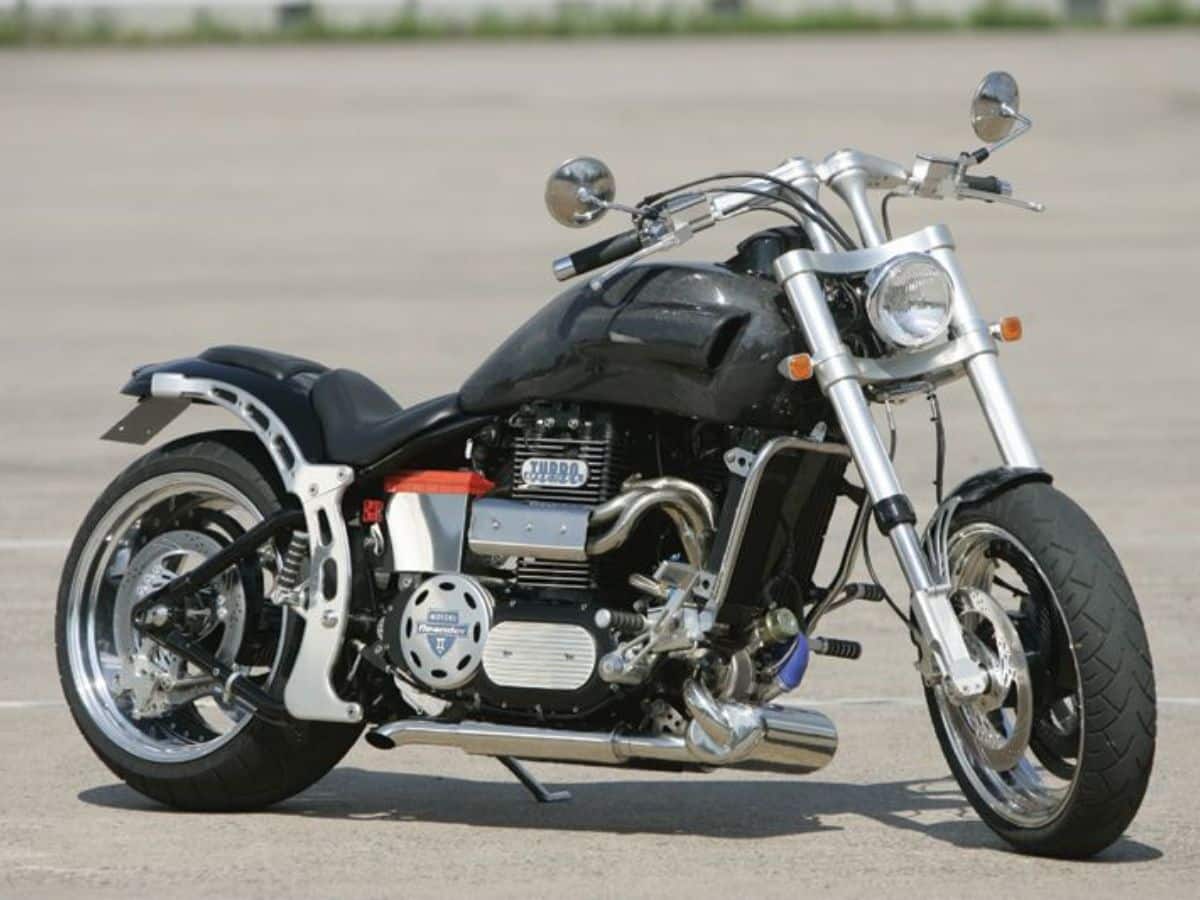 6. Neander Turbo Diesel Motorcycle
Ladies and gentleman, for a mere 133K, you can grab yourself the Neander Turbo Diesel, easily one of the best diesel motorcycles ever made. In return for your investment, you gain access to a parallel twin-cylinder turbo diesel engine with two meshed counter-rotating crankshafts. That engine delivers a whopping 112 hp and equally impressive 133 ft-lbs of torque. But that's not all. Ensuring comfort and control is a hefty quad-mount, a twin-fork body that weighs in at 650 lbs. The diesel bike also comes equipped with double telescopic fork, Brembo brakes, and a 6-speed cassette transmission. This diesel-powered motorcycle doesn't get the greatest fuel mileage, but other than that it's a high-performance beast of a machine.
Fuel capacity: 14 liters
Top speed: 220.0 km/h
Max Power: 112.00 HP (81.8 kW) @ 4200 RPM
Max Torque: 214.00 Nm @ 2600 RPM
Weight: 295 kg (dry)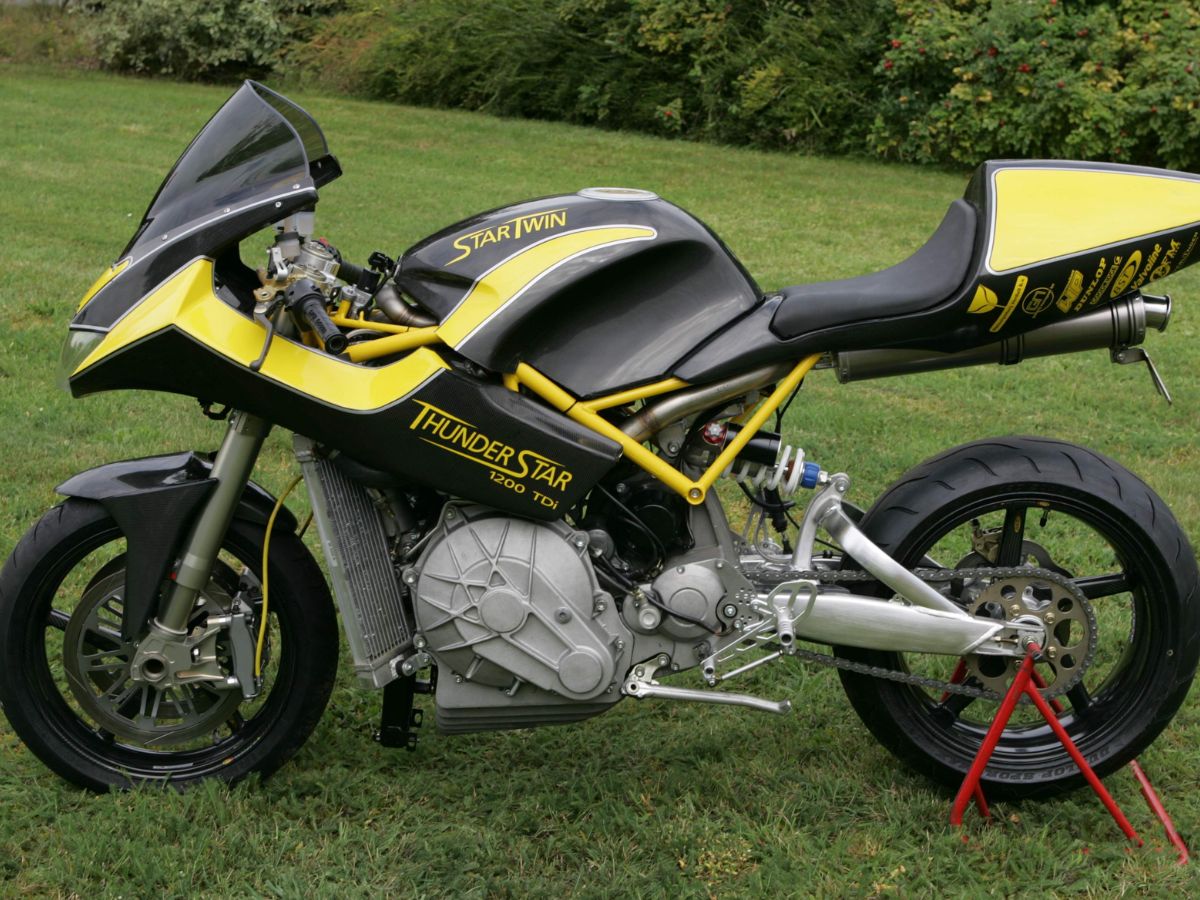 7. Star Twin Thunder Star 1200 TDI
Like a yellow jacket on wheels, the Star Twin Thunder Star 1200 TDI flaunts a yellow/black colourway and some serious speed. From its 1.2-litre 3-cylinder turbo-diesel engine, expect a mammoth 180 hp and 250 ft-lbs of torque. Giving the top diesel motorcycle all the more appeal is top-shelf suspension, carbon wheels, performance brakes, and some terrific fuel economy of 95 mpg. The prototype for this stunning diesel bike debuted in 2005, and unfortunately, the bike never reached full production status. Nevertheless, it remains one of the best diesel motorcycles ever conceived.
Fuel capacity: 18 liters
Top speed: 70 mph
Weight: 205 kg
You'll also like:
BusyPeople Turns the KTM 390 Duke into a Neo-Punk Scrambler
Aprilia Combines Naked and Sport for the Tuono 660
Tested: Saint's Unbreakable Motorbike Denim
General FAQ
Is Royal Enfield available in diesel?
The Royal Enfield Taurus Diesel Motorbike is one of the few diesel bikes to be commercially produced. From 1993 to 2001 this motorbike was produced and sold primarily in European countries.
Are there any diesel motorcycles?
While there are still vintage diesel motorcycles out there, there is currently only one modern production diesel motorcycle, the bike is based on the Kawasaki KLR650 and used for military purposes.
---
Featured Video from Man of Many