As Aussies, we're gifted a pretty incredible terrain to play with. Whether you live coastally and can hit up the surf and sand of Bondi or Scarborough, or you find yourself in-land enough to stop in at the Red Centre, this nation is home to an unparalleled array of natural wonders, many of which are hidden away to the rest of the world.
But to truly take in the sights and sounds of Australia's hidden scenery, you need to be up to the challenge. Heading off the beaten track and opting for the road less travelled means you are likely to encounter some pretty remote conditions and more than a few bumps. For those not yet adept at the art of four-wheel driving (4WD), there's hope for you yet. Take it from us.
At the recommendation of 4×4 expert and 'Coffs Coast Jeepers' member Graham Harris, we were lucky enough to put our modicum of knowledge and the Jeep Compass Trailhawk to the test, heading to the iconic Blackfellows Hand Trail in Lithgow. Home to some of the nation's oldest and most culturally significant Indigenous rock paintings, the unique 4WD track offers a rare look into the Aussie outback, just a few hours from Sydney. Better yet, it's the perfect place to hone your 4WD skills in a safe and secluded environment.
As an experienced driver with over a decade out on the tracks, Harris is an Aussie adventurer in the true sense of the word, but every expert was once a beginner. His biggest piece of advice for newbies is simple: "Don't drive too fast," he says. "I've seen many drivers be overconfident and drive beyond their capabilities, which of course doesn't end too well!"
With the backing of an expert like Harris and a Trail Rated icon like the Jeep Compass Trailhawk, we knew we were safe hands, but that didn't negate the need for a refresher. If, like us, you plan on taking things off-road this summer, up your knowledge or risk embarrassing yourself in front of the certified four-wheel experts of the local caravan park. Here is a list of the 10 4WD tips every beginner should know.
1. Know Your Car
While we know a good tradesman never blames his tools, he also gets them checked out before use. Perhaps the most important element in a successful 4WD trip is knowing what your car is and isn't capable of. For off-roading purposes, it's always a great idea to check under your car to identify its lowest point. Depending on the variant, your four-wheel drive will have an approach and departure angle, along with a ground clearance figure and wading depth.
From there, make sure you take note of all the prospective benefits of your 4WD. In our case, the 4-Cylinder 4X4 Jeep Compass Trailhawk has a wealth of beginner-friendly features that intuitively adapt to your surroundings. Having the backing of 4×4 Selec-Terrain Traction Management System certainly makes things easier, not to mention, puts your novice mind at ease.
Further to that, if you're hitting a trail in a car you aren't familiar with, make sure you take it out on the road first. Get a feel for the car under foot before you plant your foot and fly over an obstacle at high speed. When faced with a steep climb, you might be inclined to go 'pedal to the metal', but in a 4WD as efficient and powerful as the Compass Trailhawk, it's not always a great idea. The Trail Rated 4×4 cops a 2.0L MultiJet Diesel engine, spewing out 125kW of power and 350Nm of torque, meaning the measured approach is probably your friend out on the trail.
2. Be Prepared
While it's always good to have your head in the game, this beginner 4WD tip has less to do with mindset and more emphasis on supplies. Make sure you load up on all the essential items you need to get you out of a sticky situation. Australia's diverse terrain presents more than a few sneaky surprises, so take note of the weather and expect the unexpected. We highly recommend bringing these essentials with you on every trip;
Shovel
Water
UHF radio
Tyre recovery gear
Starter kit
First aid kit
Snatch straps
Recovery tracks
3. Plan Your Route
Any successful journey starts with a plan and the same goes for a 4WD adventure. Rather than hitting up a trail unannounced and flying by the seat of your pants, take the time to plan a route. More often than not, you'll be able to pinpoint spots to stop, areas to avoid and most importantly, keep yourself from getting lost. Chuck the trail in the on-board navigation system and set yourself a goal. Should things go haywire, being able to tell someone exactly where you are, can be handy. Trust us.
4. Know the Terrain
One of the best parts of hitting up an Aussie 4WD track is the vastly different terrains you can encounter along the way. Irrespective of where you are, there's a pretty good chance you will run into some sandy, rocky, steep, muddy or slippery footing, so planning your course of action is a great move. Knowing how and when to engage different modes is a skill that you will pick up with time, but understanding features like the Jeep Compass Trailhawk's 4×4 Selec-Terrain Traction Management System can help you remain stable no matter the conditions. For our drive, we found ourselves firmly in Rock mode, but come winter-time, you can expect to bust out the Mud or Snow modes.
5. Tyre Pressure
Once you've charted the terrain and have a rough idea of what you'll be driving on, tyre pressure comes into play. Most experienced drivers know to drop the air pressures in their tyres for sand driving, but what about when driving through mud or over rocks, or even along corrugated gravel roads? Truth be told, adjusting the air pressure in your tyres to suit the terrain will not only improve your vehicle's performance, but also aid tyre life, help prevent track damage, and result in a much more comfortable ride. Here are some basic recommendations for different environments, so grab out that compressor and get deflating.
On-road: 30psi and 38psi
Rough gravel: 26psi to 32psi
Rocks: As low as 22psi
Mud: Around 28psi
Sand: As low as 16psi
According to 4×4 expert Harris, one of the most common mistakes beginner drivers make is not reducing their tyre pressure. "For new drivers, I'd recommend always reducing your tyre pressures to about 18 psi for better grip," he says. "There are many things that can go wrong – mostly it is important to note that whatever does go wrong, you can't call the NRMA (or local state equivalent) to help you out in the middle of a 4×4 track. So it is super important to not take on anything too challenging before you are ready."
6. Go Slow
While you might have the temptation to pick up a bit of speed and start ploughing through obstacles, slow is always the go. Why? Well, a lot of things can go wrong whilst you are 4WDing. With unexpected obstacles coming your way all the time, a number of decisions have to be made on the spot. Which line do you take? Is there a change in terrain? Add some extra speed to the equation and you have even less time to pump the brakes and ensure you and your passengers' safety. Remember, the best 4WD trip is always the next one, so make sure you can make it.
7. Take Note of Water
We've all seen those awesome 4WD action shots where it looks like a car is 90 per cent underwater, but that's not something you should be aiming for. Before you put the car through its paces, get out and walk through the body of water yourself. This way, you'll be able to determine how fast the water is flowing and just how deep it is. Luckily enough for us, the Jeep Compass Trailhawk's high air intakes and special water sealing made the job of getting through those water obstacles a whole lot easier. The last thing you want is to find yourself four-foot deep in what you thought was a puddle.
8. Insist on Low Range
When it comes to 4×4 driving in 2020, nothing compares to the ease and security of low range capabilities. Designed for the kind of low-speed and low-grip conditions commonly encountered when driving off-road, this feature is a must-have for anyone new to the 4WD game. The most capable SUV in its class, the Jeep Compass Trailhawk comes with the Jeep Active Drive Low 4×4 System as standard, including a 20:1 crawl ratio and low range for Trail Rated capability. All that means is that low-range acts as a gear multiplier to give the driver extra control over dicey road conditions. Want to stay on the course and not in a ditch? Low and slow, baby.
9. Make Use of Hill Descent Control
One of the best additions to modern 4×4 driving, it's downhill from here. With Hill Descent Control, 4WD vehicles like the Jeep Compass Trailhawk allow for smooth and controlled hill descents on rough terrain. Even better, you don't even need to touch the brake pedal, you just sit back and let the tech do the talking. While it does sound a little like cheating, there's more to Hill Descent Control than you'd think. In the Jeep Compass Trailhawk, the innovative technology uses the ABS system to brake each wheel individually, giving it more control than a driver using the brake pedal, as manual braking only works across the axles.
Once locked in, the Jeep Compass Trailhawk's HDC allows the driver to change the crawl speed of the descending vehicle by using the cruise control plus and minus buttons on the steering wheel or adjusting the throttle during descent. If you want to cruise down a steep terrain safely, you've got to trust the tech.
10. Bring a Friend
We all know there's safety in numbers, but an extra set of eyes doesn't hurt, particularly if you're new to the 4WD game. Make sure you let others know where you're travelling to and give them a rough itinerary of your trip. This way, they have an idea of where you expect to be at any given time and when you should return home.
Better yet, if you find yourself in a sticky situation and you're not sure how you are going to get out of it, having a friend hop out and direct is always a ripper move. "Ideally a suitable track for beginners needs a few obstacles so they can learn where to position the wheels, which is the tricky part," Harris says. "You don't want to bottom out! It really is best to have someone standing in front to direct a beginner so they get the hang of it."
Sure, the Jeep Compass Trailhawk also uses radar sensors to detect if the vehicle is approaching an obstacle too rapidly, but there's nothing better than having a passenger shout loudly at you every time you come a little too close to the cliff's edge. What are friends for, right?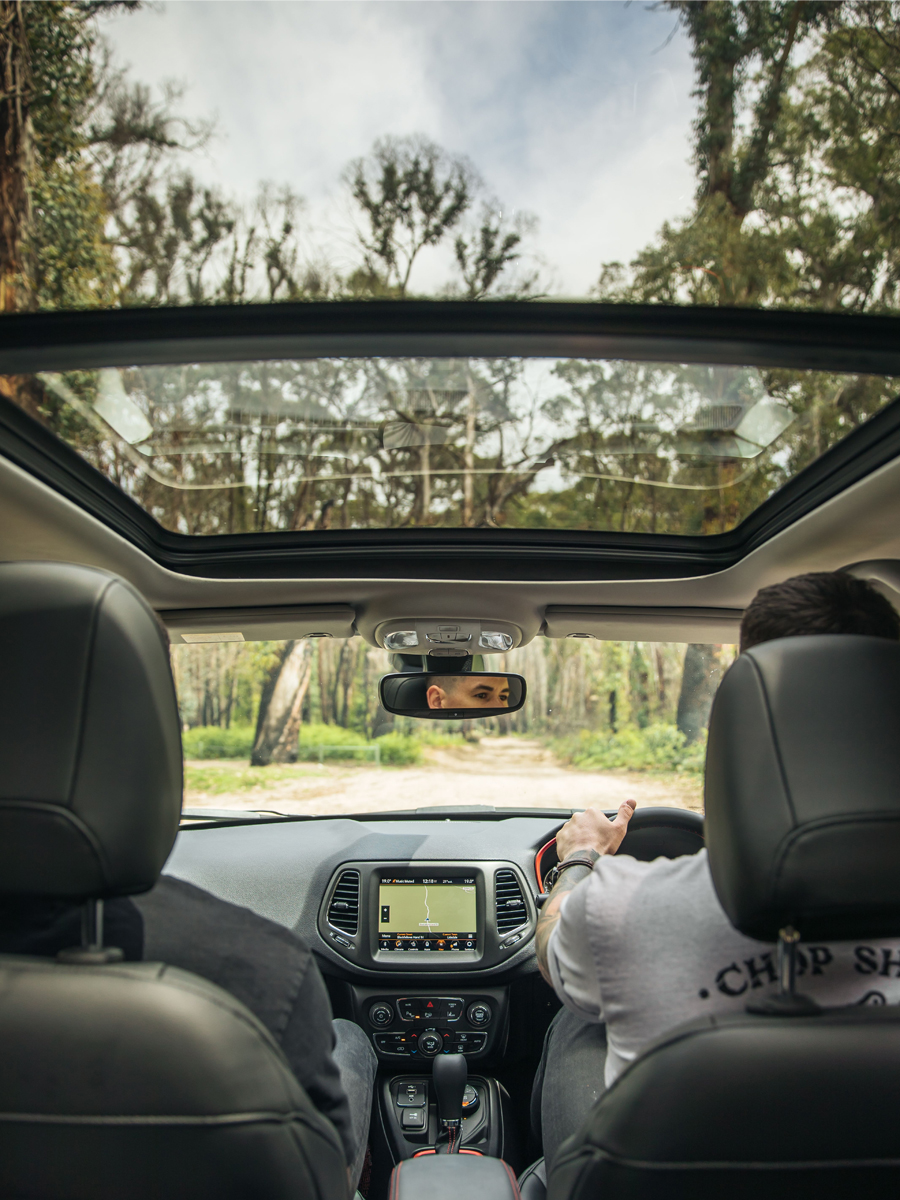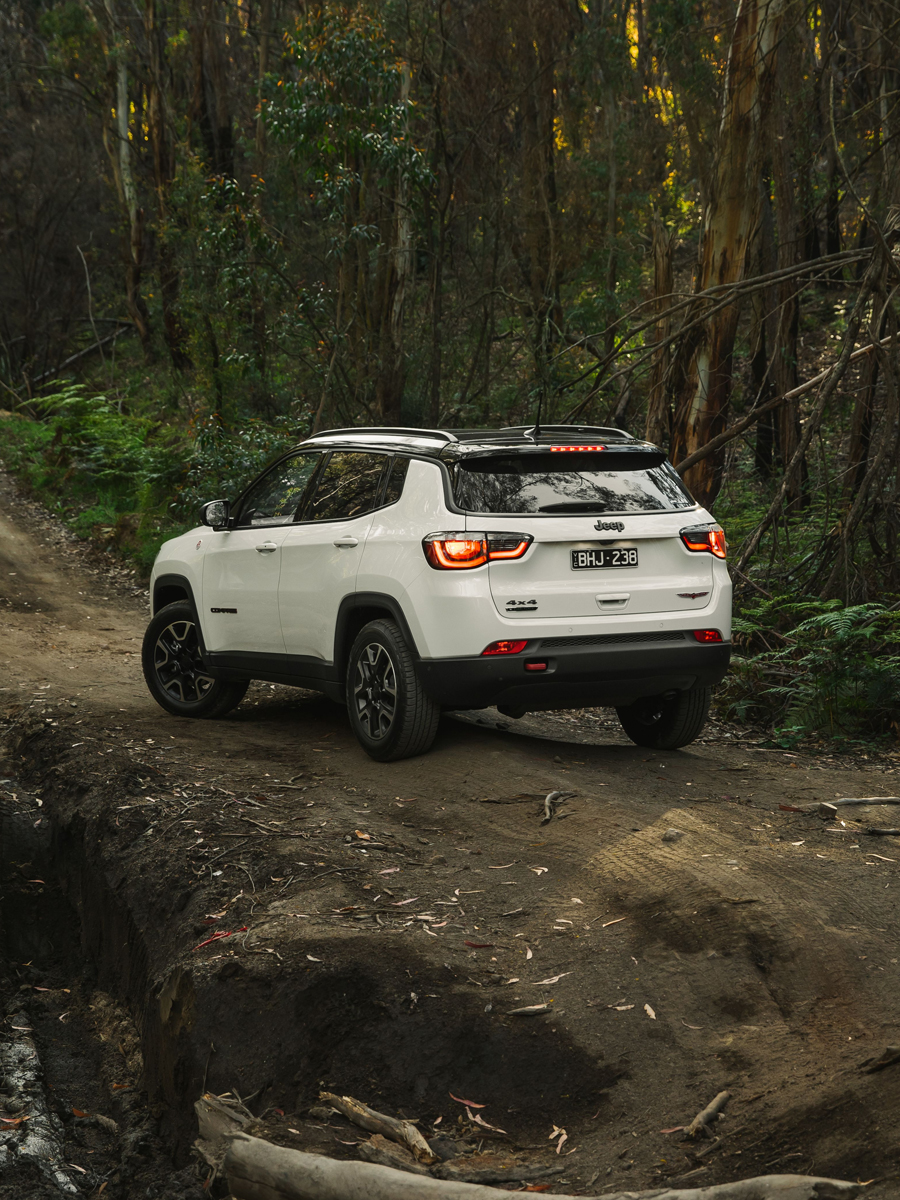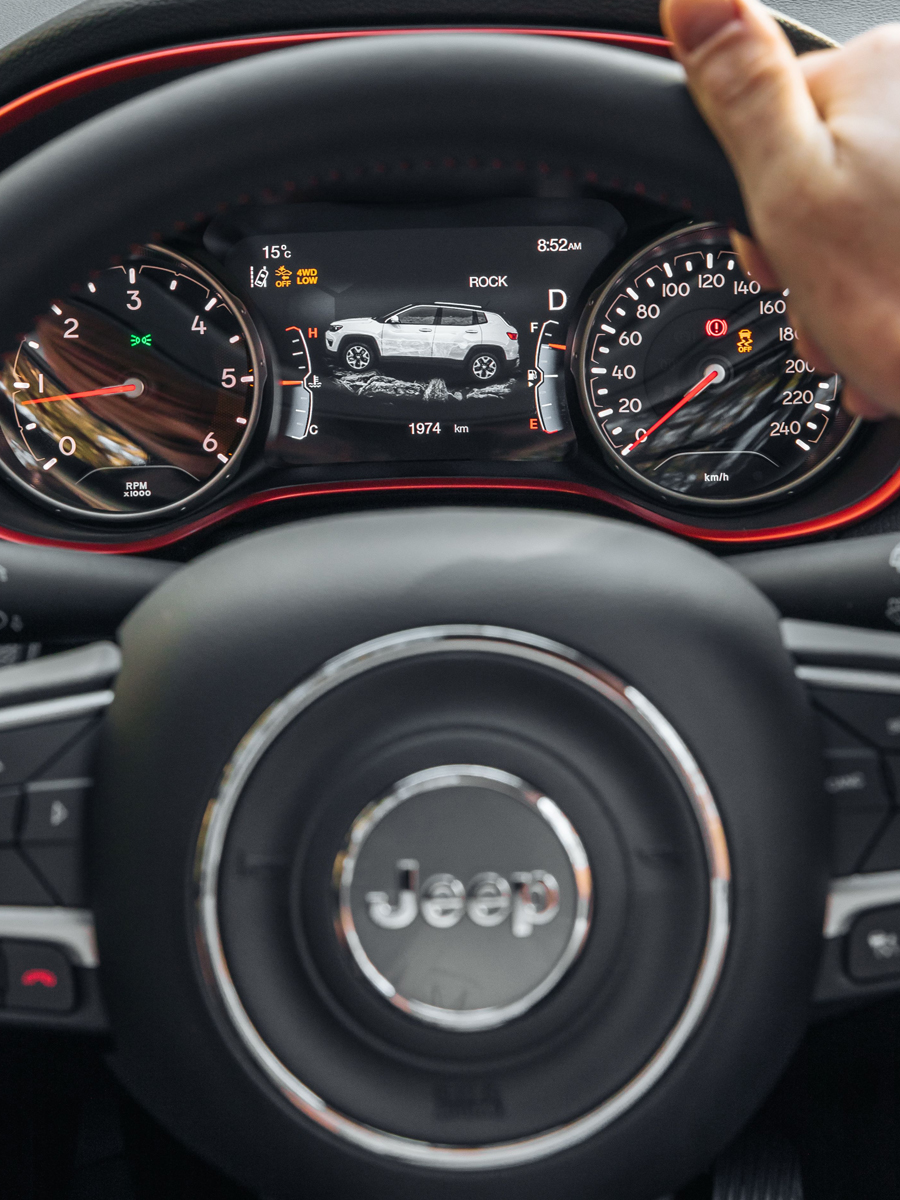 Jeep Compass Trailhawk
Like we said, if you plan on hitting the tracks this year, you need to be up to the challenge and you need a vehicle that's equally as prepared. With the Jeep Compass Trailhawk, we got all that and more.
The sports utility vehicle carries that iconic Jeep legacy of legendary traction, ground clearance, maneuverability, articulation and water fording, not to mention some handy additions for beginner 4WD fans. The ParkView Rear Back Up Camera with dynamic gridlines helped keep us from making silly mistakes and the Rear Cross Path Detection alerted us to vehicles passing behind on the more densely populated spots of the trail.
Loaded with traction and advanced articulation features, the Jeep Compass Trailhawk isn't just a handy addition to the 4WD arsenal; it's the vehicle that saved our bacon a few times over.