Fulfilling every definition and expectation of what it means to be a smartwatch in 2020, the Galaxy Watch3 is the flagship wearable device from Samsung with all the bells and whistles you could ever need. Since the arrival of its Galaxy Gear seven years ago, two years before their competitors, the world has had a lot of experience with this new tech class. Not likely to replace your smartphone entirely, smartwatches do enable a host of valuable functions for fitness tracking, health monitoring, and quick access to notifications when you can't be bothered to pull your phone out of your pocket.
Knowing these requirements and understanding that innovation requires pushing the envelope of what is possible, the latest smartwatch from Samsung does everything you need, with a little bit extra on top. From its impeccable design, a rotating bezel for those that can't leave their chronograph behind, and top of the line health and productivity technology¹, there is a lot to love and admire about the Samsung Galaxy Watch3. Described by Garry McGregor, Vice President of the Mobile Division at Samsung Electronics Australia as the combination of sophisticated, classic design and next-generation functionality, Garry believes the Galaxy Watch3 is the leader of the smartwatch revolution.
"With Galaxy Watch3, we are offering Australians more features and customisation options than ever before, offering the true power of Galaxy on your wrist."
Could this be the best smartwatch on the market right now? Is this the best that 2020 has to offer? Allow Man of Many to guide you through the bountiful features that make the Samsung Galaxy Watch3 a winner.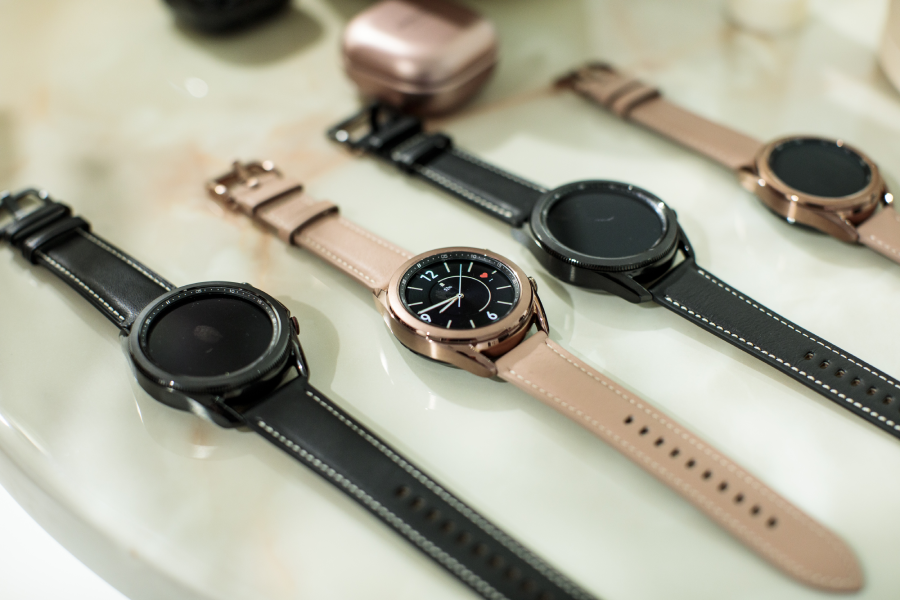 Buy a Samsung Galaxy Watch3 here
Connectivity
Available in either Bluetooth-only or cellular-equipped versions for just a little bit extra, mobile connectivity powered with enough battery to get you through the day.
Keeping the conversation going is easier than ever with the Samsung Galaxy Watch3 auto chat history. Every time you get a new text message, Galaxy Watch3 shows your chat history without an extra tap. Smart replies also make communication on the go quick and efficient, with automated responses supporting different categories that include food, celebrations, selfies, and more.
If you are thinking of leaving home without your smartphone, don't worry, as the Galaxy Watch3 can still call, stream, and check your steps – provided it's the cellular version. It's even compatible with iOS devices, allowing even Apple users a chance to experience the other side.²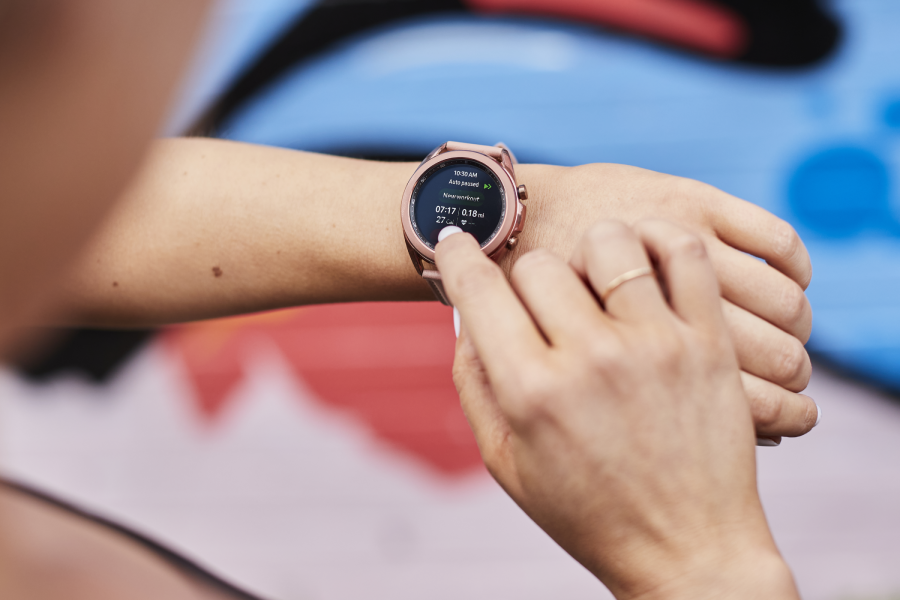 Design
Reducing its size since its predecessor, the Galaxy Watch3 is 14% thinner, 8% smaller, and about 15% lighter compared to the previous Galaxy Watch. Take your pick of either the 45mm or 41mm case sizes when you choose the Samsung Galaxy Watch3. Lovers of big watches will appreciate the bulkiness of the 45mm variant, while others will definitely prefer the smaller 41mm. Offering a premium design that is reminiscent of the classic chronograph, it even includes a rotating bezel for even further functionality like scrolling through the interface. Oh and there's a Titanium variant of the 45mm too.
Obviously, being a smartwatch opens up a lot of customisation with over 40 watch face combinations to choose from, and thousands of third-party watch faces you can download and install. But when it comes to choosing the physical look, you have the choice of Mystic Black, Mystic Silver, and Mystic Bronze hues. Plus, with each watch arriving with a premium genuine aged leather strap, you can match that classic bezel with a traditional aesthetic, while also protecting against discolouration.
Crafted from some of the best materials, Galaxy Watch3 is made from stainless steel instead of aluminium and uses metal pushers instead of plastic. The display is made from Gorilla Glass DX on top, offering a 10G mil-spec durability rating, and 5ATM of water resistance, making it durable to falls and are water-resistant to up to 50 metres in depth for 10 minutes.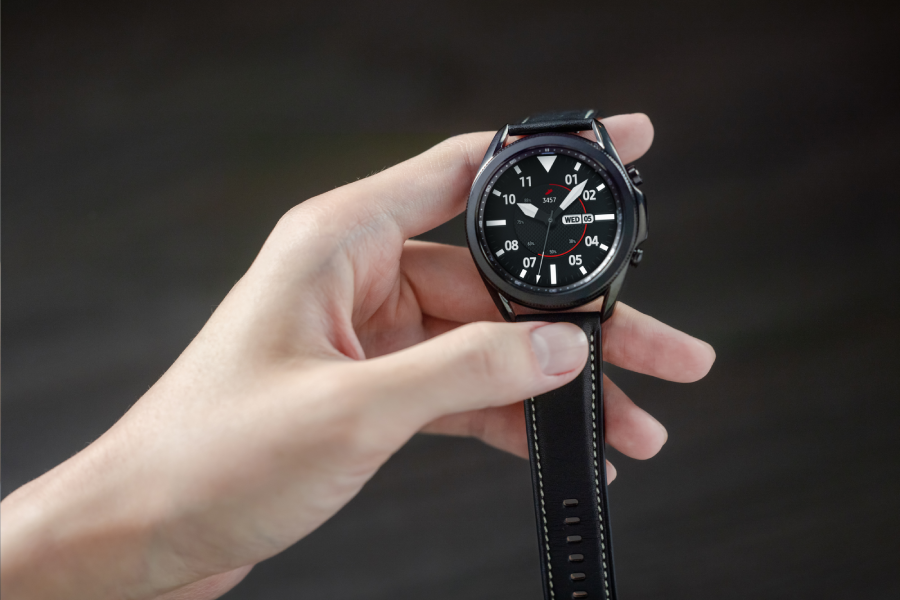 Health & Fitness
Tracking steps and kilometres travel just isn't enough these days, which is why Samsung has really upped the ante on the Galaxy Watch3. Now able to estimate the amount of oxygen in your bloodstream by using red LED and infrared rays to estimate your SpO2 levels, you can push your routine even further by monitoring your oxygen saturation levels. Plus, with over 120 home workout programs to choose from Samsung Health, you can keep an eye on your heart in real-time as you exercise.¹
The included running guide offers tips on the go through an advanced algorithm that analyses your movement to help improve your form. Or if you're not much of a runner you can utilise the updated sleep tracking feature which provides a "score" of sufficient your sleep was.³
Elderly individuals can also benefit from the health features of the Galaxy Watch3, with an enhanced accelerometer for fall detection that is designed to automatically send out an SOS to your emergency contact with your location.*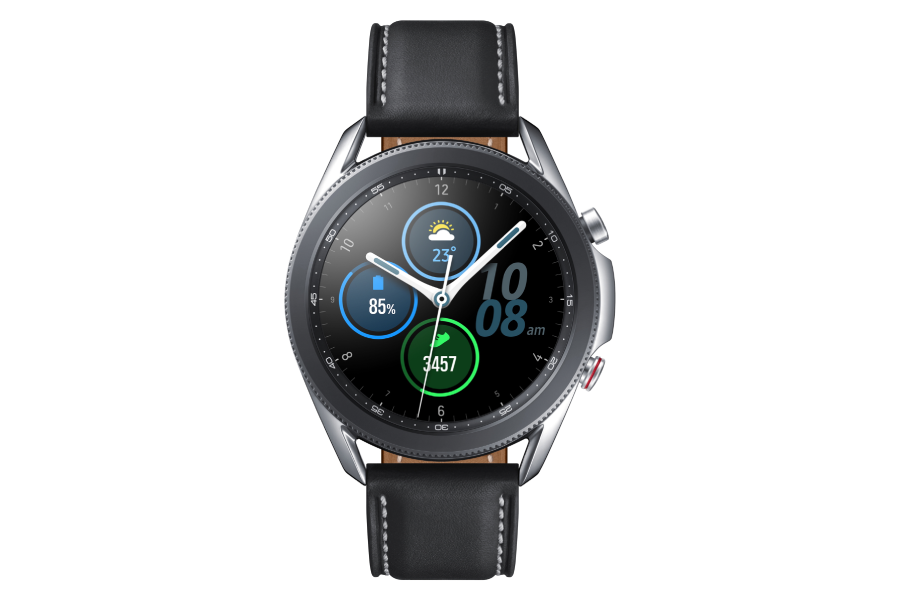 The Verdict
It's the watch that watches out for you. And while this is more of a showcase than a review, it's a pretty darn good option when it comes to the relatively stagnant smartwatch market. Beyond new health-monitoring features and better battery life, there isn't much more that is taking the smartwatch world by storm. And yet, Samsung has greatly impressed us with their approach.
Filled to the brim with health and fitness features that will help keep you at your best, boasting a fused aesthetic between smart and traditional, and mobile connectivity up the wahzoo, the Samsung Galaxy Watch3 might just be the best smartwatch release of 2020. Ticking all the boxes, and adding in that glorious chronograph inspired rotating bezel, we have to say; it looks remarkably more watch-like than its fruit-bearing rival. And since it's compatible with iOS, the only question left remaining is whether you want the 41mm or the 45mm.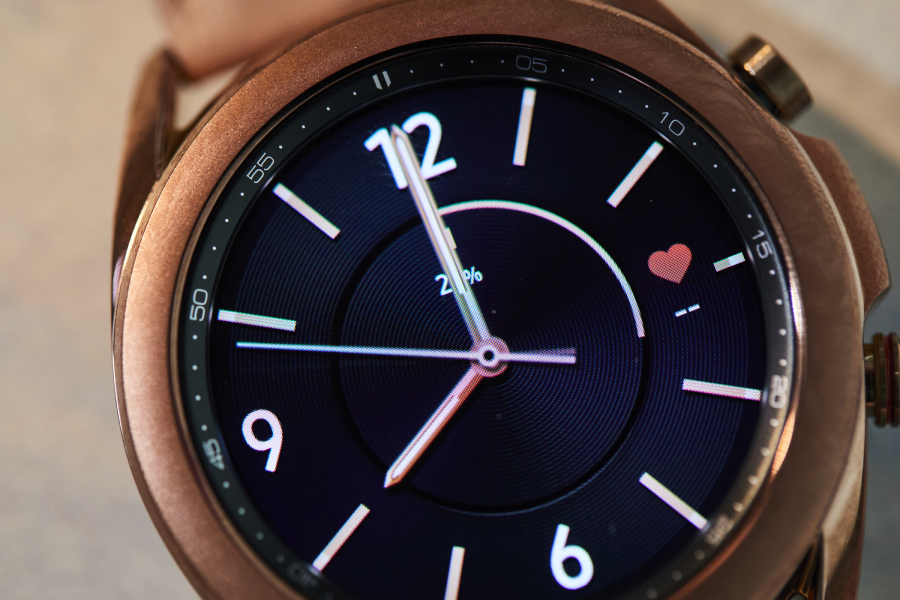 Samsung Galaxy Watch 3 Specifications
Colour: Stainless Steel: Mystic Bronze, Mystic Black, Mystic Silver // Titanium: Mystic Black
Material: Stainless Steel case with premium leather strap // Titanium case with metal strap
Dimensions & Weight: 45mm: 45 x 46.2 x 11.1 mm, 53.8g (Stainless Steel) / 43g (Titanium) 41mm: 41 x 42.5 x 11.3 mm, 48.2g (Stainless Steel)*measured without strap
Display: 45mm: 1.4" (34mm) / 41mm:1.2" (30mm)360 x 360 Super AMOLED, Full Color Always On Display, Corning Gorilla Glass DX
Battery:45mm: 340mAh / 41mm: 247mAhWPC-based wireless charging
Memory: 1GB RAM + 8GB internal storage
Compatibility: Android 5.0 and above + at least 1.5GB RAM// iPhone 5 and above, must be running at least iOS 9.0
Buy a Samsung Galaxy Watch3 here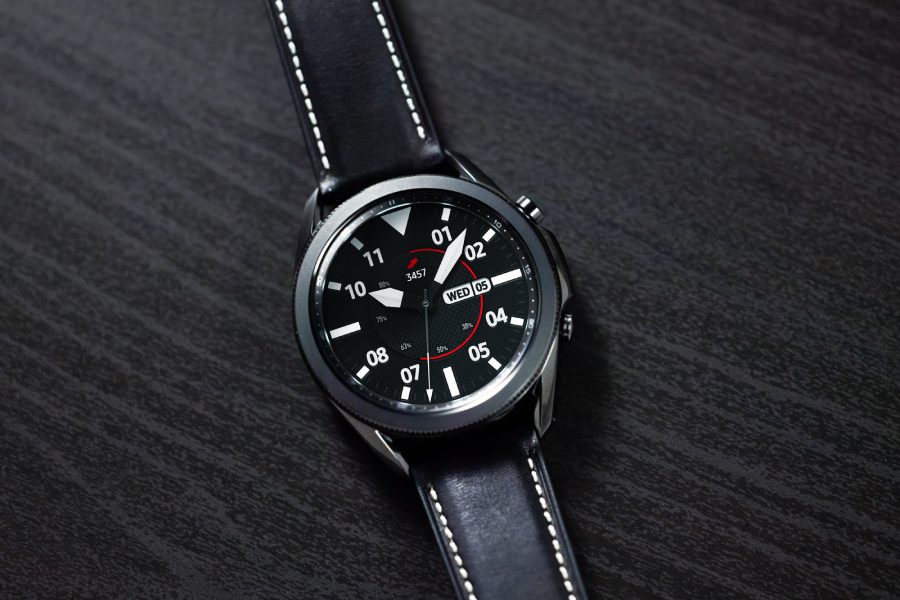 ¹Galaxy Watch3 is not a medical/therapeutic device and is not intended for medical use. It is solely intended for fitness and wellness purposes only and is not intended for use in the diagnosis of disease or other conditions; or in the cure, mitigation, treatment or prevention of disease; or for the prevention or control of pregnancy. Samsung recommends that you consult with your doctor before participating in any exercise program. Using Samsung Health app with Galaxy Watch3 requires signup and pairing with your compatible smartphone.
²Compatible with iPhone 5 and above, iOS 9.0 or above.
³Galaxy Watch3 is not a medical/therapeutic device. Fitness and health functions (including SleepScore and Fall Detection) are for informational purposes only. Using Samsung Health app with Galaxy Watch3 requires signup and pairing with your compatible smartphone. Sleep management functions (REM cycles, deep sleep, and total sleep time) on the watch can be used as standalone, but smartphone pairing is recommended in order to see sleep score. Insight only available on paired smartphone.
*Fall Detection must be switched on and your Location must be enabled to share with your Emergency contact. Galaxy Watch3 can initiate Emergency call and message when initiated after detecting a fall. Galaxy Watch3 cannot detect all falls. Intense physical activity can trigger Fall Detection feature. Sending SOS calls and messages requires network connection and smartphone pairing.