Top Portable Wireless Speakers
At Man of Many, we believe that good times means good music at any time, any place. When equipped with the best portable speakers, you'll never have to push pause on the soundtrack of your life. Here's a list of the best portable wireless speakers released this year.
---
You'll also like:
The Best Wireless Earbuds for Your iPhone 7
Music Everywhere – UE Boom Wireless Speaker
2016 Christmas Gift Guide – The Music Lover
---
Ultimate Ears – Boom
Ultimate Ears, a company famed for making custom earphones for professional touring artists, have just the dropped the UE Boom. It's being dubbed as the world's first social music player and it's easily one of the best portable speakers this year. The purpose of the Boom is to amplify the social experience of listening to music, bringing people together around the music they love. The Boom system features the world's first battery-powered 360 stereo speaker, which wirelessly connects to the UE Boom app, designed to make the most of digital music's convenience, while making it less of a solitary experience. The speakers are compact, lightweight and water and stain resistant, making them the perfect companion to accompany you through the adventure of life.
JBL – Charge
So many of life's fun things come in a tubular form – Pringles, tennis balls, reef breaks and now we can add JBL's 'Charge' portable speaker to the list. The system runs 2 x 5-watt portable speaker with a high-capacity, 6000mAh Li-ion rechargeable battery, a built-in bass port, and wireless Bluetooth streaming. It also features a 3.5 mm analog input jack and USB port and even allows you to charge your phone. One of the best portable speakers on the market.
Scosche – BoomBOTTLE
Don't feel like wearing headphones while riding? Then stick a boomBOTTLE on your bike and let your friends listen and sing along to that Taylor Swift greatest hits playlist you whipped up. The boomBOTTLE by Sosche is an outdoor omnidirectional speaker that fits snuggly into the water bottle cage on your bicycle. It features dual 40mm drivers and an integrated subwoofer, all inside a ported housing sure to get them beats bumping. With a weatherproof shell, bluetooth connectivity range of 33ft and a 10hour continuous play battery life, this is a great little accessory for a recreational cyclist and one of the best portable speakers you're likely to find.
Phillips – Soundshooter
Moving away from headphones to a more communal mode of musical appreciation, the Philips Soundshooter is one of the best portable wireless speakers with epic sound and an indestructible look to boot. Free from annoying wires, the speaker connects via bluetooth to any 'iOS or Bluetooth-enabled device' and has an aux-in port for those without. Incorporated into the speaker is a microphone for hands-free calls making this product increasingly versatile. With a rechargeable battery that can last up to eight hours, this rugged gadget can be taken anywhere and everywhere.
Braven – BRV-1
This best portable speaker touts a performance that's as menacing and impressive as its design. Whether shredding the back-country, skatepark or street, the Braven BRV-1 was built for the action sports and outdoor enthusiast. This palm sized wireless speaker is IXP5 water resistant, packs a 6 watts of speaker output, and even a built-in noise-cancelling mic.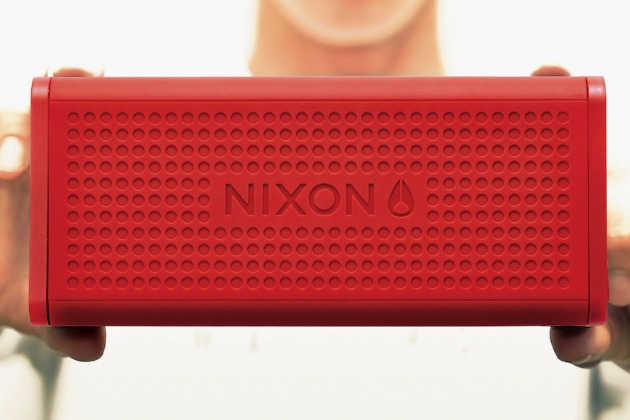 Nixon – Blaster
Usually known for their watches and surf-wear, Nixon has blasted *excuse the pun* into the Bluetooth speaker space with the Blaster.  This bright, lightweight, mobile Bluetooth speaker comes with weather and shock resistance. It features include a shock-resistant silicone exterior body, custom-tuned audio signature, 18-hour battery reserve and the promise of bigger, better, louder sound. The Blaster will be available in stores May 2013.
---
You'll also like:
The Best Wireless Earbuds for Your iPhone 7
Music Everywhere – UE Boom Wireless Speaker
2016 Christmas Gift Guide – The Music Lover
---