14 Best Thrift and Vintage Stores in Melbourne
The best thrift and vintage stores in Melbourne have you covered for all your pre-loved fashion. Op-shopping is a great way for your to stock up on new clothes for the cheap. Quirky, chic and sustainable, it comes as no surprise that the cultural and trend capital of Australia, Melbourne, has countless vintage stores for you to explore when you're looking to diversify your wardrobe. Our favourite stores are a cut above the rest, so make sure to peek behind every nook and cranny if you want to snag a bargain. Let's check out the list.
Best Vintage Stores in Melbourne at a Glance
Our list of the best Op Shops in Melbourne For Vintage Clothing goes like this.
Now we've had a look at our favourites, let's check out the complete list.
RELATED: These are the best sneaker stores in Melbourne for fresh kicks.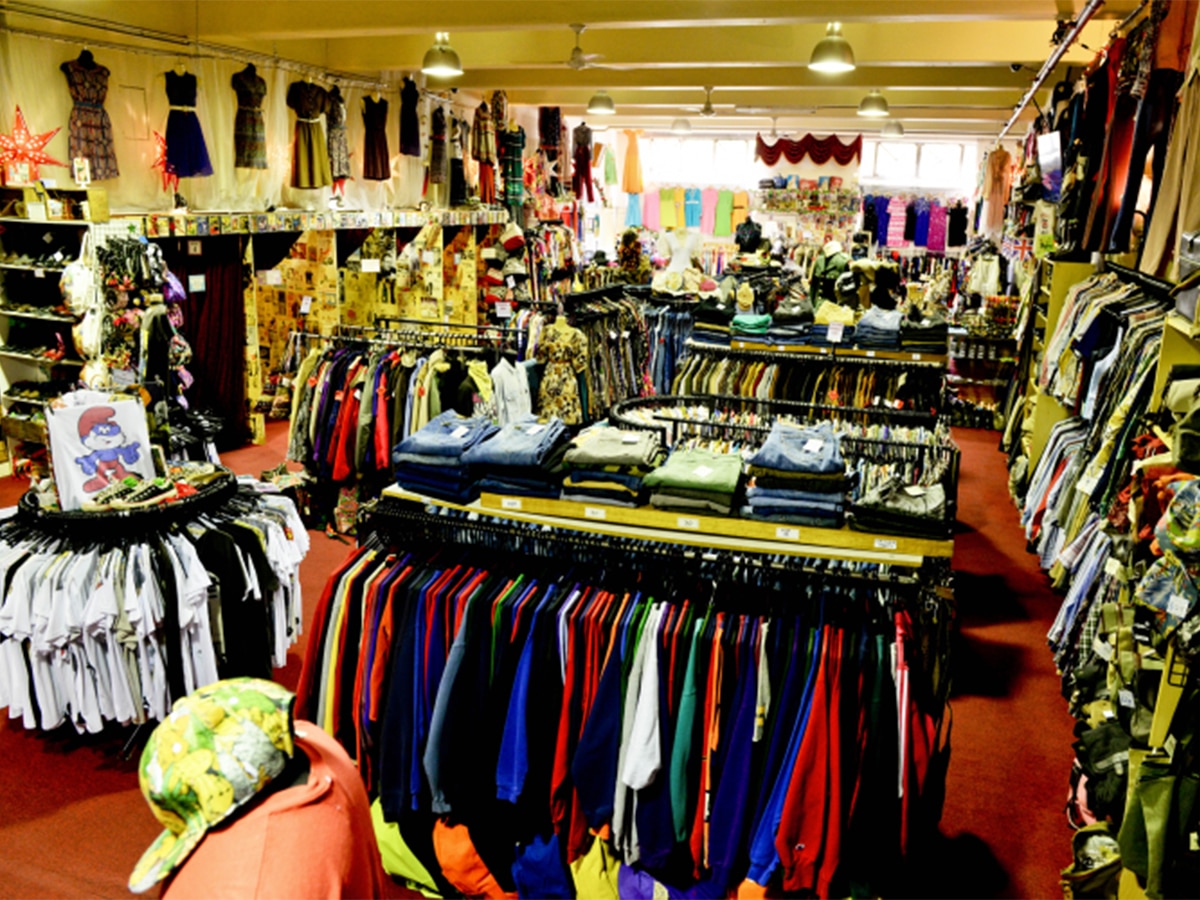 1. RetroStar Vintage Clothing
RetroStar Vintage lays claim to being the largest vintage store in Australia. They specialise in clothing, shoes, bags and accessories from the 1940s to the 1990s. Nab yourself a retro sweatshirt or sports jersey, some old-school sunnies, your next festival bucket hat or the most expressive and downright incredible socks you will find anywhere (think dinosaurs on skateboards or cats doing water sports). If you can't find an item that you instantly fall in love with at this op shop in Melbourne CBD, you're probably doing something wrong.
Address: Nicholas building, First Floor, 37 Swanston St, Melbourne VIC 3000
Hours: Mon-Sat 11am-5.30pm, Sun 11am-5pm
Phone: (03) 9663 1223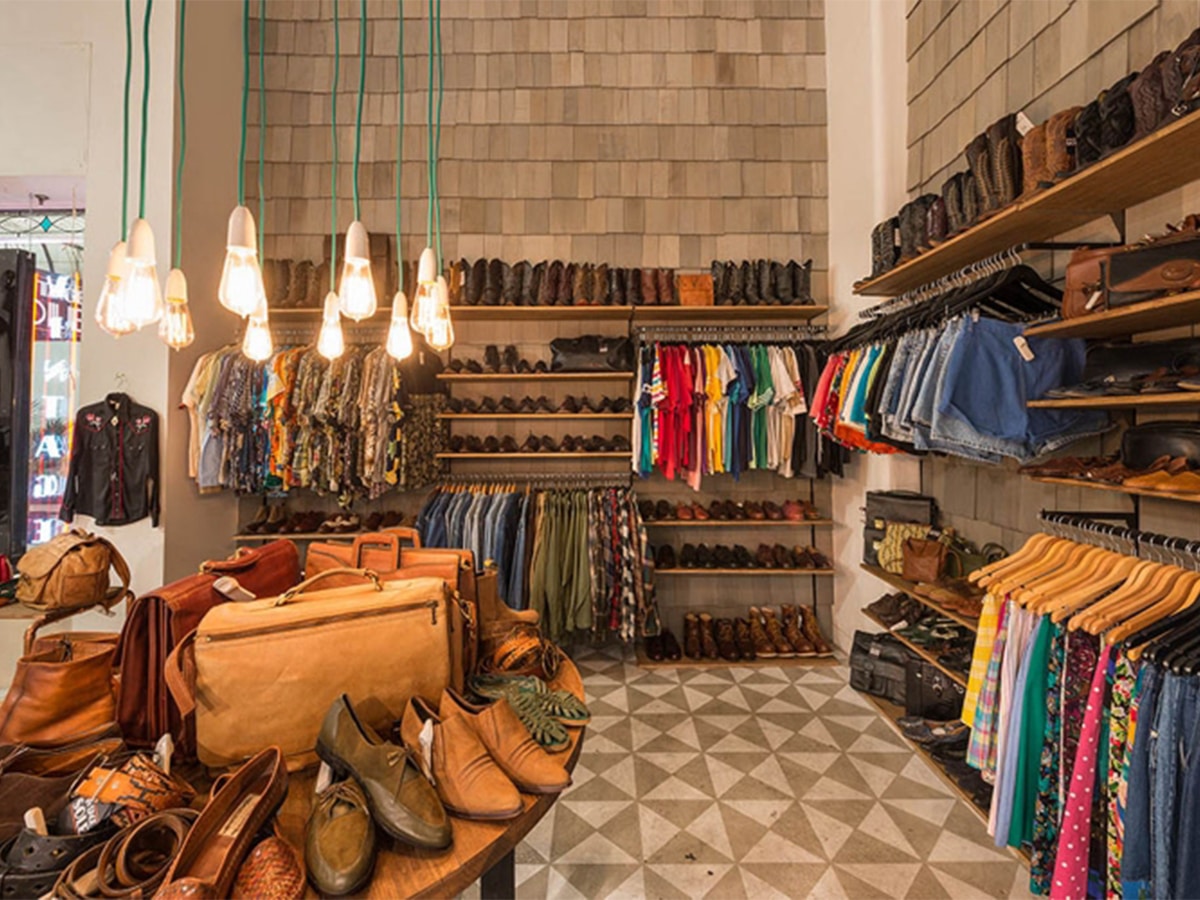 2. Vintage Sole
For classic vintage clothing in Melbourne that remains unique, you can't look past Vintage Sole. Check out their online store or visit one of their op shops in Melbourne to find garments of the utmost vintage chic alongside plenty of vintage designer labels. They have a huge range of polos, overalls, shirts, sneakers and accessories at affordable prices, proving you don't have to spend a fortune on generic items to look and feel your best. The only problem with shopping here will be the constant question from your mates of 'where did you get that?'
Address: 258 Brunswick Street, Fitzroy VIC 3065
Hours: Mon-Sat 11am-6pm, Sun 12pm-5pm
Phone: (03) 9419 6365
---
Featured Video from Man of Many
---
Address: Cathedral Arcade, 6/37 Swanston St, Melbourne VIC 3000
Hours: Mon-Sat 10am-6pm, Sun 12pm-5pm
Phone: (03) 9663 6317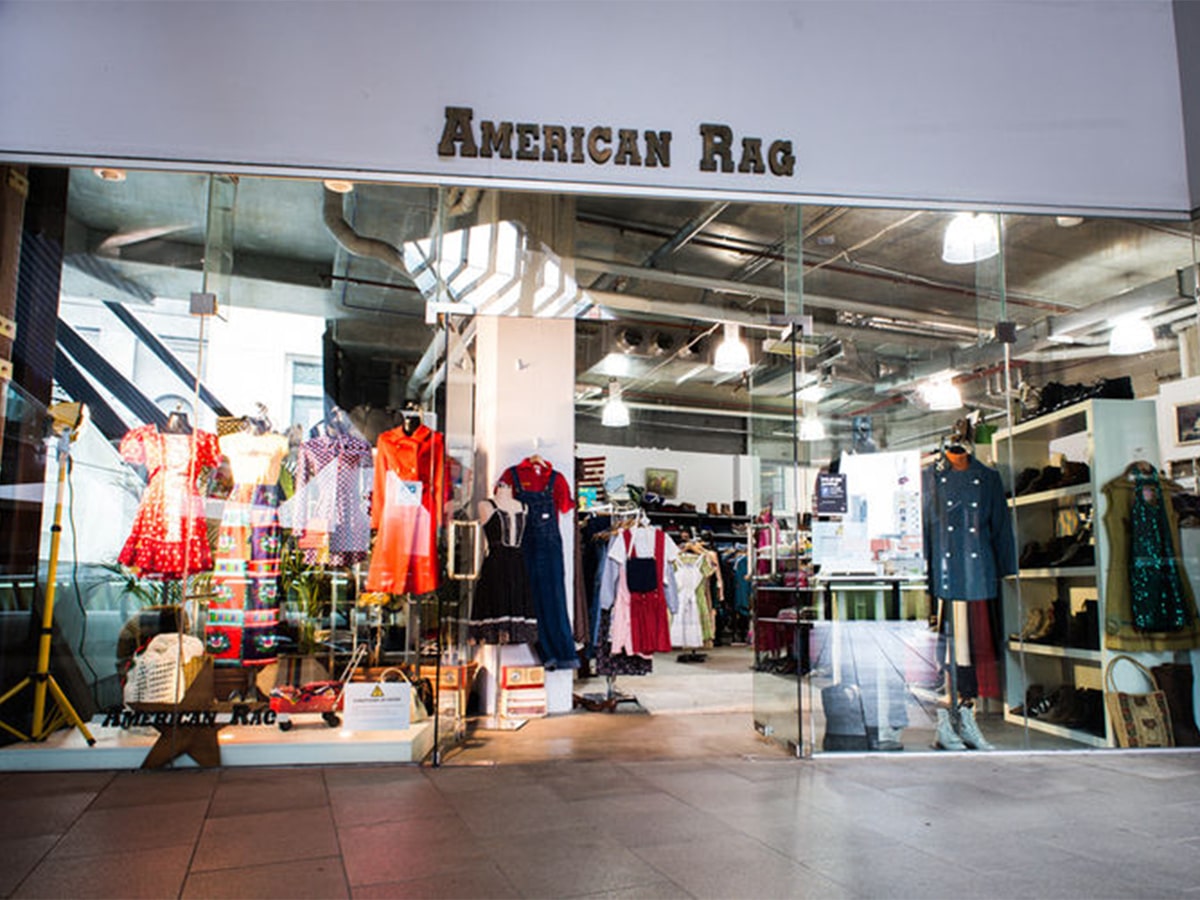 3. American Rag
A great spot to find women's vintage from the USA, American Rag will fulfil your wildest dreams with Gold Sequin Pants from Las Vagas and everything in between. Conveniently located in the CBD, the team regularly travel to the USA to handpick all the unique items which make up their extensive range. You're always in for a surprise here – they restock every week, so you should never pass up a visit here.
Address: 15-17 QV Terrace, Melbourne VIC 3000
Hours: Mon-Weds 11am-5.30pm, Thurs-Fri 11am-6pm, Sat 11am-5pm, Sun 12pm-4.30pm
Phone: (03) 9654 9487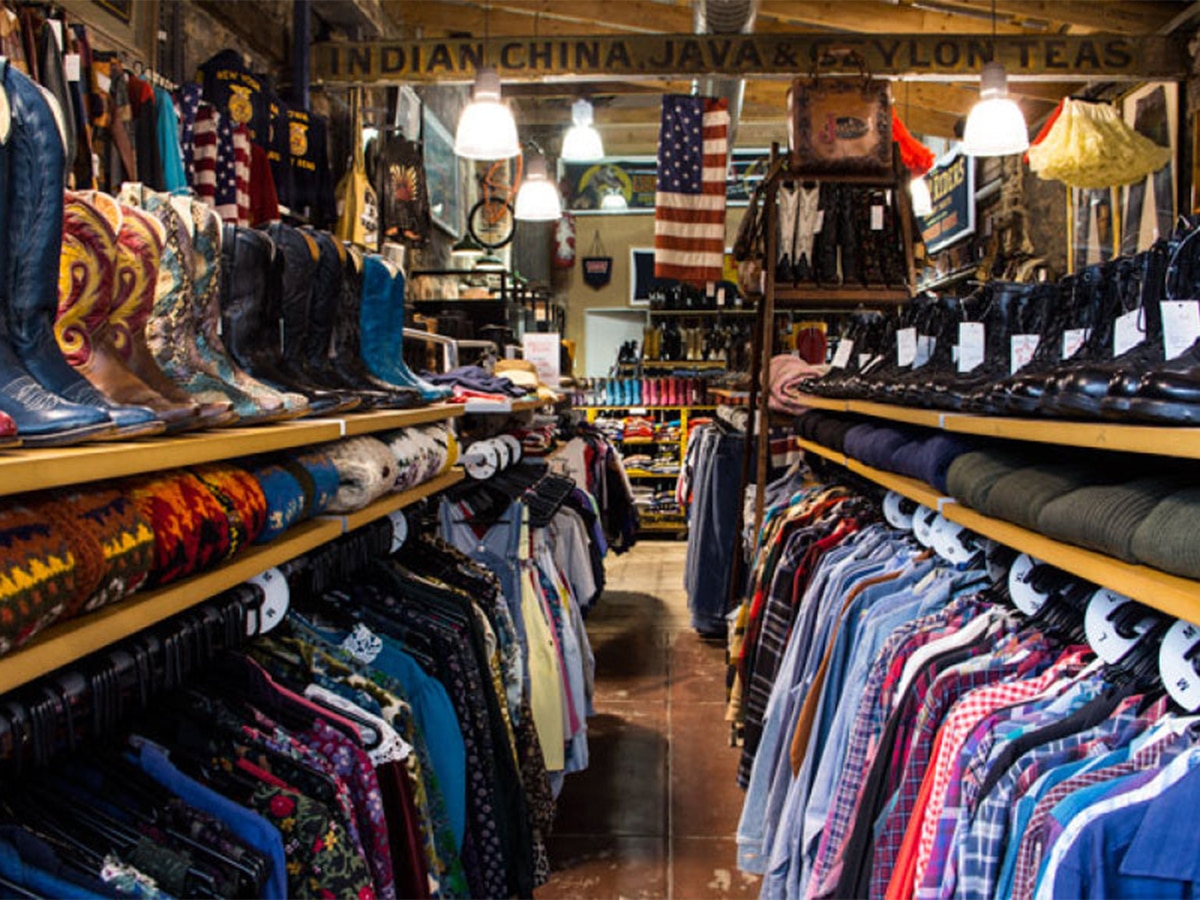 4. American Vintage
Another crowned American jewel to grace Melbourne streets, American Vintage claims to have the largest collection of American vintage clothing in the city. Located on the jam-packed vintage street that is Brunsiowck Street in Fitzroy, this makes for an essential stop in your vintage North-Melbourne shopping spree. We always head here for the original 40's and 50's Levis, Lee and Wrangler U.S.A along with Cowboy Boots, Motorcycle Boots, and Laceup Riding boots. With over 100 styles and over 7000 trans-seasonal pieces on offer, there is something for everyone.
Address: 133 Brunswick St, Fitzroy VIC 3065
Hours: Tues-Fri 11am-4pm, Sat 11am-4.30pm, Sun 12pm-4pm
Phone: (03) 9419 3866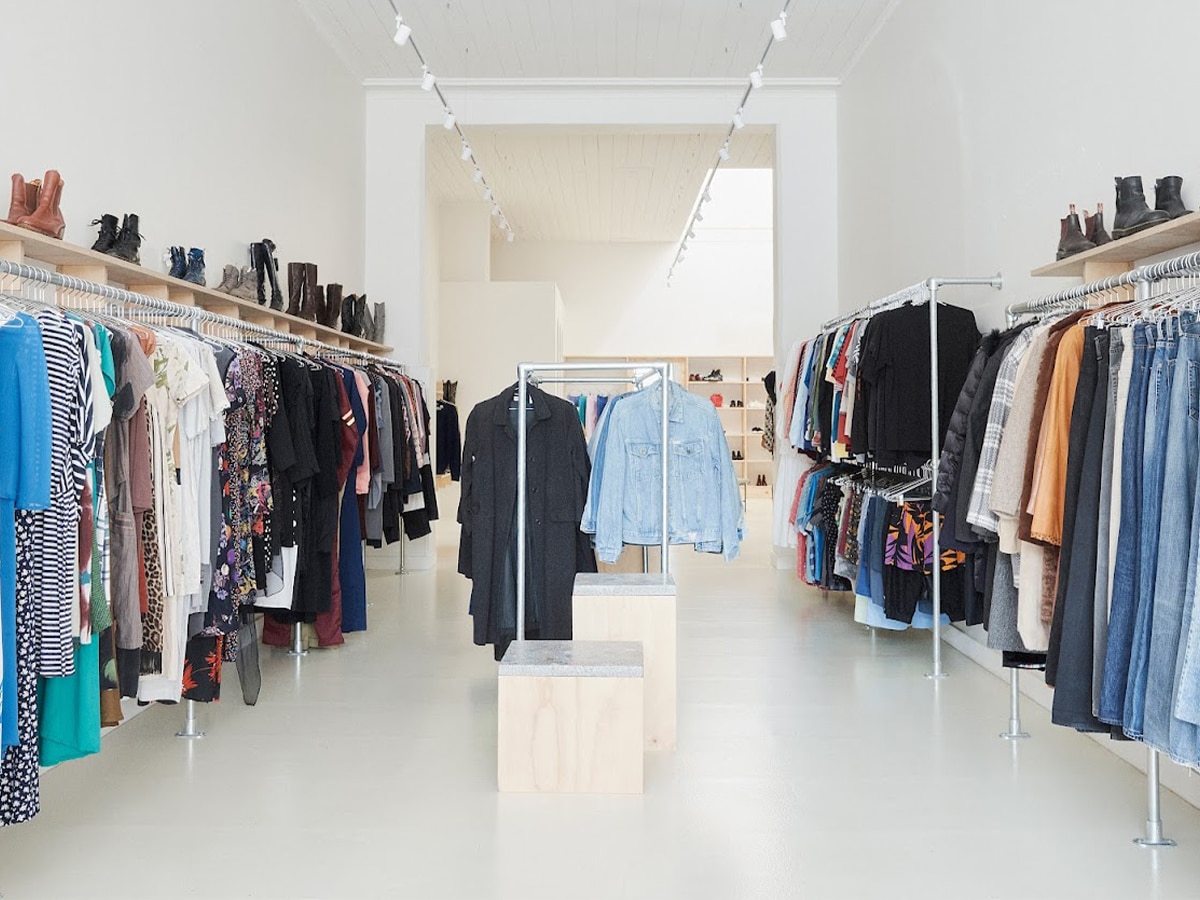 5. SWOP Clothing Exchange Melbourne
With outposts in Brisbane, Sydney and Melbourne, SWOP is slowly but surely taking over the vintage scene in Australia, and we aren't mad about it. The concept here is the best bit – you can bring in your clothing you no longer want to exchange – either for 30 per cent of the sale value in cash or 50 per cent in-store credit. Doubling as a vintage haven as well as your local clothing exchange service, it's never been easier to buy, sell and trade quality second-hand items.
Address: 266 Smith St, Collingwood VIC 3066
Hours: Mon-Sun 10am-6pm
Contact: [email protected]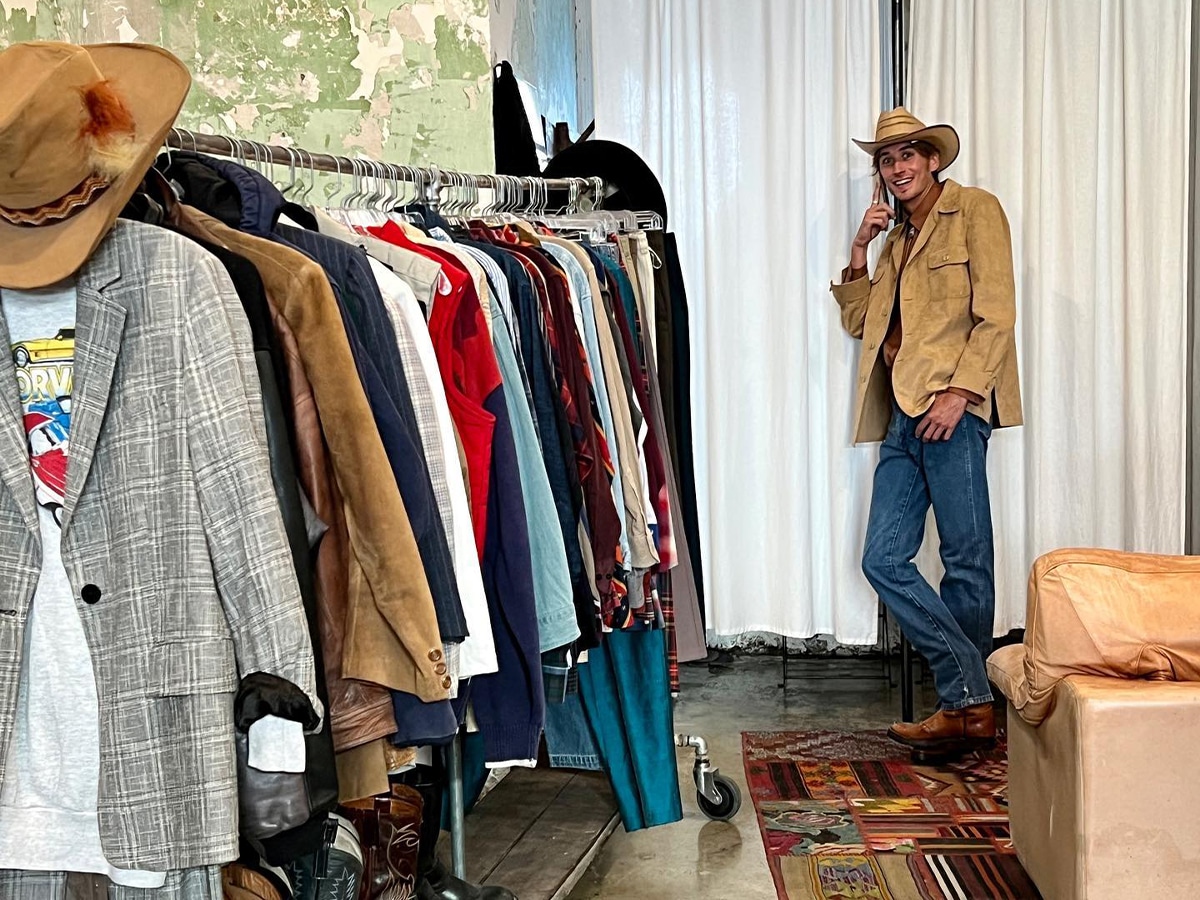 6. Global Vintage Collective
If you're more into curated vintage stores, look no further than Global Vintage Collective. Up for grabs here is a selection of hand-selected American vintage threads by native Californian Ashley Tell. They are all about providing a modern interpretation of vintage clothing, gently pushing people to consider this as an alternative to fast fashion. A solid range of clothes and an inspiring mission – what's not to love?
Address: 260-262 Church St, Richmond VIC 3121
Hours: Weds-Fri 12pm-5pm, Sat 11am-4pm
Phone: 0419 500 199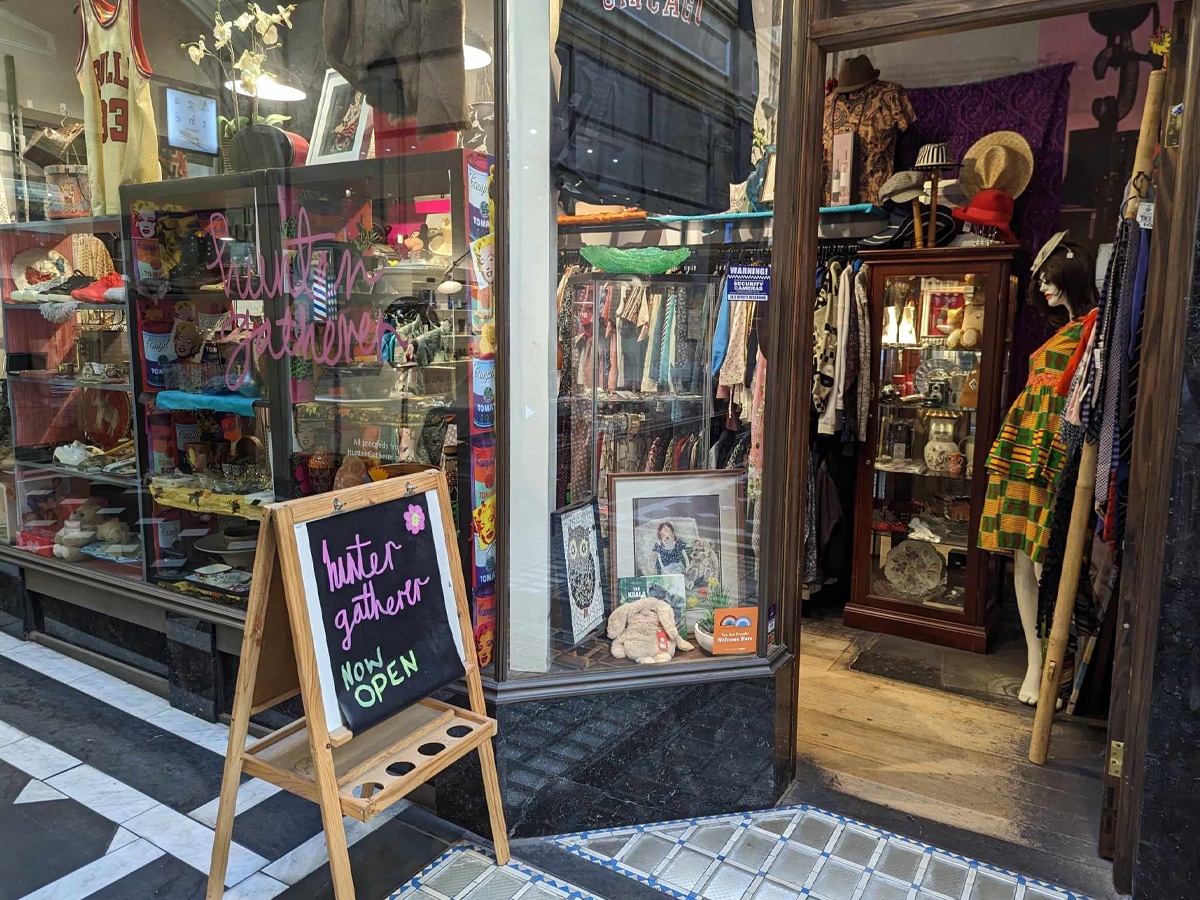 7. Hunter Gatherer
Hunter Gatherer is known for its highly-curated collection of Brotherhood of St Lawrence's clothing donations. The finest items donated to the Brotherhood's 27 Melbourne stores are transferred to Hunter Gatherer, offering you an unparalleled collection of second-hand fashion. One of the best op shops Melbourne has laid claim to, you'll be able to find whatever tickles your fancy here.
Address: Royal Arcade, 335 Bourke Street Mall, Melbourne VIC 3000
Hours: Mon-Sat 10am-5pm
Phone: (03) 9650 1843
Address: 274 Brunswick St, Fitzroy VIC 3065
Hours: Mon-Sat 9:30am – 5pm
Phone: (03) 9415 7371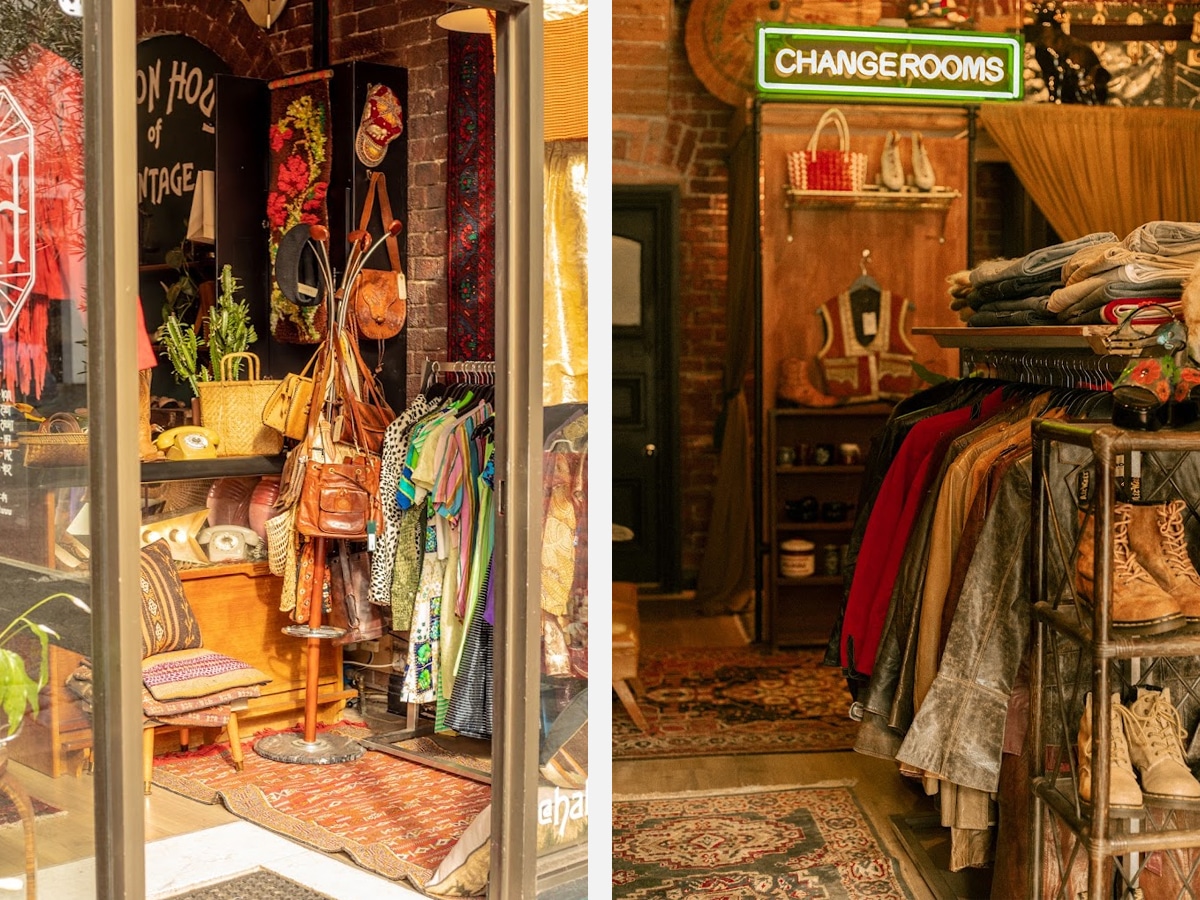 8. Halcyon House of Vintage
Not shying away from the grunge and grit often associated with vintage, Halcyon House of Vintage embraces the beaten-up cowboy boots, fringe and fur coats that define most vintage stores. They offer a highly curated selection of pieces supplied by a collective of vintage finds. Part of the fun here is somehow making your way through the sprawling collection before closing time – good luck!
Address: 42 Smith St, Collingwood VIC 3066
Hours: Mon, Thurs-Sat 11am-5pm, Sun 12pm-4pm
Phone: 0466 076 286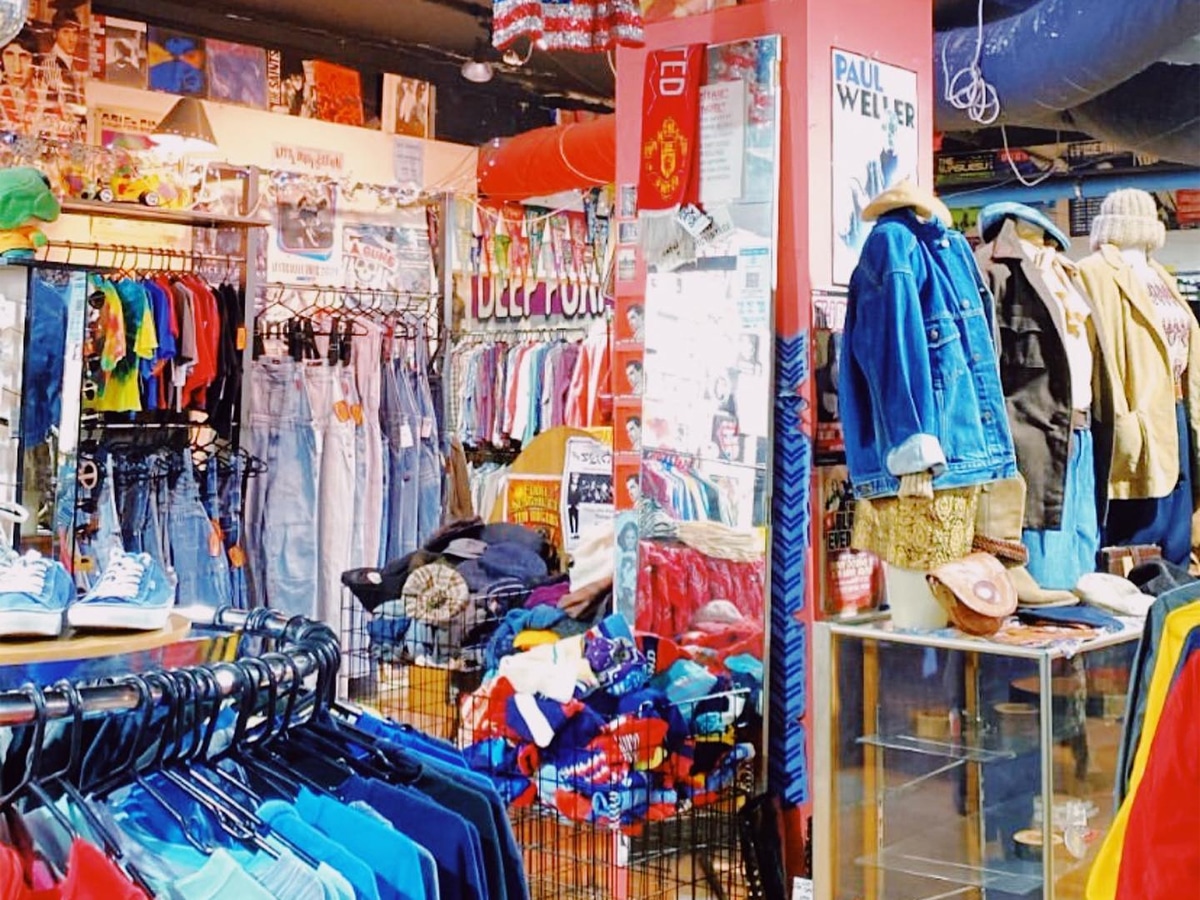 9. OTC Vintage
Selling vintage clothes to the people of Melbourne since the late 80s, OTC (Out of the Closet) is one of the OG vintage stores to grace the city. The selection here is quality and every item is hand-picked from overseas. Perhaps our favourite thing about a visit here is the vintage records they also have for sale – we always walk away with new clothes and new tunes, so we can't complain.
Address: 238B Flinders St, Melbourne VIC 3000
Hours: Mon-Sat 11am-6pm, Sun 12pm-4pm
Phone: (03) 9639 0980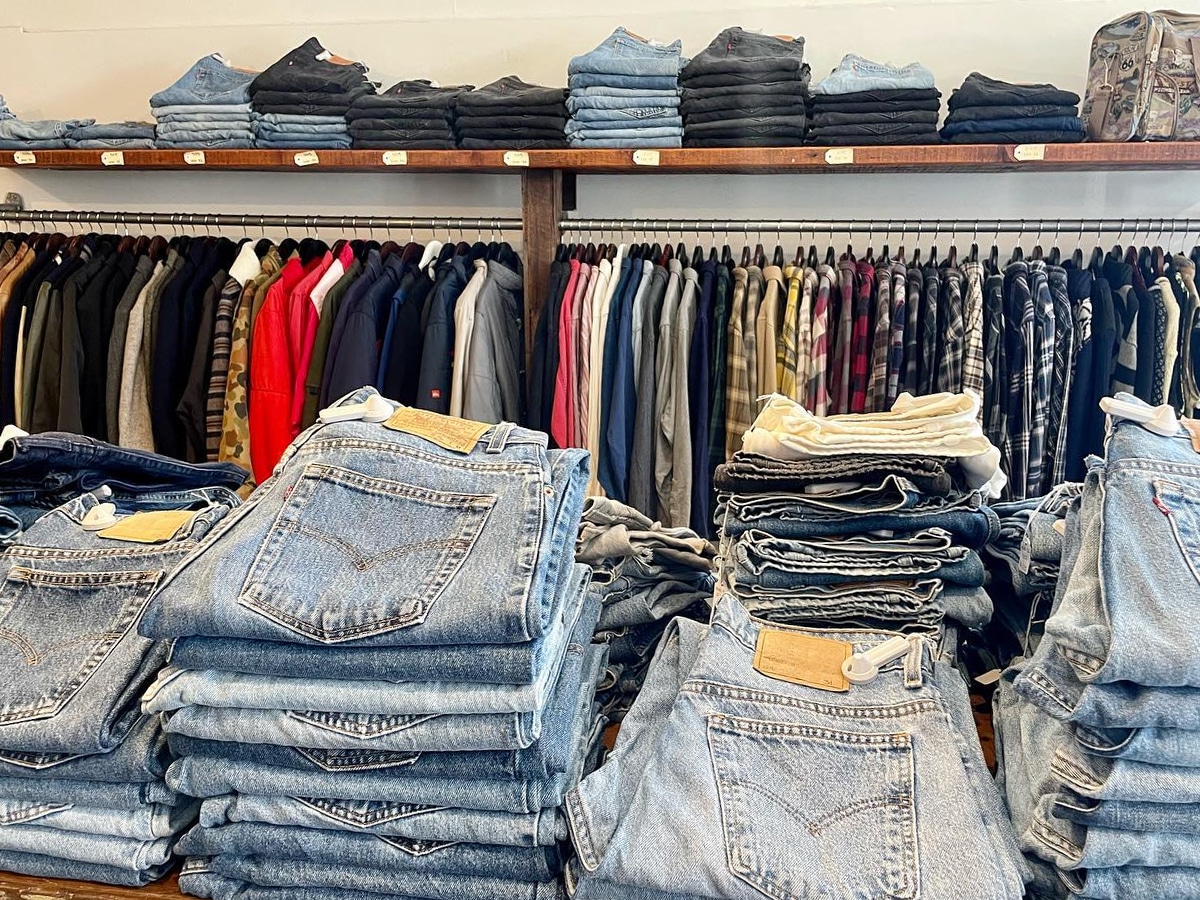 10. Shappere
For anyone that can't resist an earthy shade of paisley shirt, you'll definitely feel at home in Shappere. The Melbourne op shop has a huge range of men's shirts, leather shoes, biker jackets, fantastic vintage hats, cosy knits and whatever else you can locate within their constantly changing stock. We love this place for its variety, making it one of the best op shops Melbourne has to offer.
Address: 191 Smith Street, Fitzroy VIC 3065
Hours: Mon-Fri 12pm-5pm, Sat 11am-5pm, Sun 12am-4pm
Phone: (03) 9419 0738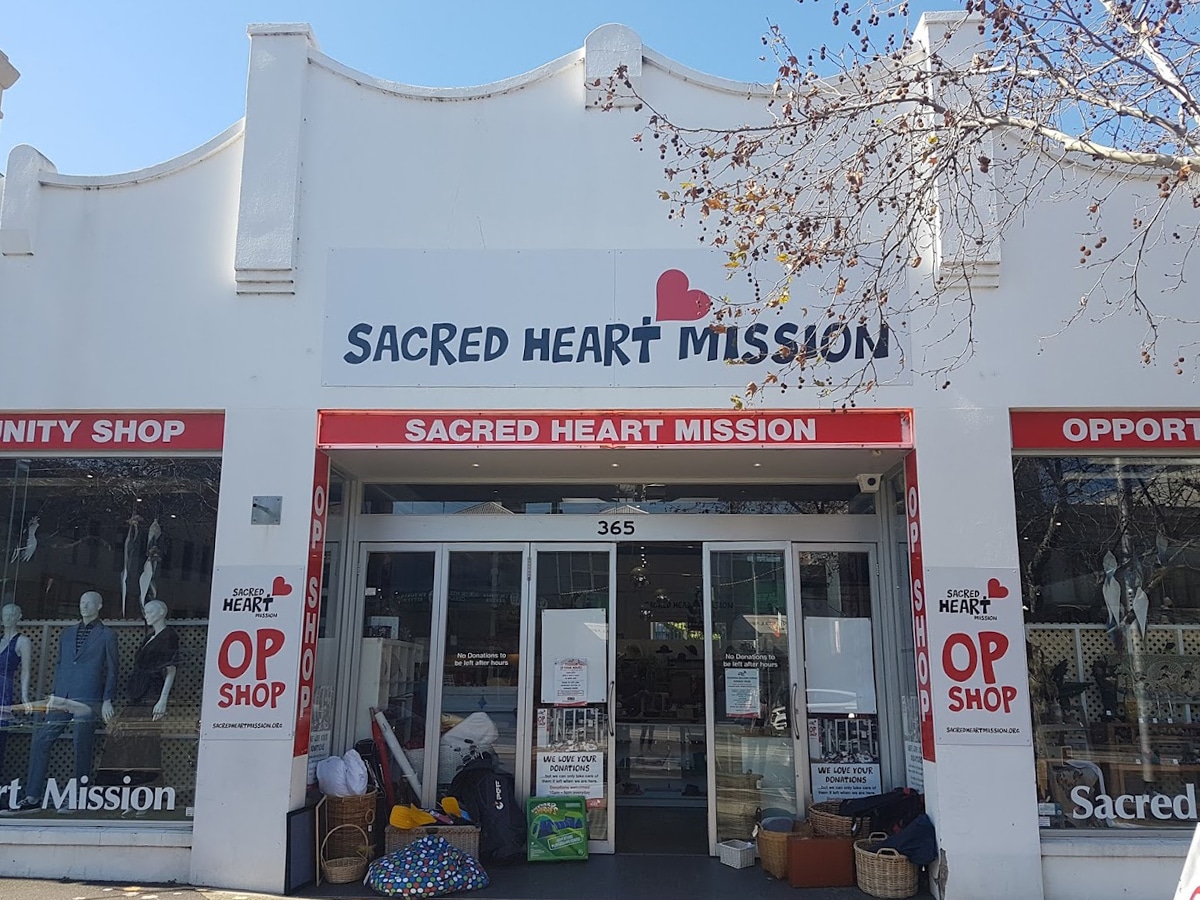 11. Sacred Heart Mission
Three of our favourite op shops in Melbourne, the Sacred Heart Mission stores have all the goodies you could ask for. With vintage bargains to be had across clothing, art, furniture and jewellery, it's more than worth the trip. Our pick for leatherwear, shoes and dresses, these three Melbourne op shops are hard to go past. We love how you're always guaranteed to find a bargain here, you may just have to do some digging (which is the fun part!)
Address: 365 Clarendon St, South Melbourne VIC 3205
Hours: Mon-Sun 10am – 5pm
Phone: (03) 9690 3392
Address: 261 Charman Rd, Cheltenham VIC 3192
Hours: Mon-Sun 10am – 5pm
Phone: (03) 9583 1151
Address: 87 Grey St, St Kilda VIC 3182
Hours: Mon-Fri 8.30am-10.30am & 11.30am-1pm, Sat-Sun 9am-10.30am & 11.30am-1pm
Phone: (03) 9537 1166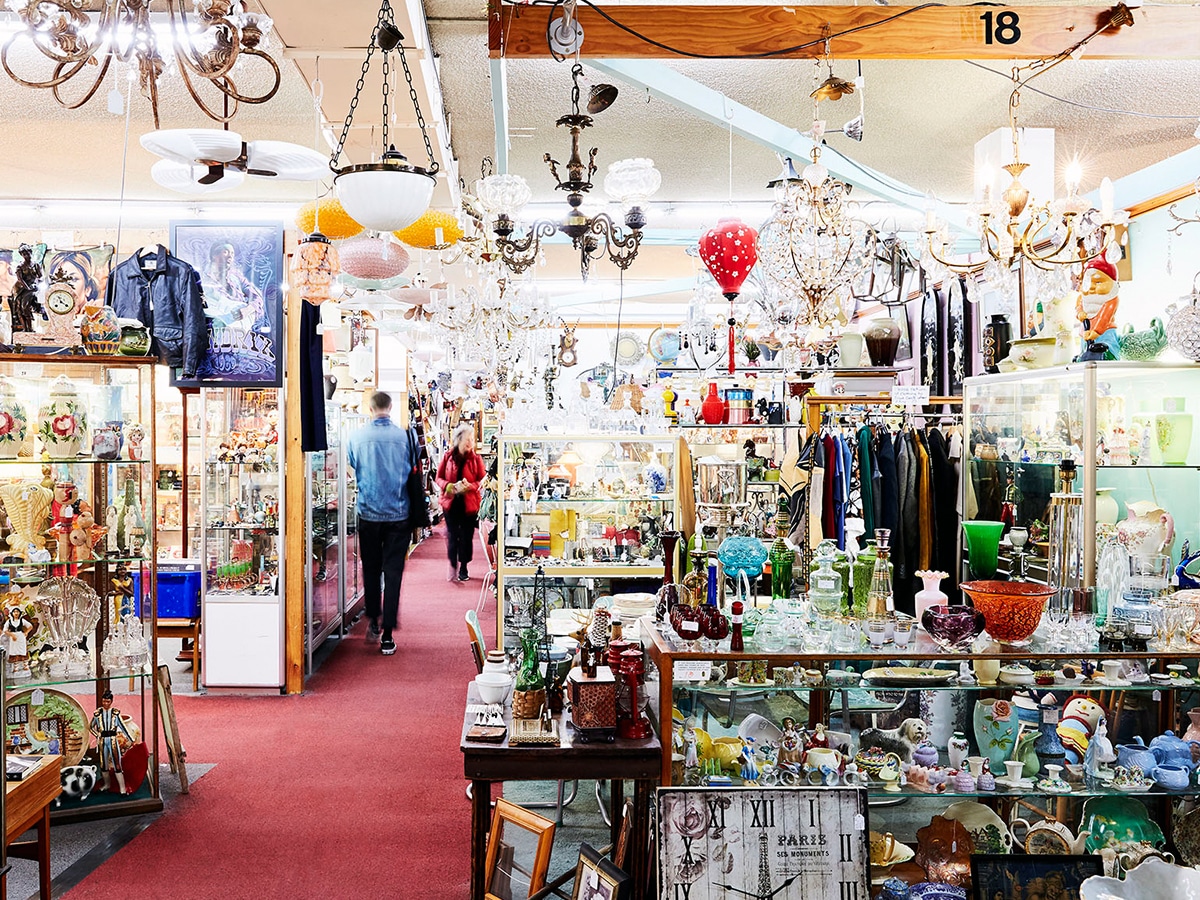 12. Chapel Street Bazaar
One of Melbourne's iconic and longest-running secondhand, antique and retro stores, the Chapel Street Bazaar is a beacon on the Melbourne op shop map. Home to over 80 stall holders, each with their own passion, products and knowledge in the one convenient and easy-to-find store, it's our recommendation for those that are new to vintage shopping or are keen to get a whole heap of new stuff.
Address: 217 Chapel St, Prahran VIC 3181
Hours: Mon-Sat 10am – 6pm, Sun 12pm-5pm
Phone: (03) 9529 1727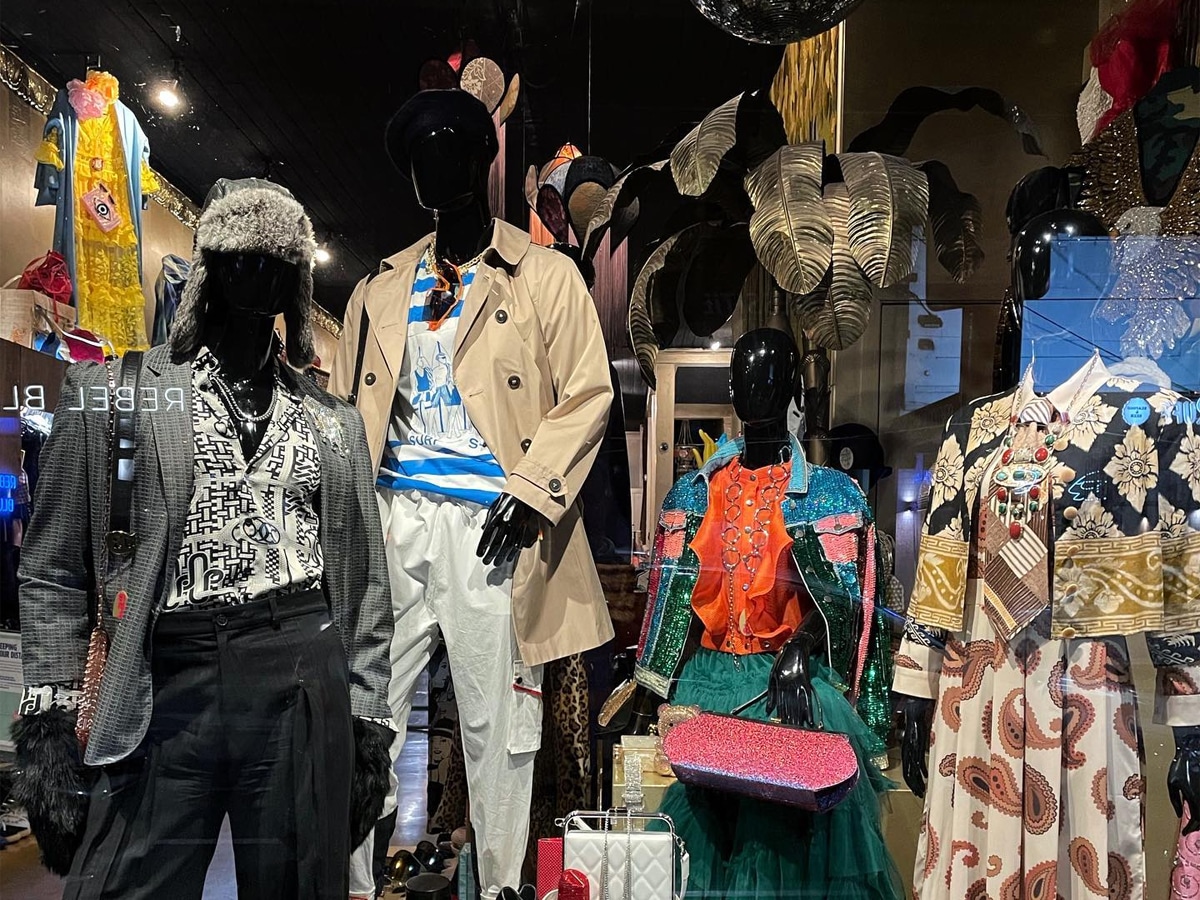 13. Shag
In one corner you might think you're in a rural market in Peru, then turn around and you'll feel as though you've travelled to a fashion boutique in the 60s. For the most fabulous and even at times ridiculous clothing, bags, shoes, and be sure to check out one of the most renowned thrift stores in Melbourne, Shag. With foreign and local Melbourne vintage, the prints, colours and designs really have to be seen (and worn) to be appreciated. Definitely one of the more eclectic op shops Melbourne has produced.
Address: 130 Chapel Street, Windsor VIC 3181
Hours: Mon-Sun 12pm-6pm
Phone: (03) 9510 8817
Address: 84 Smith Street, Collingwood, Melbourne VIC 3066
Hours: Sun-Fri 12pm-6pm, Sat 11am-6pm
Phone: (03) 7016 1844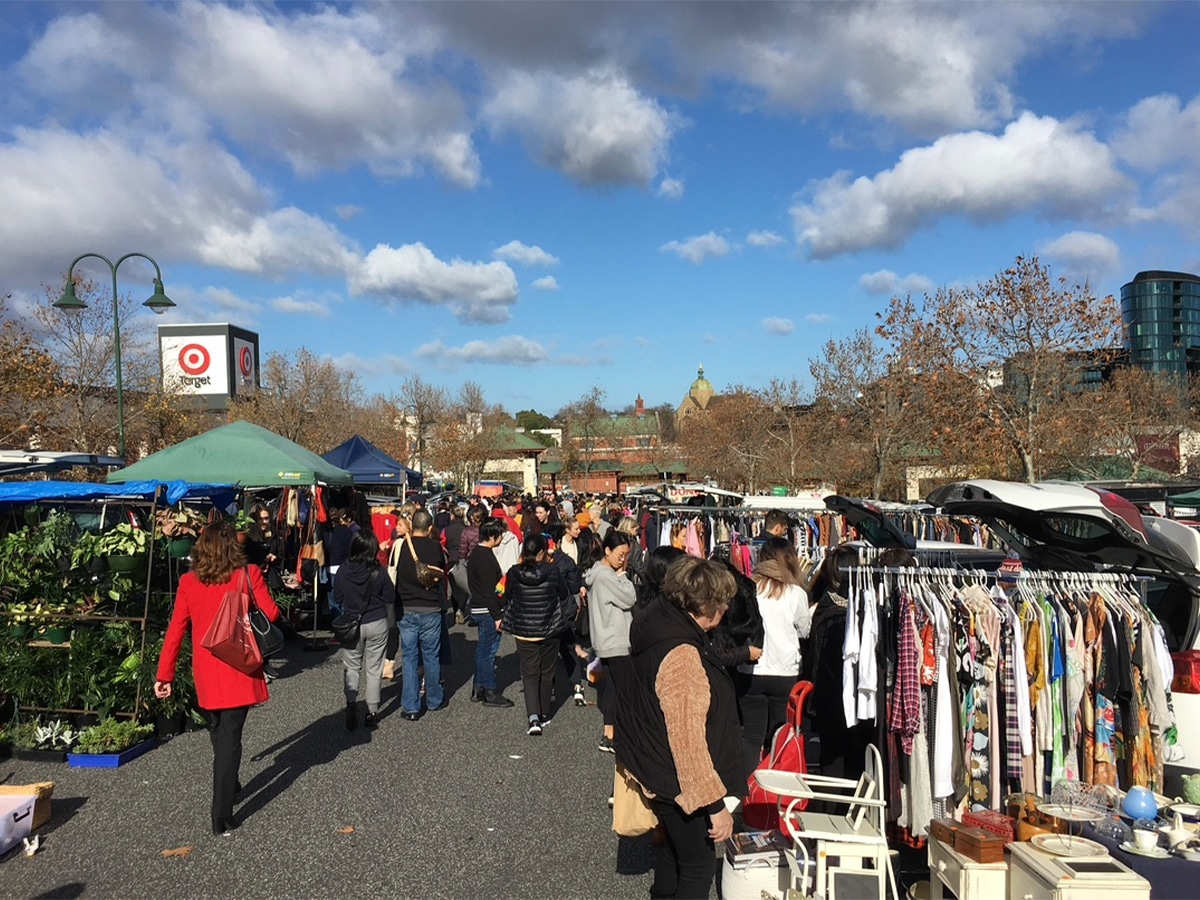 14. Camberwell Market
Rather than hitting Google and searching for 'op shops near me', go straight to the source and block out every Sunday morning in your calendar for a trip to the Camberwell Sunday Market. It's an eccentric array of secondhand, antique or vintage fashion and paraphernalia that will give you that warm fuzzy feeling that only the best thrift stores in Melbourne provide. From homemade bow ties to European art dealers or canoe ornaments from the Solomon Islands, there is no telling what sort of trinkets and exemplar Melbourne vintage you might snatch up here. And the best part is that every purchase raises money for Balwyn Rotary, which supports numerous community and humanitarian causes.
Address: Market Pl, Camberwell VIC 3124
Hours: Sun 7am-12:30pm
How Man of Many Chose the Best Op Shops in Melbourne
This list was compiled through online research, commentary and expert reviews. Moreover, we leaned on author Aimee O'Keefe's own expertise – as North Melbourne with a passion for vintage clothes and op-shop hopping, she knows a thing or two about where to go when it comes to finding the best vintage clothes in and around Melbourne.
Alternatives to Op Shops in Melbourne
If you're looking for other things to do in and around Melbourne, we've got you covered. You can check out our list of fun things to do in Melbourne, or If you're hungry, check out our list of the best Japanese restaurants in Melbourne or the best steak restaurants in Melbourne. If you're full, we can also help you with your search for the best live music venues in Melbourne.
General FAQs
What is the best op shop in Melbourne?
The highest-rated op shop in Melbourne according to Google Reviews is the Sacred Heart Missions store in Fitzroy.
What is the best area for op shops in Melbourne?
Certain inner-city areas have a high proportion of vintage stores and op shops. The best suburbs to look at are Fitzroy, Collingwood and the CBD.
What can you find at op shops?
For the most part, op shops offer budget and recycled clothing pieces, jewellery and homewares. Occasionally there will be antiques, but the stores generally cater to clothing options.
You'll also like:
---
Featured Video from Man of Many