HYT's Latest Hydro Mechanical Watch – The H2 Tradition
Watch lovers, HYT's new H2 Tradition Watch is here. HYT creates a diverse array of gorgeous watches, constantly innovating when others are satisfied to maintain the status quo. The company isn't particularly noted for its classic timepieces yet the H2 Tradition certainly qualifies as such. Take a look at HYT's collection of watches and you will find that there is an extraordinary blend of contemporary, retro, futuristic and now classic pieces.
Three centuries of watchmaking has led up to the development of the widely lauded H2 Tradition piece. This stunning watch features sophisticated guilloché style finishes, gorgeous lacquered dials and blue hands that are certain to catch the attention of onlookers. Though the H2 is steeped in tradition, it is far from antiquated. Its style is best described as hydro-mechanical due to the blue fluid capillary that moves ahead with time. It is powered by two bellows placed to the sides of 6 o'clock.
Those who favor classic watches will adore the H2 Tradition for its ogival crown and diamond main plate with rhodium-plated nickel silver and rhodium-plated bellows. The blue hands also give the watch an upscale and traditional look. Unlike some other contemporary watches, you won't have any trouble reading the time on the H2 Tradition. There is ample space along the dial for the minutes.  Its understated aesthetics don't overpower the eyes, ensuring that the watch actually provides the useful function of telling time.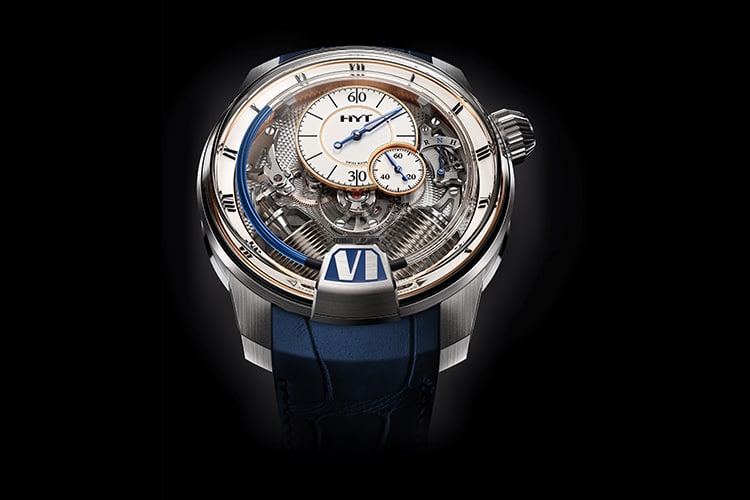 Though the H2 Tradition is centered on providing the time in an easy-to-read manner, style has not been sacrificed to ensure the piece's functionality. The totally redesigned case is eye-catching thanks to its fresh polish and microblasted, satin finish with titanium and white gold. The crown protector has been removed in an ode to the codes of yesteryear's watchmaking. Each bridge has been polished and hand-beveled. There's also a domed sapphire crystal covered with an anti-reflection coating to help you clearly read the time no matter where you are situated.
The H2 Tradition is equipped with 8 days worth of power, stored in reserve for posterity's sake. It is even water-resistant up to 50 metres.  Individuals of all backgrounds will appreciate the H2 Tradition's classic style that doesn't sacrifice function for its aesthetically pleasing form. This stunning timepiece can be donned in any type of environment, from casual get-togethers with friends to formal events. The H2 Tradition is is the dexterous watch you have always desired.
Presented by HYT