Since 2006, made-to-measure suit provider Brent Wilson has remained completely true to his distinguished origins. In contrast to a slew of counterparts—who chase dollars by way of expansion and mass production—Wilson remains focused on sustaining the level of quality and service that made his eponymous brand so special in the first place. That's why he continues to operate out of a lone flagship Sydney boutique, where customers are still treated like kings. Throw in meticulous attention to detail and unbeatable price points and it's no wonder that the label consistently thrives, even in the midst of recent retail slumps. Of course, it doesn't hurt that some of TV's biggest and brightest personalities swear by Wilson's custom suits, as do high-end retail employees, wedding guests, and plenty of other stylish gents.
Between himself and his purposefully small team of experts, Brent Wilson brings 40 years of experience to the table. That's not to mention his direct relationship with supply factories, allowing him to offer a swath of premium fabrics without resorting to extreme mark-ups. It all amounts to impeccable service and palpable quality at a great price, which is harder to come by than one might think. It also makes Wilson a veritable expert on modern-day wardrobe essentials.
Today, he's sharing that expertise with you by way of an exclusive video. Produced by yours truly, it features Wilson himself as he covers three suits that every man should own. Check the video out for some indispensable style tips from a man who knows pretty much everything there is to know about the subject.
Did you watch the video? Yes? No? Maybe? Regardless, here's a refresher:
1. Classic Black Suit
No man's wardrobe is complete without at least one classic black suit, if not many. In Wilson's opinion, black isn't as versatile as navy when it comes to pairing your suit with accessories, but it's still pretty versatile. Lose the tie, open the neck, and match the suit with denim pants for a perfect take on the smart casual or semi-formal aesthetic. Take things in the opposite direction by throwing on the bowtie and dress pants before your next black tie affair.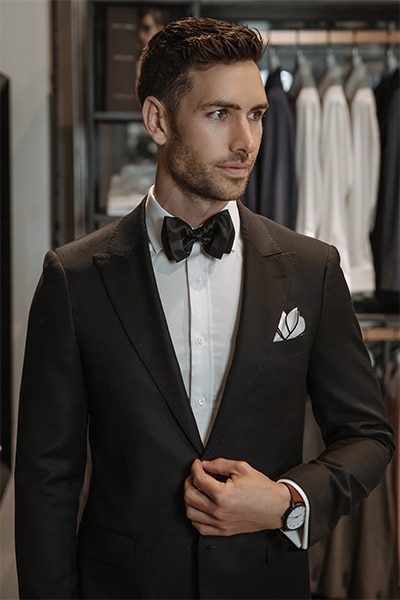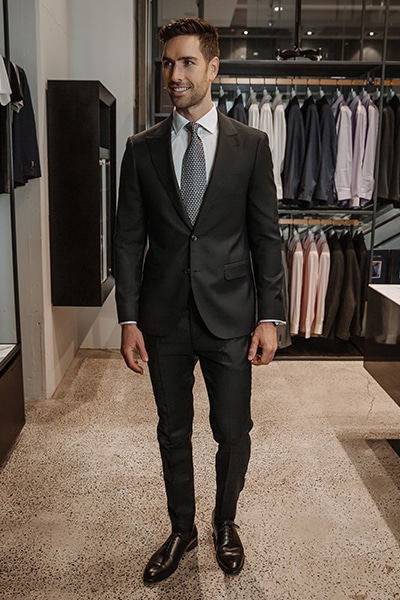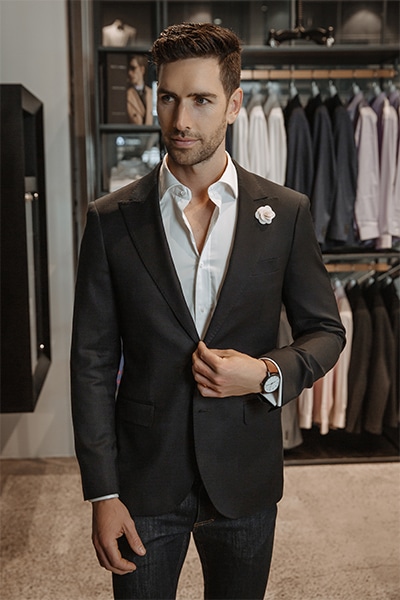 2. Blue Suit
Looking to crank up that versatility dial? If so, consider the modern blue suit a bona fide must-have. Like the black suit, this one lends itself to a variety of dress codes, swinging from smart casual all the way up to formal. As such, you can rock it to a full range of events. It also blends with various colours, so don't be afraid to throw on a pastel shirt for some eye-grabbing style.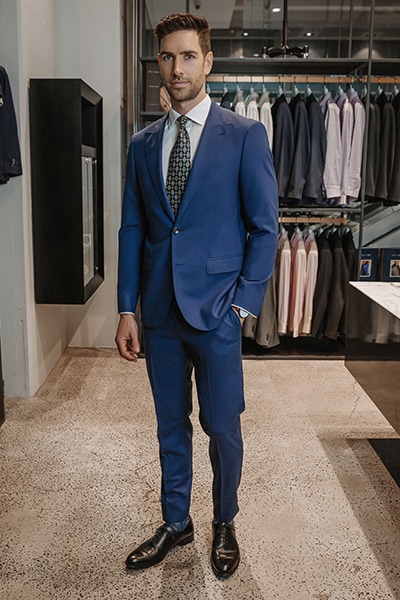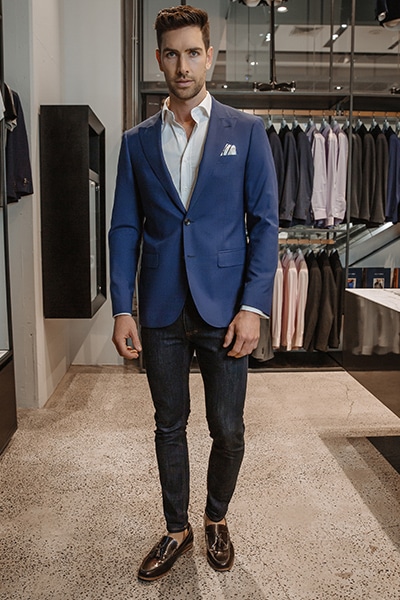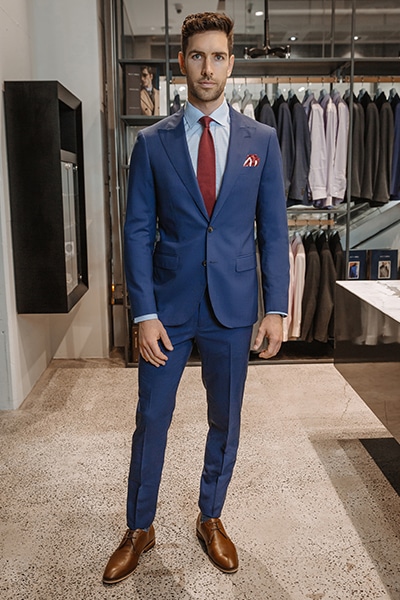 Blue Suit Quick Tips
Pastels are a great way to enhance the blue of the suit.
A white shirt and patterned tie can make all the difference.
Black, brown or tan shoes all work with a blue suit.
3. Grey Suit
Emanating with masculine sophistication, the grey suit sticks primarily to the formal and semi-formal end of the style spectrum. Should you be wearing it to a wedding or other formal event, Wilson suggests pairing it with a white shirt, black tie, and black shoes. When you're off to the races, consider adding some colour through your tie or pocket square.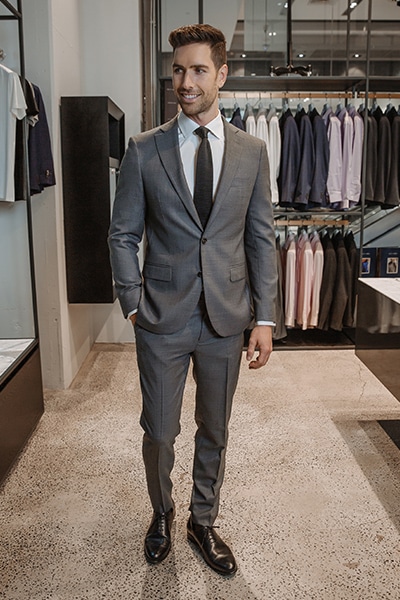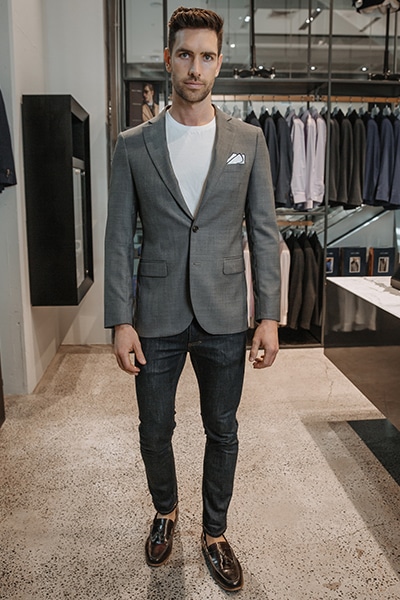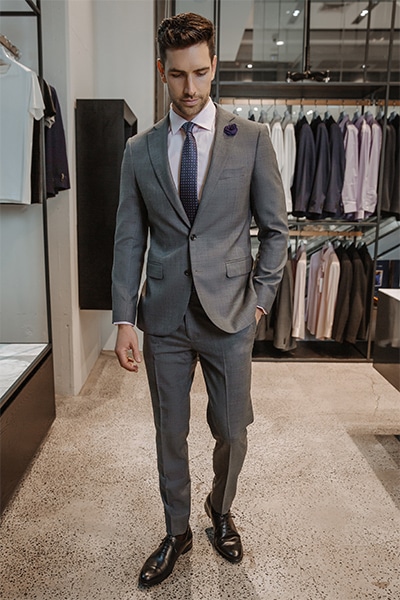 Grey Suit Quick Tips
A black tie and shoes will instantly make a grey suit more formal.
Don't shy away from a splash of colour, especially during the day.
Grey can easily be dressed up for the boardroom, or down for cocktails.
And there you have it, gentlemen: three suits that every man should own, straight from the master himself. Should you need to scoop up one of these suits or any other like it, you can do no wrong by visiting Brent Wilson. Prepare to find out what some of Australia's most stylish men already know: that premium quality and top-shelf service doesn't always have to come at an outrageous price.
General FAQ
What suits should every man own?
Every man should own a classic black suit, a blue suit and a grey suit.
How should I style a blue suit?
Blue suits can be enhanced by pastels or worn with a white shirt and patterned tie. Black, brown, or tan shoes all work with a blue suit.