Basic Guide to Men's Suit Styles, Types, Fits and Details
When it comes to men's suit styles and types, "one look fits all" simply doesn't apply and never will. Indeed, not only do bodies and personalities vary from one man to the next, but throughout your lifetime you too will physically and mentally change. That's not to mention how different occasions call for different men's suit styles and types as well. It's therefore only natural that men's suit styles remain as dynamic as life itself. And while the dressy menswear arena is broad enough to warrant its own encyclopedia set, today we're boiling it down to the essentials. Here's our Basic Guide to Men's Suit Styles, Types and Details. Stay handsome, fellas.
This article is part of our Suited and Booted Series
---
You may also like:
Made to Measure – Man of Many's Guide to Buying a Tailored Suit
A Guide to Men's Dress Codes
A Guide to Wearing Men's Hats with Suits
---

Slim Fit Suit
In the same way that a quality workout trims away the excess fat, a quality men's slim fit suit trims away the excess fabrics. As a result you get a form-fitting men's suit that's narrow at the chest and waist, but not to the point of constricting blood flow. While slim fit suits and athletic builds seem like an obvious pairing, the truth is that many different male body types can pull off the slim fit look.
That's because the men's slim fit suit type–while true to the body's natural contours–usually stops short of highlighting definition. This is generally more of a fashion-style of suit, and less suited (pardon the pun) to the boardroom than it is to, say, a day at the races.
J. Crew Ludlow Suit in Italian Wool

Classic Fit Suit
For those who don't want to overthink the process, a classic fit suit is the way to go. Comfortable in feel and unfettered in design, this popular men's suit type provides breathability without resorting to a loose or unkempt aesthetic–they don't call it "classic" for nothing. An easy choice if you want something that's perfect for the office Monday to Friday, but with a jacket that can be put with chinos for a smart casual weekend look.
Boss Genius Trim Fit Solid Wool Blend Suit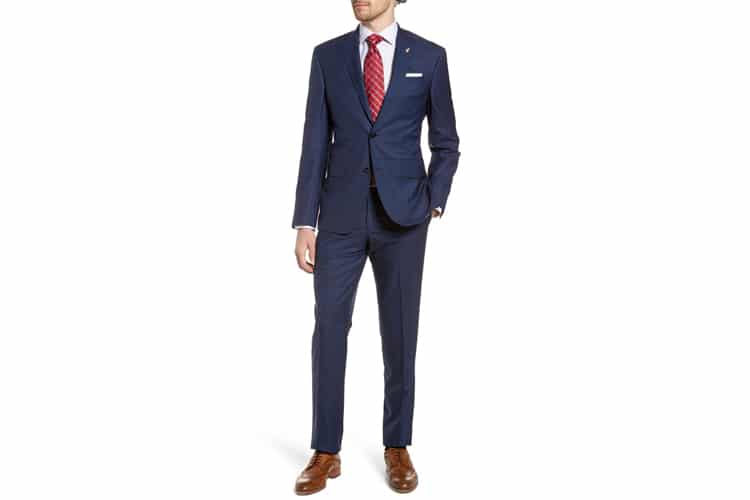 Modern Fit Suit
If you don't think you can pull off the slim fit suit just yet, but want to nevertheless exude a heightened sartorial sensibility, by all means consider the modern fit suit. It hovers squarely in the realm between slim fit and classic fit, and thereby delivers a tight look with breathing room to spare. If you get the material and the accessories right then you can make this work for just about any occasion.
Ted Baker Jay Trim Fit Windowpane Wool Suit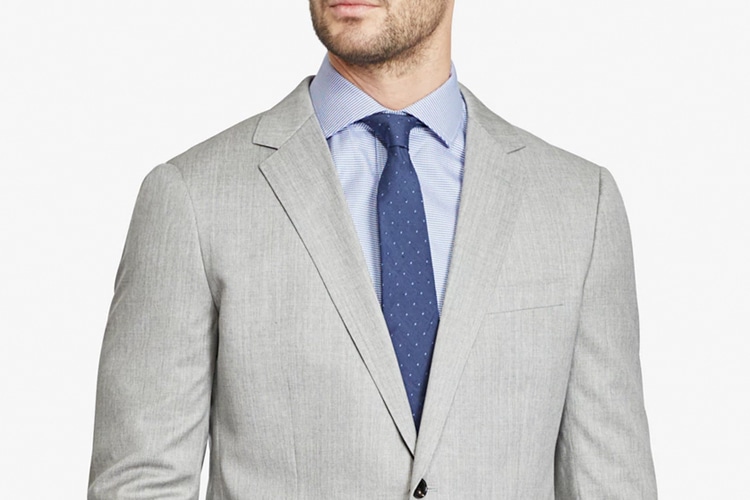 Notch Lapel
A mainstay on single breasted jackets, and arguably the most common type of suit lapel, the notch lapel is defined by a visible indent at the spot where the collar meets the lapel. As the most versatile of lapel styles, the notch lapel is as fitting for the boardroom as it is for the cocktail lounge. Consider it your safest bet if you're on the fence about which men's lapel type to choose.
Bonobos Foundation Italian Wool Suit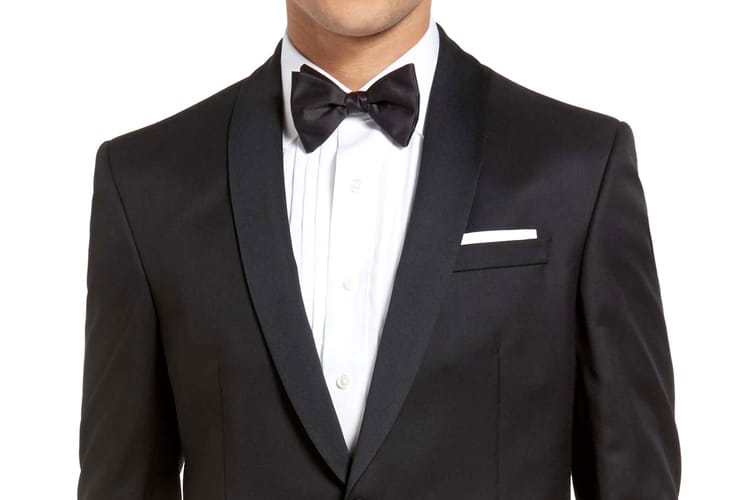 Shawl Lapel
One look at a shawl lapel and its smooth, uninterrupted lining, and you're already picturing an elegant black tie affair. That's because shawl lapels are more or less exclusively found on formal wear like tuxedos and fancy dinner jackets. Entailed in the shawl lapel's aesthetic is a timeless sense of class and distinction.
Ted Baker Josh Trim Fit Wool & Mohair Tuxedo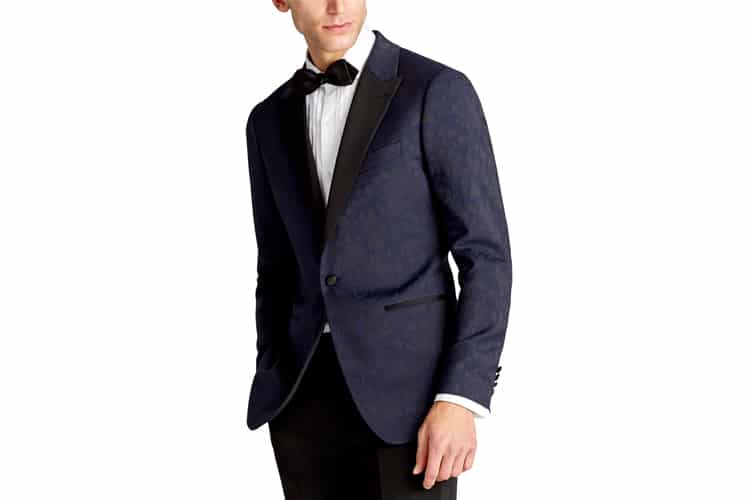 Peak Lapel
A stylish upgrade to the notch lapel, the peak lapel has the top lapel edges facing upward at sharp angles immediately below the collar. It's most commonly found on double breasted suits and thereby a frequent player at formal events. While not as immediately extravagant as the shawl lapel, the peak lapel nevertheless emanates with sophistication and high-end style. Wear it wisely.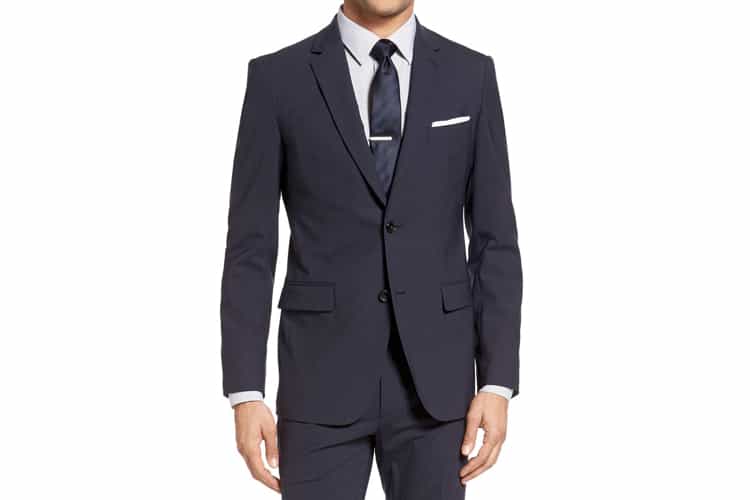 Single Breasted Suit
Among men's suit types, the single breasted suit is the most ubiquitous. The easiest way to spot one is to look for the inclusion of either one, two or three buttons along the seam, or just observe what about 99% of professional men wear to work to every day. By virtue of the single row of buttons, a single breasted suit usually exudes a narrower and tighter appearance. These suits are most frequently paired with notch lapels.
There are firm codes of conduct when it comes to buttoning a single breasted suit. For a one-button suit, you should button when standing and unbutton when sitting. For a two-button suit, you should button the top button when standing, unbutton it when sitting, and never fasten the lower button. When it's a rare three-button suit, the top button is optional, the middle button is always fastened (whether you're sitting or standing), and the lower button is never fastened.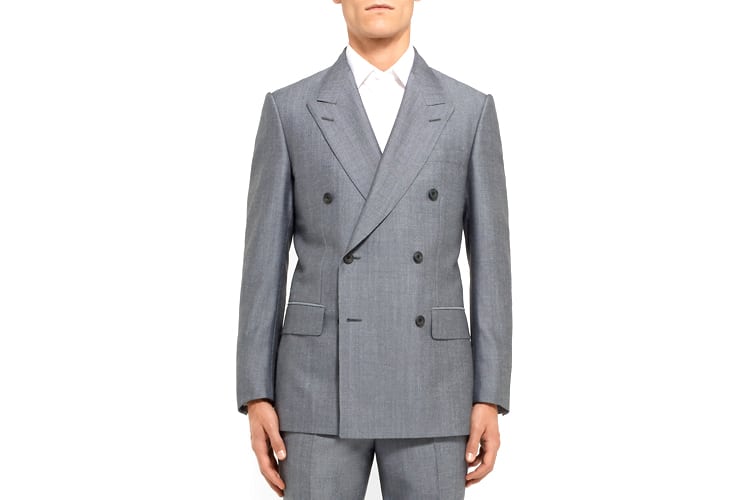 Double Breasted Suit
In contrast to the single breasted men's suit type, the double breasted suit includes additional buttons on either side of the jacket for aesthetic purposes. The total number of buttons ranges from four to eight and typically lands at six. As a result of the extra buttons, the focal point drifts from the seam toward the sides to create the illusion of a wider frame. Whether such optical trickery is beneficial usually boils down to body type, whereas stockier men are probably better off sticking with a single breasted suit.
While previously relegated to formal events, the double breasted suit is catching on among fashion-forward men, especially in Europe. The suit works great with a variety of colours and most commonly features peak lapels on the jacket. As for the rules of buttoning a double breasted men's jacket, they're quite simple: no matter how many buttons there are, always leave the bottom button unfastened and the top button(s) fastened whether sitting or standing.
Kingsman Eggsy's Grey Double-Breasted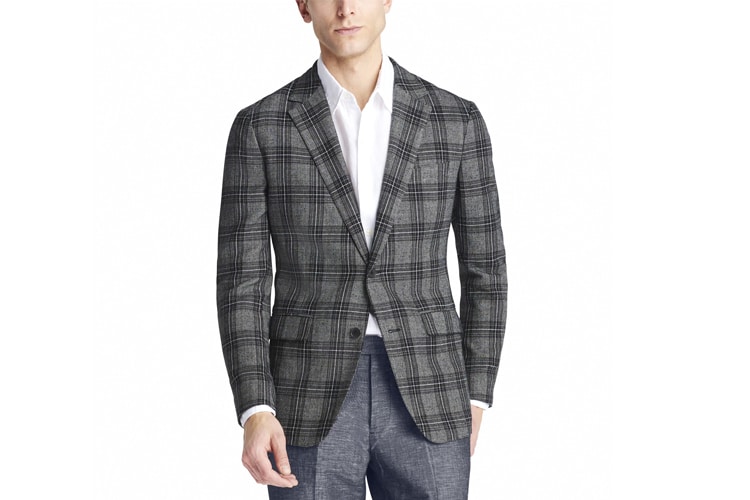 Unstructured Blazer
Some men think interior padding and stylish blazers are invariably part of the same package. However, the men's unstructured blazer is here to change such preconceived notions. By removing the interior padding, the unstructured blazer breaks free from conformity and constraint to deliver a soft fit and somewhat laid back aesthetic.
Frequently composed of a single layer of material, the unstructured blazer makes for ideal spring or summertime wear because it takes weight off the body. That said, men should proceed with caution because there can be a fine line between casual and unkempt. The idea is to find an unstructured blazer that captures your sartorial style and fun-loving spirit in equal measure. Keep it loose, but not too loose.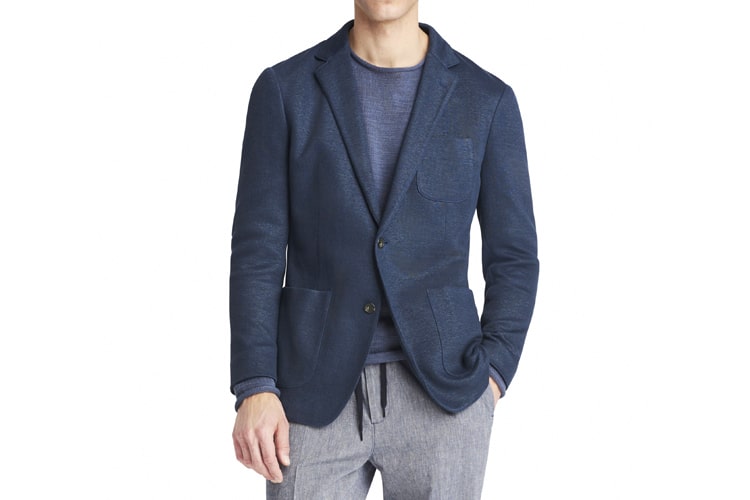 Patch Pocket Blazer
A patch pocket is one that's been made from a separate piece of cloth and then sewn on to the outside of your sports jacket or blazer. Like the unstructured blazer, patch pockets are a great way to join casual style with personal flair. A quick pointer: if you're going with patch pockets, it should be all the exterior pockets that are patched and not just one or two. Also, make sure everything matches up in terms of colour or pattern.
Bonobos Unconstructed Italian Knit Blazer

Centre Vent Suit
The vent is that small slit you notice on the backside of a blazer or jacket. When the vent is cut up the middle, it's known as a centre vent. With a centre vent, the jacket tends to part slightly when your hands are your pockets, sometimes exposing your back. Otherwise, the centre vent should remain closed when you're wearing the jacket. If the vent is parted when you're hands aren't in your pockets, it means your jacket is the wrong fit.
Bonobos Unconstructed Italian Knit Blazer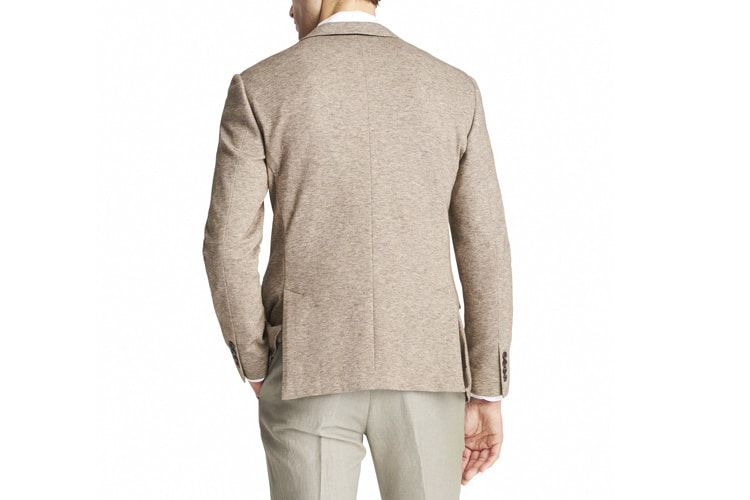 Side Vent
As the name implies, side vents cut the slit on both sides to keep the jacket from parting or bunching when you put your hands in your pockets or take a seat. The wide middle flap not only keeps your back covered, but prevents creasing and retains a slimmer appearance.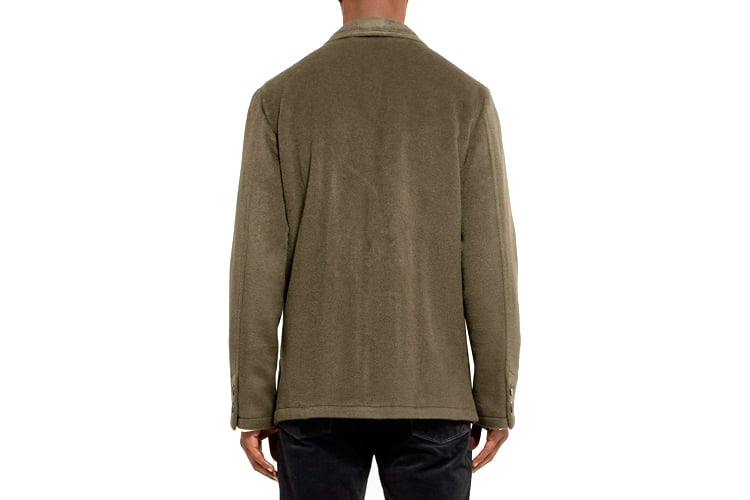 No Vent
Popular in Italy, the no vent men's suit offers elegant style and a custom fit. However, without any vents, the jacket itself is more prone to creasing or bunching when you put your hands in your pockets or sit down.
Massimo Alba Unstructured Fleece Wool And Mohair-Blend Blazer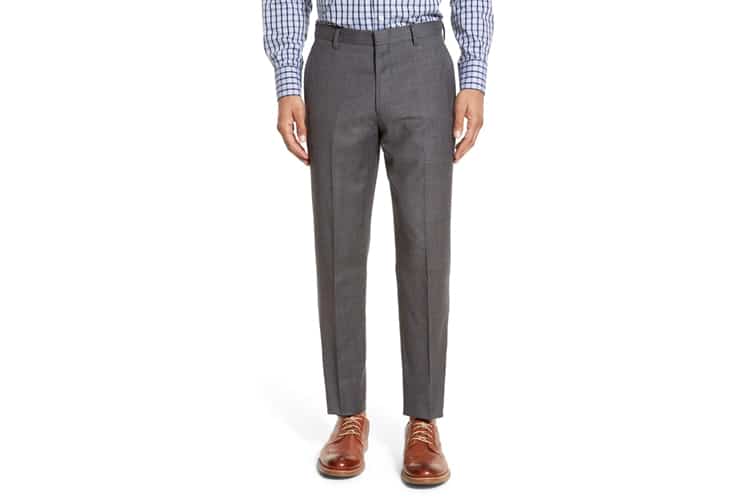 Flat Front Pants
A standard among men's pants, flat front pants are pretty much what they sound like. That is, the fabric lies flat at the front and delivers a slim, tight fit. You can wear flat front pants a little lower on the waist line to rock a stylish, slender silhouette. Naturally, if you're packing some extra weight in the stomach area, then you might consider going with a roomier pant style to better conceal that hard-earned beer belly.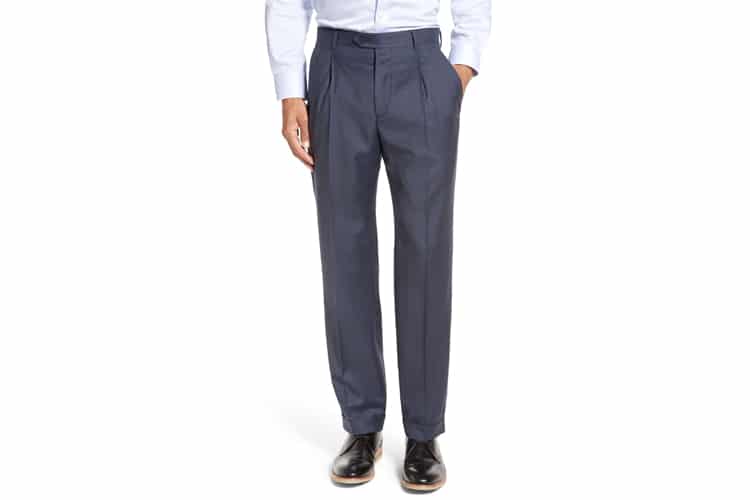 Pleated Pants
Pleats are creases on both sides at the front of the pants, which result from the material being folded and sewed before it's attached to the waistband. Consequently, pleated pants are looser in the middle and best worn slightly above the hip to avoid billowing out at the thighs. While pleated pants are generally more comfortable to wear, especially for larger me, you'll still want a pair that gives a close fit and relatively snug look.
Santorelli  'Luxury Serge' Double Pleated Wool Trousers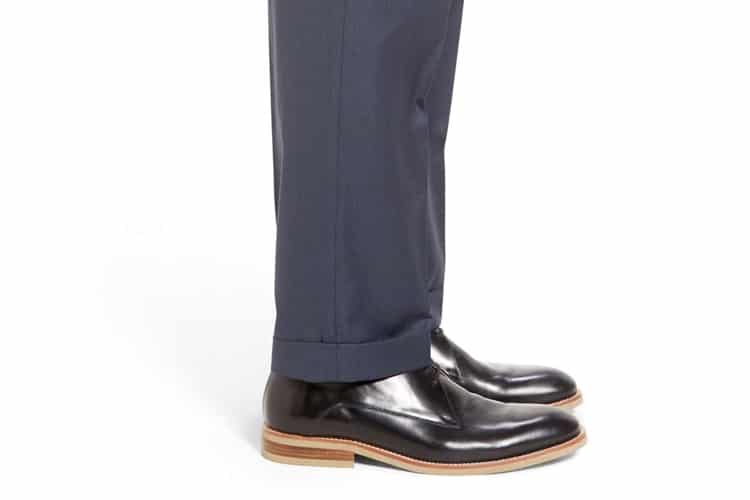 Cuffed Pants
All suit trousers pants will either be hemmed or cuffed at the bottom. Hemmed means the bottom fabric is turned up on the inside, while cuffed means the bottom fabric is turned up on the outside. Both styles are popular, though you're more likely to see hemmed than cuffed. The general rule of thumb is that flat-front pants should be hemmed and pleated pants should be cuffed, but it's a loose rule at best. That said, pleated pants should normally include cuffs in order to add weight, smooth out the fabric and give off a cleaner vibe.
Santorelli  'Luxury Serge' Double Pleated Wool Trousers
This article is part of our Suited and Booted Series
Have you subscribed to Man of Many? You can also follow us on Facebook, Twitter, and Instagram.
---
You may also like:
Made to Measure – Man of Many's Guide to Buying a Tailored Suit
A Guide to Men's Dress Codes
A Guide to Wearing Men's Hats with Suits
---