Hublot's Must-Have Timepiece for the Discerning Football Lover
In Partnership with Hublot
When it comes to the beautiful game, fine watchmaking isn't exactly the first thing that springs to mind. Sure, players like Messi, Ronaldo and their ilk regularly strap luxury timepieces to their wrists, but the connection is largely superficial. Hublot is changing that, developing an unprecedented link between the world's most popular sport and its own remarkable watchmaking prowess. As the Official Timekeeper of the FIFA World Cup for the fourth consecutive tournament this year, Hublot has been building on this synergy since 2010 and the iconic brand is now taking things to another level with the release of the Big Bang e FIFA World Cup Qatar 2022, both a striking celebration of the world's largest sporting event and Hublot's most advanced connected watch to date.
Designed for stylish and active timepiece enthusiasts, the Big Bang e blends fine watchmaking, high-end electronics, and an undeniable passion for football to impressive effect. Boasting an immaculately engineered 44mm case constructed from micro-blasted and polished black ceramic and black titanium (more on that later), it takes much of its inspiration from Hublot's original range of Big Bang timepieces – mechanical watch icons, every one – and puts a futuristic, football-focused spin on that legacy. Thanks to the generous high-definition screen and football-dedicated app, you'll be able to keep track of all the World Cup action from kickoff to the final whistle.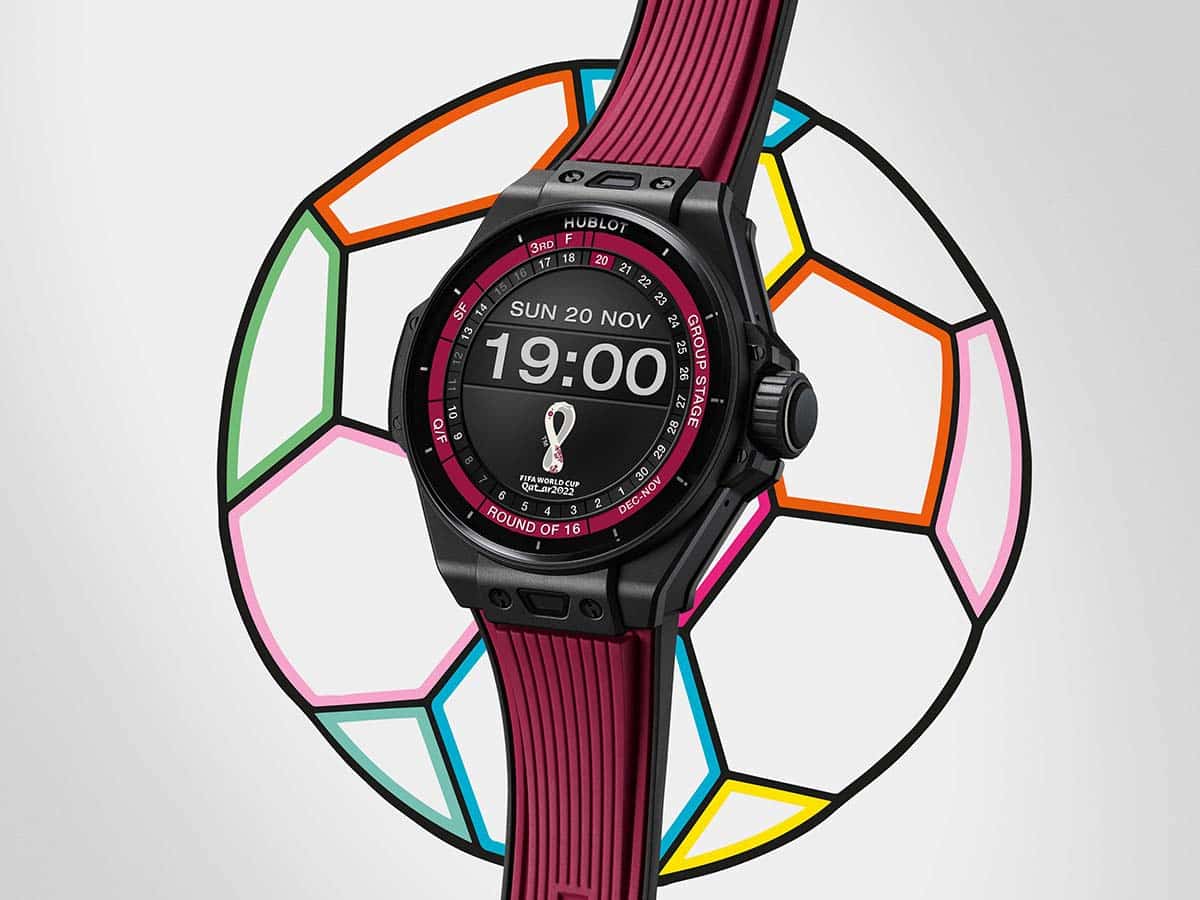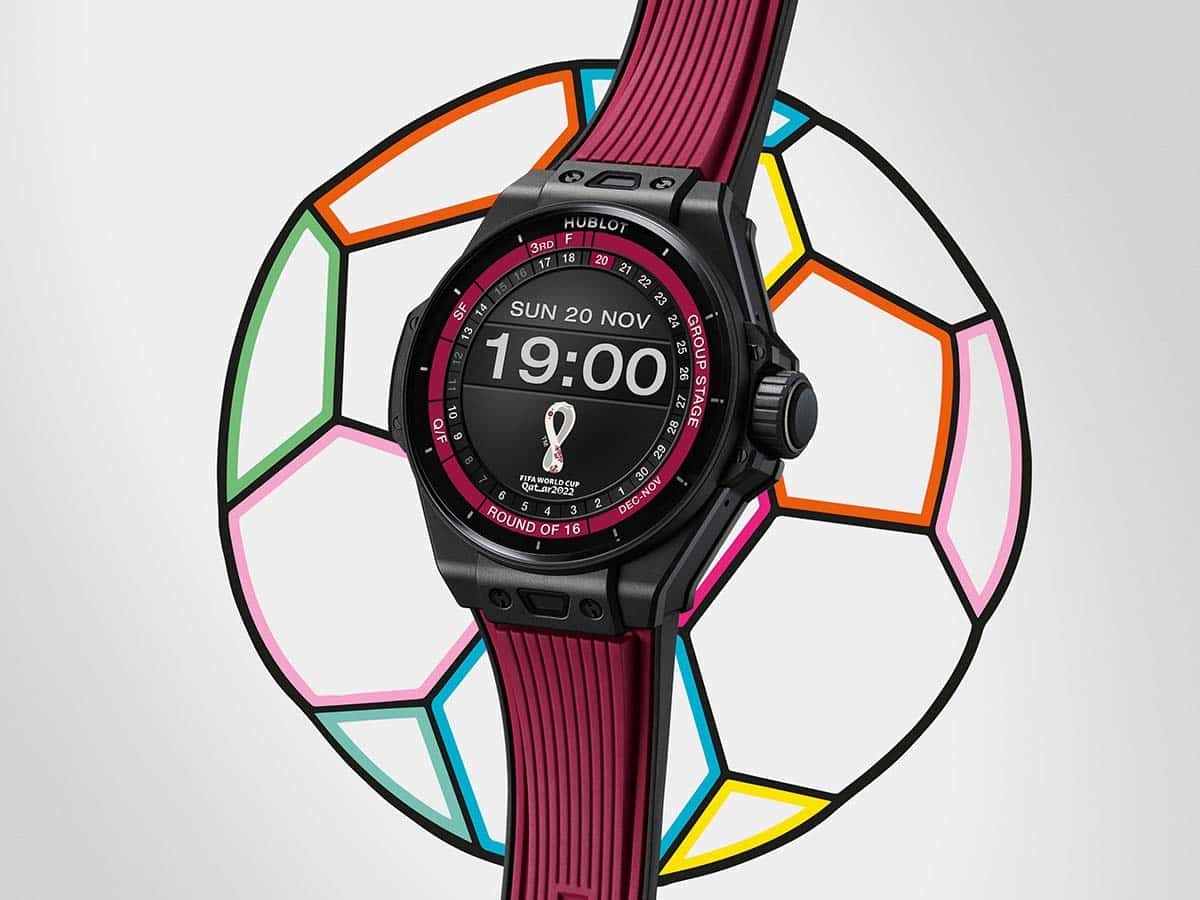 Show Your Colours
Strapping on the Big Bang e will enable you to effortlessly show your patriotism through the new timepiece. While the keystone version of the watch boasts a dial and matching rubber strap in rich burgundy – taking inspiration from the flag of Qatar, host nation of the 2022 World Cup – fans will also have the option to choose dial and strap designs that feature the colours of each of the 32 countries currently participating for football's ultimate prize in Qatar.
All of this would be little more than a bit of fun if the watch underpinning everything wasn't such a classic in the making. From the ceramic and rubber materials used in construction to the operating system that creates a seamless user experience, the Big Bang e is as premium as the Hublot name would suggest.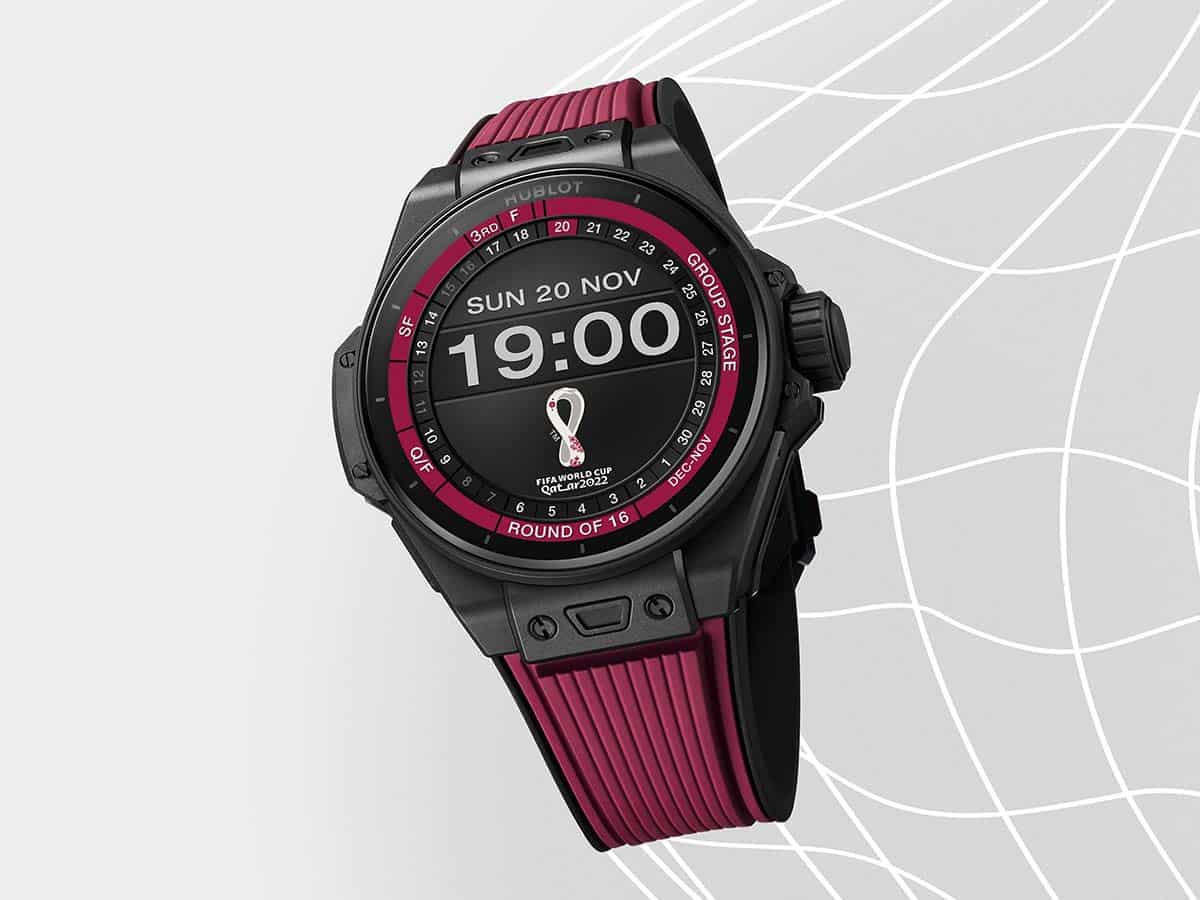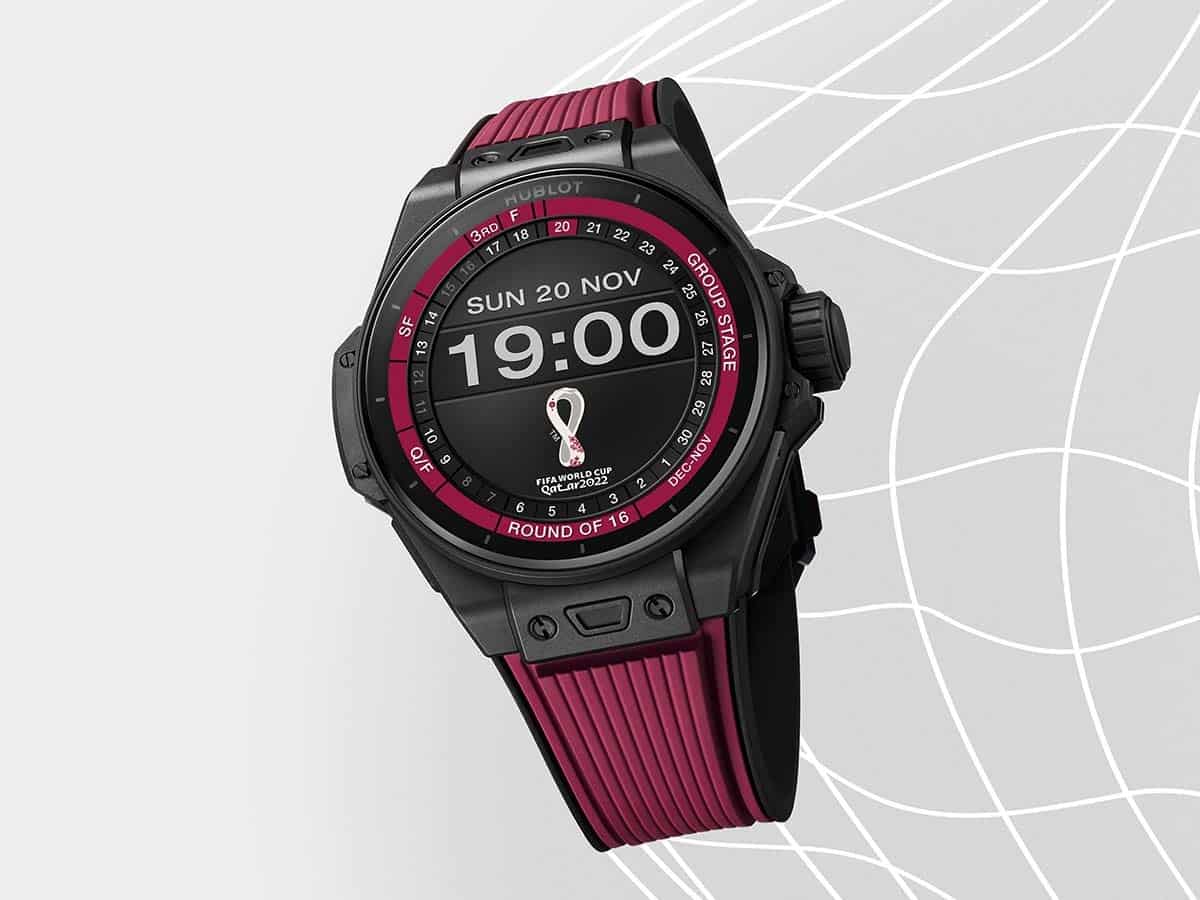 Made to Last
When choosing materials to construct its casings, Hublot takes three factors into consideration: will the materials complement the design, protect the mechanism, and withstand the test of time? The high-tech ceramic and titanium present here do all three, thanks to their ultra-tough and almost entirely scratch-proof properties. This results in precisely the kind of build Hublot is known for, while also ensuring it will last long after the 2022 World Cup comes to a close.
Similarly, Hublot is famous for its use of rubber, having revolutionised watchmaking in 1980 by combining an 18K gold case with a rubber strap – virtually unheard of at that time – creating an entirely new kind of watch. This grew to be known as the "Art of Fusion" and it became Hublot's signature, rubber acting as a flagship material for the brand, emblematic of its modern approach to watchcraft.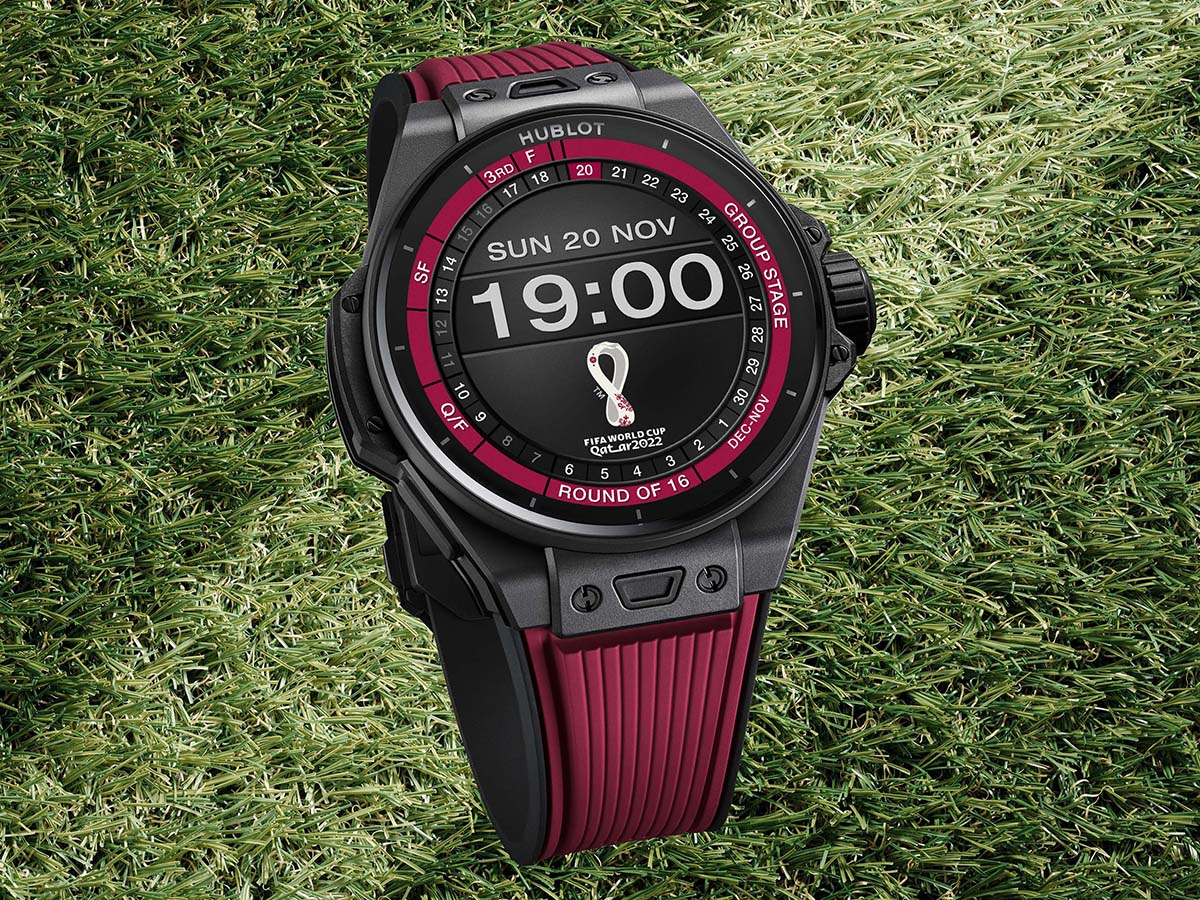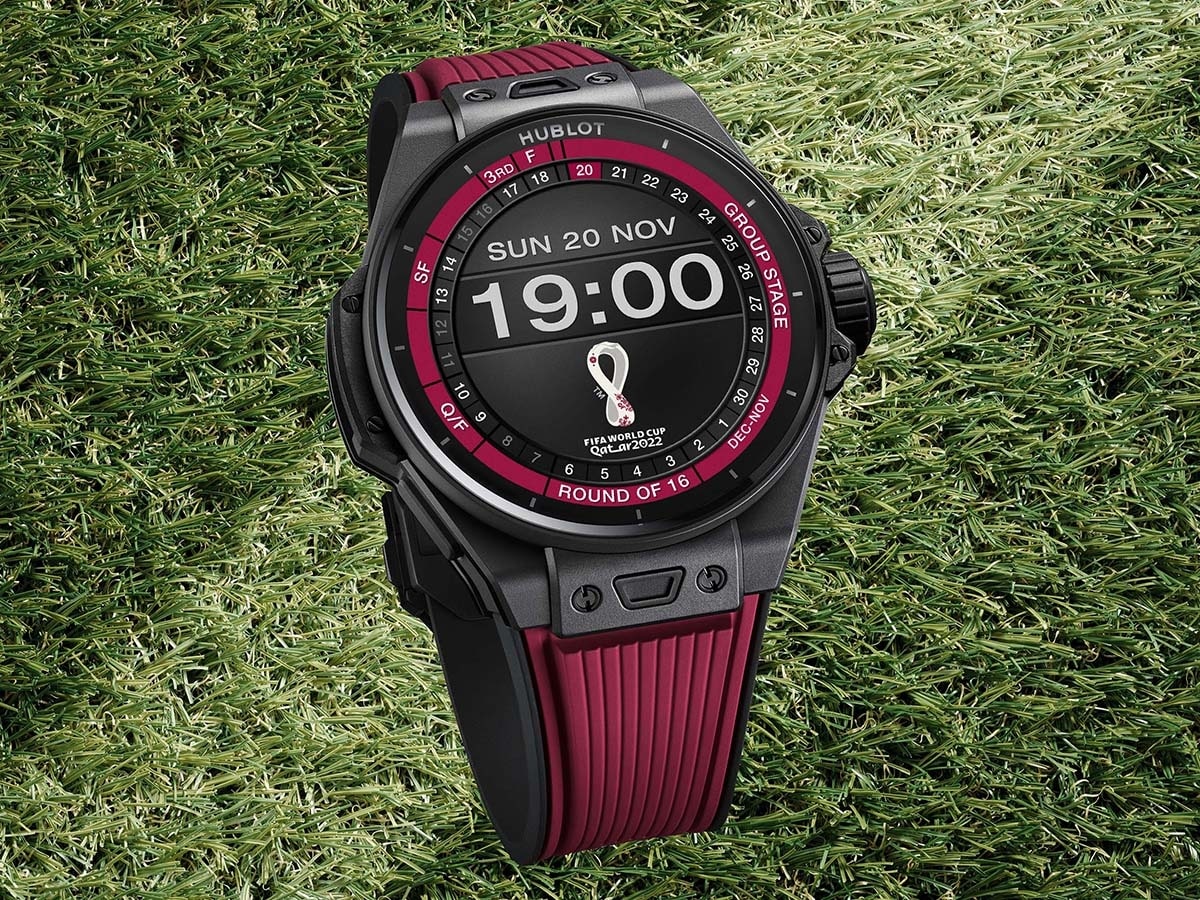 Finally, the Big Bang e is powered by Google's Wear OS 3.0, enabling you to access countless Google Play store apps and make effortless Google Wallet payments from your wrist. Plus, with the greatest of ease you can swipe to access helpful information from a customised list of app tiles, while keeping up to date with notifications and messages.
Not only is the Big Bang e FIFA World Cup Qatar 2022 the ideal way to show your love for football and your national team, it's also a timeless reminder of the link Hublot has cultivated between fine watchmaking and the greatest game ever created. While it will adorn the wrists of all 129 referees officiating games for the length of the 2022 World Cup, we're confident it will continue to be worn for a long time to come by those same referees as well as fans the world over who can't get enough of the beautiful game.