These Swiss-Made Watches Incorporate Recycled Land Rover Parts
If you're not familiar with REC Watches, allow us to make a proper introduction. The letters stand for "Recover, Recycle, Reclaim" and they pertain to leftover vehicle parts, which end up in the DNA of every release. Having previously salvaged everything from Spitfire aircraft to Porsche 911s, the brand recently set their sights on the world's foremost off-roader.
That brings us to the new RNR Collection and its two signature models: The Beachrunner and The R.O.C.K.Fighter. Respectively incorporating metal from a 1981 Land Rover and a 2003 Land Rover Defender, this represents the brand's first 'from the ground up' collection in over two years. It's also the first time that REC has forayed into Swiss-made terrain.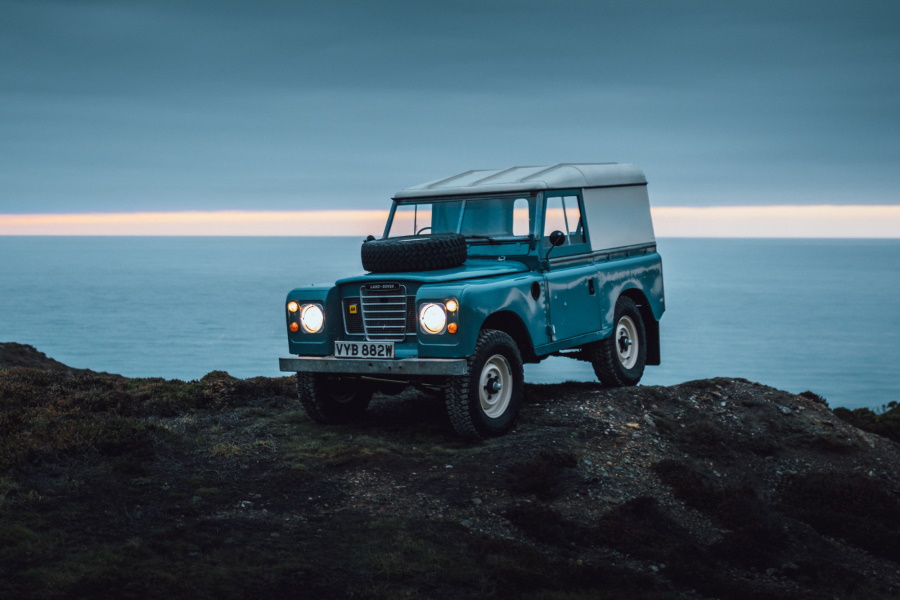 The results are every bit as stunning, rugged, and unique as one would hope. Speaking of unique, no two models are exactly the same. Due to the subtle variances in the source metal, each dial face exhibits a singular tapestry of hairline scratches and gradating patinas. Never before has the physical residue of off-roading taken such a compact form of intent, thereby generating a newfound aesthetic.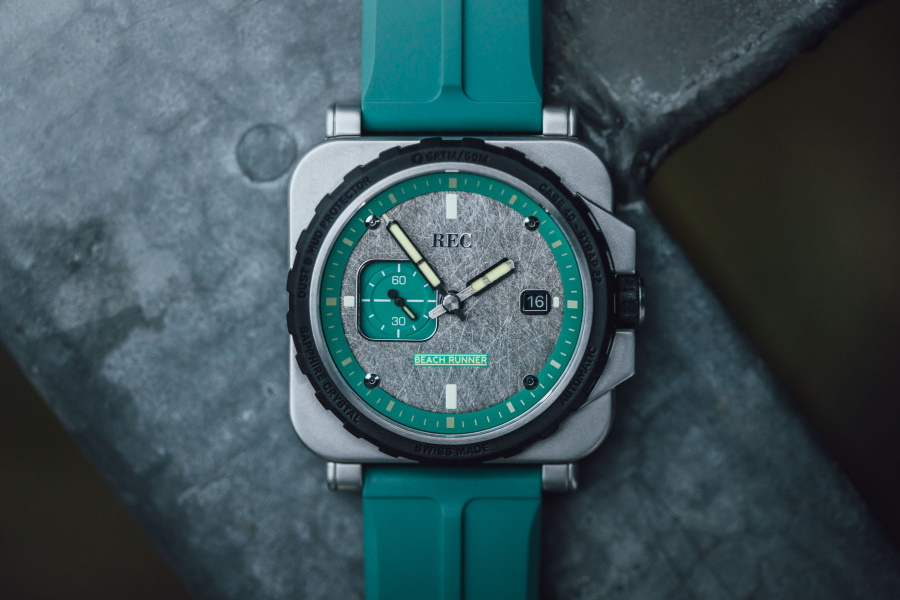 Every watch tells a story but these ones unfold in chapters. Chapter one of the new RNR Beachrunner takes us to the beaches of Peniche, Portugal. Photographer and filmmaker Daniel Espirito Santo cruises the coastline in his 1981 Land Rover Series III, snapping images as he searches for the perfect wave. All the while, salty winds eat into his roof and so too does the local seawater that drips from his surfboard.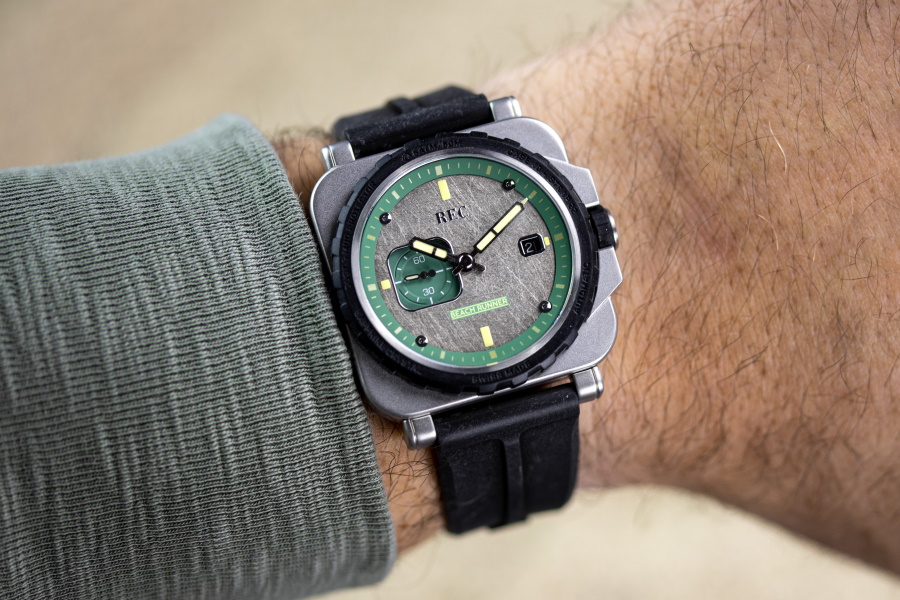 REC Watches enters the picture and thus begins chapter two: recover, recycle, reclaim. They strip the roof from Santos' SUV and repurpose it as the base material of a handcrafted metal dial. Taking further vehicular cues, they model the watch's circular bezel after the shape of a spare tire, setting it against a square case of stainless steel. For the inner bezel and small seconds hand, the brand went with the same colour as the Land Rover's green silhouette. The crown protector resembles the SUV's front end grille and the five-bolt pattern on the caseback comes (figuratively) lifted straight off a hubcap.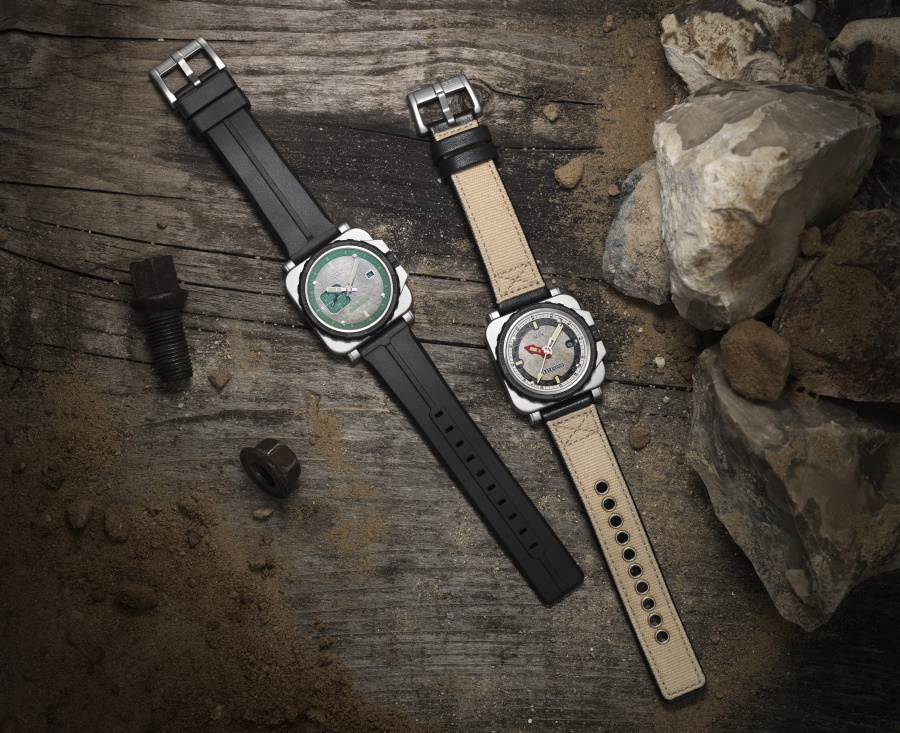 Chapter three brings us to the finished product, a true sight to behold. The metallic dial face alone is enough to draw eyeballs while the remaining design elements are likewise astounding. Running on Swiss-made Sellita SW200-1 automatic movement, the watch employs a top glass of sapphire crystal with multilayer anti-reflective coating and comes affixed to a black rubber strap. There was only so much roof to go around and so this model is limited to just 552 pieces.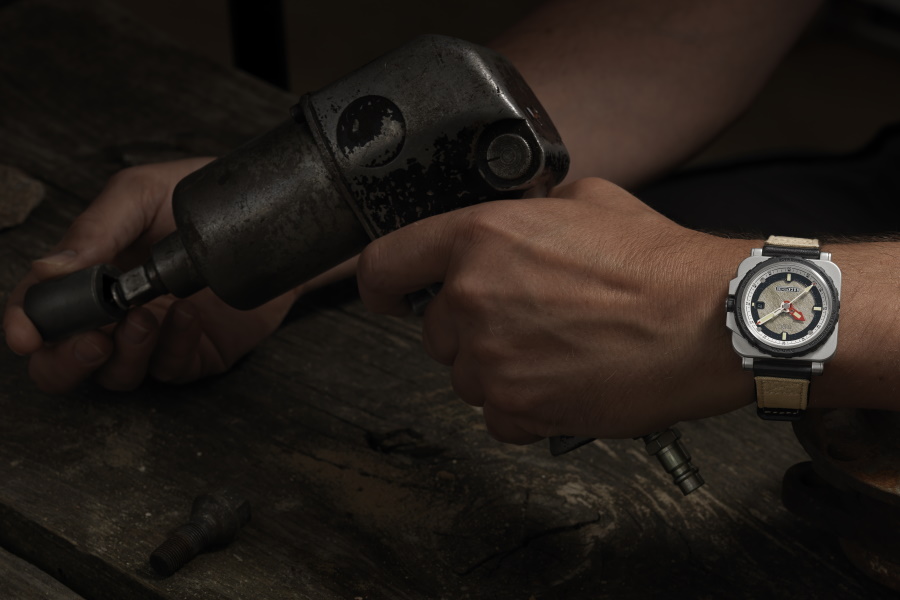 But wait, there's more! Did you forget about the second model, better known as The RNR R.O.C.K.Fighter? Its story begins with German adventurer Michael Ortner, who's previously taken his 2003 Land Rover Defender from mountain peak to valley creek on various journeys around the world. Somewhere along the way, he needed a new door. We think you know where this goes…
Upon receiving Ortner's generous donation, REC Watches went to work on the Defender's old door. Specifically, they punched it down into 463 watch dials, coated with a clear lacquer, and brought it into the family. That world-travelled door metal now makes up the glorious dial face of each limited edition model—scratches, dents, and all.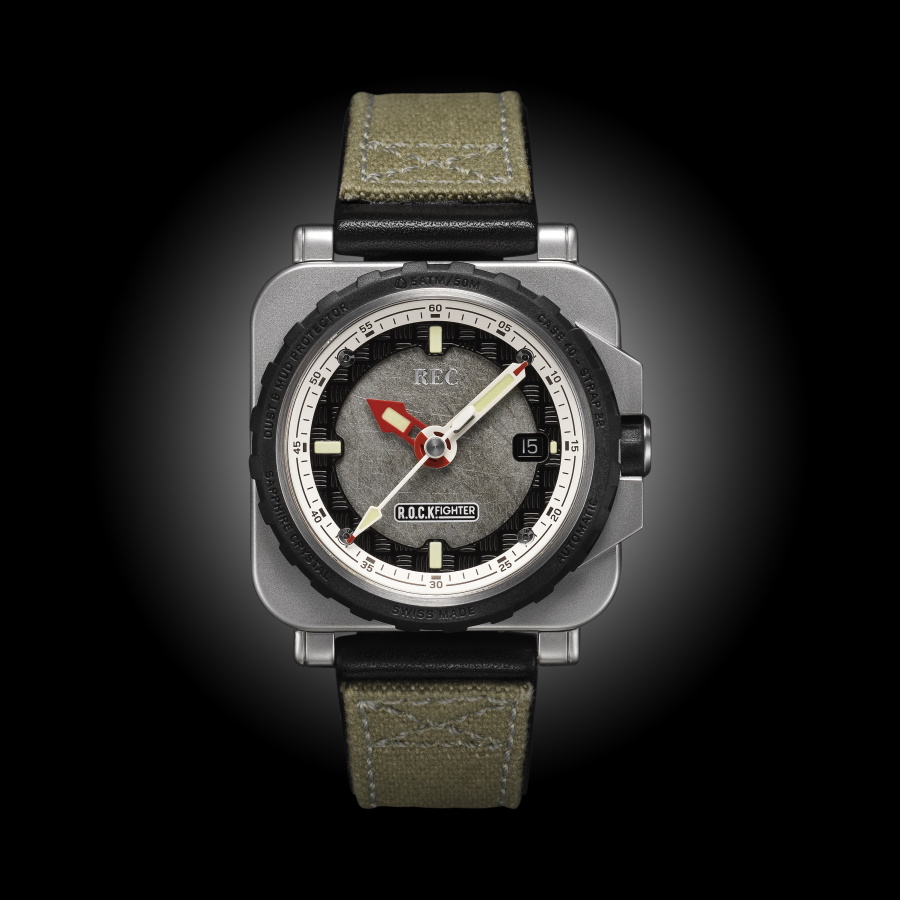 Like its mighty brethren, The R.O.C.K.Fighter juxtaposes a circular bezel with a square-shaped case. It too runs on Swiss Sellita self-winding movement, which offers advanced precision and a 38-hour power reserve. Clever details include a chequered plate pattern on the caseback, grill-like crown protector, and compass-inspired hour hand. The desert canvas and black leather strap offers yet another skillful nod, paying homage to the Defender's canvas hood strap. Two years in the making, this watch is limited to a mere 463 pieces.
If using salvaged car parts sounds like the stuff of gimmick, then you haven't been paying attention. All it takes is one look at any given REC Watch to know that the brand delivers serious quality and bold design. Peer a little closer and that's when the true magic reveals itself, but never in a loud or tacky manner. This is a story that unravels in layers and then asks you to write the remaining chapters, one adventure at a time.