This Hand-Numbered X41 Edition 4 AeroCarbon Watch is Now Available In Limited Supply
When it comes to high-end watches, customers and enthusiasts are always offering their opinion on where to go next. Unlike virtually every other brand, Swiss-based CODE41 actually listens directly to what those customers are saying. It gives way to an impressively cooperative ecosystem, in which you'll find total transparency, superior quality, and unbeatable value at every turn. With the X41 Project, that proud tradition continues. Limited in supply and quintessential by design, each edition features exclusive top-shelf movement, hand-finished details, and skeletonised dial displays, amongst other things.
On the heels of its best-selling predecessors comes the newest X41 model, aka Edition 4. Pushing every conceivable boundary of fine watchmaking, it's made of a High-Tech carbon fibre material (aka AeroCarbon) lifted straight out of the aeronautics and aerospace industry. As with its peers, the new watch also employs a limited-edition movement that was designed, made, and assembled entirely in Switzerland. Fitted to the movement is an exclusive peripheral oscillating weight, which has been mastered by only a mere handful of brands.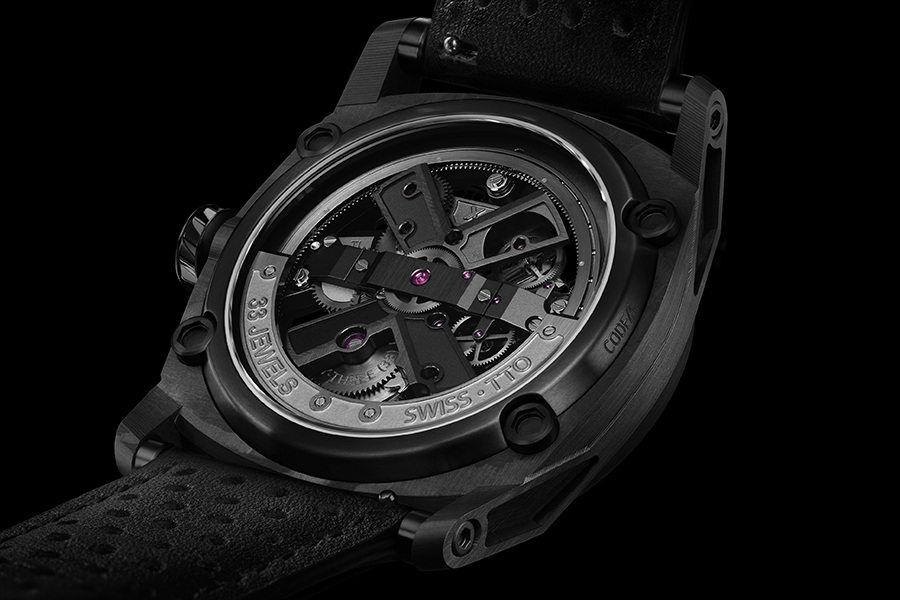 You thought we were done? We're just getting started! Designed solely for the CODE41 community, the new X41 Edition 4's aerospace-grade material was produced on-demand by a specialist factory in France. It consists of 300 extremely fine layers, with each layer being positioned at 90 degrees to the previous one and then compacted under 10 bars in an autoclave oven. As a direct result, the watch's AeroCarbon composite is denser than traditional carbon fibre, 2.5 times more resistant to bending than steel, and 2 times lighter than titanium. It's also watertight to 50m, despite the absence of a titanium chamber (representing yet another point of distinction).
In addition to its high-end movement and sleek case of AeroCarbon, the X41 Edition 4 touts an utterly unique skeletonised window on the front and caseback alike. When paired with the time markers and date display, the dial serves up a truly bold aesthetic. Also featured are qualitative benchmarks like scratch-resistant sapphire on the front and back and high-performance Luminova. The watch measures 42mm in diameter and weighs 72 grams when affixed to a leather strap.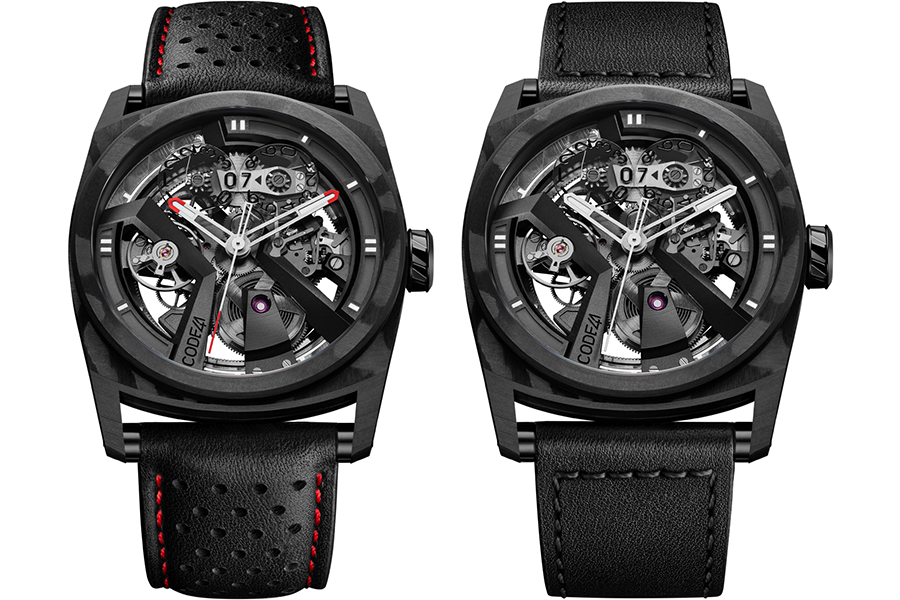 Finished and assembled by hand in Switzerland, each X41 Edition 4 employs a host of premium Swiss components. However, you won't find the words "Swiss-Made" on the label. This is because CODE41 always opts for total transparency and doesn't want to confuse their customers. Instead, they implement a TTO label, which stands for Total Transparency on Origin. On their site, the brand clearly explains the origin and cost of each component and process. The community vibe is strong on this one, indeed!
Due to the complexity of the X41 movement and watch assembly, each model is hand-numbered and produced in limited supply. For this kind of quality, you can typically expect to pay over US$22,000. Thanks to their direct and transparent business model, however, CODE41 is able to offer the new X41 for under US$6,300. More than bang for your buck, this is what the brand likes to call "magic for your money."
The preceding X41 campaigns were immediate success stories, collectively selling out in less than two months. This latest model will likely do the same. Get on it.