5 Simple Ways to Conquer Anxiety and Stress
As far as weeks on the Man of Many calendar go, this is a big one. Monday, June 15 kicked off the start of Men's Health Week, an annual event that highlights the importance of keeping on top of your mental and physical health. While we know that the recent isolation and lockdown restrictions haven't exactly been great for our waistlines, the lasting mental impact is inherently unknown. The pressures surrounding job security, health, family and relationships were heightened within the COVID bubble and if not properly addressed, could take a significant toll. It's something that Manoj Dias knows all too well.
You'll also like:
HUMEN Launches Online 'Gym For the Mind' To Tackle Mental Health in Isolation
1 in 3 Aussie Men Fear Discussing Mental Health at Work Could Risk Their Job
15 Best Healthy Snacks for Weight Loss
Despite being raised in the Theravada Buddhist tradition, the Sri-Lankan born Aussie found himself struggling to come to terms with his inner monologue and unrest. "I was constantly distracted, my mind would wander, my palms would clam up and I was constantly stricken with a fear of being exposed, all of this — before 9am," he tells Man of Many.
"On top of that my sleep wasn't great, in fact, I would toss and turn throughout the night and sometimes not fall asleep at all. My days felt like one relentless ordeal after another, filled with a sense of being on the edge. Looking back over a decade ago, I realised I had suffered anxiety for quite a number of years before a doctor finally told me I had an anxiety disorder."
It was a diagnosis that would change Dias' life forever. After two years of navigating anxiety, addiction and chronic insomnia, he serendipitously found his way to a Buddhist meditation and yoga centre run by an ex-monk. More than a decade later, Dias is helping others to find their path, launching A-SPACE, Australia's first multi-disciplinary drop-in mediation studio, as well as co-founding Open, a California-based meditation platform. This year, Dias has partnered with Swisse Wellness for Men's Health Week to shed some light to the importance of having those hard conversations. We spoke with Manoj to learn how to traverse 2020's most difficult challenges.
Mindfulness
It's a buzz word you've probably heard a billion times, but what exactly does mindfulness mean? Put simply, it's the ability to be fully present in the moment. When you clear your mind of all distractions, complications and thoughts, simply focusing on what is happening directly in front of you, it can have lasting impacts, but it's not an easy thing to do.
"To be honest I hated it at the start. I could not sit still, I was agitated and I never felt like I was 'getting anywhere' in my practice," Dias says. "But over time and with guidance from wise teachers I started to notice things in my life were changing. First, it was a reduction of anxiety and stress, my relationships had improved, I was more engaged with my life and I cared about things a lot more. I also started to really like myself and didn't realise how much negativity I carried, until it was gone."
It's a simple premise, but one we rarely evoke without being prompted.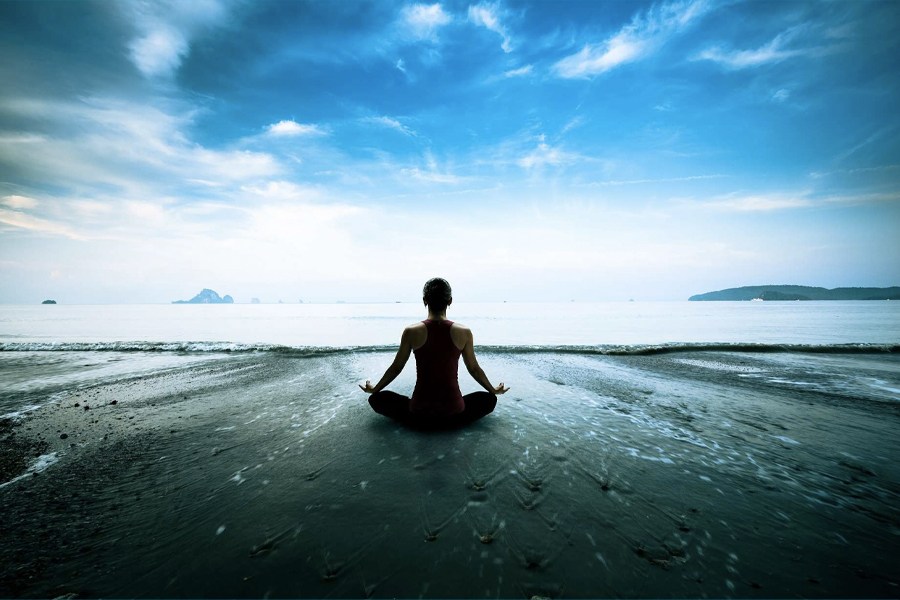 Getting Started With Mindfulness
When you look at the principles of mindfulness, it's easy to draw a link to meditation. The concepts of relaxation, focusing on your breathing and being present are consistent across both practices, but if the idea of meditation doesn't get you going, you need not worry.
"We're all engaging in mindful activities every day. Having a deep and meaningful conversation with a friend or a state of 'flow' when we're working," Dias says. "These are mindful moments. And we can do more of them. Secular mindfulness meditation is a more concentrated form of this – we train and our minds to be fully engaged with the present moment with compassion. We can bring awareness to sensations in our body, focus on a particular object (breath, sound, light) or cultivate positive emotions by thinking of others. "
5 Simple Ways to Overcome Stress and Anxiety
In his Men's Health Week partnership with Swisse Wellness, Manoj is advocating for simple changes to your everyday approach, rather than a full routine overhaul. Here, he outlines the 5 simple ways you can conquer anxiety and stress through mindfulness.
1. Return to your body
Our bodies feel the brunt of our mental health long before the symptoms of stress and anxiety reach our minds. A good way to work through challenging moments in our head is to get to work in our body. Yoga, breath-work brisk walking, dance whatever makes you feel connected to your body can help when we've been spending most of your day disconnected from it.
2. Calm your mind
If you've moved your body for the day, it's a good idea to calm your mind once a day. You can read books, re-pot your plants or start a meditation practice. Meditation has proven to be incredibly effective at regulating our nervous systems and calming the adrenaline and cortisol many of us are overloaded with. Start with 5 minutes a day, every day and gradually work your way up. You can try mindfulness, loving kindness or open-awareness meditation.
3. Reach out to a friend
When we're fearful or scared, men we tend to want to retreat and isolate. But we're social beings and having an empathetic friend, partner or therapist to just listen to us can be tremendously beneficial.  Being able to be authentic with others is crucial if we want to stay sane, human and grow.
4. Limit the amount of time you spend on the internet (for real)
It's a wild time to be on the internet right now. The internet can be a great source of information, but in excess can be harmful, especially if we're navigating our mental health. Limit the amount of time you are online, notice how your body is feeling as you read messages and please don't check your phone before you go to sleep, unless you plan on feeling tired the next day.
5. Help someone
We're seeing people all over the world offer their gifts to help others, whether it's health care workers on the front lines, people working at food banks or just the kindness of strangers. Helping others is not only great for humanity but research shows it's also great for our own mental health and wellbeing. Altruism in a time of need gives us a sense of purpose and intention and reorientates our focus from being just about us— towards others.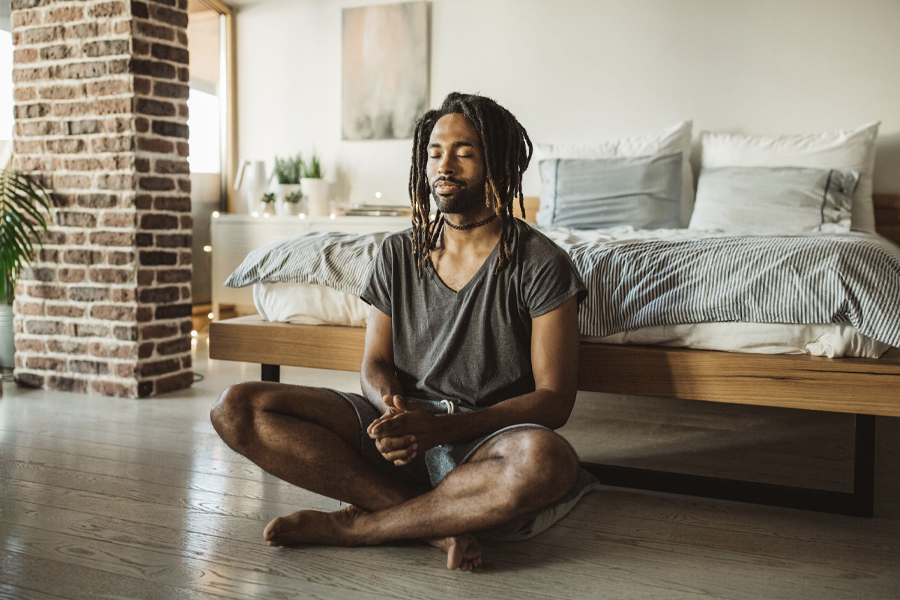 Mindfulness as a Life-Long Strategy
It's easy to say that issues relating to mental health are isolated and based on circumstance, particularly in light of recent world conditions, but long-term success requires long-term strategies. The great thing about mindfulness is that simple acts can be instilled in everyone without disruption to your day. Try to focus on being present and in the moment, your brain will thank you for it.
You can check out more from Manoj through his series of bespoke meditations and mindfulness practices available to view on the Swisse Instagram page.
You'll also like:
HUMEN Launches Online 'Gym For the Mind' To Tackle Mental Health in Isolation
1 in 3 Aussie Men Fear Discussing Mental Health at Work Could Risk Their Job
15 Best Healthy Snacks for Weight Loss