How Much Water Should You Drink Per Day?
How much water to drink per day? That's the question and we're here to answer it. As you'll soon discover, the typical answer of "eight glasses" isn't exactly the right one, whereas everything from the local climate to lifestyle changes will affect your recommended daily water intake. After all, no two people are the same so why should they drink the exact same amount of water?
Alas, we're getting ahead of ourselves. Use our following guide as your foremost resource to the planet's foremost resource. We don't just recommend how much water to drink, but why you should drink it. Here we go.
Does Drinking Water Help You Lose Weight?
According to recent studies, there is indeed a correlation between increased water consumption and weight loss. For starters, two studies concluded that drinking 500ml of water may provide a temporary boost to your metabolism. They also found that drinking an estimated 2 litres helped shave off 96 calories per day.
Putting studies aside, water functions best as a dietary method when it's consumed in lieu of excess calories. That is to say, drinking lots of water curbs your appetite, prompting you to eat less. When you eat less, you tend to lose weight. Meanwhile, pure water has zero calories so it won't end up adding to your waistline. They don't call it "water weight" for nothing.
For that reason, you should drink lots of water throughout the day and directly before meals, in particular. Practice a healthy diet in tandem and you might very well shed pounds in the most natural way possible.
Last but not least, you might consider drinking cold water instead of room temperature water. That's because some experts suggest your body will expend more calories by internally heating the cold water. True or not, who doesn't love a cold glass of H2O on a hot day?
What Happens When You Start Drinking 2 Litres of Water Per Day?
As we stated above, how much water you should drink per day will vary from one person to the next. That said, a daily water intake of 2 litres (approximately 68 oz) makes for a terrific place to start and a recommended one at that. While not a cure-all, it has been associated with the following benefits:
Helps alleviate both constipation and diarrhea– Constipation has been associated with dehydration in the colon and you should drink lots of water to keep the stool soft and mobile. Meanwhile, diarrhea can lead to dehydration so again it's important to drink lots of water when you experience it.
Allegedly decreases the risk of certain cancers – It would be misleading to say that drinking water will help ward off cancer, as there's no hard science to prove such a claim. However, some studies have concluded that increasing your daily water intake can lower your risk of bladder and colorectal cancer. What's important is that you practice a healthy lifestyle, in general.
May decrease the risk of kidney stones – It's been suggested that increased daily water intake can reduce your chances of getting kidney stones. Again, there's no hard science to back up this claim.
May improve skin condition – Hydrating and moisturising the skin on the outside is known to reduce problems like acne and irritation. Does such a thing work from the inside out? Some people say it does. On the other hand, those same people aren't scientists so take from their anecdotes what you will.
Keeps you hydrated – Here's one benefit that you don't need a study to prove. By determining how much water to drink per day, you can avoid dehydration and its negative effects. Those effects can include lethargy, dry skin, dizziness, physical deterioration, and even death.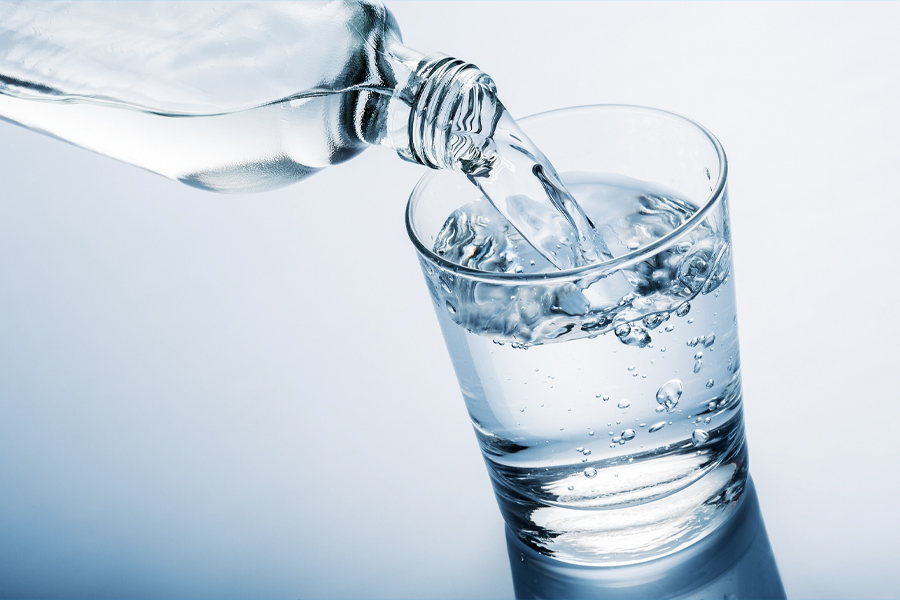 Common Questions About Drinking Water
Figuring out how much water you should drink per day is but one amongst a number of potential queries. Here are some other popular questions about water consumption:
1. Can You Drink too Much Water?
While excess water is usually excreted through the kidneys, there is such a thing as overhydration. It can occur when you drink too much water, but also when factors such as heat or stress cause your kidneys to malfunction. In turn, your body starts to retain all the excess water and that can lead to health problems.
In some scenarios, overhydration will lead to water intoxication (aka water poisoning), which is when the excess water dilutes electrolytes in your blood. Should sodium levels drop too low, it can also result in a condition called "hyponatremia." Potential risks include disruption to brain and body function, seizures, comas, and even death.
2. How Do You Know When You Need to Drink More Water?
Dehydration manifests itself by way of conspicuous symptoms, including dizziness, dry mouth, and headaches. Should you be feeling even slightly dehydrated, grab the nearest glass or bottle of water and start chugging (responsibly, that is).
Furthermore, you usually know when you're thirsty and you shouldn't ignore what your body is trying to tell you. This is especially true on hot days or after intense workouts, when you're likely to sweat at a higher rate.
If possible, try to hydrate before you even feel thirsty. That's because you want to avoid the slightest semblance of dehydration. Soon after you wake up, you should be kicking off your daily water intake.
3. Is There a Difference Between Thirst and Hydration?
From a technical perspective, thirst and hydration aren't quite the same. Namely, hydration is the process of absorbing water in your body. Thirst is the sensation of wanting or needing more water. Dehydration, meanwhile, is a physiological condition that results when you don't drink enough water.
4. How Can I Determine if I'm Drinking Enough Water?
If you rarely feel thirsty and your urine is either clear or light yellow, there's a good chance you're drinking enough water. Stick to a minimum daily intake of 2 litres, make up for any loss of fluids, and listen to what your body is telling you.
5. What Constitutes "Water?"
Everything from smoothies to sports drinks to coffee to beer delivers water into your system, but they also feature potential drawbacks. For instance, caffeinated beverages and alcoholic drinks can lead to dehydration by causing you to pee out more water than they brought in. As such, they're not a valid source of hydration.
While sports drinks are indeed a source of both water and electrolytes (which can help with absorption), they can also contain excess calories, sugar, and sodium. Approach them in moderation and stick to regular water, for the most part.
How Much Water is Ideal?
At long last, the question of the day: how much water should you drink? The recommended daily intake is about eight glasses of water per day at 8 oz per glass, which roughly translates to 2 litres. However, you should always take other variables into consideration. For instance, a breastfeeding woman should drink about 12 glasses per day to make up for the loss of fluids. By contrast, a 10-year-old boy can probably stick with the recommended intake of 2 litres.
For the sake of simplicity, consider the 8×8 rule as a baseline of sorts. If you generate an excessive amount of sweat or consume a lot of salt, you should probably drink more water per day. On the flip side of that coin, if you're drinking 4 litres of water per day and then running to the bathroom every 10 minutes, you could probably stand to cut back.
In summary, aim for at least 2 litres of water per day and then supplement according to your personal lifestyle. When you feel thirsty, drink up. When you're not thirsty, keep yourself hydrated but don't go overboard. If possible, avoid caffeinated beverages and alcoholic drinks, which can lead to dehydration. Last but not least, use common sense and listen when you're body is talking. And that's how much water to drink.
6 Best Water Bottles in 2020
If you want to stay hydrated all day, the best way is to carry a sturdy, reliable water bottle at all times. Having a compact water bottle on hand not only allows you to take a quick sip whenever you want, but the visual representation will constantly remind you to hydrate. Here is a list of the six best water bottles for staying hydrated.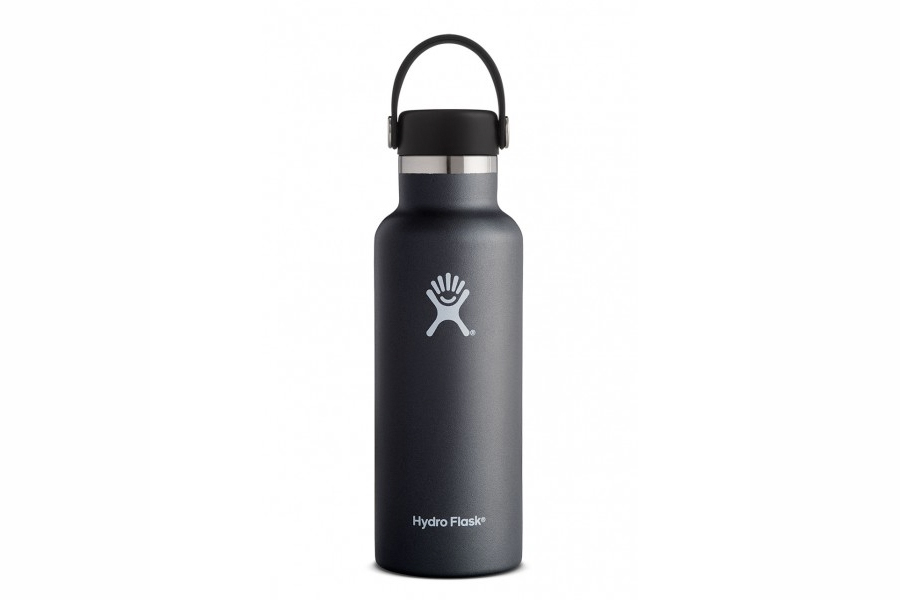 1. Hydroflask 18oz Standard Mouth
Since launching a few years back, Hydroflask has become one of the biggest cultural phenomenons worldwide. Athletes, environmental advocates and VSCO girls (whatever they are) have launched the brand into the stratosphere. The 18oz Standard Mouth features double wall vacuum insulation to keep your water cool for hours.
Price: US$29.95
Liquid capacity: 18oz
Dimensions: 2.87 x 8.7 inches
Water Bottle Material: Stainless steel
Insulated: yes
Weight: 10.7 ounces

2. Pressa Water Bottle System
If you're looking to make your eight glasses of water a little more exciting, the Pressa Water Bottle System is your best bet. With this innovative solution, you can infuse fruits through squeezing. According to Pressa, "this is the only bottle in the market that actually SQUEEZES the fruit out to your water for a burst of flavour." Yum.
Price: US$39.99
Liquid capacity: 24oz
Dimensions: 3.1 x 3.1 x 10.1 inches
Water Bottle Material: Plastic
Weight: 3.6 ounces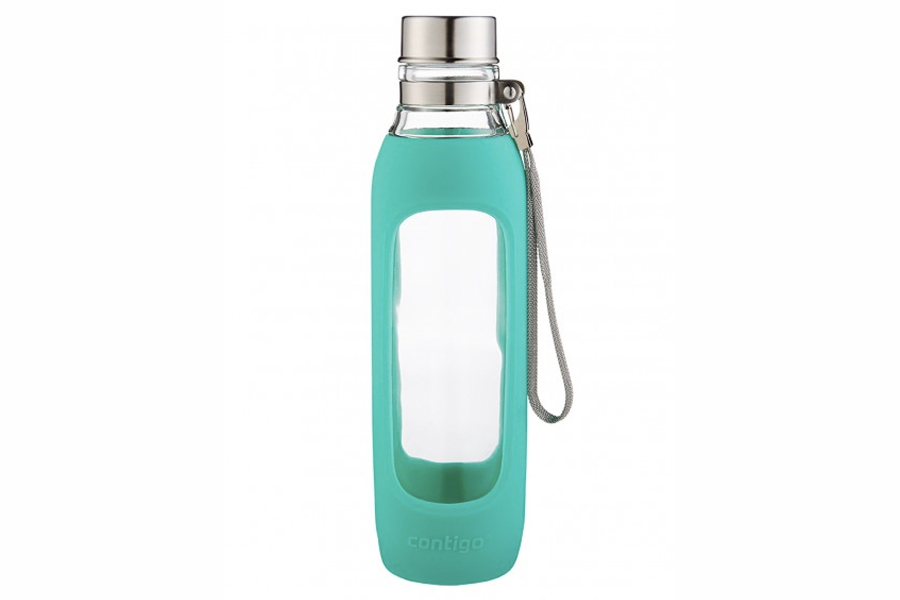 3. Contigo Purity Glass Water Bottle
One of the best things about a glass water bottle is that it doesn't degrade over time, meaning you can use it for life. The Contigo Purity water bottle is a terrific multi-purpose option. light enough to take on a hike and sturdy enough that it won't smash every time you drop it, this one is a great pick-up.
Price: US$14.99
Liquid capacity: 20oz
Dimensions: 3.1 x 10.3 inches
Water Bottle Material: Glass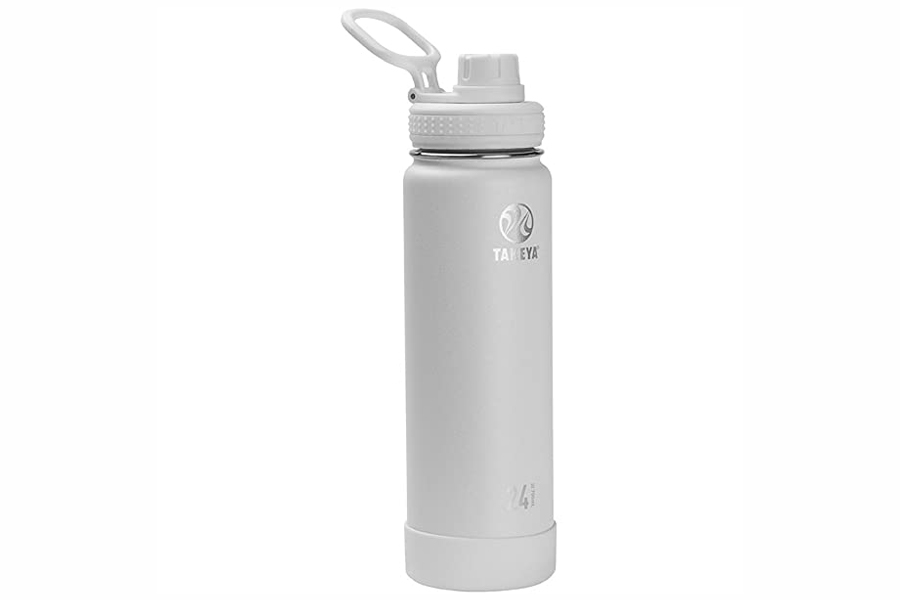 4. Takeya Actives Insulated Water Bottle
This convenient, leak-proof water bottle is a handy addition to any hike or home office. The Takeya Actives Insulated range fits in most cup holders and features the brand's Insulated Spout Lid for easy, controlled, one-handed drinking. Don't leave home without it!
Price: US$32.99
Liquid capacity: 24oz
Dimensions: 3.15 x 3.4 x 10.76 inches
Water Bottle Material: Stainless steel
Weight: 1lb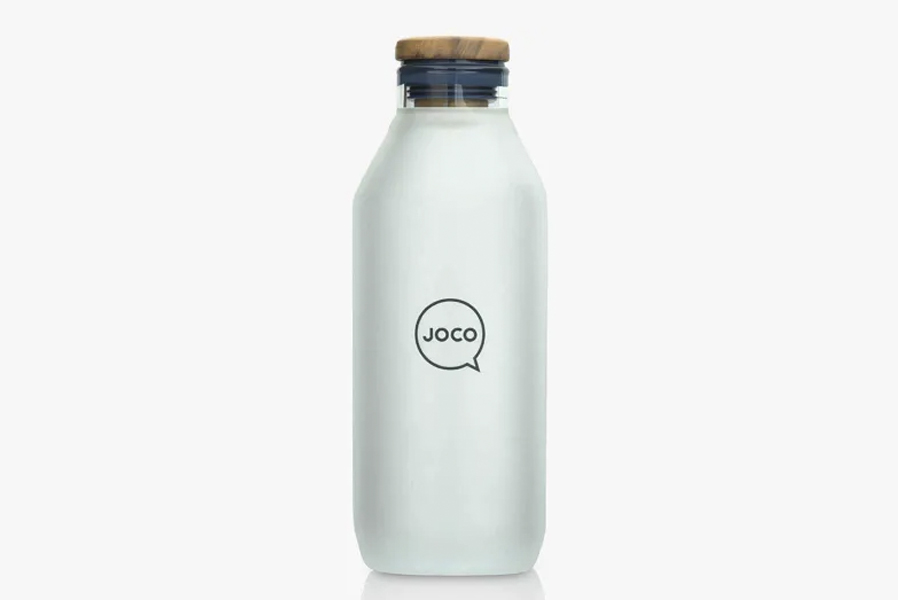 5. JOCO Reusable Water Bottle Neutral
JOCO's water bottles have been engineered and designed to be both stylish and functional. This neutral edition is made from artisan-blown borosilicate glass, so it is ultra-durable and lightweight. The silicone finish that is integrated into the bottle for protection and provides a velvet feel with good grip. Further, the lid is made from antibacterial olive wood with a unique patented seal.
Price: AU$59.95
Liquid capacity: 20oz
Water Bottle Material: Glass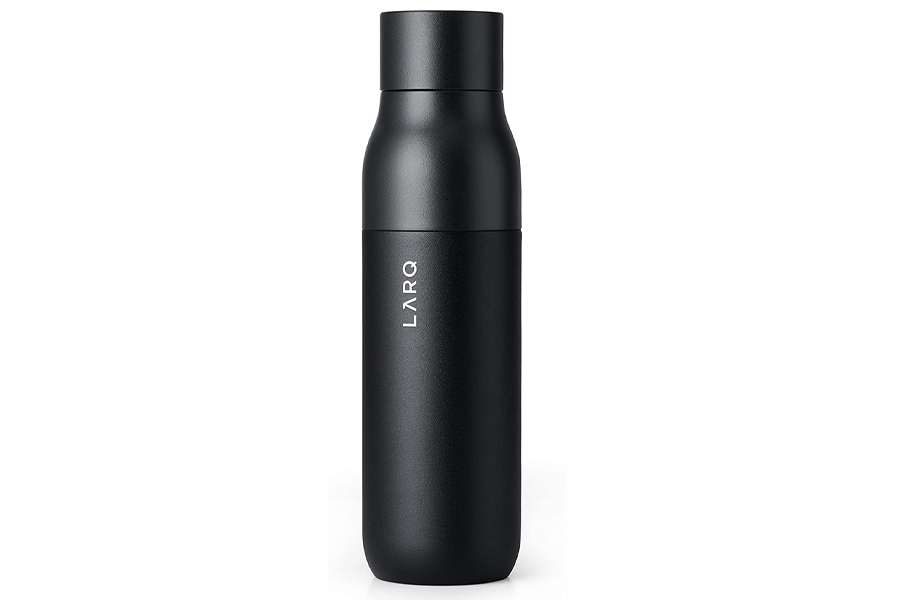 6. LARQ Self-Cleaning Water Bottle with Purifier
The world's first self-cleaning water bottle, the LARQ uses innovative non-toxic mercury-free UV-C LED technology to purify water and clean the inner surfaces of the bottle by eliminating odour-causing bacteria and viruses.
Price: US$95.00
Liquid capacity: 17oz
Water Bottle Material: Glass
General FAQ
Do other liquids count in your water intake?
Sports beverages and fruit juices can deliver water to your system, but they might also contain excess sugars and salt. When hydrating, avoid caffeinated beverages and alcoholic drinks altogether, as they can actually lead to dehydration.
Can water reduce belly fat?
If you practice a healthy diet, exercise regularly, and drink water as a means to reduce your appetite, you might very well lose belly fat.
How long does it take for water to reach the bladder?
For the average human being, it takes about three hours for water to reach the bladder.
You'll also like:
10 Best Shoulder Exercises for Men
10 Best Core Exercises for Men
34 Best Bodyweight Exercises for Men