Dentophobia: How To Get Over Your Fear of Going to the Dentist
In light of  Dental Health Week this week (5 – 11 August), we had a chat with Dr Rick Iskandar, a Philips Sonicare ambassador and principal dentist at Tailored Teeth to discuss dentophobia and how you can get over your fear of going to the dentist.
Before we jump in, let's first look at what exactly "dentophobia" is.
What is Dentophobia?
In plain and simple English, dentophobia is the fear of dentists, or the fear of going to the dentist. Dentophobia is also known as dental anxiety or odontophobia and basically, it comes down to individuals being extremely or perhaps even irrationally scared of visiting the dentist.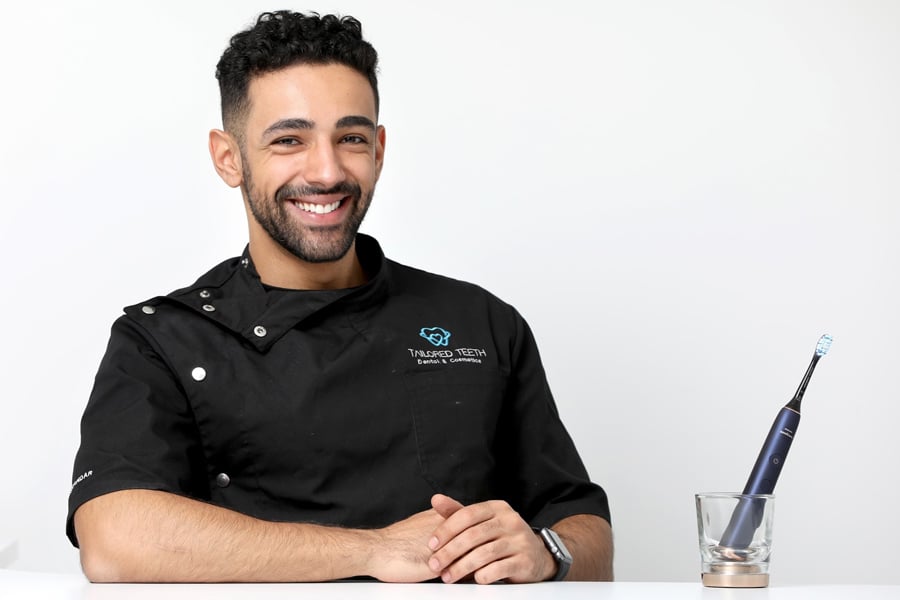 Dr Rick Iskandar's Background Story
"As a young lad, I had a smile I wasn't especially proud of; a gap between my front teeth was something I was often picked on for and it had a profound impact on my confidence in smiling throughout school. I had it fixed during my late teenage years and it revolutionised my self-esteem; I instantly realised the power of a confident smile. After finishing school, I studied a Bachelor of Dental Science at the University of Queensland where I graduated with honours in 2014."
Where is the Future of Dentistry Heading?
"The future of dentistry is well and truly here right now. The days of uncomfortable, traumatic visits to the dentist have been made obsolete by the significant advancements in the effectiveness of dental products and techniques such as local anaesthetics and digital dentistry. The public's demand for a higher level of service from their most frequently visited health professional also means it is not uncommon to find outrageously comfy dental chairs and Netflix on the ceiling in many practices nowadays."
Let's Discuss Dentophobia: How Real is it and How Many Australians have Dentophobia?
"I see dentally phobic and anxious patients on a daily basis in my practice, not to mention all those too afraid to even make it out to the clinic – the fear is very real and very common. According to the ABS National Health Survey, more than one-quarter of the population has not been to the dentist in the past two years. For those avoiding the dentist because of their phobia, unfortunately, it's a catch-22; the longer that seeking professional advice is avoided, the more likely significant dental disease is to develop, the more pain and anxiety becomes associated with your dental health."
How to Get Over Your Fear of Going to the Dentist and Overcome Dentophobia?
"As with any other phobia, gradual exposure is the best way to move past dental fear and anxiety. Start by putting a face to your fears; many dentists are beginning to create content around oral health and dentistry, even posting live stories with patients about treatments being performed. Get to know a dentist near you by following their social feeds and you'll be able to get a good idea if you're comfortable with them before you even walk into their surgery. I'm always thrilled when a new patient tells me they've been watching my videos and it's what made them come in to see me!
For patients who have had bad experiences in the past and no longer feel comfortable with your dentist, find a new one. It's important to have a positive relationship with your dental team because regular contact in an open and trusting relationship allows for easy early detection of problems and facilitates a preventative approach to dental care."
How important are Regular Dental Health Check-ups?
"Regular dental check-ups and professional cleans are important for more than just to keep your teeth and gums healthy. Your dentist is able to see and clean your mouth much more completely and thoroughly than you can on your own. We can also really help with detecting and treating the early warning signs of dental problems like gum disease or cracked tooth syndrome, encouraging preventative care, rather than fixing problems as they arise.
What many people don't realise is that dentists can also be the first people to detect systemic disease such as diabetes, sleep apnoea and oral cancer, and can also identify lifestyle disease such as poor stress management and sleep hygiene, which contribute to chronic anxiety. These issues can be detected and treated early by attending regular dental health check-ups with a good dental team.
The advice and instruction received in dental check-ups can also have a huge impact on dental and overall health. Dietary counselling is a part of our job, as is teaching you how to properly take care of your teeth and gums. From consuming food and beverages that are low in acid to perfecting your brushing technique and investing in the best dental technology, there is a lot we can do to help maintain our oral health."
Tips for At-Home Dental Care?
"One great tip I can guarantee will kick your oral hygiene game up a notch is the Philips Sonicare DiamondClean Smart – it's proven to remove 10 times more plaque than a manual toothbrush, and combines best-in-class cleaning technology with an array of sensors and an app for live feedback to easily optimise your brushing technique."
How Can Good Oral Healthcare Impact Your Overall Health and Wellbeing?
"Poor oral health has been linked to a number of severe systemic diseases. Periodontitis, or gum disease, has been shown to be associated with an increased incidence of heart disease, diabetes and recently has been linked with degeneration of the brain in Alzheimer's disease.
On the other hand, good oral health is a cornerstone of good overall health and wellbeing at every stage of life. A healthy mouth enables not facilitates nutrition of the physical body but also enhances social interaction and promotes positive self-image and self-esteem.
If you've drifted off the pearly white path, don't fret, and don't procrastinate any longer, get in touch with a dental team you feel comfortable trusting with your oral health and regain confidence in your smile."