13 Best Gin Bars in Sydney
Why stay in when you can soak up the serenity and spirit at Sydney's best gin bars? Indeed, the last few years have seen a slew of additions to Sydney's already thriving small-bar culture and that includes some of the best juniper-laden libations anywhere in the country. From bespoke distillery cellar doors to the intimate late-night spots ideal for a date night, the best gin bars in Sydney are a delightfully mixed bag of fun, flavours and festive cheer. Here are the bars you need to know about.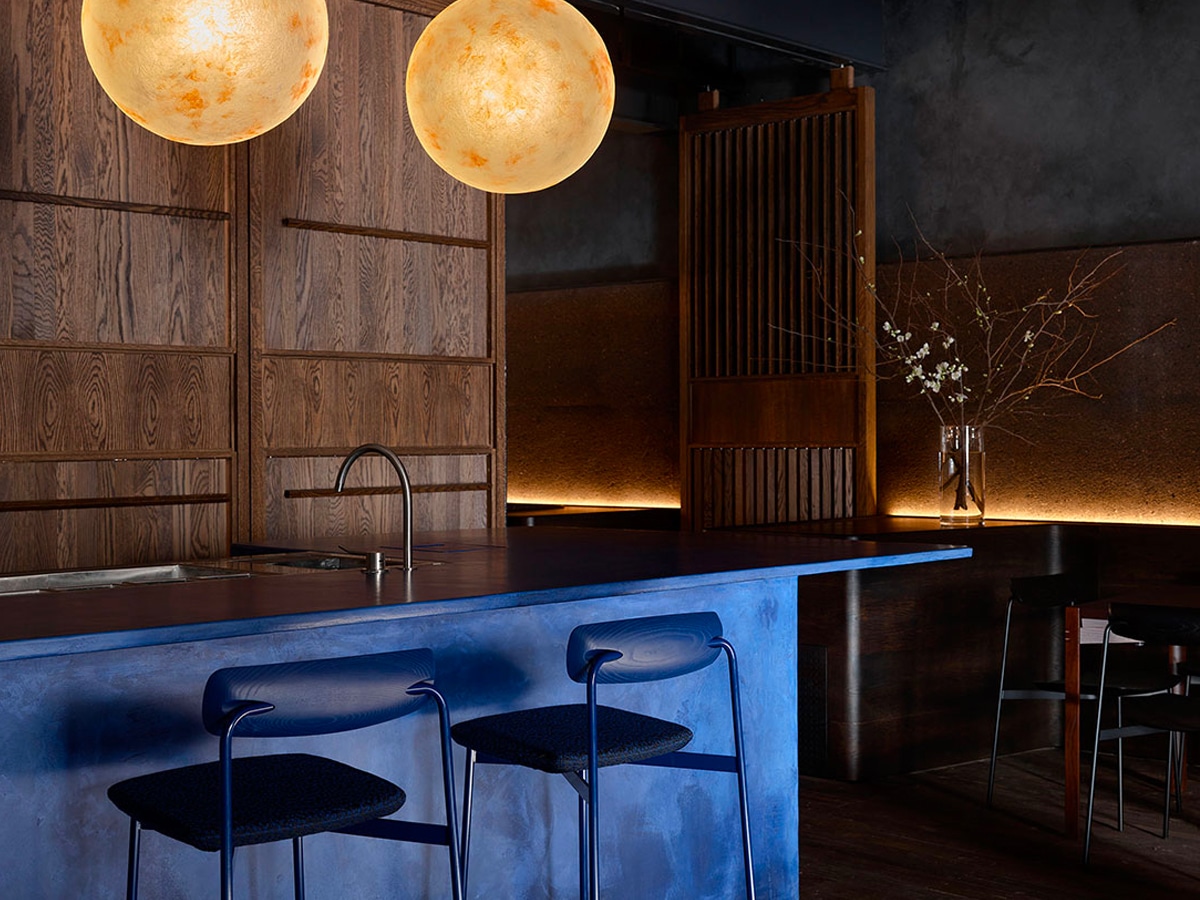 1. Four Pillars Gin Lab
Found in the Bussell Brothers building on Surry Hills' iconic Crown Street, the Four Pillars Lab is everything you could want in a gin bar and so much more. Complete with Eileen's Cocktail Bar, a Gin Lab featuring an experimental still and a Gin Shop, this inner-city spot is the perfect place to start or finish a night. Open the discreet sidestreet door and climb the stairs to find a stunning asymmetrical, Juniper Blue concrete bar with 20 stools for the best view of the action. Best of all, expert mixologist James Irvine has created a drinks menu of gin classics and modern masterpieces using the full Four Pillars family of gins, with a range of snacks designed by Made From Gin maestro Matt Wilkinson and a curated selection of beer, cider and wine.
Service options: Dine-in · No-contact delivery
Address: 410 Crown St, Surry Hills NSW 2010
Hours: Wed-Thurs: 5pm-12am, Fri-Sun: 3pm-12am
Phone: (02) 9062 8430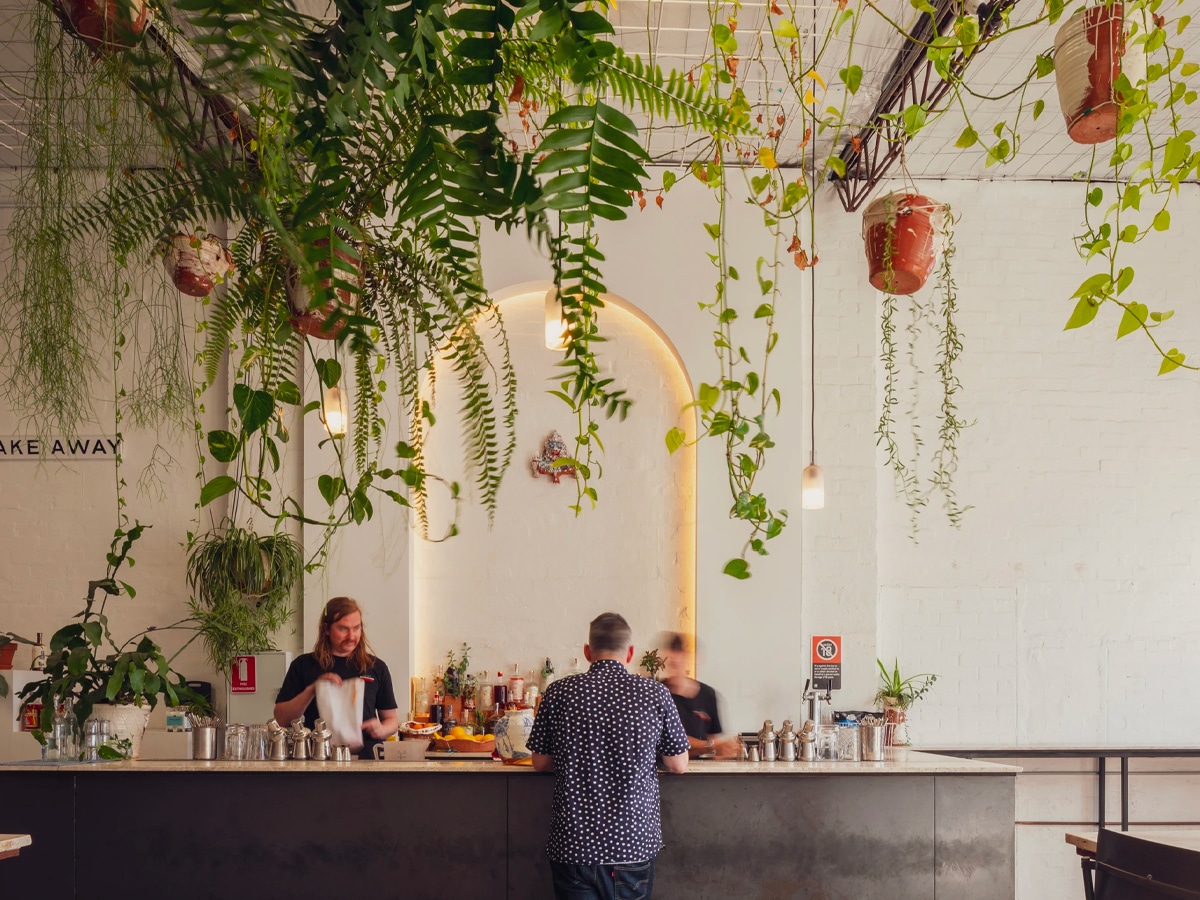 2. Poor Toms Gin Hall
A gin bar in a converted Marrickville warehouse? What could be better? Tucked behind a corrugated roller door amidst a motorcycle repair shop and a metal stamp factory, the Poor Toms Gin Hall is emblazoned with white walls and a backlit archway. With room for about 30 stools, the Gin Hall plays host to three house gins, each offered in a classic gin and tonic (paired with a specific tonic water), shaken in a martini, or fashioned into a changing line-up of cocktails.
Address: 6 Chalder Ave, Marrickville NSW 2204
Hours: Mon-Sat: 12pm–5pm
Phone: (02) 9557 2282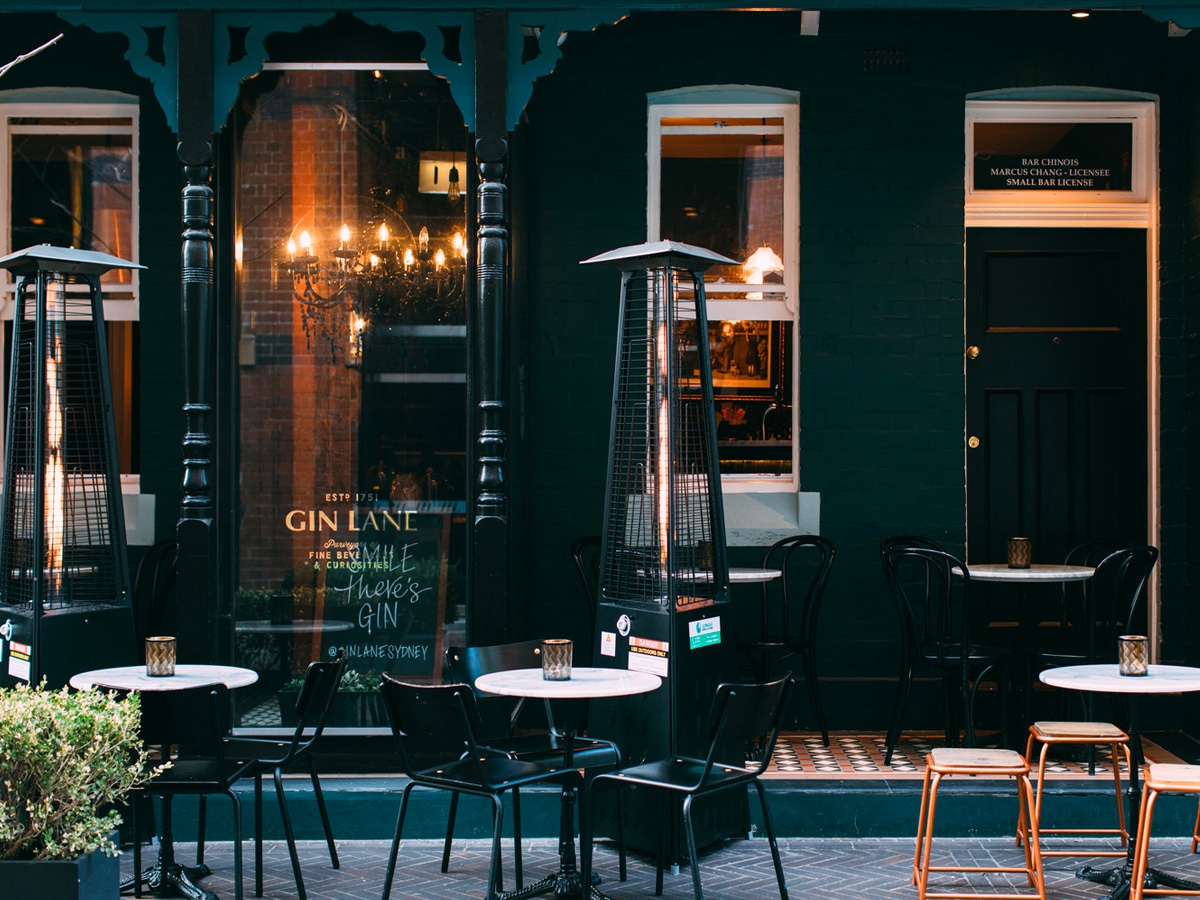 3. Gin Lane
Located right in the midst of Chippendale's buzzing Kensington Street, Gin Lane is an upper-class spot perfect for date night. Referencing the iconic Gin Lane print by English artist William Hogarth, this hotspot is an intimate space to eat, drink and enjoy great company.
---
Featured Video from Man of Many
---
Address: 16A Kensington St, Chippendale NSW 2008
Hours: Tues-Thurs: 5pm–10pm, Fri-Sat: 4pm–12am, Sun: 4pm-8pm
Phone: 0415 122 113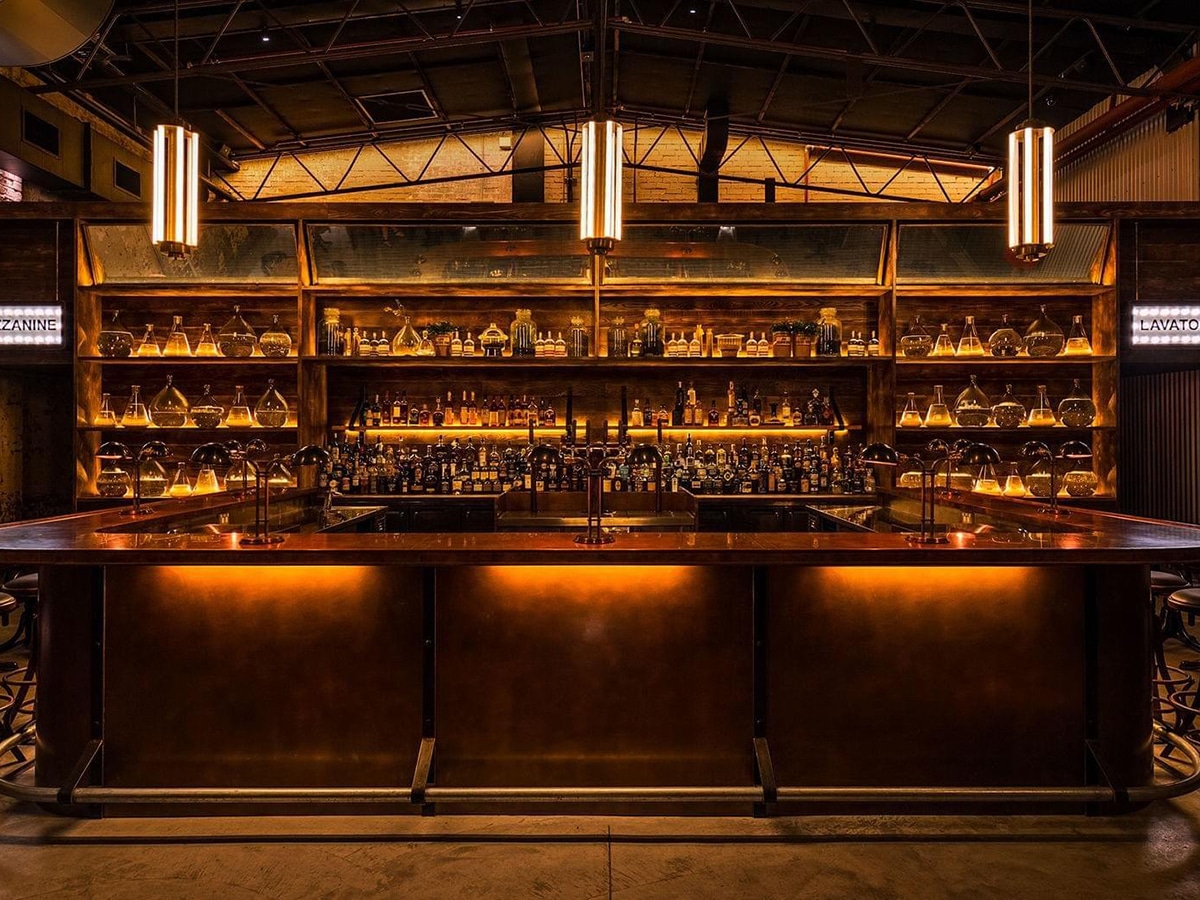 4. Archie Rose Distilling Co
Housed in the industrial area-cum-urban hangout that is Rosebery, Archie Rose Distilling Co is one of Sydney's more adventurous business ventures, and for owner Will Edwards, it seems the gamble has paid off. While they craft a range of spirits, and have laid down whiskies to be enjoyed in some time, their Signature Dry Gin takes pride of place as the star of the show, and the fresh, citrusy flavours complemented with peppery mid-notes are perfectly lent to an ice-cold martini. That alone (and so much more) makes this one of Sydney's best gin bars.
Address: 85 Dunning Ave, Rosebery
Phone: +61 2 8458 2300
Trading hours: Wed-Thu 4:30pm-11pm, Fri 4:30pm-11:30pm, Sat 12pm-11:30pm, Sun 12pm-10pm
5. Bondi Liquor Co.
One of the newest gin bars in Sydney, Bondi Liquor Co. is unlike anything else. Light and airy to match its beachside setting, the hotspot drops the dark and dingy for something a little bit more fun. Better suited to the afternoon session than the late-night drinks, Bondi Liquor Co. is the Sydney gin bar for people who aren't sure if they like gin. Spoiler alert: They do.
Address: 15 O'Brien St, Bondi Beach NSW 2026
Hours: Thurs-Fri: 4pm–10pm, Sat: 2pm–10pm, Sun: 2pm-9pm
Phone: (02) 8970 1617
You'll also like:
16 Best Australian Gins for the Tonic of Your Dreams
17 Best Gin Bars in Melbourne
Never Never Distilling Co's Sean Baxter on New Aussie Gin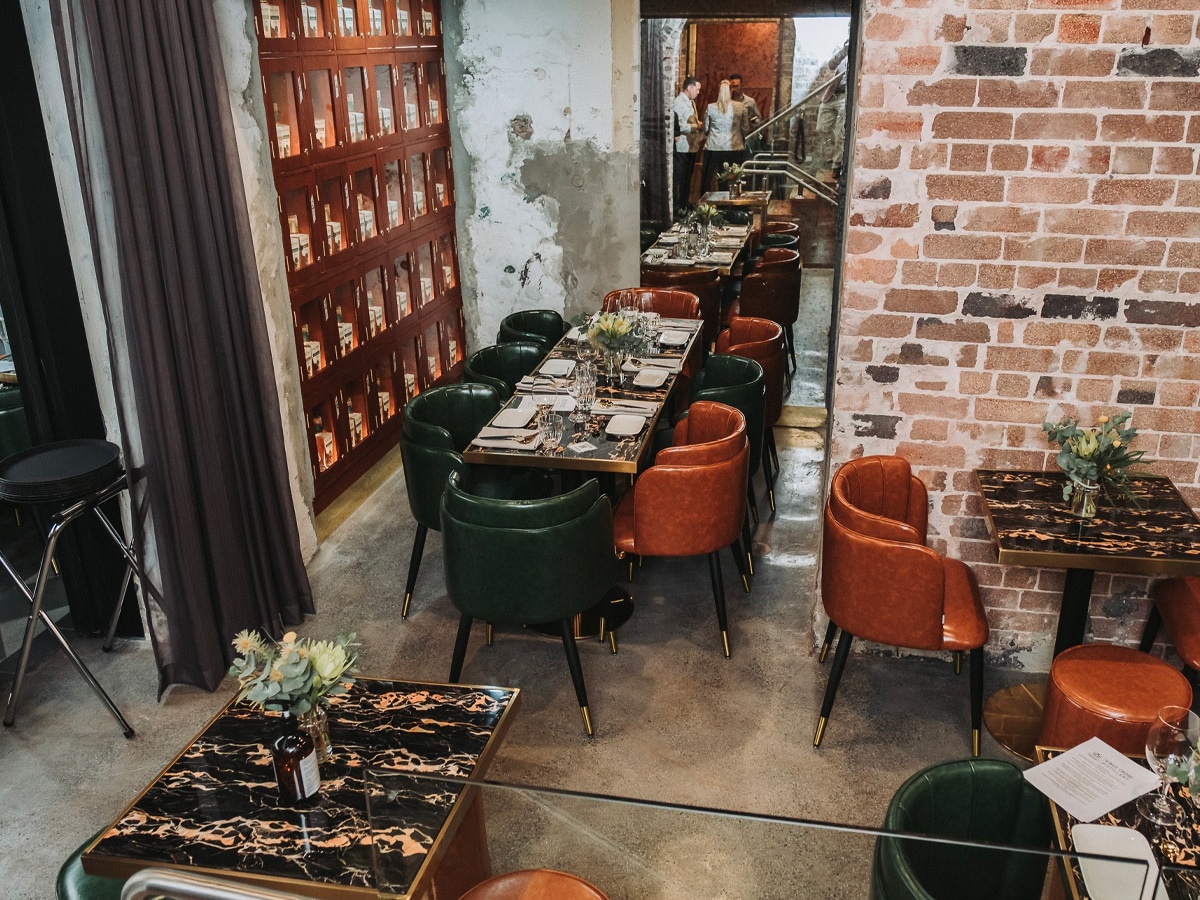 6. Kings Cross Distillery
Nestled between the Macleay Street and the chic laneway of Llankelly Place, Kings Cross Distillery in Potts Point has been steadily growing a reputation. With rustic and stripped-back decor, the Sydney gin bar features exposed brick walls and polished concrete floors, contrasted by lavish gold details that transport you back to the speakeasies of the 1920s. Home-grown flavours in a lavish setting? Sounds like a good night out to us.
Address: Shop 8, Ground Floor/127-133 Macleay St, Potts Point NSW 2011
Hours: Thurs-Sun: 4:30pm–12am
Phone: (02) 9062 8222
7. Stillery
Housed in the infamous Intercontinental, Double Bay, Stillery is the city's newest tip-of-the-hat to the juniper-flavoured spirit with which we're all obsessed. That makes this relative newcomer one of the Sydney's best gin bars right out of the gate. Sparkling bottles line the opulent back bar, and well-dressed bartenders stir and shake a plethora of gin-heavy concoctions, from perfect martinis to their own modern twists on classics, and house cocktails. The food's pretty good too – charcuterie and shared dishes, or, if you're game, they offer high-tea and/or high martini sittings. We'll drink to that.
Address: 33 Cross St, Double Bay
Phone: +61 2 8388 8388
Trading hours: Dining 12pm-late; bar 11am-late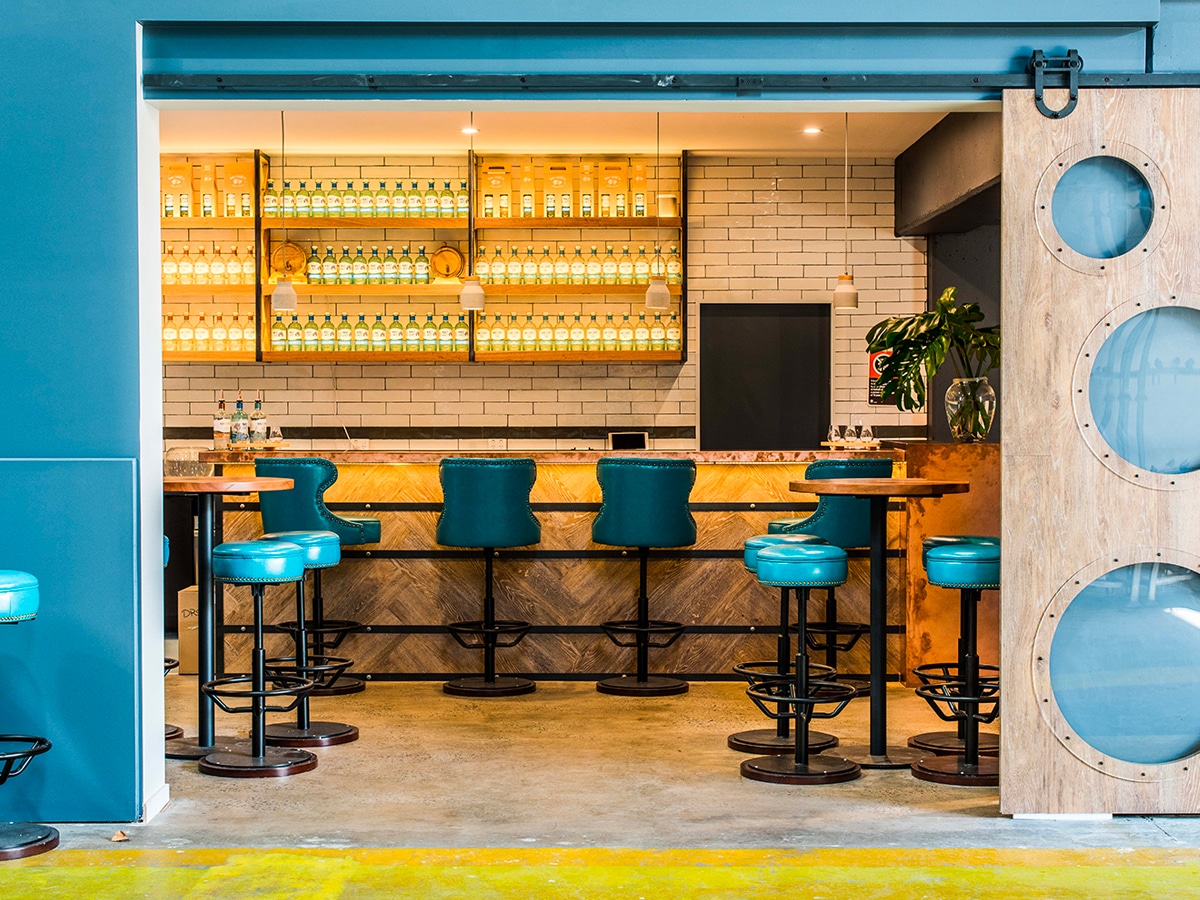 8. Manly Spirits Co. Distillery
Admittedly, the Manly Spirits Co. Distillery is a little outside the Sydney scope, but if you're willing to travel up north, you're in for a treat. Settle in for an afternoon amongst copper, whisky barrels and steampunk stills as you sip the freshest gin in Sydney.
Address: Winbourne Industrial Estate, 4A/9-13 Winbourne Rd, Brookvale NSW 2100
Hours: Mon-Wed: 8:30am–5pm, Thurs-Fri: 8:30am–10pm, Sat: 12pm-10pm, Sun: 12pm-6pm
Phone: (02) 8018 5144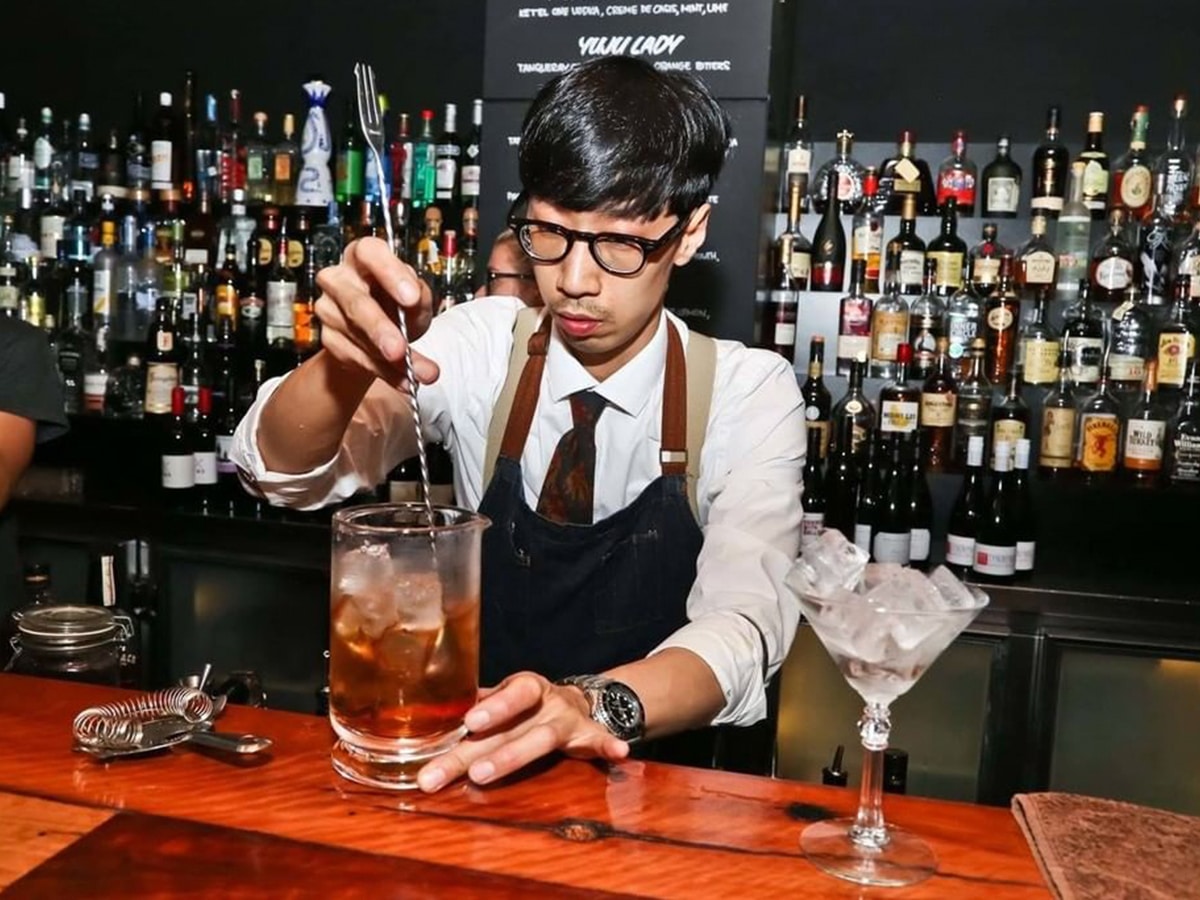 9. Middlebar
Home to superb craft cocktails, mixed drinks on tap and Spanish style gin and tonics, Middlebar handily sustains a delectable, festive vibe. In other words: flavour and fun live here. For those seeking a best Sydney gin bar experience, locate the backbar and explore an impressive variety of your favourite boozy botanicals.
Address: Level 2, 383 Bourke St, Taylor Square
Phone: +61 2 8080 7060
Trading hours: Fri 12pm-3pm & 5pm-3am, Sat 5pm-12am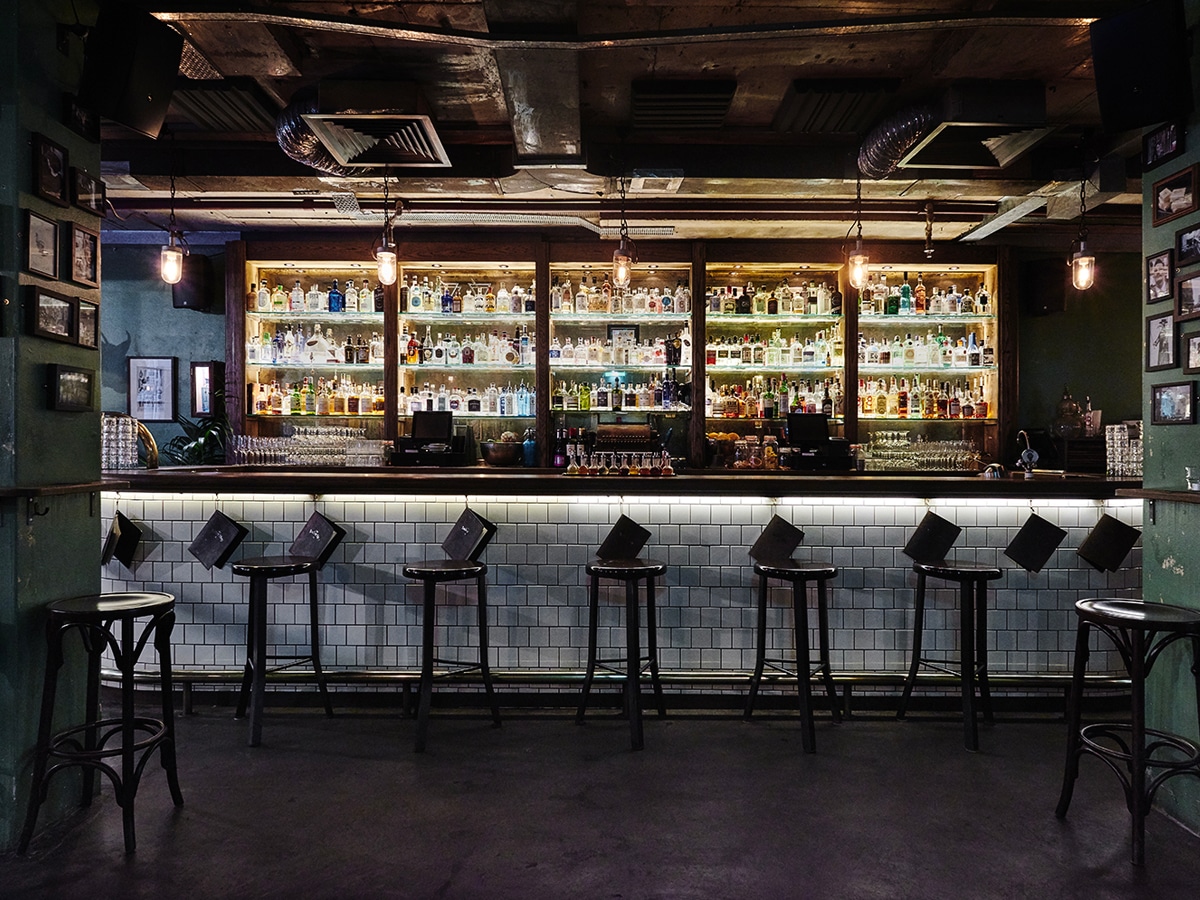 10. The Barber Shop
As the brainchild of English-born, Sydney-adopted liquor industry hero Mikey Enright, the expectation for The Barber Shop to be amazing was always going to be pretty high. Luckily for Enright, it's never fallen short of the perfect place to plonk yourself down on a stool and get an education in botanicals. Knowledgable bartenders, a huge menu and a stylish room all combine to make The Barber Shop rated as one of Sydney's best gin bars. The best bit though? You can actually get a haircut.
Address: 89 York St, Sydney
Phone: +61 2 9299 9699
Trading hours: Tue-Sat 10am-12am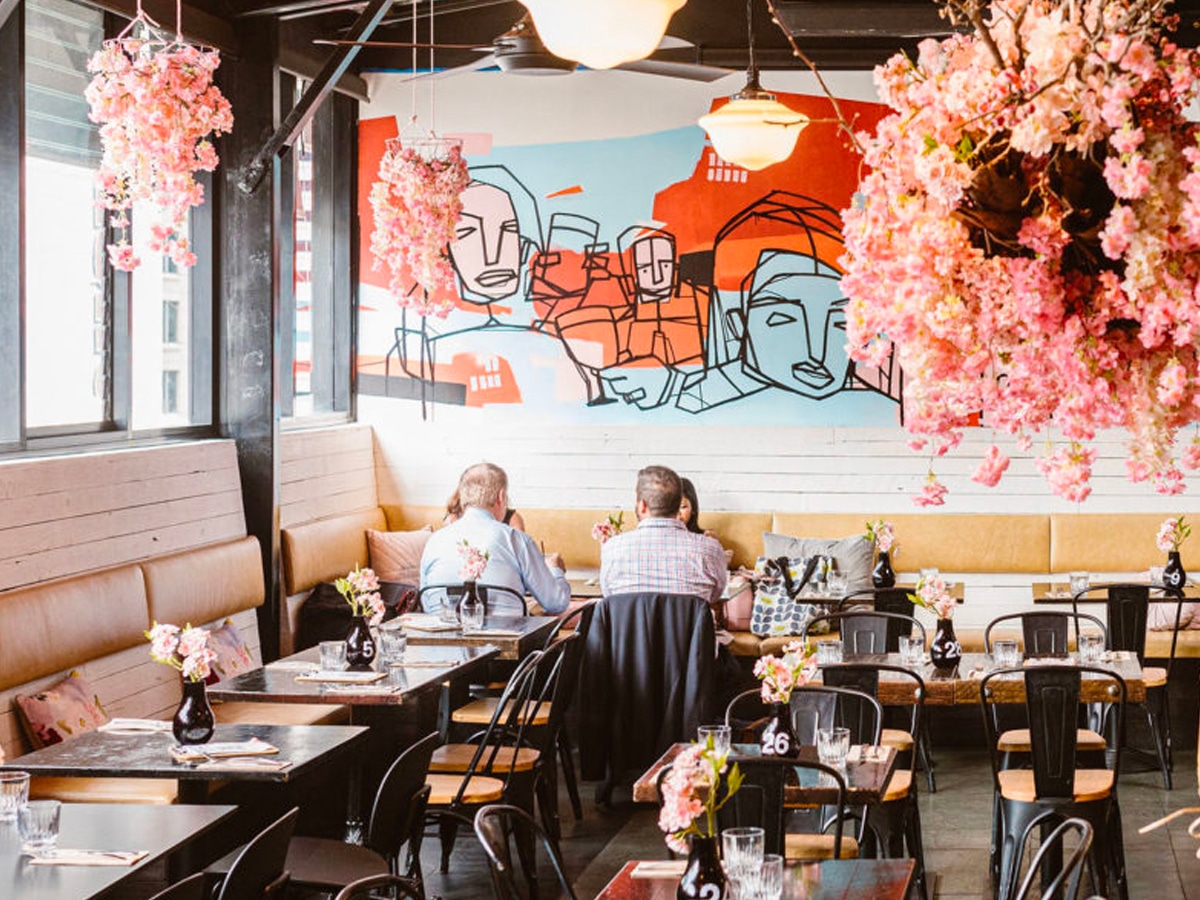 11. The Rook
Up an unassuming elevator on York St is one of Sydney's best gin bars, and furthermore a prime destinations for cocktails of all varieties. The place also has the added advantage of fresh lobster on the menu, so you can dine on oceanic delicacies while getting your martini made just the way you like it. Located on the rooftop, The Rook overlooks the busy street below, and is a favourite for Sydneysiders and cluey travellers alike.
Address: Level 7, 56-58 York St Sydney
Phone: +61 2 8322 2008
Trading hours: Wed-Thu 12pm-9pm, Fri 12pm-10pm, Sat 11:30am-10pm
MR PORTER x Glenfiddich 20-Year-Old Single Malt Info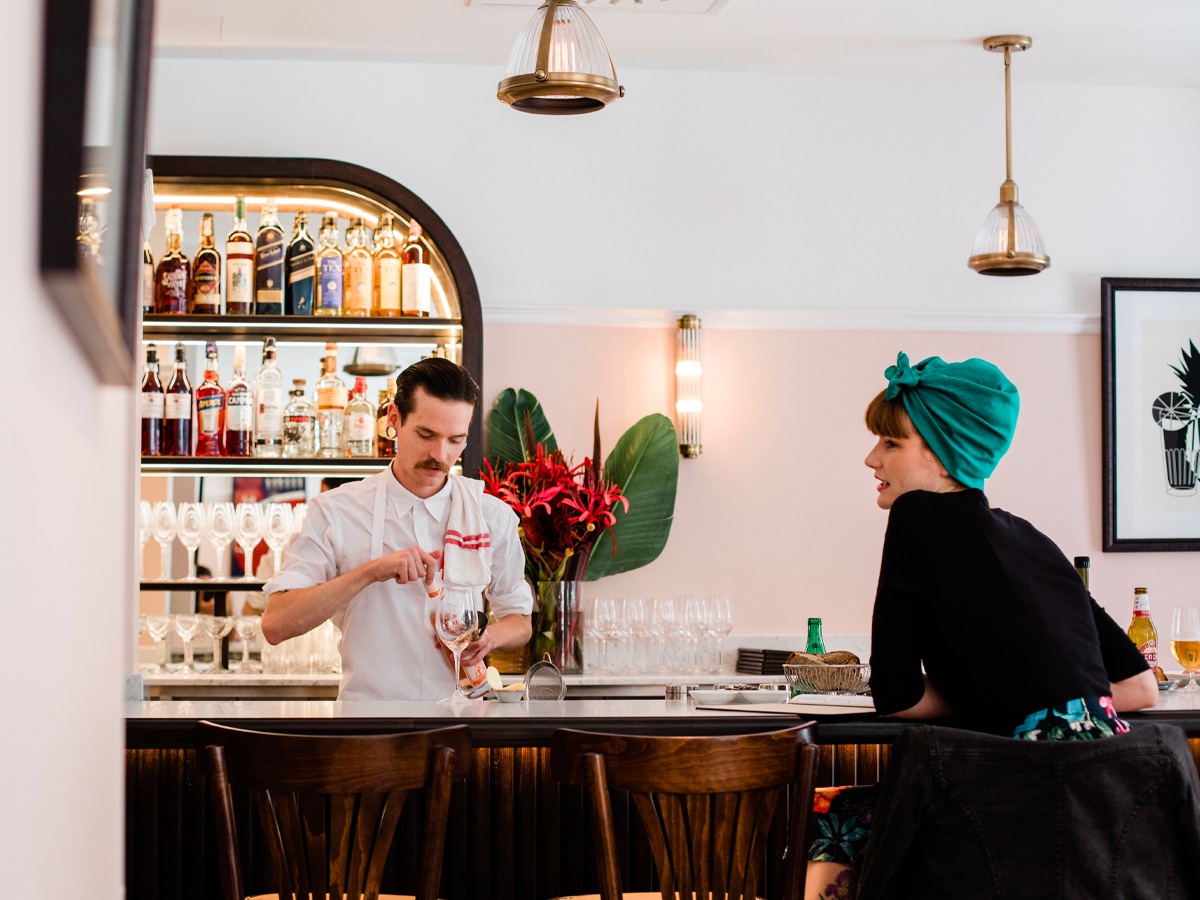 12. Continental Delicatessen
Technically not a Sydney gin bar per se, we've included this one on the list because any self-respecting gin lover has to make it here at some stage to the instant legend that is their Mar-Tinny. Tanqueray, Lillet Blanc and a touch of water are cleverly canned and stuck on ice, ready to rock-and-roll at the pull of a ring when it's time for a drink. Probably the most Instagrammable drink the city's ever seen, they're garnished with plump house-made green olives, and one is definitely not enough.
Address: 210 Australia St, Newtown
Phone: +612 8624 3131
Trading hours: 7 days a week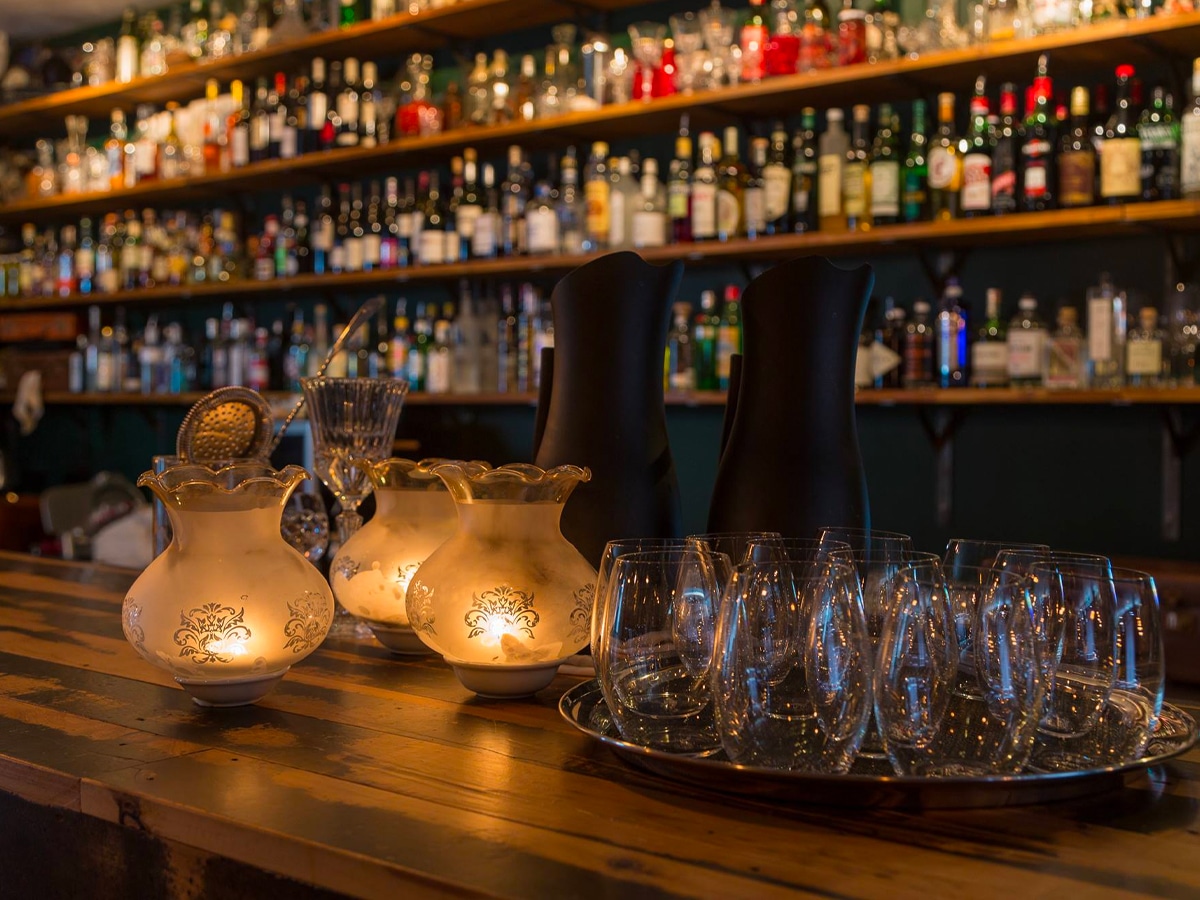 13. Moya's Juniper Lounge
While Maya's Juniper Lounge is a relative newcomer to Redfern, an unmistakably vintage interior gives it immediate living relic status. Come here to indulge your botanical palate to its fullest potential. That means a slew of delicious old world cocktails and an epic gin menu as diverse and wonderful as the spirit itself. The name alone tells you this is one of the best gin bars in Sydney and beyond.
Address: 101 Regent St, Redfern NSW 2016
Phone: +61 2 8033 3455
Trading hours: Tue-Sat 4pm-12am, Sun 4pm-10pm
You'll also like:
16 Best Australian Gins for the Tonic of Your Dreams
17 Best Gin Bars in Melbourne
Never Never Distilling Co's Sean Baxter on New Aussie Gin
General FAQ
Are there any gin bars in Newtown in Sydney?
A couple of great gin bars in Newtown are Blacksheep and Continental Delicatessen
What are the best gin bars in Sydney?
A few of the best gin bars in Sydney are Stillery, The Barber Shop, Little Fish, and Middlebar.
---
Featured Video from Man of Many