The GlenDronach Releases an Aged 50 Years Single Malt Scotch Whisky
Plying their craft in the Scottish Highlands since 1826, The GlenDronach have survived various obstacles and even a short-lived closure from 1996 to 2002. Disruptions notwithstanding, the distillery's commitment to quality has remained absolutely steadfast and so too has their signature flavour profile. No one has mastered the art of sherry cask maturation quite like these folks, hence their thriving reputation. Even readily accessible statements like the 12-Year and 15-Year deliver a perfect balance between traditional barley and lip-smacking sherry sweetness, with a robust amber colour to match. Devoted followers feel spoiled with every sip, as though these dense and complex flavours couldn't possibly come as the result of an all-natural process. But they do.
Most recently, The GlenDronach debuted their rarest expression to date. After sitting in rare Pedro Ximénez and Oloroso sherry casks for five decades, The GlenDronach Aged 50 Years was then married for final maturation in a single Pedro Ximénez cask. Master Blender Rachel Barrie hand-selected only a small number of casks for the last leg of this insanely long journey, with just 198 bottles to show for it. Inside each one is a single malt of impeccably rich and boldly uncompromising character, featuring nuanced layers of stone fruit, creme brulee, nuts, and bitter chocolate, with oaky undertones and subtle hints of grain.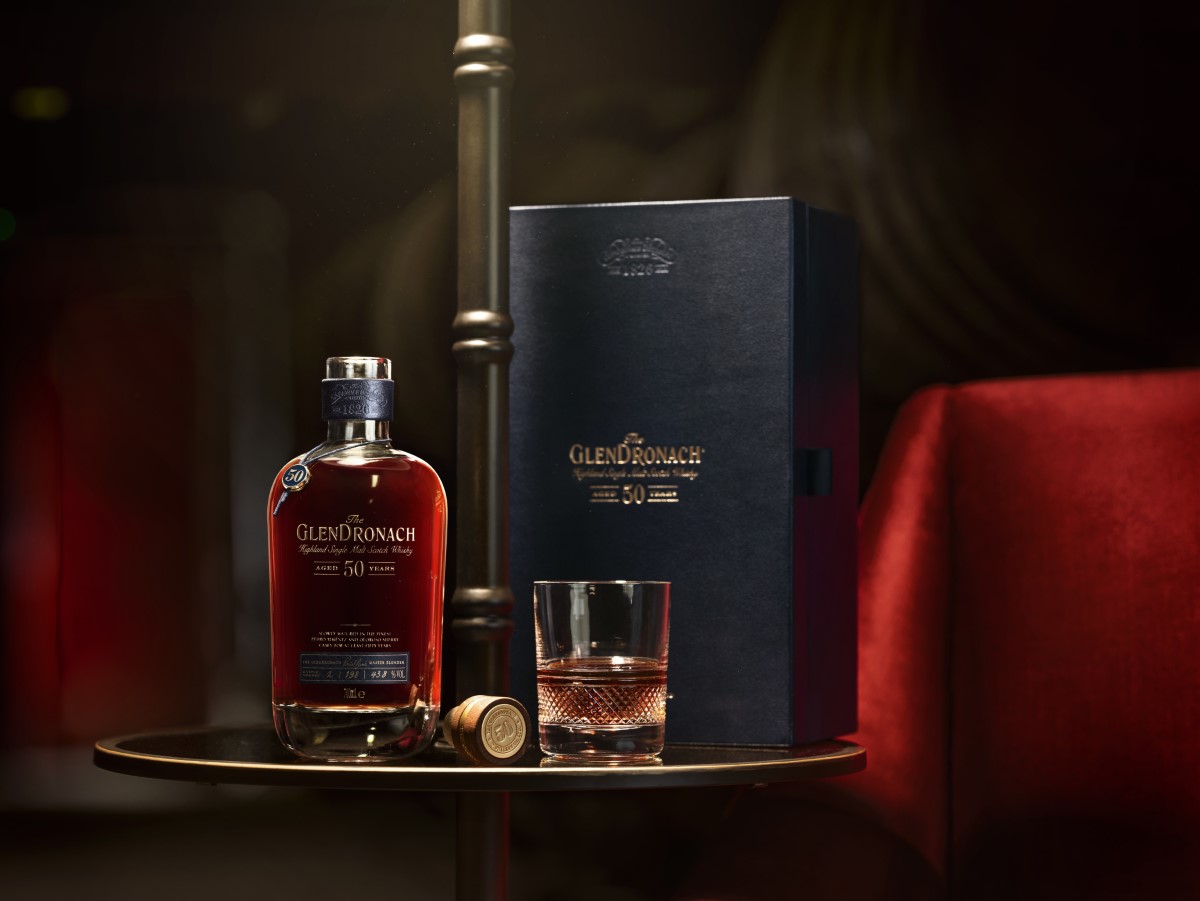 Being resolute fans of this iconic distillery, we leaped at the chance to try this rarest of rare expressions. The virtual event took place on 18 January with Barrie herself as host. To call it a tasting for the ages might sound a bit too on-the-nose (pardon all these whisky puns), but it was seriously one we'll never forget. Regarding the whisky's careful production and limited release, Barrie said the following:
"The GlenDronach Aged 50 Years is the most prestigious expression of what this timeless, richly-sherried Highland Single Malt Scotch Whisky has to offer.
"At 50 Years Old, it is exceptionally rich and seductive, with mellow layers of alluring complexity. On the nose, ripe dark cherry and plum are the preludes to the harmony of rolling stone fruit, while the palate brings an exquisite overture of flavour with dense undertones of dark chocolate, tobacco, and cocoa.
"It has been a privilege to be the final custodian of our oldest expression to date, passed down through generations. The result is a hand-crafted Highland Single Malt that tells a story of rare dedication, of which The GlenDronach Aged 50 Years is the rarest of them all."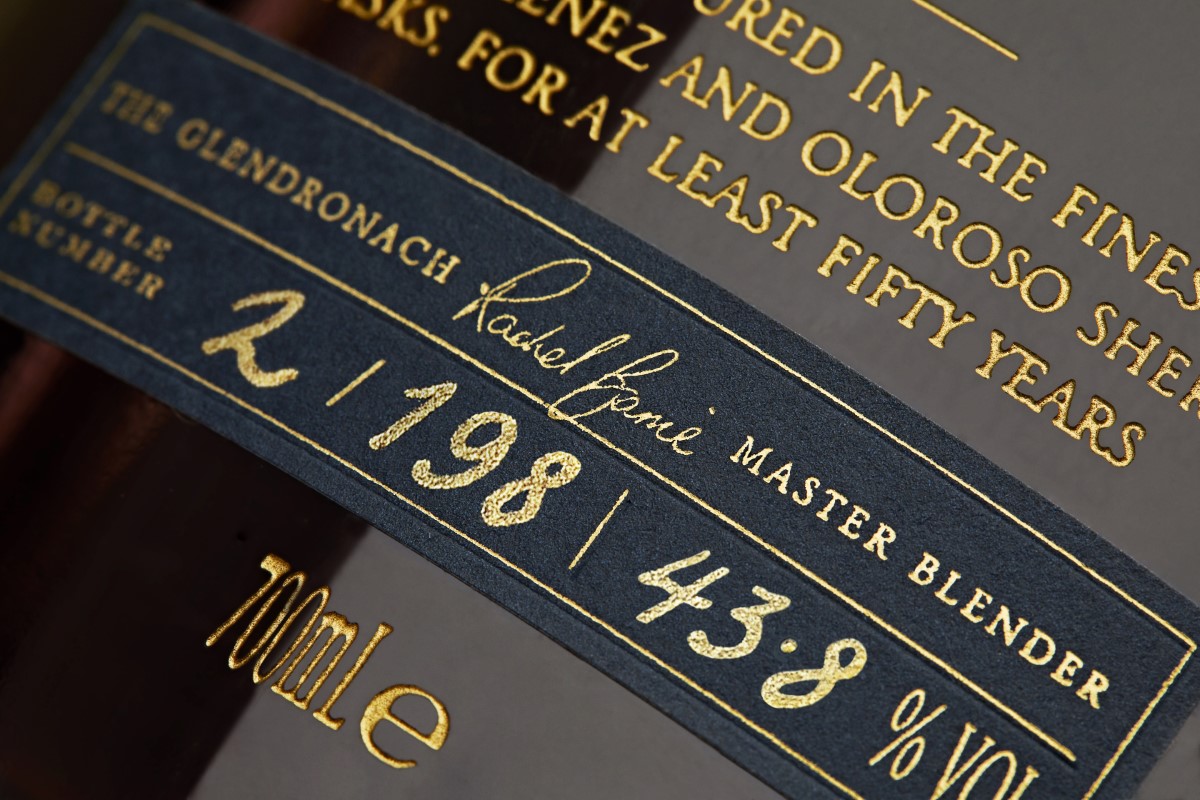 ---
Featured Video from Man of Many
---
As we stated above, The GlenDronach has undergone no shortage of obstacles over the past century, including temporary closures, brutal Highland winters, and occasional floods. All the while, this particular whisky rested and aged within the distillery's dunnage warehouse (which is reportedly haunted by a Spanish ghost). Its very existence thereby doubles as a story of harrowing survival, simultaneously honouring the master custodians who devoted their lives to its protection and nurturement. One can practically infer as much at the first glimpse of its impossibly deep mahogany colour or the first whiff of its thick, complex aroma.
Speaking of the nose, it's oaky in character and further punctuated by notes of sherry, dark chocolate, tobacco, ripe stone fruit, and light citrus accents. The taste is rich and dense and reminiscent of an aged sherry of ultra-premium dark rum, retaining a digestif or dessert-like quality. Thick undertones of dark chocolate and tobacco are quickly counterbalanced by luscious plum, creme brulee, and dark cherry, all of it wrapped within a womb of silky espresso. Dark cherry and bitter chocolate ride through to the finish, which trails out on notes of coffee and burnt sugar.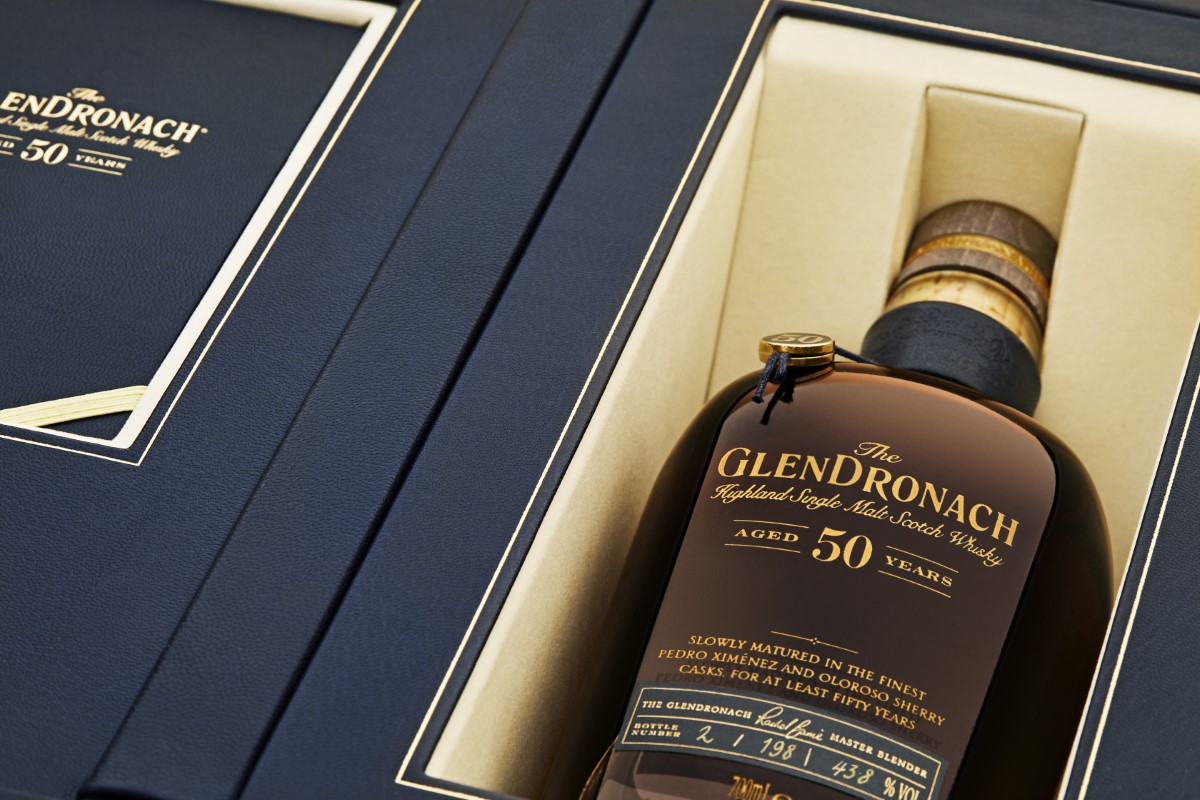 As one might expect from a whisky of this age, the texture is as much a part of the experience as the taste. The GlenDronach Aged 50 Years is deep in every sense of the concept and all the more complex as a result. This is the kind of dense body that you practically chew your way through in search of additional flavours, finding them in spades. No two sips are exactly the same and we imagine there's a similar dynamism at play between any two given bottles. Yet the underlying identity remains completely consistent and intact, reminding you that this rich spirit could come from no other distillery in the world. The GlenDronach have dialed up all their signature flavours and textures without resorting to overkill, which is all the more impressive when you consider that achingly long maturation period.
Will The GlenDronach Aged 50 Years cost you a pretty penny? Naturally. But you'll get something truly rare and special in return. It's bottled at a natural cask strength of 43.8% ABV and presented in a luxurious, genuine leather case. Each case comes with an embossed leather booklet, which details tasting notes and provides an overview of the distillery's history and production methods. Lucky owners will soon gaze upon the spirit's all-natural colour of mahogany chestnut, so bold that they can practically smell and taste this whisky without opening the bottle. One might be tempted to keep the bottle sealed for investment purposes, but we wouldn't be able to resist cracking it open and savouring every last drop.
Bottle No. 1 of The GlenDronach Aged 50 Years was donated to the inaugural Distillers' One of One Auction in December 2021, raising £40,000 in support of disadvantaged young people in Scotland. Additional hand-numbered bottles are available to purchase from selected specialist retailers worldwide and from The GlenDronach Distillery (global markets may vary).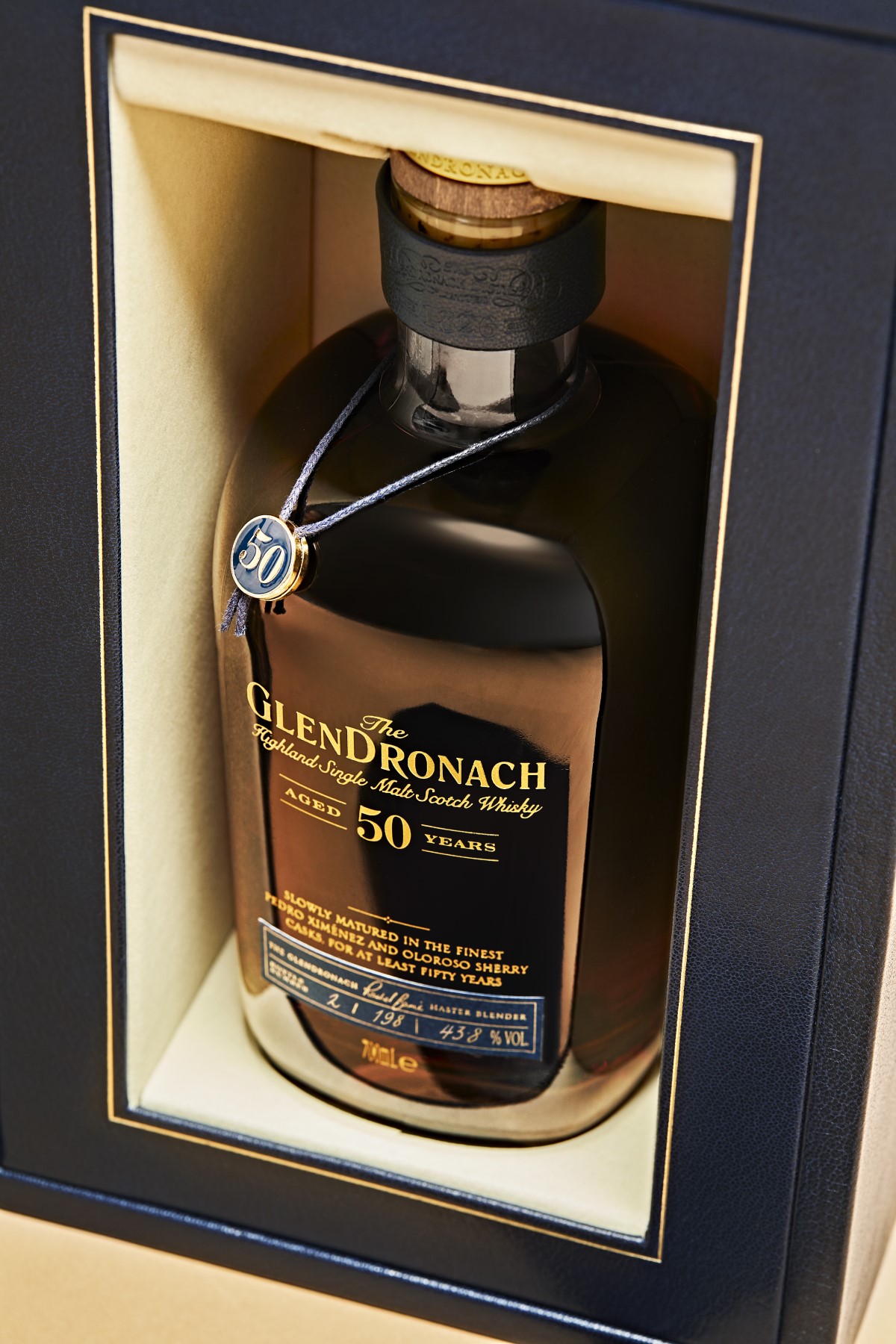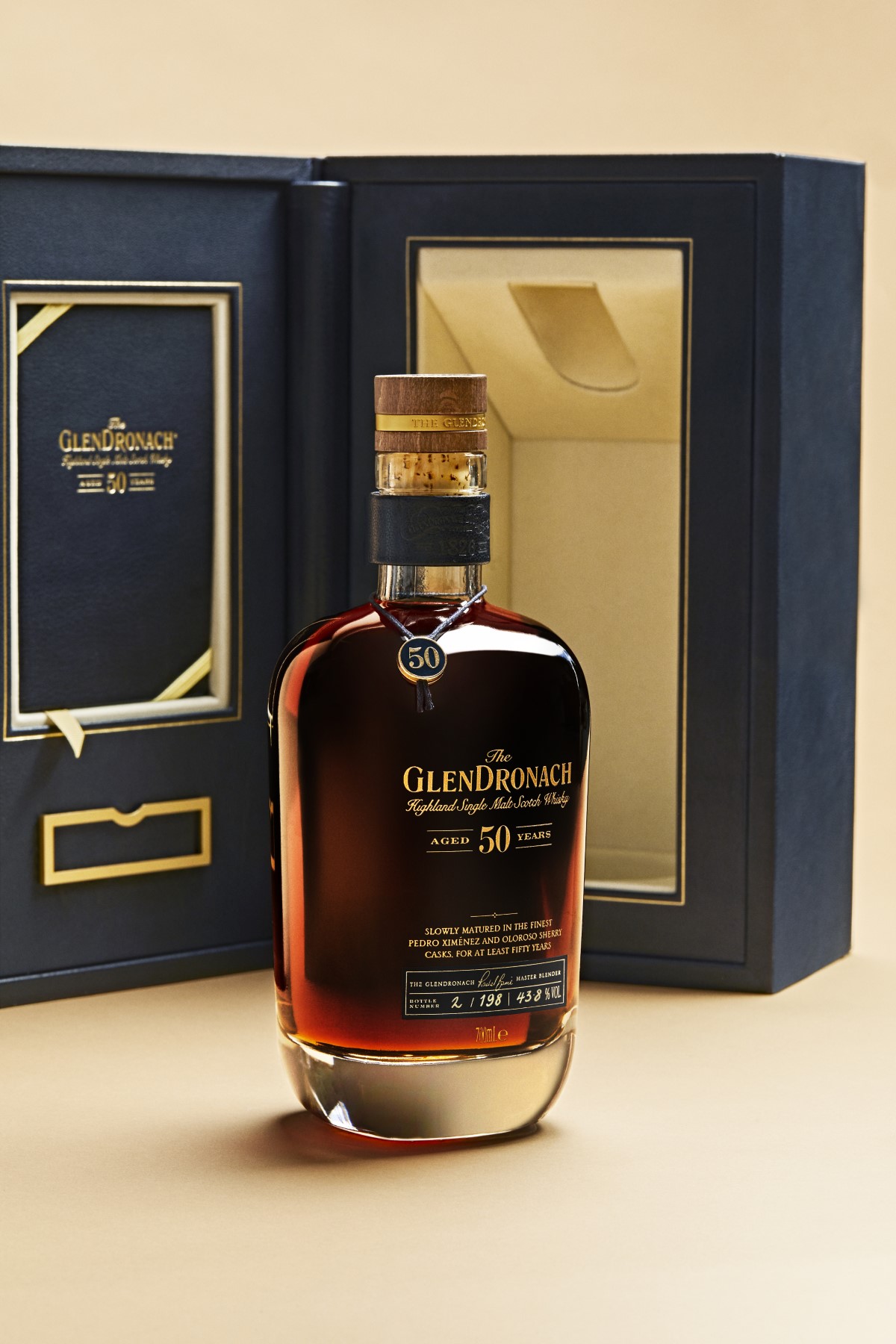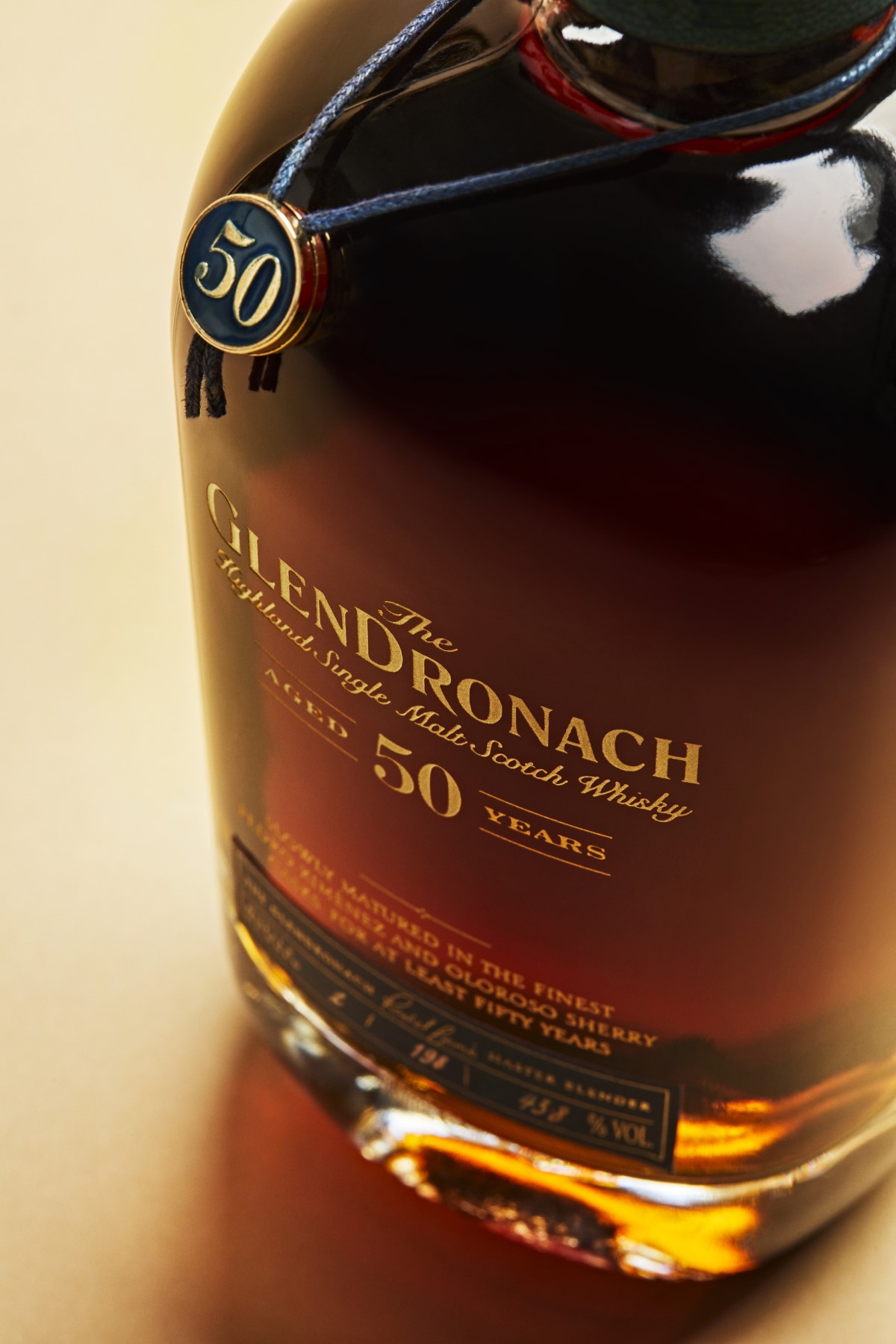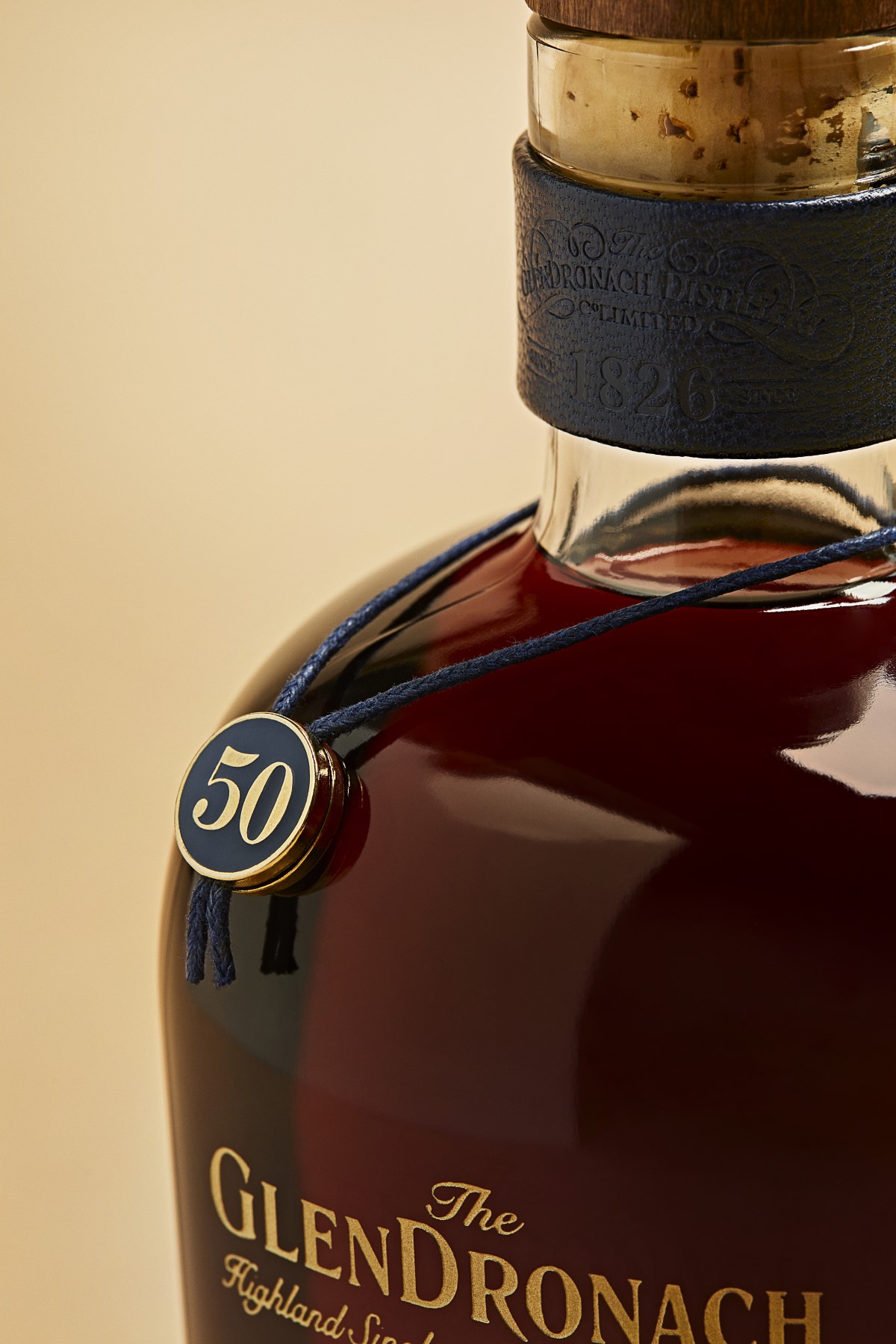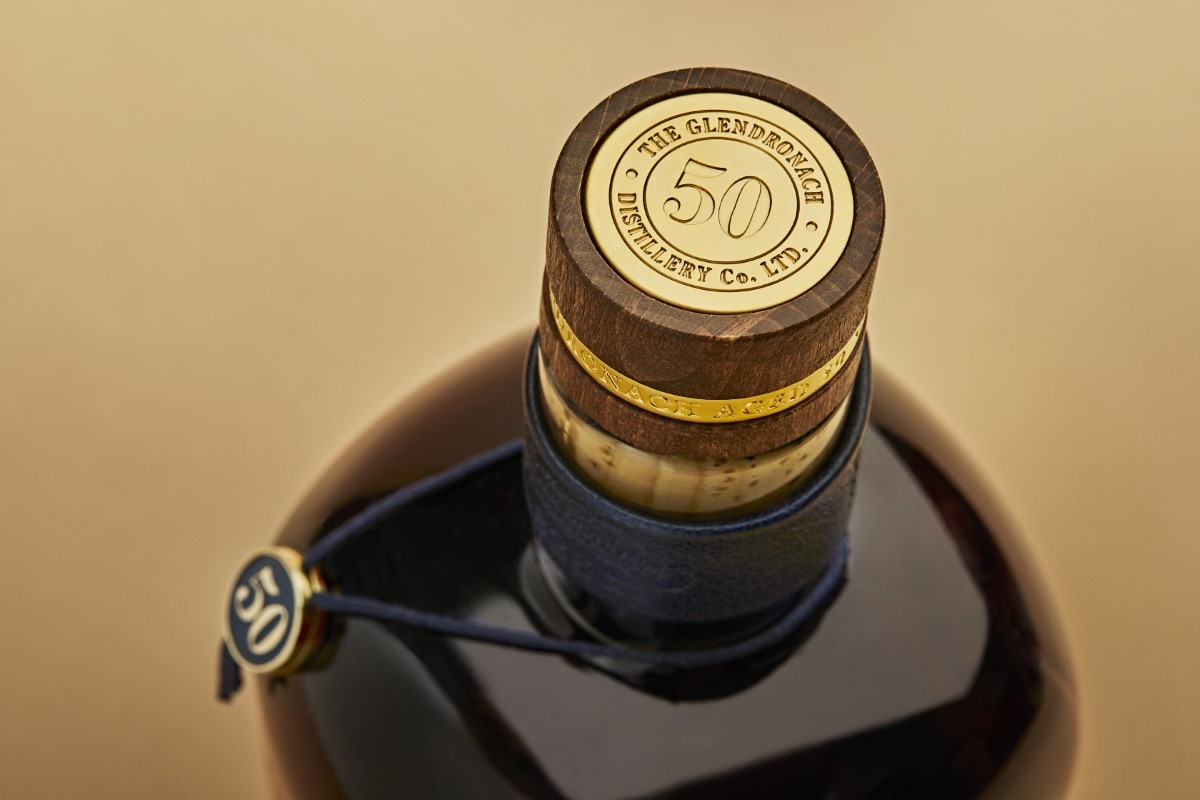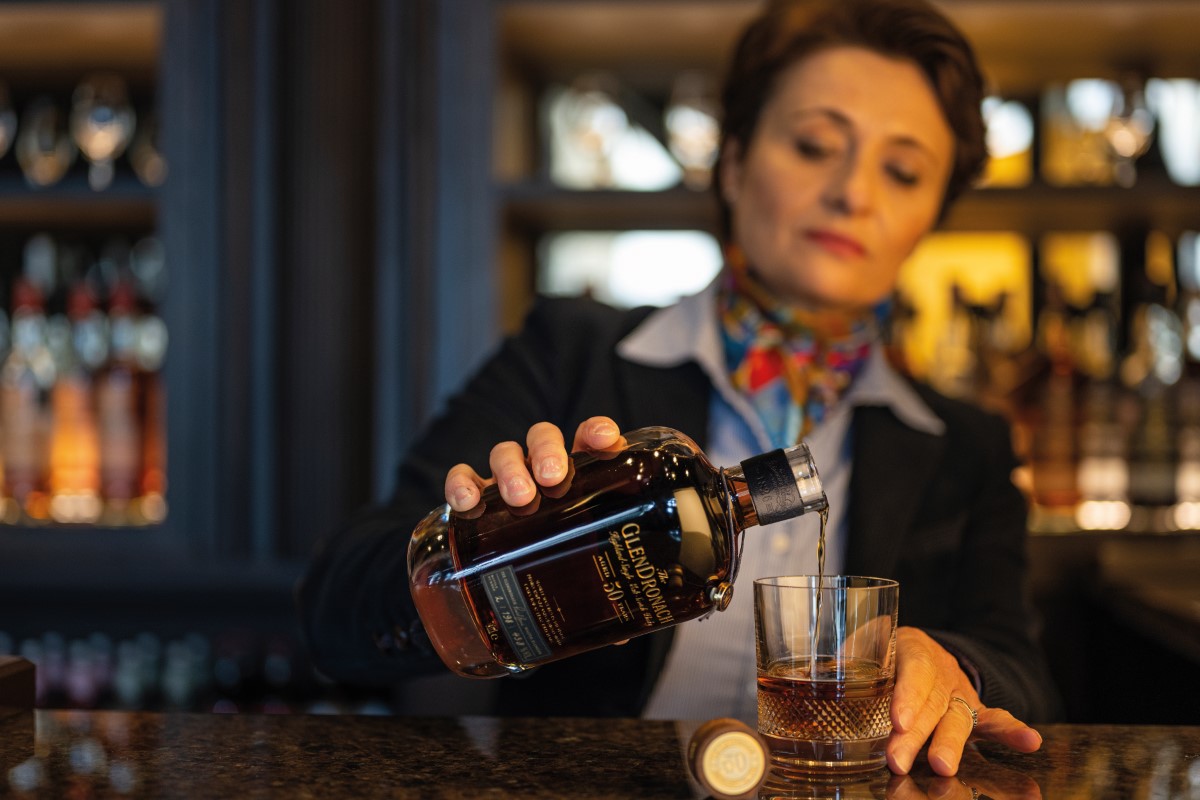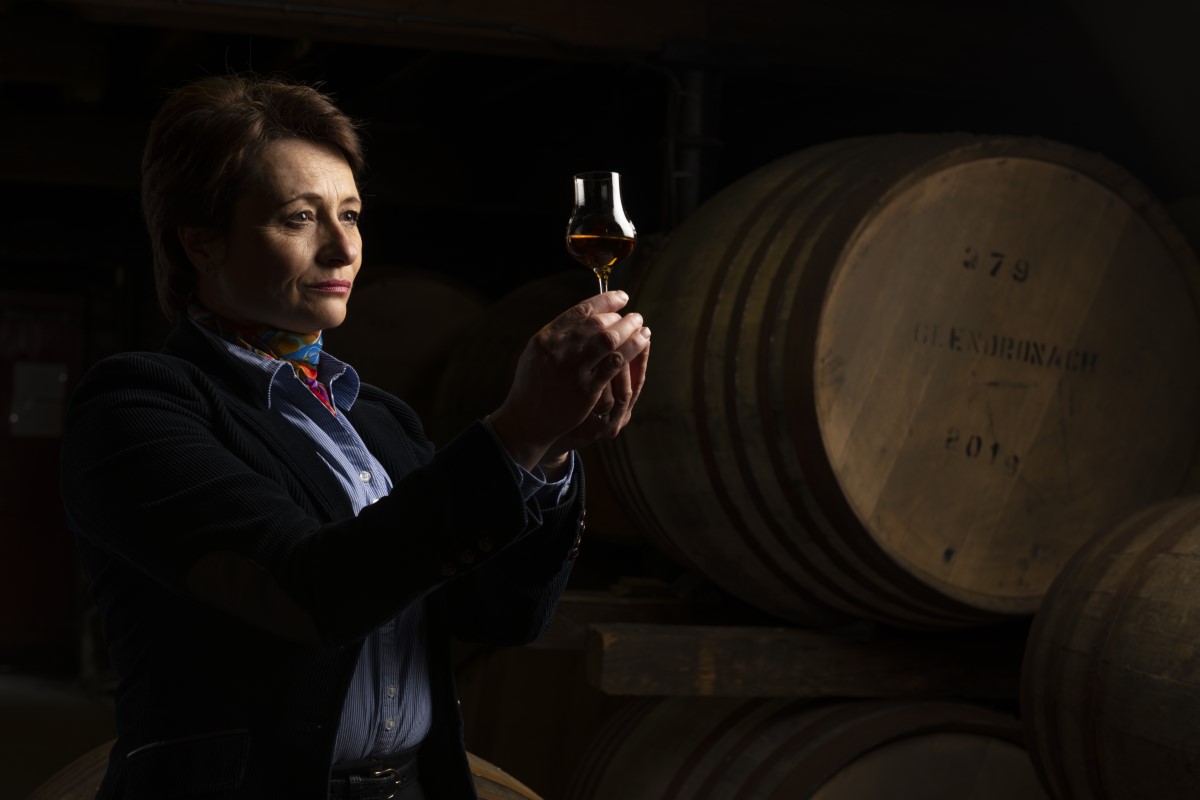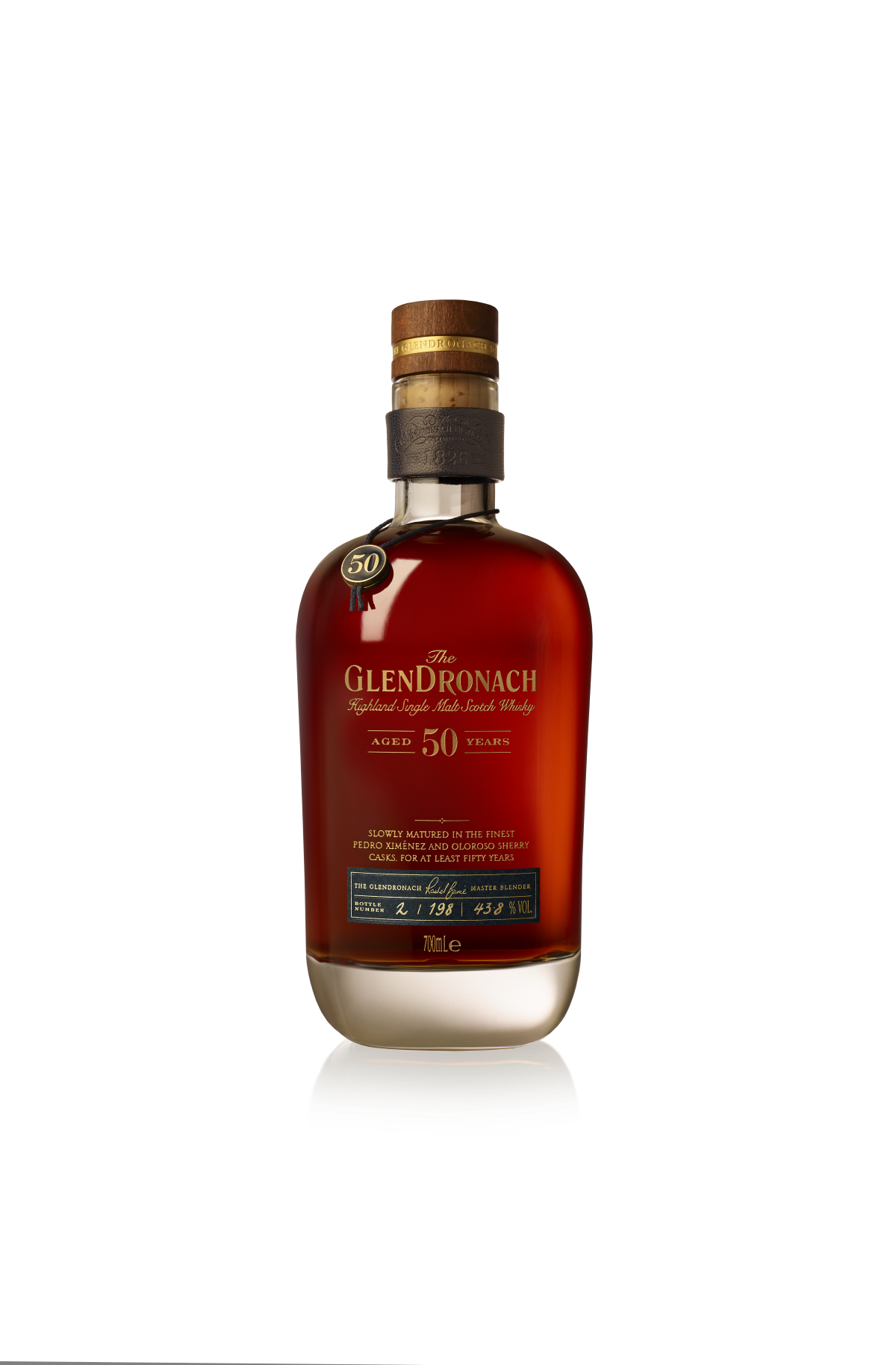 ---
Featured Video from Man of Many