Tyson Fury's Diet & Workout Plan
From his intense training routines to his mental health struggles to his famous weight loss diet, Tyson Fury is definitely no stranger to extremes. That pattern continues as the British boxer prepares for his upcoming rematch against WBC heavyweight champion Deontay Wilder. This time around, Fury is enduring brutal workouts, eating five to six meals a day, and reportedly pleasuring himself up to seven times a day. That actually doesn't sound like such a bad diet and workout plan, though surely he's a little sore!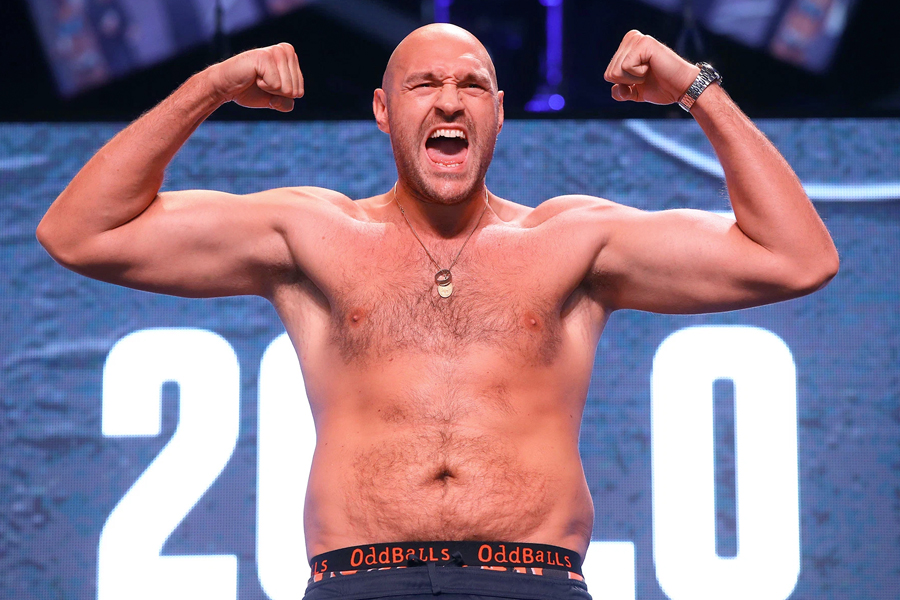 Tyson Fury's Diet Plan
After the draw against Wilder, Tyson Fury's weight gain rendered him more or less down for the count. At least, that's how it looked to anyone unfamiliar with his pendulum-like backstory. Determined to fight once again, he embarked on a slow but impressively effective path to recovery.
Enter the famous Tyson Fury weight loss diet plan, which he also describes as 'dirty keto.' Going into more detail, he said he was eating "tons of meat, fried up, with cheese, mayonnaise, bacon, eggs, and sausage. My ideal diet basically. I was thinking this can't be a diet, I'm not going to lose weight on this, but I lost the weight. I lost it all."
To summarise the 'dirty keto' diet in a few words: low carbs, high fat, and some protein for good measure. The resulting state of ketosis leads to drops in weight and insulin levels alike, while the body burns through fat reserves as a source of energy. For Fury, the effort paid off, reportedly shaving as much as 138 lbs (possibly more) off his hulking figure.
Decades or even years (maybe weeks) ago, 'dirty keto' was the kind of diet that most health professionals would've warned against, if not outright chastised. These days, it's looking far less hair-brained, as more and more professional athletes speak openly about the potential hazards of too much carb consumption.
Nevertheless, a diet high in saturated fat will do more harm than good if it's not accompanied by a steady workout routine. Even then, the jury's still out as to how much impact this type of diet has on things like heart health or cholesterol.
As you'll recall, this marks the second time that Fury has dropped serious weight. Back in 2018, he burned through the calories with help from nutritionist Greg Marriott. He was also taking in plenty of calories as well. Apparently, lots of avocado and bacon was involved, along with eggs and rye bread.
In one interview, Marriott explained, "Tyson needs to be on 3,500 calories a day but, when he's expending 2,000 calories in the gym, he will need to be on 5,500 calories a day. You can then start cutting weight—this is the healthy way to do it."
---
Featured Video from Man of Many
---
The second time around, Tyson Fury's weight loss diet went even heavier on the fatty foods. His adjacent training routine developed at a purposefully gradual pace, so as not to invoke injury.
Eventually, he dropped the weight and squared off against Germany's Tom Schwarz. On the heels of that victory came another one and now Fury's back in contention for the heavyweight title.
When speaking to the press, Fury addressed his current diet: "I'm doing a lot of things I didn't before. I'm eating five or six meals a day, drinking eight litres of water. If it's gonna give me an edge, I'm willing to try it."
During the very same interview, he claimed to be pleasuring himself up to seven times a day to keep his "testosterone pumping." Will this unconventional measure pay off in the ring? We're just days away from finding out.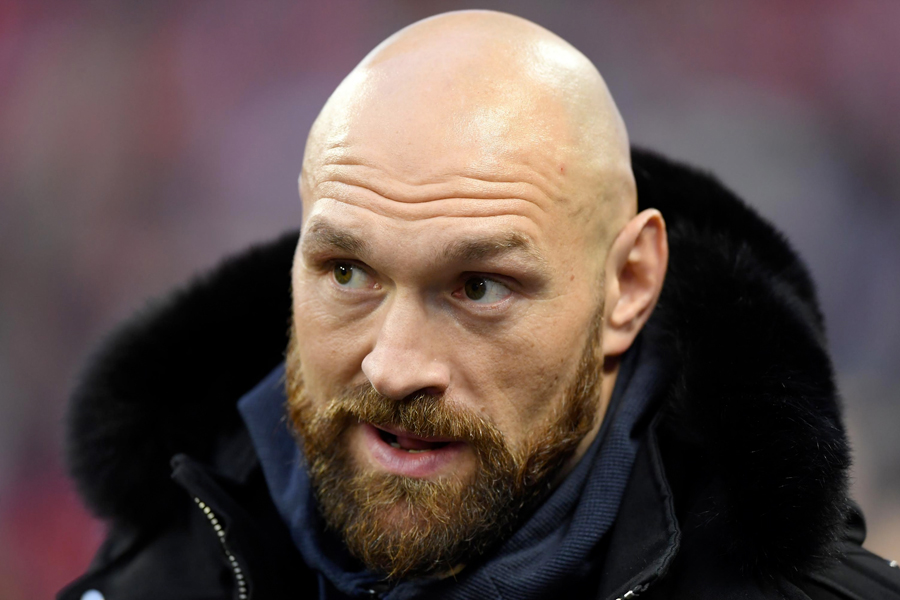 Tyson Fury's Workout Plan
True to form, Tyson Fury's history of working with trainers is as erratic as the boxer himself. After splitting from his uncle Peter, the undefeated heavyweight teamed up with trainer Ben Davison. It was Davison who helped Fury get back on his feet and prepare for the first fight against Wilder back in 2018.
When practicing the 'dirty keto' diet and training with Davison the first time around, Fury started with heavy weightlifting and transitioned to lighter weights as he shed pounds and progressed. He also shadowboxed and swam in an effort to gain movement and speed.
After his recent weight gain, Tyson Fury was once again tasked with getting back into fighting shape. To stage his second comeback, the boxer re-teamed with Davison at first. However, the two spontaneously parted ways just a few months before the upcoming rematch.
There was speculation that Fury would bring his uncle back into the fold, but those were just rumours and unfounded ones at that. In fact, Tyson and Peter Fury have barely communicated since Tyson's victory over Wladimir Klitschko in 2015.
In his autobiography, "Behind the Mask," Fury addressed the frayed relationship between him and his uncle: "Nowadays there is no relationship between me and Peter or with (former promoter) Mick. It hit me hard when I realised I couldn't work with them again. As for Peter, it's heartbreaking how our relationship disintegrated because, at one point in my life, he was like a second father to me."
In December, Fury announced that he was teaming up with Kronk Gym's SugarHill Steward, nephew of legendary trainer Emanuel 'Manny' Steward (RIP). Defending the decision, he explained, "I'm coming here for a knockout, I've had 21 of them and from the heart that's what I'm looking to do. This is why I employed SugarHill. If I didn't want a knockout, I wouldn't have hired a Kronk trainer…If I didn't want a knockout, I'd have kept Ben Davison and working on that herky-jerky style."
This will actually mark the second time that Fury has worked with a Kronk team. Back in 2010, he visited the original Kronk Gym to train with Emanuel Steward and even stay in Steward's home.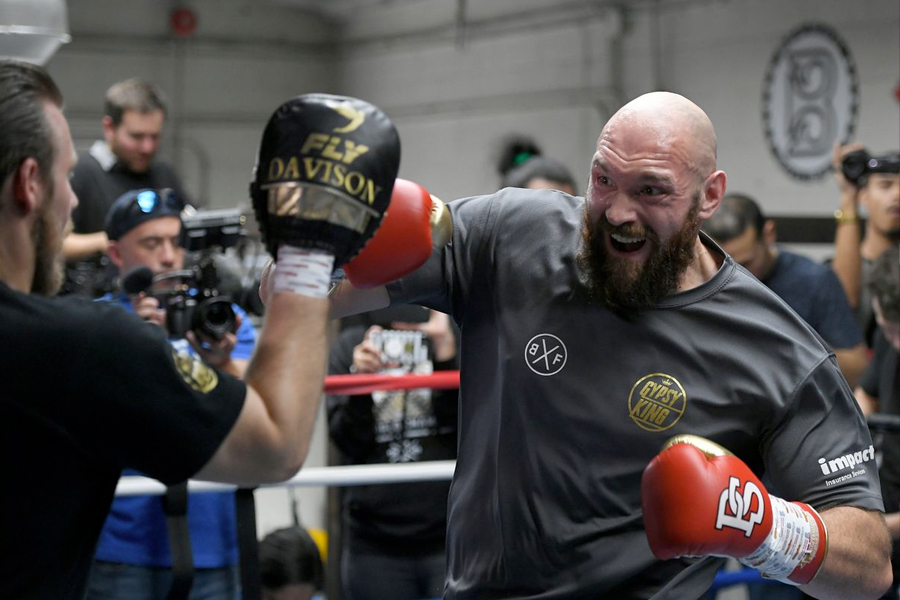 Describing the visit, he said, "So I just landed over there, they didn't even know I was coming. I walked in the gym, I was like, 'Is Emanuel Steward here?' They said, 'Who are you?' I was like, 'I'm the next heavyweight champion of the world, Tyson Fury."
"They took me down to see him and that was it. I moved into his house that day…I was there for three weeks in Detroit with him, we trained every day, we talked about a lot of stuff, he had a lot of knowledge on boxing."
"It wasn't just physical where he was great, he was great at communicating with a fighter and talking over fights."
While at Kronk Gym, Fury worked on technique and would even spar with the locals. He explained, "I went there and everybody above cruiserweight, light-heavyweight, got in the ring with me and I smashed them…even though I was only 21 years old. Anyone they brought, I was even sparring two or three fighters at a time, the light ones, they couldn't believe it."
It was around this same time that he first met Javan 'Sugar' Hill, who has since changed his name to SugarHill Steward (in honour of his late uncle). Speaking of their reunification, Fury said, "Having SugarHill in the corner is a fantastic asset…it's the best decision I ever made and I'm glad I made it when I did because we're going to see something different on Saturday night."
For obvious reasons, Fury is keeping his exact training routine under wraps. However, he has previously shared a video of his workouts with Davison, when he was training for the fight against Otto Wallin. Taking viewers into the mountains of Marbella, Spain, the video features cardio, weightlifting, mitt drills, and sparring…lots and lots of mitt drills and sparring.
Between his natural skills, impressive strength, outsized physique, and supreme intelligence, Tyson Fury might very well be the best heavyweight boxer in the world. While no stranger to mental health problems, this perennial comeback kid manages to bounce back with impressive speed. We'll be watching to see if his current diet and workout plan pays off in the ring!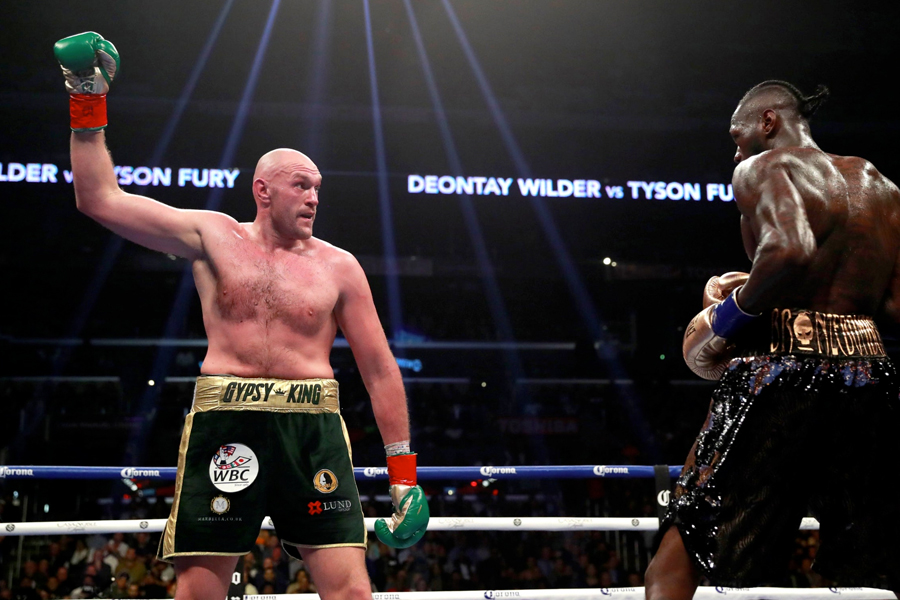 Who is Tyson Fury?
Virtually anyone reading these words knows all about Tyson Fury, but here's a refresher anyway. In 2015, he won pretty much every major heavyweight title except the WBC (which he didn't compete for). By 2018, he'd vacated each title due to mental health issues, extreme weight gain, and the failure to honour the rematch clauses in his contract.
That same year, however, he dropped the pounds and rose from the ashes to take on undefeated WBC heavyweight champion Deontay Wilder in a title bout. The result was a controversial draw, which allowed Wilder to hold onto the title.
The story doesn't end there. Adopting a 'dirty keto' weight loss diet along with his brutal training routine, Tyson Fury managed to maintain an elite level of fitness. Now, the stage is set for the rematch against Wilder, which is being touted as one of the biggest fights in heavyweight history.
Given his ongoing struggles with addiction, weight gain, and mental health, Tyson Fury remains synonymous with a certain brand of extreme behaviour. Of course, that's in part what makes the British boxer such a fascinating specimen. Let's take a look behind the curtain to see how he's preparing for the upcoming fight.
General FAQ
Does Tyson Fury lift weights?
As a professional boxer, Tyson Fury has no choice but to lift weights while in training. When dropping pounds, he starts by lifting heavier weights and then moves on to lighter weights as he progresses.
How much weight did Fury lose?
When recovering from mental health issues and adjoining weight gain, Tyson Fury reportedly dropped as much as 138 lbs.
How do boxers lose weight fast?
To drop weight fast, boxers like Tyson Fury often adopt a keto diet, eschewing carbs in favour of fat and protein.
You'll also like:
Deontay Wilder's Diet & Workout Plan
Conor McGregor's UFC Diet & Workout Plan
Joe Rogan's Diet & Workout Plan
---
Featured Video from Man of Many