30 Best Burgers in Sydney
Our guide to the best burger in Sydney is more than a tool for carnivores looking to cross them off their bucket list. It's also a great starting point for friends, couples and housemates to discover new bars and restaurants nearby with the potential to become local favourites. No matter where you live – CBD, northern beaches, western suburbs and beyond, there's a place, joint or restaurant near you. With our list of the 30 Best Burgers in Sydney, we're sure you'll be able to find one that serves up quality food right on your doorstep.
You'll also like:
Mark Wahlberg is Bringing His Wahlburgers Chain to Australia
Obama's Favourite, 'Five Guys' is Reportedly Coming to Australia
Carl's Jr. are Officially Coming to Sydney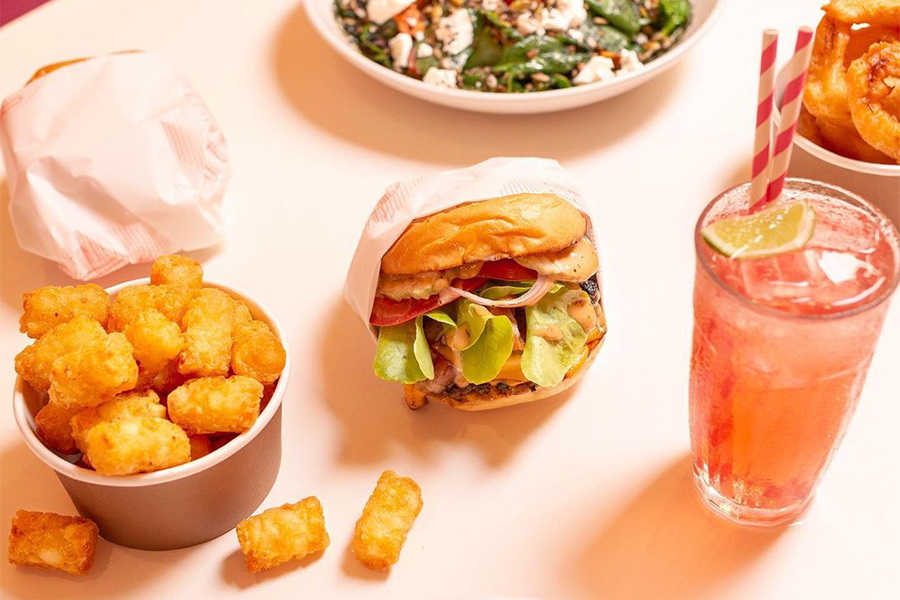 1. Sunset Diner
Locals to Sydney's Northern Beaches will recognise the pink Miami Vice inspired lounge, Sunset Diner. Executive chef and owner Ben Varela recognises his Miami dream restaurant with a burger place situated a mere 3min walk from Avalon Beach. This joint features one of the best burgers in Sydney and even an outdoor pet-friendly courtyard that carries the same pink flair you'll find on the inside of the restaurant! The menu is traditionally kept with options such as 'The Double' and a host of shakes such as the Classic Cookie Dough which is way too delicious to miss out on.
Address: 41 Old Barrenjoey Rd, Avalon Beach NSW 2107
Hours: Mon-Tue 12-7:30pm, Wed-Thur & Sun 12-8pm, Fri-Sat 12-9pm
Phone: (02) 9918 8776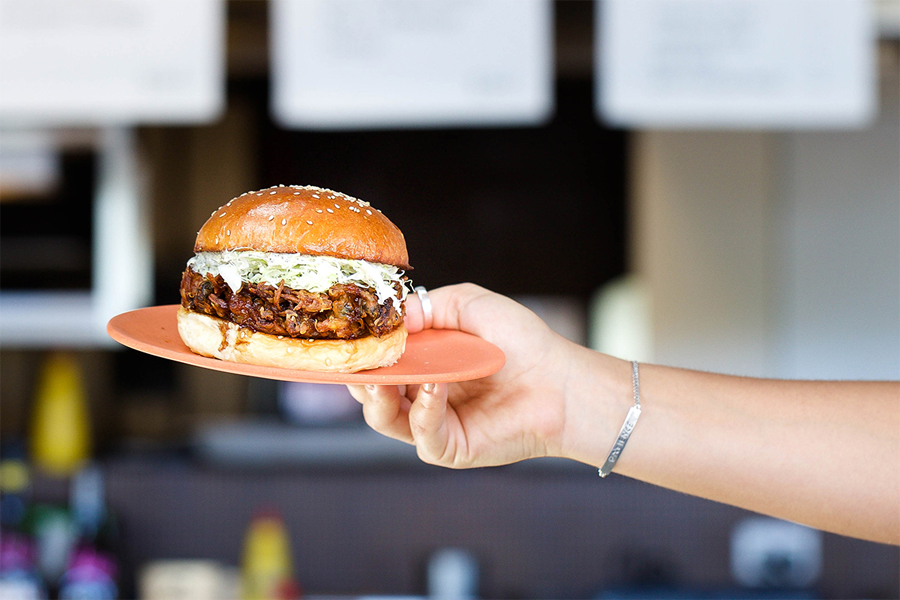 2. Ume Burger
Join us as we momentarily steer you away from the host of hearty beef patties and onto something a little less traditional. Ume Burger is the sister to one of Surry Hills' most popular eateries, Bar UME. Located on Barangaroo's Wulugul waterfront walkway the view is equally as good as the patties themselves. Speaking of, hatted Head Chef Kerby Craig runs the show, with a small selection of Japanese inspired bangers that are truly out of this world. The traditional UME Burger is phenomenal and features a signature beef patty with Wagyu mine sauce. For less traditional options head towards the Fish Katsu or Menchi with Handmade Pork Katsu and Tonkatsu Sauce. This is easily one of the best burger restaurants in Sydney. Don't forget to pair your meal with a Yuzu Soda, of course.
Address: 33 Barangaroo Ave, Barangaroo NSW 2000
Hours: Mon-Wed 11:30am-2:30pm, Thur-Sat 11:30am-9pm, Sun 11:30am-4pm
Phone: 0481 951 920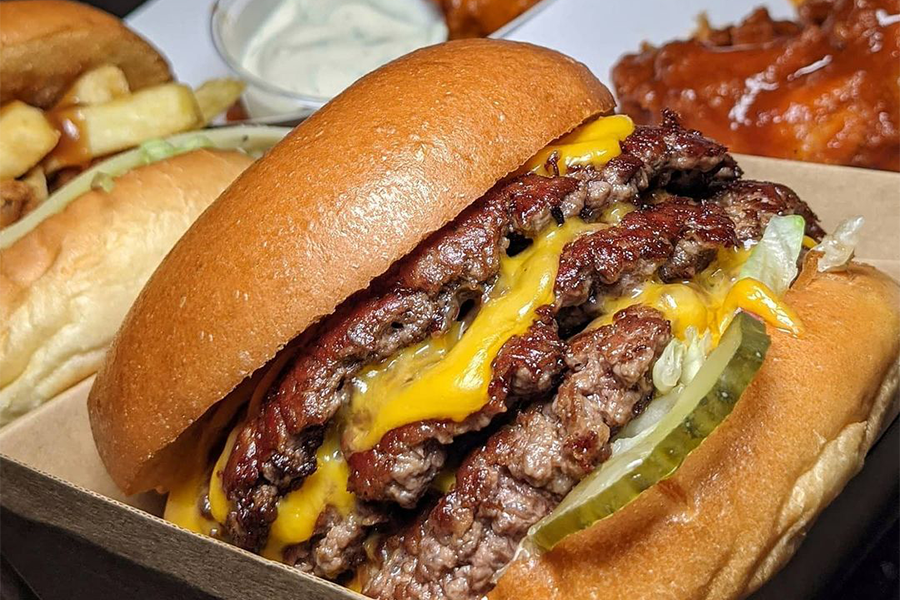 3. Classic Burger Liverpool
If you're looking for a quality feed without all the nonsense, this is the place for you. Classic burger is a semi-fast food restaurant with better quality food and service than your average shindig. This joint in Liverpool sets a cool and relaxed atmosphere for you to enjoy one of the best burgers in Sydney. The philosophy at this local haunt is simple, utilise locally sourced quality ingredients and cook them fresh to order. If you're looking for In N Out equivalents, this would be the closest thing in Sydney.
Address: 347 Macquarie St, Liverpool NSW 2170
Hours: Mon-Sat 12pm-12am, Sun 12-10:30pm
Phone: (02) 9058 1225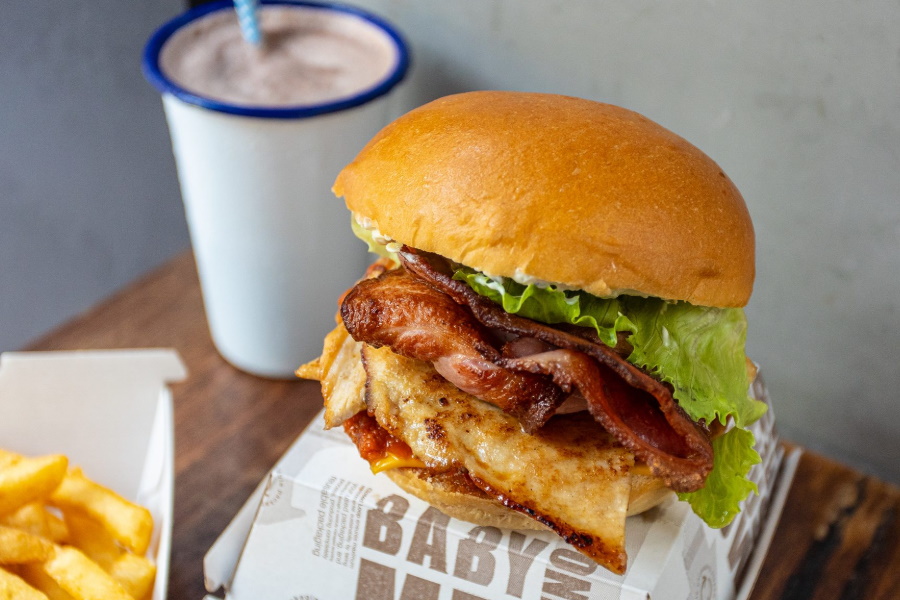 4. Five Points Burgers
The New York-themed Five Points captures the hustle and bustle of the Big Apple. Push through the long lines of this popular place to order a selection of burgers that represent the five New York boroughs – The Bronx, Brooklyn, Manhattan, Staten Island and Queens. The Bronx, Brooklyn and Manhattan are beefy experiences, the Queens is a chicken, and the oh-so original Staten Island is a portabello mushroom and just one of the many reasons to make the trip to North Sydney. Dine-in or takeaway.
Address: 124 Walker St, North Sydney NSW 2060
Hours: Mon-Sat 9am-2pm & 5-9pm
Phone: (02) 8904 0276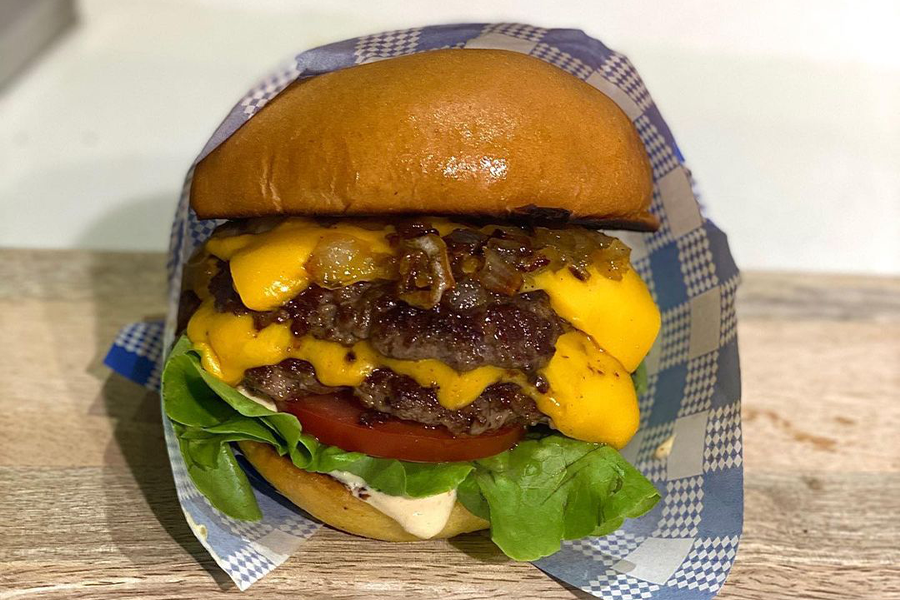 5. Chebbo's Burgers
Chebbo is a certified legend in the Sydney burger scene. People travel far and wide to sample his smashed patties, so much so he's the self-proclaimed CEO of burgers on TikTok. Self-proclaimed he might be, but he's created a name for himself in Sydney and beyond thanks to his mouthwatering options. Take the fried onion, sounds simple enough right? But it just tastes so unbelievably good you'll want to grab a couple. Check out Chebbo's Instagram to see what creation he's coming up with next.
Address: 93 Chapel St, Roselands NSW 2196
Hours: Wed-Thurs 5:30-11pm, Fri-Sun 5-11pm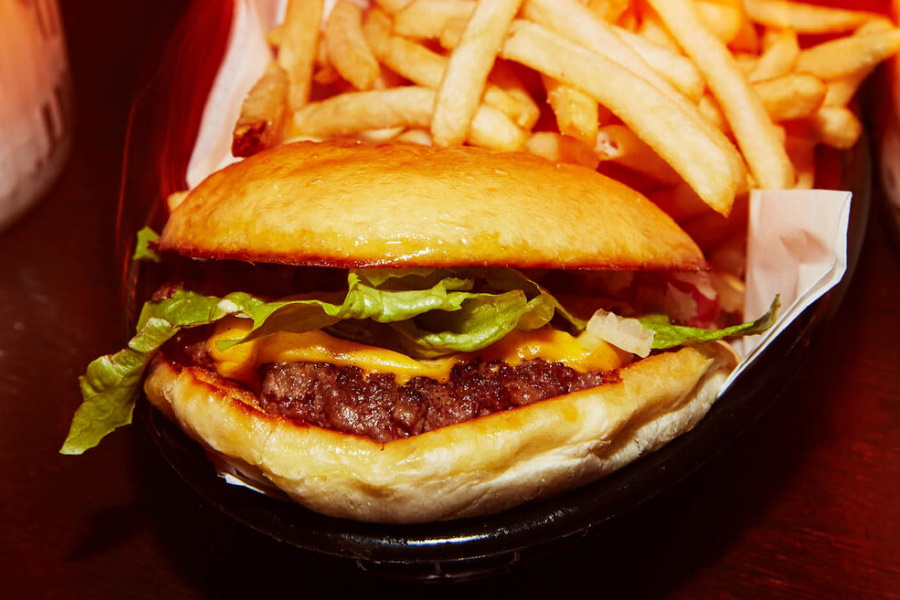 6. Mary's Newtown
Strong drinks, low lighting, great music, and graffiti are all part of Mary's charm. It's a loud, energetic chain that has expanded beyond the Newtown venue to open a series of diverse establishments across the city. The Castlereagh Street stop in the CBD is a hole-in-the-wall takeaway. A trip to any of the other Mary's joints will undoubtedly result in some of the best burgers in Sydney, alongside fried chicken and hangovers because you will want to stay long after the tables have been cleared.
Address: 6 Mary St, Newtown NSW 2042
Hours: Mon-Thu 4pm-12am, Fri-Sat 12pm-12am, Sun 12pm-10pm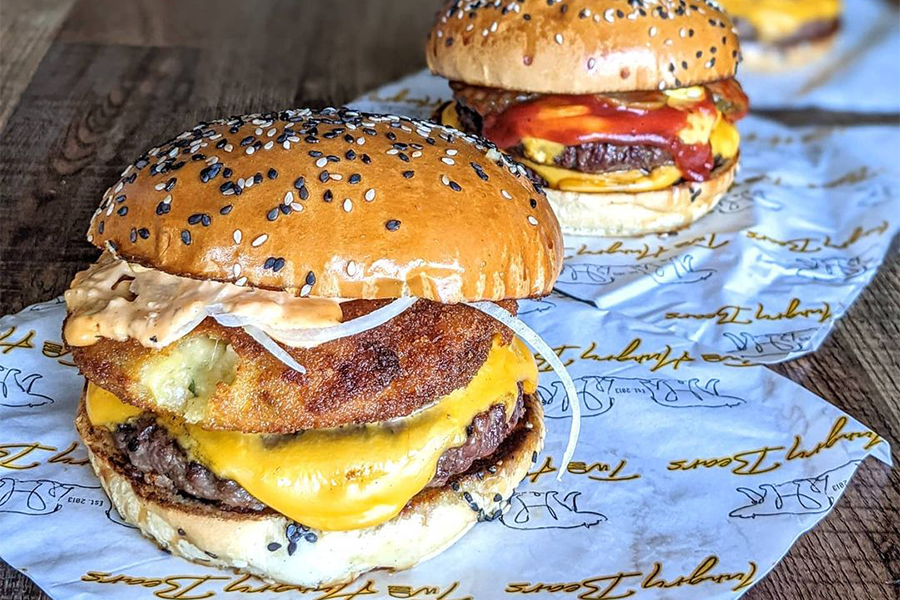 7. Two Hungry Bears
Another legendary burger place hailing from Sydney's Northern Beaches. This joint is to put you into a food coma of sorts, some might even call it a 'hibernation'. The classics are all there, including the cheeseburger, and chicken burger, but options such as the 'Hell Boy' with house chilli sauce might pick your fancy a little. It doesn't matter which choice you go for they're all more than enough to feed …. never mind.
Address: 1303 Pittwater Rd, Narrabeen NSW 2101
Hours: Wed 4:30-8:30pm, Thur-Sun 12-8:30pm
Phone: 0435 058 676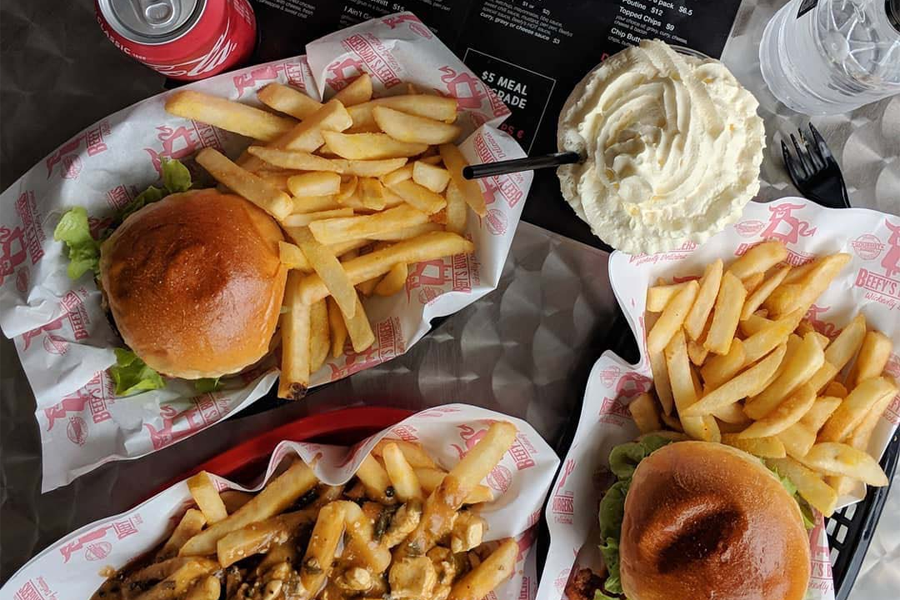 8. Beefy's Burgers
Beefy's got all the gourmet beef goodness you could ask for in a cheeseburger. Take one look at the menu and you'll easily satisfy any cravings you've got with the large variety of choices on offer. With options such as the 'Beefmeister' and the 'Boring Bazza' with special sauce, these are certainly going to hit the spot.
Address: 492 High St, Penrith NSW 2750
Hours: Tue-Thur 11am-2:30pm & 5-8pm, Fri 11am-2:30pm & 5-9pm, Sat 11am-9pm
Phone: (02) 4704 8485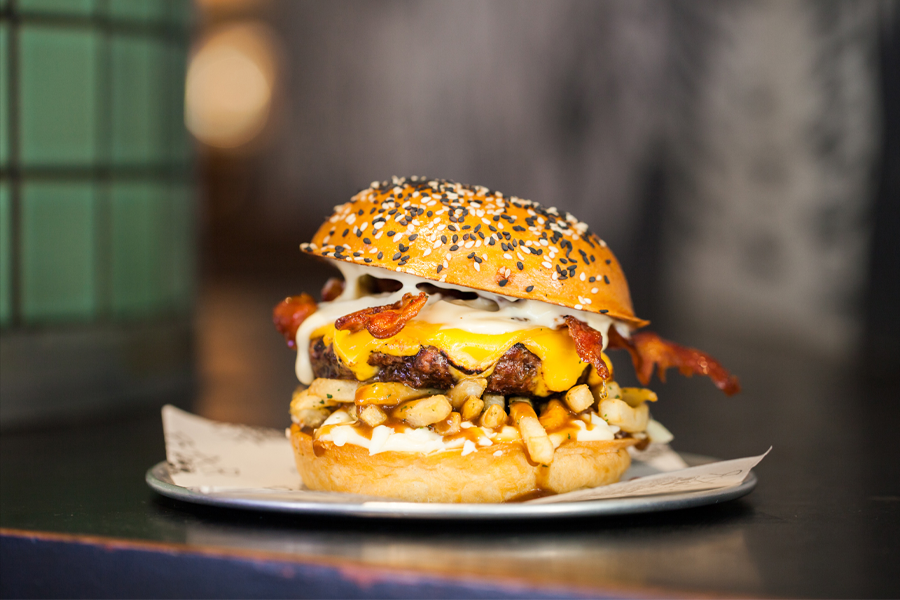 9. Bar Luca
This burger place in Sydney might have the best menu, and it's the perfect place to go on a night out. Sometimes it's nice to enjoy a meal at a restaurant, and now that Lotus 2.0 is gone, there's only one obvious choice to grab a gourmet burger with table service. Bar Luca is home to some of the best choices in town and with a menu that includes about 20 add-ons you can customise your meal as you please. Personal preference aside, you must try the BL Beef, it's a classic burger that includes the famous BL sauce. Hungry yet?
Address: 52 Phillip St, Sydney NSW 2000
Hours: Mon-Tues 11am-9pm, Wed-Fri 11am-10pm
Phone: (02) 9247 9700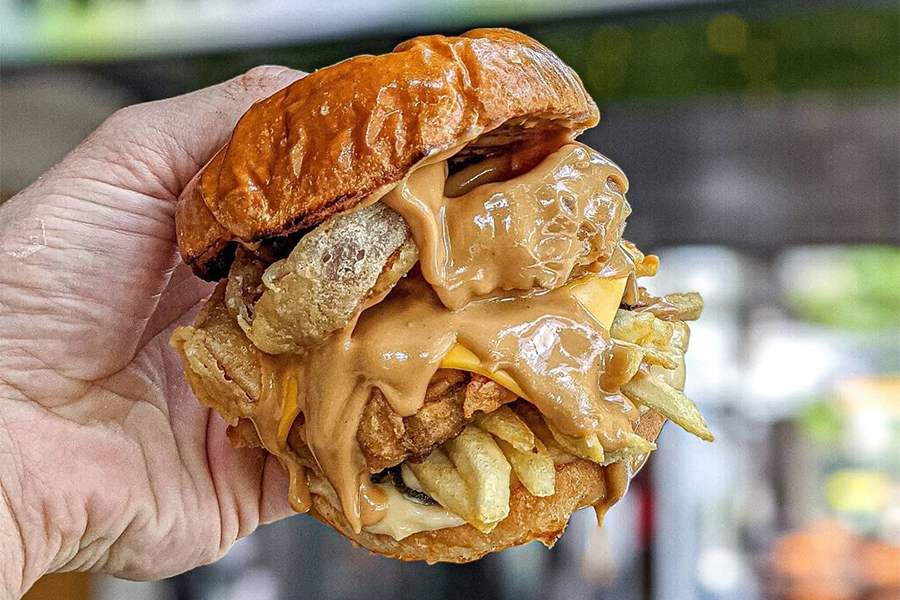 10. Burgers Anonymous
These guys reckon they have the best burgers in Sydney. We have to say if you're looking for one that has more than just 'the lot' you might've found your next stop off. We'll let you be the judge on whether or not these guys are the best in Sydney but taking one glance at 'The Heisenburger' and you won't have to twist our leg one bit. This monster features all the trimmings including their signature maple bacon aka "Crack Bacon" because it's well, as addictive as…
Address: 80 Oxford St, Darlinghurst NSW 2010
Hours: Mon-Thur 11am-3pm & 5:30-10pm, Fri-Sat 11am-12am, Sun 11am-8:30pm
Phone: 0415 980 019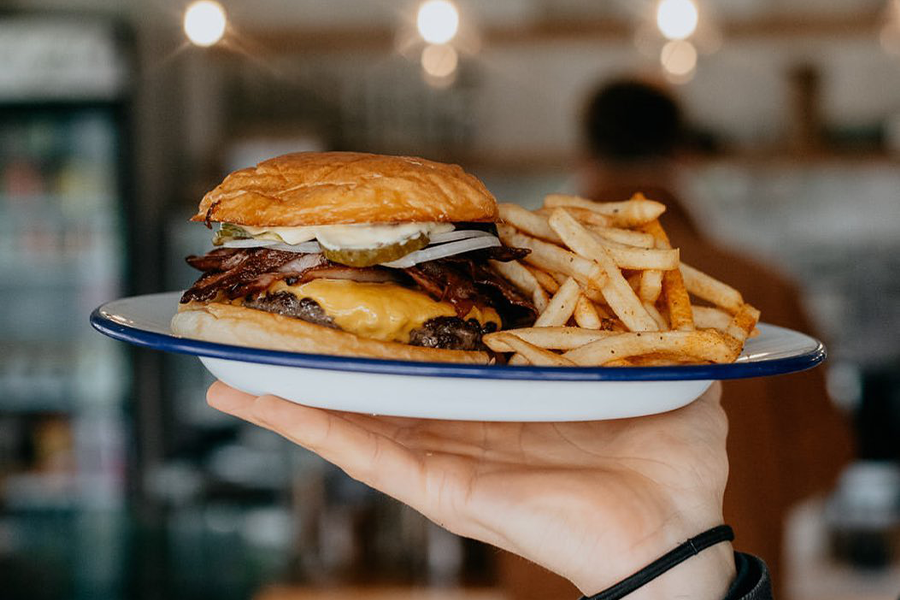 11. The Tuckshop
A true tuckshop in every sense of the word, this local haunt is nestled amongst the hustle and bustle in the sunny suburb of Glenhaven. Run by a bunch of local guys and gals, this burger place just wants to have a bit of fun while working hard to bring its loyal customers some tasty takeaway tucker. The menu is simple and relaxed and features more than just cheeseburgers. You'll find tradie rolls, green smoothies, salads and thick shakes alongside some of the best burgers in Sydney.
Address: 78 Glenhaven Rd, Glenhaven NSW 2156
Hours: Mon-Sat 6am-2pm, Sun 7am-2pm
Phone: 0491 760 376
12. Superior Burger
It's in the name. Superior claims to be one of the best burgers in Sydney, and they could be right. This Sydney burger joint has an ever-changing menu that listens to its customers. Take, for example, the 'AY CARAMBA' a previously unseen special burger that features an SB beef patty, Double cheese, Chimichurri, Chilli beef con Carne, Pickles, Ketchup and Mustard! It's a must-visit, you never know quite what you'll find.
Located in: Wakeley Shopping Centre
Address: 30 Bulls Rd, Wakeley NSW 2176
Hours: Thur-Sun 12-3pm & 6-9pm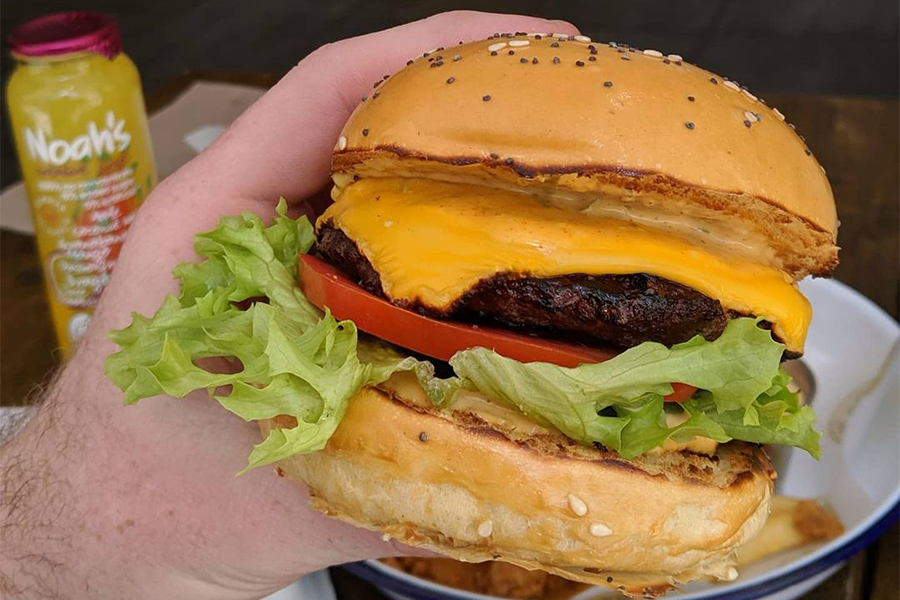 13. Burger Patch
As we all know, not all burgers are made equally. Thankfully with our list of the best burgers in Sydney, you can't really go wrong. To demonstrate our point, we have Burger Patch. This restaurant utilises only the freshest quality ingredients and their patties are made from 100% Aussie beef with no fillers. They grind their beef perfectly to deliver a delicious meaty texture that will have you coming back for more. Like any good burger place, they have their own signature sauce. You can find it alongside housemade chilli on the Angry American, a must-try.
Address: 234/1 Katherine St, Chatswood NSW 2067
Hours: Tues-Thurs 11am-8:30pm
Phone: (02) 8094 8822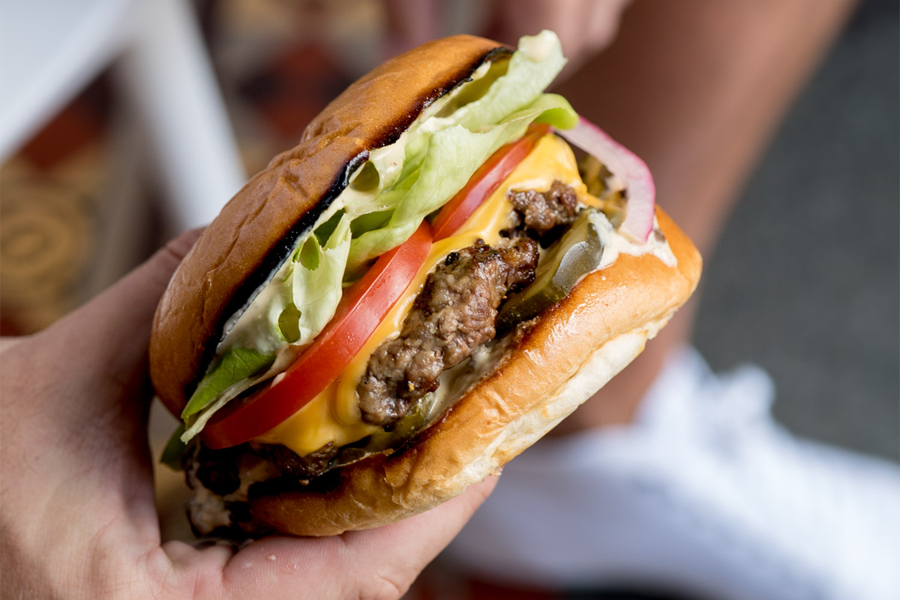 14. BURGERHOOD
In case you haven't quite worked it out yet, there's a burger revolution happening in Sydney. Helping push the revolution for good ol' American styles is Balmain's Bugerhood. This American style shack offers shakes and fries alongside their mouthwatering burgers. Those who decide to eat in are treated to a complimentary soft serve that pairs like a fine wine. All the usual suspects are there, but you can't go past the Hood Burger (as pictured) that comes with a very secret and mouthwatering 'Hood' sauce.
Address: Shop 1/332 Darling St, Balmain NSW 2041
Hours: Mon-Thur & Sun 11:45am-9pm, Fri-Sat 11:45am-9:30pm
Phone: (02) 9555 5561
15. Manly 16ft Skiff Sailing Club
Located on the eastern foreshore of Manly Cove, you'll find the Manly 16ft Skiff Sailing Club, commonly referred to as 'The Skiff'. Beautifully set next to the harbour and overlooking the boats and ferries coming and going, the club offers a relaxed place for a weekday special, mid-week Trivia or weekend schooner. With various mid-week specials, one of which includes their Thursday Burger Night featuring $10 burgers all night, this is easily one of the best burger restaurants in Sydney. Take the Crispy glazed peri peri chicken burger with iceberg, tomato, onion & hot chipotle mayo, or the Skiff Angus Burger with bacon, lettuce, tomato, onion jam, pickles, and cheese. There's a wild burger ride waiting to happen.
Address: Cnr East Esplanade &, Stuart St, Manly NSW 2095
Hours: Mon-Wed 12-10pm, Thur 11am-11pm, Fri-Sat 11am-12am, Sun 11am-10pm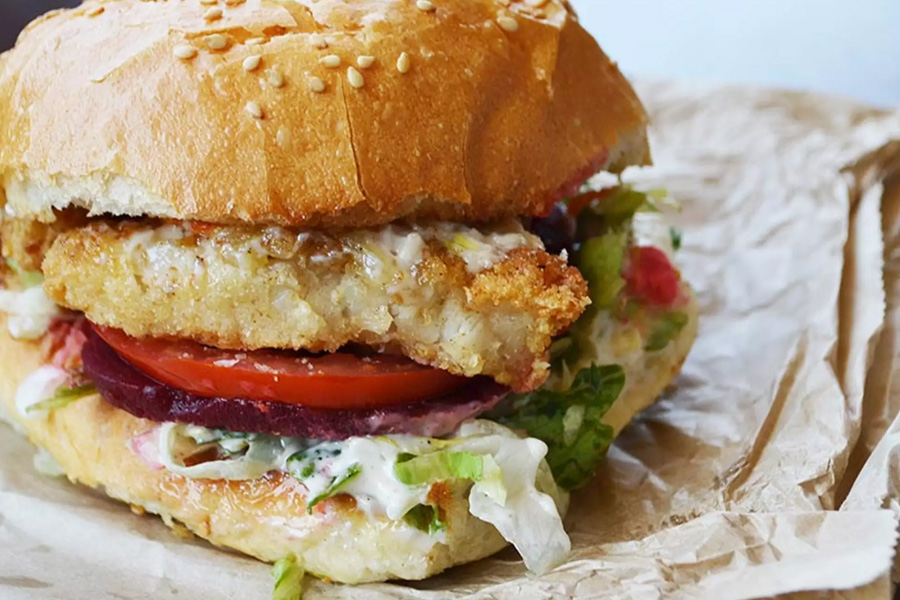 16. Out of The Blue
Affectionately referred to as OTB, this is one of the best burgers in Sydney and is one of the east's most popular gems. Proudly family-owned and operated, every burger is handmade with locally sourced ingredients. The menu includes all of your favourites but it's the house specials that set OTB apart. While there are a handful of seats inside, this is predominately a takeaway joint. So order ahead, pick up your burg and head down to the Cloey carpark for dinner with a view. Fair warning, Out of The Blue is cash-only. But, damn she's worth it.
Address: 2/272 Clovelly Road, Coogee, 2034
Hours: Wed-Sun 11:30am-8pm
Phone: (02) 9315 8380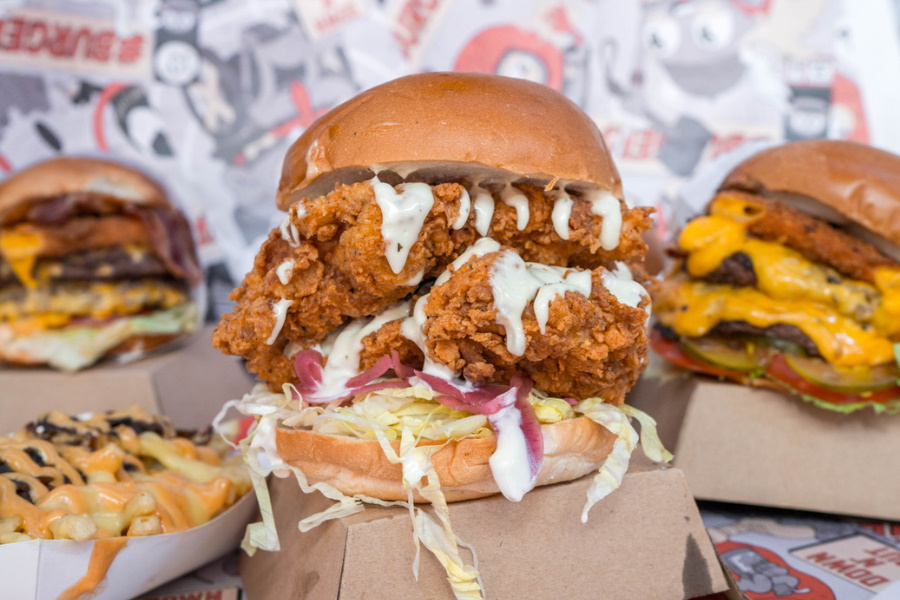 17. Nameless Bar – Sydney
Formally known as 'Down n Out' this was once the Aussie equivalent of the famed In 'N Out franchise that started in California. Regardless of the name change, this is still regarded by many aficionados as one of the best burgers in Sydney. Though there are more options than the American venue it once paid homage to, the taste is right there, and you can add bacon to just about anything. Turn up with an empty stomach and grab a craft beer while you're there.
Address: 77/A Liverpool St, Sydney NSW 2000
Hours: Mon-Thur  12-3pm & 5-9pm, Friday 11:30am-10pm, Sat 12-10pm, Sun 12-9pm
Phone: (02) 9261 8921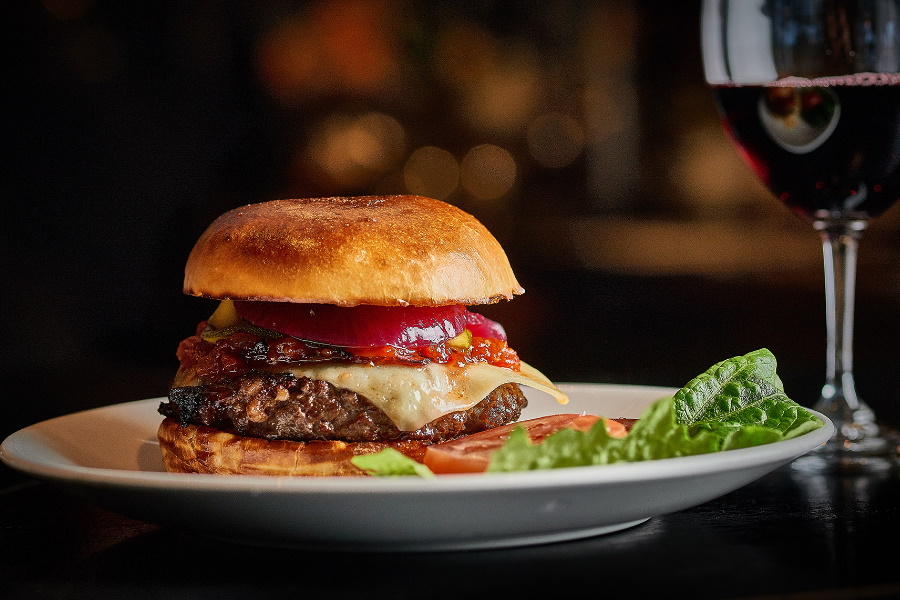 18. Rockpool Bar & Grill
A far cry from your local burger joint, Rockpool Bar & Grill Sydney is home to one of Australia's finest dining rooms and the perfect venue for experiencing one of the most acclaimed wagyu beef burgers in the country. This bar meal is part of a menu produced under the guidance of Head Chef Corey Costelloe, and the David Blackmore's Full Blood Wagyu Burger with Bacon, Gruyere Cheese and Zuri Pickle are exactly as gourmet as it sounds. Pair it with a glass of Si Vintners' Si Red' Cabernet Blend for $27.
Address: 66 Hunter St, Sydney NSW 2000
Hours: Tue-Thur 12pm-2:30pm & 6pm-10pm, Fri 12pm-3pm & 6pm-11pm, Sat 5:30pm-11pm
Phone: (02) 8099 7077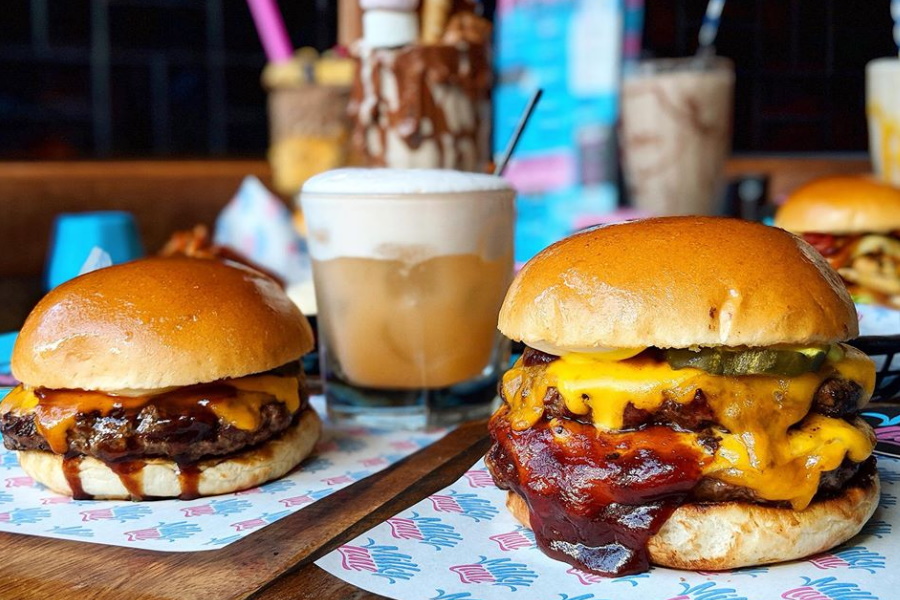 19. Milky Lane
Juicy burgers meet curated cocktails within one of Australia's fastest-growing indulgent institutions. Milky Lane's been shaking up the scene since 2016, opening a chain of stores up and down the east coast and winning a legion of fans along the way. These burgers are not for the faint of heart, and if you're concerned about clogged arteries, well, maybe you should eat a salad instead.
Address: 20/22 Macquarie St, Parramatta NSW 2150
Hours: Sun-Thu 11:30am-10pm, Fri-Sat 11:30am-11pm
Phone: (02) 9689 3893
Address: Shop 7/8/20 Gerrale St, Cronulla NSW 2230
Hours: Mon-Wed 11am-9pm, Thu & Sun 11am-10pm, Fri-Sat 11am-11pm
Phone: (02) 8502 9160
Address: 244 Coogee Bay Rd, Coogee NSW 2034
Hours: Mon-Thu 12pm-9pm, Fri-Sun 12pm-10pm
Phone: (02) 8960 0454
Address: 70 Alexander St, Crows Nest NSW 2065
Hours: Sun-Thu 11:30am-9:30pm, Fri-Sat 11:30am-10:30pm
Phone: (02) 9901 3121
Address: 36 Bayswater Road, Kings Rd, Sydney NSW 2011
Hours: Thu 5pm-10pm, Thu-Sat 12pm-1am, Sun 12pm-10pm
Phone: (02) 9008 1456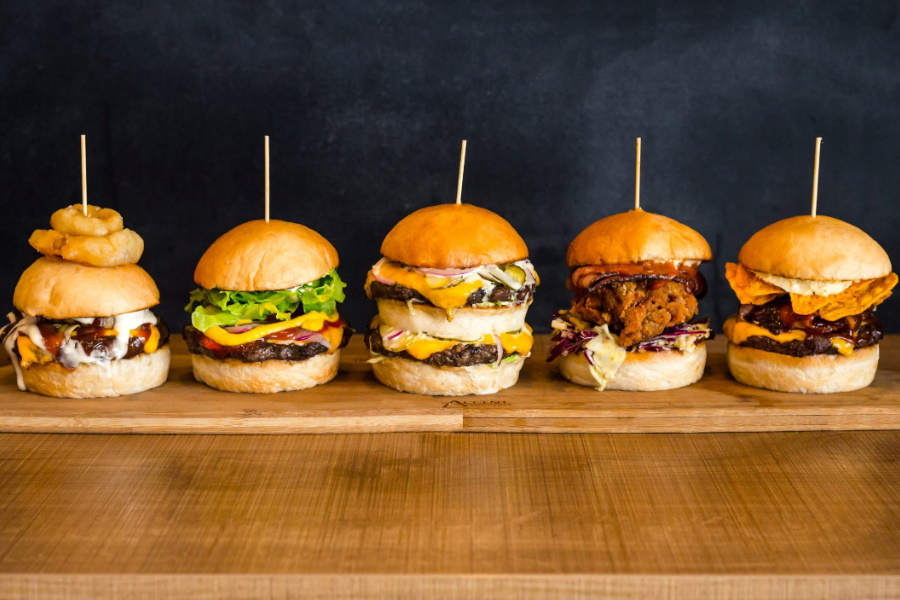 20. The Milk bar by Cafeish
This piping-hot bar and grill serve up soul food comprising delicious layers of premium seasoned meat, cheese and salads within toasted buns baked fresh daily. Burger fans are encouraged to explore the range of exotic condiments, while the weekly burger specials encourage and justify repeat visits. pair a burg or two with a housemade doughnut instead of fries for a truly unique combo.
Address: 105 Regent Street, Redfern, 2016
Phone: 02 9698 8598
Trading hours: Tue-Thu 11:30am-3pm & 5pm-9pm, Fri-Sat 11am-10:30pm, Sun 11am-9pm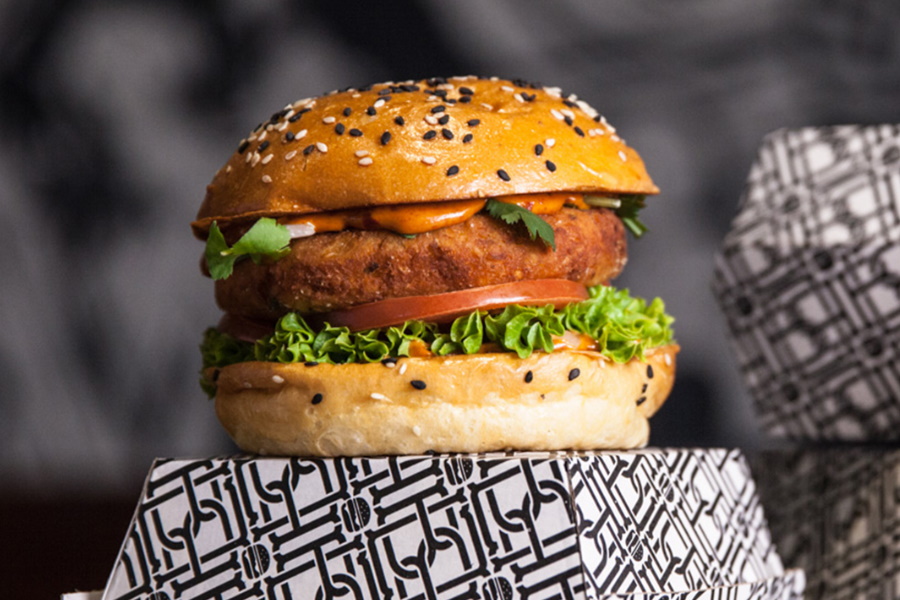 21. BL Burgers
Ideally located on Oxford Street, BL Burgers is the perfect meal before or after a night out. It's open late on the weekends precisely for this reason. Or if you live in the west, there's a second BL establishment in Parramatta. The real treat here, though, is the house specialities. With names like Blame Canada, Blame India, Mr T-Ruffle and Mac Daddy, you will wonder why you ever settled for names like Quarter Pounder and McChicken. Keep an eye on the BL Facebook page to catch the latest weekly burg specials. Dine-in or takeaway.
Address: 3/188 Church St, Parramatta NSW 2150
Hours: Sun-Thur 11am-9pm, Fri-Sat 11am-10pm
Phone: (02) 9635 8950
Address: 1/151 Oxford St, Darlinghurst NSW 2010
Hours: Sun-Tue 11am-9pm, Wed-Thu 11am-10pm, Fri-Sat: 11am-12am
Phone: 02 9357 4527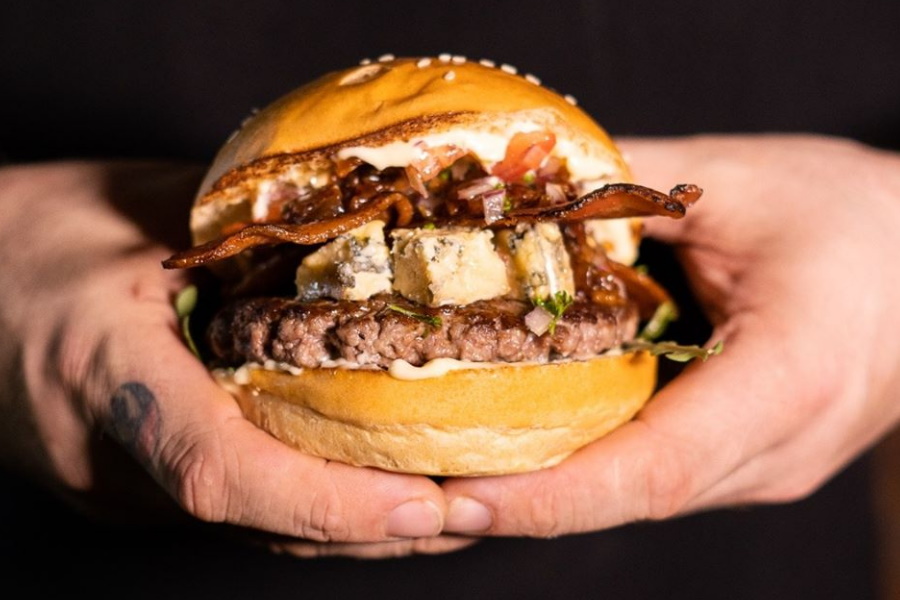 22. Surly's American Tavern
Offering Sydney's authentic slice of Nashville, Surly's is the inner-city bar and grill where big kids go to play with the soul food and good company making you want to stay. This dive bar serves up a great selection of smoked meats and burgers, with the current menu featuring 13 unique burg creations. Highlights include Kenny Powers with Carolina-style smoked pulled pork, and for something different, the Surly Vurger replaces meat with a roast sweet potato and chickpea crumbed patty.
Address: 182 Campbell St, Surry Hills NSW 2010
Hours: Wed-Thu 5pm-11pm, Fri-Sat 12pm-12am, Sun 12pm-10pm
Phone: (02) 9331 3705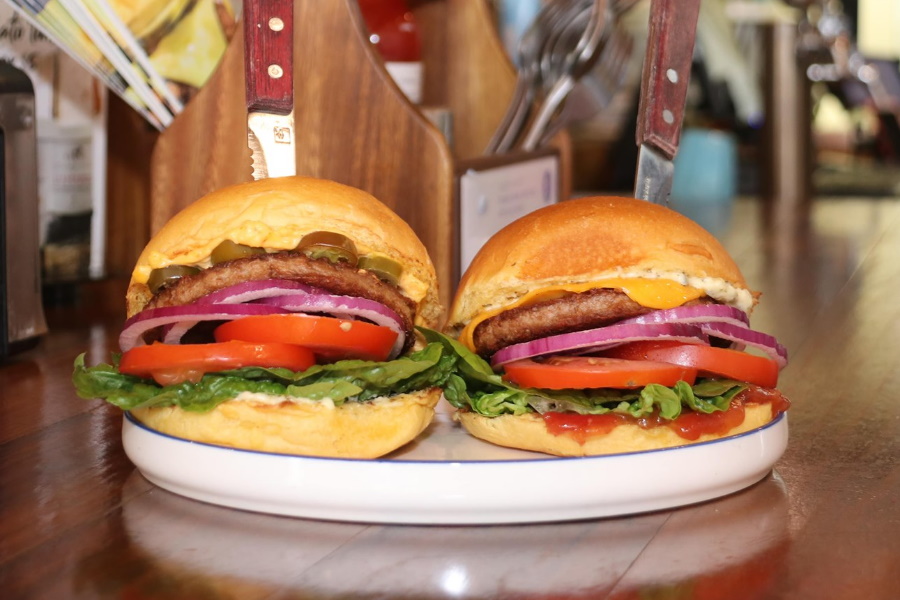 23. Soul Burger
Vegans and vegetarians will appreciate this restaurant for its 100% plant-based burgers, fries and shakes. Juicy, healthier and great for the environment, the current menu includes classics like southern fried chicken, battered fish and pulled pork all made entirely from plants. See if you can tell the difference. We don't think you can. The Soul range also includes unique creations like Satay Tofu and Falafel burgers. Dine-in or takeaway, you can find Soul Burger spreading its wings across Sydney and possibly shaking up the entire fast-food industry in the near future.
Address: 111 Glebe Point Rd, Glebe NSW 2037
Hours: Mon-Sat 12-9:30pm, Sun 12-9pm
Phone: (02) 9277 4624
Address: 229A King St, Newtown NSW 2042
Hours: Mon-Sat 12-9:30pm, Sun 12-9pm
Phone: (02) 9550 3756
Address: 49 Perouse Rd, Randwick NSW 2031
Hours: Mon-Sat 12-9:30pm, Sun 12-9pm
Phone: (02) 9398 7496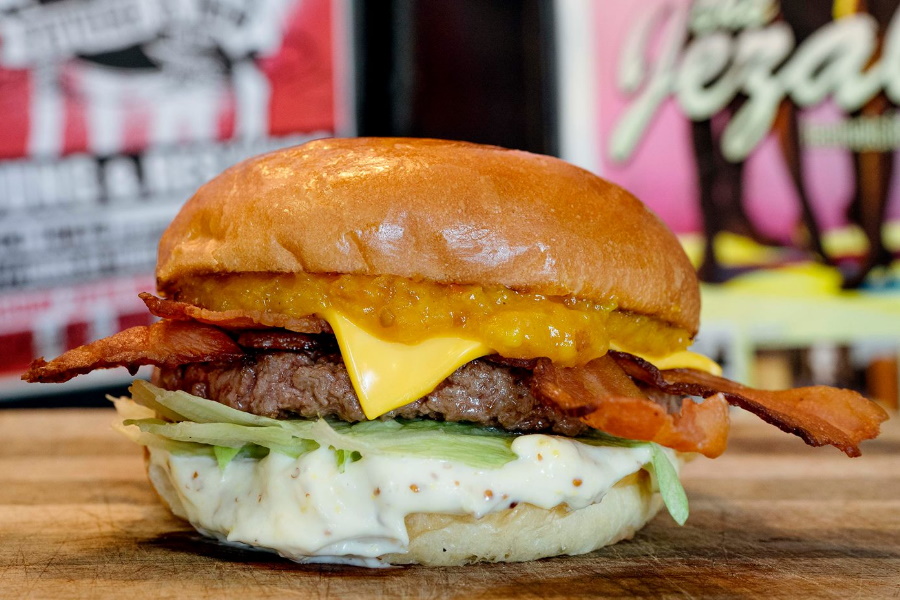 24. Bonditony's Burger Joint
In another life, Bondi Tony managed, toured and promoted rock bands. Now he creates fantastic burgers named after The Jezabels, Cog, and Children Collide, to name a few. With Young Henrys on tap, great wine and mean Bloody Marys, take advantage of the indoor or outdoor seating in the sun, upbeat tunes and inviting atmosphere for a great time near Bondi Beach.
Address: 1/144-148 Glenayr Ave, Bondi Beach NSW 2026
Hours: Mon-Wed & Sat-Sun 12pm-9pm
Phone: 0410 893 003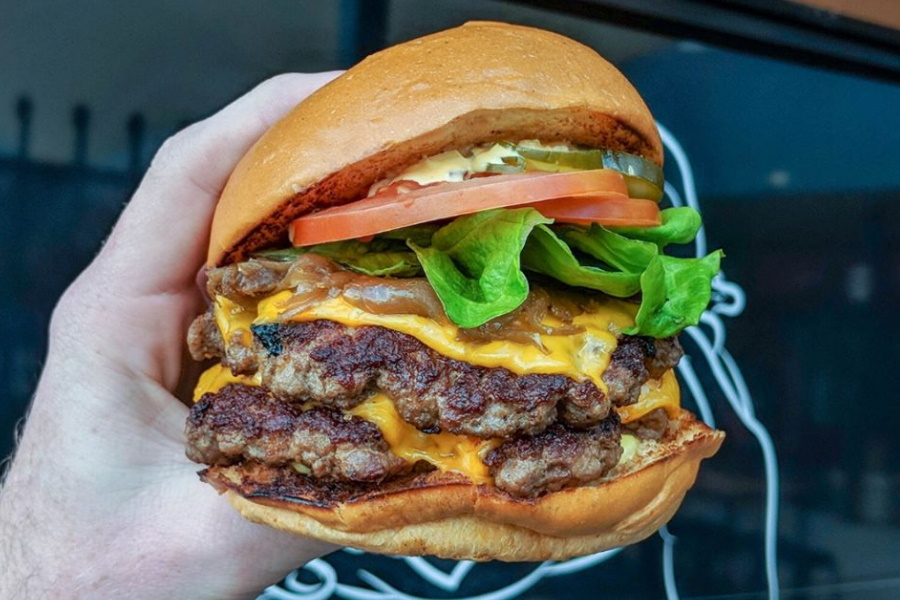 25. Burger Head
Burger Head was founded by three fine dining-trained chefs who came together to use their skills and to dish out quality burgs in the western suburbs. Mincing their own beef and concocting their own special sauces, one bite into a burger and you know it's something special. Dine-in at Burger Head, order take away or look to social media and keep track of the food van. In early 2020, it set up residence in Blacktown.
Address: Shop 17, 98 Henry Street, Penrith, 2750
Hours: Sun-Wed 12am-2pm & 5:30pm-8pm, Thur-Sat 12am-2:30pm & 5:30pm-8:30pm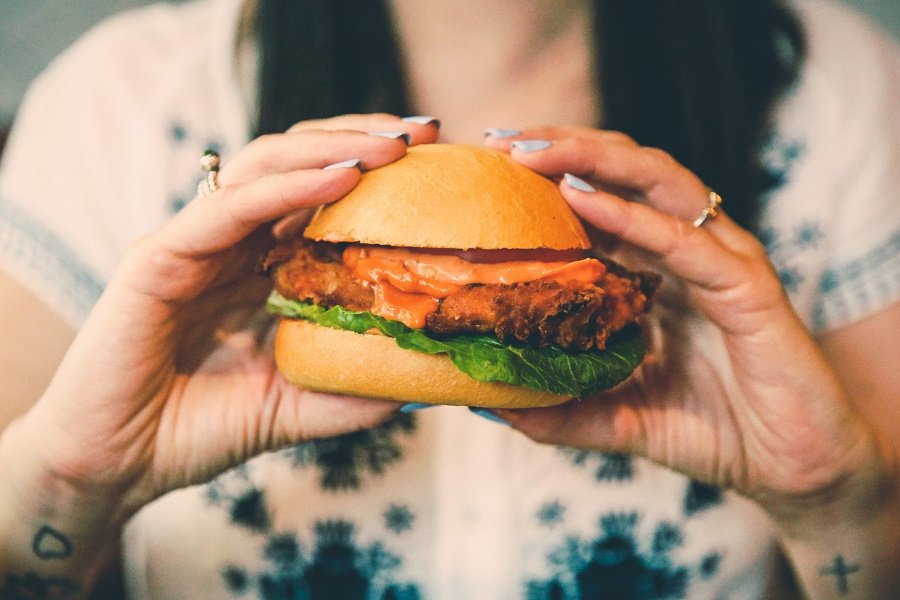 26. Parlour Burger
Just a few steps from The Morrison's main bar, Parlour offers an eclectic menu of six delicious burgers and finger-licking sides, milkshakes and craft beers. The beef patties are a blend of Angus beef chuck, brisket and fat – seasoned with signature star anise salt. The buns are a mix of both Turkish and brioche doughs. Boasting its own bar, long banquette couch seating at the rear of the room, high round tables and leather stools, this is the perfect space for enjoying a cold bevy, after work drinks or watching the game.
Address: 225 George St, Sydney NSW 2000
Phone: (02) 9247 6744
Hours: Mon-Thu 11:30am-11pm, Fri-Sat 11:30am-1am, Sun 11:30am-10pm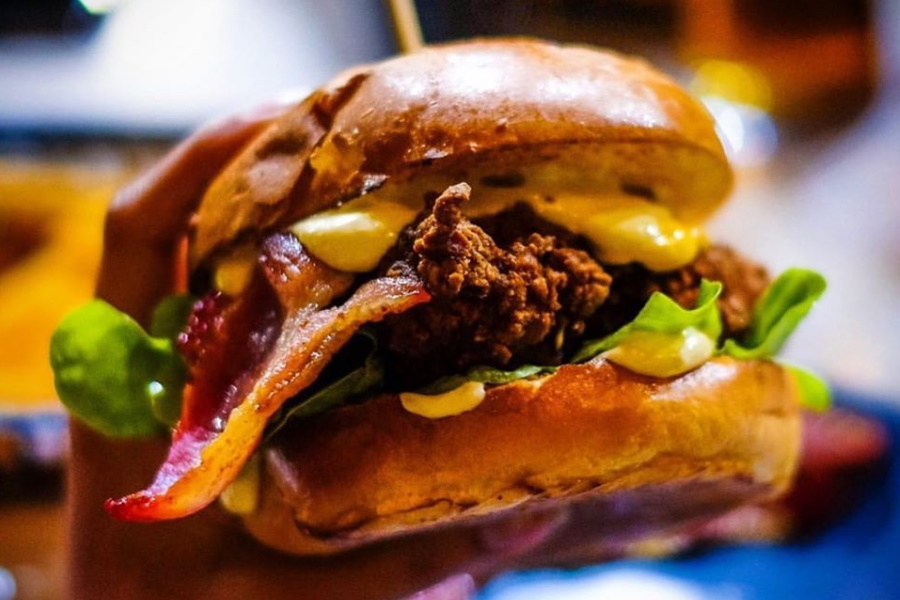 27. Bare Grill and Cafe
Zomato rated Bare Grill the best burger restaurant in Sydney for both 2018 and 2019, so to experience it for yourself, head into the La Perouse restaurant and select between the 15 or so available branded burgers. There's also a great range of ribs, loaded fries, shakes and salads for those healthier folk. Order a Grizzy Bare at your own risk. Dine-in or takeaway.
Address: Shop 3/1599 Anzac Parade, La Perouse NSW 2036
Hours: Mon-Fri 11am-8pm, Sat-Sun 11am-9pm
Phone: 0404 059 039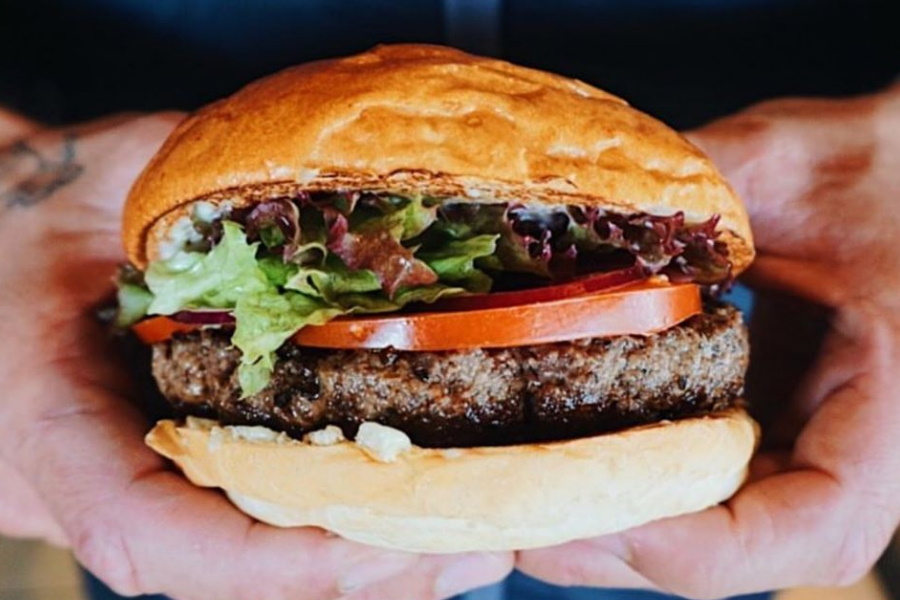 28. Vic's Meat Market
Part butcher, part smokehouse and grill and even part culinary school, Vic's Meat Market has it all!  Vic's takes the fresh quality meat from the Butcher straight to the smokehouse and grill to serve burgers with smoked meats and perfectly grilled steaks. Pair a burger with some fries and a glass from one of Australia's finest wineries to make your next trip to the Sydney Fish Market a truly memorable experience.
Address: Sydney Fish Market, 50-60 Bank St, Pyrmont NSW 2009
Hours: Mon-Sun 7am-4pm
Phone: (02) 8570 8570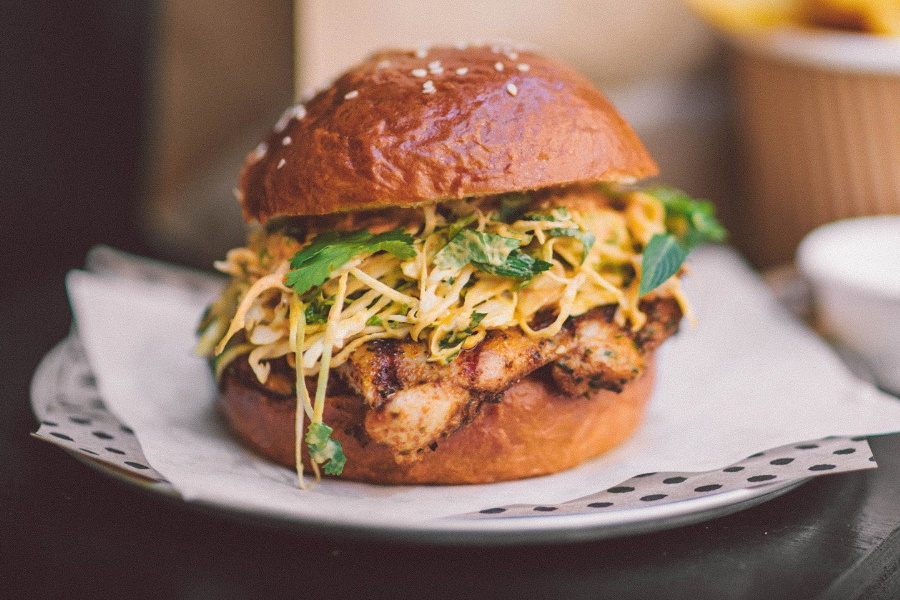 29. Chur Burger
Favourites mix with kiwi sensibilities at Chur Burger. Burgs, beers, shakes and sides from a growing chain that was awarded best burger in the Good Food section in the Sydney Morning Herald after just six weeks of trading. Whether looking for a meal in Surry Hills, catching a quick bite before the next flight or tracking their food van over the socials, the Chur name pretty much guarantees a good feed.
Address: Keith Smith Ave, Mascot NSW 2020
Hours: Mon 11:30am-8:15pm, Tue-Sat 11:30am-10pm
Phone: (02) 9212 3602
Address: 55 Sherbrooke St, Rooty Hill NSW 2766
Hours: Wed-Thu 5pm-10pm, Fri-Sat 12pm-10pm
Phone: (02) 9625 5500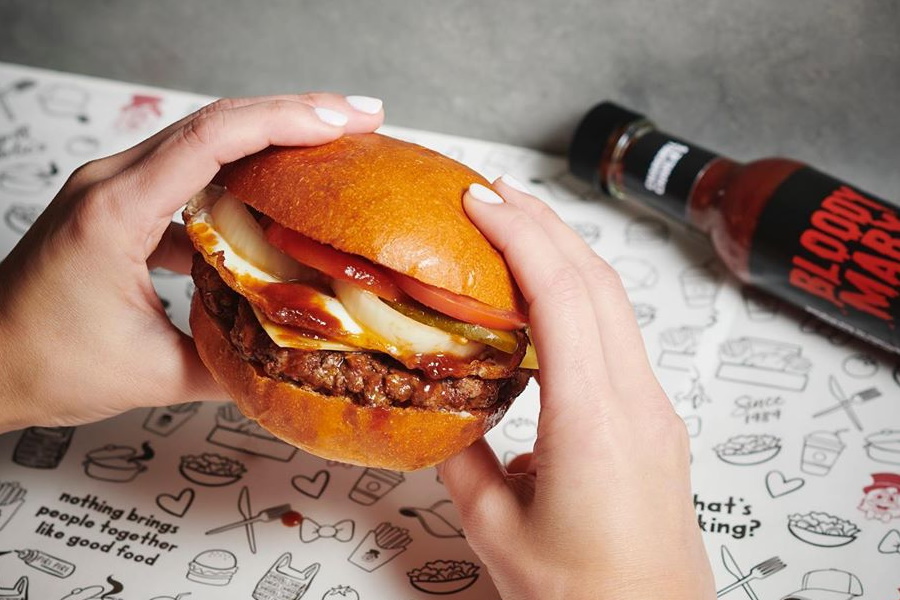 30. Chargrill Charlie's
The warm, welcoming atmosphere and award-winning recipes of Chargrill Charlie's have kept mouths watering for over 30 years. The house chicken burgers are made with grilled chicken breast marinated in lemon and herb then finished off with their famous chilli sauce. The beef burgers are made using ground Aussie Angus beef and when placed in the freshly baked buns with lashings of steak sauce, they become a real treat for the palate. Dine-in or grab takeaway. If you're really into the food, look to Charlie's to cater your next function.
Address: 119-121 Johnston St, Annandale NSW 2038
Hours: Mon-Sun 8:30am-9pm
Phone: (02) 9566 1662
Address: 16 Railway Ave, Wahroonga NSW 2076
Hours: Fri-Wed 8:30am-8:30pm, Thu 8:30am-8pm
Phone: (02) 9489 0982
Address: 884 Military Rd, Mosman NSW 2088
Hours: Mon-Sun 9am-9pm
Phone: (02) 9969 7107
Address: 27 Burns Bay Rd, Lane Cove NSW 2066
Hours: Mon-Sun 8:30am-8:30pm
Phone: (02) 8095 9761
Address: 134 Queen St, Woollahra NSW 2025
Hours: Mon-Sun 9am-8:30pm
Phone: (02) 9327 1008
Address: 4/1785 Pittwater Rd, Mona Vale NSW 2103
Hours: Mon-Sun 9am-9pm
Phone: (02) 9986 0080
Address: 201 High St, Willoughby NSW 2068
Hours: Mon-Sun 8:30am-8:30pm
Phone: (02) 9958 4094
Address: 213A Mona Vale Rd, St. Ives NSW 2075
Hours: Mon-Sun 8:30am-8:30pm
Phone: (02) 9988 4292
Address: 2/779 New South Head Rd, Rose Bay NSW 2029
Hours: Mon-Sun 8:30am-9pm
Phone: (02) 9388 1180
Address: 2/4-8 Waters Ln, Neutral Bay NSW 2089
Hours: Mon-Sun 8:30am-9pm
Phone: (02) 9953 0399
You'll also like:
Mark Wahlberg is Bringing His Wahlburgers Chain to Australia
Obama's Favourite Burger Chain 'Five Guys' is Reportedly Coming to Australia
Burger Lords Carl's Jr. are Officially Coming to Sydney
General FAQ
Is Soul Burger completely vegan?
Yes, it is. Soul Burger serves up delicious vegan burgers named after their meatier counterparts.
What beer goes well with burgers?
Dark ales, porter and stout go well with beef burgers, lamb warrants an IPA, pork calls for a lager and chicken demands a lighter beer like a blonde, pilsner or pale ale.
What wine pairs with burgers?
Cabernet sauvignon, merlot, grenache and red blends pair well with beef and lamb burgers while Riesling, chardonnay and pinot grigio pair with chicken, fish and spicy burgers.