25 Best Pizza Shops in Sydney For a Fresh Slice
Put simply, pizza is one of those foods everybody loves. Ubiquitously relished; from luncheons and dinners to outings and celebrations, we all have an opinion on the best pizza shops in our chosen state. It's true, in the pizza we crust.
When it comes to the best pizza shops in Sydney, you've got a lot to consider. Are you looking for something calorific, healthy, vegan, vegetarian, or gluten-free? You would be at loggerheads with your mates over which place reigns supreme. So, to do the dirty work for you, we've culled the list of the best pizza places in Sydney down to a select few, separating the critically acclaimed from the critically ashamed.
Best Pizza Shops in Sydney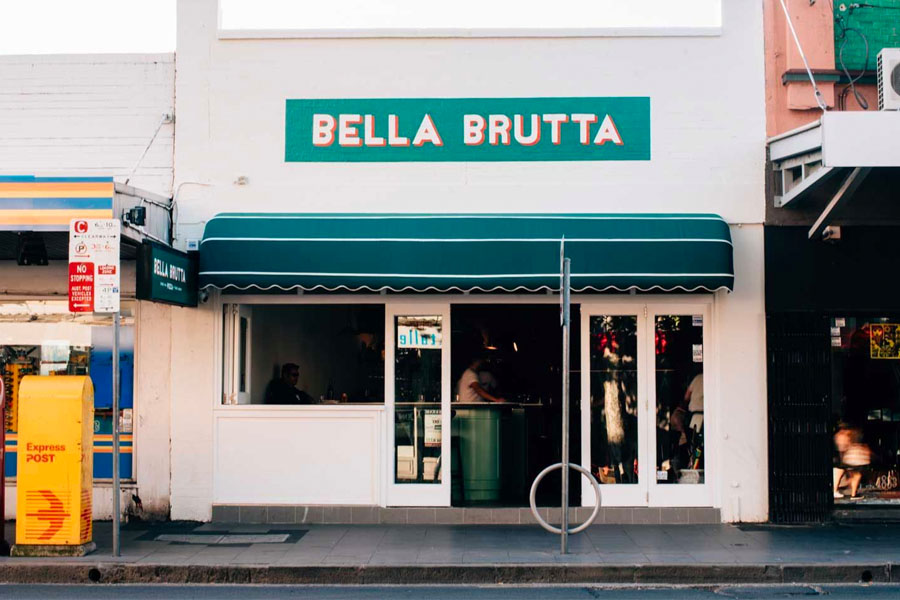 1. Bella Brutta
Like the coveted Neapolitan or New Yorker style, Bella Brutta dishes different, yet delectable pizzas. Serving the next best pizza in Sydney, Bella employs simplicity in the process. A fusion of Australian wholegrain and refined Italian flours yield Bella's pizza: Puffy, crispy, and a blistered crust, akin to a Neapolitan-style slice, the culmination of culinary work. Like the Italian polymath, Leonardo da Vinci said, "simplicity is the ultimate sophistication," and Bella's simple and scrumptious Italian pizzas have always panned out to placate its patrons.
Known for: Margherita, Mortadella and Clam pizza's.
Address: 135 King St, Newtown NSW 2042
Phone: (02) 9922 5941
Hours: Wed-Thur 5-10pm, Fri 5-11pm, Sat 12-11pm, Sun 12-9pm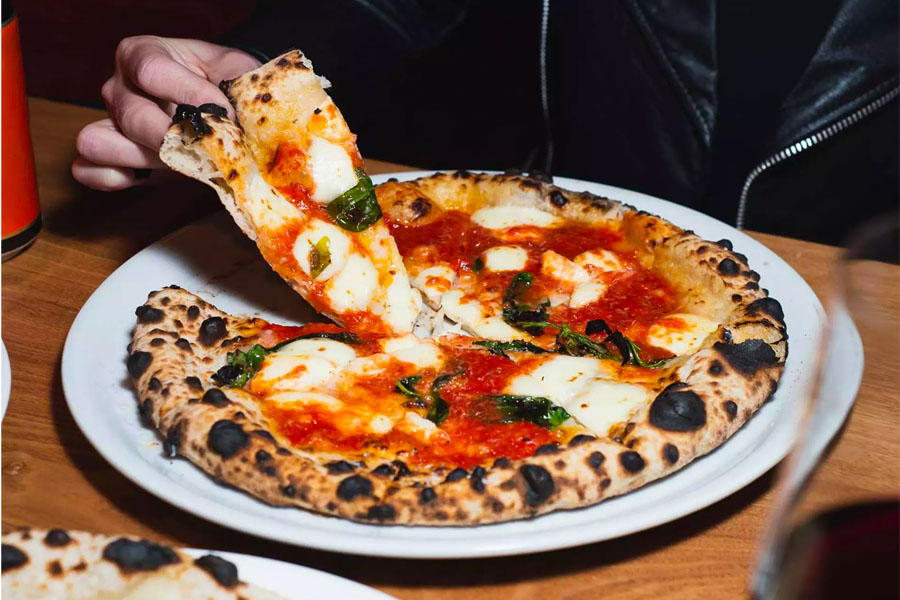 2. Dimitri's Pizzeria
Dimitri's Pizzeria prides itself in its host of handmade wood-fired pizza—meat, vegetarian, vegan, and halal— the Darlinghurst stalwart, also offers artisan pasta dishes, salads, a diversity of drinks, and delectable desserts. While its dough is quite traditional, Dimitri's delivers a unique marriage of Australian organic stone-ground flour with toppings that are certainly not traditionally Italian. Customers are expected to find honey, brussels sprouts, rainbow chard, radicchio, and even corn atop their pizza; bringing some of the best pizza in Sydney to your tastebuds.
Known for: Bee Sting, Cream of Corn, and Brussel Crowe pizza's.
Address: 215 Oxford St, Darlinghurst NSW 2010
Phone: (02) 8068 4247
Hours: Wed-Thur 5-9:30 pm, Fri-Sat 5-11 pm
---
Featured Video from Man of Many
---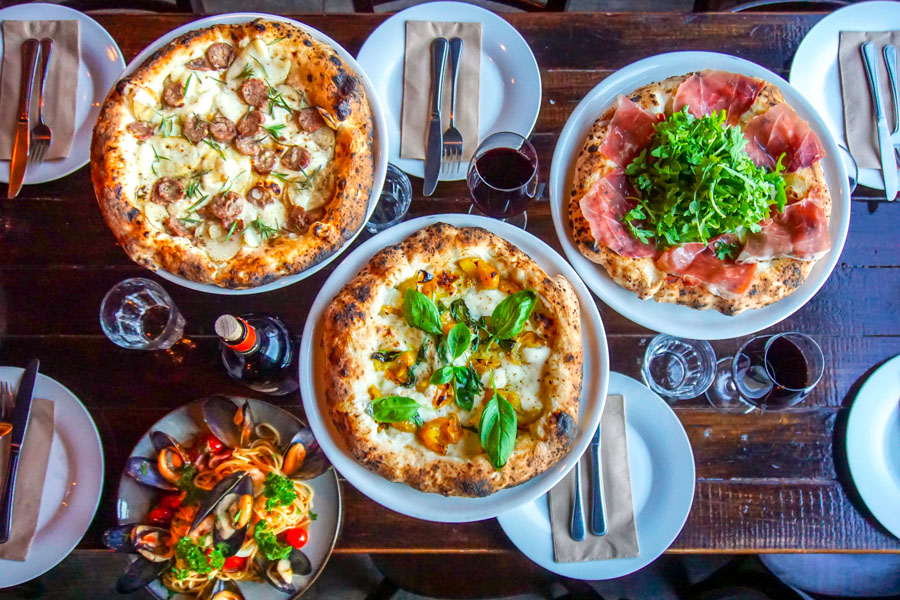 3. Pizza da Alfredo
Revered for its succulent pizzas that an artisanal approach, Pizzeria da Alfredo's use supreme ingredients to provide you with a distinct Italian experience. With plenty of plant-based choices, this cutesy pizzeria produces a whopping 23 different wood-fired Italian pizzas. Visit da Alfredos for their pizzas, exquisite entrees and dainty dessert, all house in a curious little setting.
Known for: Partanopea, Siciliana and Pork, and Veal Lasagna
Address: 331 Glebe Point Rd, Glebe NSW 2037
Phone: (02) 8964 9612
Hours: Tue-Sun 5-10 pm
4. Cucina Porto
From a delicious prosciutto pizza with fig, burrata and rocket to one with shaved ham, artichokes and olives, Executive Chef of Cucina Porto, Martino Pulito and his wonderful team serve up simple, honest Italian food using the best ingredients along with a touch of old-world hospitality and charm. We absolutely love traditional Italian pizzas, and this spot's also in a stunning location.
Known for: Buffalo Margherita, Parma Prosciutto, and Salsiccia pizza's.
Located in: The Star Sydney
Address: Level G, Harbourside Entrance The Star Sydney, 80 Pyrmont St, Pyrmont NSW 2009
Phone: 1800 700 700
Hours: Sun-Fri 5-10pm. Sat 12-3, 5-10pm.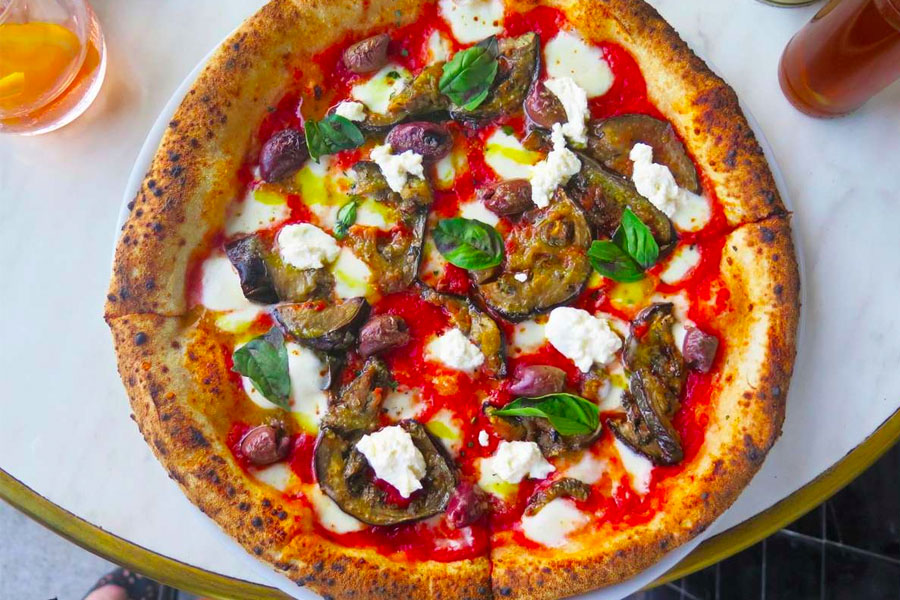 5. Pizza Madre
Many places would call heresy on Pizza Madre's practice of making pizza. With all toppings being meat-free, Madre uses seasonal, high-quality products that are classically prepared and yet differently Italian. This pizzeria will have you salivating over their flavours and mouth-watering menu. Wood-fired sourdough pizzas; salads; and delectable desserts made from layered zabaglione, savoiardi biscuits, chocolate mousse, hazelnuts and toasted wattleseeds. Along with some of the best pizzas in Sydney, Italian croissant-buns filled with tiramisu gelato and coffee are also on offer.
Known for: 4 Cheese, Chickpea, and Asparagus pizza and Clementine Sponge Cake
Address: 2/205 Victoria Rd, Marrickville NSW 2204
Phone: (02) 9564 0545
Hours: Tue-Sat 5-9:30 pm, Sun 12-9:30 pm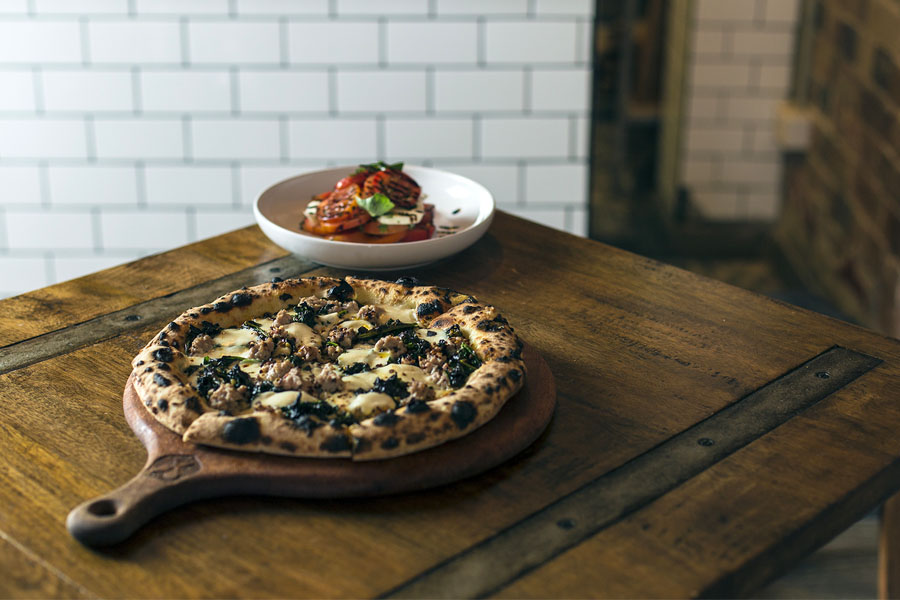 6. Society Pizza Bar, Bondi Beach
Society Pizza Bar at Bondi Beach began as a mum-and-dad operation; a cutesy event catering business that ballooned to a prosperous pizzeria. If you're pulsating for pizza and pasta near you, Society Pizza Bar will leave you yearning for more. The restaurant's prominence comes from its perfectly prepared wood-fired pizzas, pasta, seafood, salads, and drinks that harken back to their roots in Sicily. Within walking distance from Bondi Beach, Society's atmosphere is ideal for friends and family. Its slices include pulled pork and caramelised onions Margherita, the Cucuzza consisting of wonderfully cooked prawns, char-grilled zucchini, and a slightly spicy base.
Known for: Rucola, and Sei pazzu pizza.
Address: 88 – 90 Curlewis St, Bondi Beach NSW 2026
Phone: (02) 9130 7359
Hours: Mon-Fri 5-10 pm, Sat-Sun 12-10 pm
Society Pizza Bar, Bondi Beach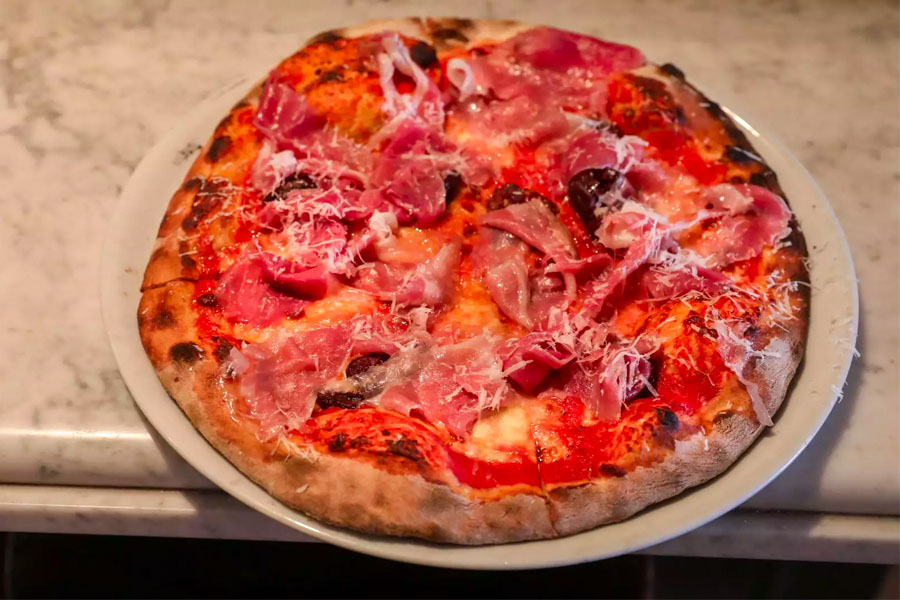 7. Love Supreme
For all you picky eaters, Love Supreme is the Italian kitchen favouring organic produce, gourmet wood-fired pizza, homemade pasta, garden-fresh salads, gelato, coffee, and booze in a lax industrial-chic decor. This pizza place reigns supreme in Paddington: offering toothsome vegan and vegetarian options, and a number of Italian cheese dispatched from the homeland. Love Supreme strives for simplicity and is a must-try for pizza officianados.
Known for: T.N.T, Big Brother, and Fior di latte gelato.
Address: 180 Oxford St, Paddington NSW 2021
Phone: (02) 9331 1779
Hours: Tue-Wed 5-9pm, Thru & Sun 5-10pm, Fri-Sat 5-11pm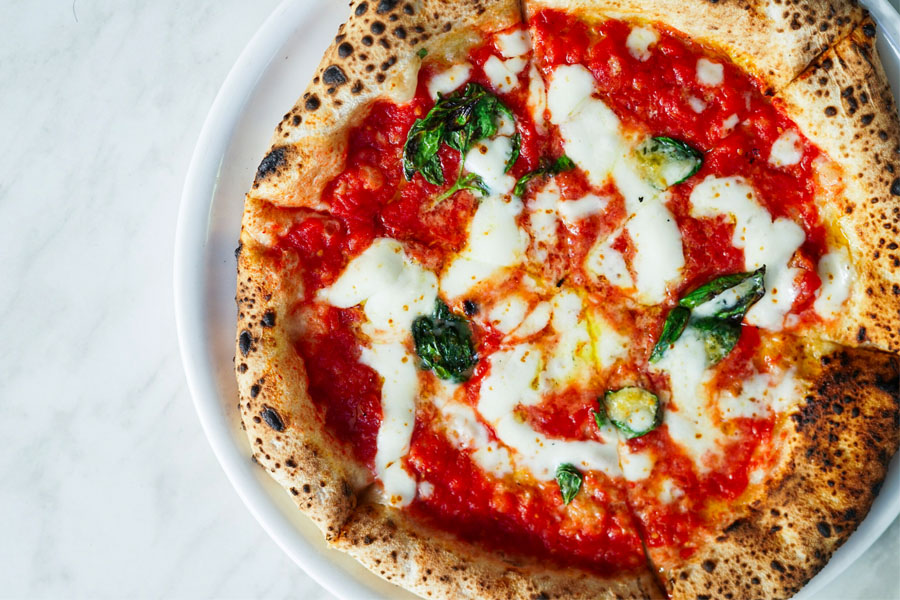 8. La Bufala
For your foodie delights, La Bufala is offering up wood-fired pizzas, antipasti, burgers, calzones, pasta, and desserts with vegetarian, vegan, and gluten-free options. Blending Italian, Mediterranean, and other European steeped cuisine, its menu options are made using some seriously fresh ingredients. This pizzeria uses healthier, unadulterated flour with natural yeast, for their dough. They also serve homemade pasta, grilled fish, and focaccias. Their most sought-after pizza, the Capricciosa: San Marzano tomato, Fior di latte cheese, double smoked ham, mushroom, artichokes, and olives will leave you contentedly comatose.
Known for: Capricciosa pizza, Spaghetti Amatriciana and Calzone Bufala
Address: Shops 17 and 18, 19-33 Kent Rd, Mascot NSW 2020
Phone: (02) 8319 4090
Hours: Mon-Thur 12-3pm, 5-10 pm. Thu 12-10pm. Fri 12-3 pm, 5-10:30 pm. Sat 12-10pm, Sun 12-9:30 pm.
9. HAPPY AS LARRY
HAPPY AS LARRY is one of the most treasured and best pizza shops in Sydney CBD. The shop's magnetising menu caters to all and is predicated only on the freshest of ingredients and what's in season. The eatery also features a pantry for great value and makes shopping for a range of restaurant made meals and artisan Italian products easy. Its pantry is filled with delicious ready-made meals from fresh pasta sauces, schnitzels to stuffed roasted capsicums and mouth-watering lasagnes. The restaurant offers healthy bowls, pizza Al taglio, signature sliders, and fresh pasta platters that will have you coveting to coming back.
Known for: Margherita pizza, Bianca pizza, and Wild Mushroom Rigatoni pasta
Address: THE MET CENTRE, 23 Jamison St, Sydney NSW 2000
Phone: 0478 698 438
Hours: Mon-Fri 7am-4pm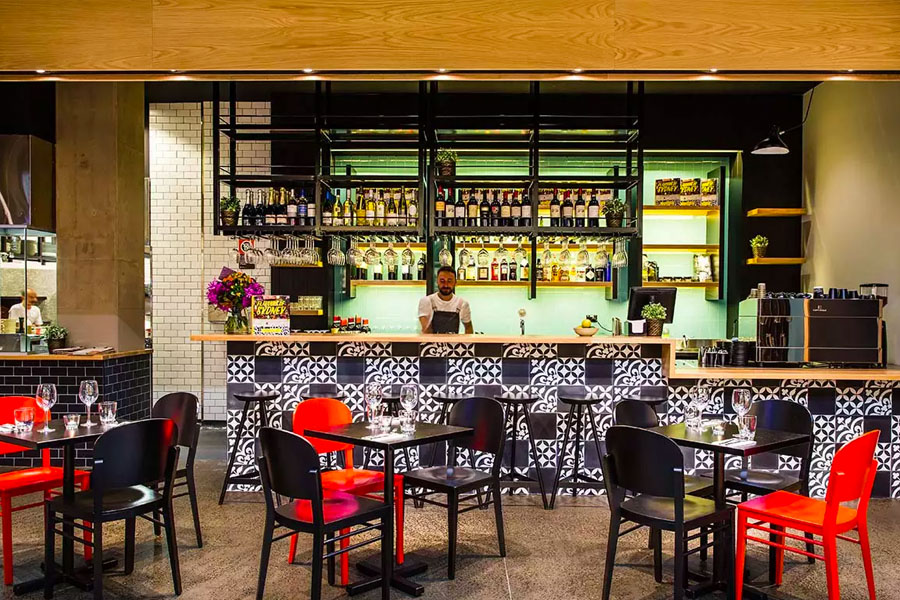 10. Lucio Pizzeria
Pizza honcho Lucio Pizzeria serves Neapolitan pizza in Zetland. The novel Zetland shop offers fresh buffalo cheese plates and potent pasta. Customers can enjoy the mozzarella bar with a myriad of meats and cheeses, pristine pasta dishes fish dished out by Italian-inspired culinary skills. There's also a DIY antipasto plate centred on fresh buffalo cheeses imported from Campania, Italy.
Known for: Bufalina pizza, Filetto pizza, and Spaghetti di mare
Address: East Village 2, 4 Defries Ave, Zetland NSW 2017
Phone: (02) 9697 3028
Hours: Tue-Thu 5-9 pm, Fri-Sun 11:30am–3pm, 4–9pm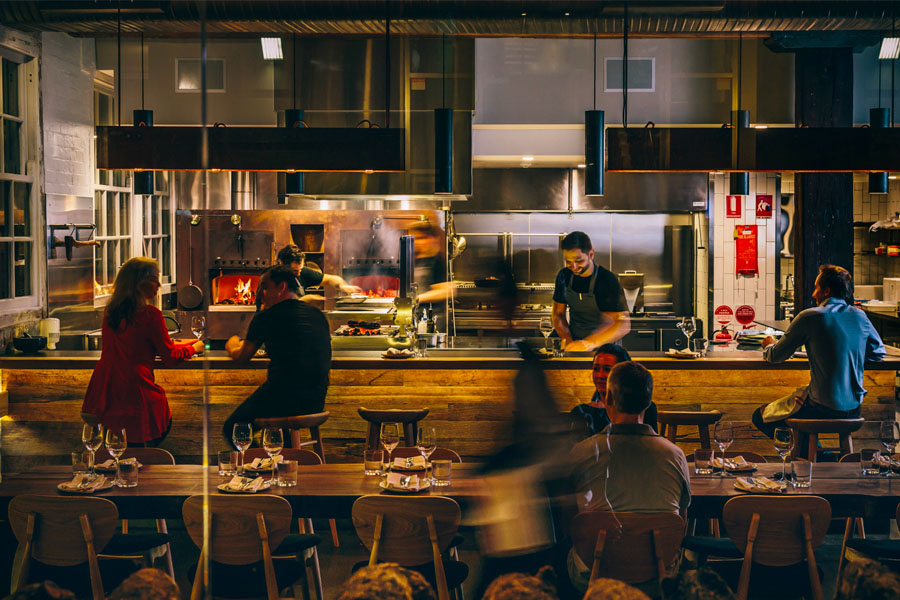 11. Vacanza Pizzeria
Vacanza Pizzeria has been receiving rave reviews from locals and critics for their authentic Italian-style pizza. The eatery was voted in the top 10 Pizzerias in The Sydney Morning Herald's "Good Food Guide". With ingredients sourced from the highest quality of Italian and Australian produce, the menu also includes a selection of antipasti, pasta, and authentic stone-baked dishes. Vacanza's to-die-for handmade pizzas are the restaurant's crowning glory, including cult favourite Il Pizzaiolo del Presidente Diavola, a scrumptious combination of tomato, Italian cheese, calabrese salami, fresh chilli, and olives. One of the best pizza shops Sydney has to offer, without a doubt.
Known for: Papa Biagio's pizza, Villa Verde pizza, and Il Capitano pizza
Address: 414 Bourke St, Surry Hills NSW 2010
Phone: (02) 8964 6414
Hours: Mon-Thu 5:30-11 pm. Fri-Sat 12–3:30 pm, 5:30–11 pm. Sun 12–3 pm, 5:30–10 pm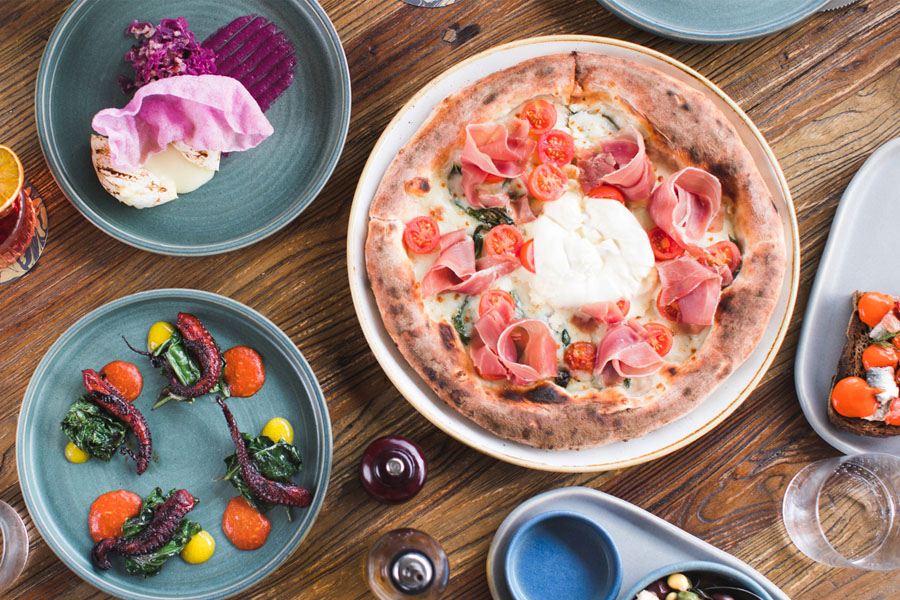 12. Maybe Frank Randwick
If you savour tasting traditional Italian wood-fired pizza, in a petite and lax bar situated in the sprightly suburbs of Randwick and Surry hills, then Maybe Frank is your place to be. With a mind-boggling array of 23 pizzas, two popular being the Frutti di Porko, with different cuts of pork, and the Zucca with pumpkin, pancetta, mozzarella and rosemary the restaurant is nonpareil. The rest of Maybe Frank's menu is compact; a small selection of antipasti plates mixing Australian and Italian cheeses and meats, potent pasta, and salubrious salads.
Known for: Frutti Di Porko pizza, Ortolana pizza, and Patate pizza
Address: 69 Perouse Rd, Randwick NSW 2031
Phone: (02) 9398 8061
Hours: Wed-Sat 5-11:30pm, Sun 5-10:3pm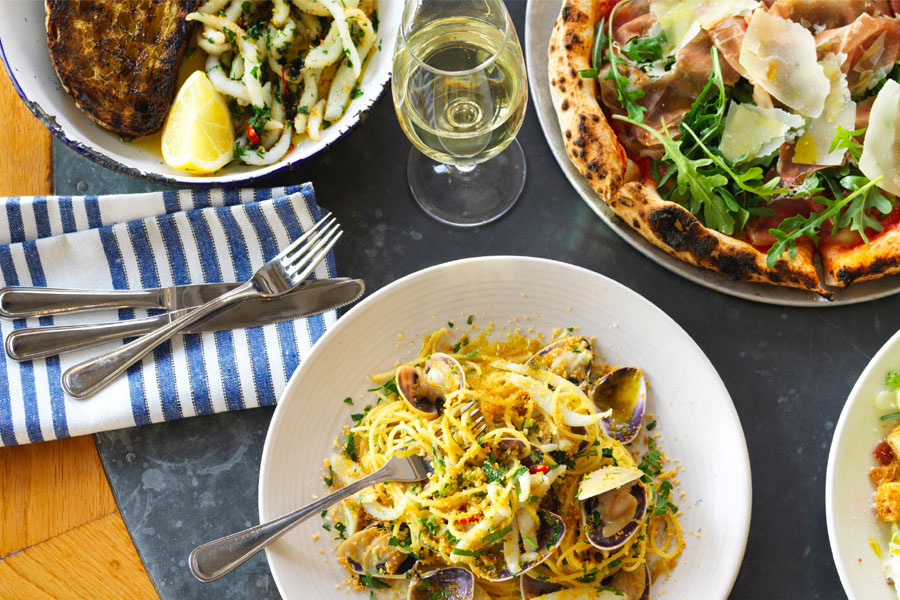 13. Coogee Pavilion
Take in the splendid ocean vista and shift into holiday gear for an afternoon at Coogee Pavilion. Labelled by many as a local haven of Mediterranean-influenced food, delectable drinks, and a mesmerising seascape. Its ground floor is quintessential for families and casual meals and dates. Its menu has been crafted with a seafood dining undercurrent; from sashimi and freshly shucked oysters to family-friendly burgers, wood-fired pizzas, and kid's meals. If you think you're a hotshot eater, try Pavilions most flamboyant pizza, Hell's Bells, for a seriously flaming food experience and a chance to score some of the best pizza in Sydney.
Known for: Hell's Bells pizza, Capricciosa pizza, and Gnomo pizza
Address: 169 Dolphin St, Coogee NSW 2034
Phone: (02) 9114 7321
Hours: Mon-Sun 7:30-10pm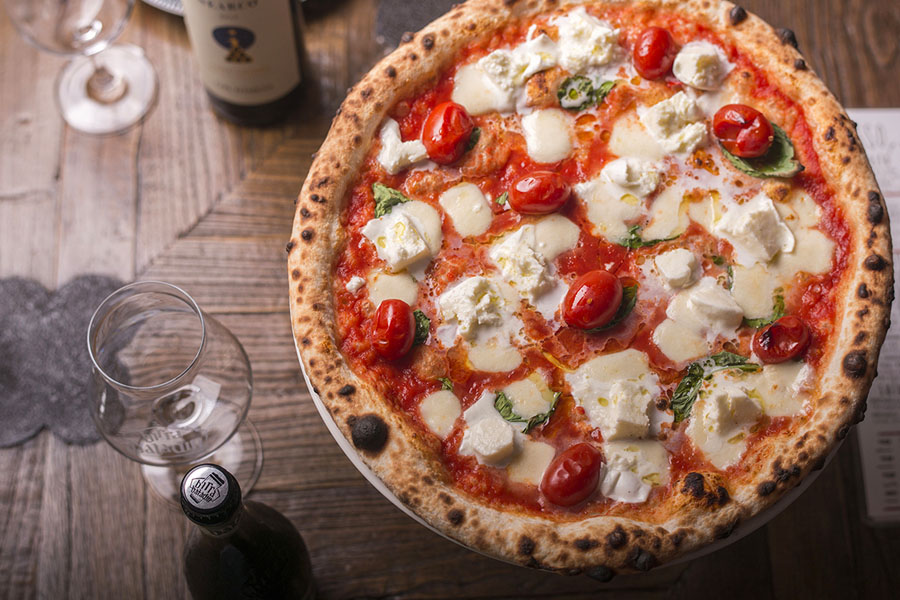 14. Rosso Pomodoro
As one of the top-tier purveyors of pizza in Sydney, Rosso Pomodoro has made its name by bringing thin bases to its pizzas. The eatery is high-energy: Italian staff yelling out orders, continuous queues of customers collecting their pizzas, and the heat of the wood-fire oven, a symphony that enriches Rosso's setting. Ham and pineapple pizza fans be warned: Only Italian toppings, nothing newfangled. Nonetheless, there are many to select from. Their menu focuses are parmesan, prosciutto, porcini pizzaz. Rosso Pomodora is easily one of the best pizza shops in Sydney for traditional fare.
Known for: Margherita Regina pizza and Rocco pizza
Address: 360 Darling St, Balmain NSW 2041
Phone: (02) 9555 5924
Hours: Mon-Sun 5-10 pm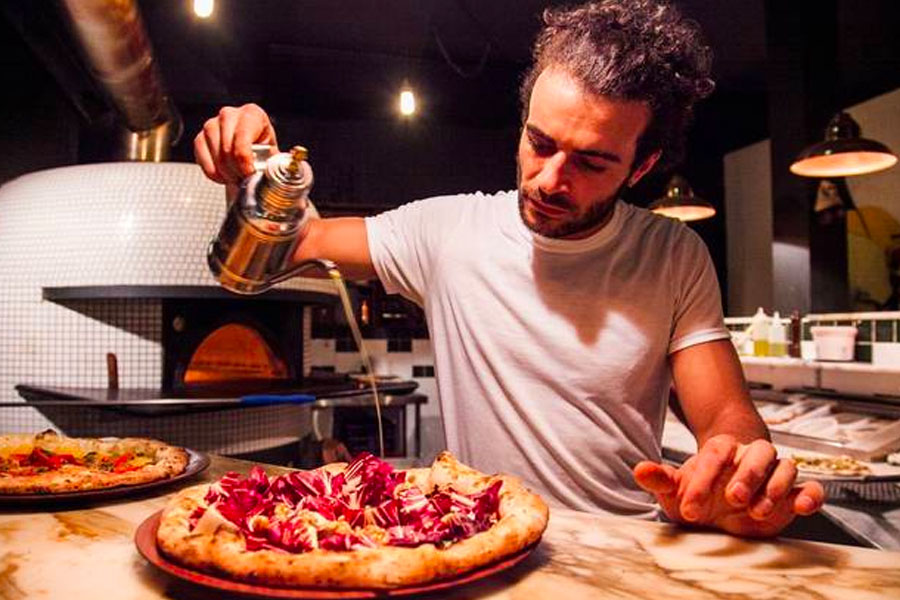 15. Gigi's Pizzeria
Gigi's Balmain is a vibrant corner of Naples' food culture. Gigi's Pizzeria is one of a few pizzerias in Sydney that is a proud member of the Associazione Verace Pizza Napoletana (AVPN) that adheres to its discrete regulations: Hand-stretched dough, traditionally topped, and wood-fired pizza, Napoli style. Since revamping their menu, now plant-based, pizzas are creatively topped with roast potatoes and truffle paste; a pulpy-crusted calzone with pumpkin; and a strikingly umami-strewn pizza with barred asparagus and yellow tomatoes. One slice that will never be dropped from their menu is the traditional Marinara, with tomato, oregano, and garlic.
Known for: Marinara Tradizionale, Peperone Rosso and Regina pizza's.
Address: 379 King St, Newtown NSW 2042
Phone: (02) 9557 2224
Hours: Mon-Fri 5-9:30pm, Sat-Sun 12-9:30pm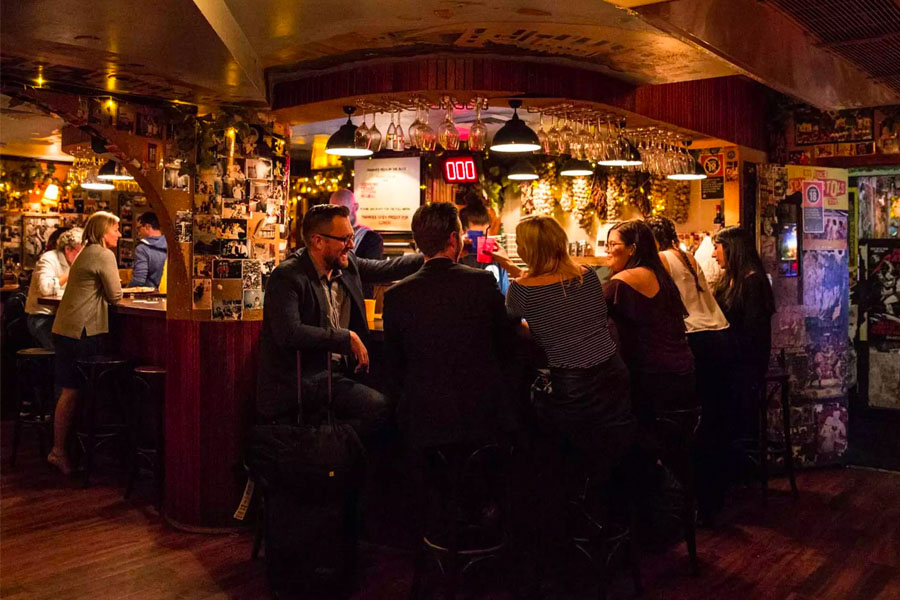 16. Frankie's Pizza
At Frankie's Pizza, you'll expect to enjoy the best pizza and party scene in the Sydney CBD. At the eatery pizzas, diverse drinks, and cider are served in a rock 'n' roll hotspot with pinball machines. The heart of the business district is not where you would expect to find an underground heavy metal pizza party. With a slice for a rock-bottom price – a night here is one, you should hanker for. Frankie's is open until 3 am, seven nights a week. Once you've had a couple, you can tuck into some of the best pizza Sydney has to offer. Sounds like a dream.
Known for: Bigfoot's Barbecue, Bosco, Mr Landoo pizza's.
Address: 50 Hunter St, Sydney NSW 2000
Phone: (02) 9557 2224
Hours: Mon-Sun 4-3:30 am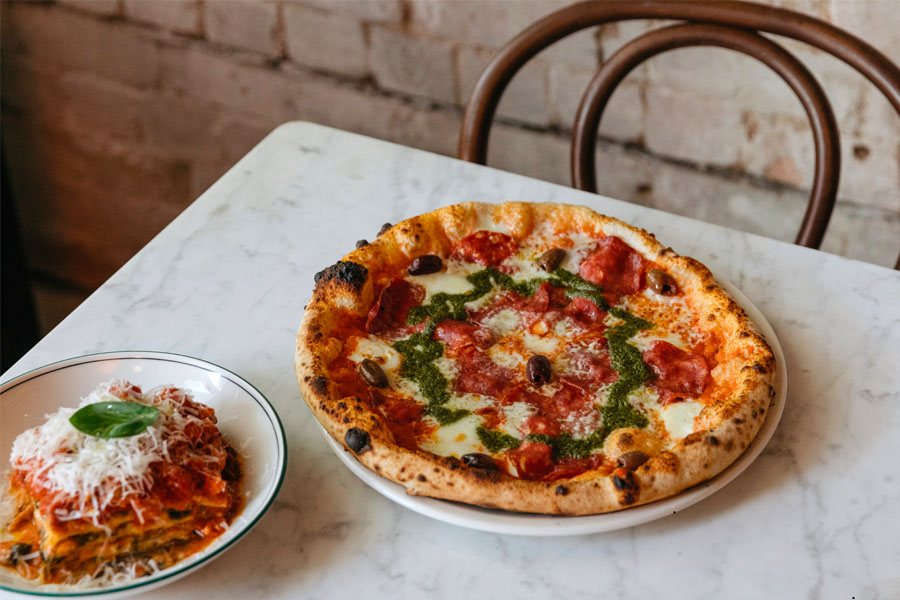 17. D.O.C. Pizza
In 2020, illustrious DOC Pizza – with shops in Carlton, Mornington, and Southbank, Melbourne – erected an eatery in Surry Hills, its first outpost, to expand its label. The pizza palace features 14 choices on their menu, including DOC favourites: The San Daniele and Pizza ai Porcini–wild mushrooms, mozzarella and pecorino. The restaurant offers two weekly specials, written in white chalk on their blackboard; vegetarian and meat-based. All of DOC's pizzas are embellished with outrageously Italian toppings: San Daniele Prosciutto, Campania mozzarella, and San Mazarno tomatoes, an authentic practice as opposed to the floppier Napoli-style of second-rate pizzerias.
Known for: Capricciosa Nuova and San Daniele.
Address: 78 Campbell St, Surry Hills NSW 2010
Phone: (02) 9211 1507
Hours: Wed-Thur 5-9:3pm, Fri-Sat 12-10:30pm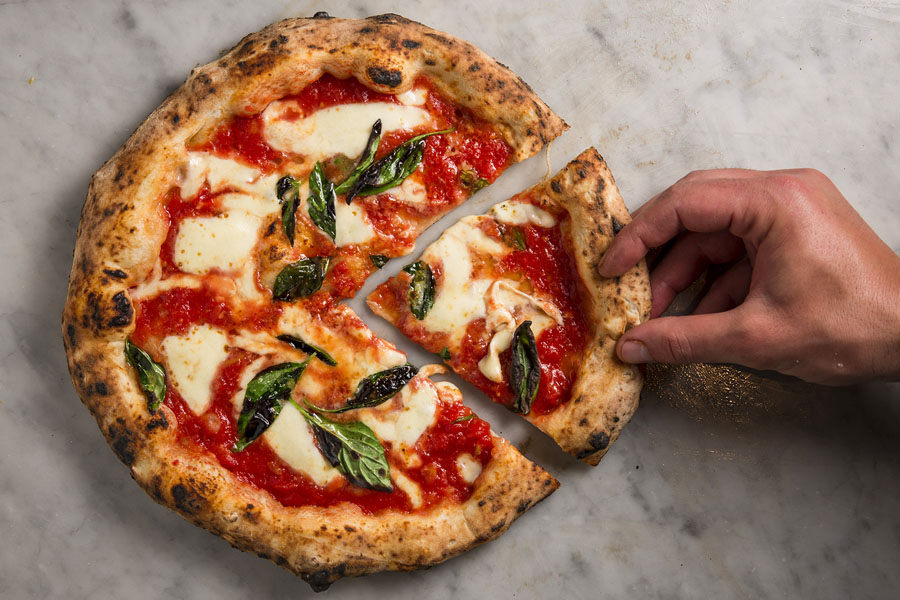 18. Via Napoli
The best pizza in Lane Cove is produced by Via Napoli; also bringing a five-Metre Pizza Challenge to Sydney's pizza warriors. With the competition only withheld in the Hunters Hill location, winning the challenge will grant you a free dinner. The shop proudly follows its authentic family recipes and has created a restaurant setting reminiscent of the sparkling streets of Naples. Decorated with Pulcinella masks, hanging Parma prosciuttos, chillies, flasks, and entire Parmigiano wheels, Via Napoli is one of those pizza shops Sydney can be proud of. Its most popular menu choice is Pizza Fritta; a deep-fried folded pizza stuffed with buffalo ricotta, mozzarella, cacciatore and pepper.
Known for: Capricciosa, The Pizza Fritta and Gnocchi Sorrentina
Address: 141 Longueville Rd, Lane Cove NSW 2066
Phone: (02) 9428 3724
Hours: Mon-Wed 5-10 pm, Thu 12-10 pm, Fri-Sat 12-11 pm, Sun 12-10 pm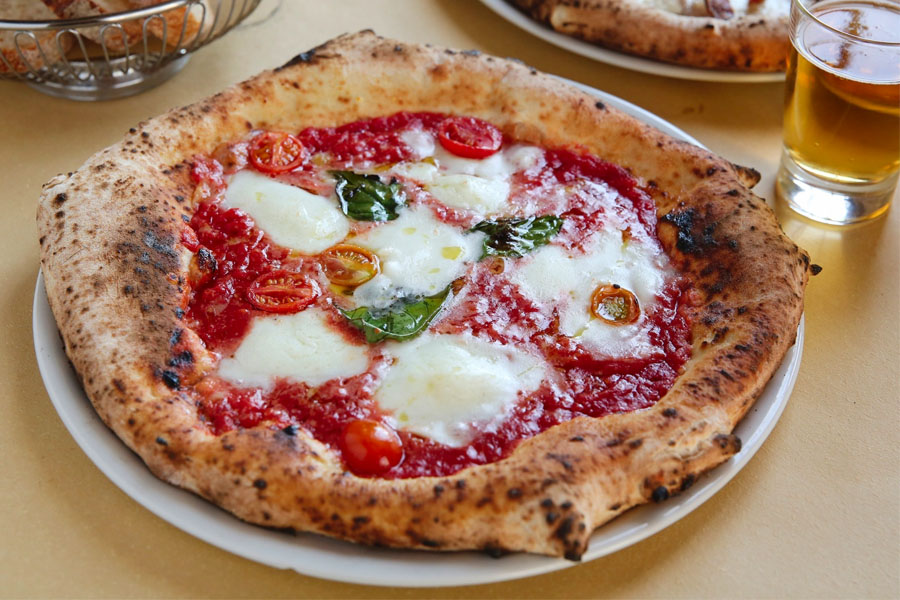 19. Da Mario
Da Mario has solidified its reputation for dishing out some of the finest wood-fired pizzas and classic Italian foods. Known for its cheesy and delightful pasta and pizzas, at Da Mario's you can experience lunches of Rosse or Bianche including the Margherita "extra" with buffalo mozzarella, or Marinara con Tonno with preserved tuna, speck e fontina with smoked prosciutto, or Gorgonzola con radicchio. Also, you can enjoy scoffing down a calzone or a risotto special. Too good.
Known for: Margherita Con Ruchetta E Crudo, and Margherita con Bresaola.
Address: Shop 1/36 Morley Ave, Rosebery NSW 2018
Phone: (02) 9669 2242
Hours: Thur-Sun 5-9pm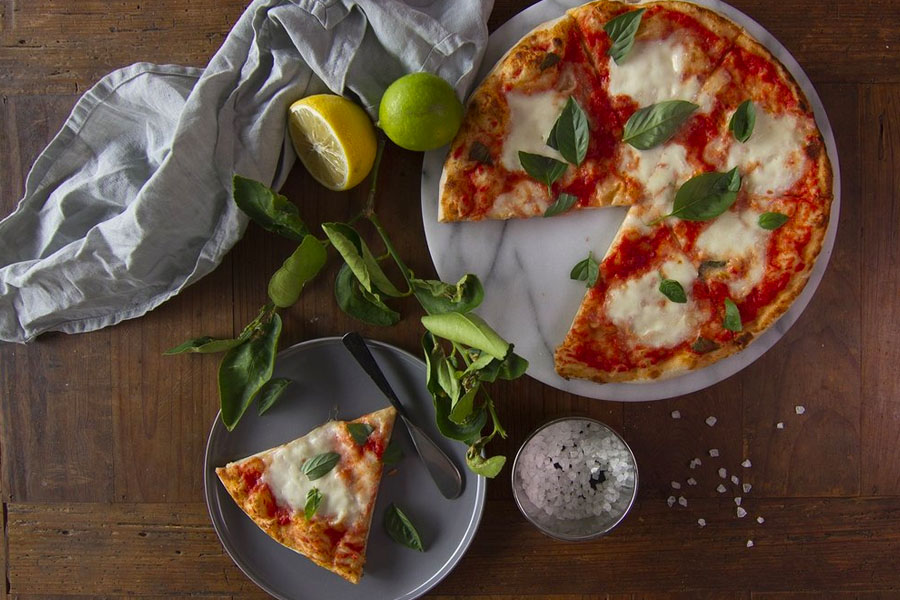 20. La Coppola
The best Italian pizza near you in Redfern is La Coppola. Its pizzas are based on the slightly different flavours of Sicily. Yet, many of La Coppola's are not steeped in traditional recipes, but rather in Italian cuisine and culinary creativity. Fresh fennel, fried zucchini, Parmigiano-Reggiano, fresh chillies, olives, and anchovies combined with your old favourites are the rudimentary yet riveting toppings of most of their pizzas. The restaurant is one of the best pizza shops in Sydney, no question.
Known for: Milazzo, Zafferia, and Scopello pizza's.
Address: 152 Redfern St, Redfern NSW 2016
Phone: (02) 9699 8450
Hours: Tue-Thur & Sat 5-9pm, Fri 5-10pm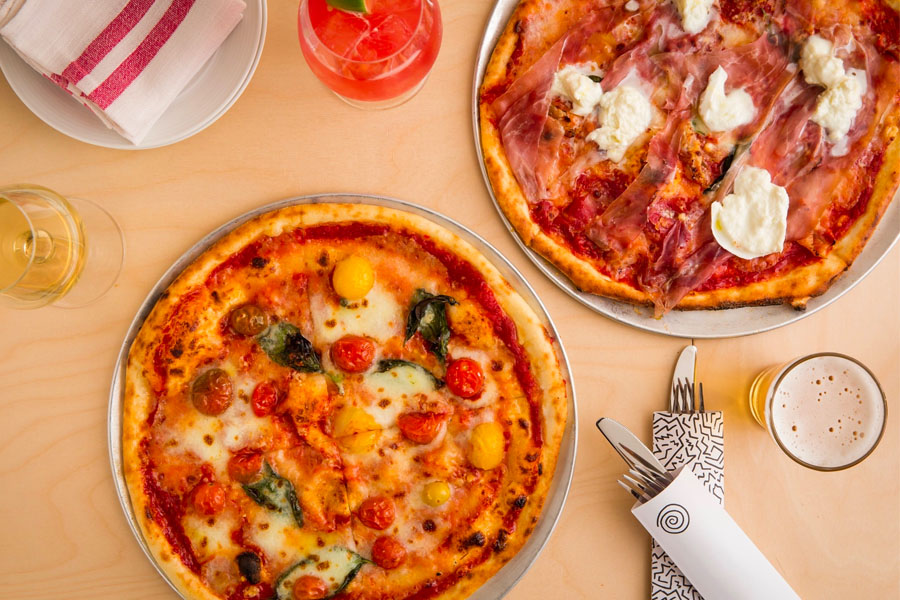 21. The Dolphin
Proficiently prepared pizzas anticipate being purchased at The Dolphin. A bustling three-storey pub with avant-garde decor and an outdoor terrace, serving pizzas, burgers, and steaks. features four unique spaces, a Dining Room, Wine Room, a newly opened bar. The restaurant's menu lists only quality and modern Italian-Australian food. The Dolphin's style of hand-stretched pizza is steeped in the historic pizza preparations of Rome and northern Italy. The pizzas are served in the public bar, alongside burgers, steaks, simple pasta, and plenty of independent beers.
Known for: Pepperoni Pepperoni, Pappa Porchetta, and Delfino Cheeseburger
Address: 412 Crown St, Surry Hills NSW 2010
Phone: (02) 9331 4800
Hours: Mon-Sat 12 pm-12 am, Sun 12-10 pm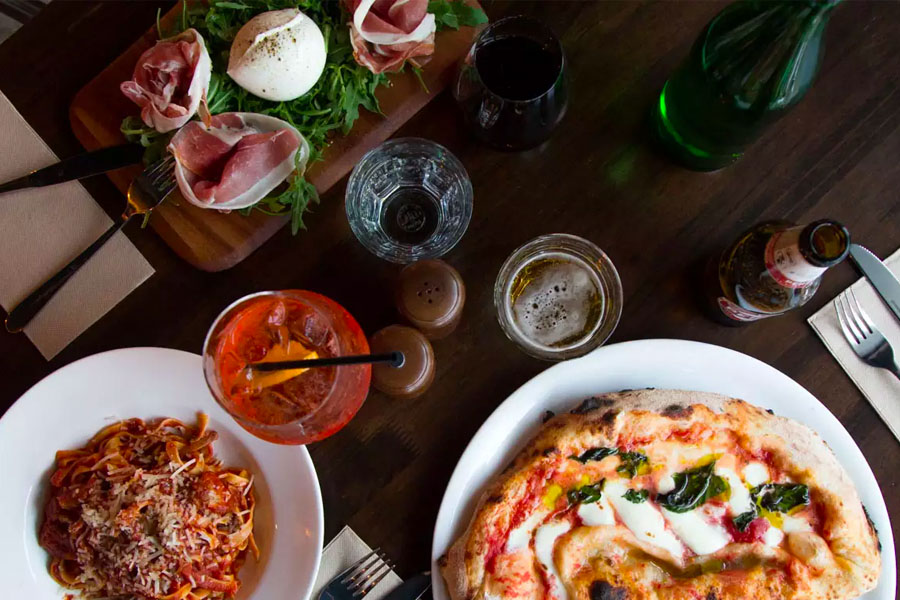 22. Rosso Antico Pizza Bar Newtown
When pensive for the best pizza in Sydney, Rosso Antico will tickle your fancy. The pizza master deploys one principle in its pizza preparation: Less is more. Many of their essential ingredients are introduced from Italy to provide you with bona fide tastes of wood-fired pizza. Using specifically selected components, this pizzeria takes a mixture of the fresh Australian ingredients, mingles them with acme Italian cheese, adds its culinary expertise, and voila: Pasta, gnocchi, cakes, slow-cooked veal and pork ragu with fresh fettuccine, gnocchi with Napoletana sauce and Prosciutto; cherry tomato, fior di latte, prosciutto, rocket and shaved Parmigiano.
Known for: Tartufo, Napoli, and Spaghetti con Polpettine
Address: 2/52-60 Enmore Rd, Newtown NSW 2042
Phone: (02) 8065 4224
Hours: Tue-Sun 6-10 pm
Rosso Antico Pizza Bar Newtown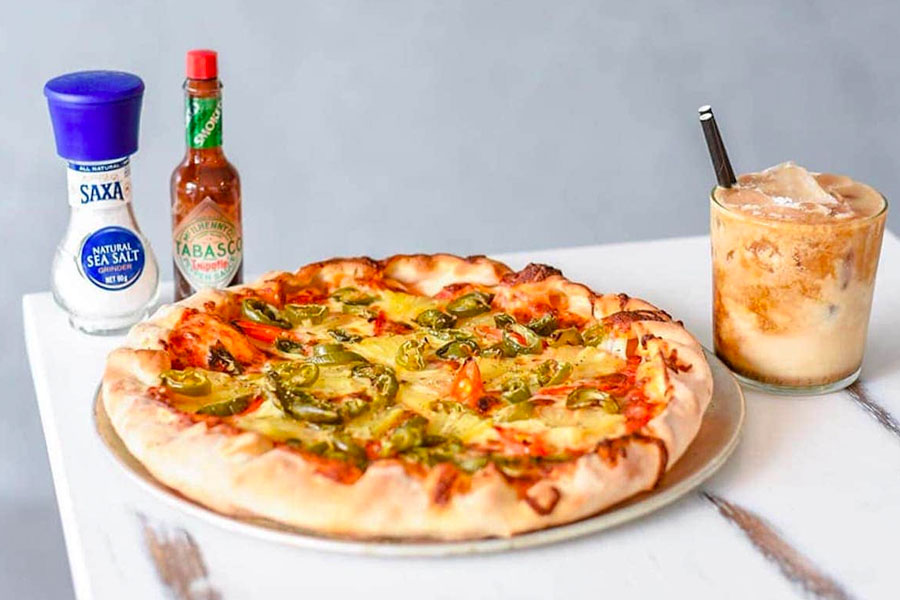 23. Angry Tony's
Despite its worrisome name, at Angry Tony's you can expect one of the best pizza Sydney offers along with the meanest menu options, seconded by the (surprisingly) hospitable staff. With two frenetic locations, the restaurant bids vegetarian and vegan options and delivery to over 10 of their surrounding suburbs, for a slice of Italian pizza near you. If you're searching meaty meal, their most sought-after pizza, Pleased To Meat You is loaded with crispy bacon, pepperoni, spicy sausage, smoked leg ham, ground beef, sesame seeds, and tangy BBQ Sauce.
Known for: Pleased To Meat You, The Angry Tony, and Barrack Oburger.
Address: 103 Cleveland St, Darlington NSW 2008
Phone: (02) 9699 3999
Hours: Sat-Thu 5-11 pm, Fri 12-3 pm, 5-11 pm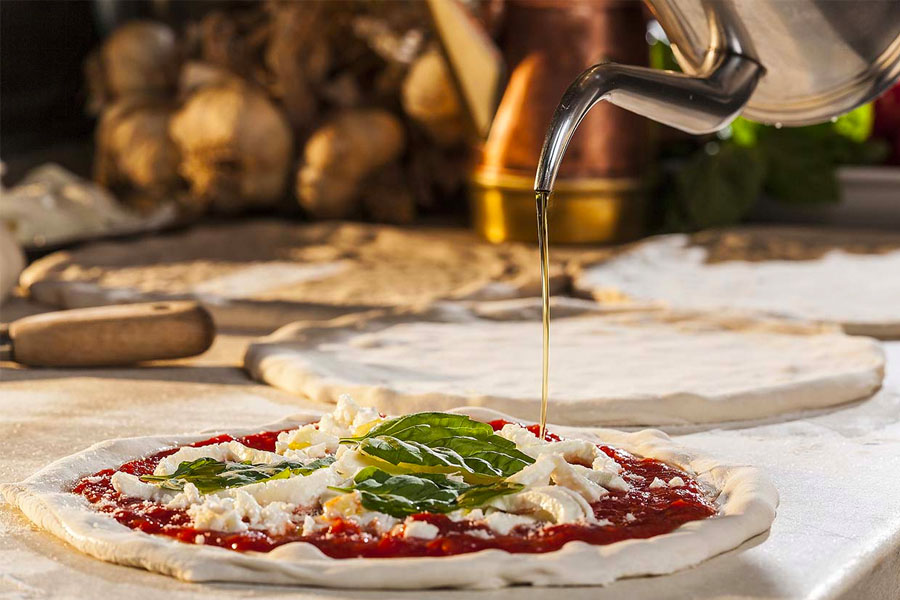 24. Verace Pizzeria
Verace Pizzeria has amassed many accolades, domestically, and internationally. The very meaning of its moniker translates to authenticity: the ethos of the restaurant. The pizzeria offers fair dinkum Neapolitan pizza that's better than any nonna's; created to be coveted by their globally renowned chef. The best Italian pizzeria in Macquarie Park has a seamless and sociable service suited for brunch, lunch, and dinner. Albeit towards the end of our list, this pizzeria offers one of the best pizzas in Sydney, as well as palatable pasta, salubrious salads, and delectable desserts.
Known for: Capricciosa, Ortolana, and Maialina.
Address: 7 Khartoum Rd, Macquarie Park NSW 2113
Phone: (02) 9888 2929
Hours: Mon-Wed 5-9pm, Thur-Sun 11:30 am–2:30 pm, 5–9 pm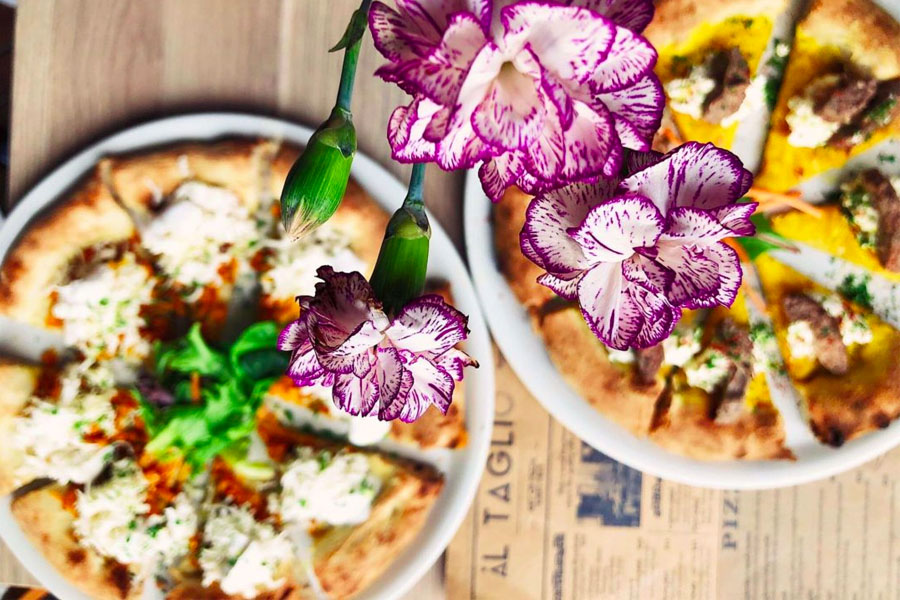 25. Al Taglio
To Al Taglio, pizza is not defined by its regionality or tradition, but by its base and toppings. The pizzeria serves gourmet and authentic regional Italian pizzas, focaccia made from age-old traditions in a bustling and modern milieu. Pizzas are served with pureed pea, cream-like buffalo cheese, and smoked turkey; creamed cannellini beans, tofu, cauliflower, pumpkin puree, and black sesame; and slow-cooked lamb, ricotta, and mint. For pizza in Surry Hills, visit them for a piece of Italian potency- since they are Sydney's first pizzeria.
Known for: 4 Fromaggi, Messina, and 80's Margherita pizza's.
Address: 102-104 Albion St, Surry Hills NSW 2010
Phone: (02) 8021 5944
Hours: Mon-Thur 5:30-9 pm, Fri-Sat 5:30-10 pm.
You'll also like:
10 Best Vegetarian Restaurants in Sydney
12 Best Japanese Restaurants in Sydney
15 Best Mexican Restaurants Sydney: Taco to Taquito
General FAQs
Where's the best pizza in Sydney?
Bella Brutta is Sydney's best pizza restaurant. Having received over 637 Google reviews and a 4.6-star restaurant rating, the pizzeria has solidified itself as the best for Sydneysiders.
What is a traditional pizza topping?
A pizza's toppings are where the magic happens. Traditionally, pizza toppings are simplistic and mirror the colours of the Italian flag: Tomato sauce, fresh basil, mozzarella cheese and tomato green, white and red, quartered with your preference of fine meats.
What is the best pizza in Surry Hills?
Al Taglio offers the finest pizza in Surry Hills. The pizzeria prides itself in serving gourmet and authentic Italian pizzas made from age-old traditions.
---
Featured Video from Man of Many