Monday Munchies: December 6 – Chook Yourself, Don't Wreck Yourself
Gear up folks because we've got an absolutely huge Monday Munchies for you this week. With plenty of new restaurant openings, including a new joint from James Viles that might make our shortlist for the best new restaurants in Canberra! Maybe it's time we make the trip to discover the barbeque goodness ourselves. Ok, that's enough talking, we're already starving just looking at the imagery, let's get stuck into this weeks Monday Munchies – starting off with a little bit of food news by way of Emirates One&Only Wolgan Valley. We told you it's going to be a good one.
You'll also like:
Monday Munchies: November 29 – Brunch, Burgers and Boba
Monday Munchies: November 15 – Chicken, Cerveza and FREE Coffee
Monday Munchies: November 1 – Fresh, French, and Fizzy

Food News
First up, let's check out the food news of the week.
Emirates One&Only Wolgan Valley Teams Up with The Bentley Group
Iconic ultra-luxury resort Emirates One&Only Wolgan Valley has bolstered its culinary offering, teaming up with the much-revered Bentley group. The new deal will see the Bentley co-owners Brent Savage and Nick Hildebrandt introduce a new food and wine experience at the stunning Blue Mountains resort, in line with its reopening. Twice-named Good Food Guide Chef of the Year, Savage will assume the role as Creative Director, Food, while Hildebrandt, arguably Australia's most influential sommelier takes on the mantle of Creative Director, Beverage.
"We are excited to have talents of the calibre of Brent Savage, Nick Hildebrandt and their Team join forces with Emirates One&Only Wolgan Valley to introduce our guests to a new gastronomic experience here at the resort," Tim Stanhope, General Manager, Emirates One&Only Wolgan Valley said. "One&Only and The Bentley Group have successfully collaborated on previous ventures both here in Wolgan Valley and in The Maldives, where Brent and Nick launched  Botanica restaurant at One&Only Reethi Rah.  This is a natural evolution of the partnership, and we are thrilled to have them on board."
Situated amongst the gorgeous Wolgan Valley, Emirates One&Only features forty freestanding villas and an incredible array of experiences including horse-riding, nature walks, mountain biking, stargazing and hiking. For Summer 2022, you can add world-class dining from The Bentley Group to the mix.
An Intimate Evening with Coogee Wine Room
Local owners of Coogee Wine Room, Tom Hardwick and Michelle Morales have created a space that marries the charm of great European wine bars with the convivial atmosphere only found at a neighbourhood bar by the beach. With a huge focus on locality and community, their menu champions fresh Australian produce, and their events look to hero local artists of all forms.
This Wednesday 8 December, Coogee Wine Room joins The Lyons Gallery in hosting An Intimate Evening with Pina Ambrosino, where Pina Ambrosino herself will be presenting a collection of her stunning artworks adorning the walls of Coogee Wine Room. The night will see Pina speak to guests about her works as they enjoy a paired wine tasting from Harkham Wines in the Hunter Valley.
"Ever since I can remember I knew I would be an artist. By the age of 14 years, I was drawing nudes at Roar Studios in Melbourne's then seedy Brunswick Street Fitzroy and sipping on glasses of red wine with Art Professors and students. I was a child obsessed with making art, I needed to express my thoughts and ideas and art was my medium." – Pina Ambrosino.
Harkham Wines is a small, family-owned and operated winery in the Hunter Valley wine region in NSW, Australia. Their vineyards are farmed sustainably whilst their fruit is handpicked to ensure the highest quality. The wine tasting will be accompanied by free-roaming canapes throughout the night. The works will be in residence at Coogee Wine Room through to January 6, 2022. All artworks are available for purchase.
Where: Located upstairs at Coogee Wine Room
When: Wednesday 8 December from 6.30 pm
RSVP: [email protected]
Restaurant News
Now for a little bit of restaurant news for the week ahead.
James Viles Opens WILMA in Canberra
Esteemed Australian chef and restaurateur, James Viles, known for his two-hatted Biota Dining in Bowral is embarking on his biggest project since becoming the Culinary Director of Harvac. WILMA is the name, the progressive Asian barbeque restaurant has opened its doors in the heart of Canberra CBD.
WILMA will be run by Viles, alongside head chef Brendan Hill (formerly of Sydney's Aria and 12-Micron). The pair will be using primitive cooking methods with the very best Australian ingredients to create a crowd-pleasing menu full of Asian-Australian favourites. The new opening comes after Viles began overseeing the cult Asian street food menu at Akiba and introducing soft tacos and mezcal to Loquita in Canberra city. This is the menu Viles has dreamt of putting together for years.
"I lived and worked in Hong Kong and Shanghai for a while and I love eating and cooking Southern Asian barbeque. It's been a huge part of the last 20 years of my life," said Viles.
The 200+ capacity restaurant will focus on barbequing as primitively as possible, using coals and wood fire to maximise flavour, burning wood in an offset smoker and coals in a custom made, two-tier konro yakitori grill, weighing just over half a tone and made out of black steel by a local blacksmith. The barbeque section will see the likes of roasted duck, char siu pork and a chilli beef short rib finished over the coals and then glazed. The char siu pork will use the same cut of pork and flavours traditionally used, but instead of doing it in an oven, it will be done in an offset smoker, so you get a hot smoked char siu pork, which keeps in the moisture and adds a layer of extra flavour. Delicious.
Address: 1 Genge St, Canberra ACT 2601
Hours: Wed-Sun 12-10pm
Phone: (02) 6171 2092
Chuck Trailers
Only steps away from Bondi Beach on Campbell Parade is a new chicken joint Chuck Trailer's, a dive bar with a difference bringing a little grunge, a touch of debauchery, and a whole lotta-style to Bondi. Around the bar, you'll spot skateboards pinned between rock 'n' roll posters, neon signs hanging from scaffolding and even taxidermy toads – undoubtedly eclectic. During the day, the bar spills out Roscoe Street with outdoor seating in the sun but come night, the windows close, curtains are drawn, and the "anything goes" vibe comes into its own.
Chuck Trailer's might be a dive but they don't mess around with their food and drinks with twists on American classics. We're talking about BBQ wings (served with their house Dr Pepper sauce) and the adventurous Ring Sting Idiot Wing (served alongside a well-needed glass of milk). The less adventurous but equally delicious Thunderbird Chicken inspired by Nashville buttermilk style chicken or No Chook Yoself beef burger is a certified classic for those swerving the chook completely.
Chuck's bar is heavily laden with Bourbon but another American whiskey, The Boilermaker (whiskey mixed with beer) is king here. There's even a list of "Baller-Makers" with pairings from the top shelf, like the limited release Woodford's Baccarat bourbon, alongside American craft beers from their 6-foot, beer-laden fridge. Certainly our style.
Address: Shop 7/152 Campbell Parade, Bondi Beach NSW 2026
Hours: Mon & Thur 5pm-12am, Fri-Sat 12pm-12am, Sun 12-10pm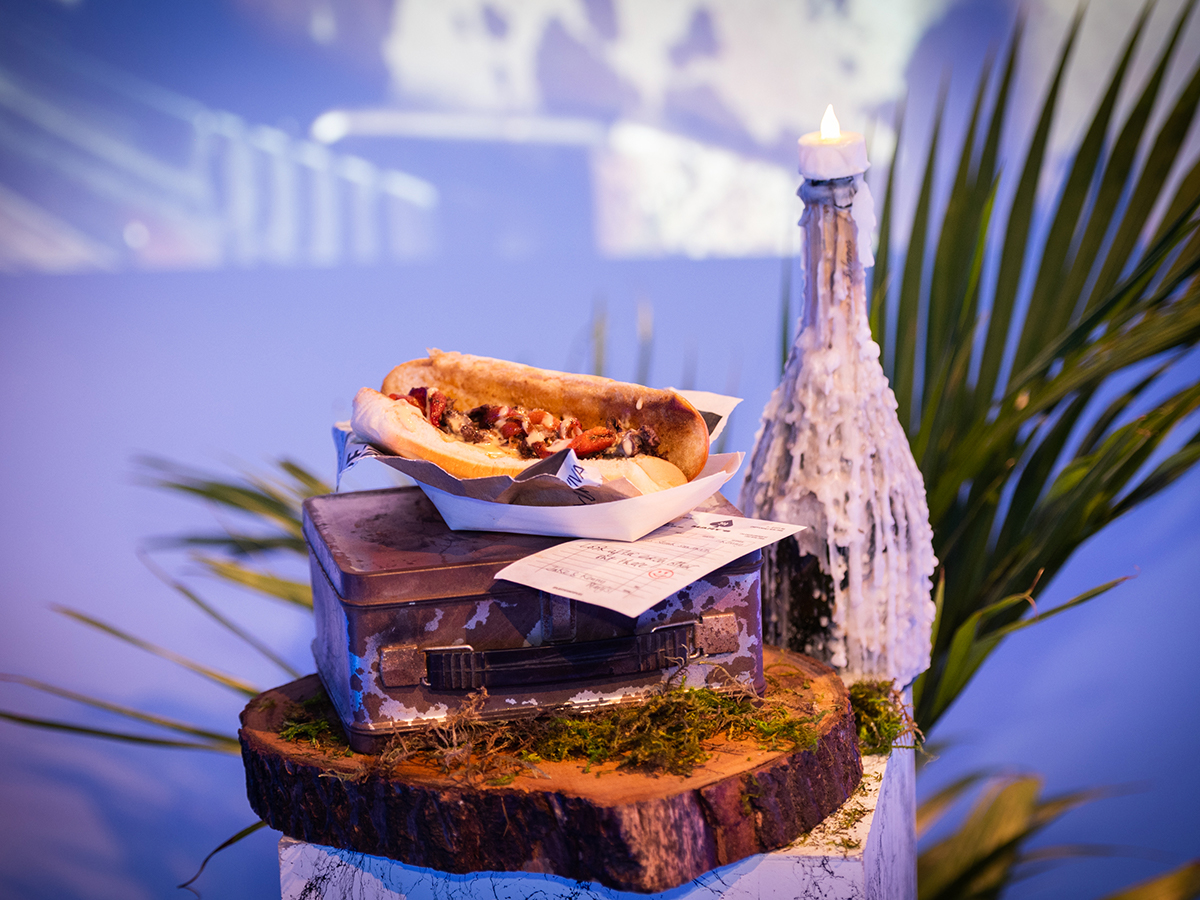 PlayStation Launches PlayStation to Plate
Ever wondered what a digital dish might taste like? The legends over at PlayStation have teamed up with Deliveroo, alongside a raft of renowned Australian restaurants and chefs to launch the new 'PlayStation to Plate' concept. The initiative will see food featured in your favourite games brought into the real world for your actual consumption. We're talking serious feeds from The Last of Us: Part II, Ratchet & Clank and Uncharted.
From 3 December, Aussies in Sydney and Melbourne will be able to order the meals for a limited time in restaurants and online through Deliveroo. Kicking things off is perennial burger lords Mary's who have recreated Ellies Steak Sandwich for The Last of Us: Part II, before Bistro Morgan's Morgan Hipworth recreates Chef Tulio's Sirangian Honey Mousse from Ratchet & Clank: A Rift Apart. The initiative finishes with Newtown's The Italian Bowl crafting a take on the pasta from Uncharted 4: A Thief's End.
"The last 18 months have truly highlighted the importance of play in our lives, The worlds of gaming and food have offered escapism and enjoyment for Aussies when we've needed it more than ever," Patrick Lagana, director of marketing, PlayStation Australia said. "So, it seems fitting that we have brought these two cultures together, merging some of the best games and best restaurants to create a whole new experience for foodies and players alike. With PlayStation to Plate we wanted to bring the virtual into reality and show that play has no limits, on the console and on the plate. We can't wait for people to try these iconic dishes and experience the worlds of Uncharted, The Last of Us and Ratchet & Clank like never before."
The Historic Sydney Pumphouse is Back
Iconic institution Pumphouse Sydney is finally back in action after undergoing a massive transformation. Bringing a new portfolio of craft beers, alongside a stunning wine room and a revamped new menu, the former power-producer is once again supplying Sydney with energy. Inside the industrial design, you'll find a blend of timber and metallic finishes, highlighted by artworks from Australian artist Lance Corlett.
Behind the bar, the revamped Pumphouse is still slinging craft beers, curated cocktails and a broad selection of wines from various international and local winemakers, complete with QR codes that provides extensive tasting notes. Naturally, the food menu here shines through. Head chef Anthony Kirk and his team have created a new offering that encapsulates the best of Sydney,s incredible produce.
"The concept for the new menu has been inspired by the Pumphouse Sydney's rich history, fusing great Australian pub food with grazing dishes to keep customers satisfied," Kirk said. "We are so thrilled to welcome Sydneysiders and interstate visitors to our new and improved venue."
Pumphouse Sydney is open now and available for bookings.
Ten Stories Launches New Menu Infused With Honey from Their Own Rooftop Beehives
Nestled high above the bustling cityscape, within a heritage building, Ten Stories is the new restaurant at the 5-star Swissotel Sydney in the CBD. With award-winning Executive Chef John Giovanni Pugliano at the helm – formerly Nobu London, Aqua Restaurants Hong Kong, Langham Place Hong Kong, Fairmont Hotels Dubai and most recently, Russolini Group in Sydney.
John's menu at Ten Stories stays true to the hotels brand ethos of sustainability and craftsmanship, featuring carefully sourced sustainable Australian produce to create a modern Australian menu with Italian and Asian accents. The special surprise ingredient used throughout various dishes and cocktails is honey and honeycomb harvested from its own rooftop beehives! Signature dishes include an entrée of miso-marinated kingfish, with green apple, shiso, sea grapes and gold leaf honey; main of paperbark roasted spring chicken and dessert of honeycomb crunch gelato with white honeycomb & honey blossom flower.
Swissotel Sydney is working with Sydney Bee Rescue, a group of Sydney based beekeepers who are dedicated to bee conservation and the rescue and relocation of bee colonies from places where they are at risk. On their rooftop garden are four beehives, with the bees servicing the nearby Royal Botanic Garden, and supplying Ten Stories with its own freshly harvested honey.
You'll also like:
Monday Munchies: November 29 – Brunch, Burgers and Boba
Monday Munchies: November 15 – Chicken, Cerveza and FREE Coffee
Monday Munchies: November 1 – Fresh, French, and Fizzy