Autoblow AI Review: This Male Sex Toy Really Sucks
In Partnership with Autoblow
Since this review, Autoblow has released a new Autoblow AI+. Read our new review here
I have never been a huge fan of blowjobs.
That's not to say I out and out dislike being on the receiving end of some oral attention—who doesn't—rather, that it's not my preferred sexual scenario.
Is it the lack of involvement? The suction? Have I just never had a good one? (I have, and for what it's worth—telling someone you've never had a good blowjob is nary regarded as much a deterrent as it is a challenge).
I've had sober blowjobs and drunk blowjobs, exciting one-night-stand blowjobs and committed relationship blowjobs, lazy lying-on-back blowjobs and dangerous driving-down-the-freeway blowjobs, girl blowjobs and boy blowjobs…
I like them.
But I've never loved them.
So when the Autoblow AI arrived on my desk this week, neatly sealed in its plastic wrapper with packaging that could comfortably sit on the shelf of any self-respecting electronics store (albeit an X-rated one), I wasn't sure if I was its intended audience.
I know that my general stance on blowjobs is the niche. I've had male friends decry my opinions of the humble gobby—men who love nothing more than a sexual act that involves them doing absolutely nothing.
Obediently laying on their backs grinning like a Cheshire cat, turgid prick thrust skyward while their partner dives under the sheets (presumably thinking: "At least we can sleep in five minutes").
I honestly get very little from this.
With all that said, it's not everyday you get to try oral sex from a robot, and it's even rarer to do so professionally, so I cast my preconceived notions aside and got down to business.
The Autoblow AI is the brainchild of inventor (and presumably blowjob enthusiast) Brian Sloan.
It's not his first iteration of the Autoblow, either. Sloan, an ex-lawyer-cum-businessman (pun intended) has released varying iterations of the Autoblow over the years, though now sells two formats through his dedicated online store: The Autoblow AI (US$299.95), and the Autoblow 2+ XT (US$179.95).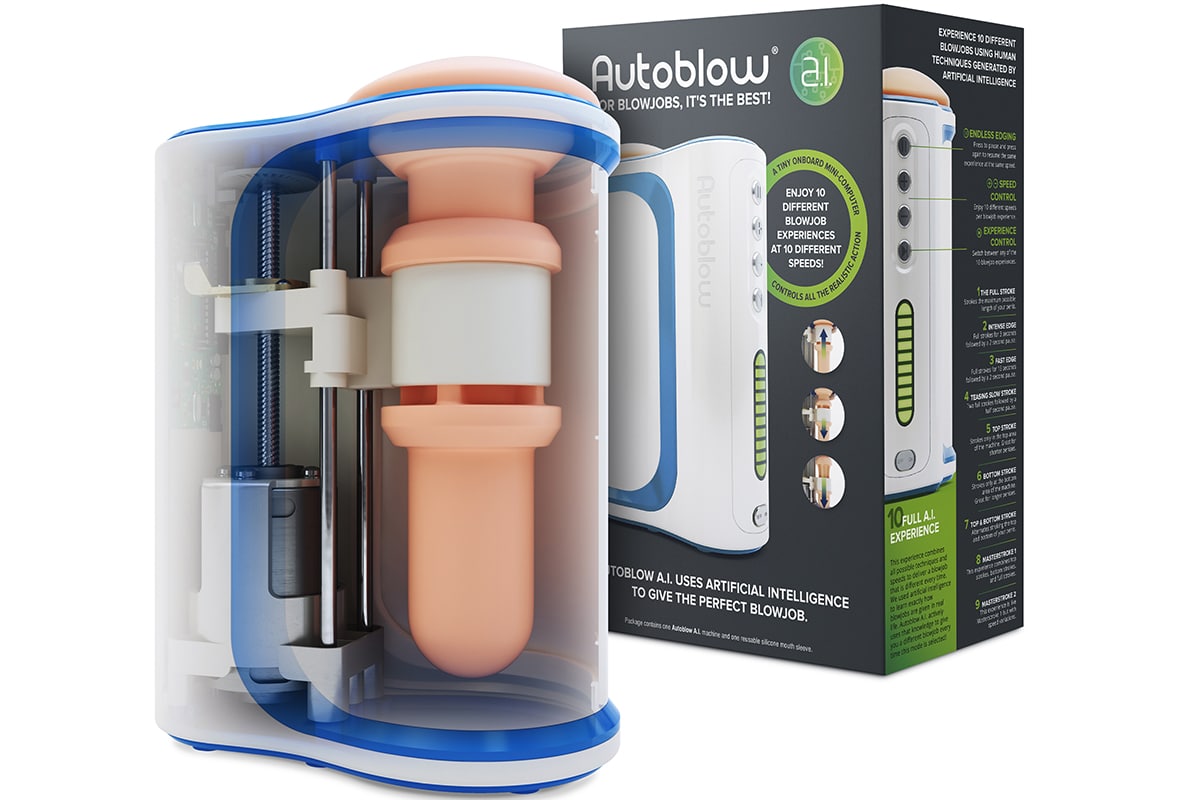 The AutoBlow 2+ XT is a slimmer, cheaper device, but is by no means inferior to the AI version. It's easier to store, for one, and lighter too.
But it doesn't have the secret ingredient its older brother has: intelligence.
Artificial intelligence, that is, giving the user something a pre-determined program cannot, and something that perhaps gives real blowjobs their very intrigue: the element of surprise.
Plainly put, you never quite know what the Autoblow AI will do next when you select mode 10.
The Autoblow AI does tout another key difference to its predecessors, too: it's much quieter. A common complaint with past iterations of the adult toy was that it was very noisy.
But let's get back to the two letters that make this thing really hum: "AI".
Of the ten settings that come pre-loaded into the Autoblow AI (what a sentence), nine are mechanical, repetitive motions. You will find one (or more) that you like, this is a dead cert, but it's the tenth setting that puts this sucker miles ahead of the rest.
Sloan used machine learning, which involved analysing hundreds of hours of blowjob porn to learn different techniques and styles. This is the key to the tenth setting, and the reason it will never give you the same blowjob twice.
Having read all of this, when it came my time to fire up the high-tech beej-machine, I was more than a tad curious.
From a UX perspective, it's not the most ergonomic masturbator. It's not heavy, but it's not light either.
It also looks a bit like a Fleshlight with a battery pack, which is a mildly irksome fact when you consider that it needs to be plugged into a wall socket to work (though never having it run out of power when you're out of fresh batteries is one positive flipside to this).
This means it's not as travel-friendly as many other male sex toys out there.
This said, women have long enjoyed the humble dildo's most popular spin-off, the vibrator. Why shouldn't us blokes look to innovate an electronic version of the inanimate male masturbator?
And innovate this thing certainly does: it is not like any other male sex toy out there—something that becomes evident when you take it for a spin.
The first minute or two feels uncomfortable. Not physically—it is, after all, scientifically designed to bring you pleasure. But holding a machine that has a cord dangling from its end over your bare lap while you squeeze lube over its ersatz lips takes a moment to get used to.
I got past this, put on some BJ porn, lubed up (both myself and Riley—yes, of course I named her), and we were off.
Once inside, so to speak, it's easy to see (or perhaps feel) the Autoblow play its strongest suit.
Its internal movements spring into life and stroke, caress, and create suction all in harmony and it feels not quite like a blowjob does, but how it should.
The feeling of the silicone is realistic (enough) and the motion of the ring that sits around the silicone sleeve, pulsating back and forth, is remarkably gentle and pleasant; it doesn't feel like you're getting a wristy off R2D2, even though it might look that way.
And it doesn't have teeth: another win.
Another really clever feature is the pause button, allowing you to stop all movement when pressed, allowing the user to practice edging.
This is not only good just because it's fun to stretch out a posh wank when time permits, but a great tool for people who suffer from premature ejaculation.
It's a common affliction for men—up to one in three, it has been estimated, and though prescription treatments work for some, "edge training" with tools like this has allowed a remarkably high number of men to overcome their PE, and with long-term results.
But back to the robot blowjob.
Whatever setting, however you use it, you're going to come. It's a pleasure to use, literally, and the sometimes ridiculous though always flattering reviews featured on their website are all understandable.
This thing sucks. And it's awesome.
I've used Riley since—twice on my own and once with my partner, who thinks it's hilarious but fun and inventive.
And I'm glad I'm keeping her.
If you like blowjobs, you will love the Autoblow AI. If you don't like blowjobs, you will love the Autoblow AI. If you've never had a blowjob and hence have nothing by which to compare the Autoblow AI to, you will still love the Autoblow AI.
Because as much as the Autoblow AI sets out to replicate the oft-lauded blowjob, using it is not, actually, quite the same as getting a blowjob.
I'd wager it's better.