You Can Now Face to Face Video Chat on Tinder
If your Tinder game is made up of pickup lines and provocative emoji lines, you might need to reconsider your approach. The dating platform has unveiled a new feature that allows you to video chat face to face with a match. Gone are the days of mindlessly swiping, now you can actually engage in a real conversation.
You'll also like:
7 Ways to Boost Your Sex Life After Isolation
37 Hilarious COVID-19 Pick-Up Lines
How to Take a Dick Pic that Women Actually Like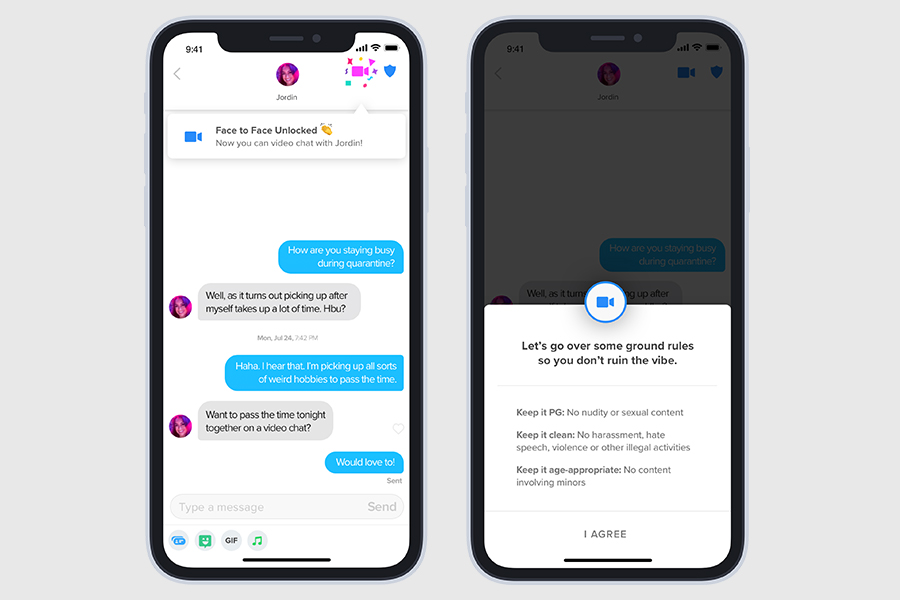 Built by the Tinder Trust and Safety team, the new Tinder video chat function means you can actually take a match on a virtual date, all from the comfort of your own home. But it's not quite as simple as just video calling your crush. To actually kick off a 1:1 conversation, both parties need to agree to the process. That means you can only start videoing once you've both liked each other, confirming the match and showing that you're ready to roll.
Even better, the Tinder video chat function doesn't put baby in the corner. The split-screen style footage means you can see exactly how you appear on camera, while you pretend to look at the other person on the line. While it might seem like an addition you could survive without, a recent survey found that half of Tinder users in the US have had video dates with a match independently. Not only that, but 40 per cent of Gen Z members wanted to continue using video as a way to decide whether to meet IRL in the future, even after the US lockdown restrictions end.
Look, video chatting with someone you just met might be a strange concept, and we're predicting this will be awkward as hell, but if there's one major positive, it's that this should really put an end to the catfishing craze. The Face to Face test is being rolled out at the moment to some members in the US, Brazil, Australia, Spain, Italy, France, Vietnam, Indonesia, Korea, Taiwan, Thailand, Peru and Chile.
You'll also like:
7 Ways to Boost Your Sex Life After Isolation
37 Hilarious COVID-19 Pick-Up Lines
How to Take a Dick Pic that Women Actually Like