6 Best Strip Clubs in the Gold Coast
Okay, so to call any strip clubs in the Gold Coast "the best" may sound oxymoronic, but there is an abundance of them for the size of the place. and there's certainly enthusiasm amongst the visitors for their services, so they're certainly doing something right.
And while they all call themselves "gentleman's clubs", this is the Gold Coast, and we all know who's visiting and why. Whether you're bored of your schoolies week and want to see some flesh, are celebrating an upcoming special day with your one true love and need one last reminder of what a naked woman looks like, or just want to know what tan lines look like IRL, we've got you covered.
1. Hollywood Showgirls
We're not saying that all adult entertainment offerings in Surfers are dodgy, but if you want to avoid the worst of them and feel like drinking better booze in a comfortable environment, then Hollywood Showgirls is one of the best strip clubs the Gold Coast has to offer.
While suitably tacky, the fit-out has cost more than fifty bucks at "Brothels R Us", which is more than can be said for most 'rippers in this postcode, and they boast more Penthouse Pets than any other club in the Southern Hemisphere.
Address: 19 Orchid Ave, Surfers Paradise, QLD 4217
Phone: +61 7 5526 2946
Hours: Mon-Sun 9pm-5am

2. Players Showgirls
Open seven days, and family-owned (wholesome), Players Showgirls is conveniently located right in the heart of Surfers Paradise, so you can set up base for the night and surround yourself with some of Queensland's most glamorous women within arms reach of all the action, nightclubs, fights and vomit of Orchid Ave.
Open 'til 5am Thu-Sat, it's one of the Gold Coast's best strip clubs for a convenient serve of strippers without having to travel too far.
Address: 18 Orchid Ave, Surfers Paradise, QLD 4217
Phone: +61 7 5570 1433
Hours: Mon-Sun 8:30pm-5am
3. Toy Box Showgirls
Toy Box Showgirls is known as one of the best Gold Coast strip clubs for the simple reason that, while they'll put on a show of titties and beer, they'll also come and pick you and the lads up in a limo and bring you to their door.
Not bad service for a gentleman's club that operates just a few minutes from the strip.
Address: 3094 Surfers Paradise Blvd, Surfers Paradise, QLD 4217
Phone: +61 7 5539 0166
Hours: Thu-Sun 8pm-3am

4. Boob Cruise
Starting a business is hard, and many people make the stupid but surprisingly common mistake of spending more than 30 seconds coming up with a cutting-edge name. Not the good people at Boob Cruise though, who are as dedicated to telling you how it is as they are to boobs. On a cruise. Unlike the other best Gold Coast strip clubs, Boob Cruise doesn't have a fixed location, as all the fun happens on a boat, which can be booked privately.
During the ensuing cruise (which is ideal for buck's parties, because that's why you clicked on this article in the first place, isn't it?), you will bear witness to boobs.
Marketing 101.
Address: Marina Mirage, 4217
Phone: 0405 105 831
5. Manhattan Club
Purists will argue that as this one isn't on the strip, it isn't the Gold Coast, but any visitor knows that getting away from the kids on schoolies and backpackers is a must. Plus, interstate travel isn't so much of a stretch when it's only a short cab ride down the road. Manhattan Club is your standard strippos in that it calls itself a "gentleman's club", has strippers, and is a favourite for buck's nights. Manhattan Club is one of the funnest strip clubs Gold Coast has to offer.
Oh, and they'll let you do body shots. Right on.
Address: 15 Wharf Street, Coolangatta/North Tweed, NSW 2485
Phone: +61 7 5523 7775
Hours: Open 24 hours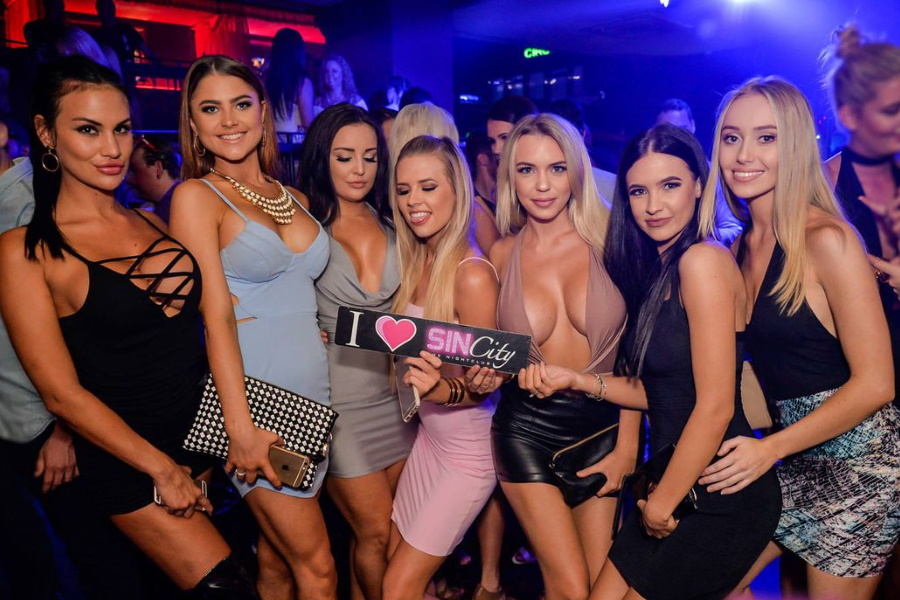 6. Sin City
Technically not a strip club, Sin City makes it onto this list of Gold Coast strip clubs for the skimpy cocktail waitresses that are dedicated to making your night special. Not every bloke wants a full-blown night of nudity, and Sin City is pitched at those who want a sexy night out without a full dosage of all-out tawdriness, in a high-end club environment. Sin City might be the best strip club Gold Coast has to offer.
Address: 22 Orchid Ave, Surfers Paradise, QLD 4217
Phone: +61 7 5538 7543
Hours: Mon-Sat 9pm-5am