Emirates A380 Business Class Review – Lounge, Seats, Dining, Amenities
Dubai is basically the Beverly Hills of the planet, so it's no surprise that their flagship airline delivers a downright luxurious travel experience. Nowhere is that more apparent than in Emirates A380 Business Class (and First Class as06 well, of course), where you're treated like king of your own personal castle. That royal treatment begins before you've even taken off, thanks to a Chauffeur-drive service provided by the airline, which escorts you to and from various important destinations. Further ensuring you get to your flight in fast and seamless fashion are expedited check-in lanes for premium travellers. What awaits you after that? Read our Emirates A380 Business Class review to find out.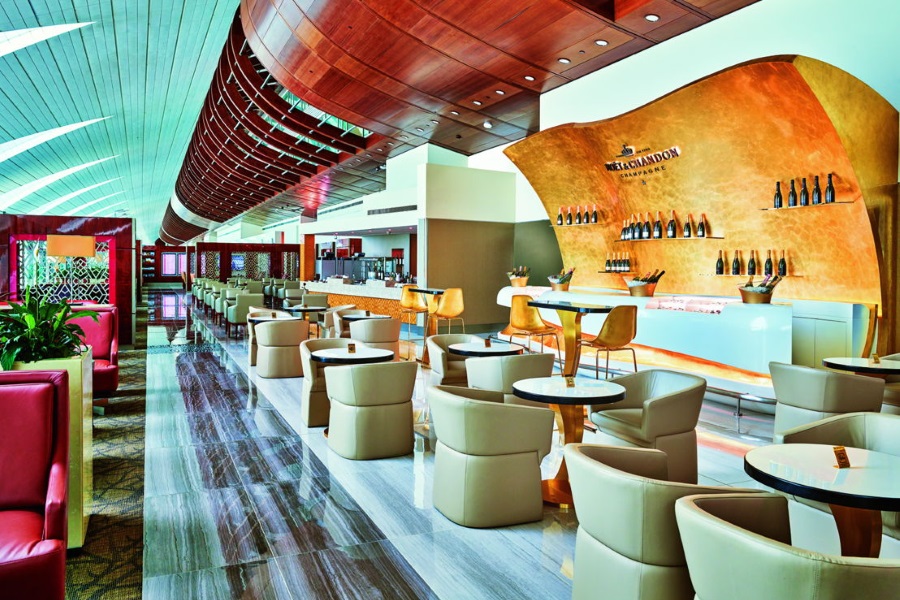 Emirates Business Class Lounge
Emirates is such a dominant presence in the Dubai International Airport that it hosts seven lounges total. The most popular by far is the Business Class Lounge located in Concourse B, which is so huge that you need a map just to explore it. Along with that epic size comes an equally epic lounge experience. Put simply, there's no luxurious stone left unturned within these downright majestic confines. We're talking everything from a bespoke champagne lounge to gourmet food to a barista service. Meanwhile, the decor is strikingly modern, so much so that you might temporarily forget you're in an airport at all.
Spread throughout the Emirates Business Class lounge are a range of plush seats, buffet stations, work zones, relaxation areas and social areas. Also present are TVs, reading materials, sculptures and paintings. Those needing to get work done are welcome to stroll into the spacious business centre. Naturally, the WiFi is complimentary, as are the food and drink. If you're minding your calories, the Emirates Business Class Lounge keeps a Health Hub stocked with wholesome foods for your convenience.
Despite its massive size, the Concourse B Business Class Lounge does tend to get crowded during peak hours, resulting in wait times for the showers and restroom. In fact, a lack of restroom access is the most common complaint in regards to this particular lounge. Along similar lines, it can become tricky to score a power outlet during peak hours.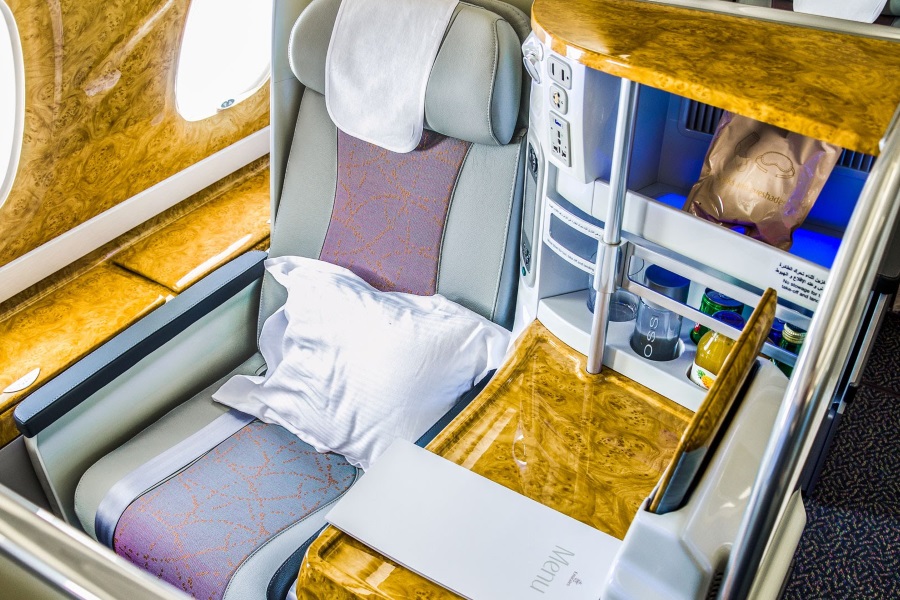 Emirates A380 Business Class Seats Review
Emirates Business Class seating is located on the upper level of the A380. It's divided into two sections, with the seats themselves arranged in a 1-2-1 formation. Also located on the premises is a recently upgraded onboard Lounge, which touts ivory, bronze and wood accents to give off a strikingly sleek aesthetic.
Of course, should you never want to drift from your seat, we certainly wouldn't blame you. That's because each Emirates A380 Business Class mini-suite is a brilliant womb-like enclosure of comfort, equipped with plenty of storage room, a personal minibar, charging outlets/ports, top-shelf entertainment and a chair that converts into a fully flat bed. To adjust the seat, use either the manual control or the complimentary in-flight tablet.
It's worth noting that not every seat or single bed is exactly the same, so do your research before booking. If you can score seats 23A or 23K–which offer more legroom and ample quietude–do so immediately.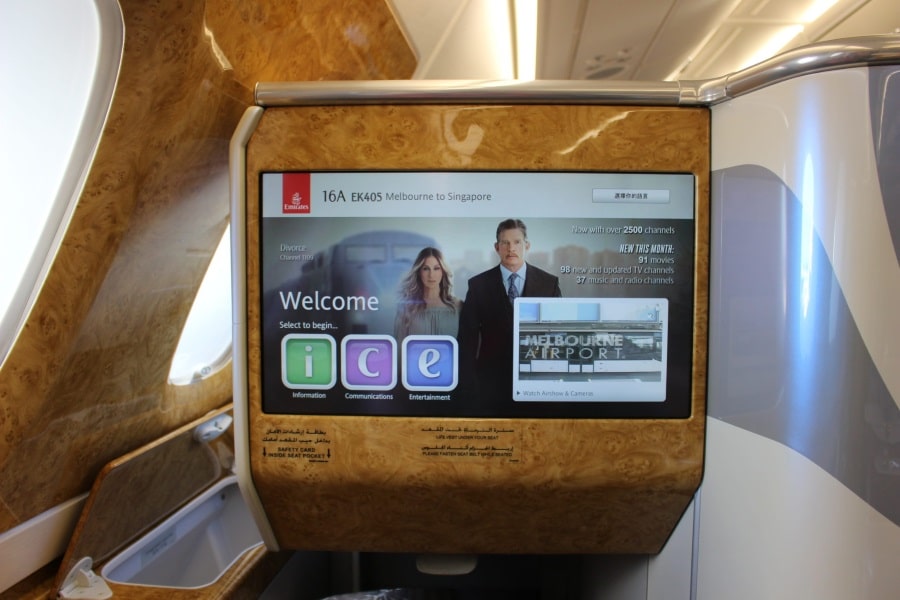 Emirates A380 Business Class Entertainment
Emirates Business Class hosts its own entertainment system known as ICE (Information, Communications, Entertainment), and the system is truly top of the line. Bolstered by a user-friendly 17″ touchscreen display, the ICE system grants you access to a massive range of new releases from the respective worlds of film, TV and music. Also available is a substantial back-catalogue of award-winners and crowd-pleasers.
Don't feel like tinkering with the touchscreen? Then use a separate controller or your complimentary tablet to navigate ICE instead. And if the standard run of movies or TV shows simply isn't doing it for you, you can see what's going on outside the plane by way of built-in cameras at the tail, underside and nose.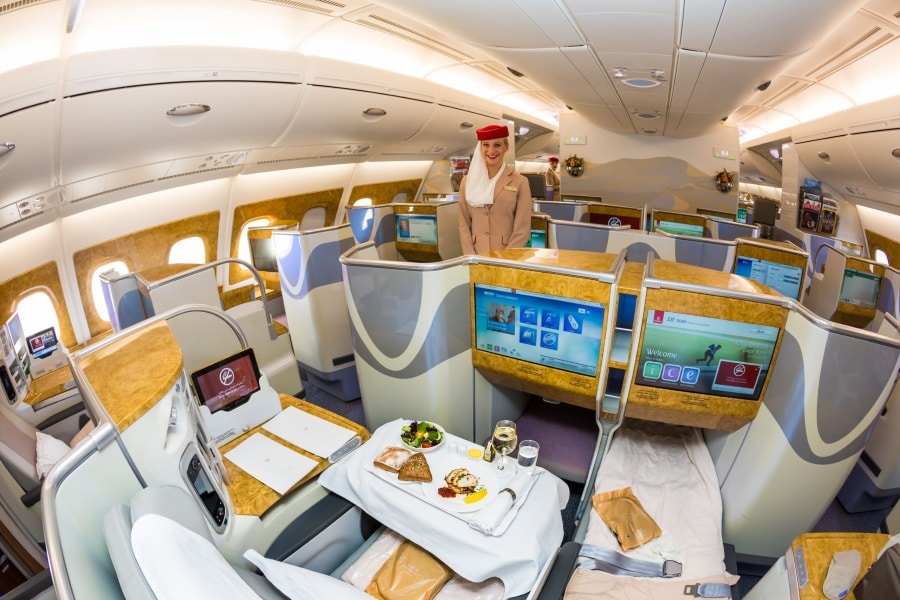 Emirates A380 Business Class Dining & Meals
After sipping on a pre-departure beverage, you're handed a regionally-inspired Business Class menu, from which you can select gourmet items like lamb or chicken for your meal. Featured on the menu is a Chicken Schnitzel Sandwich from chef Neil Perry, a dish that has become the stuff of legend on both Win a 14 Day Road Trip Across AU or NZ with SurfStitch! and Emirates flights. No matter what you order, expect resoundingly fresh cuisine that's tastier than it has any right to be, especially when compared to standard "airline food". It's all served on Royal Doulton bone china plates wth exclusive Robert Welch cutlery.
Enhance the experience with a glass of award-winning wine, exquisite bubbly or vintage port, all of it curated annually by Emirates' sommeliers. For dessert, you can choose between a rich chocolate torte or zesty fruit tart with chocolate. If you want something sweet and delicious to sip on, consider the hot chocolate.
In the morning, breakfast is served hot and delicious. Also available during the flight are a variety of snacks and beverages. And don't forget about that mini-bar located in your suite, or the elegant onboard lounge.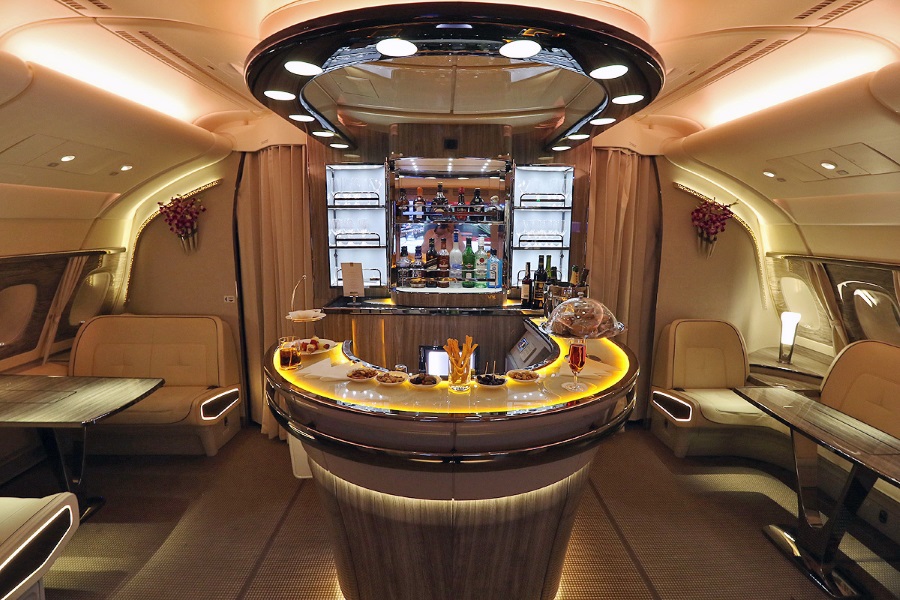 Emirates A380 Business Class Amenities
While you won't find a pair of Emirates New Qantas Digital Health Pass May Be Your Only Ticket to Early Travel aboard the A380, don't take that to mean the flight goes short on amenities. On that front, Emirates enlisted help from none other than luxury brand Bulgari for some seriously stylish amenity kits. In each kit, you'll find Bulgari's new signature fragrance, 11 Best Luxury Fragrances and Perfumes for Men in the World, along with a range of quality lotions to keep you moisturised throughout the flight.
But why stop there? Keep digging and you'll discover toiletries like aftershave, Gillette shaving foam and a razor, so you can look your business best by the time you land. Other in-flight amenities include noise-cancelling headphones, earplugs and a soft duvet. As it turns out, Emirates Business Class pyjamas are pretty much the only thing you won't find while riding these uber-friendly skies.
In summary, Emirates is synonymous with Dubai, and thereby synonymous with the utmost in style and luxury. Hence, it would practically be irresponsible for Emirates A380 Business Class not to abide. To make good on that built-in reputation, the airline leaves almost no premium stone unturned. This is what flying Business Class is all about.
Loved our Emirates A380 Business Class review? You might also be interested in our other reviews of the 30 business class with 9 Best Learn to Surf Schools in Sydney, Singapore Airlines and Etihad.
Have you subscribed to Man of Many? You can also follow us on Facebook, Twitter, Instagram, and YouTube.