Etihad A380 Business Class Review
Should you be leaving Australia for someplace in the UAE (or a variety of other locations), there are far worse ways to travel than Business Class on the Etihad Airbus 380. Alternatively known as The Business Studio, Etihad A380 Business Class offers ample comfort and the utmost tier of hospitality. Expect service with a smile to say the least, as the airline more or less attends to your every reasonable desire.
If you're flying Business Class out of Abu Dhabi, the luxury treatment begins before you've even boarded the plane. That is to say that Etihad offers Premium Check-in to First Class and Business Class travellers. It all goes down in T3, right next to an Etihad Premium Lounge. Once in the lounge, you can pass the time in true style as you wait for your departure. Here with more details is our Etihad A380 Business Class review.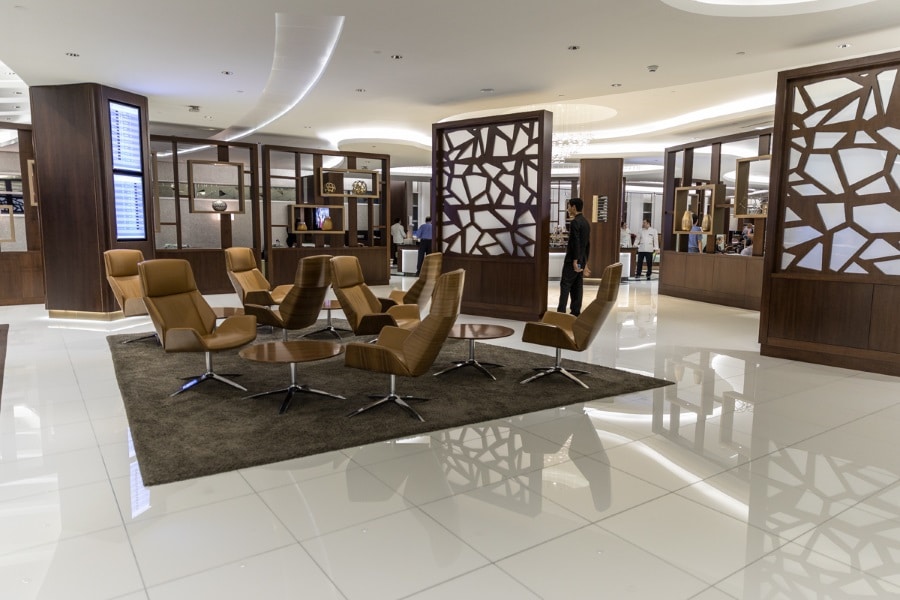 Etihad Business Class Lounge
Being that Etihad is based in Abu Dhabi, the airline has not one, but two Business Class Lounges (also known as Premium Lounges) located inside the airport. Within each elegant and thoroughly modern decor, you'll find a concierge service, workstations, relaxation areas, TVs, a family room, shower rooms, coffee stations and international buffet stations. Spread between the buffet stations are a variety of sandwiches, fruits, Arabic dishes, salads, desserts, pastas and even sushi rolls. Complimentary WiFi is offered in both lounges as well.
Meanwhile, the Business Class Lounge in T3 ups the luxury ante by including a Six Senses Spa. Ideal for the modern business traveller, the spa doesn't just provide services like a relaxing massage or spa treatment, but there's even a Shave Experience station toward the back. In other words, this Business Lounge has our demographic written all over it! That said, don't go in expecting a tippy top-shelf barber session–this is an airport lounge after all. Nevertheless, they'll lather you up nicely, give you a straight razor shave, and leave you looking sharp before your flight. Also exclusive to the T3 lounge is a prayer room and business centre.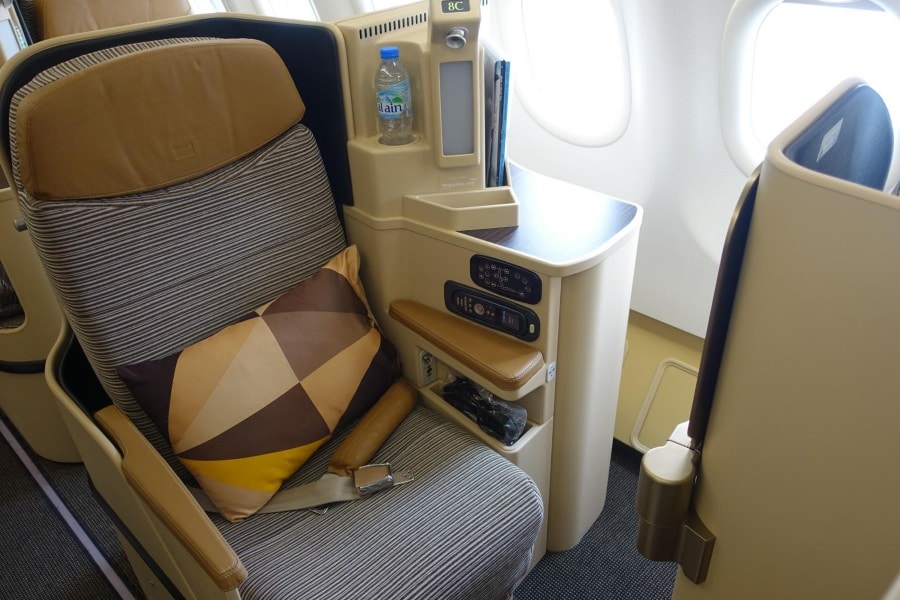 Etihad A380 Business Class Seats
After relaxing in the Etihad Premium Lounge, you're welcomed aboard the formidable Airbus 380, and led upstairs to the Business Studio. Elsewhere on the upper deck are First Class seats, a "Residence Suite" and The Lobby, a social area modelled after boutique hotel lounges. Within The Lobby, you'll find plush leather seats, handy connectivity ports and a small bar.
Should you rather pass the time in your seat, you'll find yourself in some nice, solitary digs. Configured in a 1-2-1 layout inside the Etihad A380 Business Studio, the seats alternate in terms of which way they face in order to enhance privacy. Stick with the A and K seats if you want an authentic window seat, or the C and H if you want the aisle.
The seats themselves are ridiculously comfortable, and seamlessly adjustable to boot. Use your touch screen to control the seat functions, including things like cushion firmness, mood lighting and a massage feature. When it comes time to sleep, the seat converts into a serviceable lie-flat bed.
Giving each Etihad A380 Business Class seats all the more appeal is the inclusion of 2 USB ports and a universal outlet. That's joined by larger-than-normal armrests, which pop open to serve as storage spaces.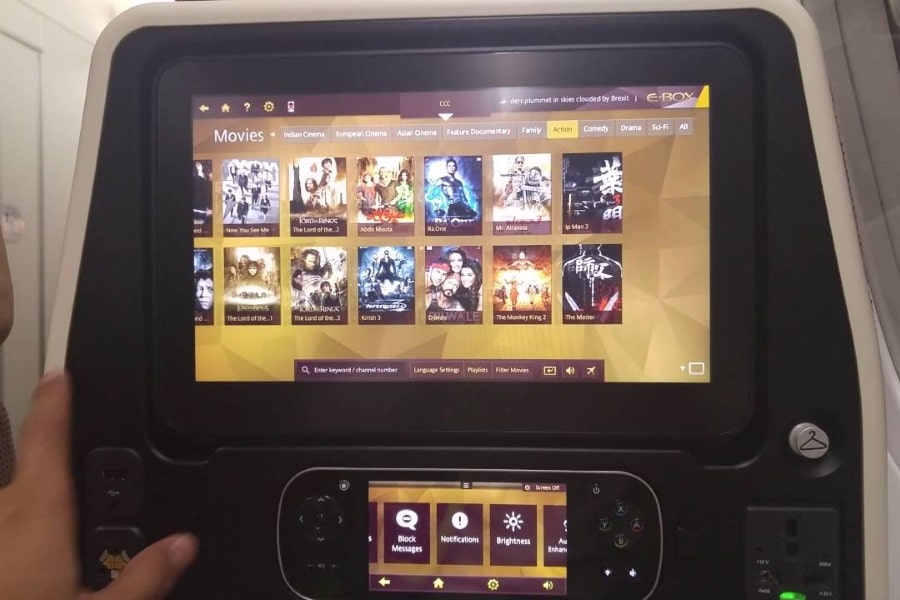 Etihad A380 Business Class In-Flight Entertainment
The Etihad A380 Business Class entertainment system leaves precious little to be desired. Delivered by way of an interactive 18.5″ touchscreen TV are thousands of on-demand movies, shows and songs to choose from. Not only that, but the system allows you to watch two different things at once.
Ensuring a distraction-free experience are noise-cancelling headsets. Also available is Wi-Fi connectivity on select flights. And for those who kick it old school, the airline offers both an Atlas and a selection of newspapers and magazines. Suffice to say, your plane will touch down long before you've run out of things to watch or read.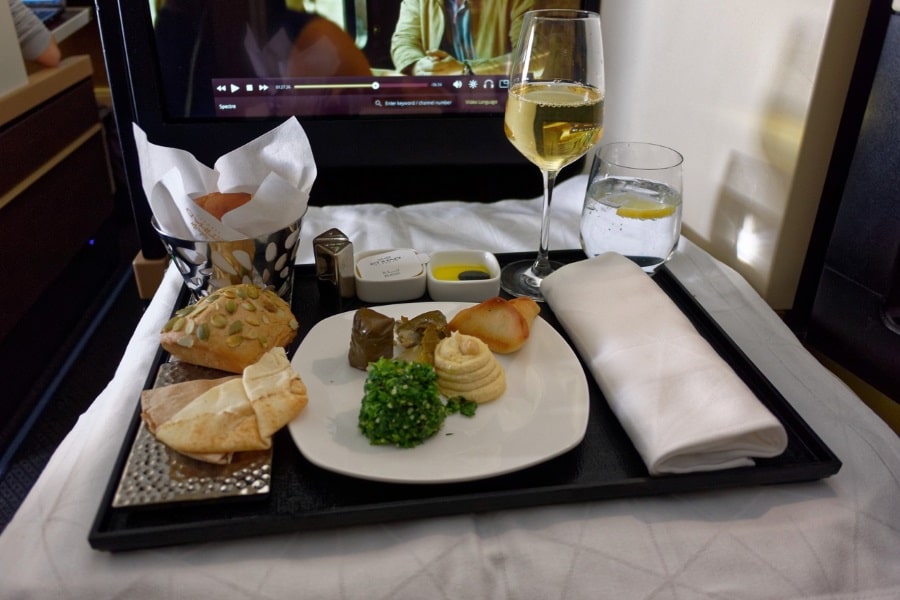 Etihad A380 Business Class Dining & Meals
Offered in Etihad A380 Business Class is a Dine Anytime service, which allows you to order food whenever the impulse (or craving) strikes. Even when the main menus aren't available, you can order sandwiches or snacks off an all-day menu at any given hour. Meanwhile, there to help with the main courses is an experienced, on-board Food and Beverage Manager, who can guide you through the menu, and recommend a specific glass of premium wine or tasty champagne to pair with each dish.
As for the food itself, expect a tasty selection of Middle Eastern appetisers, hearty classics like Beef Tenderloin or Lamb Biryani for the main course, and sticky toffee pudding or fresh fruit for dessert. While not necessarily bursting with savoury distinction or regional flavour, every dish aims to satisfy, and mostly hits the target.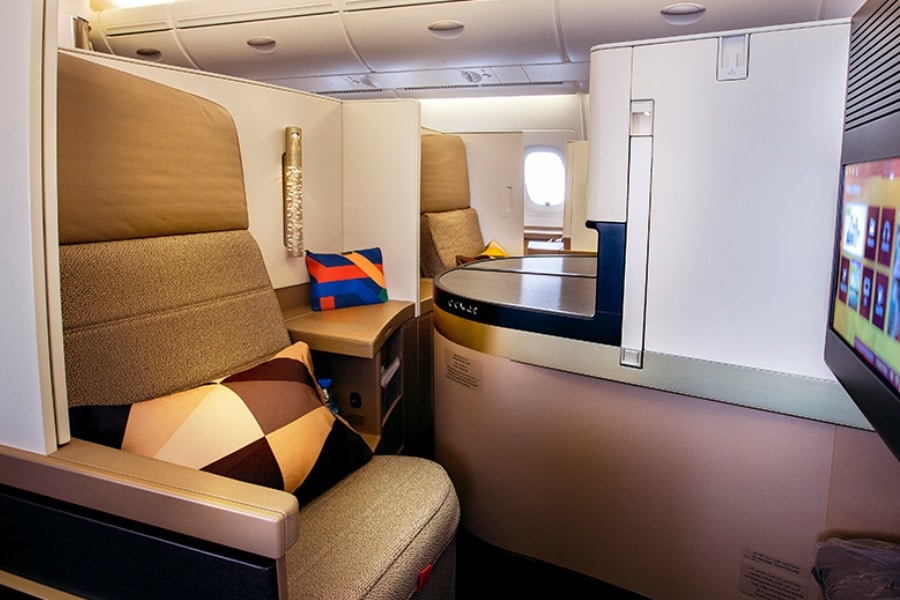 Etihad A380 Business Class Amenities
In addition to a pillow, blanket, and noise-cancelling headset, Etihad A380 Business Class offers a limited edition, LUXE brand amenities kit. Located within the armrest storage space, each kit is inspired by cities in the airline's network, hence the inclusion of a LUXE City Guide. Also included is a Scaramouche + Fandango skincare and comfort kit. On long-haul day flights, dental kits, shaving kits and sleep packs are available upon request. On overnight flights, the airline generously offers pyjamas to its Business Class passengers.
In conclusion, Etihad A380 Business Class ably separates itself from the herd by going the extra mile in terms of hospitality. More than being merely responsive to one's needs, Etihad treats every Business Class passenger like a valued customer, and one who deserves a little pampering and some food whenever he wants it. Throw in limitless entertainment, along with choice details like massage function and mood lighting, and it's no wonder that the relatively new airline keeps raking in so many industry awards year after year. Does that mean there's no room for improvement? Of course not, especially when it comes to the food. On the other hand, no one argues with the ability to order a meal anytime he wants.
Have you subscribed to Man of Many? You can also follow us on Facebook, Twitter, Instagram, and YouTube.