Qantas 787 Dreamliner Business Class Review
They don't call the Qantas 787-9 (which will be referred to as the 787 from here on out) the "Dreamliner" for nothing. Accordingly, Qantas 787 Business Class and Premium Economy are two high flying dreams come true. However, the truth is that the entire plane is pretty epic, and among the most advanced of its kind. Not only does the Dreamliner feature less seats than most planes of its size, but the Boeing 787's efficient design and impressive fuel economy has opened up new routes like the one from Perth to London. For Aussies–who have an indisputable fondness for travel–that means less overall hassle and more accessibility to destinations around the world; two things we'd simply never argue with. Indeed, an alternate name for the plane might have been the "Streamliner", given the 787's emphasis on economy and range. It's therefore no wonder that Qantas plans to more or less eliminate its fleet of Boeing 747 jumbo jets by 2020, paving the way for even more 787s.
For business travellers in particular, more Dreamliners is definitely good news. That's because the Qantas 787 does Business Class right, especially in terms of comfort, convenience, entertainment and space. Put simply, Qantas 787 Business Class doesn't just offer substantial legroom and a personal cocoon, but something akin to a makeshift bedroom by way of its acclaimed Skybed design. Check out our Qantas 787 Business Class review to learn more. And for those aiming to shave a few bucks off their ticket, we'll also dedicate some coverage to Qantas 787 Premium Economy.
Qantas Business Class Lounge
For international Business Class travellers, Qantas offers a range of services to make catching your flight a breeze. One of those services is Chauffeur Drive, which will have professional drivers take you to and from the airport for free. Also worth noting is that Qantas allows for check-in up to 90 minutes before your flight takes off. Of course, if you really want to ensure everything runs smoothly, then your best bet is to show up extra early and kill some time in the Qantas Business Class Lounge.
We've already covered the 17 Best Australian Whiskey Brands to Drink Right Now, so this time we're checking out the one in Melbourne Airport. Open to First and Business Class passengers (along with certain club members and frequent flyers), the Qantas Business Class Lounge in Melbourne offers fast Internet, clean workstations, Apple computers, a newspaper/magazine rack, an all-day barista service, a range of self-serve beverages (including alcoholic ones), a special menu item of the day and a generous buffet. There are waiters on hand to take your order if you want to try the menu item of the day, and a barista to make your delicious latte, but for the most part you're free to help yourself when it comes to food and drink. Overall, the atmosphere is relaxed, if not somewhat economic in terms of space. Nevertheless, there are far worse ways for a Business Class traveller to pass the time while waiting for his or her flight.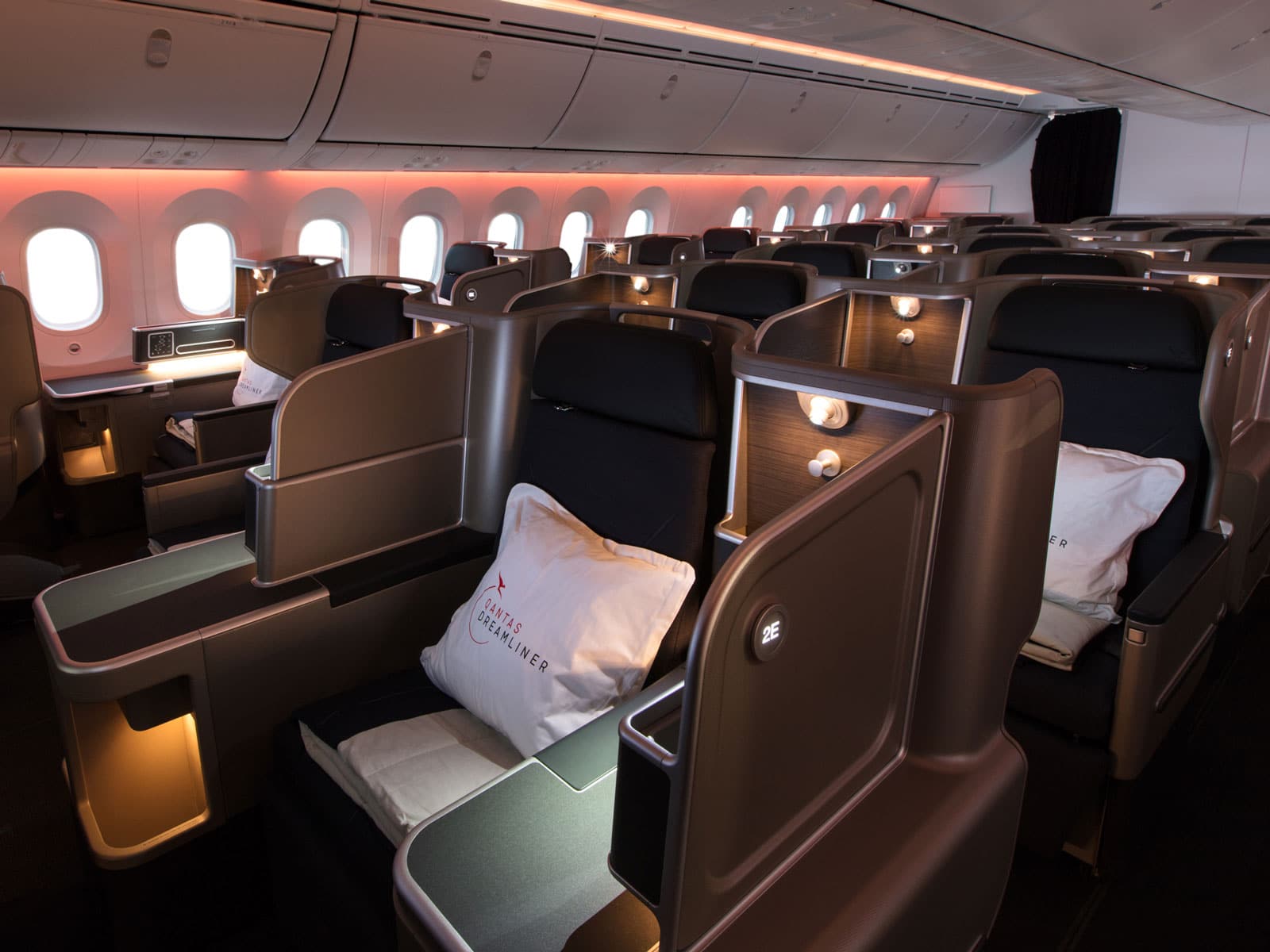 Qantas 787 Dreamliner Business Class Seats
On the Qantas 787 Dreamliner, Business Class is divided into two cabins. In total, there are 42 Business Class seats, each of which delivers the same tier of exquisite solitude. Put simply, Qantas has luxury seating down to a science. Specifically, the airline has earned itself tons of acclaim for its cocoon-like Skybed seats, which offer tons of personal space and even double as fully flat beds designed by Marc Newson. As anyone who lives in Australia is likely to know, international flights are routinely long (as in 20+ hours), so a seat that turns into a bed can be a game-changer. That goes double for all you Business Class travellers out there, who have to be sharp and ready for meetings and appointments by the time you land.
When not sleeping, it's easy for Qantas 787 Business Class travellers to stay entertained and/or occupied. For starters, each Skybed comes equipped with a 12.1″ touchscreen entertainment system that's pre-loaded with a wide range of movies, TV shows, albums, maps, guides and games. Also available with every Business Class seat is a personal telephone, reply text messaging, power outlets and USB connectivity.
---
Featured Video from Man of Many
---
Between the two Business Class cabins is a self-serve refreshment bar. Of course, passengers are also free to stay seated and let the service come to them. In that regard, not only does each Qantas 787 Dreamliner include a Rockpool-designed International Business menu, but there's even a Sommelier in the Sky on board to help you pair your meal with a glass of award-winning wine or champagne.
Rounding out the seemingly endless number of perks offered in Qantas 787 Business Class are special amenity kits. Inside each kit you'll find moisturisers, hand cream, ear plugs and other essentials. Meanwhile, Qantas keeps the amenity kit visuals on somewhat steady rotation, incorporating new designs from local Australian arts once every few months.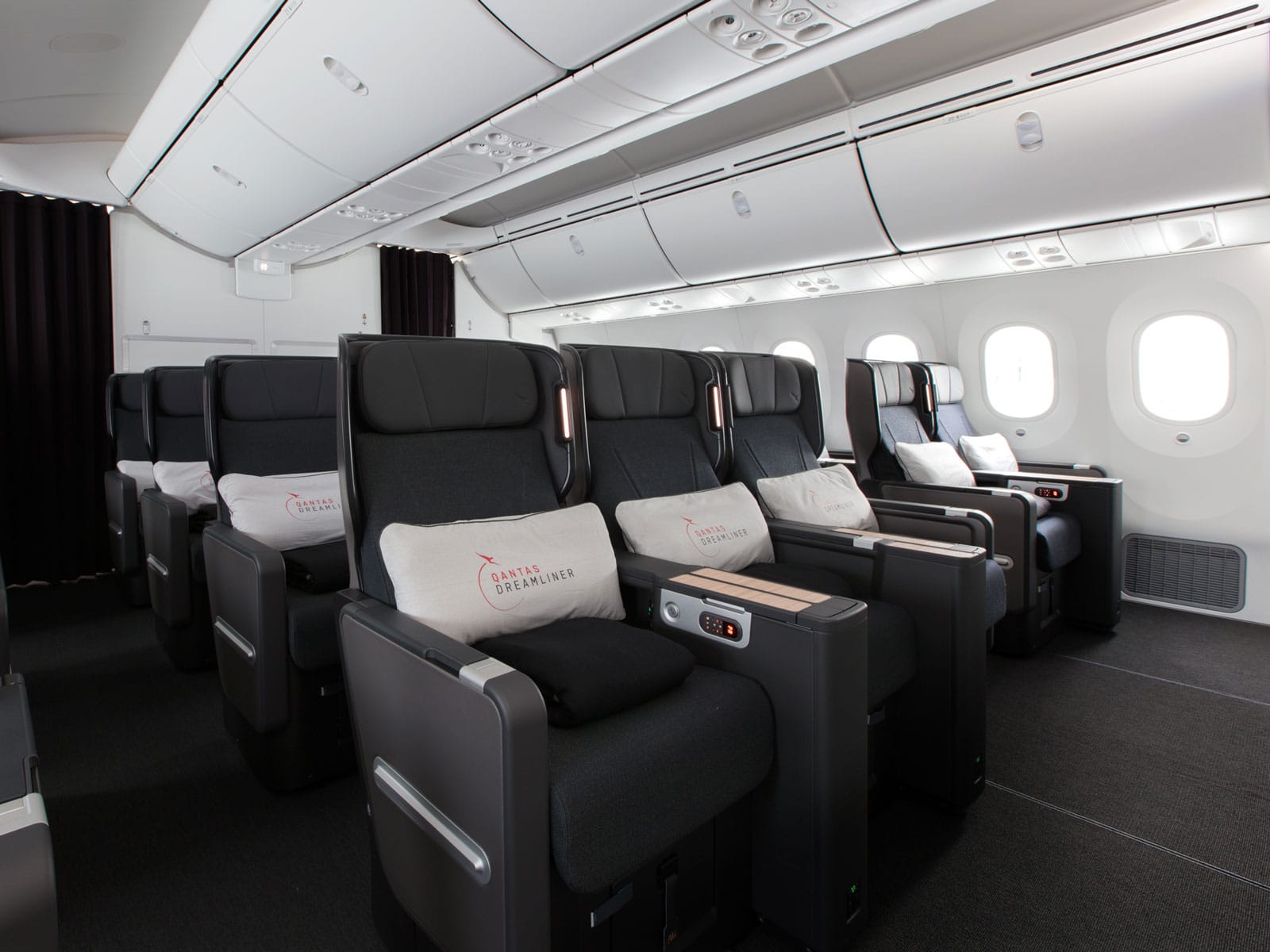 Qantas 787 Premium Economy
You don't need to fly Business Class on the regular to know it can get pretty expensive. For those looking to save a few bucks, consider Qantas Premium Economy instead, which has earned raved reviews for its spaciousness and convenience. On the 787, there are just 35 Premium Economy seats, lending the cabin an air of exclusivity. And while the Premium Economy seats won't turn into beds, each one was nevertheless designed (by Marc Newson) with maximum comfort in mind. In other words, expect plenty of legroom and some cosy fabrics under your rear end.
Giving Qantas 787 Premium Economy all the more appeal are new LCD TV screens and upgraded entertainment systems. Throw on some noise-cancelling headphones and immerse yourself in an endless stream of on-demand TV shows, movies and CDs. If you need to charge your devices, there's a USB connectivity port and power outlet on hand.
Aiming to please, the service in Qantas 787 Premium Economy is attentive and expedient. The menu comes from Rockpool, and you can put your meal together before you've even boarded your flight. Meanwhile, if you butter that stewardess (or steward) up nicely, she or he might even offer you a portable leg rest. Suffice to say, Premium Economy is a sound alternative to Business Class, permitted you don't mind forgoing the bed.
---
Featured Video from Man of Many