Singapore Airlines A380 Business Class Review
It's 2018 and for Singapore Airlines that means new and improved Business Class (and First Class) seats on their fleet of A380 jets. Indeed, Business Class travellers can now expect more storage room and more comfort within these decidedly modern digs, even if the seats themselves are a little smaller than before. Bring a loved one and grab two middle seats and you can sleep right next to each other as if in your own bedroom, whereas centre seats convert into a wide double bed. Stuck next to a stranger in those same centre seats? No worries. Just raise the divider to avoid any awkward late night encounters. Of course, this is all joined by the legion of perks one might already expect from Singapore Airlines Business Class, including tasty cuisine, top-shelf entertainment and resoundingly friendly service. For a complete breakdown, check out our Singapore Airlines A380 Business Class Review.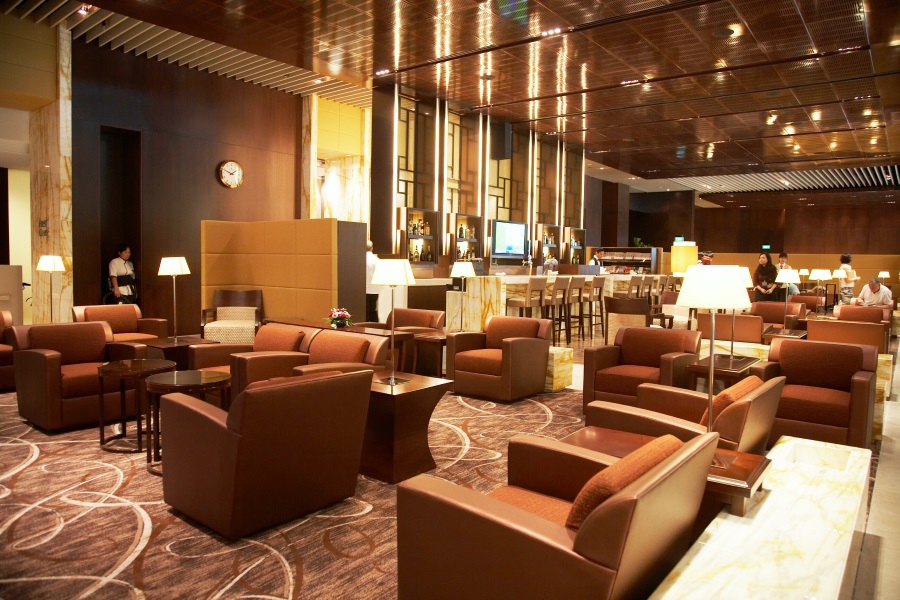 Singapore Airlines Business Class Lounge
Located in T3 in the Singapore Changi Airport is the impressive SilverKris Lounge, which actually divides into four separate lounges: a Business Class lounge, a First Class lounge, a Private Room (for those departing in First Class), and a KrisFlyer Gold Lounge for Star Alliance Gold Members. And while all those various sections might have some Business Class travellers initially wondering what they're missing out on, the Business Class lounge and its spacious, modern ambiance will quickly alleviate any concerns. Put simply, the Singapore Airlines Business Class lounge is massive, and replete with hundreds of plush seats. Furthermore, the decor itself is strikingly modern, albeit somewhat dim. Think colours like tan and beige, and materials like marble and wood, and you're getting the idea. That's all punctuated by slim, elegant lamps, modern artwork and the occasional decorative bouquet.
Suffice to say, you won't go hungry or thirty inside the Singapore Airlines Business Class Lounge, though you won't necessarily be writing home about the food and drink. The hot and cold buffet is generously stocked, but the cuisine isn't necessarily mind-blowing (airport lounge food rarely is). Also on hand are a variety of liquors, beers, wines, non-alcoholic beverages, and snacks. For those seeking a caffeine fix, a self-service coffee station will have to suffice. Meanwhile, the showers are serviceable, but small. And conspicuously missing from most seats is a power outlet. For that, you'll have to head on over to the workstations located near the First Class lounge entrance.
Singapore Airlines A380 Business Class Seats
Pointing forward in 1-2-1 configuration between two cabins are the Singapore Airline A380 Business Class seats. Made of hand-stitched full grain leather, each seat measures 25″ across, and comes enclosed in a wrap-around shell for maximum privacy. To convert the seat into a fully-flat bed, all it takes is the touch of a button. If you're not ready to turn in just yet, you can recline the seat partway to form an impromptu lawn chair of sorts.
Snag a window seat and you'll find a small shelf situated between the seat and the window, which is good for resting your arm, but somewhat obtrusive if you're trying to enjoy the view. Meanwhile, the centre seats converge to form a comfortable double bed. That can be ideal should you find yourself sitting next to an empty seat, or if you brought a loved one along for the trip. Naturally, that double bed might set the stage for a bizarre nighttime encounter if you're sitting next to a complete stranger, hence the inclusion of an adjustable divider, which runs the full length of the seat.
Expect a generous amount of storage space in Singapore Airlines A380 Business Class, including room for your carry-on luggage under the seat in front of you. Also present are high-powered USB ports, an AC socket, fold-out trays of all sizes, and special storage compartments for your devices. Naturally, it's all within arm's reach, making the seating area as convenient as it is comfortable. Speaking of arm's reach, the Business Class seat and shell can be somewhat tight-fitting, though far from claustrophobic, especially when compared to Economy seats.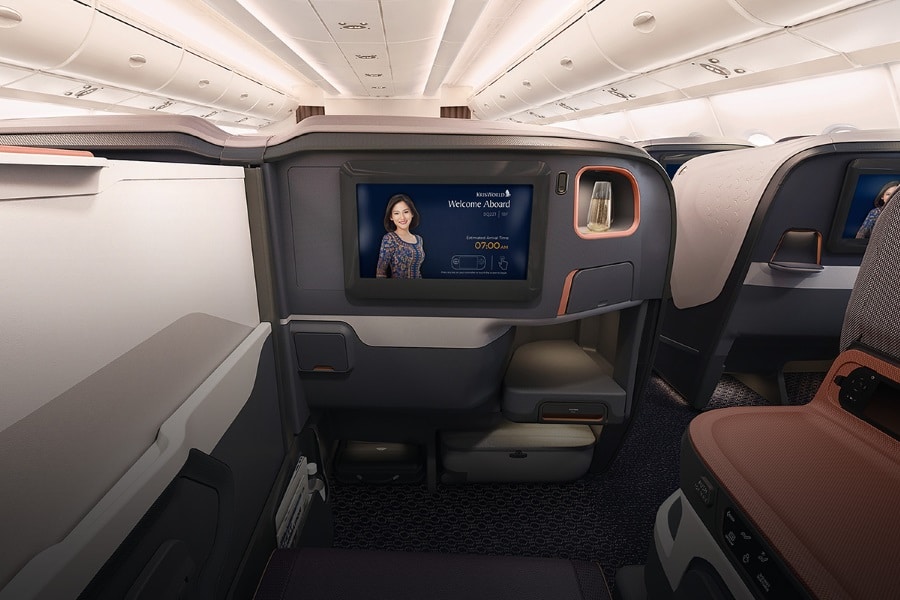 Singapore Airlines A380 Business Class In-Flight Entertainment
In the entertainment department, Singapore Airlines Business Class leaves nothing to be desired. More to the point, each seat comes equipped with an 18″ HD touchscreen monitor, loaded with over 1000 selections. Whether you're looking for Hollywood or Bollywood, you'll find it here, joined by a legion of TV shows, songs and more. If you happen to be a KrisFlyer member, you can even have your entertainment customised, whereas the system will save your shows and preferences for future flights. Rounding out the immersive package are complimentary noise-cancelling headphones. Also worth noting is that each seat includes an NFC reader for tap-and-pay services like Internet or duty-free purchase.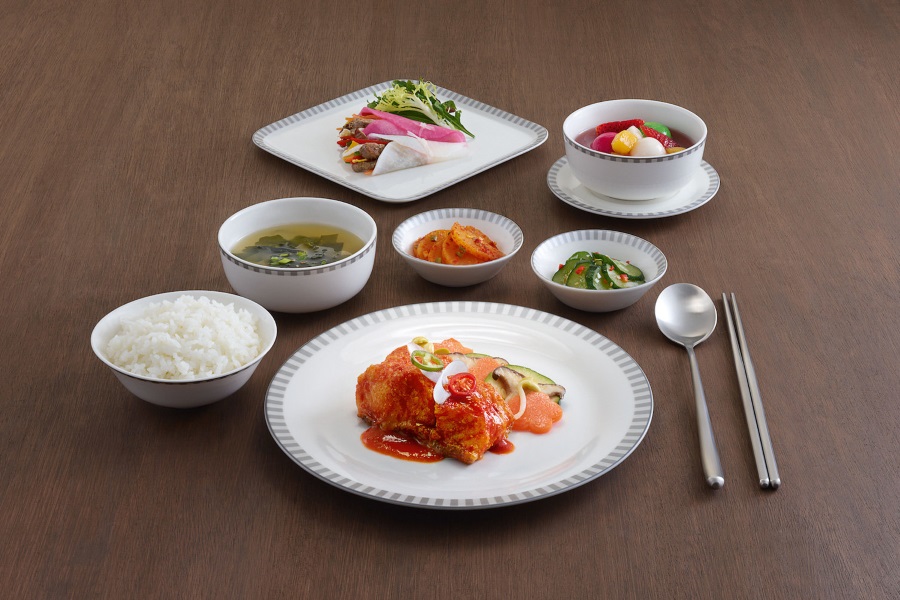 Singapore Airlines A380 Business Class Dining & Meals
Singapore Airlines Business Class has earned a solid reputation for providing exquisite in-flight cuisine, and the A380 is naturally no exception. For the best experience, take the upgrade route by utilising the airlines' Book the Cook the service. To use the service is to gain access to dishes like Seafood Thermidor, Salmon in Wild Lime Butter Sauce, Roast Duck Rice and more, all of it served on fine Narumi porcelain. Pair the meal with a flute of champagne or a glass of world-class wine, and finish everything off with a bowl of Hokey Pokey Ice Cream or some Fardoulis Chocolates.
Should you forego Singapore Airlines' Book the Cook service, you'll still find plenty to savour during your in-flight meal. Specifically, the in-flight menu offers choice regional dishes like Wok Fried Chicken in Spicy "Sha Cha" Sauce, or Beef Tenderloin in Thai Red Curry. Also featured are a variety of cheeses, breads, coffees and teas. And don't worry–those remarkable Fardoulis Chocolates are still available on the regular in-flight menu. It should also be noted that the Business Class service is top notch, not just during meals, but throughout the entire flight.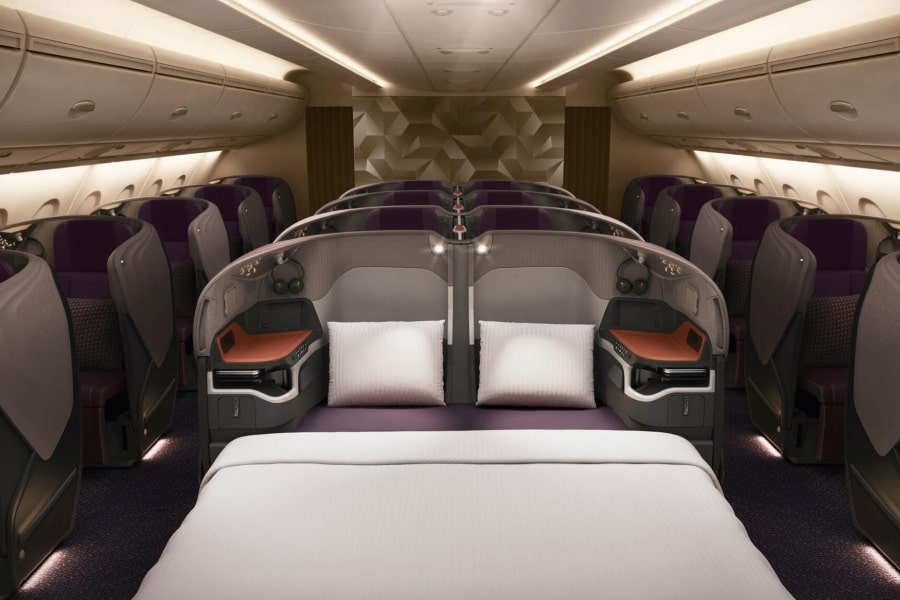 Singapore Airlines A380 Business Class Amenities
Sometimes, flying Business Class means enjoying the little things. We're speaking, of course, of the Singapore Airlines A380 Business Class amenities. That said, Singapore Airlines doesn't take the traditional route by providing each passenger with a standard amenities kit. Instead, the airline offers each traveller his or her own pair of slippers and eyeshades (on longer flights), as well a 'limited edition' laundry kit, which includes fabric freshener, crease remover and stain-removing soap. As for conventional amenities like moisturisers and toiletries, you'll find those mid-flight in the Business Class lavatories. Between that and everything else, you're guaranteed to arrive at your destination sufficiently replenished.
Have you subscribed to Man of Many? You can also follow us on Facebook, Twitter, Instagram, and YouTube.