Dom Perignon's Luminous Glowing Bottle
It's a widely accepted, though rarely stated fact, that the bells that ring in any celebratory moment don't really ding or dong, but rather sound suspiciously like the popping of corks from thick glass bottles at around 90psi. It's probably because that's what most of us are actually doing when we're tripping on a high of salubrious energy, or, at least, around those who are. Whether we've just won a grand prix or are at our great, great grandkid's wedding, great Champagne is an unavoidable symbol of celebration.
Any time of celebration automatically calls for liquid bubbles that taste delicious while getting us white-girl wasted, and when we look for guidance in all matters Champagne, it's hard to go past the advice of a segment of society so particularly famed for their tastefulness – the rappers, and it's a widely accepted fact that rappers love Dom. Like they really, really love it.
Dom Perignon, the ultra-premium tentacle of Champagne house Moët & Chandon's sparkling operations in Épernay, France, is a name synonymous with class, style and luxury, and since their first 1921 vintage went on sale in the thirties, has been one of the most imbibed drops around, with famous mid-century fans to name-drops in plenty of modern rap lyrics alike solidifying its place in the halls of all that's fancy AF.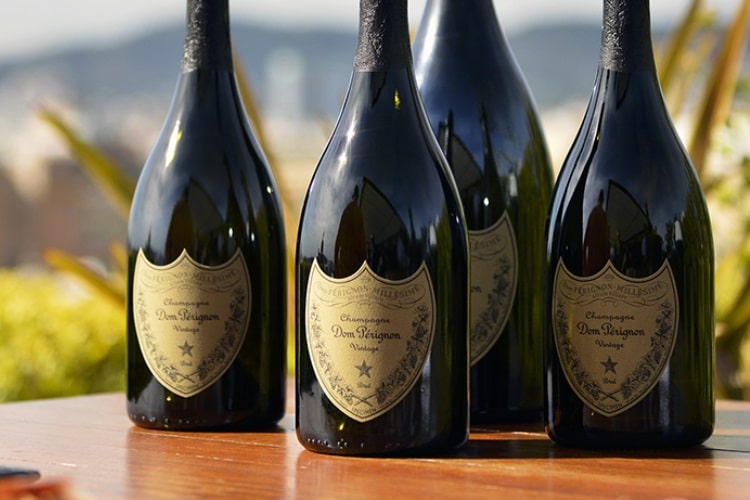 But enough about what those rap guys like. They're into big butts and they can't even lie. Let's look at the particulars.
Anybody's who's anybody already knows the prominent shield-shaped label and the black foil capsule that sits snugly atop the handsome stout bottle, but as the beverage-savvy of you may have already noted, there's an influx of Doms that seem to literally light up a room when they stride in, thanks largely to their signature luminescent label.
But not every bottle of Dom boasts such a talent, in fact, it's a rare few. This is one for the select cashed up bourgeois who know about its charms and request it, if they're lucky.
Either an indiscreet method of showing off your funds in the back of the club or a tacky piece of fandangle; whichever way you look at it, the seemingly glow-in-the-dark bottle of vintage bubbly looks pretty fly for a white wine, and is a surefire way to ensure that heads turn in your direction, whether you like it or not.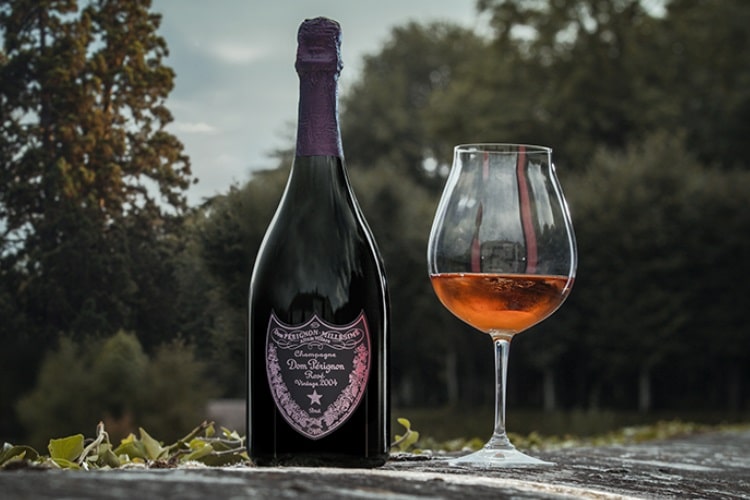 It works with a teensy, discreet switch in the punt (that's the big dimple) in the bottom of the bottle which, when flicked on, gives about 8 – 10 hours of ostentatious luminescence fitting for any rapper, playboy, buck's night or pimp. You can just imagine these bad boys being a regular feature at Hugh Hefner's mansion – scantily clad girls with bunny ears dousing each other in liquid gold in the grotto, The Hef looking on, smiling through bespoke false teeth while carefully selecting the latest bunny of the year. Amiright?
However you like your Champagne, it's a testament to Moët & Chandon's ability to adapt to an ever-demanding marketplace by keeping a product fresh without compromising on the old-school ways in which the oh-so-delicious elixir is produced. This is about as flashy as bottles come, and the stuff inside is as it's been for hundreds of years – call it mutton dressed as lamb all you like, I'm arguing that a bit of lippy and some hoop earrings never hurt a soul, and in this case more is definitely more.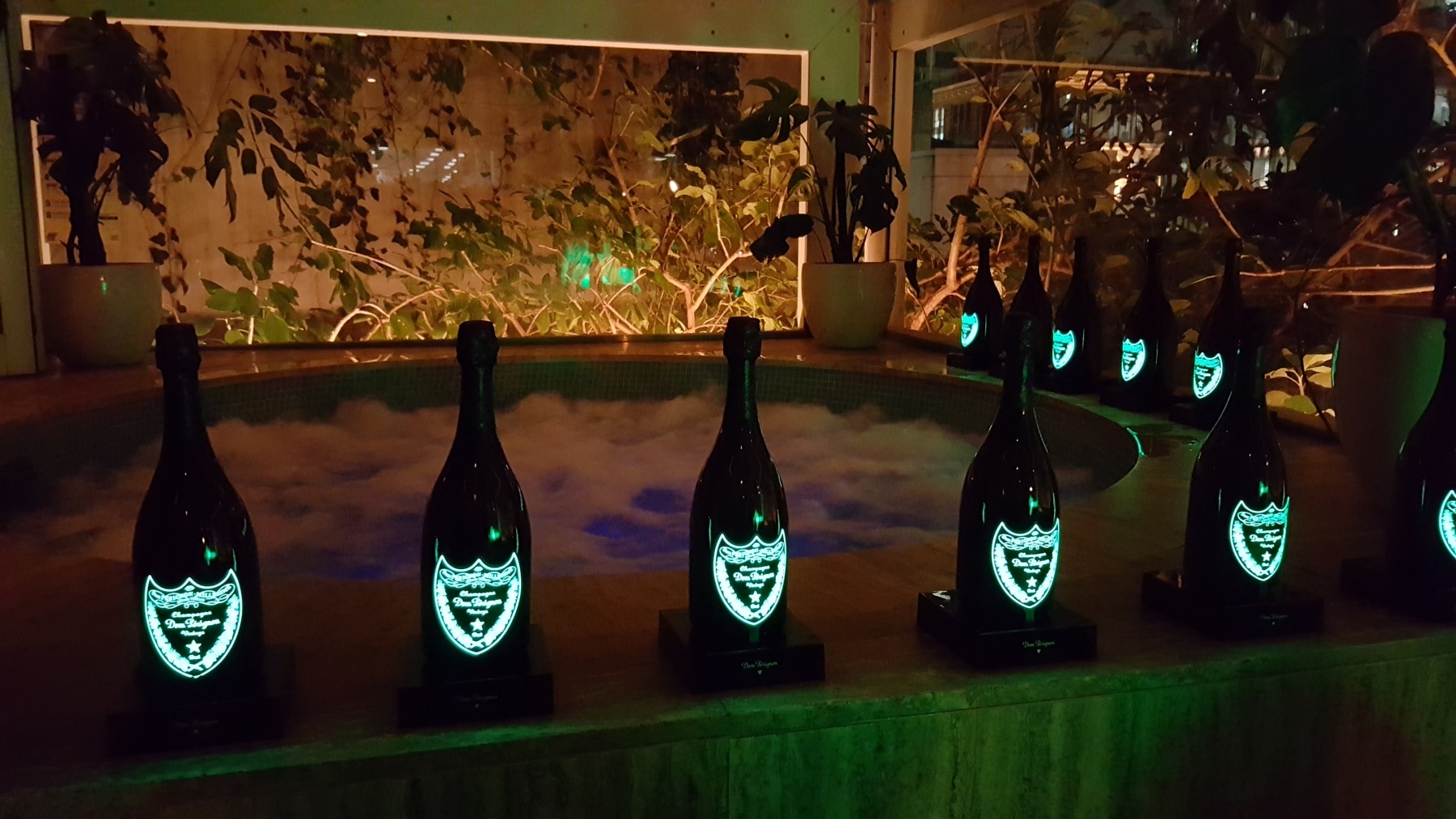 Name another premium marque of bubbly naughty water and see if any of their labels light up like the aurora borealis. I didn't think so. Dom Perignon is still the prince of alcoholic beverages and shall remain, and the flashy show-off label should be embraced as one of those things that we didn't know we needed, but now exists, is impossible to dislike. It's kind of like the Batman of Champagnes. It might be the label we need, but not the one we deserve right now. But goddamn it, I'll sooner drink Passion Pop than have somebody tell me what I deserve, and I won't drink Passion Pop.
Dear reader, it may flummox the average Joe as to why one would splash proper cash on quality fizz, least of all one that lights up like a Christmas tree, but I can't explain it any better than the late, great Coco Chanel, who once so eloquently stated: 'the best things in life are free. The second best things are very, very expensive.' And there's no way that Coco wasn't smashing saucers of Dom on her superyacht whilst designing the looks that defined an entire era of style.
If you need more justification than that to get a glowing bottle of Dom at your next shindig then frankly, you'll probably never get it.
How Much Does Dom Perignon Cost?
As you'd imagine, pricing for this iconic label isn't on the low end. A bottle of the bubbly can range from 320 AUD all the way up to 575 AUD for Dom Perignon Rose. While it may not be appropriate for everyday consumption, this is certainly what you'll want to get your hands on for special occasions.