10 Best Cast Iron Skillets and Pans
Let's face it, champion – Your steaks just aren't what they used to be. Flat, flavourless and lacking in much-needed TLC, even the best piece of meat can't be salvaged from your misdirected hands, but it's not your fault. In fact, it's actually your pan's. You need to break up with the baked-on bits and gets yourself a cast-iron skillet.
Why Cast Iron Skillets are Worth It
The long-held debate is whether investing in a cast-iron skillet is worth it, so allow us to decipher. To begin with, cast iron pans are inexpensive, making them ideal for the everyman, but moreover, they are made of very dense metal. According to The Kitchn, this material can distribute and retain heat better than other frying pans or enamel pots, allowing for even heating. In turn, foods not only cook faster, they cook evenly throughout.
This is important in that it allows meats like steak to brown and sear better, creating a crusty and complex flavour foundation, but it's not just steak that will benefit. Baked eggs, Brownies, Lasagna, and Nachos all have one thing in common, and it's not just that they're delicious dishes. It's that they can all be created in a cast-iron skillet.
Best Cast-Iron Skillets and Pans
While finding the right cast iron cookware for your kitchen and cooking skills can seem daunting, we've made it easier for you by showing you the best cast iron skillet pans out there right now! So, if you want to own that perfect kitchen staple that makes your life easier, then check out our suggestions below.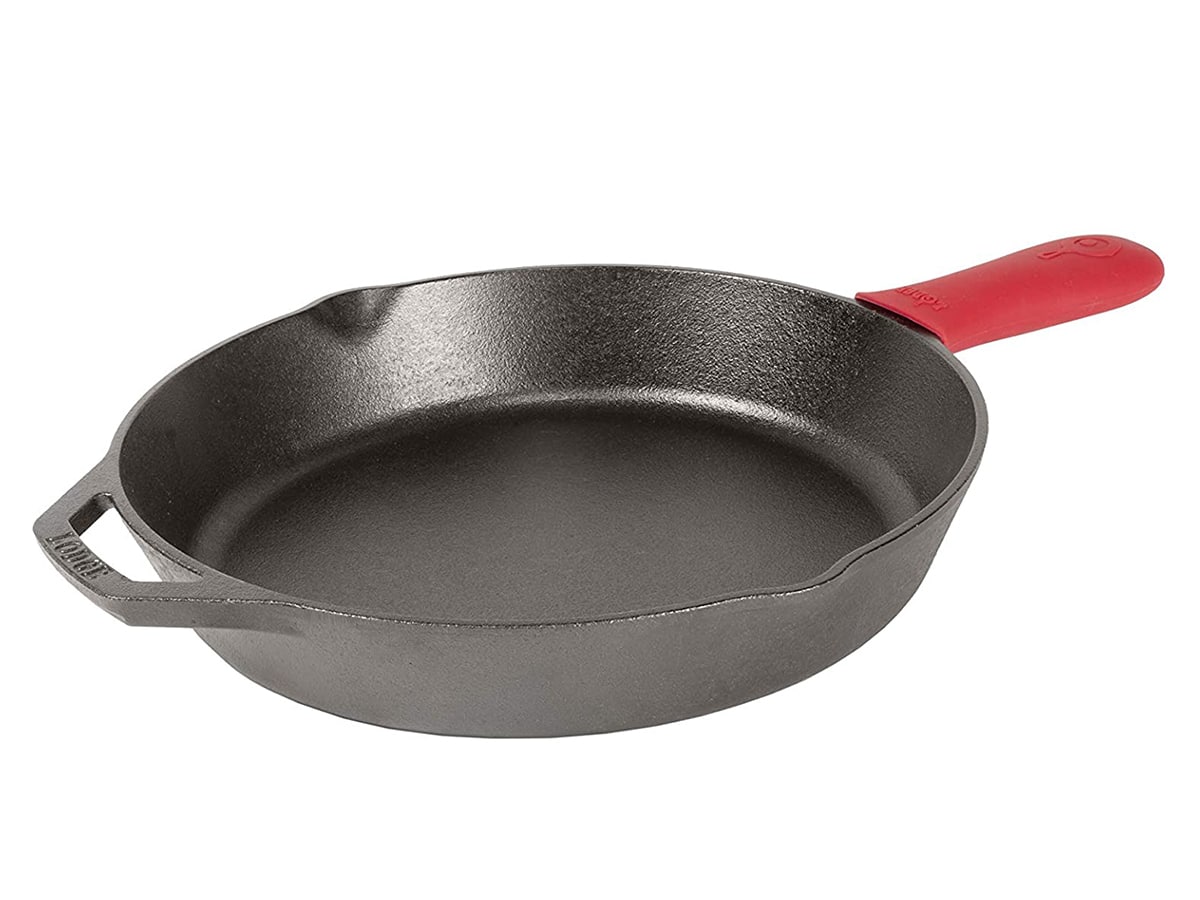 1. Lodge 12" Pre-Seasoned Cast iron Skillet
The Lodge Pre-Seasoned Cast Iron is a great everyday skillet for your baking, grilling, frying and sautéing needs. This easy to use and clean skillet pan will be a lifesaver for Sunday brekkies and quick dinner meals from the oven to the cooktop. No need to fret about potentially burning yourself because you'll get a free silicone handle holder that will protect you! Our hot tip is to keep it regularly oiled up, this will prevent rusting and will help with the heat time. If you want a reliable skillet pan that won't have you tightening those purse strings, this is definitely the one for you.
Model Name: Pre-Seasoned Cast Iron
Material: Cast Iron
Brand: Lodge
Item Diameter: 12 Inches
Colour: Red Silicone
Buy it here (AUS) Buy it here (US)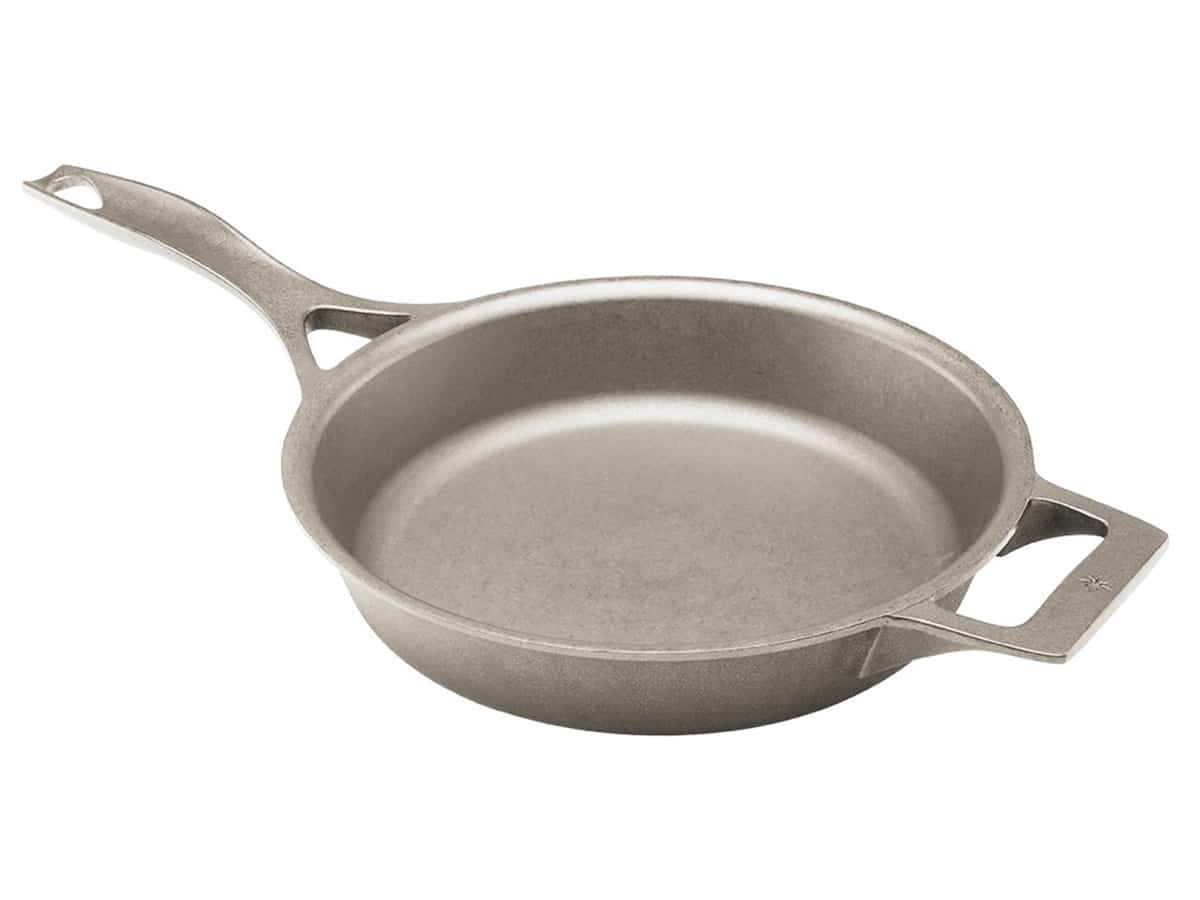 2. Stargazer 10.5" Skillet
While not as large as the Lodge, the medium-sized Stargazer Skillet is still one of the best cast iron skillets you can purchase. Much like many skillets on this list, the Stargazer is non-stick and easy to use, but it's also extremely easy to clean because of its smooth surface. Unlike many, this skillet pan comes with two purchase options, 'Bare' and 'Seasoned.' If you're a cast iron novice, we would recommend their seasoned pan, it comes with two oil coats and is ready to use from the get-go. However, if you're an expert or prefer seasoning on your own, the bare is perfect for you, just wash and dry thoroughly before you do.
Rim diameter: 10.5 inches
Cooking surface diameter: 8.1 inches
Depth: 2.0 inches
Capacity: 2.3 quarts / 9.2 cups
Weight: 5.2 pounds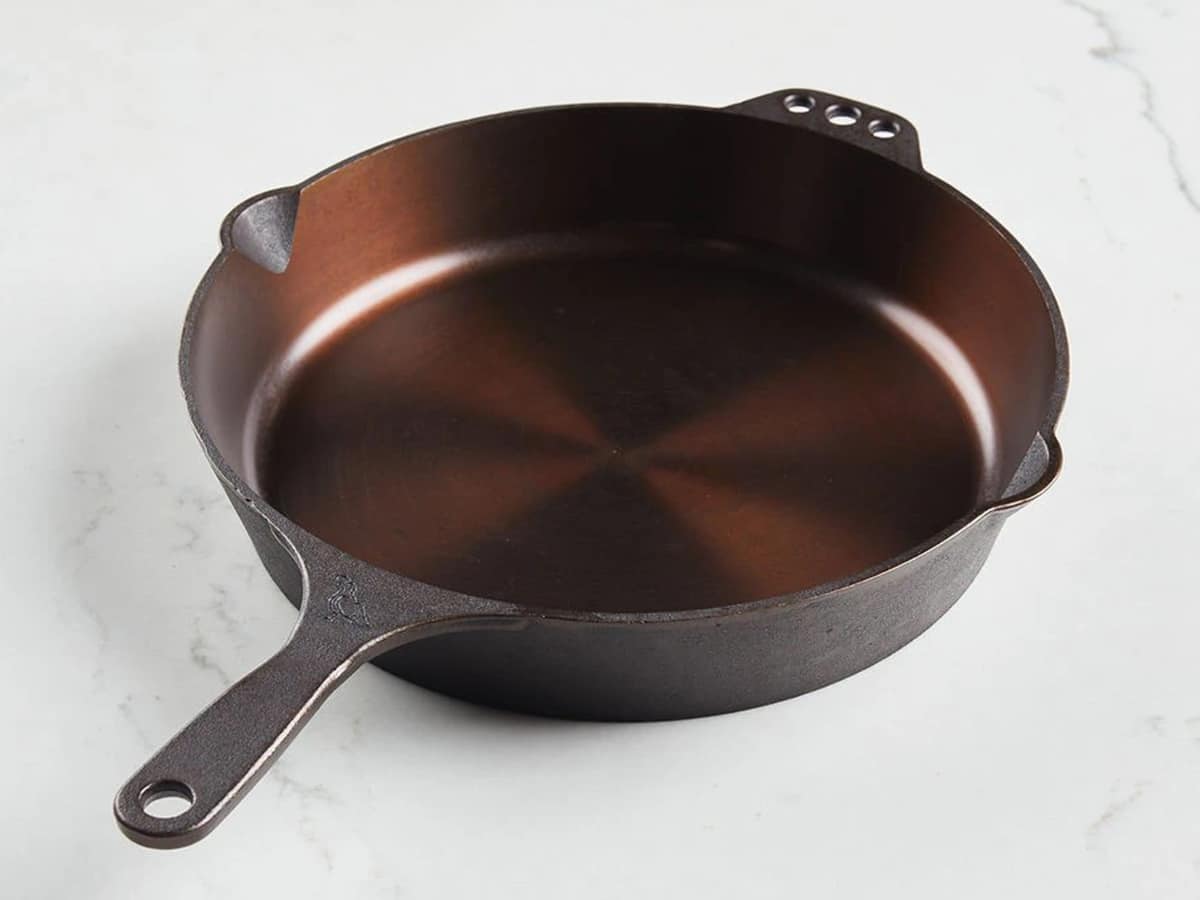 3. Smithey No. 12
The Smithey No. 12 is large, deep, and works best with larger meats, stews and vegetable dishes. This cast iron skillet comes seasoned, is non-stick and can be used in ovens, BBQs, and over campfires. While on the expensive side, you're getting bang for your buck with this versatile pan and its beautiful vintage look is just a bonus! If you want a lifelong product, this is definitely one that will be passed down through generations.
Finish: Satin-smooth Polished finish
Diameter: 12″
Depth: 2.25″
Weight: 8lbs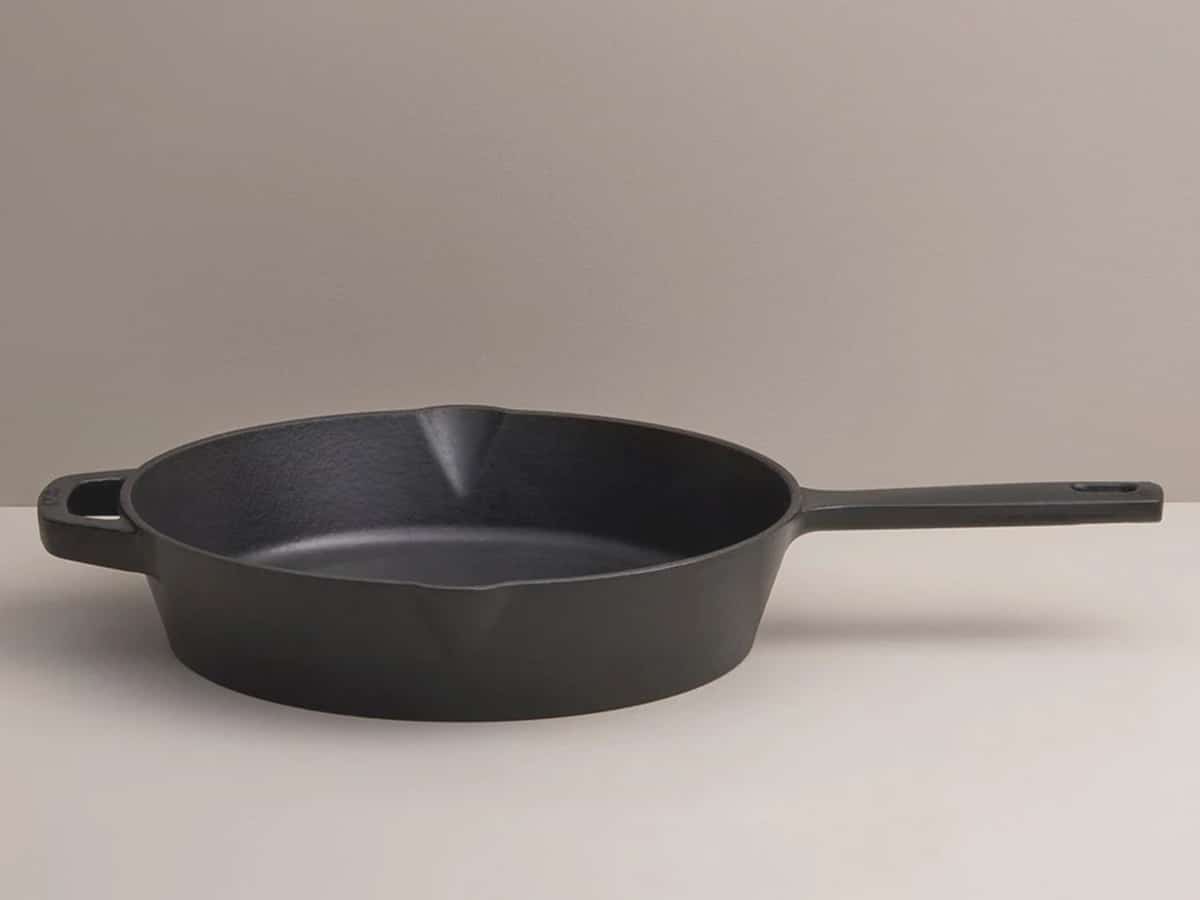 4. Milo Ultimate Skillet
Unlike your typical cast iron cookware, the Milo Ultimate Skillet offers all the best things about owning a skillet without the pain of having to regularly season or oil it up. Its enamel interior means your aftercare is simply washing and drying, making this the perfect skillet for those who don't have time to maintain a regular cast iron pan. It is also oven safe (up to 260℃) and suitable for induction stovetops.
Material: Cast Iron
Weight: 6lbs | 2.7kg
Capacity: 10″ diameter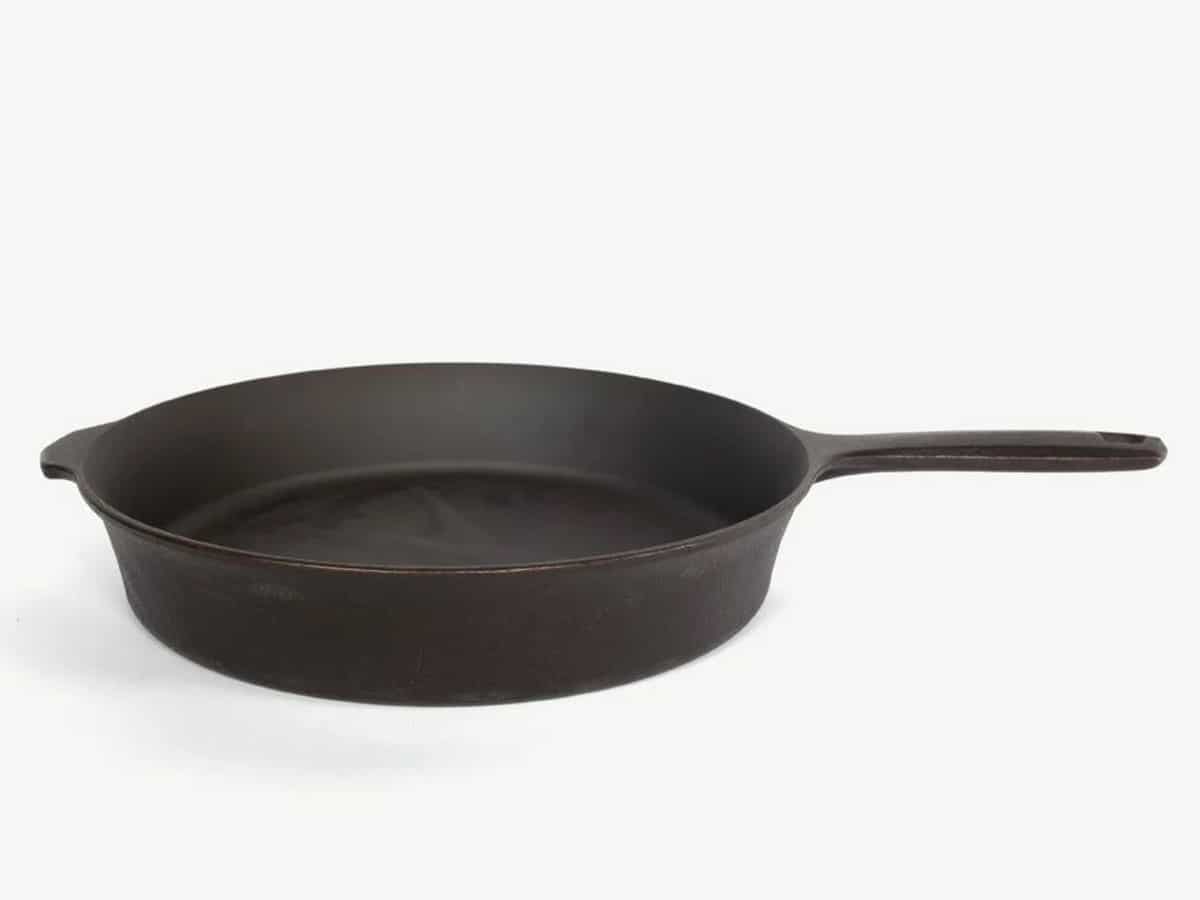 5. Field Cast Iron Skillet
The Field Cast Iron Skillet is another excellent everyday use skillet pan that's lightweight, distributes heat evenly and is non-stick. Roasting, frying and sautéing are what this skillet pan is known for! While cast iron cookware beginners might find the aftercare a little more rigorous, it will completely change your cooking game. To ensure you're doing the best for your Field skillet, make sure you hand wash, towel dry, and season well.
Material: Cast iron
No.4: 6 ¾" top, 5 ¾" cooking surface, 1.86 lb
No.6: 8 ⅜" top, 7″ cooking surface, 3 lb
No.8: 10 ¼" top, 8 ¾" cooking surface, 4.5 lb
No.10: 11 ⅝" top, 9 ¾" cooking surface, 6 lb
No.12: 13 ⅜" top, 11 ½" cooking surface, 8 lb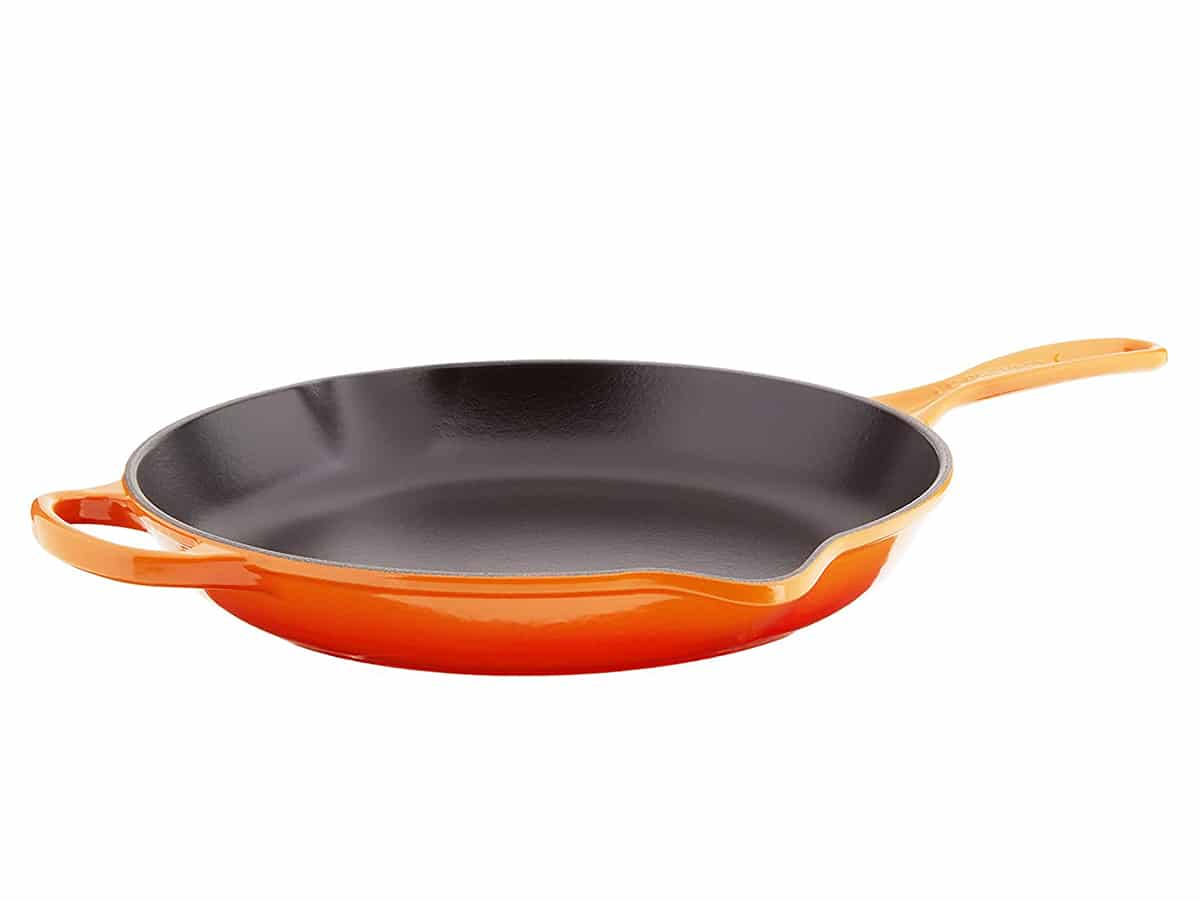 6. Le Creuset Enameled
If you want a reliable brand that never fails to impress, the Le Creuset Enameled Cast Iron Skillet will do just that. While heavier, this skillet pan doesn't need a lot of oil or any seasoning to guarantee you that evened cooking and heat distribution. Like the Milo skillet, the Le Creuset also has an enamel interior making it resistant to damage. For anyone who hates handwashing, we recommend this pan as it's also dishwasher safe. Don't forget to wear an oven mitt when handling the handle to avoid getting burned!
Material: Cast Iron
Brand: LE CREUSET
Colour: Flame
Item dimensions: L x W x H 34.3 x 47.8 x 4.8 centimetres
Is dishwasher safe: Yes
Buy it here (AUS) Buy it here (US)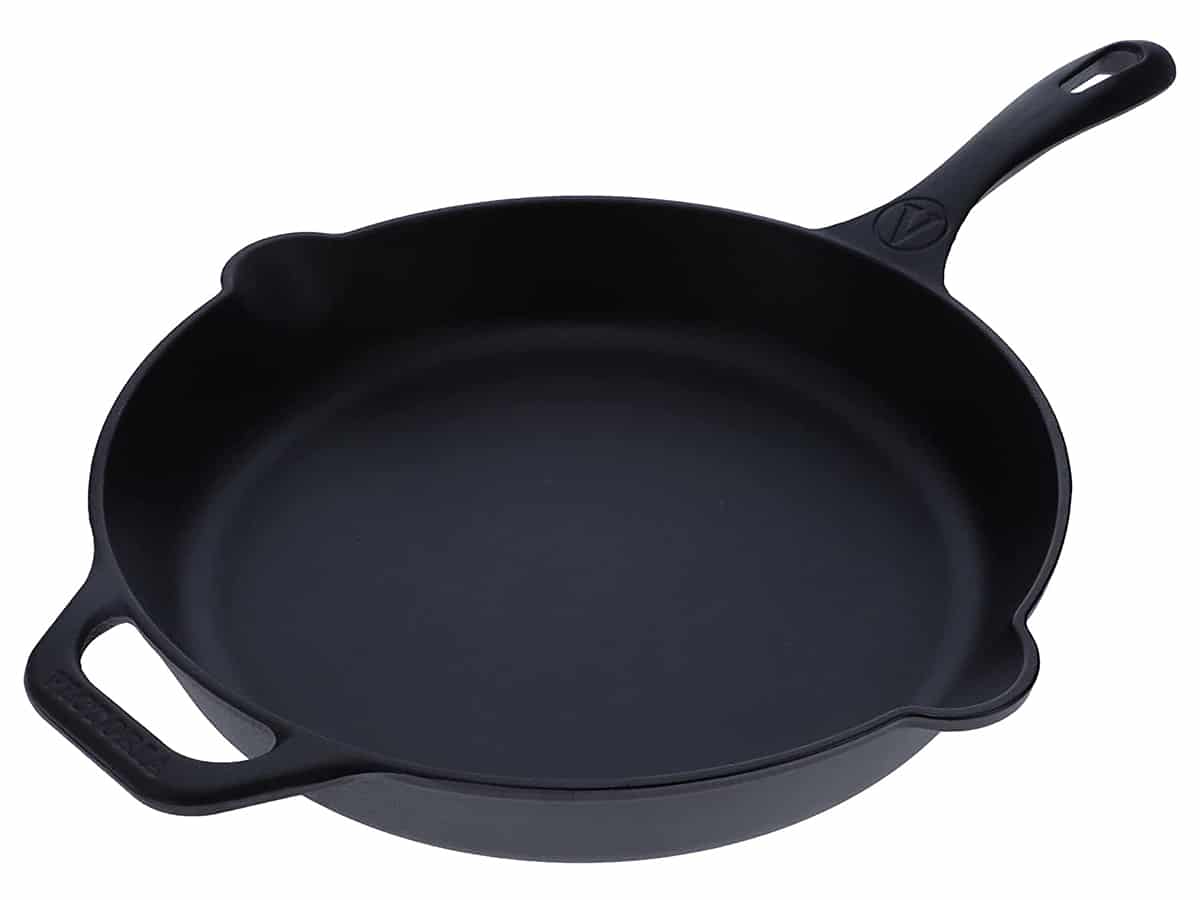 7. Victoria Skillet
The Victoria Skillet is a classic and one of the best cast iron skillets available. Their new handle design offers you 'easier handling' and helps you efficiently remove the pan from ovens. Made in Colombia, this skillet pan is seasoned, oiled up and ready for use immediately. You can also use this pan over the campfire, making it a staple for any camping trips or BBQs. With even heating and cooking, your dishes are guaranteed to be delicious.
Model name: Cast Iron Skillet Large Frying Pan with Helper Handle,
Material: Cast Iron
Brand: VICTORIA
Diameter: 12 Inches
Colour: Black
Buy it here (AUS) Buy it here (US)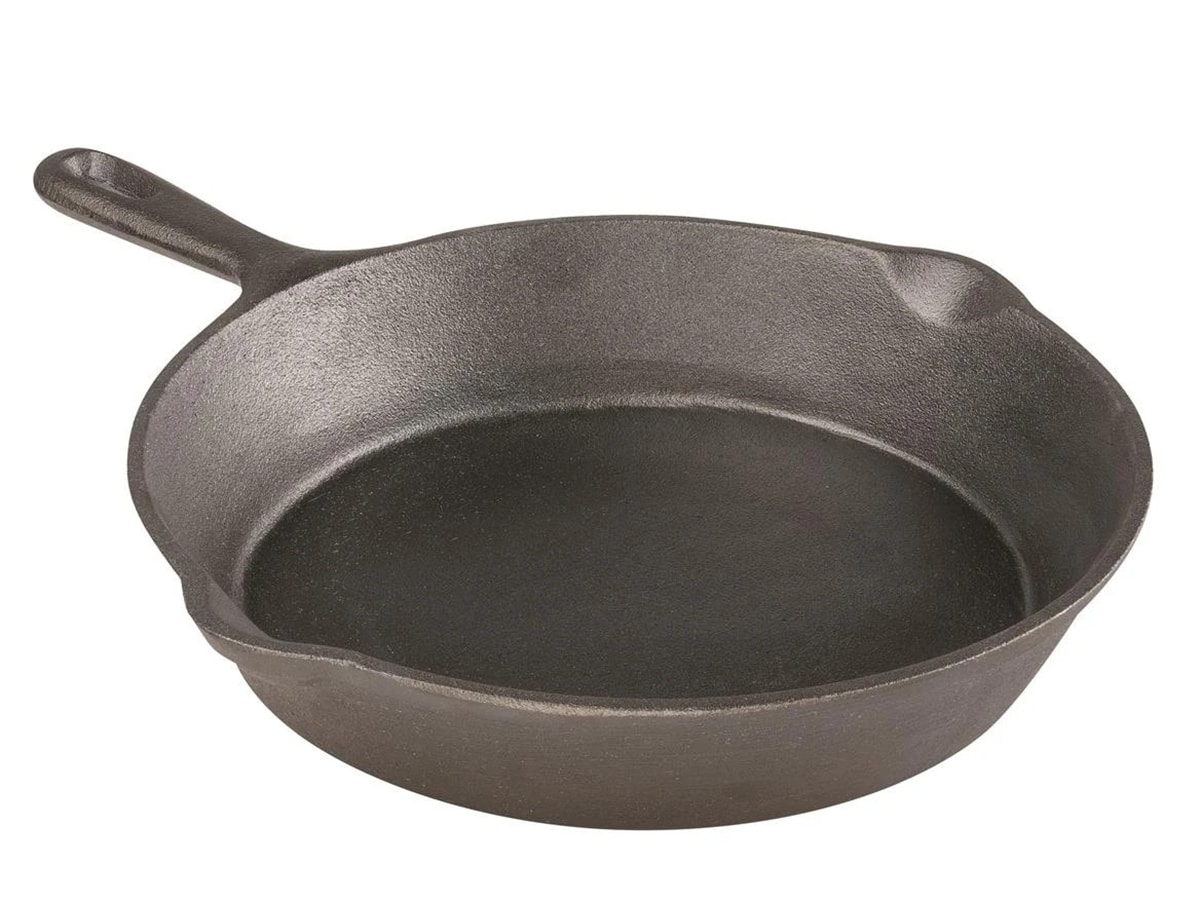 8. Pyrocast Heavy Duty
Nothing beats a good old fashioned cast iron skillet, and that's precisely what the Pyrocast Heavy Duty skillet is. Not only is it one of the cheapest skillet pans on this list, but it also provides you with easy after case, even cooking and heat retention, and can also be used for both cooking indoors and outdoors. This is the ideal pan for those of you who want to experience cast iron cooking without having to break the bank!
Material: Cast Iron
Brand: Pyrolux
Diameter: 25cm
Colour: Black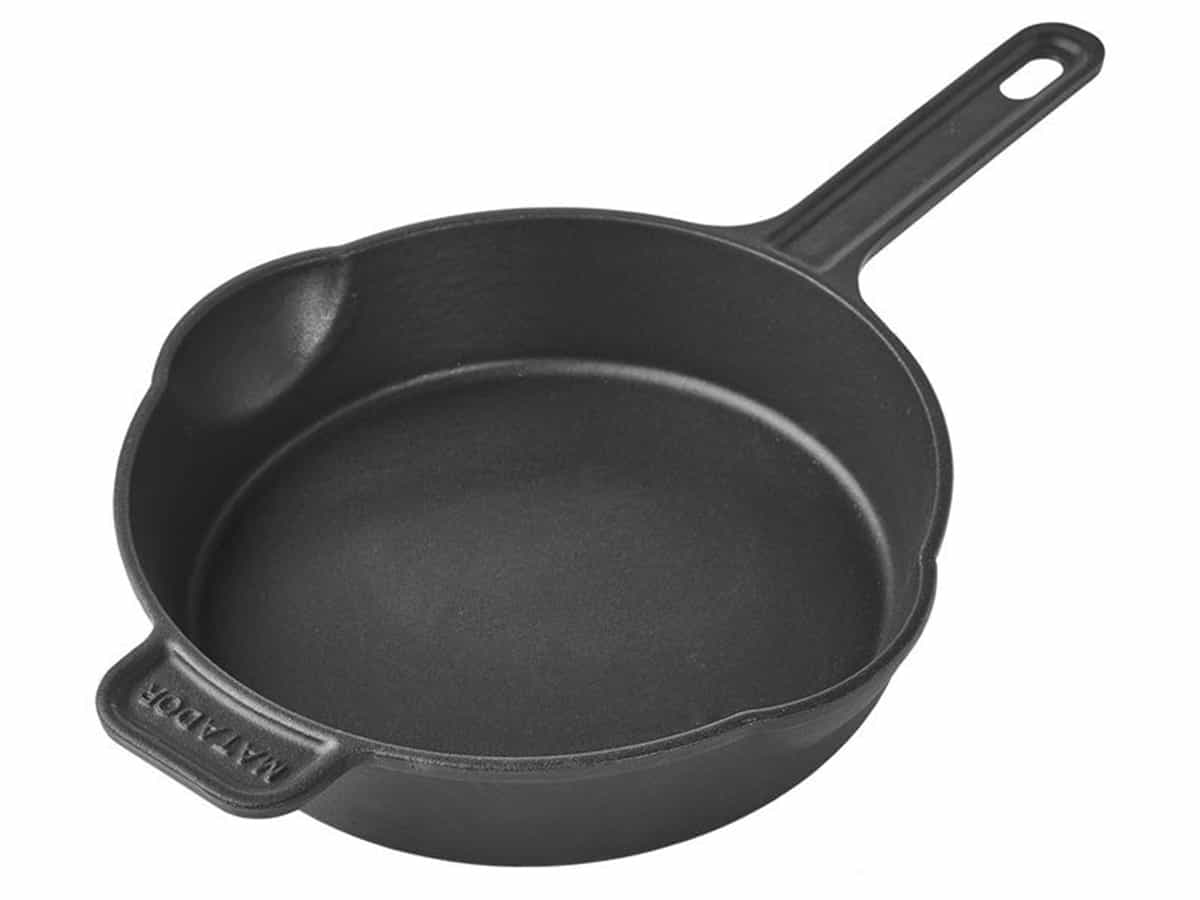 9. Matador Enamelled
The Matador Enamelled skillet is another affordable one on our list! This skillet pan offers you both heavy-duty heating capabilities as well as being suitable for simple frying. Much like the other enamelled skillets, the Matador also doesn't need any seasoning and just a tiny bit of oil to really get the job done. We love this skillet because it comes with those two handles, making it super easy to handle.
Coating: Enamel coating
Diameter: 25.6cm
Material: Cast Iron
Brand: Matador
Colour: Black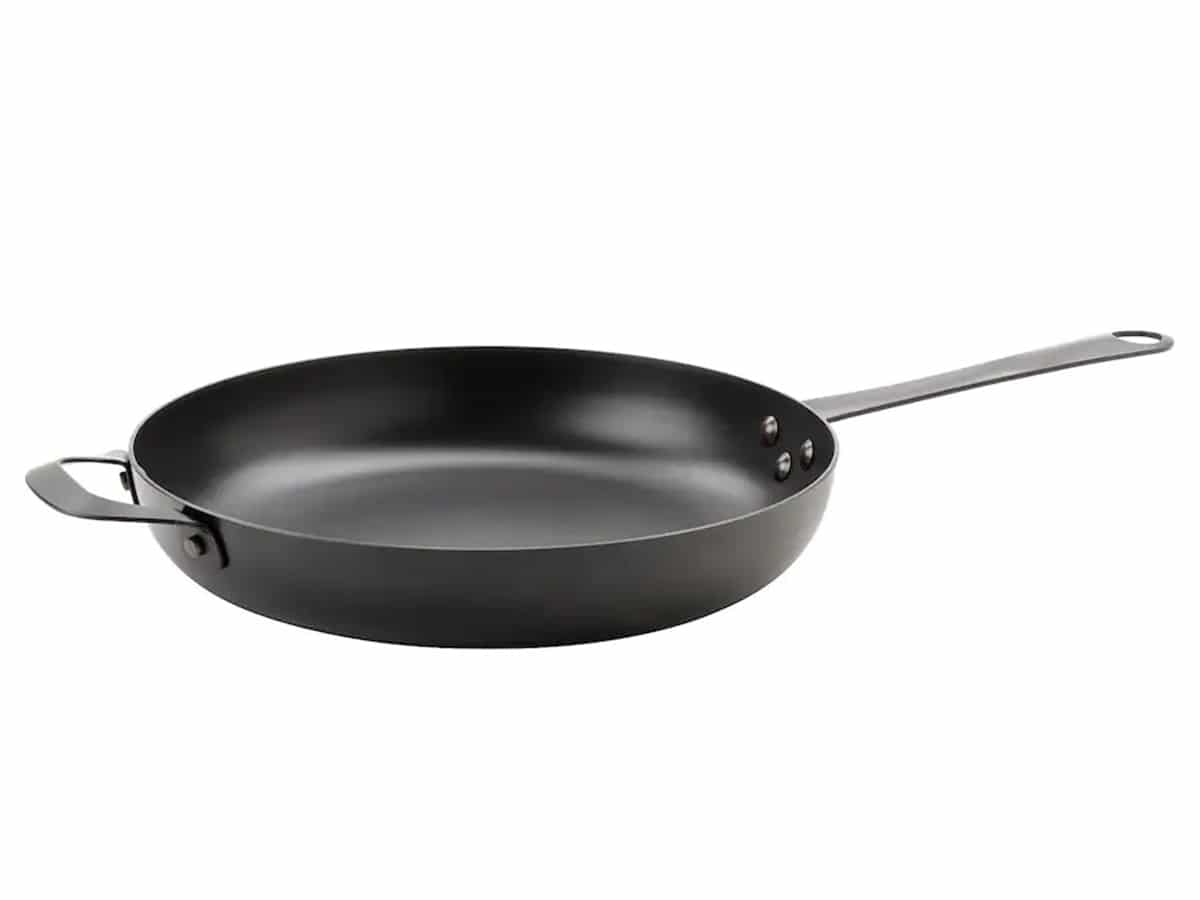 10. IKEA Vardagen
There's nothing we love more than inexpensive pieces of long-lasting cookware that we can also buy at our local IKEA! The Vardagen is made from carbon steel, allowing for evenly distributed heat to help your food cook flawlessly. Like the Matador, the Vardagen comes with dual handles! Similar to cast iron cookware, carbon steel skillets need to be oiled and seasoned to avoid rust and corrosion. Handwashing is vital, and if you notice any stains, steel wool should do the trick!
Diameter: 28 cm
Height: 5 cm
Material: Cast Iron
Brand: IKEA
Colour: Black
Buy it here (AUS) Buy it here (US)
You'll also like:
The Buccaneer Skillet Will Make You a Super Bowl Champion in the Kitchen
The Cast Iron Pan That Cost $100,000
15 Best Healthy Snacks for Weight Loss
General FAQ
What is a cast iron skillet?
A cast iron skillet is a multi-use and versatile pan that is practically unbreakable. Cast iron skillets are non-stick, easy to use and clean. They also evenly cook meals because of their heat distribution and retention properties.
What do you cook in a cast iron skillet?
You can cook virtually anything in a cast iron, from a good steak, sautéd vegetables and even desserts like brownies or cookies.
What are the benefits of a cast iron skillet over a regular frying pan?
Cast irons are non-stick and evenly cook dishes which regular frying pans can't always do. Cast irons are also oven safe and can be used over open flames, which frying pans cannot do. The durability and lifespan of a cast iron skillet also outweigh that of a regular pan.