Breville Barista Touch Impress Coffee Machine: The Perfect Blend of Automatic & Manual
In my ongoing quest to replicate the cafe-like coffee experience at home, I was excited about the prospect of testing out the new Breville Barista Touch Impress. Upon learning about this coffee machine, which marries the best of both worlds—part-manual, part-automatic—I was intrigued. At first glance, it exuded promise. But could it live up to my expectations?
While automatic machines offer convenience, I've often found they don't stack up when compared to barista-made coffees, which is why I've always leaned more towards manual machines as it gives you complete control over the brewing process. But of course, it also has its downsides. The fact that the Barista Touch Impress offers both in a single machine is quite impressive. So let's get into it.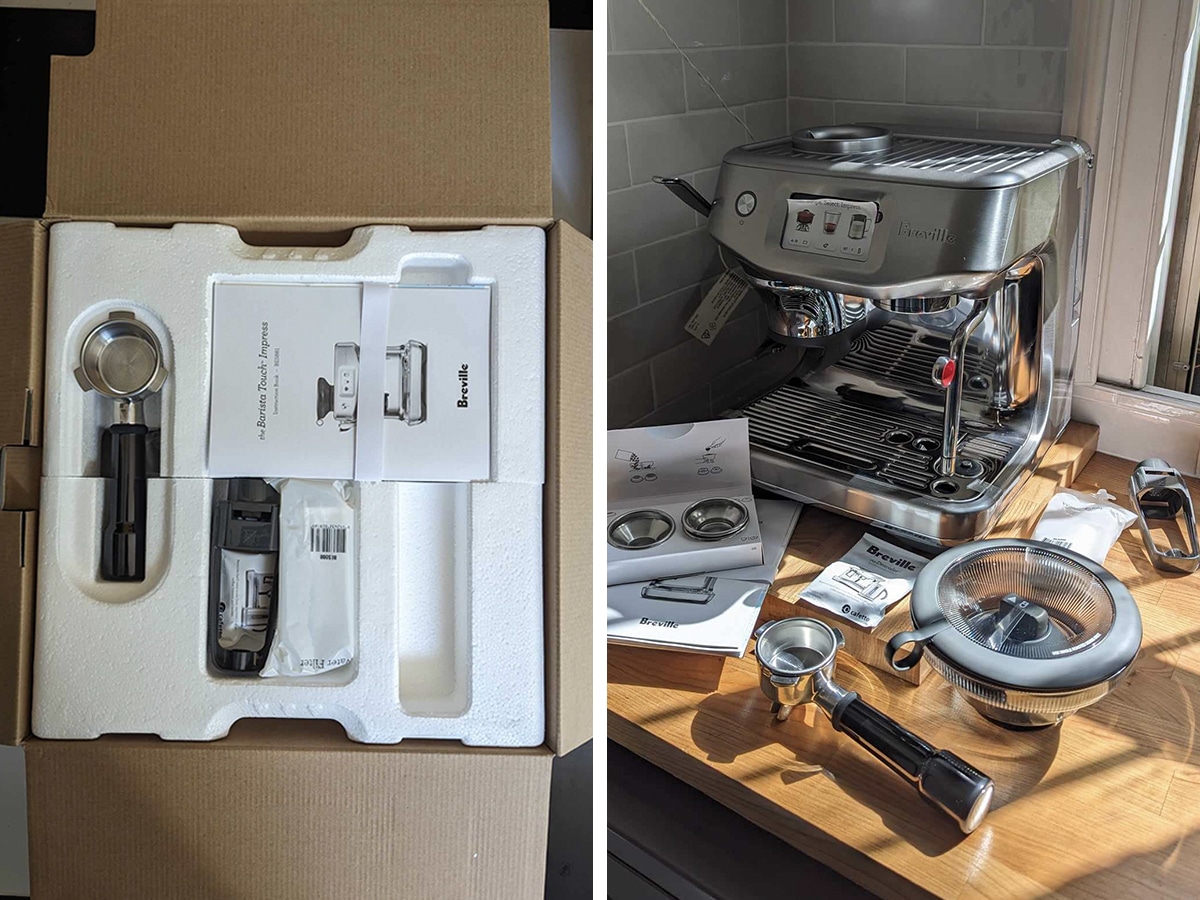 Initial Setup
While the package includes an instruction booklet, I opted to install the BILT app, which provides intuitive, step-by-step instructions complete with a 3D interactive setup. This approach made the initial setup super straightforward. In fact, I couldn't help but wonder if I had missed something. Once all systems were go, the machine's built-in touchscreen seamlessly guided me through the process of crafting my very first coffee. It not only ensured a user-friendly introduction but also demonstrated how to navigate the settings for future use.
Breville Barista Touch Impress Best Features
After using the Breville Touch Impress for just over a month, I've narrowed it down to the six best features this coffee machine has to offer. Here they are:
1. ThermoJet Heating
The built-in ThermoJet heating system impressively reaches the optimum extraction temperature within a mere three seconds, ensuring both lightning-fast operation and enhanced energy efficiency.
2. Barista Guidance
Beyond offering step-by-step guidance, the machine provides real-time feedback through the Puck system, precise extraction, and a hands-free microfoam feature. This intelligent system automatically fine-tunes each brew for the best possible cup. If extraction is too slow or too fast, the machine adeptly suggests adjustments, such as modifying the grind size, to ensure a perfectly extracted coffee.
3. Mess-Free Puck System
The aforementioned Puck system is a standout feature, designed to grind the perfect dose tailored to your chosen coffee beans and wall filter basket size. After the grinding is complete, a simple lever pull and double tamp make the transition from tamping to extraction not only efficient but gloriously mess-free.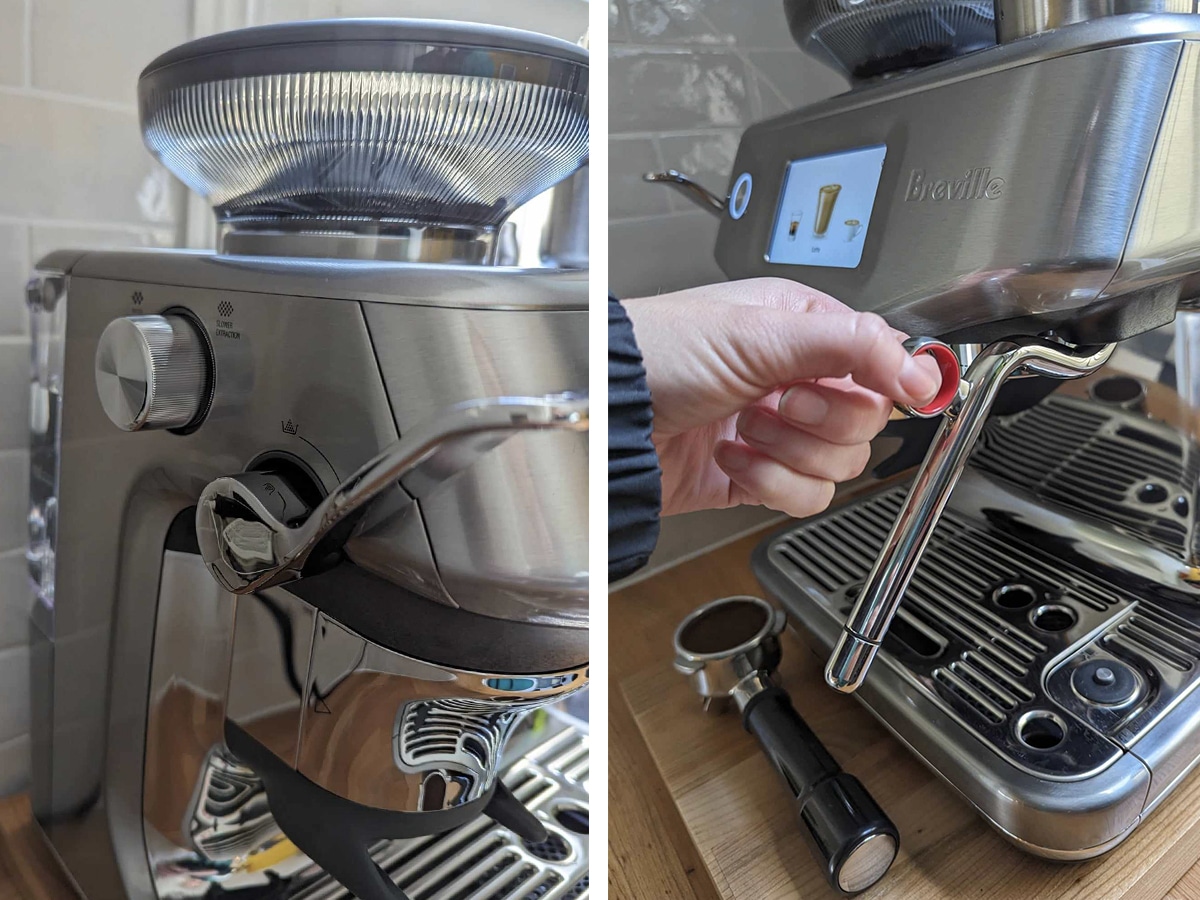 4. Alternative Milk Settings
Recognising that different milk types necessitate unique frothing parameters due to varying textures and consistencies, the Barista Touch Impress accommodates dairy, almond, oat, and soy milk. This feature calibrates air injection time and temperature to ensure optimal results for each milk variety, which really does make a difference.
---
Featured Video from Man of Many
---
5. Auto MilQ Hands-Free Microfoam
The automatic steam wand provides eight levels of texture customisation, allowing for personalised preferences. Furthermore, temperature adjustments ranging from 40 to 75 degrees cater to everyone, including those who prefer their coffee extra hot. Remarkably, the machine delivers at least one million microbubbles per millilitre, essential for achieving the desired barista texture and flavour. For those who prefer more control, the wand can also be used manually.
6. Seamless Touch Screen Experience
The user-friendly touch screen strikes a harmonious balance, simplifying the brewing process while preserving manual control where needed. Selecting from eight popular café presets or customising your own brew is easy as can be.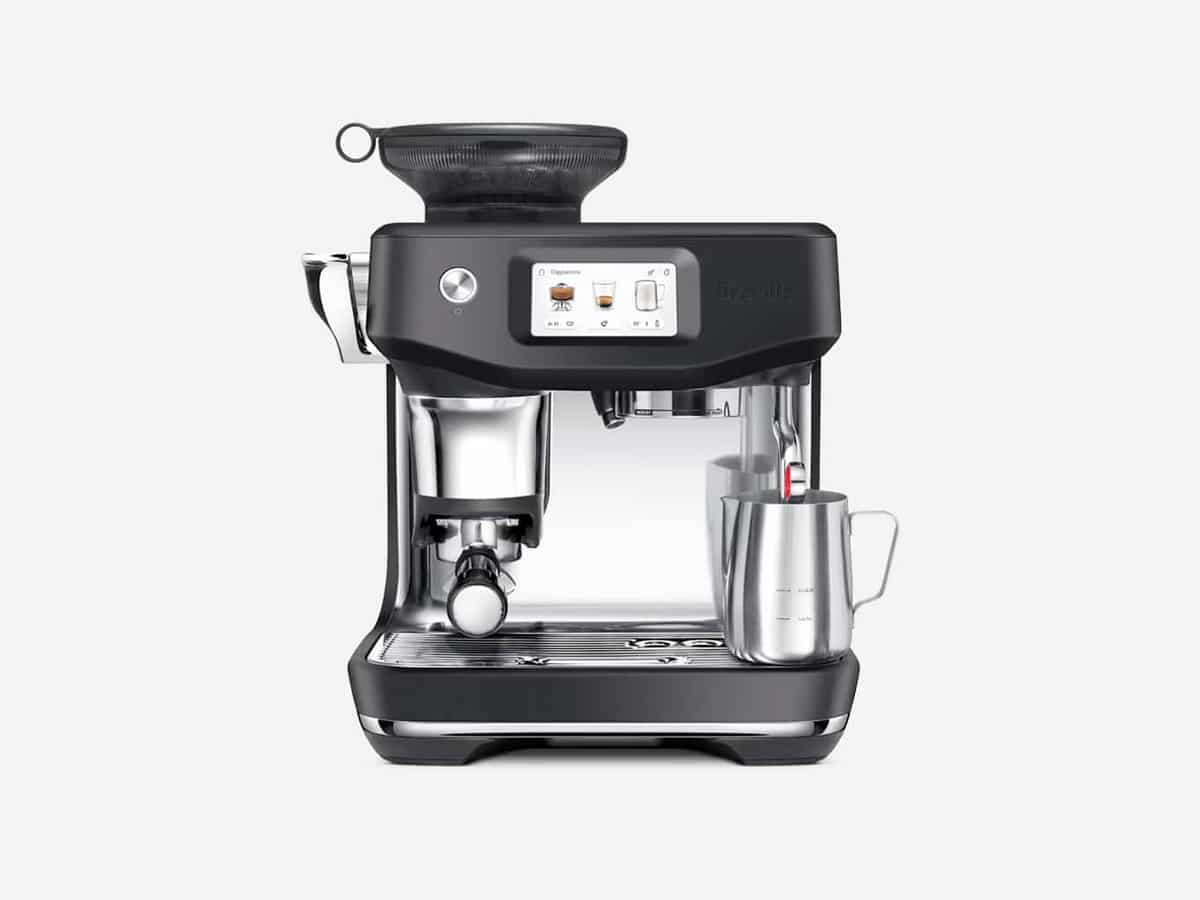 The Verdict
Without a doubt, the Breville Barista Touch Impress stands out as one of the most exceptional coffee machines I've had the pleasure of using. Its sleek design, available in three stylish colours—brushed stainless steel, black truffle, and sea salt—adds a touch of elegance to any kitchen. The Barista Touch Impress seamlessly combines automation with precision, consistently delivering a really good cup of coffee, especially if you take the real-time feedback and apply it.
A bonus is that it's also taught me more about coffee in general and what it takes to perfect my beloved Almond Latte. Perhaps the only downside is the recommended retail price of $2,149 – although when you consider the joy you get from a delicious café-like coffee made at home and the money you'll save in the long run, this could very well be justifiable.
The Breville Barista Touch Impress is readily available from an array of retailers or directly from the Breville store.
The author of this article was provided with a Breville Barista Touch Impress for the purpose of this review.
---
Featured Video from Man of Many