Inside Kanye West's Ultra-Luxe Saudi Arabian Residence
Escaping the controversy surrounding him in the United States, Kanye West is living in one of the most luxurious resorts in Saudi Arabia. His new picturesque digs have gone viral on social media and now we have the full scoop. Surprisingly, Yeezus's new room comes at an unexpectedly affordable rate of approximately USD$2500 per night. However, this price tag in no way diminishes its opulence and grandeur.
Along with many other celebrities, including Conor McGregor, Eminem and Cristiano Ronaldo, the rapper pulled up to the Kingdom to watch the recent heavyweight fight between Tyson Fury and Francis Ngannou. However, he wasn't there just for the Battle of the Baddest boxing match; he was also there on business.
Ye has set up shop at the five-star Banyan Tree resort in Al Ula, where he's been cooking up his collaborative album with Ty Dolla $ign. Set in the area known as the world's largest living museum, the desert retreat has been inspired by the natural surroundings of the Ashar Valley. If the artist was looking for inspiration, he'll indeed find some here.
Al'Ula, home to an abundance of precious artifacts like the UNESCO World Heritage Site Hegra, held significant historical importance owing to its fertile soil and ample water resources. Positioned along the Incense Road, it was an ancient network of trade routes facilitating the exchange of spices, silk, and goods running from southern Arabia north into Egypt and beyond.
YE IN AL-ULA, SAUDI ARABIA TODAY 🇸🇦🐫 pic.twitter.com/A1nnQalcjc

— GoodAssSub (@GoodAssSub) November 12, 2023
Dotted with refreshing oases, the ancient region provided a vital sanctuary for weary travellers seeking rest, community, and rejuvenation along their arduous journeys. It might have been precisely what Kanye sought to finalise his latest project, although we doubt ancient travellers experienced similar living conditions.
While setting up a studio in his villa, the 46-year-old will undoubtedly get around the resort's amenities. Beyond his private swimming pool lies a jaw-dropping secluded rock pool nestled amidst the sandstone mountains (see above). From there, indulgence awaits the mogul at the award-winning Thai restaurant, Saffron, while the traditional Bedouin Tent BBQ offers an immersion into the local lifestyle.
---
Featured Video from Man of Many
---
One can only hope the new environment will ignite his creativity and lead to another banger album.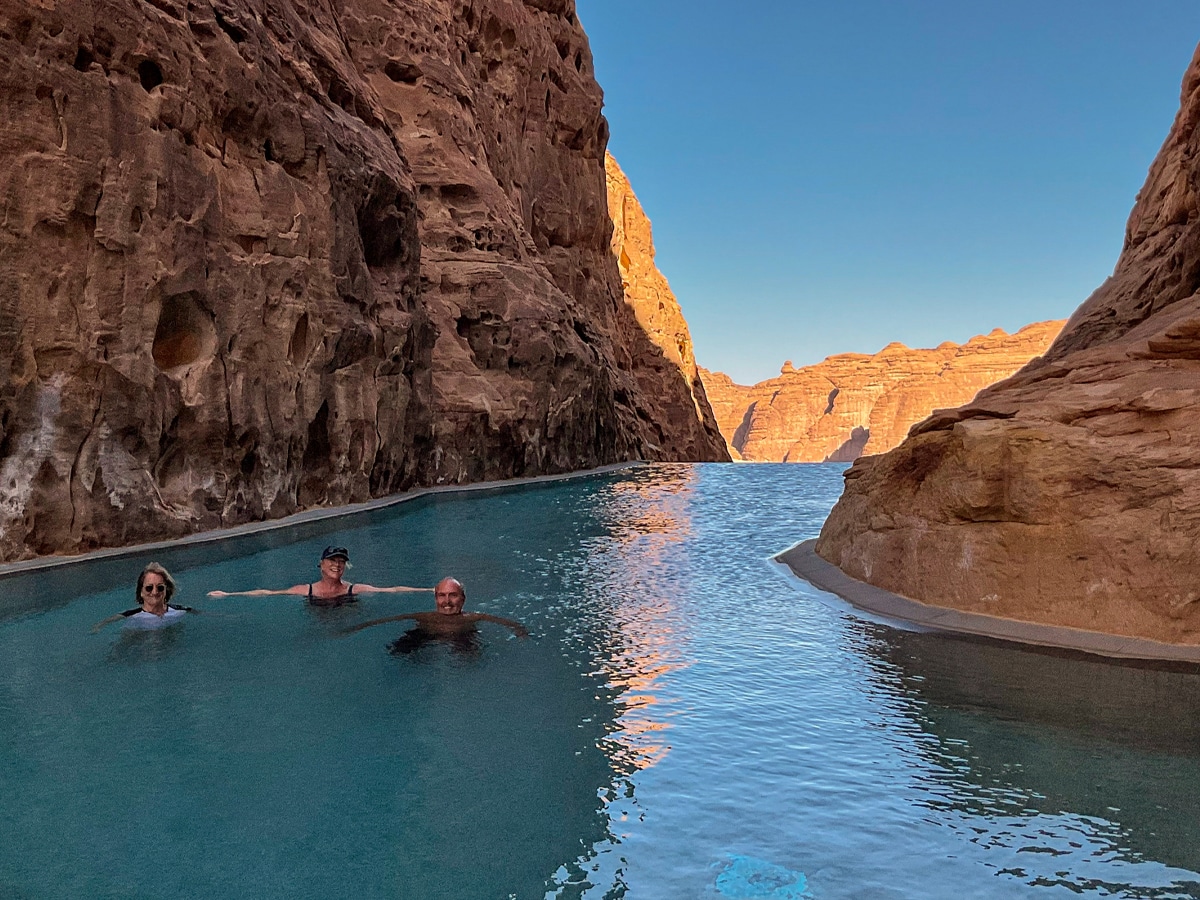 ---
Featured Video from Man of Many