10 Best Cliff & Rock Jumping Spots in Sydney
Always wanted to check out the best cliff jumping spots in Sydney? Find yourself searching for best cliff jumping near me, because you're not sure where to go? Luckily for you, we've listed the top 10 places for cliff & rock jumping in NSW – as well as why and how to get there. Make all your cliff diving dreams come true with these stunning locales, all within a short drive from Sydney.
As the warm summer weather begins to fade, now is the perfect time to make the most of Sydney's beautiful beaches and rock pools, with a side of adrenaline. Cliff jumping in Sydney & surrounds of NSW combines idyllic views, tranquil waters, and heart-pounding thrills – what more could you want on a day (or even just an afternoon) off?
While cliff jumping is an exciting and refreshing endeavour, you always need to take necessary precautions to ensure there are no obstructions in the water and that you only jump where it is safe to do so. Man of Many takes no responsibility for any injuries that may occur.
You'll also like:
15 Best Golf Courses Sydney Has to Offer
20 Best Rooftop Bars in Sydney
11 Men's Fashion Stores in Sydney You've Never Heard Of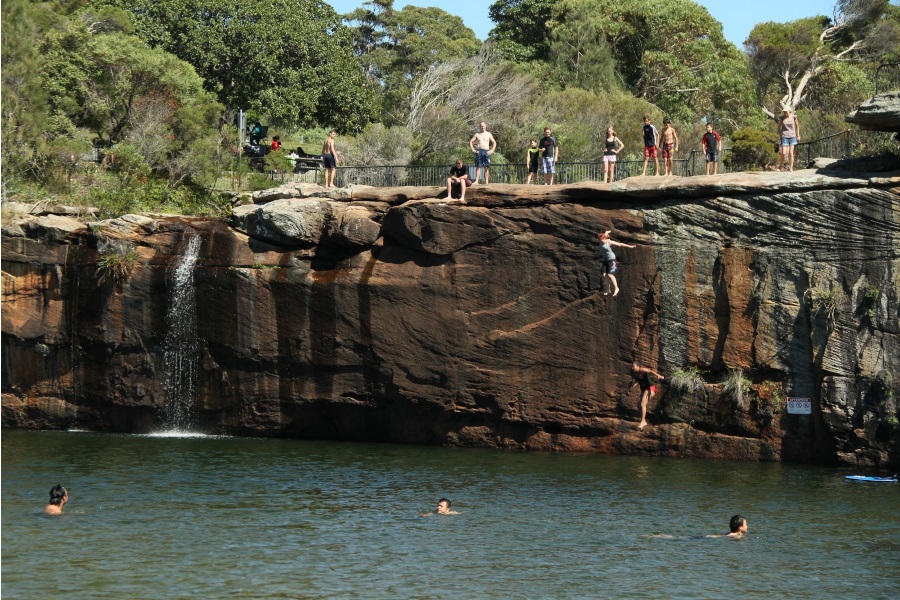 1. Wattamolla Falls, Royal National Park
Just a stone's throw south of Sydney lies a serene lagoon, waterfall, and beach in the Royal National Park. Wattamolla is an Aboriginal word aptly meaning 'place near running water'. Located just next to the car park, Wattamolla Falls is the cliff jump entry you're after, rock jumping doesn't get much better than here. The Wattamolla cliff jump height ranges from approximately 7-9m. There is fencing you'll have to get past and just be sure to check the depth of the water for changed conditions before plunging into its cool depths. If you want a bit more activity after your cliff diving, you can also walk a section of the Royal Coast Track for some more splendid views.
Address: Royal National Park, Marley Track, New South Wales, Australia
Height: 9 m
Distance from Syndey: 26 km
2. Jerusalem Bay, Kur-Ring-Gai National Park
A quiet bay just east of Cowan stations, Jerusalem Bay houses another of the many cliff jumping spots in Sydney. The bay is part of the Great North Walk so be sure to follow these signs when making your way there, walking along the overpass across the freeway bridge. There are a few spots to jump into the Cowan Creek or the Hawkesbury River -and ample opportunity for thrill-filled photos with stunning nature as the background. A day spent rock jumping at Jerusalem Bay at Brooklyn, is a day you won't regret.
Address: Bobbin Head Rd, New South Wales, Australia
Height: 10 m
Distance from Syndey: 28 km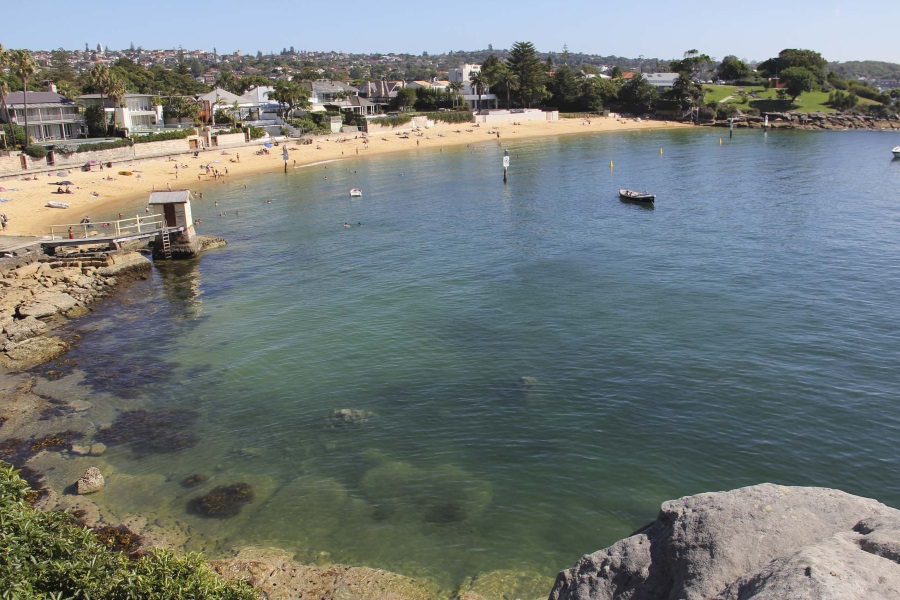 3. Camp Cove, Vaucluse
Nestled on the harbour side of South Head, just a short walk from Watsons Bay ferry wharf lies the calm waters of Camp Cove. Enjoy snorkelling, scuba diving, kayaking, hiking – or what you all really came here for the cliff diving. Just North-East of the beach is a large cliff with stunning harbour views. Camp Cove offers a Sydney cliff jump that's truly awesome. Nothing like jumping off cliffs while marvelling at the city skyline at the same time. It's also not too far from Lady Bay Beach, which featured in our list of Best Nude Beaches in Sydney, so you can go skinny dipping after jumping rock.
Address: South Head precinct of Sydney Harbour National Park (near Watsons Bay ferry wharf)
Height: 6 m
Distance from Syndey: 11.6 km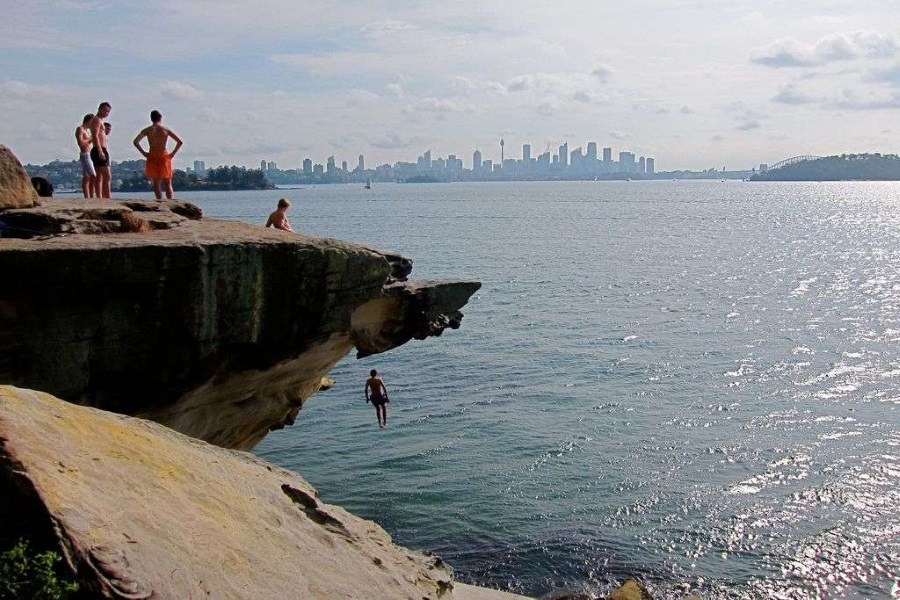 4. Nielsen Park Jump Rock, Vaucluse
Just around the corner from Camp Cove is another one of the must-see picturesque cliff jumping spots in Sydney. Walk around Steele Point from Shark Beach in Vaucluse and you'll find a rocky outcrop with pristine views below. Usually sheltered from the crowds, this s a great spot for some quiet thrills. The views alone make this arguably the best cliff dive Sydney has to offer.
Address: 6 Steele Point Rd, Vaucluse NSW 2030
Height: 4-5 m
Distance from Syndey: 17.1 km
5. Manly Jump Rock, Collins Beach
Who knew that just a five-minute drive from Sydney's stunning Manly Beach rests two idyllic jump rock ledges, 4m, and 8m in height, adjacent to the crystal clear water? Well, now you do. From the end of Stuart Street walk about 15m through the bush directly towards the water, and make the most of one of the most accessible and picturesque spots for cliff jumping Sydney has to offer!
Address: 97A Stuart St, Manly NSW 2095
Height: 4 m and 6 m
Distance from Syndey: 17.1 km
6. Jockey's Cap, Woronora 
With a 16m (Diver's Point) and a 20m (Jockey's Cap) rocky outcrop looming over the Woronora River, Jockey's Cap in Woronora in Sydney's Sutherland Shire offers one of the more adrenaline-pumping cliff diving spots in NSW. One of the easiest ways to access the rock is by parking at the end of Prince Edward Park Road, walking West along the river towards Deepwater Estate and then swimming across the river to the Northern side, where the rocks and a racing heart await. Jockey's Cap is a cliff dive Sydney residents should try only with extensive cliff diving experience.
Address: Woronora
Height: 20 m
Distance from Syndey: 34.1 km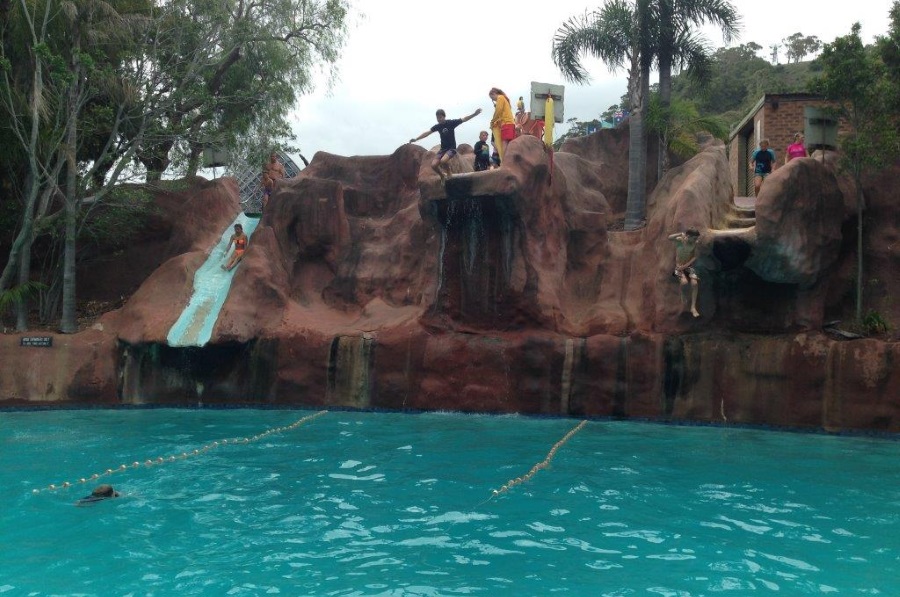 7. Jamberoo Action Park, Jamberoo
If you're looking for a safer Sydney cliff diving option, Jamberoo Action Park features a 3-metre and 5-metre rock jump that are patrolled by lifeguard staff. This is a great option for families or anyone who wants a thrill while knowing the depth of the water. A great introduction to rock jumping for all ages.
Address: 1215 Jamberoo Rd, Jamberoo NSW 2533
Height: 3 m and 5 m
Distance from Syndey: 109.9 km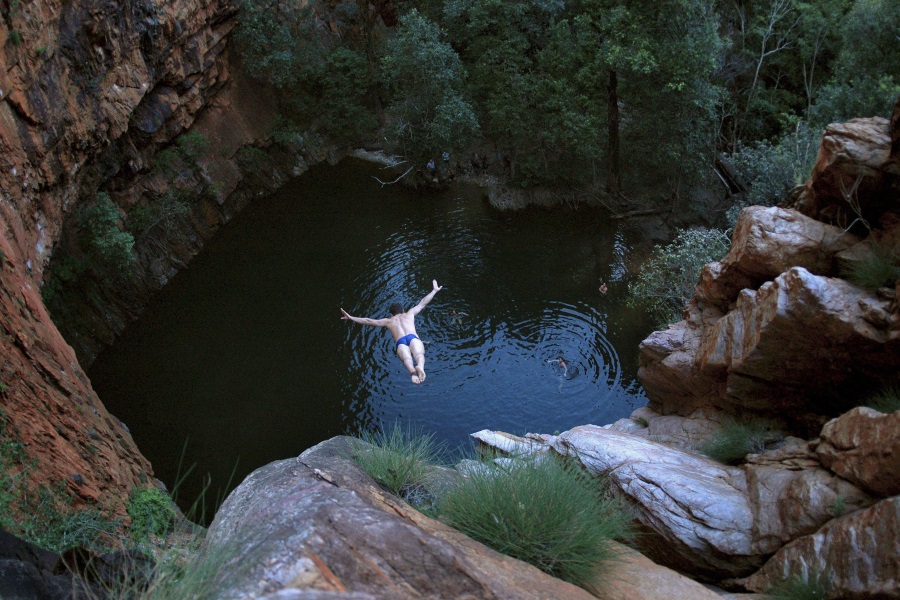 8. Macquarie Pass Jump Rock, Tongarra
Take a leap into the pristine waters of Macquarie Pass National Park while being serenaded by natural cascades and stunning scenery. Whether you're driving to Wollongong or doing a day trip to these beautiful waterholes and waterfalls, be sure to add in one of the best cliff jumps in NSW by plunging from one of the three ledges ranging in height from 3-9 metres. One of the best spots for the cliff diving enthusiast.
Address: Macquarie Pass National Park
Height: 3-9 m
Distance from Syndey: 115.1 km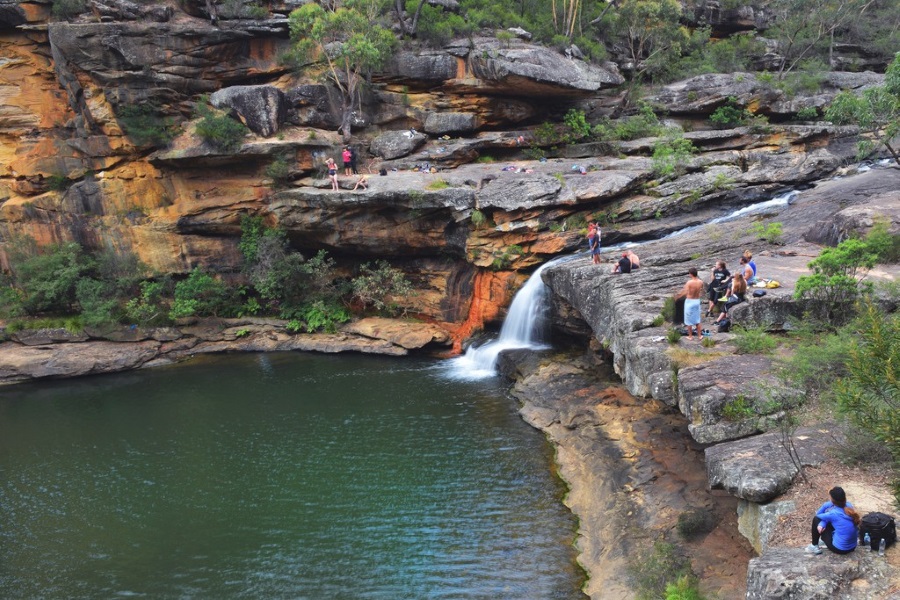 9. Mermaid Pools, Tahmoor
One of the most naturally beautiful places to go cliff jumping is found just outside of Sydney in Tahmoor. Mermaid Pools is worth the hour drive from Sydney simply on account of the leisurely walk in from the car park, which bypasses figure 8 pools, natural bushland, and smooth cliff faces. Add in a 10-14 metre cliff dive into the pristine waterhole and a swinging rope and you've got an oasis of beauty and adventure that you simply can't miss.
Address: Rockford Rd, Tahmoor NSW 2573
Height: 10-14 m
Distance from Syndey: 101.3 km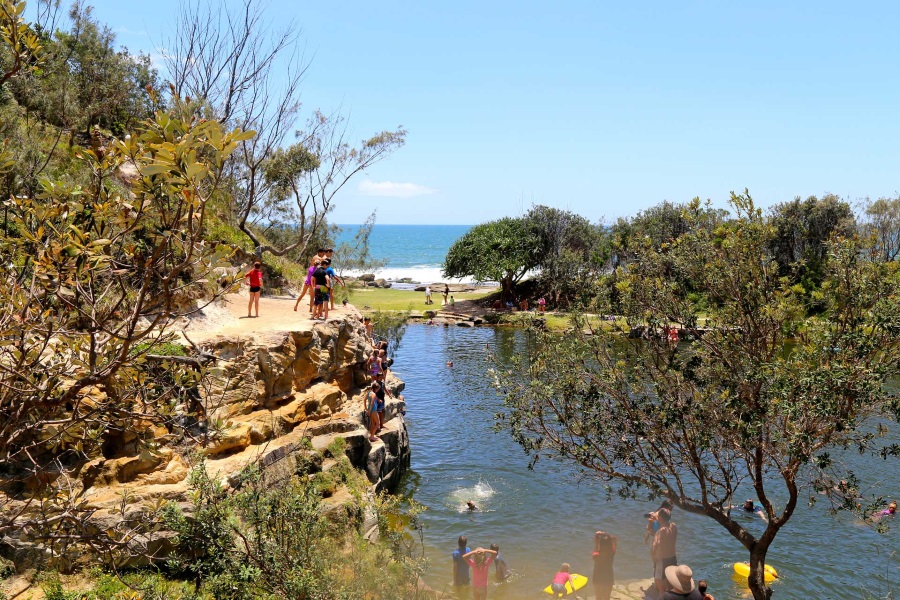 10. Angourie Rock Pools, Angourie (Broader NSW)
Angourie Green and Blue Rock Pools have been a renowned freshwater swimming and cliff diving hotspot for over a century. Located next to the popular seaside township of Yamba on the NSW North Coast. The Angourie Blue Pool is nice and deep, making it a safe option for cliff jumping in NSW. The pools are accessible via a path from the carpark at the end of the Crescent, Angourie or from either Spooky or Angourie Beaches. The surrounding beaches and hiking paths make it well worthwhile to plan a trip to the area – The nearby Yuraygir National Park is widely considered to be amongst the most spectacular coastal walks in NSW.
Address: The Crescent, Angourie NSW 2464
Height: 6 m
Distance from Syndey: 672.6 km
You'll also like:
20 Best Barber Shops in Sydney
Best Gin Bars in Sydney
21 Best Tailors and Bespoke Suit Shops in Sydney
General FAQ
What are the best dress shoe brands?
The best dress shoe brands tend to be hand-made and luxury brands such as Louis Cuiton.
WHat is the most expensive shoe brands?