7 Best Cliff Jumping & Rock Diving Spots in Australia
Ever wondered where the best cliff jumping spots are Sydney are? Find yourself searching for best rock jumping near Melbourne, because you're not sure where to go? Luckily for you, we've listed the top 7 places for 7 Best Cliff Jumping & Rock Diving Spots in Australia in Australia – as well as why and how to get there. Make all your cliff diving dreams come true with these stunning locales.
Whether you're doing a quick summer day-trip from the city or locking in for a bigger weekend away – here you can find some gorgeous beaches and rock pools to immerse yourself in nature, all with a little side of excitement. There's a whole suite of coastal cliffs or rocky river edges just a short drive away waiting for you to jump off of and plunge into the cool depths below.
Keep in mind that cliff diving comes with a high risk. Always be sure to check the depths of the water before jumping in as murky water might not show the real depth and logs or rocks may have moved. And be sure to only jump at heights or do tricks that you're totally comfortable with. Man of Many takes no responsibility for any injuries that may occur.
Further, government officials are constantly updating cliff diving zone restrictions, so while these are the best spots to hit, it is always advised to follow the rules and check if the activity is permitted/prohibited. But, with the necessary precautions (and respect for the natural environment), these cliff jumping spots are a great excuse to get outside and make sure your heart is still pumping.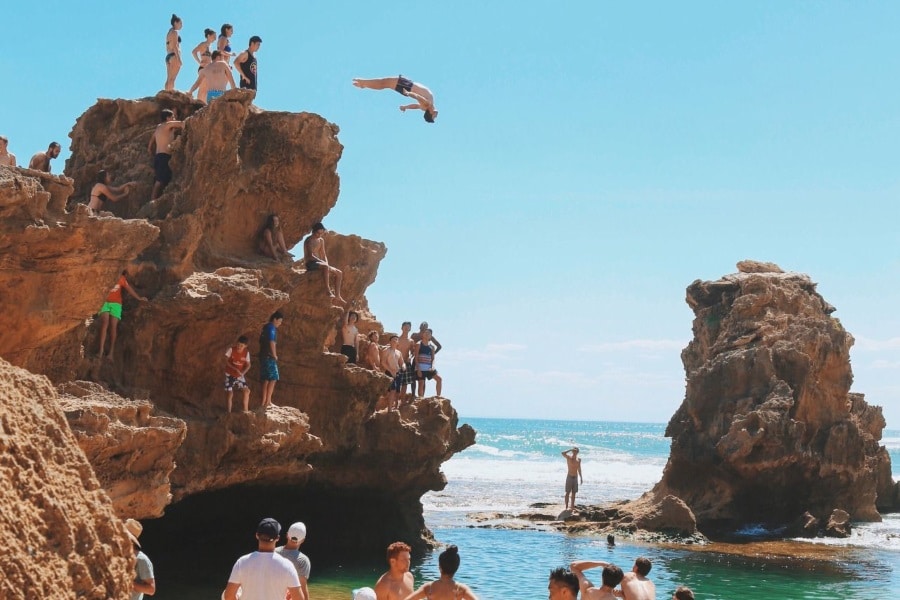 1. The Blairgowrie Jumping Rock VIC
This natural wonder is the stuff of movies and postcards – it needs to be seen (and jumped off of) to be believed. With turquoise waters, incredible rock undulations and mesmerising background scenery you'll feel like you're on a different planet rather than just an hour and a half from Melbourne. To get to Blairgowrie Jumping Rock, the easiest way is to head towards the car park at the end of St Johns Wood Road. From there, descend the steep staircase to the beach below and keep walking straight on past the beach. In a few minutes, you'll reach one of the most mesmerising cliff jumping spots in Melbourne.
Address: Blairgowrie, Mornington Peninsula VIC
Height: from 4-8m
Distance from Melbourne: 104km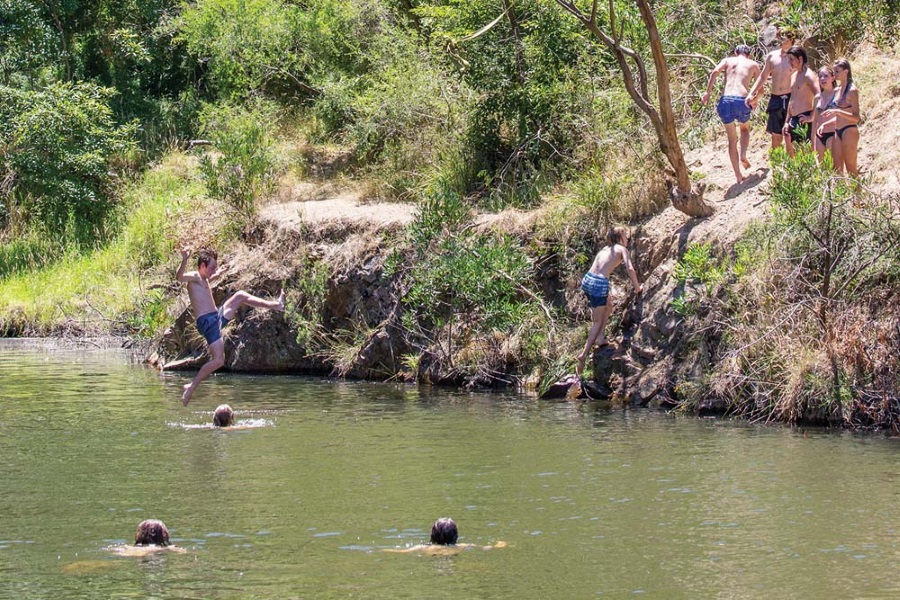 2. Moorooduc Quarry, Flora And Fauna Reserve VIC
At Moorooduc Quarry Flora and Fauna Reserve you can enjoy a 1.7km circuit track with tremendous views and pristine wilderness. It is home to over 45 species of bird, including a resident Peregrine Falcon, as well as koalas and abundant wildflowers and grasses. You can challenge yourself by climbing up 200 stairs and reward your hard work by free-fall cliff diving from the rocks into the refreshing rock pool below. The walk starts from the carpark on Two Bays Road, but if you want an easier access without the steep hike, you can start from Canadian Bay Road. You can also use the sheer cliff diving rock faces for abseiling or rock climbing, but with any of it be sure to take heed of safety warning and only do what is within your limits.
Address: 106 Two Bays Road Mount Eliza Victoria
Height: 20m
Distance from Melbourne: 44km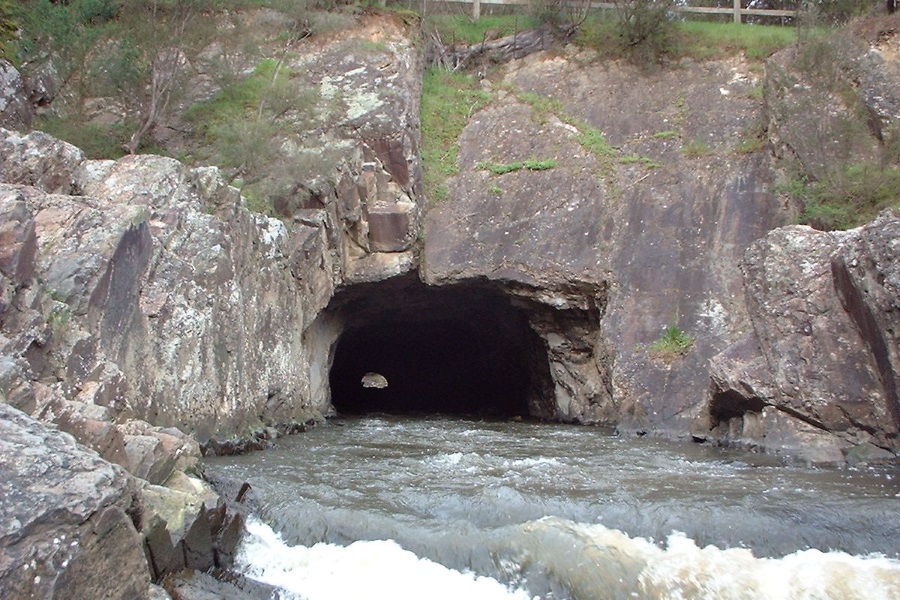 3. Pound Bend, Warrandyte VIC
The Yarra River is an iconic stream running through Melbourne and stretching out to the wider parts of Victoria. As it runs through the historic town of Warrandyte, the Pound Bend Tunnel outlet makes way for a quaint and refreshing natural swimming hole. Lay in the sun on the rock ledge that juts out from the stream, or what you're probably more likely to do is cliff jump off the ledge into the 30 metre deep water below. This is one of the smaller cliff jumping spots in Victoria and is only a 45 minute drive North East from Melbourne, making it perfect for an easy day trip. Pound Bend offers some of the best cliff diving Melbourne has to offer.
Address: Pound Bend Road, Warrandyte State Park, Warrandyte, Manningham, Victoria
Height: 30m deep water
Distance from Melbourne: 27km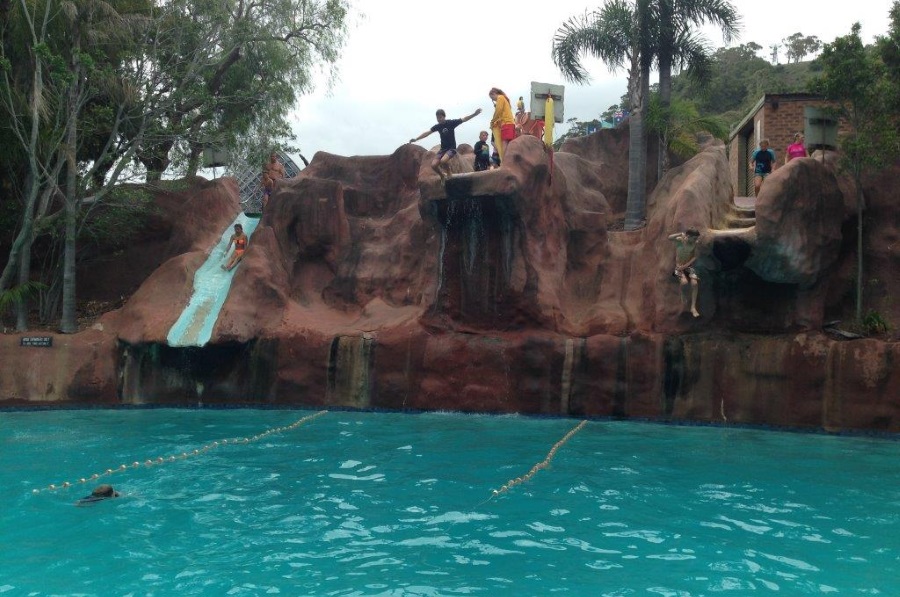 4. Jamberoo Action Park, Jamberoo NSW
If you're looking for a safer Sydney cliff diving option, Jamberoo Action Park features a 3-metre and 5-metre rock jump that are patrolled by lifeguard staff. This is a great option for families or anyone who wants a thrill while knowing the depth of the water. A great introduction to rock jumping for all ages.
Address: 1215 Jamberoo Rd, Jamberoo NSW
Height: 3 m and 5 m
Distance from Sydney: 110km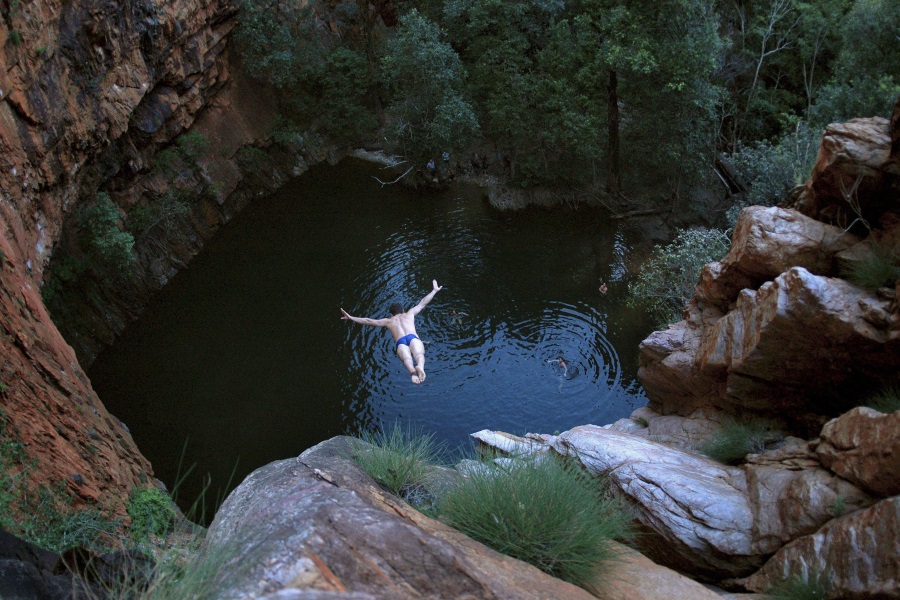 5. Macquarie Pass Jump Rock, Tongarra NSW
Take a leap into the pristine waters of Macquarie Pass National Park while being serenaded by natural cascades and stunning scenery. Whether you're driving to Wollongong or doing a day trip to these beautiful waterholes and waterfalls, be sure to add in one of the best cliff jumps in NSW by plunging from one of the three ledges ranging in height from 3-9 metres. One of the best spots for the cliff diving enthusiast.
Address: Macquarie Pass National Park, NSW
Height: 3-9 m
Distance from Sydney: 115km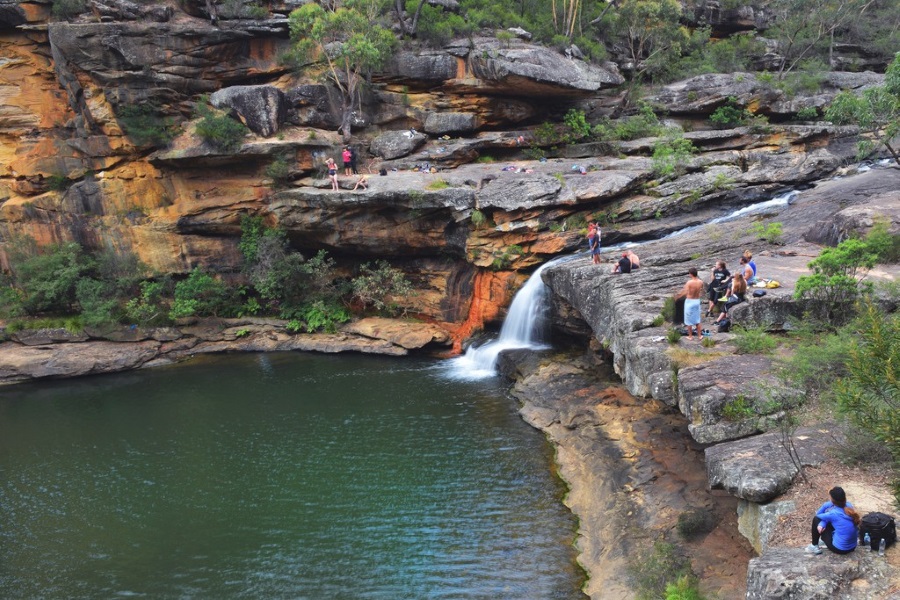 6. Mermaid Pools, Tahmoor NSW
One of the most naturally beautiful places to go cliff jumping is found just outside of Sydney in Tahmoor. Mermaid Pools is worth the hour drive from Sydney simply on account of the leisurely walk in from the car park, which bypasses figure 8 pools, natural bushland, and smooth cliff faces. Add in a 10-14 metre cliff dive into the pristine waterhole and a swinging rope and you've got an oasis of beauty and adventure that you simply can't miss.
Address: Rockford Rd, Tahmoor NSW
Height: 10-14 m
Distance from Sydney: 100km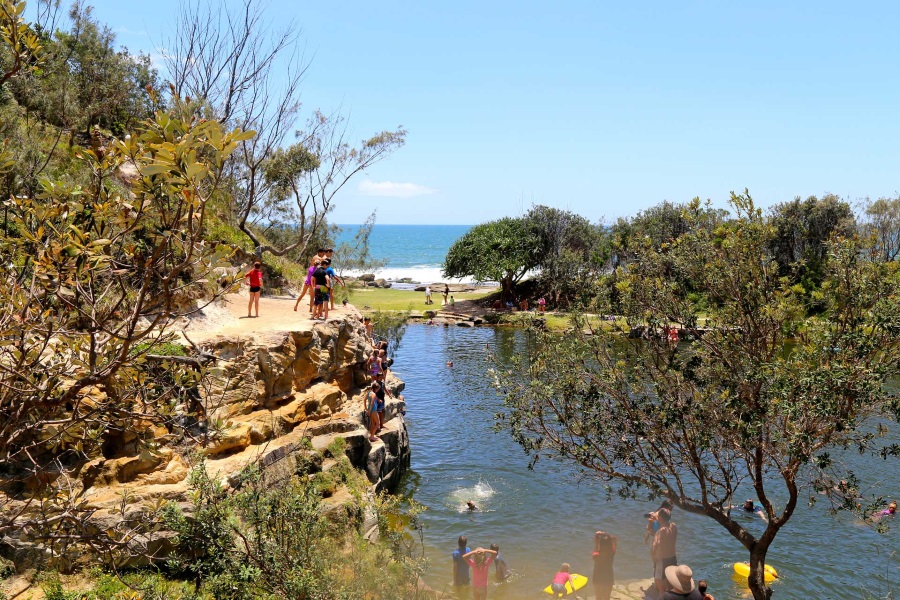 7. Angourie Rock Pools, Angourie NSW
Angourie Green and Blue Rock Pools have been a renowned freshwater swimming and cliff diving hotspot for over a century. Located next to the popular seaside township of Yamba on the NSW North Coast. The Angourie Blue Pool is nice and deep, making it a safe option for cliff jumping in NSW. The pools are accessible via a path from the carpark at the end of the Crescent, Angourie or from either Spooky or Angourie Beaches. The surrounding beaches and hiking paths make it well worthwhile to plan a trip to the area – The nearby Yuraygir National Park is widely considered to be amongst the most spectacular coastal walks in NSW.
Address: The Crescent, Angourie NSW
Height: 6 m
Distance from Sydney: 650km
You'll also like:
49 Date Ideas in Melbourne for an Unforgettable Night
14 Best Boxing Gyms in Melbourne
6 Best Nude Beaches in Sydney
General FAQ
Are there any rock jump's near Sydney?
There's a handful of picturesque rock jumps in and around Sydney. If you're looking for a daytrip, check out Mermaid Pools.
What's the closest cliff jump to Melbourne?
Melbourne boasts a couple good cliff jumps within a hundred k's of the CBD. Our pick is Pound Bend. Great for a day trip.
Are rock jumps safe?
Rock jumping is notoriously dangerous. It is imperative that any jump that you attempt you do so with extreme caution