16 Best Off-Road Camper Trailers
For those who traverse rugged terrain by day and sleep under the stars at night, we present the best off-road camper trailers. On the following list, you'll find Turtleback campers, inexpensive teardrop trailers, the best off-road camper trailers for under $10,000, and a handful of luxury options as well. Some deliver copious amounts of extra storage space while others are more like a spare bedroom on wheels. Your next off-road adventure isn't complete without one.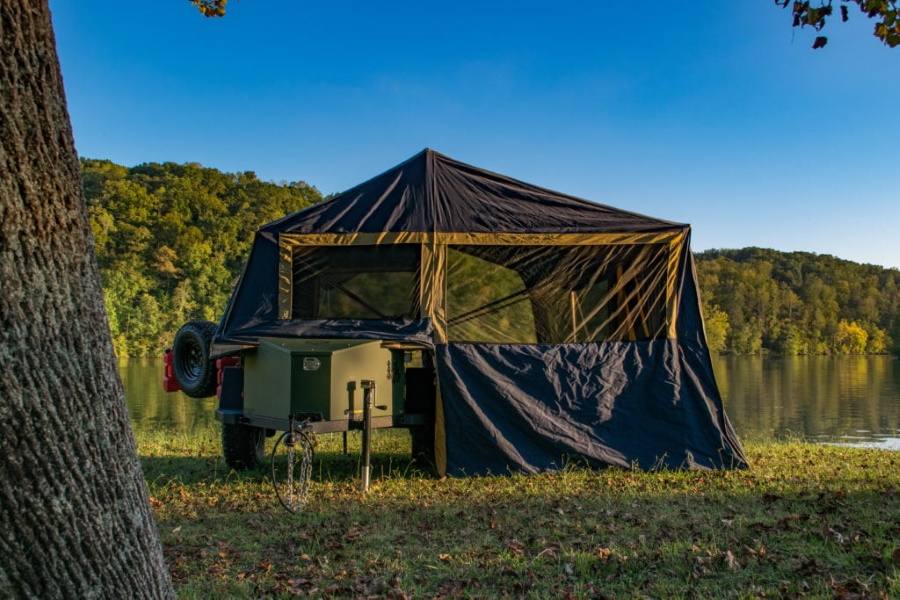 1. Turtleback Adventure
Turtleback campers and trailers are some of the best in the game and this one is no exception. Hand-crafted in Phoenix, Arizona—where the locals know a thing or two about off-roading—it covers all your basics in seamless style. Effortless to tow, the standard model comes with a 200 sq. ft. waterproof tent and queen size mattress. This Turtleback trailer is priced around 13k, making it a solid mid-range option.
Price: $12,995 MSRP
Weight: 1,050lbs
Country of Origin: USA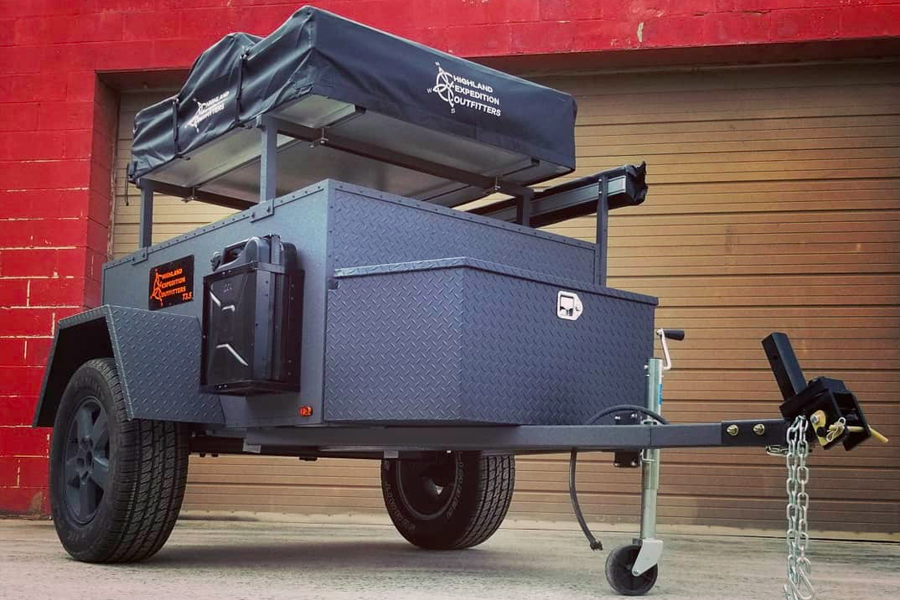 2. Highland Expedition Outfitters (HEO) T3
With its dry weight of 700 pounds, the T3 represents HEO's lightest trailer. The adjoining bespoke tent is easy to set up and ready to accommodate up to 3 people. There's no need to search for used camper or hiker trailers for sale when you can get this one for under 9k.
Price: $7500
Weight: 700lbs
Country of Origin: USA
You'll also like:
15 Best SUVs
---
Featured Video from Man of Many
---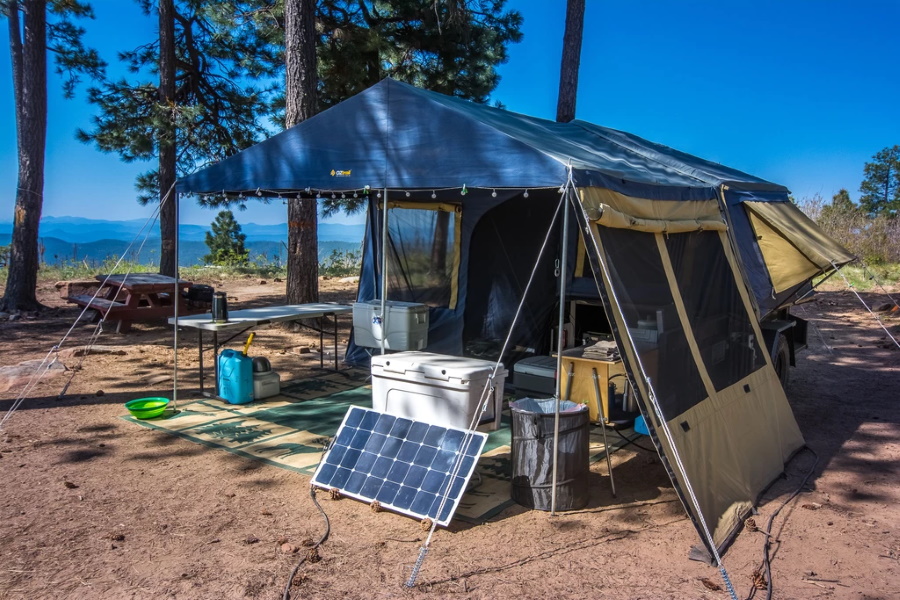 3. Kakadu BushRanger 200 XT
Take the BushRanger 200 and throw in some upgrades and you have yourself the 200XT. This heavy-duty off-road camper trailer strikes the perfect balance between durability, versatility, and functionality. Features include axle-less suspension, jerry can mounts, dual hitch receivers, and an adjoining 200 sq. ft. canvas tent and awning.
Price: $9,895
Weight: 1,100 lb
Country of Origin: Australia
4. MOAB Trailers Fort XL
An inexpensive camper trailer given all of its choice features, the MOAB Fort XL delivers an interior storage capacity of 40.9 cubic feet, your choice of roof-top tent, and a healthy spectrum of potential add-ons. Go all-in with the upgrades and you're looking at the "Mother of All Bivouacs" (aka MOAB) indeed.
Price: $9,500
Weight: 1350 lbs. (base)
Country of Origin: USA
5. MOAB Trailers Gobi
MOAB Trailers is such a legend that we're throwing it on here twice and with good reason. After all, no list of the best off-road camper trailers is complete without the mighty Gobi, the brand's answer to off-road teardrops. Roomier than your standard fare, it can accommodate up to 8 people when you add in the optional Tepui Gran Sabana rooftop tent.
Price: $12,800
Weight: 1890 lbs.
Country of Origin: USA
6. Eagle Camper Trailers Tomahawk
Fun and functional for the whole family, the Tomahawk double fold camper leaves no spec behind. Among its luxurious spread of features are an external shower, domestic reverse cycle air conditioner, pull-out kitchen, hot water heater, main tent, and fully-closed annex. That's all joined by two queen beds at either end of the camper, and a large dinette that can be turned into a double bed. Take it anywhere and bring up to five others along for the adventure.
Price: $26,800
Weight: 1650 kg (tare mass)
Country of Origin: Australia
7. Black Series Camper Trailers Alpha
Explore the Australian outback in comfort, confidence, and style by attaching this epic trailer (with 12 ft. tent) to the rear of your off-road SUV. Hailing from Black Series Camper Trailers, it delivers all the toughness and capacity you could possibly ask for. Put simply, there's no terrain too harsh for this fully-loaded behemoth, which delivers a host of potential add-ons and accommodates up to five people.
Price: from $8,900
Weight: 1100kg
Country of Origin: Australia
8. Manley ORV Explore
True to its name, the Manley ORV Explore will take you to the furthest corners of the inhabitable earth and serve you well in the process. One of the best off-road camper trailers for under $10,000, it features 31″ A/T tires, an aluminium lid, trailer rack, and rooftop tent. These are the basics done right.
Price: $9,395 MSRP
Weight: 775 pounds
Country of Origin: USA
9. Hiker Trailers Extreme Off-Road Deluxe
Available in three different sizes (and prices), the Extreme Off-Road Deluxe features diamond-plated fenders, two dropdown legs, 33" tires, a 3,500-pound axle, two windows, a rear side opening galley door, manual roof vent, LED trailer lights, a 110-volt power strip, and more. If you're willing to throw down some extra cash, the brand is more than happy to customise.
Price: 4×8 | $7,995.00, 5×8 | $8,995.00, 5×9 | $9,995.00
Weight: 3500 lb Axle
Country of Origin: USA
10. Oregon Trail'R Do-Drop
With a base price of US$6,150 (before upgrades), the Oregon Trail'R Do-Drop makes for the perfect budget-friendly camper trailer. Compact, light, simple, and streamlined, it tows with absolute ease and delivers a purposefully unfettered experience. Inside is a bed length of 78″ and a width of 47," which is plenty of room for one and a cosy squeeze for two. Don't hesitate to throw in some add-ons because they're similarly affordable.
Price: $6,150 (base)
Weight: 550 lbs (basic)
Country of Origin: USA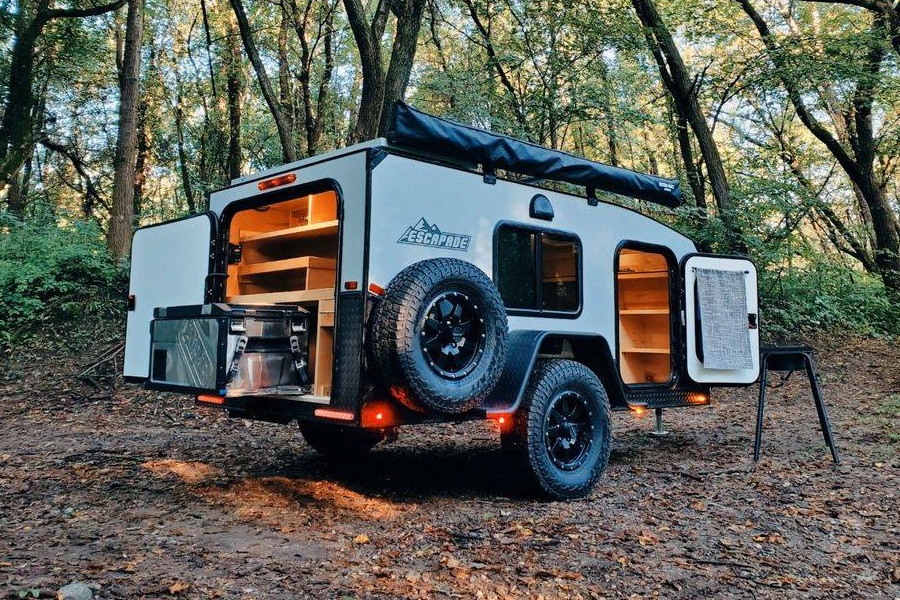 11. Escapade Backcountry
For just under $10,000, you can score this premium off-road camper trailer from Escapade. Choose among three different sizes, which all come in at the same low price (before add-ons). Standard features include driver and passenger side doors and windows, ample insulation, black aluminum diamond plate fenders, 3,500 lb. Timbren axle-less suspension, an onboard electric battery charger, MaxxAir deluxe vent fan, and more.
Price: $12,990 (2020 Model)
Weight: 3,500 lbs.
Country of Origin: USA
12. TC Teardrop 5×9 & Off-Road Expedition Package
Wisconsin's TC Teardrop is synonymous with inexpensive off-road teardrop campers and trailers of impeccable quality. Get the 5×9 foot model with the Off-Road Expedition Package and that quality comes fully loaded, albeit for a mark-up (coming in at just over 10k). In addition to the base specs, you'll get choice features such as extra-large fenders, Falken A/T tires, skid plate, external accessory mounts, rear receiver, and wire harness, among other things. Attach it to your 4WD and go. Go where? Anywhere.
Price: $10,100
Weight: 3,500 lbs
Country of Origin: USA
13. Mirror Lake Basecamp
Built for the off-road experience, the Mirror Lake Basecamp employs a laser-cut, CNC-formed, welded, and powder-coated frame. That's joined by a full host of dependable baseline features. Within the fully insulated interior are ultra-lite composite walls and enough room for a 6'7"-tall individual to feel comfortable.
Price: $10,500
Weight: 1495 lb GVWR
Country of Origin: USA
14. AT Chaser Trailer
AT Overland no longer manufactures this exceptional trailer, so you'll have to scour the secondhand market to find one. Thanks to its lightweight and modular design, the legendary Chaser once took customisation to brilliant extremes. Standard features include impressive ground clearance, independent air suspension, and a 6-foot-long cargo area.
Price: $24,000 (MSRP)
Country of Origin: USA
15. American Dream Trailer
Flaunting a retro aesthetic and customisable design, the American Dream Trailer is a dream come true. Alas, like most dreams, this one had to end. Good luck finding it on the used market!
Price: $8,900
Weight: 650lb
Country of Origin: USA
16. Schutt XV-F Trailer
Starting at around $20,000, the Schutt XV-F is a veritable stunner of industrial proportion. Self-described as the "ultimate toy trailing hauler," it hosts a curb weight of 2500 pounds, payload capacity of 4500 pounds, and gross vehicle weight of 7000 pounds. Made of 6061-T6 aircraft-grade aluminum and equipped with all-LED lighting, this thing is a beast!
Price: $19,995
Weight: 2500 pounds
Country of Origin: USA
General FAQ
Here are some common questions (and their answers) that people typically ask about the best off-road camper trailers.
What are the best quality camper trailers?
The quality of a camper trailer will vary depending on things like person count and carry load. Some of the best camper trailers are the Eagle Camper Trailers Tomahawk and the MOAB Trailers Gobi, among numerous others.
What is the best camper trailer for a family?
One of the best camper trailers for a family is the Eagle Camper Trailers Tomahawk, which comfortably accommodates up to six people.
What is the best camper trailer to buy in Australia?
The Eagle Camper Trailers Tomahawk and Black Series Camper Trailers Alpha are two of Australia's best camper trailers.
Are Eagle campers Australian made?
Eagle camper trailers are designed, developed, made, and sold in Australia, where the company is headquartered.
How big is a camper trailer?
Camper trailers will vary in base size, ranging anywhere from 25 cubic feet to 120 cubic feet or higher.
Are Black Series campers Australian made?
Family owned and operated, Black Series has developed, manufactured, and sold over 30,000 camper trailers in Australia.
You'll also like:
15 Best SUVs
Top 10 Australian Car Websites & Magazines
22 Best Camping Gifts and Gadgets for Outdoorsy People
---
Featured Video from Man of Many