12 Best Swag Tents for Camping
There's nothing worse than gearing up for a bumper camping weekend only to find yourself stuck without a tent. All the cords, cables and heartache that buying or constructing a new tent represent is an issue we'd rather just avoid altogether, which is why we love a good swag tent. The simple to assemble, easy to carry, ultra-durable piece of camping equipment ticks all the boxes for novices and experts alike. But finding the best swag tents for camping is no mean feat.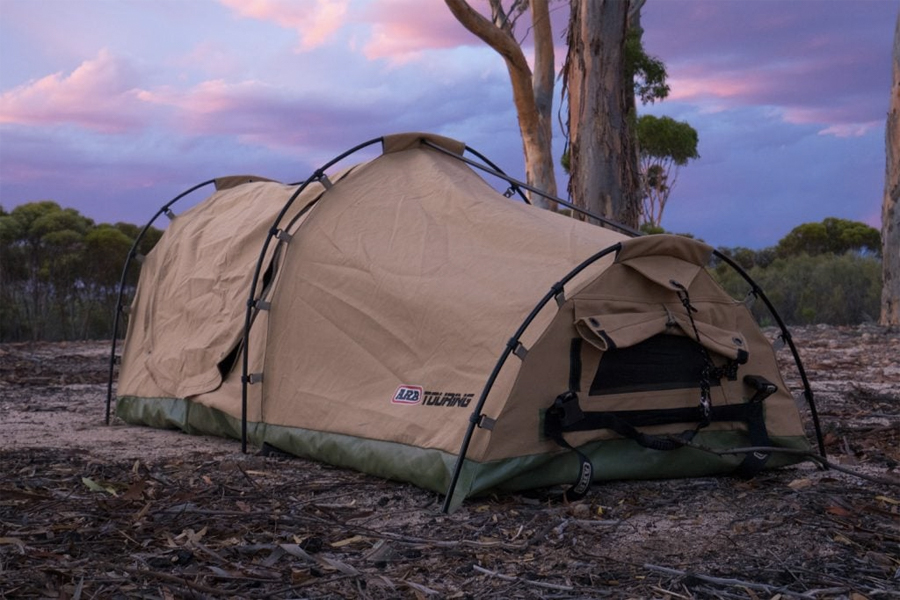 12 Best Swag Tents for Camping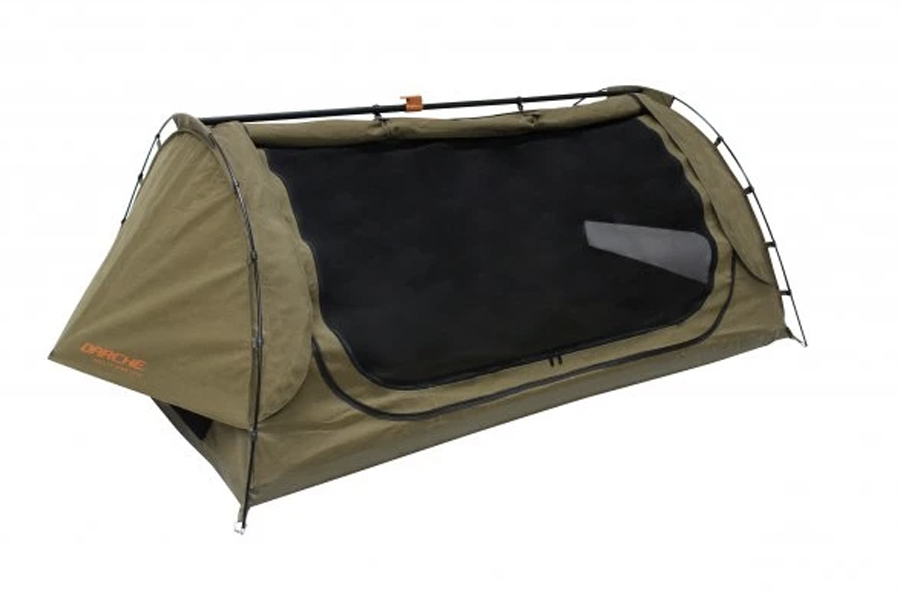 1. Darche Dusk to Dawn
As a company with a rich history of success in the outdoor arena, it's hard to go past Darche for the best swag tent around. The Dusk to Dawn is the brand's flagship release, offering support, structure, comfort and durability. The simple to set-up and easy to enjoy design is great for novice campers and the experienced alike. With a 420 GSM poly-cotton canvas outer, this swag tent will protect you from whatever you encounter on your adventures.
Price: AUD$430
Material: 420gsm poly/cotton 16mm grid ripstop canvas
Dimensions: 2150mm x 1100mm x 810mm
Waterproof: Yes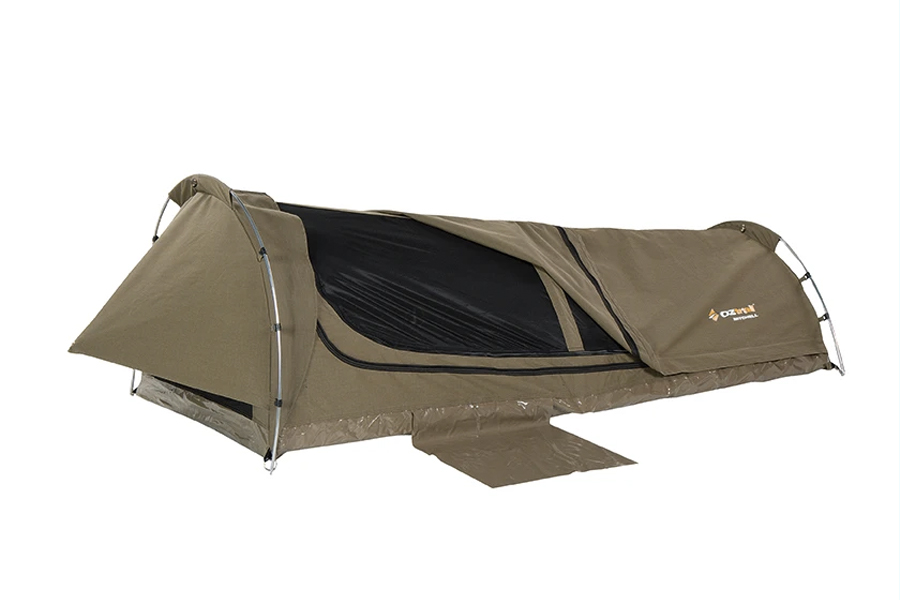 2. OZtrail Mitchell Discovery
A massively popular brand for campers across the country, OZtrail outdid itself with the Mitchel Discovery swag tent. This camping swag is a solid all-rounder, providing users with a comfortable night's rest no matter the conditions. With a sold canvas fabric, the OZtrail swag is great against wet conditions but is best suited to tropical trips. The multi-region ventilation is enough to keep you cool in summer and warm in the winter-time.
Price: AUD$479
Material: 330 gsm SatProof 600+ Ripstop Canvas
Dimensions: 2100mm x 900mm x 700mm
Waterproof: Yes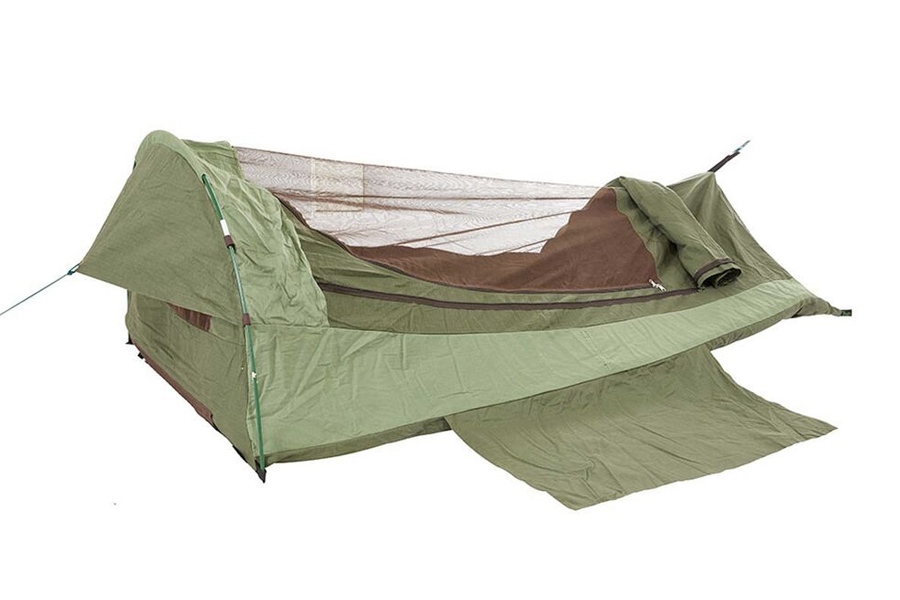 3. Jolly Swagman Burdekin Dome Swag Tent
Made from a heavy-duty 140z TearCheck cotton canvas base, the Burdekin Dome swag tent from Jolly Swagman one of the best camping swags we've come across. Super long and ultra-comfortable, the Burdekin has a top-entry alongside a zipped top canvas flap that can be rolled up depending on the weather. The double swag is spacious enough for a couple, however, the 50mm mattress could be better.
---
Featured Video from Man of Many
---
Price: AUD$410
Material: 396gsm TearCheck cotton canvas base and top
Dimensions: 2160mm x 1220mm
Waterproof: Yes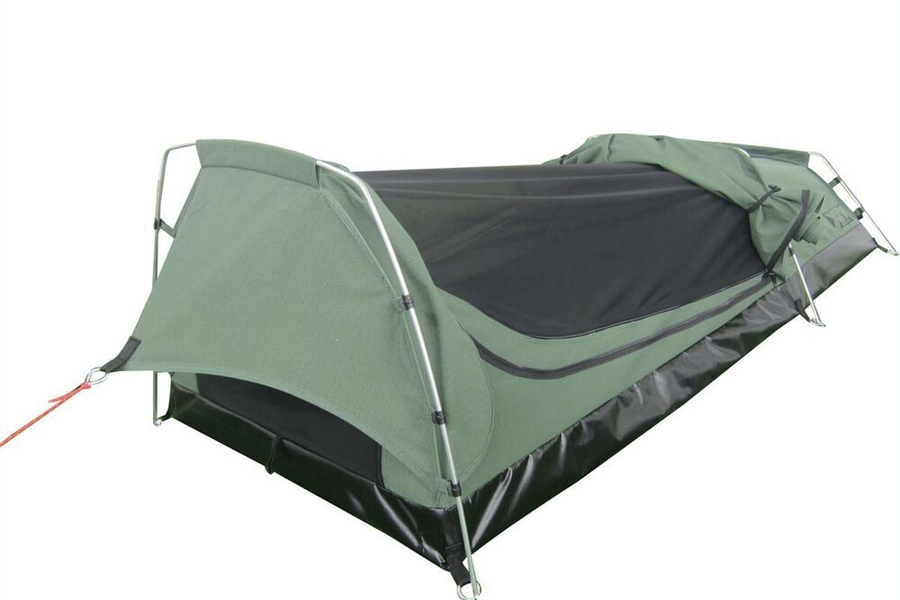 4. XTM 4×4 Single Swag
If convenience is key, the XTM 4×4 swag tent is your best bet. Easy to assemble and ultra-durable, this camping swag offers some serious waterproofing thanks to its 400 GSM ripstop poly-cotton canvas construction. It also cops double stitched seams and a thick PVC flooring to keep the rain and moisture out. Once again, the only downside here is the 50mm mattress, but that's nothing an extra blanket can't fix.
Price: AUD$240
Material: 400GSM Ripstop polycotton canvas
Dimensions: 2150mm x 900mm x 650mm
Waterproof: Yes
You'll also like:
8 Best Rooftop Tents for Outdoor Adventure
18 Best Glamping Spots Near Sydney
15 Best Beach Camping Spots in Victoria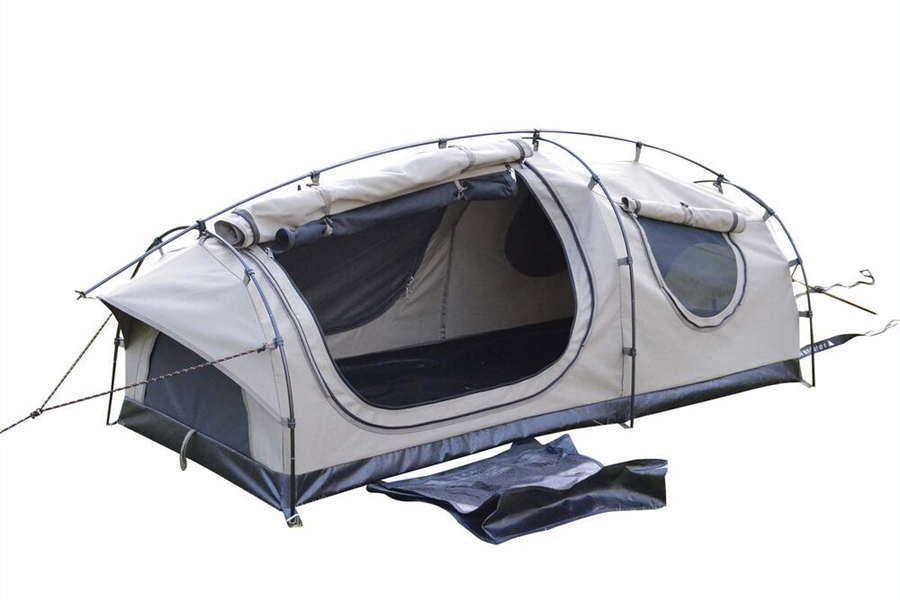 5. Wanderer Extreme Heavy Duty Single Swag
This is one heavy-duty swag tent. The Wanderer Extreme Heavy Duty single swag is built for the great outdoors. Rugged and durable, this camping swag also has some nifty little features to make your night a little easier. There is an 8cm self-inflating 4WD mattress for comfort, along with an internal pocket for shoe storage. There are also multiple entry points for easy entry and exit at any time of night.
Price: AUD$549
Material: 520gsm polycotton waterproof canvas
Dimensions: 2190mm x 800mm x 700mm
Waterproof: Yes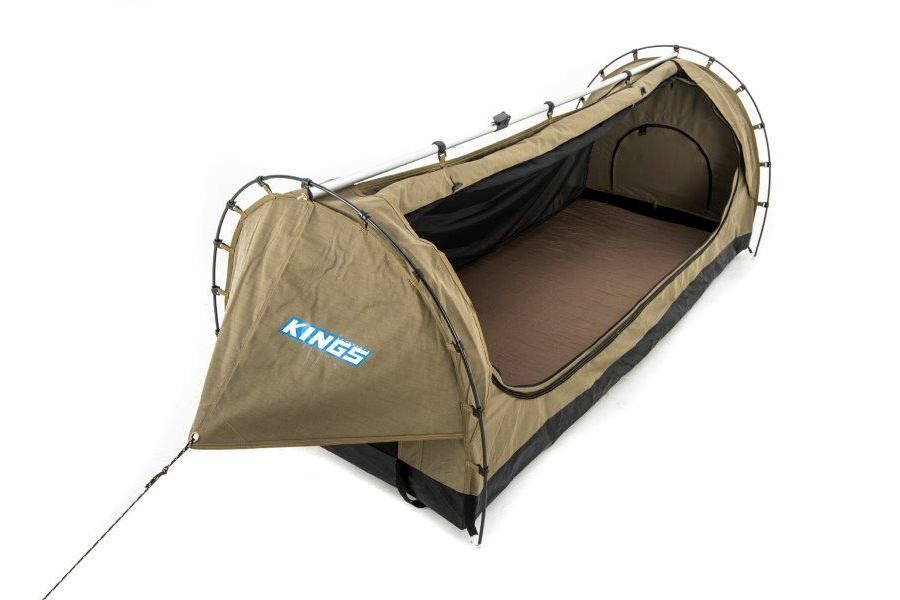 6. Kings Deluxe Single Swag
Campers and outdoorsman love a Kings swag and for good reason. The Kings Deluxe single swag is crafted from 400 GSM poly-cotton Ripstop canvas, making it impervious to nature's wildest weather. Essentially a single-person version of Kings' iconic Big Daddy Double Swag, the Deluxe has all the features we've come to expect from the Aussie icon. The base is a stitched-in and sealed heavy-duty PVC bucket floor, with both sides and ends featuring complete coverage with midge-proof mesh. This ultra-versatile camping swag is spacious, stylish and fit for…well, you get the idea.
Price: AUD$250
Material: 400GSM polycotton Ripstop canvas
Dimensions: 2100mm x 900mm x 800mm
Waterproof: Yes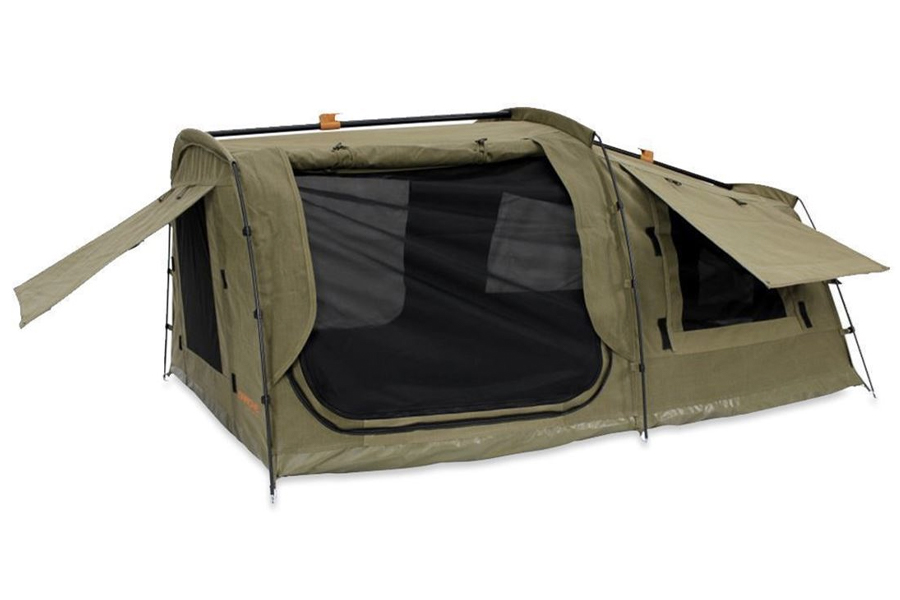 7. Darche Dirty Dee
Another great camping swap from the masters of swag tents. The Dirty Dee from Darache is a waterproof, single swag that offers a lot of features. Touted as the ultimate freestanding tourer in the Darche range, this double swag tent is versatile and spacious, ideal for a couple. Like all Darche swags, the Dirty Dee cops the brand's signature mattress, which offers a wealth of support for an easy-sleeping night. With a ridge pole system that locks into place and six points of ventilation, you can't really go wrong with the Dirty Dee from Darche. One of the best swag tents on the market.
Price: AUD$499
Material: 420gsm Poly Cotton Canvas
Dimensions: 2150mm x 1400mm
Waterproof: Yes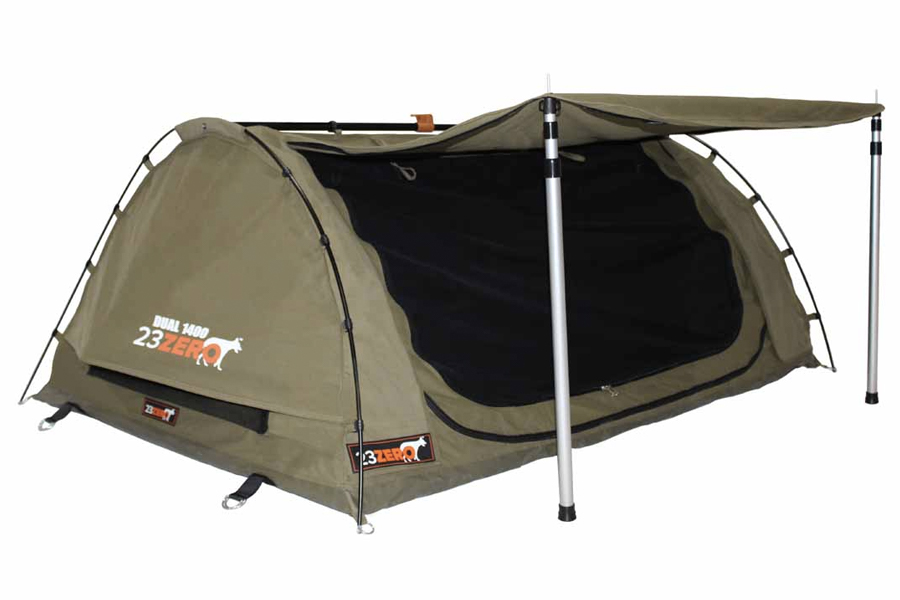 8. 23ZERO Dual Swag 900mm
When you're looking at swags for sale, you can't go past 23ZERO. This roomy double swag is a freestanding model that cops a convenient two-way entry and full zipped storm covers. With a 400 GSM tightly woven proofed and balanced plain weave poly-cotton blend canvas, the 23ZERO Dual Swag 900mm is one of the more sturdy camping swags on this list. Best of all, this release has a 70mm hi-density thick covered mattress. Hello, comfort.
Price: AUD$289.95
Material: 400 gsm proofed plain weave poly/cotton 65/35 canvas
Dimensions: 2150mm x 900mm x 800mm
Waterproof: Yes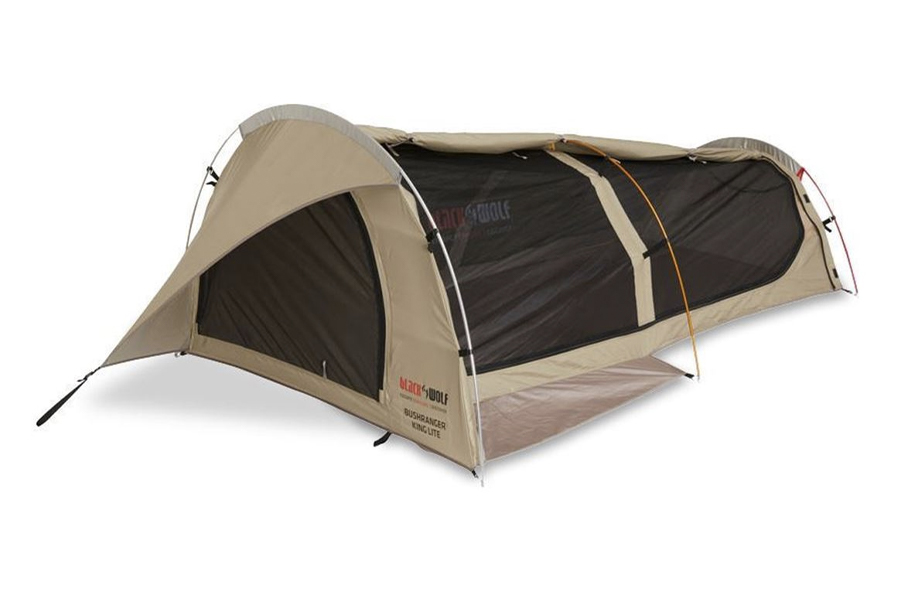 9. Black Wolf Bushranger King Lite Swag
A classic-style camping swag ideal for the harsh Australian summer, the Black Wolf Bushranger is a sturdy addition. The light and compact swag tent offers a 300 GSM canvas, making it foolproof for anything the Australian weather might throw at you, but not too heavy that you lose breathability. An easy-mover, this swag tent is a great entry-level option, particularly for the price.
Price: AUD$229.95
Material: 150D Polyester PU 2000mm
Dimensions: 2450mm x 1050mm x 500mm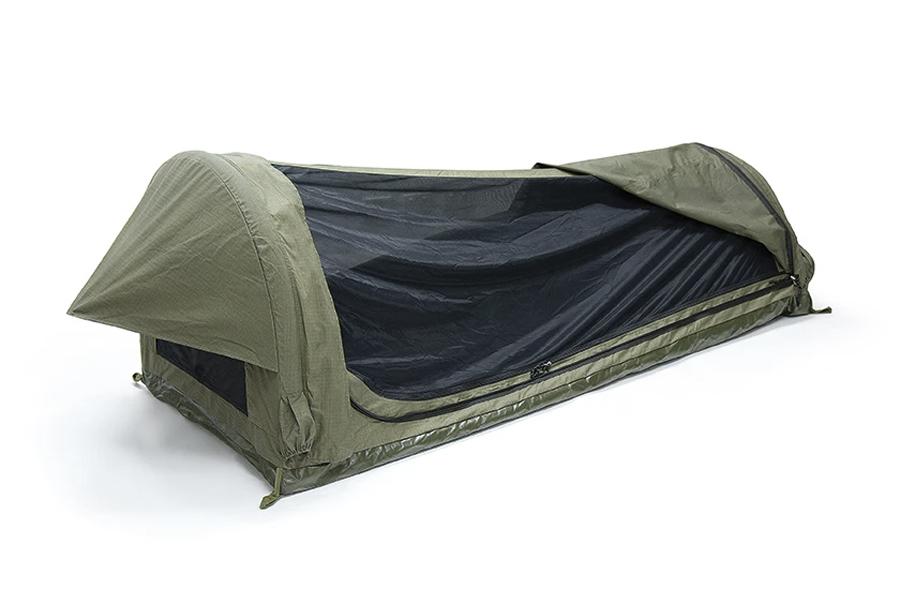 10. OZtrail Air Pillar
Blending the ease and weight reduction of an inflatable air pole system with the toughness of Ripstop canvas, the Air Pillar from OZtrail is one of the best swag tents on the market. The lightweight and easy to transport camping swag is ideal for those heading out on a short trip in the open air.
Price: AUD$479
Material: 230 gsm SatProof 600+ Ripstop Canvas
Dimensions: 2150mm x 900mm x 750mm
Waterproof: Yes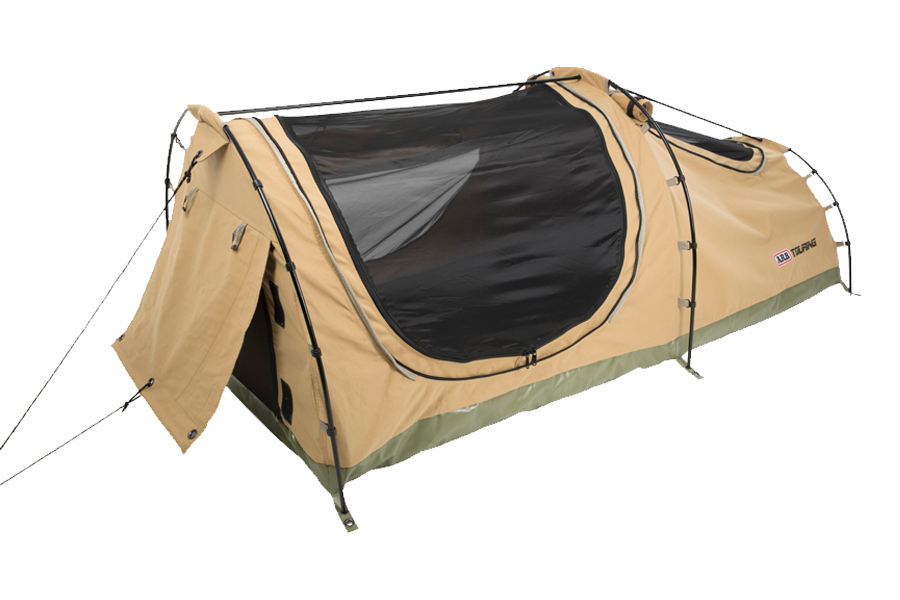 11. ARB SkyDome Swag
Ultra-high quality and well-designed, the ARB SkyDome swag is just about as strong as they get. With a spacious dome-shape, the SkyDome cops a 450 GSM canvas, offering superior waterproofing. The added heft does increase the weight of the overall package, so this one is tailored towards the experienced operators. This ARB swag also comes with a monster 75mm foam mattress for comfort and plenty of inner storage.
Dimensions: 2150mm x 900mm x 800mm
Waterproof: Yes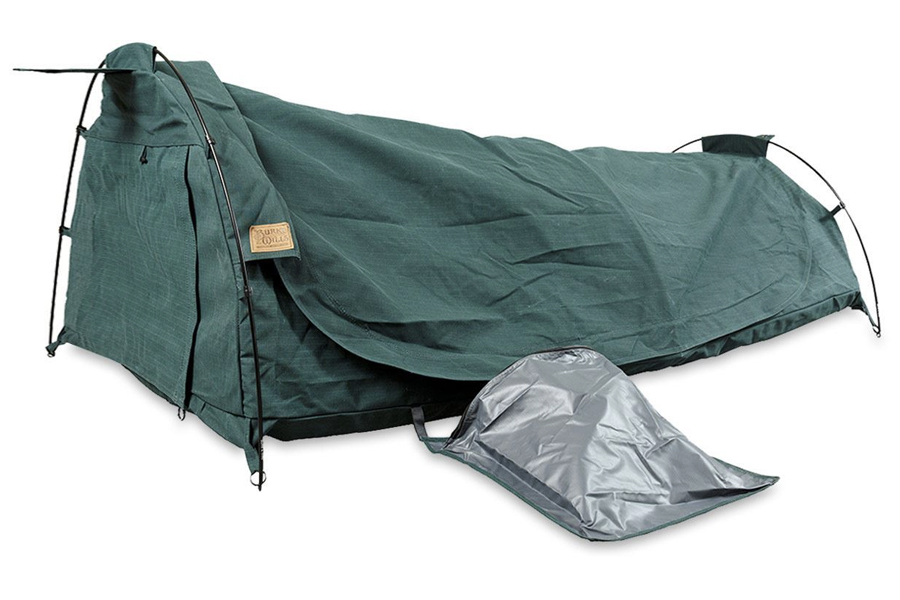 12. Burke & Wills Redgum Camping Swag
Swag tents don't come much more Aussie than Burke & Wills' Redgum. The rot and waterproof canvas camping swag is constructed to withstand whatever the elements throw at you. Even better, this versatile swag tent can be utilised for both summer and winter adventures, as the canvas can be unzipped for greater airflow. This works well with the Redgum swag tent's 60mm foam mattress, which also provides distributed support, allowing for more air to come through. There is also added ventilation panels at the head and foot.
Price: AUD$330
Material: 15 Oz (500 gsm) Ripstop Stormguard Canvas
Dimensions: 2100mm x 860mm
Waterproof: Yes
What is a Swag?
For the uninitiated, a camping swag is the easiest and most convenient way to get out and about on an adventure. An iconically Australian invention, the swag tent is a traditional canvas bed roll that houses a thin mattress. In general terms, the swag tent is a more advanced sleeping bag that offers protection from the elements. Looking much like a one-person tent, the long, thin apparatus zips all the way up, covering your entire body including your head. Waterproof, warm and bug-resistant, the humble swag tent is a true camping innovation.
The biggest benefits of a swag tent involve convenience and ease. Because you can essentially drop shop and set-up anywhere, a swag tent can be the best way to experience the outdoors. By fully immersing yourself in the landscape, you can score an unparalleled first-hand view of your chosen camping region.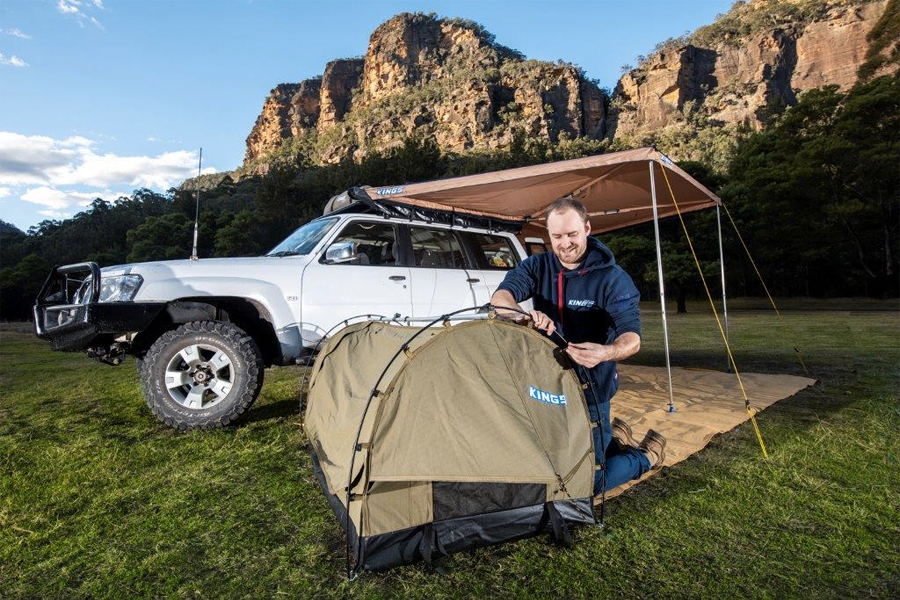 What to Consider When Buying a Swag Tent
Before you bite the bullet and buy a new King's swag or Darche swag tent, it pays to do your research. Think about what exactly it is that you are after and what you plan on encountering in the wilderness. For example, if you are travelling with a partner, you might need a double swag. Here's what to consider when buying a swag tent;
Fabric
The single most important factor to consider when it comes buying a new swag tent is fabric. A high-quality cotton or poly-cotton canvas milled specifically for making swags is ideal, as they are generally designed to be naturally water-resistant. Some manufacturers will bolster their fabric of choice with added water-proofing measures, so keep an eye out for second-hand proofing options.
To make sure your swag tent is made of appropriate fabric, it's worth taking a look at the waterproofness rating (yes, this is a real thing). A fabric with a waterproofness rating over 1000mm is ideal, however, anything over 800mm-1000mm is considered waterproof.
Design
Some camping swags may look great but fail to get the job done. Pay close attention to the design of your swag tent, most specifically around the drainage and ventilation. Like any good tent, your swag should be designed so that water is directed down and away from any openings. Take a look at where the body of the swag tent meets the floor, as this is often a problem area for water leakage.
Maintenance
Like any considered purchase, you should be willing to invest some time in maintenance, after all, this thing is going to be up against the elements. Try to keep your camping swag clean and free from dust and debris. Most importantly, make sure your swag tent is completely dry before you fold it and store it. The last thing you want to do is open your swag tent for a new adventure, only to find it covered in mould.
Price
While we always encourage people to seek out the best deal possible, when it comes to the best swag tents for camping, you get what you pay for. A $100 swag won't offer the same support as a $600 swag, so make sure you know what you're getting. To make the process a little easier, you can create a list of things you will and won't compromise on.
Mattress
A good sleep is highly dependent on mattress size. For camping swags, mattresses generally come in at around 50mm-70mm. While you could easily get away with a 50mm mattress for a night or two, if you plan on using your swag tent for any significant stretch of time, a 70mm mattress is an absolute must. Darche swags and Black Wolf swags are two brands that are extremely well-known for their mattress comfort and quality.
You'll also like:
8 Best Rooftop Tents for Outdoor Adventure
18 Best Glamping Spots Near Sydney
15 Best Beach Camping Spots in Victoria
Still have questions? We've got your covered.
General FAQs
Are roof swags worth it?
Roof swags offer a wealth of protection for prospective campers, particularly in areas prone to flooding, animal movements or any other natural occurrence. Provided you have the vehicle to support one, a roof swag tent is an excellent addition to your camping collection.
Are swags waterproof?
Not all swags are waterproof, so it certainly pays to ensure that you check the specifications. The main considerations to look out for are fabric, seasoning, maintenance and design. Try to opt for a good quality cotton or poly-cotton canvas milled specifically for making swags and tents is designed to be naturally water resistant
Are swags better than tents?
Generally, swags will be warmer than tents due to the heavy material and type of canvas used. They also have a smaller volume, ensuring your body warmth is kept inside the swag. Provided the weather isn't too bad, a swag may be a better option than a tent.
---
Featured Video from Man of Many